Official Edgar Rice Burroughs Tribute Site
Since 1996 ~ Over 15,000 Webpages in Archive
Presents
Volume 5657
The Many Worlds of

www.ERBzine.com/apa
presents
ERB-APA ARCHIVE INDEX Vol. IV
Edgar Rice Burroughs Amateur Press Association
ERB-APA CONTENTS ARCHIVE (Work In Progress)
We need YOUR help to compile cover and contents descriptions of each issue back to No. 1
(Go to the Navigation Chart below to see our progress, so far)
---
ERBapa 126 ~ Summer 2015
---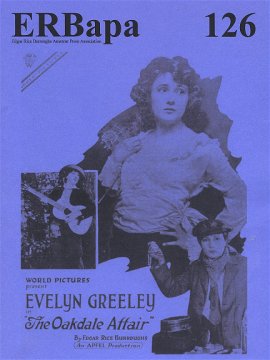 ERBapa 126 ~ Summer 2015 (with ERBzine references)

Cover: Oakdale Affair Film Poster with Evelyn Greeley Photos
Kaor: Contents ~ Summer Symposium: Oakdale Affair ~ Membership Report ~ Treasury Report ~ Back Issues Available ~ Total Pages 169
Griffin, Scott Tracy: Colonel Selig's Close Call
McKosky Jr., Ted: Jungle Jottings: A. Arnold Gillespie 1899-1978 ~ Tarzan Stage Play at Pulaski High, Virginia ~ 11 Illos
Zeuschner, Bob: Oakdale Affair Report and Biblio Info
Critchfield, David: Oakdale Affair Report and a short 2015 Rockville ECOF report - 6 illos - 3 issue 125 comments
Goodwin, Jim: Oakdale info and and 16 Issue 125 comments
Denkena, Kurt: Much info on German ERB artist Uwe Reber and Fig Tree Artistry - 11 illos
Grainger, Frank: FanFic: Tarzan at Empire's End -- Part IV: Ch. 19- "He's Here!" ~ Ch. 19: A Change of Tactics ~ Ch. 20: The Veranda Once More ~ Ch. 21: A Desperate Last Effort ~ Ch. 22: Farewells to Africa ~ Afterword ~ Author's Note
Howell, Dorothy J: FanFic: Lord of Two Worlds: Jer'ok in the Valley of Mithos -- Synopsis ~ XVI: Misunderstandings ~ Postscript: 10 Contributor Comments ~ ERB-related news
Karlen, Dave: ERB and the "Filipino Invasion": Influence of Filipino Tarzan artists ~ 2 Rudy Florese comic page illos
Guidry, John H.: Remembering Pat Adkins and The Dream Vaults of Opar and StrangeExcursions.com
Hanson, Alan: Was ERB a Racist Author? - Understanding Context in the Tarzan Stories: Part 3: Southern Black Idiom ~ Esmeralda ~ Robert Jones ~ Literary Black Face ~ Narrative Quotes ~ Tarzan's Attitude Toward Blacks ~ Racial Characteristics ~ Opinion of American Blacks ~ Positive Statements ~ Racism a Factor of Power ~ Conclusion ~ 2 illos
Conran, Mike: ECOF 2015 Report with 18 photos ~ Sites, Guests, Souvenirs, Panels, Special Events
Huckenpohler, J. G.: The Oakdale Affair: Three Endings ~ Comments on 23 Submissions from No. 125
Martin, John: A Rough Road to Oakdale ~ 2 illos ~ 6 Converging Trails Comments from No. 125
Hillman, Bill: ERBzine Archive Directory XXIX - Pt. I Issues 2800-2851 ~ Logos for the ERBzine.com companion sites ~ Original Pulp Ending Oakdale Affair missing from the ERB, Inc. 1st Ed. ~ Link to the e-Text Edition ~ The John Coleman Burroughs Art ~ Background
McGeeney, Bob: Names and Nicknames in The Oakdale Affair ~ 2 Comments on No. 125 contributors
Dumont, Richard: Flying Stegosaurus in Tarzan at the Earth's Core ~ Reprint of one page of old dinosaur article
Ross, Bill: Burroughs Publications from the "Q" and "R" Files
Ekman, Fredrik: Another Barsoomian Movie Language from a 2005 script reprinted in ERBzine.com 3694: John Carter by Ehren Kruger ~ The phrases ~ Kruger's Words ~ Dictionary of Kruger Barsoomian ~ 3 Mailing Comments ~ 1 illo
Lupton, Robert Allen: Summer travels and Balloon Race in ERB Country among the Grand Teton Mountains ~ Daughter Robin Lupton finalist in Baen Fantasy Adventure Award for "Victor the Sword" ~ Reprint of the ERB, Inc. press release for Will Murray's Tarzan: Return to Pal-ul-don and review of the book plus ERB's Jungle Tales of Tarzan, ERB's Tarzan Omnibus plus comments and illos for Oakdale Affair ~ 10 cover illos ~ 18 comments on No. 125
Hadac, Jim: Worst Cover Ever: Comments on the Frazetta cover for Oakdale Affair ~ Comments on 24 submissions
Burrows, Robert J.: A Photo Tribute to Gordon Scott: 21 Photos - Screen to the Grave
Thompson, James F.: Edition 125: George McWhorter Update ~ Pat Adkins Tribute Edition 126: Phil Normand medical update ~ Dum-Dum 2013 Pt. 3 Report
Sigmund, Rudy: Thanking Gordon Scott: 19 Personal photo collection
Krabacher, Tom: Personal Masthead Illo ~ Personal summer news ~ Oakdale Affair Report: Random Musings ~ Henry Herbert Knibbs: His Adventure ~ 16 Comments on No. 125 and Murray's Return to Pal-ul-don
Wilcutt, Dennis: George McWhorter's Medal of Honor book review in Bowling Green Newspaper ~ Personal update: Moving, Movies Seen, Concerts: Stones, Beach Boys, Paul McCartney - Books Read ~ 6 illos (Tarzan Sunday Pages) ~ 20 comments on Nos.123, 124, 125.
Franke III, Henry G.: Joe Kubert's "Tarzan of the Apes" Artist's Editions ~ 26 Covers
Shoemaker, Kurt: How I Spent My Summer: Texas, Brooklyn, NYC, Seattle, Texas ~ Thoughts on ERB on the Texaco Star Theater ( LISTEN HERE on our Tarzan.org site) ~ Oakdale Affair report ~ ERB Vocabulary ~ Thoughts on Asylum's John Carter of Mars (Princess of Mars)
Cavender, Shawn: Comments ~ Oakdale Affair Report ~ Dynamite Comics: John Carter Warlord of Mars and Sword of Sorrow ~ 2 illos
Barry, Rick: 40 Years Ago: Celebrating the ERB Centennial: Tarzan Reunion Photo and Tarzans with Ape Photo ~ Update on the David Yates "Tarzan" Film: The Script, WB Promotion Plans, ERB/Tarzan Fan Base Concerns, An Exciting New Resource
---
ERBapa 127 ~ Fall 2015 (with ERBzine references)
---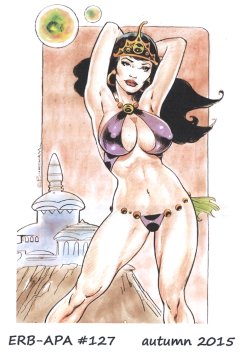 Cover: Dejah Thoris by F. Newton Burcham

Kaor: Contents ~ Annual Ballot ~ Art Credits ~ Membership Report ~ Early Mailer Awards ~ Kreegah ~ Membership Dues for Jan 31 ~ Back Issue Report ~ Treasury Report ~ Kaorspondence Dennis Wilcutt corrections to his Frank Grainger interview ~ Hillman submission missing from this issues Contents page ~ 133 pages
Ekman, Fredrik: Archive.org updates ~ Swords of Sorrow / ERB Connections ~ 5 small illos ~ 4 mailing comments
Goodwin, Jim: Tarzan: The Epic Adventures Toys Pt. 1 ~ Micro Action Playsets ~ Special Collection Edition ~ Large Action Figures ~ 11 Colour Photos ~ 9 Contributor Contents (ERBzine 1398: Epic Toys)
Hanson, Alan: Chicago in ERB's Fiction: The Fight for Survival in a Corrupt, Immoral City ~ Part One: ERB's Chicago Years ~ The Girl from Farris's ~ Chicagos Pervasive Corruption ~ Abuses of an Uncaring City ~ The Mucker ~ Billy Learned to Hate Women ~ Billy Accepted Gang's Code ~ Chicago Exported Its Immorality ~ A Reformed Man Returns ~ 4 illos ~ 10 pages ~ 5 Mailing Comments ~ Article Reprint: Maureen O'Sullivan Divides Interests 1957
Critchfield, David: Review of "Tarzan: Return to Pal-ul-don" by Will Murray ~ ERB Fans are Everywhere ~ 4 Mailing Comments
Karlen, Dave: Gold Key's Russ Manning and Paul Norris bios ~ Two comic art pages (ERBzine Russ Manning ~ ERBzine Gold Key 2596)
Martin, John: Tarzan's Los Angeles Adventure (fanfic): 1. All Abord, 2. The Incident on the Liner, 3. The Southern California Circus, 4. Korak the Thriller, 5. Tarzan Lawyers Up, 6. Perry Mason Performs, 7. The Bar Scene ~ 8 pages ~ 3 illos
Denkena, Kurt S.: Fuwalda: Butler Parker novels and ERB ~ 5 illos ~ 1 cartoon
Howell, DJ: Lord of Two Worlds: Jer-ok in the valley of Mithos (fanfic): Synopsis ~ Ch. XVI Misunderstandin, cont. ~ Postscript: ERB in the current and nostalgia media ~ Cartoon and Roy Rogers photo
Conran, Mike: Burroughs Bibliophiles 2015 Dum-Dum, Clinton, Connecticut report ~ 13 photos ~ Events, Guests, Tributes, Sites, Guests, Presentations, Panels, Awards, Souvenirs, BB Meeting, etc.
Hillman, Bill: ERBzine Archive Nos. 2852-2899 ~ Hal Foster Tarzan Sunday Page logos 1931/1932 and links to the ERBzine Tarzan Sunday reprints ~ Reprint of the Connecticut Newspaper coverage of Peggy Adler's 2015 Dum-Dum in Clinton, plus scans of the pages (Scan 1 and Scan 2) ~ Clinton DD Logo ~ Many Colour Hal Foster Tarzan logos.
Guidry, John H.: Contraflow V / Deepsouthcon 53: Review and Compilation of links to ERB-Related Websites
Huckenpohler, J.G.: Notes for a Preliminary Listing of Foreign-Language Pastiches: German ~ Spanish ~ French ~ Comments on all submissions for No. 126
Griffin, Scott Tracy: The Forgotten Tarzan Novels: Past and Present plus several pastiches and novelizations from other media ~ Tarzan the Mighty film cast (ERBzine Novelization) ~ 9 Storyboard sketches
McKosky, Ted Jr.: Jungle Jottings: Cyril Hume, etc. and numerous film trivia info ~ 7 screen stills
Zeuschner, Bob: Plans for LA SubERB's 2016 ECOF events ~ Progress updates on the author's new "Edgar Rice Burroughs: THE Descriptive Bibliography" ~ List of contacts for 4 ERB Fanzines
Hadac, Jim: ERB-APANS On The Seashore: Photo of 4 attendees of the Clinton Dum-Dum ~ Long reprint of the ERB reference in "One Summer America, 1927" by Bill Bryson ~ 6 Mailing Comments.
Spargur, Richard C.: Stuff in My Collection, Part II: "Captured By Apes" by Harry Prentice ~ A Review with 8 illos ~ Comments on the 1924 Crime of the Century in Chicago. (ERBzine Note: Captured by Apes was in ERB's Library: Shelf PQ3 ~ Vern Coriell's Library
McGeeney, Bob: Review of the Tarzan Armed Services Editions and the their mention in "When Books Went to War" by Molly Guptill Manning ~ TA and RT cover illustrations
Lupton, Robert Allen: Photos of summer's hot air balloon flight - Comments on the many Tarzan actor photos on eBay plus recent books read: "Heritage of the Flaming God", Farmer Opar novels, Alan Hanson's contributions, Winger's "Destruction of Atlantis. . . " book, Gillies' "Astride the Farthest Star", Madison's (ed.) "ERB: The Master of Pulp Storytelling" ~ 11 Illos
Franke, Henry G. III: Follow-Up on Joe Kubert's Limited "Tarzan of the Apes" Artist's Edition ~ Comments on upcoming 2016 Tarzan Feature Film with YouTube links ~ When John Carter Met Dejah Thoris on Earth (X-Men origins) ~ When John Carter Met Tarzan (Battleship) ~ 25 colour photos
Shoemaker, Kurt: Summer activities ~ Comments on ERB's "Pirates of Venus" ~ Full, extended comments on previous APA 126 submissions (ERBzine Biblio and eText)
Wilcutt, Dennis: Interview with Frank Grainger - author of the 140,000-word TARZAN AT EMPIRE'S END ~ 10-page interview with 6 illos.
Krabacher, Tom: Comments on Columbus Pulpfest VII, plus Northern California Mangani 2015 Dum-Dum in Willows, CA ~ 6 Illos ~ 9 Mailing Comments
Cavender, Shawn: This and That: Happenings from over the summer ~ 13 Mailing Comments ~ Blanca Soto Jungle Girl pin-up.
Thompson, James F.: News updates on George McWhorter ~ History of My Review Buddy Saunders' "The Martian Legion: In Quest of Xonthron . . . " Part I and discussion on contributors to the project. ~ Comments on past and current ERB-related authorized novels and pastiches
---
ERBapa 128 ~ Winter 2016 (with ERBzine references)
---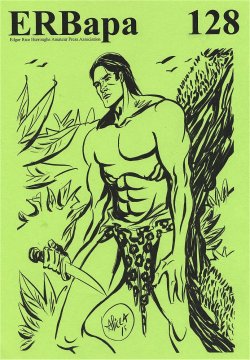 Cover: Tarzan by Rey Alicea

Kaor: Contents (147 pages) ~ Annual Ballot (Shawn Cavender voted OE) ~ Cover Art Credits: Front - Rey Alicea | Inside Front: Jeff Lasley | Back: Keith Dotson | Inside Back: Ricardo ~ Membership Report ~ Early Mailer Awards ~ Kreegah ~ Membership Dues for April 30 ~ Back Issue Report ~ Treasury Report ~ Supplement: Tarzan the Stage Musical program from Bill Ross
Critchfield, David: Inner World Adventure: A Pellucidar Pastiche by Wayne Reinagel (A Review) ~ 4 Illustrations ~ ERB, Inc. Comics report ~ Visit to Go Ape! park in Virginia ~ Reading List ~ 5 Mailing Comments || Pellucidar.org
Goodwin, Jim: Tarzan the Epic Adventure Toys Part 2: 8 toys described with photos ~ 14 Mailing Comments. | Epic Action Figures
Huckenpohler, J. G.: On the Road Again: To Clinton Dum-Dum and Beyond with the Panthans to Canada's Maritime Provinces ~ 24 Mailing Comments. || Dum-Dum 2015
Hanson, Alan: Chicago in ERB's Fiction: The Fight for Survival in a Corrupt, Immoral City - Part Two: The Efficiencey Expert ~ Police Oppression ~ Labor Struggles ~ Disadvantaged Neighborhoods ~ Chicago in Other Stories ~ Observations on Chicago ~ Chicago of the Future ~ ERB Chicago Conclusions. || Efficiency Expert ~ The Mucker
Dumont, Richard: Morris Gollub - Dell Cover Artist - Photo and 18 covers || Dell Tarzan Comics
Conran, Mike: John Carter: Warlord of Mars - Dynamite Comics Cover Checklist - Part 2 - Plus Dejah Thoris: 73 covers - Artists and Writers and Notes || John Carter of Mars ~ John Carter Film
Denkena, Kurt S.: Cartoons, Record and Magazine Covers ~ 16 Illustrations || Tarzan On Record
Hillman, Bill: Contents of ERBzine Nos. 2900-2967 (Russ Manning Tarzan and Korak Strips) ~ Logos/Links for 12 ERB Companion Sites ~ 2015 Logo Review for Weekly ERBzines I ~ Genghis Kahn poem by ERB (Page 1 of 10 ~ 4 Frazetta Khan Illustrations. || Frank Frazetta ~ ERB's Poetry
Ross, Bill: ERB Fan Publications Index from the "S" File ~ Signal News Tarzan Cover ~ Tarzan Cover for 75th Anniversary Dinner Celebrating the first publications of ERB hardcover TA (1914) || Signal Oil ~
Zeuschner, Bob: Difficulties facing the LA SubERBs in planning the 2016 Tarzana ECOF to coincide with the release of the new Legend of Tarzan film ~ Progress on the new ERB Bibliography by Bob Zeuschner.
Martin, John: Tarzan vs. Hissssssstah short stories: A Little of the Snake That Bit Him ~ A Puff in Time ~ Apeman, Asp, and Asparagus: Ch. 1 - The Slithering Menace, Ch. 2 - Snake Mountain, Ch. 3 - The Lair of the Snake Handler, Ch. 4 - That's the Breaks, You Snakes
Karlen, Dave: Two More Tales of Tarzan Art:: Russ Manning and Richard "Sparky" Moore ~ The Cost of Collecting ~ 5 pages of art. || Russ Manning
Guidry, John H.: Yet Another Tarzan Movie: Early expectations ~ Many Web links for ERB trailers and sites.
Thompson, James F.: The History of My Review of The Martian Legion: In Quest of Xonthron Part Two ~ Appreciation of the book's art and the mammoth work by author Buddy Saunders. || Martian Legion
Van Hise, James: Tribute to an Unknown Artist: Mahlon Fawcett (1950-2015) ~ 5 Illustrations
Howell, Dorothy J.: Lord of Two Worlds: Jer'ok in the Valley of Mithos: Synopsis ~ Ch. XVII: Departure ~ Postscirpt: ERB in Unexpected Places
Shoemaker, Kurt: The Texas Wave: Comments on Lost On Venus and Brackett's Sword of Rhiannon ~ Nkima's Chatterings (25 Mailing Comments) || Lost On Venus ~ Leigh Brackett
Griffin, Scott Tracy: ERB Comics' First Fandom: Names and letters of early fans in the comics (12 pages) ~ Progress on the author's second book: Tarzan on Film. || ERB Comics
Grainger, Frank: TARZAN THE EXOTIC: A Brief and Admittedly Incomplete Overview of Thoroughly Unofficial Tarzan Movies, Part I
Lupton, Robert Allen: Under the Dum Dum Tree photo of bicycles in Louisiana - The hunt for ERB and related books ~ 2 Fenton Ash covers. || Ash in ERB's Library
Spargur, Richard C.: Review: Sleuthing in the Stacks by Rudolph Altrocchi with bio and 4 book illustrations ~ Dr. Harold S. Hulbert photo and Crime of the Century connection (possible connection to Emma Hulbert Burroughs?)
Cavender, Shawn: Discussion: The Legend of Tarzan Teaser Trailer and Another New Direction for Dynamite's ERB Comic ~ 6 mailing comments ~ Jungle Girl pin-up photo
Franke, Henry G.: Robert A. Heinlein and ERB ~ 6 Photos
Barry, Rick: Lieut. Gullivar Jones: His Vacation - A 12-page Review: Synopsis ~ ERB Influence? ~ Edwin Lester Arnold is No ERB ~ Case for ERB never having heard of Arnold. ~ 3 Gullivar covers and 5 Jusko covers for Warlord of Mars comics || Gullilvar Jones On Barsoom? ~ Gullivar: The Text
THE OE'S LAST WORD: Comments on each of this issue's submissions
---
ERBapa 129 ~ Spring 2016 (with ERBzine references)
---
Kaor: Contents (137 pages) ~ Cover Art Credit: Ron Adrian ~ Summer Symposium Topic: Beyond the Farthest Star ~ Early Mailer Awards ~ Kreegah ~ Membership Dues for July 31 ~ Back Issue Report ~ Treasury Report
Hillman, Bill: List of ERBzine.comArchive Issues 2964-2999 ~ Logos/Links for Companion Sites ~ Collage: Lead-off Logos for 2015 Pt. 2 ~ ERB Poem Continued: Genghis Khan Pages 2 and 3. :: More ERB Poetry
Griffin, Scott Tracy: ERB Comics' First Fandom: Pt. I DC Comics (conclusion): Weird Worlds, Korak Son of Tarzan, Tarzan Family, Beyond the Farthest Star :: ERB Comics
Goodwin, Jim: Tarzan The Epic Adventures Toys Pt. 3 with 10 colour illos ~ 13 comments on the 128 issue contributors :: Epic Adventures Toys in ERBzine
Ekman, Fredrik: Unpublished John Carter Comics: 4 illustrations ~ 14 sources ~ 8 mailing comments on last two issues :: Remembering Danton Burroughs ~ John Carter by Manning: Part I and Part II ~ Flash Gordon Connection ~ Gridley Wave Archive
Critchfield, David: Howard Brown's Warrior of the Dawn: A Review plus other recommended titles ~ 7 colour covers
Hanson, Alan: The Waziri: Transformation from Primitive to Colonial Tribe: Part One ~ Waziri . . . A Mix of Past and Present ~ The Waziri Had European Features ~ Tarzan Merged with the Waziri ~ Adopting British Military Tactics ~ Civilization Came to the Waziri ~ Clean Limbed Warriors, Intelligent Eyes ~ plus 5 Waziri Profiles
Howell, Dorothy J.: FanFic: Lord of Two Worlds: Jer'ok in the valley of Mithas: Synopsis ~ Chapter XVIII Ambush ~ Postscript: ERB in Unexpected Places.
Denkena, Durt S.: Fuwalda: Tarzan in Costa Rica ~ plus review of other German articles and books ~ 7 illustrations
Conran, Mike: Swords of Sorrow Pt. 1 checklist ~ Approx 100 cover illos
Zeuschner, Bob: Announcement for the 2016 ECOF in the Tarzana area ~ WB Legend of Tarzan viewing and Museum Tour ~ List of Guests attending ~ Registration info ~ 24 Mailing Comments on APA 128 :: Dum-Dum/ECOF Archive
Karlen, Dave: Bob Lubbers' Tarzan Strips ~ Bio and 4 illos :: Bob Lubbers
Huckenpohler, J. G.: A Parial List of Pellucidar Pastiches ~ In Memoriam: Donald S. "Sandy" Richardson (12 Feb. 1949 - 3 Feb. 2016) with Photo ~ Comments on APA 128 Submissions
McGeeney, Bob: The Fun Addict: Additions to ERB Collection ~ Need for more ERB toys ~ ERB book collection completed with Auto-Biography: A long journey ~ 3 illos :: ERB's Auto-Biography
Wilcutt, Dennis: Thoughts on the ERB, Inc. comics site (18 titles) ~ Thoughts on Heritage Auction and the Legend of Tarzan film
Dumont, Richard: The Diploducus of Caspak - research on the history of the beast ~ 2 illos ~ Many ERB reference links :: Our Pellucidar Site
Burrows, Robert J.: FanFic: The Case Files of Dotar Wat: The Case of the Unsung Hero II: Introduction ~ Selected comments on submission over the last three issues.
Hadac, Jim: DYAKS! Enemies of the Monster Men ~ Greg Phillips Comments on his Mucker No. 37 cover art and discussion on Unlikely Allies of World War II: "The Airmen and the Headhunters" ~ If Tarzan had landed in Borneo (rather than in Sumatra) 6 illos. :: ERBz: The War Years ~ Monster Men Biblio
McKosky, Jr., Ted: Jungle Jottings: Tarzan the Fearless ~ Comments on the Serial Squadron release ~ 8 illos
Lupton, Robert Allen: Under the Dum-Dum Tree - Spring/Summer 2016 ~ Recent writing projects ~ Congrats to recent ERB projects by Scott Tracy Griffin, Will Murray, Hogarth, etc. :: ERB, Inc. Projects
Sigmund, Rudy: More Tarzan Autographs: Many photos from Tarzan films autographed by the actors :: Rare Sigmund Photos
Cavender, Shawn: Alien Worlds of ERB: Dynamite Comics ~ Interview and Photos: Jacqueline Goehner - Dejah Thoris Cosplay with links
Krabacher, Tom: Thark Horizons: Life in ERB World ~ "Now for a few words about sex" ~ Appreciation of Roy Krenkel's art ~ 3 Krenkel illos :: Krenkel Ace Art
Franke III: Henry G.: Airship Saga: Many photos and Comments on Airships throught the years including their appearances in ERB's novels ~ 31 illustrations of Zeppelins and Refs.
Shawn, Cavender: The Last Word: Comments on all of this issues submissions
---
ERBapa 130 ~ Summer 2016 (with ERBzine references)
---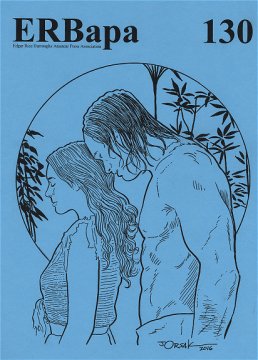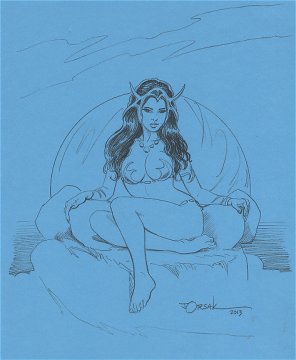 Kaor: Contents (178 pages) ~ Cover Art Credit: Joe Orsak - Legend of Tarzan and ERB heroine ~ Summer Symposium Topic: Beyond the Farthest Star ~ Request for Volunteer OE ~ Early Mailer Awards ~ Kreegah ~ Membership Dues for Oct 31 ~ Back Issue Report ~ Treasury Report ~ New Member: Abraham Sherman
Griffin, Scott Tracy: ERB Comics' First Fandom - Part II: Marvel Comics (correspondence): Tarzan Lord of the Jungle and John Carter: Warlord of Mars ~ Feedback to 13 submitters ~ Marvel Tarzan Letters Page Title Suggestion.
Goodwin, Jim: Tarzan The Epic Toys Part 4: 6 colour photos: 1. Plantman, 2. City of Gold Tarzan, 3. Dino-Armored Tarzan, 4. Horib the Snakeman, 5. Tars Tarkas, 6. Leopard Man ~ Feedback to 18 submitters.
Zeuschner, Bob: Commentary and Summaries: Beyond the Farthest Star
Ekman, Fredrik: Tarzan/Barsoom Crossovers: Professional Fiction and Comics ~ Fan Fiction Crossovers (At the Core of Mars by Seth Kallen Deitch) ! Mailing Comments: 5
Critchfield, David: From Nothing: Commentary on Beyond the Farthest Star ~ 4 illos ~ Sequels: Astride the Farthest Star and A Soldier of Poloda by Lee Strong
Cavender, Shawn: Comments: ERB world events ~ Comments: Tarzan On Film by Scott Tracy Griffin and The Legend of Tarzan film and Beyond the Farthest Star and Filmation's Tarzan Lord of the Jungle DVDs ~ Interview: Fire Lily: Dejah Thoris Cosplayer ~ 5 illos
Lupton, Robert Allen: Under the Dum-Dum Tree events ~ Comments: Beyond the Farthest Star ~ 10 illos ~ Comments: A Soldier of Poloda and Tarzan On The Precipice
McGeeney, Bob: The Fun Addict Intro ~ Reflections from Beyond the Farthest Star: Political, Similar Life, Starvation, Anti-War
Hanson, Alan: The Waziri: Transformation from Primitive to Colonial Tribe Part Two: Barbaric Splendor With European Values ~ Tarzan Respected His Waziri ~ Tarzan Cared for His "Children" ~ Trained and Hardened Woodmen ~ Arrows, Spears, and Bullets ~ Waziri Profiles: #6 Busuli (Return of Tarzan), #7 Basuli (Tarzan and the Jewels of Opar), #8 Keewazi, #9 Andua, #10 Isaza ~ Some Thoughts on The Legend of Tarzan
Conran, Mike: Swords of Sorrow Part 2 Dynamite Comics Crossovers 2015 ~ 41 small cover illos ~ Legend of Tarzan Web Links\
Karlen, Dave: A Burne Hogarth Tarzan Tale: Tarzan Sunday pages, Graphic versions of Tarzan of the Apes and Jungle Tales of Tarzan ~ Hogarth illos
Howell, DJ: Lord of Two Worlds: Jer'ok in the Valley of Mithos: FanFic Synopsis, Ch. XVIII Ambush continued ~ Postscript: Early DJ writing influences and the new Legend of Tarzan film commentary ~ 6 illos
Bill Ross: ERB Collector: Burroughs Fan Publications from the "T" file: 15 Entries
Hillman, Bill: ERBzine Archive 3000-3051 links ~ Logos and URLs for ERBzine ERB Companion Sites ~ Collage: Lead-off logos for ERBzine Weeklies Jan-June 2016 ~ ERB's poem: Genghis Khan continued - Pages 4 & 5 ~ Beyond the Farthest Star features in DC Comics illustrations.
Hadac, Jim: Beyond the Farthest Star. Most. Frustrating. Book. Ever: Commentary and Ace Cover ~ Lee Strong Interview and A Soldier of Poloda Promo ~ 3 Illos
Sherman, Abraham: Bio Intro plus Beyond the Farthest Star thoughts.
Martin, John: The Legend of the Beasts of Tarzan - Comparison of The Legend of Tarzan film with Beasts of Tarzan book and film discussion ~ Comments on Beyond the Farthest Star ~ 2 illos.
Huckenpohler, J.G.: Memories of ECOF 2016 with two photos ~ Comments on 23 contributors in APA #129
Thompson, James F.: Responses to The Legend of Tarzan film with historical references -- Diary of the Thompsons' viewing events.
McKosky, Ted, Jr.: Cabinet of Curiosities: Two large colour photos of display cases of personal collectibles.
Shoemaker, Kurt: The Texas Wave: Recent ERB events and comments on the viewing The Legend of Tarzan
Dumont, Richard: Comments of The Legend of Tarzan ~ Two Illos
Denkena, Kurt S.: Excerpts from the German comic fanzine CLUB INFO (#13 - May 2016)
Spargur, Richard C.: Stuff in My Collection, Part IV: Explorers of the Infinite by Sam Moskowitz comments and Moskowitz bio ~ 5 illos
Grainger, Frank: Tangor of the Eagle Squadron: Beyond the Farthest Star in Historical Context ~ WWII refs ~ 7 illos and 4 end notes.
Burrows, Robert J.: FanFic: The Case Files of Dotar Wat: The Case of the Unsung Hero II: Chapter 1 - Seeking the Demon of Mars ~ 11 pages ~ ERBapa #129 Notes on 13 contributors
Franke III, Henry G.: FarmerCon XI/2016 Pulpfest, 21-24 July 2016 description with 31 illos ~ Discussion of Philip J. Farmer's legacy.
Wilcutt, Dennis: Commentary on and enjoyment of The Legend of Tarzan
Krabacher, Tom: Thark Horizons: Summer events ~ ECOF 2016 ~ Comments on The Legend of Tarzan and Beyond the Farthest Star ~ 5 illos
Barry, Rick: Beyond the Farthest Star Leaps Into A Void Too Far ~ A Critique ~ Facebook and Twitter involvement ~ 6 Illos (Ref ERBzine 0862)
Van Hise, James: Eight ERB, Inc. Letters (Rothmund and ERB) ~ 12 John Carter sketches by John Coleman Burroughs ~ Beasts of Tarzan All-Story pulp page
---
ERBapa 131 ~ Fall 2016 (with ERBzine references)
---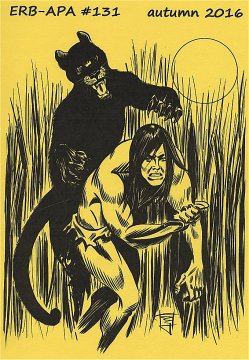 Kaor: Contents (151 pages) ~ Cover Art Credit: Rey Alicea - Tarzan and Sheeta ~ New Members: Lee Strong and Jess Terrell ~ Early Mailer Awards ~ Kreegah ~ Membership Dues for January 31 ~ Back Issue Report ~ OE Ballots ~ Treasury
Hillman, Bill: ERBzine Archive 3050-3100 ~ Colour Logo Links of ERBzine Companion Sites ~ ERB's Genghis Khan Poem Pages 6-10
Goodwin, Jim: Tarzan The Epic Adventures Toys: Kerchak, Tars Tarkas, Tarzan City of Gold, Tarzan the Hunter, Horib, Nolach the Kaldane, Tarzan of Mars, Tarzan Dino Armored, Numa ~ 15 Comments
Griffin, Scott Tracy: ERB Comics' First Fandom Letters: Malibu Comics Part III: Tarzan The Warrior, Tarzan the Beckoning ~ Part IV Dark Horse: Tarzan The Lost Adventure, Tarzan ~ Vincent Starrett on Edgar Rice Burroughs
Critchfield, David: Another Book from the Hollow Earth Bookshelf: Five Thousand Miles Underground by Roy Rockwood: A Review, Hollow Earth influences and ERB Connection ~ 6 illos ~ 3 Comments.
Zeuschner, Bob: Comments on "Legend of Tarzan" film and ECOF ~ Maui Wedding Anniversary ~ Bob's new ERB: The Bibliography and Facebook page ~ Purchase at www.erbbooks.com
Hanson, Alan: Muviro: Tarzan's Loyal and Trusted Waziri Chief - Waziri Profile #15 ~ 4 illos
Conran, Mike: 2016 ECOF Gathering Report - Woodland Hills and Hollywood ~ 20 illos ~ Sites, Guests, Souvenirs, Panels, Special Events
Lupton, Robert Allen: UK Visit ~ New ERB-related Releases: ERB The Bibliography, Tarzan on the Precipice, Vic Challenger Fast, Tarzan Jungle King of Popular Culture, Jesse Marsh Tarzan Omnibus, Tarzan Memes, Tarzan the Buscema Years Omnibus ~ 15 illos
Denkena, Kurt S.: Fuwalda: German Caprona release with Denkena Epilogue ~ 20th Anniversary of Blitz Publishers ~ also Das Land das die Zeit Bergessen ~ 6 illos
Strong, Lee: Introductory Autobio: Who Is Lee Strong?: Citizen and Fan ~ Current Projects ~ Comments on Soldier of Poloda book ~ Future Projects.
Huckenpohler, J. G.: Memories of the 2016 Dum-Dum ~ 5 photos ~ Comments on all 31 contributors to APA 130
McGeeney, Bob: Reviews on three new ERB books: Tarzan on Film by Scott Tracy Griffin, Tarzan on the Precipice by Michael A. Sanford, ERB: The Bibliography by Bob Zeuschner ~ 3 cover illos
Ekman, Fredrik: Function Before Form: Doors On Mars - Locks and Keys - Secret Doors ~ Conclusions and References ~ 4 Mailing Comments
Martin, John: The Legendary Tarzan 67 stanza poem based on The Legend of Tarzan film ~ 12 pages with 13 movie stills
Karlen, Dave: Gold Key's Amazing Jungle Fact Pages ~ 2 Tarzan and Korak Comic pages.
Thompson, James F.: Update on George McWhorter ~ Comments of The Legend of Tarzan film ~ Comments on and to ERBapa fans
Shoemaker, Kurt B.: The Texas Wave ~ In-depth comments on all APA 130 contributors
Sherman, Abraham: John Carter of the Round Table: An Exploration of the Differences Between ERB's Novel and Andrew Stanton's Film: A 14-page essay ~ 2 illos ~ 4 pages of Responses to #130
Howell, DJ: Lord of Two Worlds: Jer'ok in the Valley of Mithos: Synopsis ~ Ch. XIX: Silence ~ Postscript: ERB in Unexpected Places.
Cavender, Shawn: Comments on ERB: The Bibliography, Dynamite's ERB Comics Fizzle, "The Legend of Tarzan" Film, Dejah Thoris Cosplayer: Tasha Mackenzie ~ Mailing Comments on 6 contributors ~ 5 illos
Franke III, Henry G.: Major review of ERB's The Rider ~ 2 colour covers and map
Terrell, Jess: Burroughs Football League Pre-Season Interviews: Coach Abner Perry - Gilak Gladiators and Coach Lady Jane Clayton - Greystoke Growlers
Guidry, John H.: A page of ERB-related Internet links ~ ERB photo
Sigmund, Rudy: "The Legend of Tarzan" Film Posters ~ 19 large poster illos
OE Last Word: Comments on the Issue #131 Submissions
---
ERBapa 132 ~ Winter 2017 (with ERBzine references)
---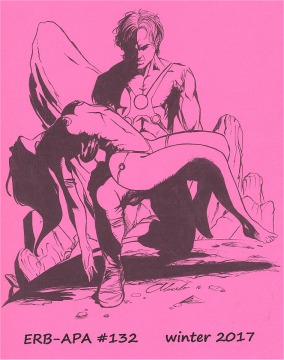 Kaor: Cover art by Marcelo ~ Contents (Total Pages 178) ~ ERBapa Ballot Results: Shawn Cavender won Official Editor election 15-0 ~ Membership Report ~ Kreegah! ~ Early Mailer Awards ~ Membership Dues ~ Back Issues Available ~ Treasury Report ~ Lee Strong Update: Soldier of Poloda to be published by Dark Horse, 5 other ERB-related novels approved by ERB, Inc. for publication, Caspak TV series being considered
Griffin, Scott Tracy: ERB Comics' First Fandom Part V: The Honor Role - Correspondence in ERB comics by name and location and issue ~ 18 pages
Critchfield, David: Another Book from the Hollow Earth Bookshelf: Godzilla at World's End by Marc Cerasini: Review with two illos ~ 8 Mailing Comments ~ 2 Mike Hoffman art pieces ~ Reading List over 2016
Ekman, Fredrik: Tarzan of the Dogs ~ Review of 1945 Swedish book by Gunnar Niland: Lost with Tarzan ~ Actually about dogs named Tarzan ~ Tarzan, the Police Dog ~ 3 illos ~ List of 7 more Swedish books with Tarzan in the title.
Goodwin, Jim: Invitation to 2017 ECOF hosted by the Hell's Benders June 8-11 in Irving, TX ~ www.ERBzine.com/dumdum ~ Many Guest Authors with new releases ~ Review: Russian edition of "Tarzan, the Mark of the Red Hyena ~ 3 illos ~ Comments on 15 submitters
Conran, Mike: The Burroughs Bibliophiles 2016 Dum-Dum in Morris, Illinois. Report with 20 photos and Lists of Sites, Guests, Panels, Awards, Souvenirs, Special Events. ERBzine Coverage HERE
Hanson, Alan: The Waziri: Transformation from Primitive to Colonial Tribe: Part Three ~ Waziri Self-sufficiency ~ Tribal Deaths in Battle ~ War Parties Large and Small ~ The Waziri and their "Lady" ~ Guides, Trackers, Porters, Mechanics and Pilots ~ Freed from Superstitious Fear. WAZIRI PROFILES: #11 Buira, #12 Balando, #13 Waranji, #14 Usula ~ 1 illo plus Dell Tarzan #118 cover READ in ERBzine
McKosky, Jr., Ted: Jungle Jottings: 28 screen captures from a Tarzan filmstrip from the Netherlands from Ron de Laat and Rob "Tex" Donkers.
Dumont, Richard: Piltdown Man in the Land That Time Forgot - 7 phases of evolution ~ 4 illos
Karlen, Dave: Alberto Giolitti's Gold Key ERB Comics: 5 Tarzan Comics starting at #168 (Read all the Gold Key Tarzans in ERBzine) plus issue #22 of Korak ~ Critical review of The Legend of Tarzan film ~ 1 John Carter illo and Jungle Tales of Tarzan comics page.
Denkena, Kurt S.: Fuwalda - Dr. Tarzan: German newspaper article and photo and coverage of the death of Carrie Fisher.ds
Strong, Lee: The Polodan Times: Jim Sullos efforts for promoting Soldier of Poloda and Expanding Burroughs Appeal ~ Reviews: Tarzan: Return to Pal-ul-don by Will Murray ~ Tarzan on the Precipice by Michael Sanford ~ King Kong versus Tarzan by Will Murray ~ Tarzan Trilogy by Thomas Zachek
Hillman, Bill: ERBzine 3100-3150 Contents ~ Logos and Links to ERBzine companion sites ~ John Carter and the Perils of Mars: 1941-43 Sundays by John Coleman Burroughs ~ Novelization by Dale R. Broadhurst: Ch. 11: "The Princess Abducted" ~ full colour Sunday page and chapter novelization.
Ross, Bill: Burroughs Fan Publications from the "T" File - Part 2: 6 pages
Spargur, Richard C.: A Burroughs Fan Finally Enters a Jungle - Costa Rica visit ~ 8 colour photos
Hadac, Jim: Sasquatch! Tarzan meets Bigfoot ~ 3 illos - including one from Tarzan on the Precipice
McGeeney, Bob: The Fun Addict: Report on Tarzan paperbacks in Europe with 3 illos.
Terrell, Jess: My Fellow Burroughs Fans: Fandom today and information on his Facebook group "For the Love of All Things ERB." as well as ERBzine FB group and pages and "Website. Discussion: Whiy is Jane absent in the latter Tarzan books? ~ When did Tarzan receive two immortal treatments. ~ Is the Va-Gas shaped like a centaur ~ What is La's hair color? ~ Was La immortal? ~ 4 illos
Huckenpohler, J.G.: Archimedes Q. Porter's Tarzan Chronology ~ Paul Privitera's Memoriam (www.ERBzine.com/privitera) ~ Comments on all Contributors' Submissions
Lupton, Robert Allen: Report on Tarzan Garden in Jamaica ~ Comments on King Kong vs Tarzan by Will Murray and Tarzan on the Precipice by Michael Sanford. Three short ERB parodies by the author.
Martin, John: Any Excuse to Feature Tarzan: Cacheted envelopes with special postal cancellations: "Tarzans of Indiana" ~ El;mo Lincoln postmark ~ The Science of Pellucidar
Wilcutt, Dennis: Political thoughts ~ Matt Marriott original daily art (2 illos) ~ Comments: Tarzan and Jane on Netflix, The Beckoning reprint by Thomas Yeates, ERB: The Bibliography by Bob Zeuschner, Tarzan on Film by Scott Tracy Griffin, At the Earth's Core on Dark Horse and The Tarzan Trilogy. Discussion on Beyond the Farthest Star ~ 3 Tom Grindberg Tarzan Sundays art ~ Comments on 15 submissions.
Guidry, John H.: Found for ERBapa -- Three pages of recommended Websites ~ one photo
Zeuschner, Bob: Sailing through the Panama Canal ~ In-depth comments on last issues submissions
Sherman, Abraham: The Music of Barsoom - recommended tracks ~ Comments on submissions ferom last issue
Cavender, Shawn: Updates on Dynamite ERB comics ~ 3 illos
Shoemaker, Kurt B.: Texas Wave: Tarzan and the Short Snorters: Topical Allusions in Tarzan and the Foreign Legion ~ In-depth comments on last issue's submissions
Grainger, Frank: Tarzan the Exotic: A Brief and Admittedly Incomplete Overview of Thoroughly Unofficial Tarzan Movies, Part II: Bollywood ~ 4 colour posters of Indian Tarzan movies
Thompson, Jim: Review of Tarzan on the Precipice by Michael A. Sanford ~ Comments on Michael Sellers' "The Legend of Tarzan" Website and the film.
Franke III, Henry G.: Full discussion on Beyond the Farthest Star and Out of Time's Abyss. With 31 colour illos including 6 comics pages.
DJ Howell: Lord of Two Worlds: Jer'ok in the Valley of Mithos: Synopsis ~ Ch. XX: Defeat ~ POSTSCRIPT: Dissertation/novel: Where YouCan Hear the Sea and See the Sound now published (cover illo) ~ Destiny and Book I now serialized in ERBzine
Krabacher, Tom: Thark Horizons: Report on the gathering of the Northwest Coast Mangani in Sacramento ~ Plans to host the 2018 ECOF in May in Sacramento ~ Richard Lupoff Launch Party: Where Memory Hides: A Writer's Life ~ Other new releases: Japanese Edition of Tarzan and the Jewels of Opar with 5 illos ~ Tarzan, Jungle King of Popular Culture by David Lemmo ~ Tarzan on the Planet of the Apes 5-issue comics series from Dark Horse.
---
ERBapa 133 ~ Spring 2017 (with ERBzine references)
---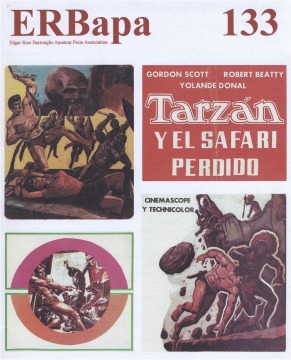 Kaor: Cover art from a Mexican Lobby Card for Tarzan and the Lost Safari
Membership: Final mailing from longtime member Kurt Denkena - he will be greatly missed.
Hillman, Bill: ERBzine Contents for Issues 3150-3200 ~ Links and Logos to ERBzine's companion sites ~ JCB Colour JC Sunday Page and Chapter 12 for Dale Broadhurst's novelization: John Carter and the Perils of Mars: "City of the Deadly Mist"
Denkena, Kurt: Goodbye after 28 years in ERBapa ~ Illustration: Tarzan sails into the sunset.
Goodwin, Jim: Purchase of three French Tarzan books on 2014 Paris visit ~ List of the 15 Tarzan books published by Nouvelles Editions Oswald (Neo) ~ Comments of 21 contributors to last issue.
Hanson, Alan: The Lord of the Jungle Meets The King of Rock 'n' Roll: Elvis ~ Connections: Studio, Director, Actors, Locations, Common Theme, Tarzan Presley book ~ 3 illos ~ Variety Article: Aug 24, 1966: Tarzan - No Commuter on 5:30 Vine.
Critchfield, David: Tarzan On Venus: Resemblance to Double Novel: The Vengeance of Kyvor ~ 5 illos ~ Reviews: King Kong vs. Tarzan by Will Murray ~ Emilie and the Hollow World by Martha Wells ~ Comments on 7 contributors
Conran, Mike: Dynamite Comics Checklists: Lords of the Jungle featuring Tarzan and Sheena ~ Dejah Thoris ~ 60 cover illos ~ Corrections to Tarzan: Jungle King of Popular Culture by David Lemmo ~ 6 pages.
Lupton, Robert Allen: Release of book: Foxborn ~ Hiking UK trails ~ Viewing film The Legend of Tarzan ~ Current project: Feral Children ~ Short Story: The Lion Sleeps Tonight
McKosky Jr., Ted: Jungle Jottings ~ 8 colour ERB movie trading cards (front and back)
Burrows, Robert J.: Case Files of Dotar Wat: The Case of the Unsung Hero II: Ch. 2 - Plans and a New Direction (Fan Fiction) ~ Some Comments on Issues 130, 131 and 132.
Martin, John: 5 postal covers featuring much Frank Paul and pulp art plus expanded in-depth info related to the space theme of each illustration ~ ERB's placement in Best SF novel lists from 20th Century
McGeeney, Bob: Organizing of ERB collection before illness ~ Remembering Robert Allen Mayer's trilogy of pastiches: War in Heaven, The Martian Conspiracy, The Martian Great White Ape War ~ Tarzan and the Comics of Idaho: Cover art by local artists
Strong, Lee: The Polodan Times: Jim Sullos Plans Four New Books a Year ~ A Soldier of Poloda about to be released ~ Mystery Magazine Considers Reprinting ERB's Mysteries ~ Burroughs Influence on Museum of Science Fiction Trivia Contest Continues to Grow ~ NASA Discovers Poloda ~ Legendary Pictures Considers a TV Series That Time Forgot ~ Review: Arabella of Mars by David D. Levine ~
NASA: 7 New Earth-like Exoplanets Discovered
Dumont, Richard: Lost in Pal-ul-don ~ Comments on The Tower of Ta-dan Dell Comic 41 by Gaylord Dubois ~ Read the comic in ERBzine
Zeuschner, Bob: Is Tarzan a Politically Incorrect "White Savior"?
Ekman, Fredrik: Barsoomian Playtesting: Wish List Games ~ Modiphius ~ Rule Assessments ~ 2 sketches ~ 6 Comments on last issue 132
Huckenpohler, J.G.: The Panthans Turn Twenty ~ 11 illos ~ Covers of ERB foreign editions ~ Comments on all contributors from last issue
Howell, DJ: Lord of Two Worlds: Jer'ok in the Valley of Mithos: Synopsis and Epilogue ~ Postscript
Karlen, Dave: Editorial: Novaro's ERB Mexican Comics
Wilcutt, Dennis: Favourites Lists: Western Movies and TV Shows ~ TV Series ~ Actors ~ Icons of Past ~ Movies ~ Comic Artists ~ Authors ~ Characters ~ 2 Pulpdom covers ~ Contributor Comments
Terrell, Jess: Pastiches: Evil Queens Anonymous and Sleepover At Opar ~ 19 pages with two art illos by Mike DeCarlo
Shoemaker, Kurt B.: The Texas Wave ~ In-depth Comments on last issue contributors
Franke III, Henry G.: Review: Lost City of Z: The decades of exploration by British explorer and archeologist Colonel Percy Harrison Fawcett (1867-1925?): Books and Film ~ 36 illos.
Thompson, James F.: George McWhorter and UofL news ~ In-depth comments on contributions to last issue.
Krabacher, Tom: Thark Horizons ~ Northern California news ~ Review: Tarzan: Jungle King of Popular Culture by David Lemmo ~ Comments on 10 submissions
Barry, Rick: Who is Carson Napier? - First of a Series: Wrong-Way Carson ~ Our Hero's Early History ~ The First Carson Napier ~ ERBzine References: In Defense of Carson Napier and Before Venus: Carson Napier's Background ~ 3 Jeff Doten art pieces and photo of ERB at Fort Grant.
Sherman, Abraham: Home Sweet Mars ~ 16-Mars mission related photos.
Cavender, Shawn: Alien Worlds of ERB: RIP Robert Day, Tarzan Director ~ Dejah Thoris Cosplayer Appears on Season Finale of Cosplay Melee: Jacqueline Goehner in ERBzine ~ Comments on selected submissions
Grainger, Frank: A Brief and Admittedly Incomplete Overview of Thoroughly Unofficial Tarzan Movies, Part III.
Sigmund, Rudy: Legend of Tarzan Posters and Promotional Items Part 2 ~ 18 illos
---
ERBapa 134 ~ Summer 2017 (with ERBzine references)
---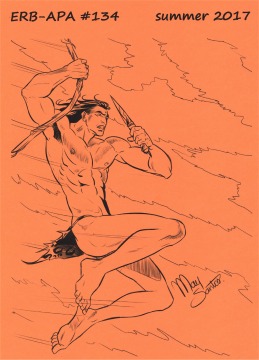 Kaor: Cover art by Brazilian artist May Santos
Summer Symposium Topic: Tarzan the Untamed ~ Bill Hillman was in China and had submitted this issue before he learned of the Summer topic. His "Untamed" input may be found via the Rex Maxon daily strips and the ERBzine C.H.A.S.E.R. entry for Tarzan the Untamed.
~ Jim Goodwin sent in a supplement for this issue the Tarzan the Untamed section from Joe Lukes' G and D Bibliography
Membership: We welcome new member Jason Hardy. Request for an ERBapa Official Editor volunteer.
Critchfield, David: Tarzan the Untamed evolution, WWI connection and review with 6 illos ~ Comments on 7 submissions from last issue.
Hillman, Bill: Contents for ERBzine issues 3200-3251 including Tarzan the Untamed Maxon strips ~ Companion site logos and links ~ 1934 Malibu Post article: ERB Lord of the Jungle: Malibu's First Mayor: 3-page text transcription plus photo of Ed in office.
Goodwin, Jim: Tarzan the Untamed supplement from Joe Lukes' The Descriptive Bibliography of the Grosset and Dunlap Reprints ~ Comments of 18 submissions from issue 133
Dumont, Richard: Review of Weinberg Tales by Doug Ellis, Robert T. Garcia and Phyllis Weinberg with cover illustration.
Hanson, Alan: "Sufferin' Cats!" ERB and the Domestic Feline: The importance of cats in ERB's life and works. 8 pages with one illustration.
Zeuschner, Bob: Report on the northern California Northwest Coast Mangani gathering in Fresno followed by the 2017 Dallas ECOF: Mention of all the guests, attendees and the flood of the new ERB-related books presented at each event.
Howell, DJ: First part of The Sacrifice of Tarzan ~ Based on the characters created by Edgar Rice Burroughs ~ Summer Symposium entries ~ Comments on 11 submissions from the last ERBapa issue.
Hardy, Jason: Jason's intro bio, 6 samples of his art plus a short essay: "Two Heroes, One Bird: When Tarzan and Conan Me Ska"
Ross, Bill: The ERB Collector visits Tarzan, Texas with 13 photos.
Karlen, Dave: Report on the 2017 Dallas ECOF ~ Appreciation of Roy G. Krenkel with two of his pencil sketches.
Shoemaker, Kurt B.: Some lifetime events since last issue ~ Topical Allusions in Tarzan and The Foreign Legion: An indepth 10-page analysis.
Martin, John: Gold Key and Dark Horse feature "Tarzan the Untamed Lite" ~ BLB ~ Comments on the original story ~ Untamed Quiz ~ Martin Poem: Tarzan's Undefeated Feet in 11 stanzas ~ Postal Covers ~ 7 illos
Conran, Mike: 2017 Irving, Texas ECOF report ~ including Sites, Guests, Awards, Souvenirs, Panels, Special Events ~ 17 photos
McKosky, Ted: Jungle Jottings: Description and 10 colour photos of Johnny Weissmuller's 1931 LA mansion and future owners.
Krabacher, Tom: Report: NW Coast Mangani convention in Folsom CA ~ Review of Tarzan the Untamed: The Fix-Up, Non-death of Jane, War in E. Africa, Tarzan's Africa, Bertha Kirchner, The Knife, Ska and his progeny, Rapine, Tommies, An Oddity: No Middle Name, Parrots, The Wrap Up. ~ 8 illustrations
Huckenpohler, J. G.: Some Thoughts on "Tarzan the Untamed" ~ Comments on all the submissions in issue #133 ~ Frazetta cover for Land of Hidden Men in ACE quite possibly meant for "Untamed"
McGeeney, Bob: Two Spiritual Concepts in Tarzan's Quest ~ Recent new ERB books collected
Strong, Lee: Info on Lee's A Soldier of Poloda: 9 illos
Hadac, Jim: The 4 German Colonies in Africa -- Askari! ~ Further comments on "Tarzan the Untamed" and the wWI East African CAmpaign, 1914-1918 (continued from Apas #96 and #97 ~ 3 illos
Lupton, Robert Allen: Tarzan and the Cannibal King comments ~ Body count for "Tarzan the Untamed" and other observations. Quotes from "Untamed". India Boone poem reprinted from ERBzine 0111. plus her quotes from ERBzine 0772 ~ 4 illos.
Terrell, Jess: Essay: Core Values of Taran the Untamed with many Chapter excerpts and "Hero Factor" chart with References and Websites
Wilcutt, Dennis: Review of "Untamed" ~ Comments on most submission in #133 ~ 3 illos
Thompson, James F.: Update on George McWhorter's health ~ Memories of the early influences of "Untamed" and early essay.
Spargur, Richard C.: Comments on All-/Story Magazine: December 1913 - Scans of 7 pages (cover and Table-Talk)
Guidry, John H.: Found on the Internet: List of a multitude of ERB-related URLs
Grainger, Frank: Untamed: Defending my Favourite Historically Inaccurate Tarzan Novel - many examples and quotes.
Griffin, Scott Tracy: ERB Comics' First Fandom - Part VI: Conclusion ~ Fans who sent letters to the comics . . . by topic.
Franke, Henry G.: Mad King extended review with many quotes and 9 images
Cavender, Shawn: This and That comments: Reading, TV, Youtube ~ Comments on 16 submissions from #133
Barry, Rick: Joe Lansdale, "Champion Mojo Storyteller" A Literary Heir to Edgar Rice Burroughs. Experience of reading 36 of the Lansdale titles ~ The Finest Art ~ Who is Joe Lansdale? ~ Lansdale Does Burroughs ~ How Lansdale Is Like Burroughs -- and Unlike Him ~ 16 pages with topics: Recommended Reading ~ Lansdale Quotes Re: ERB in Essays/Interviews and Fiction ~ Selected Resources ~ Photo and 16 cover illustrations
---
NOTE:
I've come under some degree of personal criticism for not writing Mailing Comments in each ERBapa issue. I feel I must remind those who have expressed this concern that I spend quite a few hours going through each issue and compiling fairly detailed descriptions of the contents and making scans of the cover art. This is not only provides a reference source for ERBapa members, but also goes out to a worldwide audience far beyond our clique and hopefully will generate more interest and awareness in what normally would be available to our limited group of 36 members.

---
ERBapa ROSTERS: PAST & PRESENT
ERBapa RULES
The ERBapa Webpages in ERBzine start at:
www.ERBzine.com/apa
We need YOUR help to compile content descriptions of each issue.
APA members are also invited to submit previous articles for worldwide presentation
in our weekly online fanzine: ERBzine ~ The ERBapa Archives
Bill Hillman ~ APA Member and Booster
Edgar Rice Burroughs Amateur Press Association
Navigation Chart
The Fantastic Worlds of Edgar Rice Burroughs
| | | | |
| --- | --- | --- | --- |
| Tarzan.com | ERBzine.com | DantonBurroughs.com | Tarzan.org |
| BurroughsBibliophiles.com | JohnColemanBurroughs.com | Tarzan.com/tarzine | JohnCarterOfMars.ca |
| ERBzine.com/edgarriceburroughs | Weekly Webzine | Weekly Webzine | Pellucidar.org |
| John Carter Film News | ERB, Inc. Corporate Site | ERB Centennial | tarzana.ca |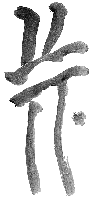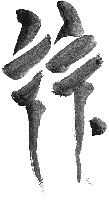 BILL HILLMAN
Visit our thousands of other sites at:
BILL AND SUE-ON HILLMAN ECLECTIC STUDIO
ERB Text, ERB Images and Tarzan® are ©Edgar Rice Burroughs, Inc.- All Rights Reserved.
All Original Work ©1996-2015/2017 by Bill Hillman and/or Contributing Authors/Owners
No part of this web site may be reproduced without permission from the respective owners.