Official Edgar Rice Burroughs Tribute Site
Since 1996 ~ Over 15,000 Webpages in Archive
Presents
Volume 5657
The Many Worlds of

www.ERBzine.com/apa
presents
ERB-APA ARCHIVE INDEX Vol. IV
Edgar Rice Burroughs Amateur Press Association
ERB-APA CONTENTS ARCHIVE (Work In Progress)
We need YOUR help to compile cover and contents descriptions of each issue back to No. 1
(Go to the Navigation Chart below to see our progress, so far)
---
ERBapa 126 ~ Summer 2015
---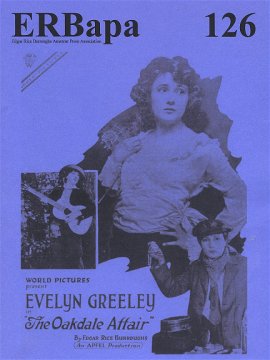 ERBapa 126 ~ Summer 2015 (with ERBzine references)

Cover: Oakdale Affair Film Poster with Evelyn Greeley Photos
Kaor: Contents ~ Summer Symposium: Oakdale Affair ~ Membership Report ~ Treasury Report ~ Back Issues Available ~ Total Pages 169
Griffin, Scott Tracy: Colonel Selig's Close Call
McKosky Jr., Ted: Jungle Jottings: A. Arnold Gillespie 1899-1978 ~ Tarzan Stage Play at Pulaski High, Virginia ~ 11 Illos
Zeuschner, Bob: Oakdale Affair Report and Biblio Info
Critchfield, David: Oakdale Affair Report and a short 2015 Rockville ECOF report - 6 illos - 3 issue 125 comments
Goodwin, Jim: Oakdale info and and 16 Issue 125 comments
Denkena, Kurt: Much info on German ERB artist Uwe Reber and Fig Tree Artistry - 11 illos
Grainger, Frank: FanFic: Tarzan at Empire's End -- Part IV: Ch. 19- "He's Here!" ~ Ch. 19: A Change of Tactics ~ Ch. 20: The Veranda Once More ~ Ch. 21: A Desperate Last Effort ~ Ch. 22: Farewells to Africa ~ Afterword ~ Author's Note
Howell, Dorothy J: FanFic: Lord of Two Worlds: Jer'ok in the Valley of Mithos -- Synopsis ~ XVI: Misunderstandings ~ Postscript: 10 Contributor Comments ~ ERB-related news
Karlen, Dave: ERB and the "Filipino Invasion": Influence of Filipino Tarzan artists ~ 2 Rudy Florese comic page illos
Guidry, John H.: Remembering Pat Adkins and The Dream Vaults of Opar and StrangeExcursions.com
Hanson, Alan: Was ERB a Racist Author? - Understanding Context in the Tarzan Stories: Part 3: Southern Black Idiom ~ Esmeralda ~ Robert Jones ~ Literary Black Face ~ Narrative Quotes ~ Tarzan's Attitude Toward Blacks ~ Racial Characteristics ~ Opinion of American Blacks ~ Positive Statements ~ Racism a Factor of Power ~ Conclusion ~ 2 illos
Conran, Mike: ECOF 2015 Report with 18 photos ~ Sites, Guests, Souvenirs, Panels, Special Events
Huckenpohler, J. G.: The Oakdale Affair: Three Endings ~ Comments on 23 Submissions from No. 125
Martin, John: A Rough Road to Oakdale ~ 2 illos ~ 6 Converging Trails Comments from No. 125
Hillman, Bill: ERBzine Archive Directory XXIX - Pt. I Issues 2800-2851 ~ Logos for the ERBzine.com companion sites ~ Original Pulp Ending Oakdale Affair missing from the ERB, Inc. 1st Ed. ~ Link to the e-Text Edition ~ The John Coleman Burroughs Art ~ Background
McGeeney, Bob: Names and Nicknames in The Oakdale Affair ~ 2 Comments on No. 125 contributors
Dumont, Richard: Flying Stegosaurus in Tarzan at the Earth's Core ~ Reprint of one page of old dinosaur article
Ross, Bill: Burroughs Publications from the "Q" and "R" Files
Ekman, Fredrik: Another Barsoomian Movie Language from a 2005 script reprinted in ERBzine.com 3694: John Carter by Ehren Kruger ~ The phrases ~ Kruger's Words ~ Dictionary of Kruger Barsoomian ~ 3 Mailing Comments ~ 1 illo
Lupton, Robert Allen: Summer travels and Balloon Race in ERB Country among the Grand Teton Mountains ~ Daughter Robin Lupton finalist in Baen Fantasy Adventure Award for "Victor the Sword" ~ Reprint of the ERB, Inc. press release for Will Murray's Tarzan: Return to Pal-ul-don and review of the book plus ERB's Jungle Tales of Tarzan, ERB's Tarzan Omnibus plus comments and illos for Oakdale Affair ~ 10 cover illos ~ 18 comments on No. 125
Hadac, Jim: Worst Cover Ever: Comments on the Frazetta cover for Oakdale Affair ~ Comments on 24 submissions
Burrows, Robert J.: A Photo Tribute to Gordon Scott: 21 Photos - Screen to the Grave
Thompson, James F.: Edition 125: George McWhorter Update ~ Pat Adkins Tribute Edition 126: Phil Normand medical update ~ Dum-Dum 2013 Pt. 3 Report
Sigmund, Rudy: Thanking Gordon Scott: 19 Personal photo collection
Krabacher, Tom: Personal Masthead Illo ~ Personal summer news ~ Oakdale Affair Report: Random Musings ~ Henry Herbert Knibbs: His Adventure ~ 16 Comments on No. 125 and Murray's Return to Pal-ul-don
Wilcutt, Dennis: George McWhorter's Medal of Honor book review in Bowling Green Newspaper ~ Personal update: Moving, Movies Seen, Concerts: Stones, Beach Boys, Paul McCartney - Books Read ~ 6 illos (Tarzan Sunday Pages) ~ 20 comments on Nos.123, 124, 125.
Franke III, Henry G.: Joe Kubert's "Tarzan of the Apes" Artist's Editions ~ 26 Covers
Shoemaker, Kurt: How I Spent My Summer: Texas, Brooklyn, NYC, Seattle, Texas ~ Thoughts on ERB on the Texaco Star Theater ( LISTEN HERE on our Tarzan.org site) ~ Oakdale Affair report ~ ERB Vocabulary ~ Thoughts on Asylum's John Carter of Mars (Princess of Mars)
Cavender, Shawn: Comments ~ Oakdale Affair Report ~ Dynamite Comics: John Carter Warlord of Mars and Sword of Sorrow ~ 2 illos
Barry, Rick: 40 Years Ago: Celebrating the ERB Centennial: Tarzan Reunion Photo and Tarzans with Ape Photo ~ Update on the David Yates "Tarzan" Film: The Script, WB Promotion Plans, ERB/Tarzan Fan Base Concerns, An Exciting New Resource
---
ERBapa 127 ~ Fall 2015 (with ERBzine references)
---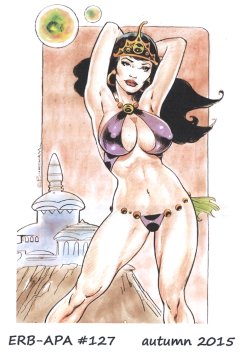 Cover: Dejah Thoris by F. Newton Burcham

Kaor: Contents ~ Annual Ballot ~ Art Credits ~ Membership Report ~ Early Mailer Awards ~ Kreegah ~ Membership Dues for Jan 31 ~ Back Issue Report ~ Treasury Report ~ Kaorspondence Dennis Wilcutt corrections to his Frank Grainger interview ~ Hillman submission missing from this issues Contents page ~ 133 pages
Ekman, Fredrik: Archive.org updates ~ Swords of Sorrow / ERB Connections ~ 5 small illos ~ 4 mailing comments
Goodwin, Jim: Tarzan: The Epic Adventures Toys Pt. 1 ~ Micro Action Playsets ~ Special Collection Edition ~ Large Action Figures ~ 11 Colour Photos ~ 9 Contributor Contents (ERBzine 1398: Epic Toys)
Hanson, Alan: Chicago in ERB's Fiction: The Fight for Survival in a Corrupt, Immoral City ~ Part One: ERB's Chicago Years ~ The Girl from Farris's ~ Chicagos Pervasive Corruption ~ Abuses of an Uncaring City ~ The Mucker ~ Billy Learned to Hate Women ~ Billy Accepted Gang's Code ~ Chicago Exported Its Immorality ~ A Reformed Man Returns ~ 4 illos ~ 10 pages ~ 5 Mailing Comments ~ Article Reprint: Maureen O'Sullivan Divides Interests 1957
Critchfield, David: Review of "Tarzan: Return to Pal-ul-don" by Will Murray ~ ERB Fans are Everywhere ~ 4 Mailing Comments
Karlen, Dave: Gold Key's Russ Manning and Paul Norris bios ~ Two comic art pages (ERBzine Russ Manning ~ ERBzine Gold Key 2596)
Martin, John: Tarzan's Los Angeles Adventure (fanfic): 1. All Abord, 2. The Incident on the Liner, 3. The Southern California Circus, 4. Korak the Thriller, 5. Tarzan Lawyers Up, 6. Perry Mason Performs, 7. The Bar Scene ~ 8 pages ~ 3 illos
Denkena, Kurt S.: Fuwalda: Butler Parker novels and ERB ~ 5 illos ~ 1 cartoon
Howell, DJ: Lord of Two Worlds: Jer-ok in the valley of Mithos (fanfic): Synopsis ~ Ch. XVI Misunderstandin, cont. ~ Postscript: ERB in the current and nostalgia media ~ Cartoon and Roy Rogers photo
Conran, Mike: Burroughs Bibliophiles 2015 Dum-Dum, Clinton, Connecticut report ~ 13 photos ~ Events, Guests, Tributes, Sites, Guests, Presentations, Panels, Awards, Souvenirs, BB Meeting, etc.
Hillman, Bill: ERBzine Archive Nos. 2852-2899 ~ Hal Foster Tarzan Sunday Page logos 1931/1932 and links to the ERBzine Tarzan Sunday reprints ~ Reprint of the Connecticut Newspaper coverage of Peggy Adler's 2015 Dum-Dum in Clinton, plus scans of the pages (Scan 1 and Scan 2) ~ Clinton DD Logo ~ Many Colour Hal Foster Tarzan logos.
Guidry, John H.: Contraflow V / Deepsouthcon 53: Review and Compilation of links to ERB-Related Websites
Huckenpohler, J.G.: Notes for a Preliminary Listing of Foreign-Language Pastiches: German ~ Spanish ~ French ~ Comments on all submissions for No. 126
Griffin, Scott Tracy: The Forgotten Tarzan Novels: Past and Present plus several pastiches and novelizations from other media ~ Tarzan the Mighty film cast (ERBzine Novelization) ~ 9 Storyboard sketches
McKosky, Ted Jr.: Jungle Jottings: Cyril Hume, etc. and numerous film trivia info ~ 7 screen stills
Zeuschner, Bob: Plans for LA SubERB's 2016 ECOF events ~ Progress updates on the author's new "Edgar Rice Burroughs: THE Descriptive Bibliography" ~ List of contacts for 4 ERB Fanzines
Hadac, Jim: ERB-APANS On The Seashore: Photo of 4 attendees of the Clinton Dum-Dum ~ Long reprint of the ERB reference in "One Summer America, 1927" by Bill Bryson ~ 6 Mailing Comments.
Spargur, Richard C.: Stuff in My Collection, Part II: "Captured By Apes" by Harry Prentice ~ A Review with 8 illos ~ Comments on the 1924 Crime of the Century in Chicago. (ERBzine Note: Captured by Apes was in ERB's Library: Shelf PQ3 ~ Vern Coriell's Library
McGeeney, Bob: Review of the Tarzan Armed Services Editions and the their mention in "When Books Went to War" by Molly Guptill Manning ~ TA and RT cover illustrations
Lupton, Robert Allen: Photos of summer's hot air balloon flight - Comments on the many Tarzan actor photos on eBay plus recent books read: "Heritage of the Flaming God", Farmer Opar novels, Alan Hanson's contributions, Winger's "Destruction of Atlantis. . . " book, Gillies' "Astride the Farthest Star", Madison's (ed.) "ERB: The Master of Pulp Storytelling" ~ 11 Illos
Franke, Henry G. III: Follow-Up on Joe Kubert's Limited "Tarzan of the Apes" Artist's Edition ~ Comments on upcoming 2016 Tarzan Feature Film with YouTube links ~ When John Carter Met Dejah Thoris on Earth (X-Men origins) ~ When John Carter Met Tarzan (Battleship) ~ 25 colour photos
Shoemaker, Kurt: Summer activities ~ Comments on ERB's "Pirates of Venus" ~ Full, extended comments on previous APA 126 submissions (ERBzine Biblio and eText)
Wilcutt, Dennis: Interview with Frank Grainger - author of the 140,000-word TARZAN AT EMPIRE'S END ~ 10-page interview with 6 illos.
Krabacher, Tom: Comments on Columbus Pulpfest VII, plus Northern California Mangani 2015 Dum-Dum in Willows, CA ~ 6 Illos ~ 9 Mailing Comments
Cavender, Shawn: This and That: Happenings from over the summer ~ 13 Mailing Comments ~ Blanca Soto Jungle Girl pin-up.
Thompson, James F.: News updates on George McWhorter ~ History of My Review Buddy Saunders' "The Martian Legion: In Quest of Xonthron . . . " Part I and discussion on contributors to the project. ~ Comments on past and current ERB-related authorized novels and pastiches
---
ERBapa 128 ~ Winter 2016 (with ERBzine references)
---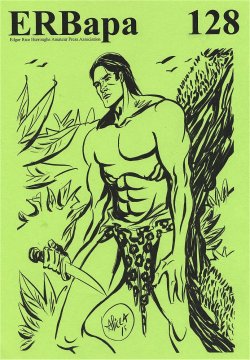 Cover: Tarzan by Rey Alicea

Kaor: Contents (147 pages) ~ Annual Ballot (Shawn Cavender voted OE) ~ Cover Art Credits: Front - Rey Alicea | Inside Front: Jeff Lasley | Back: Keith Dotson | Inside Back: Ricardo ~ Membership Report ~ Early Mailer Awards ~ Kreegah ~ Membership Dues for April 30 ~ Back Issue Report ~ Treasury Report ~ Supplement: Tarzan the Stage Musical program from Bill Ross
Critchfield, David: Inner World Adventure: A Pellucidar Pastiche by Wayne Reinagel (A Review) ~ 4 Illustrations ~ ERB, Inc. Comics report ~ Visit to Go Ape! park in Virginia ~ Reading List ~ 5 Mailing Comments || Pellucidar.org
Goodwin, Jim: Tarzan the Epic Adventure Toys Part 2: 8 toys described with photos ~ 14 Mailing Comments. | Epic Action Figures
Huckenpohler, J. G.: On the Road Again: To Clinton Dum-Dum and Beyond with the Panthans to Canada's Maritime Provinces ~ 24 Mailing Comments. || Dum-Dum 2015
Hanson, Alan: Chicago in ERB's Fiction: The Fight for Survival in a Corrupt, Immoral City - Part Two: The Efficiencey Expert ~ Police Oppression ~ Labor Struggles ~ Disadvantaged Neighborhoods ~ Chicago in Other Stories ~ Observations on Chicago ~ Chicago of the Future ~ ERB Chicago Conclusions. || Efficiency Expert ~ The Mucker
Dumont, Richard: Morris Gollub - Dell Cover Artist - Photo and 18 covers || Dell Tarzan Comics
Conran, Mike: John Carter: Warlord of Mars - Dynamite Comics Cover Checklist - Part 2 - Plus Dejah Thoris: 73 covers - Artists and Writers and Notes || John Carter of Mars ~ John Carter Film
Denkena, Kurt S.: Cartoons, Record and Magazine Covers ~ 16 Illustrations || Tarzan On Record
Hillman, Bill: Contents of ERBzine Nos. 2900-2967 (Russ Manning Tarzan and Korak Strips) ~ Logos/Links for 12 ERB Companion Sites ~ 2015 Logo Review for Weekly ERBzines I ~ Genghis Kahn poem by ERB (Page 1 of 10 ~ 4 Frazetta Khan Illustrations. || Frank Frazetta ~ ERB's Poetry
Ross, Bill: ERB Fan Publications Index from the "S" File ~ Signal News Tarzan Cover ~ Tarzan Cover for 75th Anniversary Dinner Celebrating the first publications of ERB hardcover TA (1914) || Signal Oil ~
Zeuschner, Bob: Difficulties facing the LA SubERBs in planning the 2016 Tarzana ECOF to coincide with the release of the new Legend of Tarzan film ~ Progress on the new ERB Bibliography by Bob Zeuschner.
Martin, John: Tarzan vs. Hissssssstah short stories: A Little of the Snake That Bit Him ~ A Puff in Time ~ Apeman, Asp, and Asparagus: Ch. 1 - The Slithering Menace, Ch. 2 - Snake Mountain, Ch. 3 - The Lair of the Snake Handler, Ch. 4 - That's the Breaks, You Snakes
Karlen, Dave: Two More Tales of Tarzan Art:: Russ Manning and Richard "Sparky" Moore ~ The Cost of Collecting ~ 5 pages of art. || Russ Manning
Guidry, John H.: Yet Another Tarzan Movie: Early expectations ~ Many Web links for ERB trailers and sites.
Thompson, James F.: The History of My Review of The Martian Legion: In Quest of Xonthron Part Two ~ Appreciation of the book's art and the mammoth work by author Buddy Saunders. || Martian Legion
Van Hise, James: Tribute to an Unknown Artist: Mahlon Fawcett (1950-2015) ~ 5 Illustrations
Howell, Dorothy J.: Lord of Two Worlds: Jer'ok in the Valley of Mithos: Synopsis ~ Ch. XVII: Departure ~ Postscirpt: ERB in Unexpected Places
Shoemaker, Kurt: The Texas Wave: Comments on Lost On Venus and Brackett's Sword of Rhiannon ~ Nkima's Chatterings (25 Mailing Comments) || Lost On Venus ~ Leigh Brackett
Griffin, Scott Tracy: ERB Comics' First Fandom: Names and letters of early fans in the comics (12 pages) ~ Progress on the author's second book: Tarzan on Film. || ERB Comics
Grainger, Frank: TARZAN THE EXOTIC: A Brief and Admittedly Incomplete Overview of Thoroughly Unofficial Tarzan Movies, Part I
Lupton, Robert Allen: Under the Dum Dum Tree photo of bicycles in Louisiana - The hunt for ERB and related books ~ 2 Fenton Ash covers. || Ash in ERB's Library
Spargur, Richard C.: Review: Sleuthing in the Stacks by Rudolph Altrocchi with bio and 4 book illustrations ~ Dr. Harold S. Hulbert photo and Crime of the Century connection (possible connection to Emma Hulbert Burroughs?)
Cavender, Shawn: Discussion: The Legend of Tarzan Teaser Trailer and Another New Direction for Dynamite's ERB Comic ~ 6 mailing comments ~ Jungle Girl pin-up photo
Franke, Henry G.: Robert A. Heinlein and ERB ~ 6 Photos
Barry, Rick: Lieut. Gullivar Jones: His Vacation - A 12-page Review: Synopsis ~ ERB Influence? ~ Edwin Lester Arnold is No ERB ~ Case for ERB never having heard of Arnold. ~ 3 Gullivar covers and 5 Jusko covers for Warlord of Mars comics || Gullilvar Jones On Barsoom? ~ Gullivar: The Text
THE OE'S LAST WORD: Comments on each of this issue's submissions
---
ERBapa 129 ~ Spring 2016 (with ERBzine references)
---
Kaor: Contents (137 pages) ~ Cover Art Credit: Ron Adrian ~ Summer Symposium Topic: Beyond the Farthest Star ~ Early Mailer Awards ~ Kreegah ~ Membership Dues for July 31 ~ Back Issue Report ~ Treasury Report
Hillman, Bill: List of ERBzine.comArchive Issues 2964-2999 ~ Logos/Links for Companion Sites ~ Collage: Lead-off Logos for 2015 Pt. 2 ~ ERB Poem Continued: Genghis Khan Pages 2 and 3. :: More ERB Poetry
Griffin, Scott Tracy: ERB Comics' First Fandom: Pt. I DC Comics (conclusion): Weird Worlds, Korak Son of Tarzan, Tarzan Family, Beyond the Farthest Star :: ERB Comics
Goodwin, Jim: Tarzan The Epic Adventures Toys Pt. 3 with 10 colour illos ~ 13 comments on the 128 issue contributors :: Epic Adventures Toys in ERBzine
Ekman, Fredrik: Unpublished John Carter Comics: 4 illustrations ~ 14 sources ~ 8 mailing comments on last two issues :: Remembering Danton Burroughs ~ John Carter by Manning: Part I and Part II ~ Flash Gordon Connection ~ Gridley Wave Archive
Critchfield, David: Howard Brown's Warrior of the Dawn: A Review plus other recommended titles ~ 7 colour covers
Hanson, Alan: The Waziri: Transformation from Primitive to Colonial Tribe: Part One ~ Waziri . . . A Mix of Past and Present ~ The Waziri Had European Features ~ Tarzan Merged with the Waziri ~ Adopting British Military Tactics ~ Civilization Came to the Waziri ~ Clean Limbed Warriors, Intelligent Eyes ~ plus 5 Waziri Profiles
Howell, Dorothy J.: FanFic: Lord of Two Worlds: Jer'ok in the valley of Mithas: Synopsis ~ Chapter XVIII Ambush ~ Postscript: ERB in Unexpected Places.
Denkena, Durt S.: Fuwalda: Tarzan in Costa Rica ~ plus review of other German articles and books ~ 7 illustrations
Conran, Mike: Swords of Sorrow Pt. 1 checklist ~ Approx 100 cover illos
Zeuschner, Bob: Announcement for the 2016 ECOF in the Tarzana area ~ WB Legend of Tarzan viewing and Museum Tour ~ List of Guests attending ~ Registration info ~ 24 Mailing Comments on APA 128 :: Dum-Dum/ECOF Archive
Karlen, Dave: Bob Lubbers' Tarzan Strips ~ Bio and 4 illos :: Bob Lubbers
Huckenpohler, J. G.: A Parial List of Pellucidar Pastiches ~ In Memoriam: Donald S. "Sandy" Richardson (12 Feb. 1949 - 3 Feb. 2016) with Photo ~ Comments on APA 128 Submissions
McGeeney, Bob: The Fun Addict: Additions to ERB Collection ~ Need for more ERB toys ~ ERB book collection completed with Auto-Biography: A long journey ~ 3 illos :: ERB's Auto-Biography
Wilcutt, Dennis: Thoughts on the ERB, Inc. comics site (18 titles) ~ Thoughts on Heritage Auction and the Legend of Tarzan film
Dumont, Richard: The Diploducus of Caspak - research on the history of the beast ~ 2 illos ~ Many ERB reference links :: Our Pellucidar Site
Burrows, Robert J.: FanFic: The Case Files of Dotar Wat: The Case of the Unsung Hero II: Introduction ~ Selected comments on submission over the last three issues.
Hadac, Jim: DYAKS! Enemies of the Monster Men ~ Greg Phillips Comments on his Mucker No. 37 cover art and discussion on Unlikely Allies of World War II: "The Airmen and the Headhunters" ~ If Tarzan had landed in Borneo (rather than in Sumatra) 6 illos. :: ERBz: The War Years ~ Monster Men Biblio
McKosky, Jr., Ted: Jungle Jottings: Tarzan the Fearless ~ Comments on the Serial Squadron release ~ 8 illos
Lupton, Robert Allen: Under the Dum-Dum Tree - Spring/Summer 2016 ~ Recent writing projects ~ Congrats to recent ERB projects by Scott Tracy Griffin, Will Murray, Hogarth, etc. :: ERB, Inc. Projects
Sigmund, Rudy: More Tarzan Autographs: Many photos from Tarzan films autographed by the actors :: Rare Sigmund Photos
Cavender, Shawn: Alien Worlds of ERB: Dynamite Comics ~ Interview and Photos: Jacqueline Goehner - Dejah Thoris Cosplay with links
Krabacher, Tom: Thark Horizons: Life in ERB World ~ "Now for a few words about sex" ~ Appreciation of Roy Krenkel's art ~ 3 Krenkel illos :: Krenkel Ace Art
Franke III: Henry G.: Airship Saga: Many photos and Comments on Airships throught the years including their appearances in ERB's novels ~ 31 illustrations of Zeppelins and Refs.
Shawn, Cavender: The Last Word: Comments on all of this issues submissions
---
ERBapa 130 ~ Summer 2016 (with ERBzine references)
---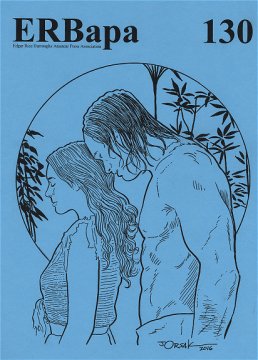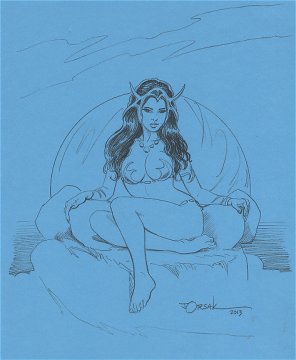 Kaor: Contents (178 pages) ~ Cover Art Credit: Joe Orsak - Legend of Tarzan and ERB heroine ~ Summer Symposium Topic: Beyond the Farthest Star ~ Request for Volunteer OE ~ Early Mailer Awards ~ Kreegah ~ Membership Dues for Oct 31 ~ Back Issue Report ~ Treasury Report ~ New Member: Abraham Sherman
Griffin, Scott Tracy: ERB Comics' First Fandom - Part II: Marvel Comics (correspondence): Tarzan Lord of the Jungle and John Carter: Warlord of Mars ~ Feedback to 13 submitters ~ Marvel Tarzan Letters Page Title Suggestion.
Goodwin, Jim: Tarzan The Epic Toys Part 4: 6 colour photos: 1. Plantman, 2. City of Gold Tarzan, 3. Dino-Armored Tarzan, 4. Horib the Snakeman, 5. Tars Tarkas, 6. Leopard Man ~ Feedback to 18 submitters.
Zeuschner, Bob: Commentary and Summaries: Beyond the Farthest Star
Ekman, Fredrik: Tarzan/Barsoom Crossovers: Professional Fiction and Comics ~ Fan Fiction Crossovers (At the Core of Mars by Seth Kallen Deitch) ! Mailing Comments: 5
Critchfield, David: From Nothing: Commentary on Beyond the Farthest Star ~ 4 illos ~ Sequels: Astride the Farthest Star and A Soldier of Poloda by Lee Strong
Cavender, Shawn: Comments: ERB world events ~ Comments: Tarzan On Film by Scott Tracy Griffin and The Legend of Tarzan film and Beyond the Farthest Star and Filmation's Tarzan Lord of the Jungle DVDs ~ Interview: Fire Lily: Dejah Thoris Cosplayer ~ 5 illos
Lupton, Robert Allen: Under the Dum-Dum Tree events ~ Comments: Beyond the Farthest Star ~ 10 illos ~ Comments: A Soldier of Poloda and Tarzan On The Precipice
McGeeney, Bob: The Fun Addict Intro ~ Reflections from Beyond the Farthest Star: Political, Similar Life, Starvation, Anti-War
Hanson, Alan: The Waziri: Transformation from Primitive to Colonial Tribe Part Two: Barbaric Splendor With European Values ~ Tarzan Respected His Waziri ~ Tarzan Cared for His "Children" ~ Trained and Hardened Woodmen ~ Arrows, Spears, and Bullets ~ Waziri Profiles: #6 Busuli (Return of Tarzan), #7 Basuli (Tarzan and the Jewels of Opar), #8 Keewazi, #9 Andua, #10 Isaza ~ Some Thoughts on The Legend of Tarzan
Conran, Mike: Swords of Sorrow Part 2 Dynamite Comics Crossovers 2015 ~ 41 small cover illos ~ Legend of Tarzan Web Links\
Karlen, Dave: A Burne Hogarth Tarzan Tale: Tarzan Sunday pages, Graphic versions of Tarzan of the Apes and Jungle Tales of Tarzan ~ Hogarth illos
Howell, DJ: Lord of Two Worlds: Jer'ok in the Valley of Mithos: FanFic Synopsis, Ch. XVIII Ambush continued ~ Postscript: Early DJ writing influences and the new Legend of Tarzan film commentary ~ 6 illos
Bill Ross: ERB Collector: Burroughs Fan Publications from the "T" file: 15 Entries
Hillman, Bill: ERBzine Archive 3000-3051 links ~ Logos and URLs for ERBzine ERB Companion Sites ~ Collage: Lead-off logos for ERBzine Weeklies Jan-June 2016 ~ ERB's poem: Genghis Khan continued - Pages 4 & 5 ~ Beyond the Farthest Star features in DC Comics illustrations.
Hadac, Jim: Beyond the Farthest Star. Most. Frustrating. Book. Ever: Commentary and Ace Cover ~ Lee Strong Interview and A Soldier of Poloda Promo ~ 3 Illos
Sherman, Abraham: Bio Intro plus Beyond the Farthest Star thoughts.
Martin, John: The Legend of the Beasts of Tarzan - Comparison of The Legend of Tarzan film with Beasts of Tarzan book and film discussion ~ Comments on Beyond the Farthest Star ~ 2 illos.
Huckenpohler, J.G.: Memories of ECOF 2016 with two photos ~ Comments on 23 contributors in APA #129
Thompson, James F.: Responses to The Legend of Tarzan film with historical references -- Diary of the Thompsons' viewing events.
McKosky, Ted, Jr.: Cabinet of Curiosities: Two large colour photos of display cases of personal collectibles.
Shoemaker, Kurt: The Texas Wave: Recent ERB events and comments on the viewing The Legend of Tarzan
Dumont, Richard: Comments of The Legend of Tarzan ~ Two Illos
Denkena, Kurt S.: Excerpts from the German comic fanzine CLUB INFO (#13 - May 2016)
Spargur, Richard C.: Stuff in My Collection, Part IV: Explorers of the Infinite by Sam Moskowitz comments and Moskowitz bio ~ 5 illos
Grainger, Frank: Tangor of the Eagle Squadron: Beyond the Farthest Star in Historical Context ~ WWII refs ~ 7 illos and 4 end notes.
Burrows, Robert J.: FanFic: The Case Files of Dotar Wat: The Case of the Unsung Hero II: Chapter 1 - Seeking the Demon of Mars ~ 11 pages ~ ERBapa #129 Notes on 13 contributors
Franke III, Henry G.: FarmerCon XI/2016 Pulpfest, 21-24 July 2016 description with 31 illos ~ Discussion of Philip J. Farmer's legacy.
Wilcutt, Dennis: Commentary on and enjoyment of The Legend of Tarzan
Krabacher, Tom: Thark Horizons: Summer events ~ ECOF 2016 ~ Comments on The Legend of Tarzan and Beyond the Farthest Star ~ 5 illos
Barry, Rick: Beyond the Farthest Star Leaps Into A Void Too Far ~ A Critique ~ Facebook and Twitter involvement ~ 6 Illos (Ref ERBzine 0862)
Van Hise, James: Eight ERB, Inc. Letters (Rothmund and ERB) ~ 12 John Carter sketches by John Coleman Burroughs ~ Beasts of Tarzan All-Story pulp page
---
ERBapa 131 ~ Fall 2016 (with ERBzine references)
---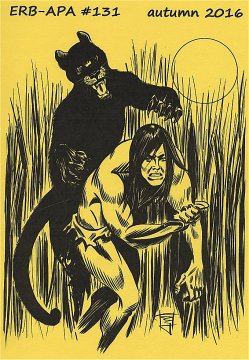 Kaor: Contents (151 pages) ~ Cover Art Credit: Rey Alicea - Tarzan and Sheeta ~ New Members: Lee Strong and Jess Terrell ~ Early Mailer Awards ~ Kreegah ~ Membership Dues for January 31 ~ Back Issue Report ~ OE Ballots ~ Treasury
Hillman, Bill: ERBzine Archive 3050-3100 ~ Colour Logo Links of ERBzine Companion Sites ~ ERB's Genghis Khan Poem Pages 6-10
Goodwin, Jim: Tarzan The Epic Adventures Toys: Kerchak, Tars Tarkas, Tarzan City of Gold, Tarzan the Hunter, Horib, Nolach the Kaldane, Tarzan of Mars, Tarzan Dino Armored, Numa ~ 15 Comments
Griffin, Scott Tracy: ERB Comics' First Fandom Letters: Malibu Comics Part III: Tarzan The Warrior, Tarzan the Beckoning ~ Part IV Dark Horse: Tarzan The Lost Adventure, Tarzan ~ Vincent Starrett on Edgar Rice Burroughs
Critchfield, David: Another Book from the Hollow Earth Bookshelf: Five Thousand Miles Underground by Roy Rockwood: A Review, Hollow Earth influences and ERB Connection ~ 6 illos ~ 3 Comments.
Zeuschner, Bob: Comments on "Legend of Tarzan" film and ECOF ~ Maui Wedding Anniversary ~ Bob's new ERB: The Bibliography and Facebook page ~ Purchase at www.erbbooks.com
Hanson, Alan: Muviro: Tarzan's Loyal and Trusted Waziri Chief - Waziri Profile #15 ~ 4 illos
Conran, Mike: 2016 ECOF Gathering Report - Woodland Hills and Hollywood ~ 20 illos ~ Sites, Guests, Souvenirs, Panels, Special Events
Lupton, Robert Allen: UK Visit ~ New ERB-related Releases: ERB The Bibliography, Tarzan on the Precipice, Vic Challenger Fast, Tarzan Jungle King of Popular Culture, Jesse Marsh Tarzan Omnibus, Tarzan Memes, Tarzan the Buscema Years Omnibus ~ 15 illos
Denkena, Kurt S.: Fuwalda: German Caprona release with Denkena Epilogue ~ 20th Anniversary of Blitz Publishers ~ also Das Land das die Zeit Bergessen ~ 6 illos
Strong, Lee: Introductory Autobio: Who Is Lee Strong?: Citizen and Fan ~ Current Projects ~ Comments on Soldier of Poloda book ~ Future Projects.
Huckenpohler, J. G.: Memories of the 2016 Dum-Dum ~ 5 photos ~ Comments on all 31 contributors to APA 130
McGeeney, Bob: Reviews on three new ERB books: Tarzan on Film by Scott Tracy Griffin, Tarzan on the Precipice by Michael A. Sanford, ERB: The Bibliography by Bob Zeuschner ~ 3 cover illos
Ekman, Fredrik: Function Before Form: Doors On Mars - Locks and Keys - Secret Doors ~ Conclusions and References ~ 4 Mailing Comments
Martin, John: The Legendary Tarzan 67 stanza poem based on The Legend of Tarzan film ~ 12 pages with 13 movie stills
Karlen, Dave: Gold Key's Amazing Jungle Fact Pages ~ 2 Tarzan and Korak Comic pages.
Thompson, James F.: Update on George McWhorter ~ Comments of The Legend of Tarzan film ~ Comments on and to ERBapa fans
Shoemaker, Kurt B.: The Texas Wave ~ In-depth comments on all APA 130 contributors
Sherman, Abraham: John Carter of the Round Table: An Exploration of the Differences Between ERB's Novel and Andrew Stanton's Film: A 14-page essay ~ 2 illos ~ 4 pages of Responses to #130
Howell, DJ: Lord of Two Worlds: Jer'ok in the Valley of Mithos: Synopsis ~ Ch. XIX: Silence ~ Postscript: ERB in Unexpected Places.
Cavender, Shawn: Comments on ERB: The Bibliography, Dynamite's ERB Comics Fizzle, "The Legend of Tarzan" Film, Dejah Thoris Cosplayer: Tasha Mackenzie ~ Mailing Comments on 6 contributors ~ 5 illos
Franke III, Henry G.: Major review of ERB's The Rider ~ 2 colour covers and map
Terrell, Jess: Burroughs Football League Pre-Season Interviews: Coach Abner Perry - Gilak Gladiators and Coach Lady Jane Clayton - Greystoke Growlers
Guidry, John H.: A page of ERB-related Internet links ~ ERB photo
Sigmund, Rudy: "The Legend of Tarzan" Film Posters ~ 19 large poster illos
OE Last Word: Comments on the Issue #131 Submissions
---
ERBapa 132 ~ Winter 2017 (with ERBzine references)
---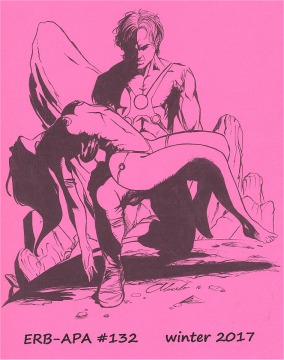 Kaor: Cover art by Marcelo ~ Contents (Total Pages 178) ~ ERBapa Ballot Results: Shawn Cavender won Official Editor election 15-0 ~ Membership Report ~ Kreegah! ~ Early Mailer Awards ~ Membership Dues ~ Back Issues Available ~ Treasury Report ~ Lee Strong Update: Soldier of Poloda to be published by Dark Horse, 5 other ERB-related novels approved by ERB, Inc. for publication, Caspak TV series being considered
Griffin, Scott Tracy: ERB Comics' First Fandom Part V: The Honor Role - Correspondence in ERB comics by name and location and issue ~ 18 pages
Critchfield, David: Another Book from the Hollow Earth Bookshelf: Godzilla at World's End by Marc Cerasini: Review with two illos ~ 8 Mailing Comments ~ 2 Mike Hoffman art pieces ~ Reading List over 2016
Ekman, Fredrik: Tarzan of the Dogs ~ Review of 1945 Swedish book by Gunnar Nilan: Lost with Tarzan ~ Actually about dogs named Tarzan. 3 illos ~ List of 7 more Swedish books with Tarzan in the title.
Goodwin, Jim: Invitation to 2017 ECOF hosted by the Hell's Benders June 8-11 in Irving, TX ~ www.ERBzine.com/dumdum ~ Many Guest Authors with new releases ~ Review: Russian edition of "Tarzan, the Mark of the Red Hyena ~ 3 illos ~ Comments on 15 submitters
Conran, Mike: The Burroughs Bibliophiles 2016 Dum-Dum in Morris, Illinois. Report with 20 photos and Lists of Sites, Guests, Panels, Awards, Souvenirs, Special Events. ERBzine Coverage HERE
Hanson, Alan: The Waziri: Transformation from Primitive to Colonial Tribe: Part Three ~ Waziri Self-sufficiency ~ Tribal Deaths in Battle ~ War Parties Large and Small ~ The Waziri and their "Lady" ~ Guides, Trackers, Porters, Mechanics and Pilots ~ Freed from Superstitious Fear. WAZIRI PROFILES: #11 Buira, #12 Balando, #13 Waranji, #14 Usula ~ 1 illo plus Dell Tarzan #118 cover READ in ERBzine
McKosky, Jr., Ted: Jungle Jottings: 28 screen captures from a Tarzan filmstrip from the Netherlands from Ron de Laat and Rob "Tex" Donkers.
Dumont, Richard: Piltdown Man in the Land That Time Forgot - 7 phases of evolution ~ 4 illos
Karlen, Dave: Alberto Giolitti's Gold Key ERB Comics: 5 Tarzan Comics starting at #168 (Read all the Gold Key Tarzans in ERBzine) plus issue #22 of Korak ~ Critical review of The Legend of Tarzan film ~ 1 John Carter illo and Jungle Tales of Tarzan comics page.
Denkena, Kurt S.: Fuwalda - Dr. Tarzan: German newspaper article and photo and coverage of the death of Carrie Fisher.ds
Strong, Lee: The Polodan Times: Jim Sullos efforts for promoting Soldier of Poloda and Expanding Burroughs Appeal ~ Reviews: Tarzan: Return to Pal-ul-don by Will Murray ~ Tarzan on the Precipice by Michael Sanford ~ King Kong versus Tarzan by Will Murray ~ Tarzan Trilogy by Thomas Zachek
Hillman, Bill: ERBzine 3100-3150 Contents ~ Logos and Links to ERBzine companion sites ~ John Carter and the Perils of Mars: 1941-43 Sundays by John Coleman Burroughs ~ Novelization by Dale R. Broadhurst: Ch. 11: "The Princess Abducted" ~ full colour Sunday page and chapter novelization.
Ross, Bill: Burroughs Fan Publications from the "T" File - Part 2: 6 pages
Spargur, Richard C.: A Burroughs Fan Finally Enters a Jungle - Costa Rica visit ~ 8 colour photos
Hadac, Jim: Sasquatch! Tarzan meets Bigfoot ~ 3 illos - including one from Tarzan on the Precipice
McGeeney, Bob: The Fun Addict: Report on Tarzan paperbacks in Europe with 3 illos.
Terrell, Jess: My Fellow Burroughs Fans: Fandom today and information on his Facebook group "For the Love of All Things ERB." as well as ERBzine FB group and pages and "Website. Discussion: Whiy is Jane absent in the latter Tarzan books? ~ When did Tarzan receive two immortal treatments. ~ Is the Va-Gas shaped like a centaur ~ What is La's hair color? ~ Was La immortal? ~ 4 illos
Huckenpohler, J.G.: Archimedes Q. Porter's Tarzan Chronology ~ Paul Privitera's Memoriam (www.ERBzine.com/privitera) ~ Comments on all Contributors' Submissions
Lupton, Robert Allen: Report on Tarzan Garden in Jamaica ~ Comments on King Kong vs Tarzan by Will Murray and Tarzan on the Precipice by Michael Sanford. Three short ERB parodies by the author.
Martin, John: Any Excuse to Feature Tarzan: Cacheted envelopes with special postal cancellations: "Tarzans of Indiana" ~ El;mo Lincoln postmark ~ The Science of Pellucidar
Wilcutt, Dennis: Political thoughts ~ Matt Marriott original daily art (2 illos) ~ Comments: Tarzan and Jane on Netflix, The Beckoning reprint by Thomas Yeates, ERB: The Bibliography by Bob Zeuschner, Tarzan on Film by Scott Tracy Griffin, At the Earth's Core on Dark Horse and The Tarzan Trilogy. Discussion on Beyond the Farthest Star ~ 3 Tom Grindberg Tarzan Sundays art ~ Comments on 15 submissions.
Guidry, John H.: Found for ERBapa -- Three pages of recommended Websites ~ one photo
Zeuschner, Bob: Sailing through the Panama Canal ~ In-depth comments on last issues submissions
Sherman, Abraham: The Music of Barsoom - recommended tracks ~ Comments on submissions ferom last issue
Cavender, Shawn: Updates on Dynamite ERB comics ~ 3 illos
Shoemaker, Kurt B.: Texas Wave: Tarzan and the Short Snorters: Topical Allusions in Tarzan and the Foreign Legion ~ In-depth comments on last issue's submissions
Grainger, Frank: Tarzan the Exotic: A Brief and Admittedly Incomplete Overview of Thoroughly Unofficial Tarzan Movies, Part II: Bollywood ~ 4 colour posters of Indian Tarzan movies
Thompson, Jim: Review of Tarzan on the Precipice by Michael A. Sanford ~ Comments on Michael Sellers' "The Legend of Tarzan" Website and the film.
Franke III, Henry G.: Full discussion on Beyond the Farthest Star and Out of Time's Abyss. With 31 colour illos including 6 comics pages.
DJ Howell: Lord of Two Worlds: Jer'ok in the Valley of Mithos: Synopsis ~ Ch. XX: Defeat ~ POSTSCRIPT: Dissertation/novel: Where YouCan Hear the Sea and See the Sound now published (cover illo) ~ Destiny and Book I now serialized in ERBzine
Krabacher, Tom: Thark Horizons: Report on the gathering of the Northwest Coast Mangani in Sacramento ~ Plans to host the 2018 ECOF in May in Sacramento ~ Richard Lupoff Launch Party: Where Memory Hides: A Writer's Life ~ Other new releases: Japanese Edition of Tarzan and the Jewels of Opar with 5 illos ~ Tarzan, Jungle King of Popular Culture by David Lemmo ~ Tarzan on the Planet of the Apes 5-issue comics series from Dark Horse.

---
NOTE:
I've come under some degree of personal criticism for not writing Mailing Comments in each ERBapa issue. I feel I must remind those who have expressed this concern that I spend quite a few hours going through each issue and compiling fairly detailed descriptions of the contents and making scans of the cover art. This is not only provides a reference source for ERBapa members, but also goes out to a worldwide audience far beyond our clique and hopefully will generate more interest and awareness in what normally would be available to our limited group of 36 members.

---
ERBapa ROSTERS: PAST & PRESENT
ERBapa RULES
The ERBapa Webpages in ERBzine start at:
www.ERBzine.com/apa
We need YOUR help to compile content descriptions of each issue.
APA members are also invited to submit previous articles for worldwide presentation
in our weekly online fanzine: ERBzine ~ The ERBapa Archives
Bill Hillman ~ APA Member and Booster
Edgar Rice Burroughs Amateur Press Association
Navigation Chart
The Fantastic Worlds of Edgar Rice Burroughs
| | | | |
| --- | --- | --- | --- |
| Tarzan.com | ERBzine.com | DantonBurroughs.com | Tarzan.org |
| BurroughsBibliophiles.com | JohnColemanBurroughs.com | Tarzan.com/tarzine | JohnCarterOfMars.ca |
| ERBzine.com/edgarriceburroughs | Weekly Webzine | Weekly Webzine | Pellucidar.org |
| John Carter Film News | ERB, Inc. Corporate Site | ERB Centennial | tarzana.ca |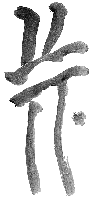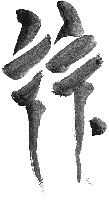 BILL HILLMAN
Visit our thousands of other sites at:
BILL AND SUE-ON HILLMAN ECLECTIC STUDIO
ERB Text, ERB Images and Tarzan® are ©Edgar Rice Burroughs, Inc.- All Rights Reserved.
All Original Work ©1996-2015/2017 by Bill Hillman and/or Contributing Authors/Owners
No part of this web site may be reproduced without permission from the respective owners.