Official Edgar Rice Burroughs Tribute Site
Since 1996 ~ Over 15,000 Webpages in Archive
Volume 0740
and
ERB C.H.A.S.E.R ENCYCLOPEDIA
A Collector's Hypertexted and Annotated Storehouse of Encyclopedic Resources
present
Edgar Rice Burroughs'
JOHN CARTER
and the
GIANT OF MARS
by
John Coleman Burroughs
writing under the name Edgar Rice Burroughs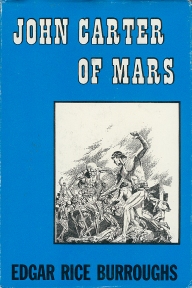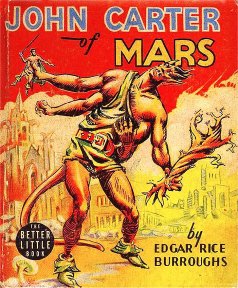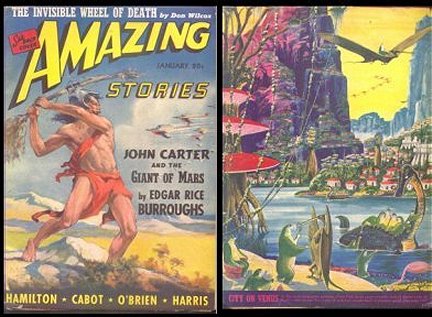 First Edition DJ
Large Cover Image
Large Cover Image of Doubleday Edition
Recommended related article:
John Carter and the Giant of Mars analysis by Den Valdron
ERBzine 1507
.
Read the Complete
JOHN CARTER OF MARS
in the eText Edition HERE
---
PUBLISHING HISTORY (USA)
---
PULP
John Carter and the Giant of Mars by John Coleman Burroughs writing as ERB
Amazing Stories: January 1941 (expanded version of the text from the Whitman Better Little Book)
J. Allen St. John: cover and two interiors
Amazing Stories Quarterly, v.1, n.4 ~ Fall 1941
Julian S. Krupa: cover ~ J. Allen St. John: two b/w interiors
Amazing Stories: April 1961 reprint ~ St. John interiors reprinted
Skeleton Men of Jupiter:
Amazing Stories: February 1943
J. Allen St. John: cover and two interiors
Amazing Stories Quarterly: v.3, n.4 ~ reprint ~ Fall 1943
Malcolm Smith and Julian S. Krupa: new cover ~ J. Allen St. John: two interiors repeated
Amazing Stories: January 1964 ~ reprint ~ St. John interiors reprinted
FIRST EDITION
John Carter of Mars: contains Giant of Mars and Skeleton Men of Jupiter
Canaveral Press (2 states): July 24, 1964 ~ 208 pages
Reed Crandall: DJ, illustrated endpapers, eight interiors ~ Richard Lupoff: introduction
REPRINT EDITIONS (See ERBzine 0739 for paperback illustrations)
Ballantine paperback: April 1965 ~ 157 pages
Robert Abbett cover ~ Richard Lupoff: introduction
Ballantine paperback: October 1973
Gino D'Achille cover
Doubleday Science-Fiction Book Club double edition: April 1977 ~ with Llana of Gathol ~ 314 pages
Richard Corben: DJ and five interiors
Ballantine - Del Rey: April 1979 ~ 167 pages ~ Lupoff intro omitted
Michael Whelan cover

For detailed information, see Robert B. Zeuschner's
Edgar Rice Burroughs: The Bibliography (ERB, Inc., 2016).
Click on www.erbbooks.com or call 214-405-6741 to order a copy.
---
John Carter of Mars

This book, the last of ERB's Mars series, published after the author's death, containes the extraordinary chronicle of John Carter's trip to Jupiter, with the record of his adventures with that great planet's strange comrades-in-arms that he made among the many races of Jupiter.

In the second story, actually written by ERB's son, John Coleman Burroughs, John Carter, Warlord of Barsoom, is lured to a deserted city to rescue his beloved Dejah Thoris who has been captured by power-mad Pew Mogel. Instead of his wife, Carter finds a synthetic giant, one hundred and thirty- five feet tall, and hordes of great, white apes into each of which the brains of a man has been grafted! It takes all the skill of Carter's famous fighting arm and extraordinary agility just to preserve his life-and meanwhile, the sands of time are running out for Dejah Thoris!
---
PULP MAGAZINE GALLERY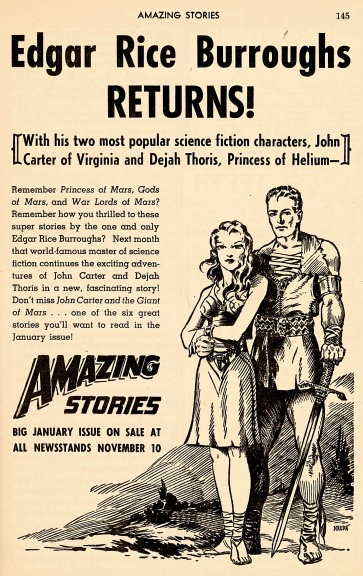 Art by Julian Krupa
Promo for the January 1941 appearance of Giant of Mars in Amazing.
From Dec 1940 Amazing Stories and Jan 1941 Fantastic Adventures
---
---
REED CRANDALL CANAVERAL ART GALLERY
---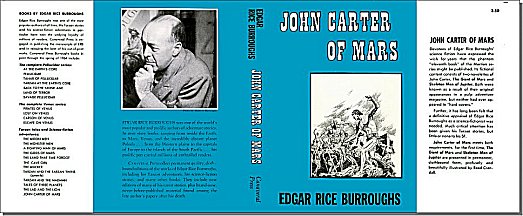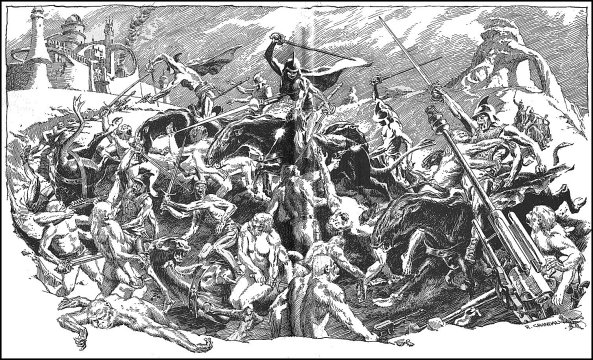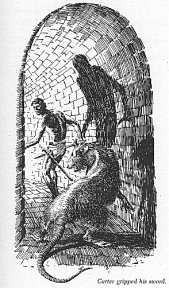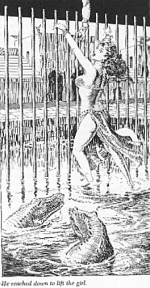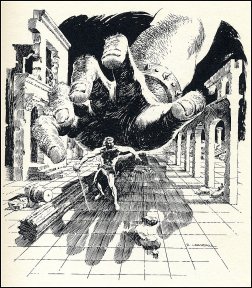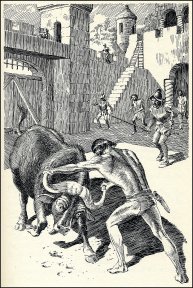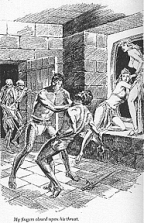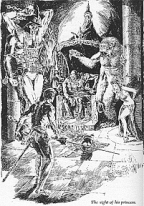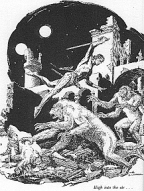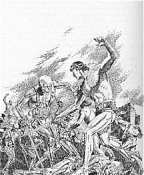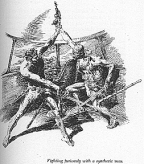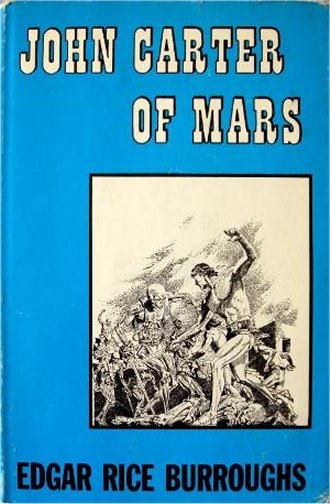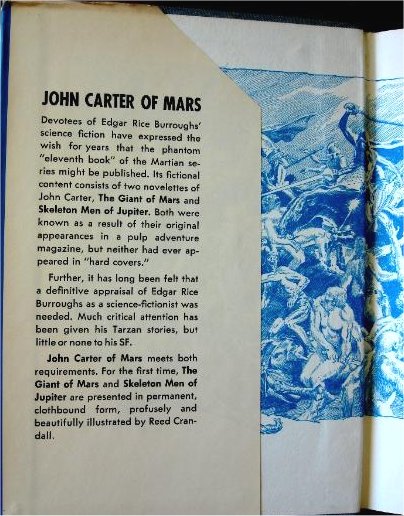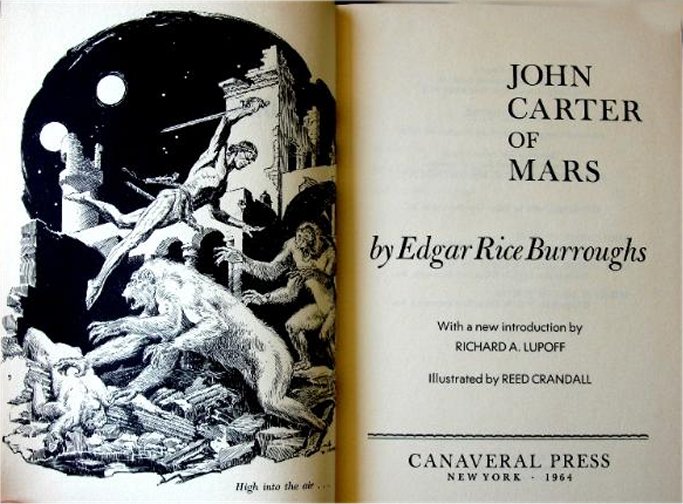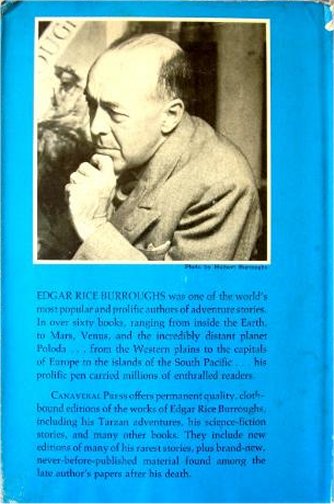 ---
RICHARD CORBEN GALLERY
(Doubleday Book Club Edition)
---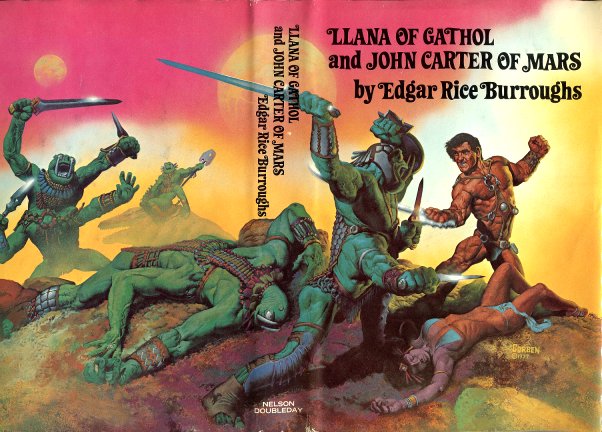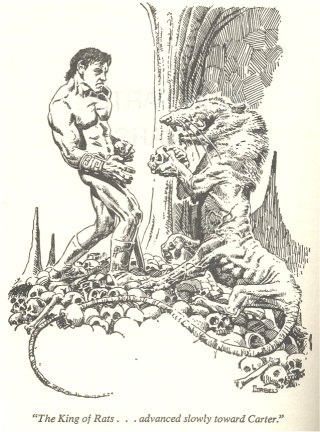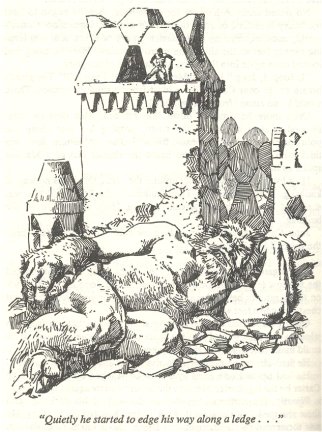 Alternate Cover
by Phil Normand's Recoverings


From the Hillman Collection
Cover art by Motoichiro Takebe
Japan: Sogen-Suiri Books, 1968
---
The ERB Art of Robert Abbett
---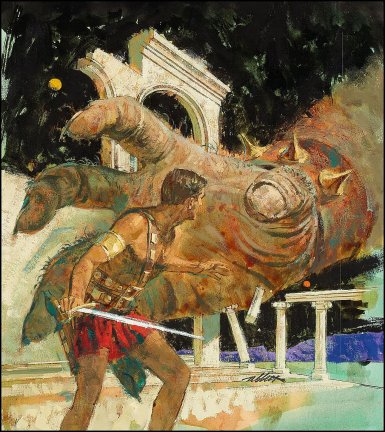 Cover art for John Carter of Mars, 1965
---
---
LORD GREYSTOKE'S PAPERBACK GALLERY
---
Since this title is published with The Skeleton Men of Jupiter under the title
John Carter of Mars, more paperback covers are featured at
ERBzine 0739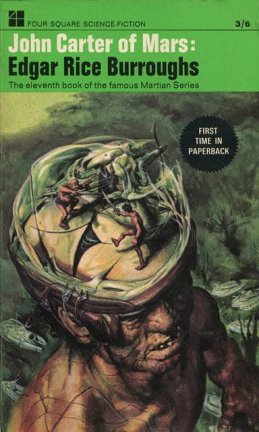 ---
COMICS ADAPTATIONS
---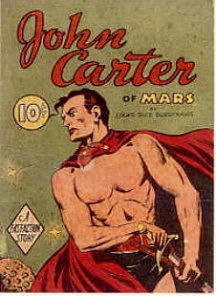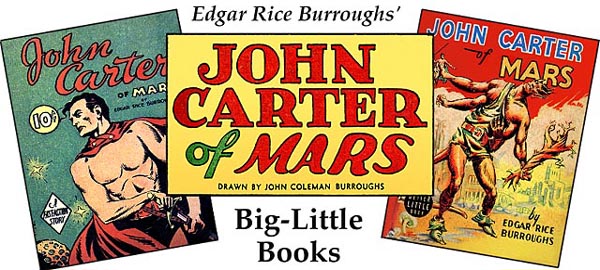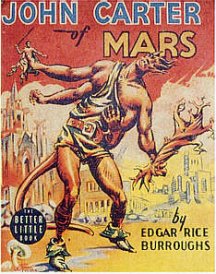 Read the complete text and see all interior illustrations in ERBzine.com
Better Little Book
www.erbzine.com/mag28/2841.html
Dell Fast Action Book
www.erbzine.com/mag28/2848.html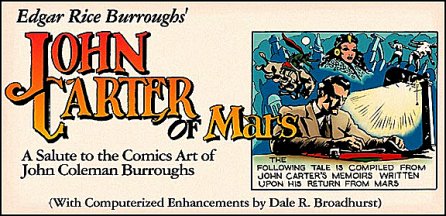 The JCB Colour Sunday Pages and Broadhurst Novelization


ERBzine GUIDE TO THE JOHN CARTER PAGES FROM THE FUNNIES
Intro | 01 | 02 | 03 | 04 | 05 | 06 | 07
.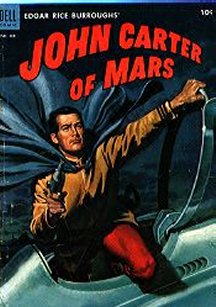 DELL / GOLD KEY COMICS ADAPTATIONS
.
John Carter 1


John Carter 1


John Carter 2

.
John Carter 3
---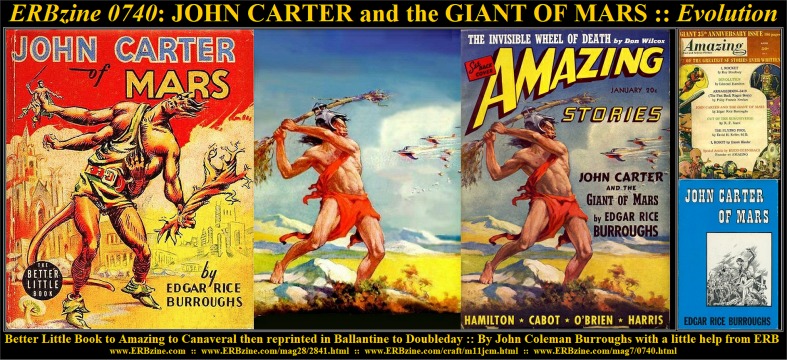 Evolution of JOHN CARTER AND THE GIANT OF MARS :: Promo Splash Bar
Armada of ERB Web Sites
Over 15,000 Webpages

The Fantastic Worlds of Edgar Rice Burroughs
ERB Companion Sites Created by Bill Hillman
| | | | |
| --- | --- | --- | --- |
| Tarzan.com | ERBzine.com | DantonBurroughs.com | Tarzan.org |
| BurroughsBibliophiles.com | JohnColemanBurroughs.com | Tarzan.com/tarzine | JohnCarterOfMars.ca |
| ERBzine.com/edgarriceburroughs | Weekly Webzine | Weekly Webzine | Pellucidar.org |
| John Carter Film | ERB, Inc. Corporate Site | ERB Centennial | tarzana.ca |