Official Edgar Rice Burroughs Tribute Site
Since 1996 ~ Over 15,000 Webpages in Archive
Presents
Volume 6699
The Many Worlds of

www.ERBzine.com/apa
presents
ERB-APA ARCHIVE INDEX Vol. IV
Edgar Rice Burroughs Amateur Press Association
ERB-APA CONTENTS ARCHIVE
We need YOUR help to compile cover and contents descriptions of each issue back to No. 1
(Go to the Navigation Chart below to see our progress, so far)
---
ERBapa 151 ~ Fall 2021
(with ERBzine references)
---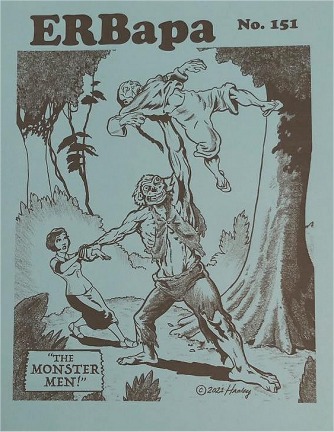 Cover Art by Haley
---
KAOR:
Official Editor: Bob McGeeney
Deadline for Issue #152 submissions: November 1, 2021
---
Griffin, Scott Tracy: A Strange Manuscript Found in a Copper Cylinder: A Burroughs Progenitor ~ A Lost Race Manuscript by Canadian novelist Professor James De Mille published 1880 and 1888. ~ Public Domain ERB Titles of Dynamite Entertainment 2010-2014: A Monthy Sales Report and Analysis: Raw Data and Analysis with Graph ~ Comic Book Sales Figures and Rankings 1960s ~ Plus Feedback for Issues 149 and 150. One Illo and 12 pages.
Unknown: Ron Ely TV Tarzan: Review of "Jungle Dragnet" Episode. (Fans interested in the Ely series episodes might enjoy ERBzine 7420)
Goodwin, Jim: Commentary on Fanzine BEM Science Fiction and Facts #1 - 1962 which contains an ERB-related article by Harrison Pratt. Plus Comments on APA Issues 149 and 150 (Check out ERBzine Fanzine Archive for more ERB Fanzines)
Kristoff, Kenneth: Wanderings With Woola ~ New member Kenneth introduces himself and his collecting and discovery and love for ERB ~ (ERB Comics Reference: www.ERBzine.com/comics)
Huckenpohler, J.G.: My Trip To Mars: Report on Pulpfest / ERBfest 2021 - August 19-21, 2021. ~ 4 Illos ~ Comments on APA #150 Submissions
Hanson, Alan: A Mangani Addendum Pt. Two ~ Excerpt from Alan's book "Exploring Tarzan's Africa" ~ 6 pages ~ 2 illos (ERBzine Ref: Navigation for Alan's Online Articles: www.ERBzine.com/hanson)
Conran, Mike: ERBfest at Pulpfest ~ Mars, Pennsylvania ~ August 19-22, 2021 ~ Description and review of events over 4 pages and 13 illustrations
McGeeney, Bob: The Fun Addict representing ERBapa at Cleveland's first Pulpfest Convention ~ Description and five illustrations.
Moran, M. J.: My Adventures Through ERB #2 ~ Remembering his first San Diego and San Jose Comic Cons at age 15 ~ Treasures from the Cons and memories of meetng Mike Roiyer and otherERB personalties ~ Review of Tarzan: Battle for Pellucidar by Win Scott Eckert and Mailing Comments ~ 7 pages with two illustrations
Adams, Chris L.: Five Themes to Conquer ~ Opening with: To Kidnap, or Not to Kidnap ~ Discussing how ERB used this literary device across many of his novels. Examination of Five Themes: 1. Numa the Buddy, Numa the Pal ~ 2. The Lion and the Mouse ~ 3. Blind Fury ~ 4. Gropers in Darkness ~ 5. Horse Swaps Riders plus Comments on ERBapa #150 ~ Invitation to explore Chris' many interests and pursuits via his Website: www.ChrisAdamsBizarreTales.com ~ 25 illustrations including many of colorizations by Chris, across 16 pages.
Denkena, Kurt S.: Fuwalda. . . The latest from Germany for ERB collectors of foreign publications ~ 4 Illos
Frey, Roddy Gerard: Memoirs of a Wannabe Ape Man: Green Men I have Known: Memories of enjoying Barsoom and sketching through the years ~ 9 illos.
Terrell, Jess: Review of Beyond the Farthest Star: Warriors of Zandar #2 by Mike Wolfer plus discussion of ERB's Land That Time Forgot and impressions of the Fearless comic series from American Mythology ~ 14 pages and 13 colour illustrations
Trenary, Roland: Mahlon Blaine - Before He Was a Burroughs Illustrator ~ Illustrations for Salammbo by Gustave Flauber ~ 8 pages ~ 18 illos (Mahlon Blaine in ERBzine: www.ERBzine.com/blaine )
Strong, Lee: ERBapans Travel to Mars for Pulpfest/ERBfest 2021 ~ New ERB, Inc. Projects ~ Burroughs Parodies Pulpcast ~ Lee's Secret Plans with ERB, Inc. ~ 4 pages
Franke III, Henry G.: ERB Film Synopses and Scenarios Pt 1 ~ 4 pages
Martin, John: Jane Porter: The Primordial Peril ~ Jane in comics and contrast with portrayals of Dejah Thoris. (ERBzine Ref: Navigation for John's many online articles and stories: www.ERBzine.com/martin )
Wilcutt, Dennis: News of George McWhorter's Estate ~ Illustration: Letter re: George's Estate from University of Louisville plus notice that an American Flag was dedicated in the Rotunda of the US Capitol for MR. GEORGE T. MCWHORTER at the behest of President Ronald Reagan
Sachlas, Demos: ERBographia ~ A multitude of quotes from ERB and his works ~ 6 illos ~ 10 pages
Lupton, Robert Allen: Robert's writing activities ~ Tribute to actress Laraine Day ~ 2 illustrations ~ (ERBzine Ref: Navigation for Robert's many online articles: www.ERBzine.com/lupton )
Shoemaker, Kurt: Notes on Pulpfest 2021 in Cranberry, PA ~ List of Kurt's many purchases ~ Extended commentary on submissions from ERBapa 150 ~ 10 pages
LAST WORD FROM OE BOB McGeeney:
Comments on all the submissions in this ERBapa Issue 151.
---
ERBapa ROSTERS: PAST & PRESENT
ERBapa RULES
The ERBapa Webpages in ERBzine start at:
www.ERBzine.com/apa
We need YOUR help to compile content descriptions of each issue.
APA members are also invited to submit previous articles for worldwide presentation
in our weekly online fanzine: ERBzine ~ The ERBapa Archives
Bill Hillman ~ APA Member and Booster
Edgar Rice Burroughs Amateur Press Association
Navigation Chart

The Fantastic Worlds of Edgar Rice Burroughs
ERB Companion Sites Created by Bill Hillman
| | | | |
| --- | --- | --- | --- |
| Tarzan.com | ERBzine.com | DantonBurroughs.com | Tarzan.org |
| BurroughsBibliophiles.com | JohnColemanBurroughs.com | Tarzan.com/tarzine | JohnCarterOfMars.ca |
| ERBzine.com/edgarriceburroughs | Weekly Webzine | Weekly Webzine | Pellucidar.org |
| John Carter Film | ERB, Inc. Corporate Site | ERB Centennial | tarzana.ca |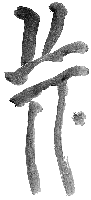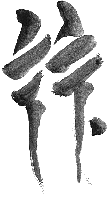 BILL HILLMAN
Visit our thousands of other sites at:
BILL AND SUE-ON HILLMAN ECLECTIC STUDIO
ERB Text, ERB Images and Tarzan® are ©Edgar Rice Burroughs, Inc.- All Rights Reserved.
All Original Work ©1996-2021 by Bill Hillman and/or Contributing Authors/Owners
No part of this web site may be reproduced without permission from the respective owners.