Official Edgar Rice Burroughs Tribute Site
Since 1996 ~ Over 15,000 Webpages in Archive
Presents
Volume 6699
The Many Worlds of

www.ERBzine.com/apa
presents
ERB-APA ARCHIVE INDEX Vol. IV
Edgar Rice Burroughs Amateur Press Association
ERB-APA CONTENTS ARCHIVE
We need YOUR help to compile cover and contents descriptions of each issue back to No. 1
(Go to the Navigation Chart below to see our progress, so far)
---
ERBapa 151 ~ Fall 2021
(with ERBzine references)
---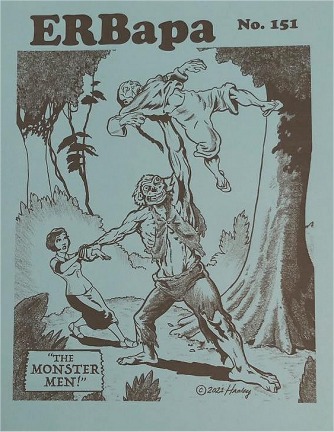 Cover Art by Haley
---
KAOR:
Official Editor: Bob McGeeney
Deadline for Issue #152 submissions: November 1, 2021
---
Griffin, Scott Tracy: A Strange Manuscript Found in a Copper Cylinder: A Burroughs Progenitor ~ A Lost Race Manuscript by Canadian novelist Professor James De Mille published 1880 and 1888. ~ Public Domain ERB Titles of Dynamite Entertainment 2010-2014: A Monthly Sales Report and Analysis: Raw Data and Analysis with Graph ~ Comic Book Sales Figures and Rankings 1960s ~ Plus Feedback for Issues 149 and 150. One Illo and 12 pages.
Unknown: Ron Ely TV Tarzan: Review of "Jungle Dragnet" Episode. (Fans interested in the Ely series episodes might enjoy ERBzine 7420)
Goodwin, Jim: Commentary on Fanzine BEM Science Fiction and Facts #1 - 1962 which contains an ERB-related article by Harrison Pratt. Plus Comments on APA Issues 149 and 150 (Check out ERBzine Fanzine Archive for more ERB Fanzines)
Kristoff, Kenneth: Wanderings With Woola ~ New member Kenneth introduces himself and his collecting and discovery and love for ERB ~ (ERB Comics Reference: www.ERBzine.com/comics)
Huckenpohler, J.G.: My Trip To Mars: Report on Pulpfest / ERBfest 2021 - August 19-21, 2021. ~ 4 Illos ~ Comments on APA #150 Submissions
Hanson, Alan: A Mangani Addendum Pt. Two ~ Excerpt from Alan's book "Exploring Tarzan's Africa" ~ 6 pages ~ 2 illos (ERBzine Ref: Navigation for Alan's Online Articles: www.ERBzine.com/hanson)
Conran, Mike: ERBfest at Pulpfest ~ Mars, Pennsylvania ~ August 19-22, 2021 ~ Description and review of events over 4 pages and 13 illustrations
McGeeney, Bob: The Fun Addict representing ERBapa at Cleveland's first Pulpfest Convention ~ Description and five illustrations.
Moran, M. J.: My Adventures Through ERB #2 ~ Remembering his first San Diego and San Jose Comic Cons at age 15 ~ Treasures from the Cons and memories of meeting Mike Royer and other ERB personalities ~ Review of Tarzan: Battle for Pellucidar by Win Scott Eckert and Mailing Comments ~ 7 pages with two illustrations
Adams, Chris L.: Five Themes to Conquer ~ Opening with: To Kidnap, or Not to Kidnap ~ Discussing how ERB used this literary device across many of his novels. Examination of Five Themes: 1. Numa the Buddy, Numa the Pal ~ 2. The Lion and the Mouse ~ 3. Blind Fury ~ 4. Gropers in Darkness ~ 5. Horse Swaps Riders plus Comments on ERBapa #150 ~ Invitation to explore Chris' many interests and pursuits via his Website: www.ChrisAdamsBizarreTales.com ~ 25 illustrations including many of colorizations by Chris, across 16 pages.
Denkena, Kurt S.: Fuwalda. . . The latest from Germany for ERB collectors of foreign publications ~ 4 Illos
Frey, Roddy Gerard: Memoirs of a Wannabe Ape Man: Green Men I have Known: Memories of enjoying Barsoom and sketching through the years ~ 9 illos.
Terrell, Jess: Review of Beyond the Farthest Star: Warriors of Zandar #2 by Mike Wolfer plus discussion of ERB's Land That Time Forgot and impressions of the Fearless comic series from American Mythology ~ 14 pages and 13 colour illustrations
Trenary, Roland: Mahlon Blaine - Before He Was a Burroughs Illustrator ~ Illustrations for Salammbo by Gustave Flauber ~ 8 pages ~ 18 illos (Mahlon Blaine in ERBzine: www.ERBzine.com/blaine )
Strong, Lee: ERBapans Travel to Mars for Pulpfest/ERBfest 2021 ~ New ERB, Inc. Projects ~ Burroughs Parodies Pulpcast ~ Lee's Secret Plans with ERB, Inc. ~ 4 pages
Franke III, Henry G.: ERB Film Synopses and Scenarios Pt 1 ~ 4 pages
Martin, John: Jane Porter: The Primordial Peril ~ Jane in comics and contrast with portrayals of Dejah Thoris. (ERBzine Ref: Navigation for John's many online articles and stories: www.ERBzine.com/martin )
Wilcutt, Dennis: News of George McWhorter's Estate ~ Illustration: Letter re: George's Estate from University of Louisville plus notice that an American Flag was dedicated in the Rotunda of the US Capitol for MR. GEORGE T. MCWHORTER at the behest of President Ronald Reagan
Sachlas, Demos: ERBographia ~ A multitude of quotes from ERB and his works ~ 6 illos ~ 10 pages
Lupton, Robert Allen: Robert's writing activities ~ Tribute to actress Laraine Day ~ 2 illustrations ~ (ERBzine Ref: Navigation for Robert's many online articles: www.ERBzine.com/lupton )
Shoemaker, Kurt: Notes on Pulpfest 2021 in Cranberry, PA ~ List of Kurt's many purchases ~ Extended commentary on submissions from ERBapa 150 ~ 10 pages
LAST WORD FROM OE BOB McGeeney:
Comments on all the submissions in this ERBapa Issue 151.
---
ERBapa 152 ~ January 2022
---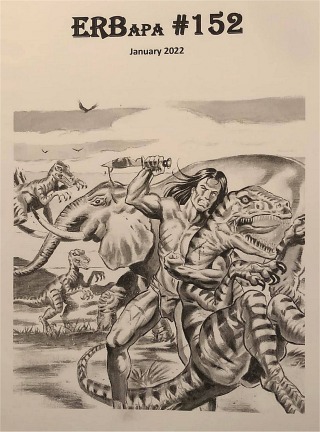 Cover Art by Dan Parsons
---
KAOR and Official Editor Reflections ~ 139 pages
Official Editor: Bob McGeeney
Deadline for Issue #153 submissions: April 30, 2022
---
Griffin, Scott Tracy: ERB and the San Francisco Chronicle 1916-1919: ERB News and Articles with 6 Illustrations ~ 10 packed pages
Goodwin, Jim: Comments and reprinted pages for another rare fanzine discovery: Vern Coriell's National Fantasy Fan Federation ~ Feb 1948, Vol 7 No. 1. ~ 6 pages with two illustrations.
Forest, Tim: Review of Tarzan's Greatest Adventure - the 5th of 6 films starring Gordon Scott ~ 2 pages with 2 illustrations.
Hanson, Alan: My Favorite Burroughs Books with many cover illustrations: Top 10 books that Alan presented at the 2021 Albuquerque Dum-Dum: 10. The Girl from Farris's / The Efficiency Expert ~ 9. The War Chief / Apache Devil ~ 8. Tarzan and "The Foreign Legion" ~ 7. The Moon Maid ~ 6. The Bandit of Hell's Bend ~ 5. Tarzan and the City of Gold ~ 4. The Mucker ~ 3. The Martian Trilogy: A Princess of Mars, The Gods of Mars, The Warlord of Mars ~ 2, The Girl from Hollywood ~ 1. Tarzan of the Apes / The Return of Tarzan ~ plus The Runner Ups
Conran, Mike: Dum-Dum 2021 Albuquerque, NM Report ~ 17 Photos ~ Info: Sites, Guests, Awards, Souvenirs, Panels/Presentations, Reports ~ 4 pages
Dumont, Richard: King Kong and Tarzan ~ Tarzan references in the book "Kong Unmade" by John Lemay ~ 5 Illustrations
Moran, M.J.: My Adventures Through ERB #3 ~ "Who let that kid in here, anyway?" Library memories as a kid. "The Retirement Plan Continued" . . . reading and reviewing ERB's books in chronological order: Gods of Mars ~ The Return of Tarzan ~ At the Earth's Core ~ 5 pages
Quilter, Patrick: Adaptation of Tarzan and the Green Goddess with screen captures Chapter One: The Race is On ~ 66 Illustrations and Notes
Trenary, Roland: Mahlon Blaine Before He Was A Burroughs Illustrator ~ 14 Illustrations from "The Fool's Parade" by John W. Vandercook
McGeeney, Bob: The Fun Addict Miniature ~ A Small Change in Direction for the Fun Addict ~ The Great White Ape ~ 6 Illustrations
Martin, John: Tarzan and Trichinosis ~ Tarzan and the dangers of eating raw meat ~ 6 pages ~ 3 Hogarth panels
Wexler, Michael A.: The Interview -- "Meeting and Interviewing" Edgar Rice Burroughs on a train. ~ 2 pages
Denkena, Kurt: Fuwalda: ERB News and Illustrations from Germany ~ 6 Pages with 9 illustrations
Strong, Lee: The Poloda Times: Burroughsians Gather in the Land of Enchantment for Dum-Dum 2021: Gary Buckingham Releases Two New Novels ~ Jim Sullos Reveals New Universe and Projects ~ Notes on the event and the guests and attendees. Lee Strong proposes sequels for ERB books.
Sachlas, Demos: ERBographia ~ Background and Events Surrounding ERB's Tarzan and the Lost Empire ~ 46 References ~ 4 maps and 3 photos ~ 14 pages ~ Comments on 11 previous submissions.
Huckenpohler, J.G.: John Carter: A Partial Book Report: John Carter of Mars: Gods of the Forgotten by Geary Gravel ~ 2 illustrations ~ Comments of submissions to Apa 151
Lupton, Robert Allen: Discussion on Allan's Wife and Other Tales by H. Rider Haggard and its connection with feral children and ERB ~ 4 illustrations ~ 4 pages
Reames, Bill: The Fan that Time Forgot ~ Intro autobio and influence of ERB ~ 3 pages ~ 3 photos and 1 large art piece "From the Guy who read TARZAN"
Franke III, Henry G.: Edgar Rice Burroughs Film Synopses and Scenarios - Part 2: From the early years and later film projects in the 1930s and 1940s ~ 4 pages ~ 2 illustrations
Terrell, Jess: R.A.F. Over Texas ~ A Tarzan story for the 2022 Dum-Dum (to be continued) ~ 3 illustrations ~ 8 pages
Shoemaker, Kurt: Review/Discussion on Tarzan and the City of Gold ~ Plus Random Hits ~ 11 pages
Ross, Bill: Coverage of the 2022 Albuquerque Dum-Dum with 27 illustrations ~ Hosted by Gary Buckingham and Robert Lupton ~ 6 pages
Krabacher, Tom: Back in ERBapa after a short busy absence ~ Hollow Earths: Divertissment For The Burroughsian Curious ~ 2 illustrations ~ 2 mailing comments ~ 2 pages
Adams, Chris L.: Comments on Beyond The Farthest Star: Restored Edition ~ 6 illustrations ~ 2 pages
Ekman, Fredrik: Tarzan-Related Music Records from Europe ~ 9 Songs Reviews ~ 10 illustrations ~ 5 mailing comments ~ 4 pages
---
ERBapa 153 ~ April 2022
---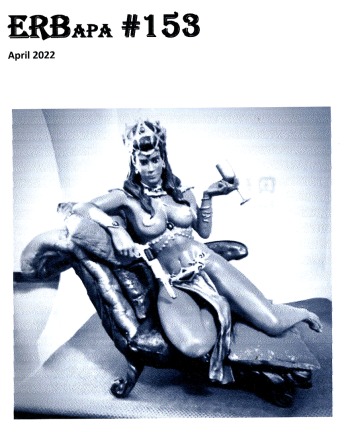 Cover photograph is from the collection of Bob McGeeney
who painted the miniature of Dejah Thoris.
The figure is availabhle from Gambody, copyright 2021.
---
KAOR and Official Editor Reflections ~ 127 pages
Official Editor: Bob McGeeney
Deadline for Issue #154 submissions: July 30, 2022
---
Franke, Henry G. III: A Brief Comparison of Sherlock Holmes Fandom and ERB Fandom ~ 15 Illos
DeForest, Tim: CLIFFHANER ANALYSIS ~ Chart examining how ERB ended his chapters in the first five Tarzan novels.
Goodwin, Jim: "Box-Top Bonanza Magazine" Nos. 44-46 analysis ~ Comments on APA 252 contributions ~ Covers and Content Reprints ~ 14 Pages
Zeuschner, Bob: Fantasy Realms of ERB ~ History of Bob long involvement as a collector and researcher of ERB's life and works.
Hanson, Alan: Muviro: Tarzan's Loyal and Trusted Waziri Chief: "At the Earth's Core" ~ "War Chief of the Waziri" ~ "Searching for Muviro's Daughter" ~ "Headman of the Waziri" ~ "An Aggressive War Chief to the End" ~ Krenkel Art panel and many strip reprints.
Conran, Mike: Dynamite Comics Dejah Thoris versus John Carter Cover Checklist ~ +50 Cover Illustrations ~ 6 pages
Griffin, Scott Tracy: ERB and the San Francisco Chronicle 1920-1922 ~ Many reprints and reivews and 9 illos. ~ 10 pages
Wexler, Michael: Big Little Books and ERB ~ Intro and listing of 26 titles ~ 5 cover illos
Moran, M. J.: My Adventures Through ERB ~ The Cave Girl ~ The Monster Men ~ The Warlord of Mars ~ King Kong vs. Tarzan (by Will Murray) 6 Cover Illos
Ekman, Fredrik: Lost Words of ERB: Reviews and reprints: Poem: Hooks for Men by Normal Bean, Chicago Tribute 14 Oct 1910 ~ POEM: Must Fight or Run Out by Normal Bean, Collyers Eye, 11 May 1918 ~ AD: "Tarzan One Acre Residence Sites and Business Lots" Van Nuys News - 19 Sept 1922 ~ "Some Witnesses Say Hickman was Crazy, Others Sane - Take Your Choice" Birmingam News, 6 Feb 1928 ~ ESSAY: "Thrust At Alienists Made by Burroughs" Los Angeles Examiner ~ Reprinted in ERBzine.com with unfinished text "Most Sincere" printed in ERBapa . . . plus sources and names of 7 more ERB articles . . . hopefully to be forwarded to ERBzine for reprinting ~ Plus 3 Mailing Comments from APA 152.
McGeeney, Bob: Fun Addict Miniatures: Discussion, description and sources of numerou ERB-related miniatures. Photos of 7 miniatures.
Buckingham, Gary A.: TARZAN AND THE LION OF JUDAH: Three Smyth-Sewn Hardcover Editions Authorized by ERB Inc. ~ Descriptions, Source and Prices ~ Photo of Tarzan and the Lion of Judah cover.
Kelly, Jim: My World In The ERB Worlds ~ Background as an ERB fan and collector. Personal writing projects: YOUNG TARZAN ~ TARZAN AND THE WHITE LION ~ RETURN TO OPAR ! FINDING BARSOOM
Kristoff, Kenneth: Wandering With Woola ~ Bio: Discovering Burroughs - Satisfying an Appetite in ERB collecting Pt. 2 ~ 4 Handwritten pages with two photos
Adams, Chris L.: ERB Book Review: A SOLDIER OF POLODA ~ 6 illos
Frey, Roddy Gerard: The Burroughs Photographic Journal ~ Notes and RGF Illustrations: "On The External Physiology of the Green Man of Barsoom" and "The External Physiology of the White Apes of Barsoom"
Martin, John: Four Poems by "Bridge" Martin: NOTHING COULD BE FINER ~ OFF TO MARS ~ EARTH-HERE, THERE, EVERYWHERE ~ THE KORAK TIME DISCREPANCY
Terrell, Jess: Heed the Call of the Dum-Dum: Promotional Video and Screen Captures promoting the 2022 San Antonio Dum-Dum with 50 colour illustrations across 9 pages
Strong, Lee: Reviews: TARZAN AND THE VALLEY OF GOLD novelization by Fritz Leiber ~ TARZAN AND THE LION OF JUDAH by Gary A. Buckingham ~ plus An Intriguing Explanation for John Carter of Earth and Mars
Huckenpohler, J.G.: Professor Porter's Dime Lecture Series: Commentaries on every APA 152 submission ~ Beyond the Farthest Star (Restored Edition) illustration
Lupton, Robert Allen: Under the Dum-Dum Tree ~ Posts and Drabbles about Chessmen of Mars (Robert's first ERB book) ~ One Frazetta Illo
Sachlas, Demos: Tanar of Pellucidar: Reviews, Notes, Quotations ~ Pellucidar map and 3 illos ~ APA 152 Submission Notes.
Quilter, Patrick: The Dead City Lives: New Adventures of Tarzan film Pt. 2: 90 screen captures across 8 pages
Dumont, Richard: Mary Catherine Gnaedinger: Bio of noted American editor of SF and Fantasy pulp magazines and the ERB connection ~ 2 illos.
---
ERBapa 154 ~ July 2022
---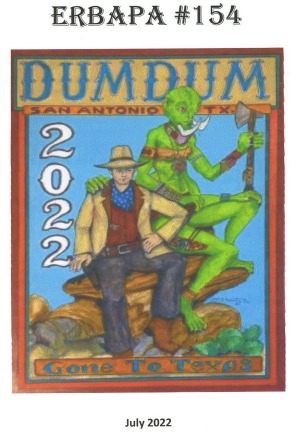 Cover Art by Jason Hardy ~ Copyright 2022
---
KAOR and Official Editor Reflections ~ 120 pages
Official Editor: Bob McGeeney
SUMMER SYMPOSIUM: THE CHESSMEN OF MARS
Deadline for Issue #155 submissions: October 31, 2022
After a very successful run, current OE Bob McGeeny plans to retire in 2023
---

How To Be An ERBapa OE by former OE Scott Tracy Griffin
Griffin, Scott Tracy: In Memoriam: ERB Film Personnel 2016-2019 ~ 13 Entries ~ Feedback for #152: 18 Entries
Goodwin, Jim: Story of America Card: Weissmuller, O'Sullivan, Sheffield, Cheeta Photo - ERB: 1875-1950 Creator of Tarzan, the Ape Man ~ Story of America: Card series description ~ PLUS: "Once Upon A Saga" by Dale I Walker from Iscariot fanzine
Denkena, Kurt S.: FUWALDA Illustrated collection of 12 ERB-related pages that have been published in Germany ~ Including cover photos of the Methuen 1922 edition of "The Return of the Mucker" under the title "The Man Without A Soul" with Danton Burroughs autographed title page.
Hanson, Alan: Recalling Burroughs' Battles: Intro ~ Ch. 9: The Battle of Thark ~ Plus three Waziri Publications of Alan Hanson Titles: "Tarzan's Time Portal: The Little Cabin On The Beach", "Nikolas Rokoff: Tarzan's Greatest Nemesis" and "The Hunting Knife of Tarzan's Father" ~ 4 Illustrations.
Ekman, Fredrik: An Interview About Jetan -- The Book: "JETAN - The Martian Chess of Edgar Rice Burroughs" ~ 4 mailing comments
Zeuschner, Bob: Interesting information on the A. C. McClurg printings of Tarzan of the Apes and their association with the Burt reprint editions. ~ One cover illustration.
Frey, Roddy Gerard: The Burroughs Photographic Journal entry: Notes on the Physiology of the Rykors of Barsoom" with 5 illustrations
Dumont, Richard: The Dictionary of Imaginary Places (a755-page book) by Manguel and Guadalup with maps by Cook ~ List of the ERB places that were covered ~ Illos: cover and 4 maps
Conran, Mike: Dum-Dum 2022 - San Antonio, Texas ~ A full report with 15 small photos plus Sites, Guests/Speakers, Awards, Souvenirs, Panels/Presenters, Special Events
Kelly, Jim: Report on the TARZAN ANNUALS: Tarzan Annual, 1965: Story Contents: Queen La The Mysterious, Zebra Boy, Giants of Kroo Maun, Dragon Ship, N'Kima, King of Monkeys, Jane's Mighty Magic, The Horns of Plenty, One-Page Activities.
McGeeney, Bob: Thoughts on Martian Chess - JETAN - From The Chessmen of Mars. Importance of James Killian Spratt in creating the board sets and variations of the game ~ Books About Jetan ~ 2 illustrations.
Quilter, Patrick: A 6-page Tarzan Authorized Movie Data Base with headings: TITLE ~ DATE ~ ACTORS ~ NOTES
Wilcutt, Dennis: Book Reviews: "1001 Comics You Must Read Before You Die" ~ "American Comics, A History" ~ "Tarzan, Battle for Pellucidar" by Win Scltt Eckert ~ plus a report on the McWhorter Memorial Endowment Fund for the ERB Collection ~ University of Louisville. Plus scans of 3 pages of Mike Grell's Tarzan Newspaper Strip Storylines and Dates ~ Plus 3 Neal Adams Tarzan illustrations
Lupton, Robert Allen: THE KALDANE INTERVENTION - a 400-word short story ~ 8 pages of text with three illustrations
Sachlas, Demos: Four pages of quotations from and about Tarzan at the Earth's Core ~ Comments on Related Works ~ References and Notes ~ 15 Comments on ERBapa 153 submissions.
Terrell, Jess: A Presentation Given by Jess at Dum-Dum 2022, San Antonio: Facebook for the ERB Fan -- 26 Pages Discussing Topics Such as: Lessons Learned in six years as an Admin at "For the Love of All Things ERB" ~ Motto: Enlighten, Entertain, and Inform ~ Jess's Background ~ Those Who Have Come Before and Led Fandom ~ Objective/Strategy/Mission/Bottom Line ~ Why Should a Fan Use Facebook ~ If Reluctant to Use ~ Business or Author Use ~ Advantages ~ Disadvantages ~ ERB Facebook Groups ~ Demographics ~ Philosophies ~ Newsfeeds ~ ATypical Day ~ ERB Love Fest, Etc.
Trenary, Roland: Mahlon Blaine was . . . Overview of Blaine's work and Trenary's commitment. 17 Art Examples
Adams, Chris L.: Chessmen and the Headless Men ~ A 100-year Favourite ~ An 4-page in-depth discussion with 3 illustrations
Ross, Bill: Illustrated discussion/review of Dum-Dum 2022 at San Antonio ~ 24 photos of the people and events
Strong, Lee: Cowboys and Buffalo Gals Gather at the Double-D Ranch: DD Convention includes Tours of Ranger Museum, The Alamo and Riverwalk, Jess Terrell Pinch Hits for ERB, Inc. and Discusses ERB on the Internet ~ Why Do People Come to Conventions ~ Oasis Audio Releases UNTAMED PELLUCIDAR ~ Future publications of more ofb Lee's novels in the offing ~ Strong reviews of Tarzan and the Lion of Judah by Gary A. Buckingham and The Dictionary of Imaginary Places
Franke III, Henry G.: Artwork for The Chessmen of Mars (10 pieces) ~ Groucho Marx and ERB: 6 book covers and discussion
---
ERBapa ROSTERS: PAST & PRESENT
ERBapa RULES
The ERBapa Webpages in ERBzine start at:
www.ERBzine.com/apa
We need YOUR help to compile content descriptions of each issue.
APA members are also invited to submit previous articles for worldwide presentation
in our weekly online fanzine: ERBzine ~ The ERBapa Archives
Bill Hillman ~ Honorary APA Member and Booster
Edgar Rice Burroughs Amateur Press Association
Navigation Chart

The Fantastic Worlds of Edgar Rice Burroughs
ERB Companion Sites Created by Bill Hillman
| | | | |
| --- | --- | --- | --- |
| Tarzan.com | ERBzine.com | DantonBurroughs.com | Tarzan.org |
| BurroughsBibliophiles.com | JohnColemanBurroughs.com | Tarzan.com/tarzine | JohnCarterOfMars.ca |
| ERBzine.com/edgarriceburroughs | Weekly Webzine | Weekly Webzine | Pellucidar.org |
| John Carter Film | ERB, Inc. Corporate Site | ERB Centennial | tarzana.ca |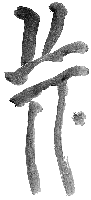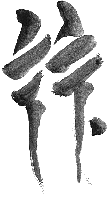 BILL HILLMAN
Visit our thousands of other sites at:
BILL AND SUE-ON HILLMAN ECLECTIC STUDIO
ERB Text, ERB Images and Tarzan® are ©Edgar Rice Burroughs, Inc.- All Rights Reserved.
All Original Work ©1996-2022 by Bill Hillman and/or Contributing Authors/Owners
No part of this web site may be reproduced without permission from the respective owners.