First and Only Weekly Online Fanzine Devoted to the Life and Works of Edgar Rice Burroughs
Since 1996 ~ Over 15,000 Webpages and Webzine in Archive
Volume 0328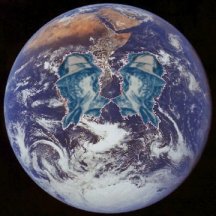 The Many Worlds of



presents
www.ERBzine.com/apa
ERB-APA ARCHIVE
Edgar Rice Burroughs Amateur Press Association
Amateur Press Associations are a means to bring together those interested in a common subject through their regular contributions to a shared publication. Its members must maintain active participation to remain in good standing. Memberships in APAs are usually small to keep the publications manageable. Each member offers a unique perspective which meets few restrictions from editorial control. Because of the limited membership and the number of issues published, only a few outsiders are able to see all the hard work and worthwhile articles put into most APA issues.

ERB-APA was founded in 1984 by ERB fan, John Guidry. He modeled the society after other typical amateur press societies, seeing the organization as one which would allow ERB fans to share their "comments, musings, rantings and ravings, fond memories, whatever...."

John decided to limit membership to 36 -- to commemorate the age at which ERB began writing. Members would pay a nominal membership fee and would then, four times a year, type up a minimum of two pages of material and send 50 copies to John. He would then collate and bind the material, and return a copy to each member. Six slots were set aside for "Honourary Members" (chosen by member vote) which were honoured for their lifetime commitment to ERB fandom. People on the waitlist had first option to buy any extra copies.

ERB APA members, past and present, are invited to submit their APA submissions to this Archive site so that they may be shared with ERB fans around the world.
E-Mail: hillmans@wcgwave.ca
---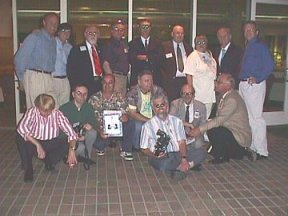 ERB-APA Members in Attendance at the '99 Tarzana Dum-Dum
More photos of ERBapa members at ERB Conventions are featured at:
ERBzine 0839
---
3. ERB-APA HIGHLIGHTS
No. 1: The appearance of the inaugural issue of John Guidry's brainchild. Eighteen ERB fans contribute 78 pages.
No. 3: APA membership has already grown to just two members short of the full slate of 36.
No. 4: APA membership reaches 36 and already several dropouts insure that the organization will remain vital and dynamic.
No. 6: Paul Spencer begins his long-running series of ERB book reviews.
No. 7: John Guidry inaugurates the Annual Symposium. Each year a topic is chosen to encourage members to concentrate on some of ERB's lesser-known works. This year's issue focussed on The Bandit of Hell's Bend.
No. 9: Leonard Homel succeeds John as the new OE and inaugurates the "Kaorspondence" section.
No. 11: The Cave Girl is the featured Symposium topic.
No. 13: A Vern Coriell tribute issue in which members share their memories of the founder of the Burroughs Bibliophiles.
No. 15: The Mad King Symposium
No. 16: The death of APA member, John F. Roy is announced.
No. 17: In keeping with the now-tradition of two year editorial shifts, Leonard steps aside for the new OE, George McWhorter. George replaces staples with comb binding.
No. 19: The first published indication of strife between APA members.
No. 23: John Martin takes over the OE role as George McWhorter turns to reviving the Burroughs Bulletin. John introduces the regular closing section "The Last Word.," which gave each member a showcase for immediate feedback.
No. 25: A landmark giant issue of 383 pages.
No. 30: The idea of a symposium issue is revived after a four year hiatus: The Land That Time Forgot is featured.
No. 33: Alan Hanson takes over from John Martin. Alan works at increasing membership and also introduces spiral binding.
No. 34: The Pellucidar Series is the symposium topic. John Martin submits a record 54-page contribution.
No. 38: The Girl From Hollywood is the symposium topic.
No. 40: Ten Year Anniversary features a 359 page edition. Over the 10 year span, over 7,000 pages have been issued.
No. 41: Henry Franke takes over as OE.
No. 64: Ken Webber takes over as OE
Shawn Cavender takes over as OE
No. 137: Scott Tracy Griffin takes over as OE

---

4. A FEW CLEVER BYLINES USED BY ERB-APA CONTRIBUTORS OVER THE YEARS
Akut's Archives & Nkima's Notes & Talking Drums ~ - John Rose
Alien Worlds of Edgar Rice Burroughs ~ Shawn Cavender
Ape-Men and Lost Cities ~ Dale Cozart
Avenue of Ancestors ~ James van Hise
BarAmPol (Barsoom, Amtor, Poloda) Newsletter ~ William Lakey
Barnacle Blitherings ~ J. G. "Huck" Huckenpöhler
Barsoom Chronicles ~ Tom Lindgren
Beyond 30oW ~ Laurence Dunn
Burroughings ~ Dr. George Jones
...Burroughs Buff... & Monkey Shines ~ George McWhorter
Cajun Kaldane ~ Jason Hardy
Case Files of Dotar Wat ~ Robert Burrows
Cathne-Courier ~ Jim Thompson
Confessions of a Waldo Wannabe ~ Jim Goodwin
Cry of the Red Hawk ~ Jim Hadac
Dream Vaults of Opar ~ Patrick Adkins
Edgardemain ~ John Martin
Enchanted by ERB and Friends ~ Ken Webber
Enjoying ERB & Edgardemain ~ John Martin
ERB-AL Essence & Musings from Sasoom ~ Ward Ordnoff
ERBapa Rap ~ Henry Franke
ERB-ETC. ~ Kenneth Webber
ERB-Line ~ Brooks Shellhorse
ERBzine ~ Bill Hillman
ERB Collector ~ Bill Ross
ERB Corner ~ Tony Menegazzo
ERBographia ~ Demo Sachlas
Fantasy Realms of Edgar Rice Burroughs ~ Bob Zeuschner
For Love of All Things ERB ~ Jess Terrell
Fun Addict ~ Bob McGeeney
Fuwalda ~ Kurt Denkena
Gathol Gazette ~ Paul Spencer
The Guy From Hollywood ~ Scott Tracy Griffin
Honourary Member: ERB, Inc., Camille Cazedessus II, John H. Guidry, D. Peter Ogden, Frank Westwood
Jewels from Opar ~ India Boone Grow
Jodades ~ Ken Manson
Kaor ~ Current OE
Kaor & Neverending Story ~ Ralph Brown
Last Word ~ Official Editor
Leti Ginny Qua Memshab! ~ Joan Bledig
Lord of Two Worlds ~ DJ Howell
Lost Fanzine of Jasoom ~ John H. Guidry
Lost In Pal-Ul-Don ~ Richard J. Dumont
Mangani Zugor ~ Mike Conran
Memoirs of a Wannabe Apeman ~ Roddy Frey
Munango-Keewati ~ Peter Geissler
Most Remarkable (the famous words of Professor Porter) ~ John F. Roy
NAZRAT ~ Rick Norwood
Never Ending Story ~ Ralph Brown
Normal Bean News ~ Mary McGeehan Wild
On Safari
Oongowa! ~ Brian Bohnett
Papyrus Scroll of Erich von Harben ~ Terry Klasek
Polodan Times ~ Lee Strong
Professor Porter's Dime Lecture Series ~ J. G. Huckenpöhler
Random Burroughsing & Sketches from the Ruins of My Mind ~ Bob Barrett
Return of the Heretic ~ Mike Resnick
Sacrifice of Tarzan ~ DJ Howell
Tarzan Chronologist ~ James Moody
Texas Wave ~ Kurt Shoemaker
Thark Horizons ~ Thomas Krabacher
Thirty and Beyond ~ Jack Mallette
Three from Thuria ~ Walter Albert, Jack Daley, Bob Hyde
Three Shells ~ Bill Shell, Ann E. Shell-Johnson, Jen L. Shell-Frisbie
Under the Dum Dum Tree ~ Robert Lupton
Under the Moon of Earth & Chain Mail ~ Doug Wirth
The Wazirian ~ Bob Cook
A Writing Man of Earth ~ Steve Mitchell
---
ERB-APA MEMBERS (Past and Present)
The current Official Editor is Bob McGeeney
Current members are highlighted
(C) indicates Charter Member
(Hon) indicates Honourary Member
NOTE: This list is not complete ~ please send in additions/revisions
E-Mail: hillmans@westman.wave.ca
Chris Adams
David Adams
Duane Adams
Patrick Adkins (C)
Walter Albert (Pittsburgh Trio)
George Alonso
James Anderson
Diane Bahlmann (Tarzan Twins)
Bob Barrett (c2)
Jeremy Barry (C)
Lee Billings
Doug Blake
Joan Bledig (C)
Brian Bohnett
Ralph Brown
Danton Burroughs (Hon) (deceased) ERB, Inc.
Robert Burrows
Larry Burrows
Trey Causey
Shawn Cavender (OE)
Camille Cazedessus, Jr. (Hon)
Vernon Clark
Mike Conran (C)
Dale Cozart
David Critchfield
Bob Cook (deceased)
Raymond Cuthbert(Winnipeg, MB Canada)
Jack Daley (Two From Thuria) (Pittsburgh Trio)
Tim Deforest
Kurt Denkena(Bremen, Germany)
Richard J. Dumont
Laurence Dunn (South Croydon, England)
Edgar Rice Burroughs, Inc. (Hon)
Fredrik Ekman (Linkoping, Sweden)
Clayton Emery
Glenn Erardi
Joe Ferrier (Greystoker Duo)
Henry Franke (OE)
Frey, Roddy
Peter Geissler (Vienna, Austria)
Murray Gibbs
Jim Goodwin
Frank Grainger
Jay Dee Grayfalken (Greystoker)
Scott Tracy Griffin ()OE
India Boone Grow (C)
John H. Guidry (C)(OE)(Hon)
Jim Hadac
Ken Hall (Worthin, England)
Alan Hanson (C)(OE)
Jason Hardy
Shaun Hoadley (Deceased)
Bill Hillman (Brandon, MB Canada)
Leonard Homel (OE)
Dorothy Howell
J. G. "Huck" Huckenpöhler
Robert Hunton
Bob Hyde (Pittsburgh Trio)(c) (deceased)
Morris Jacobs
Hamilton Johnson
Lyuba Johnson
Dr. George Jones
Debbie Keais (Tarzan Twins)
Terry Alan Klasek (deceased)
Krabacher, Thomas
William Lakey
Tom Lindgren
Robert Lupton (c2)
Ted McKosky
Charles Madison
Jim Malachowski
Jack Mallette
Ken Manson
Joe Marcello
John Martin (OE)
Tom McGeehan (C)
Bob McGeeney
Ted McKosky, Jr.
George McWhorter (C)(OE)(Hon) Deceased
Tony Menegazzo - Deceased
Steve Miller (OE)
E. Miranda
Steve Mitchell
Mike Moody
Daniel Moore
Matt Moran
Matthew Moring
William Morse
Nels Myrhoj
Deborah Newmark
Rick Norwood
Bob O'Malley
Peter D. Ogden (Hon)(Deceased)
Ward Ordnoff
Willis Potthoff
Bert Proegler
Mike Resnick
Darrell Richardson (C)(Hon) (deceased)
David Robbins
John F. Roy (Deceased)
Bobbie Rucker (deceased)
John Rose (c2)
Bill Ross (C)
Dale Russell
Demos Sachlas
Brooks Shelhorse
Ann E. Shell-Johnson (The Three Shells)
Bill Shell-Johnson (The Three Shells)
Jennifer L. Shell-Frisbie (The Three Shells)
Abraham Sherman
Kurt Shoemaker
Rudy Sigmund
Joel Simon
Richard Spargur
Paul Spencer
Lee Strong
Richard Taube
Jess Terrell
Jim Thompson
Kevin Toelle
Roland Trenary
James Van Hise
Louis Verardo
Bill Waters
Ken Webber
Frank Westwood (Ilford, England) (Hon)(deceased)
Dennis Wilcutt
Mary McGeehan Wild(C)
David Winiewicz
Doug Wirth
Robert Woodley (deceased)
William Yakey
Bob Zeuschner
WAITING LIST
---
Edgar Rice Burroughs Amateur Press Association
Navigation Chart




Volume 0328



The Fantastic Worlds of Edgar Rice Burroughs
ERB Companion Sites Created by Bill Hillman
| | | | |
| --- | --- | --- | --- |
| Tarzan.com | ERBzine.com | DantonBurroughs.com | Tarzan.org |
| BurroughsBibliophiles.com | JohnColemanBurroughs.com | Tarzan.com/tarzine | JohnCarterOfMars.ca |
| www.ERBzine.com/edgarriceburroughs | Weekly Webzine | Weekly Webzine | Pellucidar.org |
| John Carter Film | ERB, Inc. Corporate Site | ERB Centennial | tarzana.ca |
BILL HILLMAN
Visit our thousands of other sites at:
BILL and SUE-ON HILLMAN ECLECTIC STUDIO
ERB Text, ERB Images and Tarzan® are ©Edgar Rice Burroughs, Inc.- All Rights Reserved.
All Original Work ©1996-2009/2021 by Bill Hillman and/or Contributing Authors/Owners
No part of this web site may be reproduced without permission from the respective owners.