Official Edgar Rice Burroughs Tribute and Weekly Webzine Site
First and Only Weekly Online Fanzine Devoted to the Life and Works of ERB
Since 1996 ~ Over 10,000 Webpages in Archive
presents
ERB-APA
Edgar Rice Burroughs Amateur Press Association
www.ERBzine.com/apa
Welcome to ERBapa

Amateur Press Associations are a means to bring together those interested in a common subject through their regular contributions to a shared publication. APA members must maintain active participation to remain in good standing. Memberships in APAs are usually small to keep the publications manageable. Each member offers a unique perspective which meets few restrictions from editorial control. Because of the limited membership and the number of issues published, only a few outsiders are able to see all the hard work and worthwhile articles put into most APA issues.

ERBapa was founded in 1984 by ERB fan, John Guidry. He modeled the society after other typical amateur press societies, seeing the organization as one which would allow ERB fans to share their "comments, musings, rantings and ravings, fond memories, whatever...."

John decided to limit membership to 36 -- to commemorate the age at which ERB began writing. Members would pay a nominal membership fee and would then, four times a year, type up a minimum of two pages of material and send 50 copies to John. He would then collate and bind the material, and return a copy to each member. Six slots were set aside for "Honourary Members" (chosen by member vote) which were honoured for their lifetime commitment to ERB fandom. People on the waitlist had first option to buy any extra copies.

---


Our ERBzine APA site has been created to give Burroughs fans a better idea of this very special organization for ERB fans and scholars. We have included all the APA cover art from issue #1, membership information, APA news, searchable contents lists from the later editions, membership lists -- past and present -- and links to scores of articles by ERBapa members that have been reprinted in our weekly online fanzine -- ERBzine.

We hope you enjoy your visit to world of ERBapa
CONTENTS OF THE CURRENT ISSUE
ERBapa 121 ~ Spring 2014 (with ERBzine references)
The ERBapa Webpages in ERBzine start at: www.ERBzine.com/apa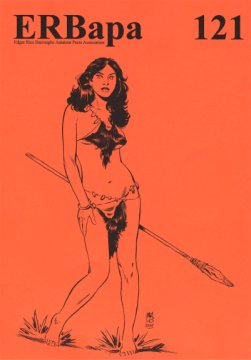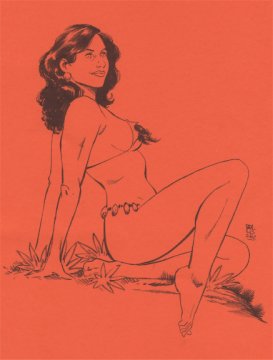 Front and Back Cover Art: Louis Paradis
Kaor: Membership Report: New member is Roddy Frey and rejoining is former member Bob McGeeney ~ Early Mailer Awards ~ Next Issue: The Bandit of Hell's Bend Summer Symposium ~ Membership Dues Reminder ~ Treasury and Back Issues Reports ~ Kaorspondence: Mike credits Bob Zeuschner with two of the photos he used last issue.
Goodwin, Jim: Tarzan and the Crystal Vault of Isis trading cards referenced to ERBzine 0174 and ERBzine 0175 ~ Feedback on all of last issue's submissions ~ Two card illos
Critchfield, David: Tarzan the Stage Musical report for James River High School in Richmond, Virginia ~ 3 colour illos plus the play's b/w Playbill ~ Mailing Comments on 5 submissions.
Refs: ERBzine reports of Tarzan Opening Nights: Broadway ~ Holland ~ Hamburg ~ Utah
Ekman, Fredrik: An Aviator of Three Worlds ~ John Carter, Aviator of Barsoom, of Eurobus, of Earth ~ Douglas M-2 aircraft photo ~ Sources: ERB novels, Marvel comic 16, ERBzine ERB Bio ~ Comments of 5 submissions ~ ERBzine Ref: Barsoom Airships
McKosky, Ted: Tarzan Who? A Look at Some Tarzan Imposters: 7 illos
Griffin, Scott Tracy: Completist's Library: I: Leading Men and Ladies, Firsthand (cont.): Remarkable Enid Markey by Brian J. Bohnett, Jock Mahoney by Gene Freese, Buster Crabbe by Jerry Vermilye, Maureen O'Sullivan by David Fury, Maureen O'Sullivan by Connie J. Billips, Hollywood Royalty by Gregory Speck, Santa Barbara Celebrities by Cork Millner ~ IMDB Revisited ~ Feedback on 5 Submissions ~ RIP: Bob Woodley and Frank Westwood ~ Suggestions for Honorary APA Membership: Alan Hanson, Mike Conran, ERBzine's Bill Hillman
Menegazzo, Tony: 2 clippings ~ Continued Tarzan strip by Tony (Story and Art) - 3 pages
Hillman, Bill: ERBzine.com directory for Issues 2552-2599 ~ Logos of other ERB sites by Hillman ~ ERBzine 2013 Lead Story Logos: 5 colour pages ~ Compendium of Quotes Recognizing the Influence of ERB in Popular Fiction from ERBzine 2875 (6 pages) ~ Milan Fibiger Mars art featuring the Hillmans
Denkena, Kurt S.: Fuwalda report on new Tarzan 3D film in Germany with mag reprints ~ New SF Website: DIE ZUKUNFT featuring The Ape Man's Brother by Joe R. Lansdale
Conran, Mike: Winter Adventures: Visit Fred Mallon to Bill Ross, Bill Wagner and Christ Church ~ Panthan's 18th Ann. Meeting at Huck's ~ Mucker Meeting in Chicago and Oak Park ~ California visit to ERB, Inc. staff, Mike Shaw and Bob Zeuschner: examined rare Return of Tarzan 1st ed. ~ Visit to Windy City Pulp and Paper Con. ~ 14 Photos
Hanson, Alan: Soldiers, Sailors and Airmen: ERB's Tribute to the American Military: ERB's military connection ~ Monster Men, Mucker, Moon Maid, Girl from Hollywood, Master Mind of Mars, War Chief, Apache Devil, Tarzan at the Earth's Core, Elmer, Tarzan and the Champion, Uncle Bill, Tarzan and the Foreign Legion ~ 2 photos of ERB in uniform ~ 5 Mailing Comments for APA 120.
Huckenpöhler, J.G.: Tarzan Comic Strips: Artists and Writers: Lists, Dates, etc.~ Comments on all APA 120 Submissions ~ ERBzine Refs: Hucks's Daily Strips List ~ Huck's Sunday Strips List
Hadac, Jim: Visiting Philippe: Our Trip to Europe, Sept. 2013: 8 photos: Hadron Collider, Philippe's house, collection and countryside
Martin, John: Biographic reprint on Tarzan, TrivQuizes, Fanfics: Tarzan injuries and tooth problems, Ode to John Carter, John Carter of Counter Mars, More in the Safe, A Boy Named Boy poem, TrivQuiz and Biograhic "cartoons" Reprints: Lambert, Mahoney, Weissmuller, Crabbe, Sally Field/Supremes, McCalla ~ Converging Trails Comments on APA 120
Burrows, Robert J.: FanFic: The Case files of Dotar Wat: Ch. 14 - The Long Walk to the Past ~ Ch. 15 - Onward! ~ ERBapa 118 (10 comments) ERBapa 119 (12 comments) ERBapa 120 (12 comments) ~ Photo: Gordon Scott being laid to rest 2007
Frey, Roddy: Memoirs of a Wannabe Apeman: Autobio Intro of new member ~ 3 illos
Howell, Dorothy J.: FanFic: Lord of Two Worlds - Jer'ok in the Valley of Mithos: Synopsis - Ch. XIII Arenas (cont) ~ Postscript: Factoids and updates and connections from ERB world ~ Childhood Memories with 4 photos
Zeuschner, Bob: How Time Flies . . . Admiring the new Return of Tarzan 1st edition at ERB, Inc. with staff ~ Preview of the Table of Contents from the Zeuschner ERB Bibliography update ~ Mailing Comments
Lupton, Robert Allen: Under the Dum Dum Tree (20 pages): Acknowledgment of Fanzines and Burroughs Bulletin concerns ~ Reviews: Dynamite Comics' Dejah Thoris ~ GrayMorrow: Visionary ~ Please Don't Call Me Tarzan by Mike Chapman ~ Other titles of interest and comments on the new Russ Manning and Burne Hogarth collections ~ Art: Dejanna of Mars II by Newton Burchan ~ FanFic Chapters 8-10 ~ ERBapa #120 Comments
Dumont, Richard: Reflections of a Collector - Looking back over a lifetime of collecting
Franke, Henry G.: Tarzan the Stage Musical - Another Visit ~ MTI and UWFox Valley productions ~ Synopsis ~ Playbook ~ Facts ~ Reviews and assorted small photos
Guidry, John H.: Beyond Thirty ~ Looking back to his first issue 30 years ago ~ Greystoke film
Spargur, Richard C.: Purchase and disatisfaction with the John Carter Chest Prop from the film ~ Return of chest and purchase of 3 "jewels" from the Barsoom Atmosphere Factory ~ 5 photos of the chest and jewels
McGeeney, Bob: Return to membership ~ History of the long connection with ERB ~ Current Passions: Metal miniatures, comics and strips, Princess of Mars illustrated by Michael Kaluta ~ Illos: 2 commissioned Artist Cards by Anthony Gay, Dejah and Lana from Solar Winds ~ The Great Sandow: ERB's Inspiration for Tarzan? ERBzine Ref: 1893 Columbian Exposition 2 Sandow photos.
Sigmund, Rudy: A Tribute to Pete Ogden and ERBANIA ~ A stellar fanzine published since 1956. Pete has published the last issue. 2 Illos: Covers of issues 1 and 28 and last issue: No. 103 December 2013.
Wilcutt, Dennis: Interview with Steven E. Gordon - April 13, 2014 - Sample art from ERB, Inc's Eternal Savage strip (3 strips)
Cavender, Shawn: Comments on the Contantin Tarzan film and Dynamite Comics ~ 3 illustrations.
---
LAST ISSUE
ERBapa 120 ~ Winter 2014 (with ERBzine references)
The ERBapa Webpages in ERBzine start at: www.ERBzine.com/apa
30th Anniversary Issue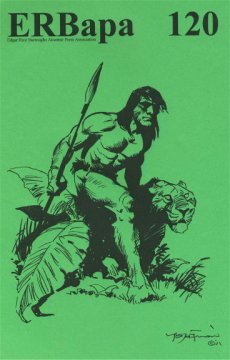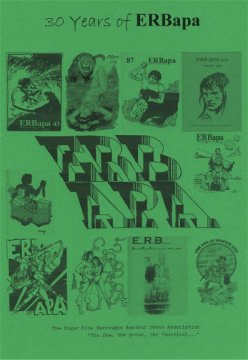 Front Cover: Mike Hoffman ~ Back Cover: 30 Years of ERBapa
KAOR: Contents, 30-Year ERBapa Anniversary, Members Roster, Art Credits, Shawn Cavender elected OE for another term, Membership Report: Ken Webber and Lyuba Johnson resign - Robert Zeuschner rejoins, RIP Bob "Tarak" Woodley, Kreegah!, Membership Dues, Treasury Report, Back Issue Report
KAORSPONDENCE: Ken Webber, Bob Zeuschner, DJ Howell
Goodwin, Jim: Del Rey Canada edition comments ~ Colour images of the Warlord of Mars card set across three pages
Critchfield, David: Pellucidar Mention by Ray Bradbury's The Exiles short story ~ ERB Dedication in graphic novel: Fables: War and Pieces ~ Shades of ERB's Beyond Thirty in Moorcock's Warlord of the Air series of alternate histories ~ Bob "Tarak" Woodley Tribute in ECOF 200 - 3 colour photos from ERBzine (issues #0371-0388) ~ 2-page reading list ~ Note: Gilak's Guide to Pellucidar at www.facebook.com/amiocap ~ 7 mailing comments
McKosky, Ted: At the Earth's Core comments and 9 illos ~ 8 Tarzan Trading Cards created by author.
Hanson, Alan: Paris: "The City of Lights in ERB's Fiction" - 20 references with strip illos ~ Citizens of Paris, Visitors to Paris, Dreamers of Paris, A Final Dream of Paris - 6 pages
Howell, DJ: Fiction: Lord of Two Worlds: Synopsis ~ Ch. XI continued over 8 pages ~ Postscript: Culture Icons: Dracula and Superman, ERB appearances: TV and various books, still more Disney backlash
Huckenpöhler, J.G.: ERB and Steampunk - influences and heirs ~ In Memoriam: Nick Cardy (Oct 20, 1920-Nov 3, 2013) and Bob "Tarak" Woodley ~ Comments on APA 119
Ekman, Fredrik: Jujutsu in ERB's Works: "What is Jujutsu, Anyway?" - Land That Time Forgot - Ito Tokugoro - Tarzan the Untamed - Tanar of Pellucidar - Back to the Stone Age - Land of Terror - Conclusions - Derivative Works ~ Sources ~ John Carter Song Book: A Review ~ 4 Mailing Comments ~ 7 illos
Denkena, Kurt S.: Fuwalda 100 ~ Report on German doc: Mythos Tarzan with 12 illos ~ Message to ERB-fans and Fuwalda-Fans ~ Cover art by Andy Schmid
Griffin, Scott Tracy: ERBapa at 30 ~ Longevity and Output of members ~ IMDB Tarzan Film Rankings and User Nos. - Most-reviewed authorized ERB films and Analysis ~ Tarzan and Hollywood Part 7: Locations (cont.)
Conran, Mike: Dynamite Comics Lords of Mars Cover Checklist Nos. 1-6 with alternate covers and synopses ~ 36 small b/w illos
Dumont, Richard: Lost in Pal-ul-don: Gryfs and Gyors ~ Ceratopsia examples (many illos) ~ Illos: Marsh, Manning, Hoban Blue Book, Gold Key Tarzan, Japanese cover
Martin, John: Fiction: Tusks of Tantor (seque to Tarzan Switches Blades ERBapa 119) ~ ERB Legend Russ Manning in Dark Horse book ~ Converging Trails Comments on 119 ~ False Advertising by Burroughs Bibliophiles (publication of the Bulletin and Gridley Wave appear to have ceased) ~ 8 illos
Ross, Bill: Burroughs Fan Publications from the "P" File Pt. 2 ~ 9 titles detailed
Guidry, John H.: Lost Fanzine of Jasoom: Thuvia, Maid of Mars: Comments/HistoryImpact ~ 2 books read ~ Mention of India Boone's mention of Greystoke in Tanzania (see Bob Hyde's Africa Odyssey in www.erbzine.com/mag40/4002.html
Hillman, Bill: ERBzine Directory Issues 2500-2551: Tarzan Comics ~ Colour logos of Hillman ERB Websites ~ 60 colour logos of the lead-off ERBzine features from 2012 Sean Egan's SFX Fantasy Magazine article: TARZAN: A CENTENNIAL CELEBRATION adapted from ERBzine coverage in: www.ERBzine.com/mag41/4198.html
Menegazzo, Tony: Clippings, cartoons - Tony's 4-page Tarzan comic
Lupton, Robert Allen: Under the Dum Dum Tree ~ Looking back 30 years ~ Illos and comments on Russ Manning Dark Horse Vol. 2 and Art of Dejah Thoris from Dynamite ~ Fiction: THE HUNTING BUDDIES of 6 pages ~ Comments on Edson's Bunduki plus Azan, Norwood's books. Kpjm Russell Fearn ~ Fiction: DEJANNA OF MARS of 7 Chapters ~ In-depth APA Comments on previous submissions ~ A giant submission of 52 PAGES!
Zeuschner, Bob: Fantasy Realms of ERB: "It's Been a Long Time. . ." Short intro for rejoining - Progress on his revised ERB Bibliography and comments on ERB events over the last few years ~ Included: Sample two pages of the revised Biblio with The Return of Tarzan entries.
Van Hise, James: Pulp art by Frank Hoban from Tanar of Pellucidar: Blue Book, March through August 1929 ~ 43 art illlustrations by Hoban
Cavender, Shawn: Alien Worlds of ERB ~ Comments ~ Fishing with Dynamite (comics): Warlord of Mars, Lords of Mars, Warlord of Mars Dejah Thoris, Dejah Thoris and the Green Men of Mars ~ 6 sample illos
Thompson, James F.: Update on the health of George McWhorter, George's Medal of Honor book, Dum-Dum 2013 Louisville Report ~ 4 photos (ERBzine Coverage of the 2013 Dum-Dum)
Franke, Henry G.: Tarzan the Stage Musical at Liberty High School, Eldersburg, Maryland: Playbill, articles, photos, comments
Grainger, Frank: Argument for the Chimpanzee ~ descriptions/characteristics ~ and what are the Mangani? ~ Jane Goodall ~ Frodo photo
OE Shawn Cavender: The Last Word ~ Comments on this issue's submissions
---
ERBapa ROSTERS: PAST and PRESENT

Edgar Rice Burroughs Amateur Press Association
Navigation Chart

The Fantastic Worlds of Edgar Rice Burroughs
| | | | |
| --- | --- | --- | --- |
| Tarzan.com | ERBzine.com | DantonBurroughs.com | Tarzan.org |
| BurroughsBibliophiles.com | JohnColemanBurroughs.com | Tarzan.com/tarzine | JohnCarterOfMars.ca |
| ERBzine.com/edgarriceburroughs | Weekly Webzine | Weekly Webzine | Pellucidar.org |
| John Carter Film News | ERB, Inc. Corporate Site | ERB Centennial | tarzana.ca |

BILL HILLMAN
Visit our thousands of other sites at:
BILL and SUE-ON HILLMAN ECLECTIC STUDIO
ERB Text, ERB Images and Tarzan® are ©Edgar Rice Burroughs, Inc.- All Rights Reserved.
All Original Work ©1996-2002/2014 by Bill Hillman and/or Contributing Authors/Owners
No part of this web site may be reproduced without permission from the respective owners.