.

Official Edgar Rice Burroughs Tribute and Weekly Webzine Site
First and Only Weekly Online Fanzine Devoted to the Life and Works of ERB
Since 1996 ~ Over 10,000 Webpages in Archive
presents
ERB-APA
Edgar Rice Burroughs Amateur Press Association
www.ERBzine.com/apa
Welcome to ERBapa

Amateur Press Associations are a means to bring together those interested in a common subject through their regular contributions to a shared publication. APA members must maintain active participation to remain in good standing. Memberships in APAs are usually small to keep the publications manageable. Each member offers a unique perspective which meets few restrictions from editorial control. Because of the limited membership and the number of issues published, only a few outsiders are able to see all the hard work and worthwhile articles put into most APA issues.

ERBapa was founded in 1984 by ERB fan, John Guidry. He modeled the society after other typical amateur press societies, seeing the organization as one which would allow ERB fans to share their "comments, musings, rantings and ravings, fond memories, whatever...."

John decided to limit membership to 36 -- to commemorate the age at which ERB began writing. Members would pay a nominal membership fee and would then, four times a year, type up a minimum of two pages of material and send 50 copies to John. He would then collate and bind the material, and return a copy to each member. Six slots were set aside for "Honourary Members" (chosen by member vote) which were honoured for their lifetime commitment to ERB fandom. People on the waitlist had first option to buy any extra copies.

---


Our ERBzine APA site has been created to give Burroughs fans a better idea of this very special organization for ERB fans and scholars. We have included all the APA cover art from issue #1, membership information, APA news, searchable contents lists from the later editions, membership lists -- past and present -- and links to scores of articles by ERBapa members that have been reprinted in our weekly online fanzine -- ERBzine.

We hope you enjoy your visit to world of ERBapa
CONTENTS OF THE CURRENT ISSUE
ERBapa 123 ~ Autumn 2014 (with ERBzine references)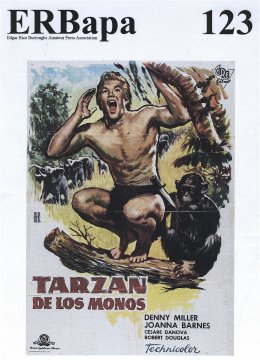 The ERBapa Webpages in ERBzine start at: www.ERBzine.com/apa

Cover: Denny Miller Movie Poster for Tarzan the Ape Man
Contents and Roster ~ 230 pages
Kaor: Remembering Denny Miller ~ Annual ERB Ballot for OE and Honourary Member ~ Membership Report ~ Early Mailer Awards ~ Kreegah! ~ Membership Dues ~ Treasury Report ~ Back Issue Report
Griffin, Scott Tracy: Tarzan and Hollywood - Another Shelf in the Completist's Library Part 3: Supporting Actors and other Contributors to the Tarzan Film Legacy (cont.): Two Raymond Burr biographies ~ Staters' Rights!: ERB Conventions by State and City ~ Feedback on 4 submissions from APA 122
Goodwin, Jim: Interview with Bill Hillman at Brad Vinson's during Dum-Dum 2014: "A Mover and Shaker in the ERB World" Refs: Hillman Roots and Wings starting at: ERBzine 0573 ~ Hillman Music Bio Book ~ Gig Notes ~ Bill and Sue-On Hillman Website ~ 2 photos ~ 24 Comments ~ 8 pages
Hanson, Alan: Tarzan the Swimmer: His Adventures in Rivers, Lakes, and Oceans: Tarzan of the Apes, Return of Tarzan, Beasts of Tarzan, Tarzan and the Jewels of Opar, Tarzan the Terrible, Tarzan the Invincible, Tarzan and the Lion Man, Tarzan and the City of Gold, Tarzan and the Forbidden City, Quest of Tarzan, Tarzan and The Foreign Legion", Summary ~ 16 Comments ~ 3 Illos ~ 8 pages
Critchfield, David: Another Book from the Hollow Earth Bookshelf: The Great Stone of Surdis by Frank R. Stockton ~ 2 Illos ~ 6 Comments from #121 and 6 Comments from #122.
Denkena, Kurt S.: Fuwalda - German Copyright Info ~ Disney's Tarzan Blu-Ray Release and Illos ~ Tarzan Radio Plays ~ Publication on German Tarzan Merch
McGeeney, Bob: FunAddict: Summer Travels and collectibles acquisitions ~ 23 Mailing Comments
McKosky, Ted: Tarzan Trading Cards on 3 colour glossy pages.
Martin, John: Denny Miller Tributes ~ Las Vegas Review-Journal tribute article on Denny ~ Farewell Gesture for a Young Boy (John's grandson Schuyler White) ~ Tarzan and the Circus (6 parts) ~ Tarzan and Bad Guys: Jack Elam and Leo Gordon ~ POEM: "That Daring Ape Man" by John Martin ~ Converging Trails: Comments of Nos. 121 and 122 ~ 'In Memoriam' postal cover for Denny Miller ~ Approx. 25 illos ~ 16 pages.
Conran, Mike: Dum-Dum 2014 Report with 26 photos and list of Sites, Panels/Presentations, Tours, Souvenirs, Events and Reports
Karlen, Dave: John Carter, Warlord of Mars: History and Comics appearances with JC Sunday page by John Coleman Burroughs and recent comic book page ~ 4 pages
Huckenpöhler, J.G.: In Memoriam: Denny Miller (25 Apr. 1934 - 9 Sept. 2014) Email Correspondence: Bill Hillman, Nancy Miller, Huck and Victoria ~ 3 Denny Photos: With Panthans, with Nancy, with his Tarzan License Plate) ~ 24 Mailing Comments ~ 6 pages
Zeuschner, Bob: Reviews on Jake "Buddy" Saunders' THE MARTIAN LEGION ~ ERB, Inc. and LA SubERBs News: Warner Tarzan Movie ~ Possible LA ECOF 2016 ~ 3 pages
Burrows, Robert J.: FanFic: The Case Files of Dotar Wat - Chapter 16: Conception vs Deception ~ Notes: APA 121 (9) APA 121 (9)
Krabacher, Tom: Thark Horizons: Denny Miller, John Carter On The Move back to ERB, Inc., Tarzan (Constantin Films), 11 Mailing Comments, A Look Inside The All-Story Oct, 1912: Summaries of the stories in that landmark Tarzan of the Apes issue ~ 10 pages
Spargur, Dick: Seeing Brad Vinson's Art Collection: Dum-Dum 2014 - Bryan, Texas: 20 photos of the Vinson ERB Art Collection ~ 4 pages
Shoemaker, Kurt: Texas Wave: Summer activities ~ In-Depth discussion of all the submissions in APA 122 ~ 8 pages
Lupton, Robert Allen: Summer Activities and Events ~ Review of DeWet Dutoit short Tarzan film on YouTube ~ Fake Tarzan vs. Predator poster ~ 6 First Day Covers ~ Dejanna of Mars Fiction: Ch. 11: "Rock Me Like a Wagon Wheel" ~ 10 Illos ~ 24 Mailing Comments ~ 16 pages
Barry, Richard H.: Leon Rom and George Washington Williams: Who Art They?. . . What Are They Doing in David Yates' New TARZAN Film?: Intro ~ Alexander Skarsgard Buzz, King Leopold's Ghost ~ Historical background of Rom and Williams ~ 4 Illos ~ 4 pages
Thompson, James F.: Medical updates on George McWhorter and Bob O'Malley and Phil Normand ~ Denny Miller Tribute ~ Dum-Dum 2013 Louisville Part 3 Report ~ 4 pages
Hadac, Jim: Say It Ain't So! Bigfoot a Fake? Through the years reports and tie-in with ERB ~ Denny Miller Tribute and General Comments on APA 122
Van Hise, Jim: Reprints Burroughsiana 18 - April 1958 ~ E. Everett Evans poem to ERB ~ Analog June 1964 Reviews of new ERB editions ~ 5 Illos ~ 8 Pages
Frey, Roddy: Memoirs of a Wannabe Apeman: Mangani for Moderns: Apes - Mangani names for apes in today's world ~ Thoughs on Tarzan's Physique As ERB described him ~ 4 RGF Illos ~ 4 pages
Hillman, Bill: Russ Manning Tarzan Daily Strips reprinted in ERBzine.com ~ Logos for other ERB Websites published by Hillman ~ Denny Miller (April 25, 1934 - September 9, 2014) Obituary by George McWhorter. A multitude of photos of Denny in 2 collages plus 2 Xmas Cards from the Millers and Denny's fitness book cover: "Me Tarzan, You Train - Without Pain"
Wilcutt, Dennis: Mike Grell Interview over 12 pages ~ 4 photos ~ 12 reproduced Tarzan Sunday pages by Grell.
Franke III, Henry G.: Tarzan and the Leopard Men: Discussion and Review ~ 12 Colour covers and 3 photos ~ 20 pages
Howell, DJ: FanFic: Lord of Two Worlds: Jer'ok in the Valley of Mithos -- Synopsis, Ch. IV King's Ward (cont.) ~ Postscript: New Tarzan animated, Kitsch in Lone Survivor, about Tony Goldwyn profile, Newsweek reports dangerous Tarzan rides in amusement parks, Tarzan ref in Chasing Fire ~ "Looking at the West in the Life and Works of ERB" Part 2
Guidry, John H.: Denny Miller Tribute ~ Books/Videos referencing ERB: Casanova Was a Book Lover. . . " by John Maxwell Hamilton, Martin and Lewis DVD Tarzan skit, "Best of the Badmen. . . " by Magers, Nareau and Copleand.
Grainger, Frank: FanFic TARZAN AT EMPIRE'S END: Intro ~ Chapter One: A Most Curious Safari ~ Chapter Two: "What Are You Doing Here?" ~ Chapter Three: Introductions and Explanations ~ Chapter Four: A Life in the Balance ~ 27 pages
Cavender, Shawn: Alien Worlds of ERB: Remembering Denny Miller ~ New Era of Dynamite Barsoom Comics Begins ~ Comic page: Dejah Thoris and the Green Men of Mars #10 page 13 - 2 other illos of Dejah ~ 3 pages
Ekman, Fredrik: The Third Republic backround: Early Republics, France, Holland, Switzerland, California Republic, Conclusions ~ Sources: PM, GM, Wikipedia ~ Jujitsu Addendum ~ Tarzan Spottings: Player Piano by Kurt Vonnegut, Jr. and W. G. Grace's Last Case by William Rushton ~ Reasons for Being a Member of ERBapa ~ 6 Mailing Comments ~ 7 Illos and 1 Strip
LAST WORD by OE Shawn Cavender ~ 3 pages
---
ERBapa 122 ~ Summer 2014 (with ERBzine references)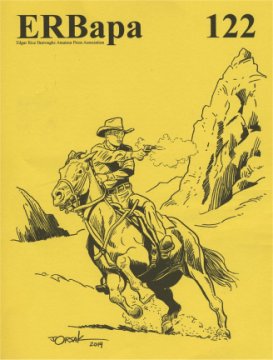 The ERBapa Webpages in ERBzine start at: www.ERBzine.com/apa
---

Front and Back Covers by Joe Orsak
Contents and Roster
Kaor: ART CREDITS: Joe Orsak covers celebrating the Summer Symposium topic, The Bandit of Hell's Bend ~ MEMBERSHIP REPORT: Four New Members: Rick Barry, Tom Krabacher, Kurt Shoemaker, Dave Karlen ~ EARLY MAILER AWARDS: Jim Goodwin, Bill Hillman, Bob McGeeney, Alan Hanson ~ KREEGAH! and MEMBERSHIP DUES Reminders ~ TREASURY REPORT ~ BACK ISSUE REPORT: 8 issues available
Goodwin, Jim: Formation of the Texas ERB Group: The Hell's Benders with 27 members to date ~ Local Witchita Falls Tarzan Musical ~ 20 mailing comments ~ 1 Playbill cover illo
(ERBzine Refs for Tarzan Musicals: Broadway, Holland, Hamburg, Utah )
Hillman, Bill: ERBzine Directory for Issues 2600-2699 Manning Tarzan Strips ~ Novelization of John Coleman Burroughs' Sunday Strips by Dale Broadhurst: JOHN CARTER AND THE PERILS OF MARS Ch. 9 "Plummeting from the Ledge" and Ch. 10 "Lost in the Desert ~ Page 1 of the Illustrated Version of The Bandit of Hell's Bend ~ Link to the series and Illustrated Biblio of the title ~ Illos: 14 logos, 2 colour Sunday pages, 1 Illustrated BHB page
(ERBzine Refs: JCB John Carter Series plus Broadhurst related novel version ~ BHB Biblio ~ BHB Illustrated version by Al Martin Napoletano )
McGeeney, Bob: Song Lyrics from The Bandit of Hell's Bend: "Untitled" by Bull and "Bad Hombre" by Texas Pete ~ 23 Mailing Comments
Hanson, Alan: A New ERB Reading List for the Elderly: Commentary on authors extensive use of personal titles index and article themes compiled from multiple readings of all of ERB's books ~ New ERB Reading Checklist of only personal favourites: 1. Return of Tarzan - 2. The Girl From Hollywood - 3. The Martian Trilogy (PM, GM, WM) - 4. Tarzan of the Apes - 5. The Mucker - 6. Tarzan and the City of Gold - 7. The Bandit of Hell's Bend - 8. The Moon Maid - 9. Tarzan and "The Foreign Legion - 10. The Girl From Ferris's / The Efficiency Expert ~ 2 paperback cover illos
(ERBzine Refs: Illustrated ERB Biblio)
Denkena, Kurt S.: Tarzan and Jane Luminous Figures German building project ~ New French comic book: John Arthur Livingstone - Master of the Apes ~ Newspaper with Lex Barker as Karl May's Old Shatterhand ~ 4 pages of representative photos
Huckenpöhler, J.G.: On the Road Again: ECOF 2014: Thursday and Friday Commentary ~ 6 photos from Thursday ~ 26 Mailing Comments
(Fargo ECOF in ERBzine)
Critchfield, David: Review of War Over Lemuria: Richard Shaver, Ray Palmer and the Strangest Chapter of 1940s Science Fiction by Richard Toronto ~ The Ray Palmer / ERB Connection: Palmer's promotion of Tarzan On Mars by John Bloodstone ~ 9 pulp covers that illustrated Richard Shaver stories with art by Robert Gibson Jones ~ 19 pages of charts detailing Shaver-related pulps
(suggested ERBzine refs: 19301967 Tarzan On Mars text 19381966 Tarzan Never Dies by Palmer 1970 )
Karlen, Dave: Dave's Intro Bio to ERBapa ~ Doug Wildey's Edgar Rice Burroughs Stories ~ Wildey Bio ~ 2 Wildey pages of comic art
(Wildey Tarzan Gold Key Comic Issues: 179 - 180 - 181 - 182 - 183 - 184 - 185 - 186 - 187 )
Ross, Bill: Burroughs Fan Publications From the "Q" and "R" File ~ 2 Illos: Krenkel and Bergen Reference Guide Cover
Conran, Mike: ECOF 2014 Report with 28 photos and chart of Sites, Guests, Leather Plaque Awards, Souvenirs
(Fargo ECOF in ERBzine)
Martin, John: Yin and Yang of The Bandit of Hell's Bend ~ Strange Link of Hell's Bend to Willows, Calif. ~ Sing Along with Bandit! ~ FanFic 12 pages: A Gentleman of Mars: Ch. 1 "I Didn't Ask For This - Ch. 2. "Thark You Very Much" - Ch. 3. "You Want Me To Do What?" - Ch. 4. "In the Footsteps of John Carter" - Ch. 5 "Crash Course on Warlordology" - Ch. 6 "Spit and Polish Off" - Ch. 7 "Reality Check" ~ Review: Medal of Honor by George T. McWhorter ~ Illos: 5 photos and Mahlon Blaine Thark, 2 Barsoom sketches ~ McWhorter book cover.
McKosky, Ted: Tori Allen: A Young Woman who Could Give Tarzan a Climb for his Money ~ Burroughs-Tarzan Pictures, Inc.: The Phantom of Santa Fe: Collage of 18 colour screen captures.
(ERBzine Ref: ERB Film Producer 0287 ~ ERB Film Lobby Display and Collage 0287a )
Thompson, James F.: George McWhorter Update ~ Dum-Dum 2013 Louisville, KY Report ~ Local Tarzan Musical Productions ~ 1 photo and 1 page Musical ad.
(ERBzine Refs for Tarzan Musicals: Broadway, Holland, Hamburg, Utah )
Shoemaker, Kurt: ERB and Me: Autobio Intro for ERBapa ~ The Bandit of Hell's Bend: The Clever and Funny Parts
Zeuschner, Bob: Kaluta and the Bandit ~ Review of the new Kaluta-illustrated A Princess of Mars ~ Comments and Publishing History of The Bandit of Hell's Bend (9 editions)
Guidry, John H.: Conclusion of Pete Ogden's ERBania Fanzine published since 1956 ~ Reviews of recently read publications with Tarzan refs: Sex: Portraits of Passion and Blood 'n' Thunder
Lupton, Robert Allen: Under the Dum Dum Tree ~ ERBapa history ~ State of Burroughs Bulletins lamented ~ Recently read ERB-related books: Tarzan In the City of Gold (Volume One) (Burne Hogarth Sundays) Buzz Sawyer Sundays book ~ At The Queen's Mercy (Lupton jacket design) ~ Recent Dejah Thoris comics from Dynamite ~ 6 cover illos and 6 Postal illos ~ 25 comprehensive comments on last issue submissions ~ Comments interpretations and illustrations of cattle brands.
(ERBzine Refs: Burroughs Bulletins ~ Tarzan Comics and Cards ~ 1893 Columbian Exposition: Sandow, etc. ~ Tarzan Alive ~ Chrono Biblio of all the ERB Titles ~ ERBapa Site ~ ERBANIA ~ New ERB, Inc. Sunday Strips ~ ERB/Zane Grey Connection )
Hadac, Jim: A "Hawk's Eye" View of "The Bandit" - History of and Comments on the book - 1 illo: 1st Edition Cover
Krabacher, Tom: Thark Horizons ~ "Hi - I'm the New Guy!" Intro Bio ~ ERB and Me ~ Northern California Mangani chapter ~ ERBapa and Me ~ BHB Comments ~ APA zine title explained
(ERBzine Refs: NoCal Mangani ~ NoCal Mangani Event )
Barry, Richard H.: "I'm a Very Old Man" Bio Intro ~ The Monticello Book Club reading group ~ Ray Bradbury: My Gateway Drug ~ The 2012 ECOF in Tarzana ~ Aftermath ~ 1 PM DJ Illo
(ERBzine Refs: Ray Bradbury ~ Bradbury Intro in Porges ~ Bradbury On Air and in Comics ~ John Carter of Mars Film ~ Thomas Yeates Princess of Mars Illos ~ Tarzana 2012 ECOF )
Dumont, Richard: Rereading Burroughs ~ Favourite Mysteries and Other Authors
Howell, Dorothy J.: FanFic: Lord of Two Worlds: Jer'ok in the Valley of Mithos: Synopsis, Ch. XIV King's Ward ~ Postscript: John Carter the Undead ~ ERB in Unexpected Places - related works in print and film ~ What If? column ideas ~ Summer Symposium: Excerpts from the 2008 ECOF chapbook by DJ Howell and Phyllis Evanuk: "Looking at the West in the Lilfe and Works of ERB"
(ERBzine Refs: ERB in the Wild West ~ ERB Fan Fiction )
Sigmund, Rudy: ECOF EMAILS: Tom Fleming ~ George McWhorter Greetings ~ Sigmund Tarzan Illo from 1972
(ERBzine Refs: Rudy Sigmund's 2013 Fargo ECOF ~ Tarzan and the Golden Lion Film: Screen Captures I and Screen Captures II ~ George McWhorter )
Cavender, Shawn: New old words in BHB: Brobdingnagian and Habiliment ~ Dynanite Comics Announcement: Permission from ERB, Inc. to do comics on ERB characters ~ Discussion of latest Dejah and Warlord comics from Dynamite ~ Illos: 1 Delmonico photo, 1 Jungle Girl photo and Original Dynamite art over 3 pages ~ Constantin Tarzan film review ~ 17 Mailing Comments.
Franke, Henry G. III: Discussion and background on BHB with quotes and ERB's Wild West experiences ~ BHB 1st page of Al Martin Napoletano version featured in Hillman entry above
(ERBzine Refs: ERB in the Wild West ~ BHB Illustrated )

Last Word by Editor Shawn Cavender: Comments on all of this issue's submissions

---
LAST ISSUE
ERBapa 121 ~ Spring 2014 (with ERBzine references)
The ERBapa Webpages in ERBzine start at: www.ERBzine.com/apa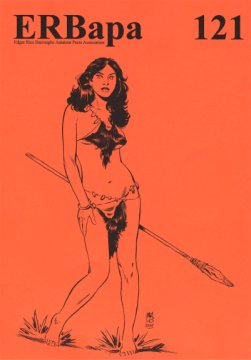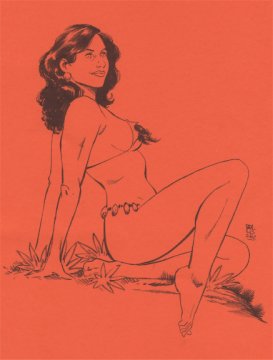 Front and Back Cover Art: Louis Paradis
Kaor: Membership Report: New member is Roddy Frey and rejoining is former member Bob McGeeney ~ Early Mailer Awards ~ Next Issue: The Bandit of Hell's Bend Summer Symposium ~ Membership Dues Reminder ~ Treasury and Back Issues Reports ~ Kaorspondence: Mike credits Bob Zeuschner with two of the photos he used last issue.
Goodwin, Jim: Tarzan and the Crystal Vault of Isis trading cards referenced to ERBzine 0174 and ERBzine 0175 ~ Feedback on all of last issue's submissions ~ Two card illos
Critchfield, David: Tarzan the Stage Musical report for James River High School in Richmond, Virginia ~ 3 colour illos plus the play's b/w Playbill ~ Mailing Comments on 5 submissions.
Refs: ERBzine reports of Tarzan Opening Nights: Broadway ~ Holland ~ Hamburg ~ Utah
Ekman, Fredrik: An Aviator of Three Worlds ~ John Carter, Aviator of Barsoom, of Eurobus, of Earth ~ Douglas M-2 aircraft photo ~ Sources: ERB novels, Marvel comic 16, ERBzine ERB Bio ~ Comments of 5 submissions ~ ERBzine Ref: Barsoom Airships
McKosky, Ted: Tarzan Who? A Look at Some Tarzan Imposters: 7 illos
Griffin, Scott Tracy: Completist's Library: I: Leading Men and Ladies, Firsthand (cont.): Remarkable Enid Markey by Brian J. Bohnett, Jock Mahoney by Gene Freese, Buster Crabbe by Jerry Vermilye, Maureen O'Sullivan by David Fury, Maureen O'Sullivan by Connie J. Billips, Hollywood Royalty by Gregory Speck, Santa Barbara Celebrities by Cork Millner ~ IMDB Revisited ~ Feedback on 5 Submissions ~ RIP: Bob Woodley and Frank Westwood ~ Suggestions for Honorary APA Membership: Alan Hanson, Mike Conran, ERBzine's Bill Hillman
Menegazzo, Tony: 2 clippings ~ Continued Tarzan strip by Tony (Story and Art) - 3 pages
Hillman, Bill: ERBzine.com directory for Issues 2552-2599 ~ Logos of other ERB sites by Hillman ~ ERBzine 2013 Lead Story Logos: 5 colour pages ~ Compendium of Quotes Recognizing the Influence of ERB in Popular Fiction from ERBzine 2875 (6 pages) ~ Milan Fibiger Mars art featuring the Hillmans
Denkena, Kurt S.: Fuwalda report on new Tarzan 3D film in Germany with mag reprints ~ New SF Website: DIE ZUKUNFT featuring The Ape Man's Brother by Joe R. Lansdale
Conran, Mike: Winter Adventures: Visit Fred Mallon to Bill Ross, Bill Wagner and Christ Church ~ Panthan's 18th Ann. Meeting at Huck's ~ Mucker Meeting in Chicago and Oak Park ~ California visit to ERB, Inc. staff, Mike Shaw and Bob Zeuschner: examined rare Return of Tarzan 1st ed. ~ Visit to Windy City Pulp and Paper Con. ~ 14 Photos
Hanson, Alan: Soldiers, Sailors and Airmen: ERB's Tribute to the American Military: ERB's military connection ~ Monster Men, Mucker, Moon Maid, Girl from Hollywood, Master Mind of Mars, War Chief, Apache Devil, Tarzan at the Earth's Core, Elmer, Tarzan and the Champion, Uncle Bill, Tarzan and the Foreign Legion ~ 2 photos of ERB in uniform ~ 5 Mailing Comments for APA 120.
Huckenpöhler, J.G.: Tarzan Comic Strips: Artists and Writers: Lists, Dates, etc.~ Comments on all APA 120 Submissions ~ ERBzine Refs: Hucks's Daily Strips List ~ Huck's Sunday Strips List
Hadac, Jim: Visiting Philippe: Our Trip to Europe, Sept. 2013: 8 photos: Hadron Collider, Philippe's house, collection and countryside
Martin, John: Biographic reprint on Tarzan, TrivQuizes, Fanfics: Tarzan injuries and tooth problems, Ode to John Carter, John Carter of Counter Mars, More in the Safe, A Boy Named Boy poem, TrivQuiz and Biograhic "cartoons" Reprints: Lambert, Mahoney, Weissmuller, Crabbe, Sally Field/Supremes, McCalla ~ Converging Trails Comments on APA 120
Burrows, Robert J.: FanFic: The Case files of Dotar Wat: Ch. 14 - The Long Walk to the Past ~ Ch. 15 - Onward! ~ ERBapa 118 (10 comments) ERBapa 119 (12 comments) ERBapa 120 (12 comments) ~ Photo: Gordon Scott being laid to rest 2007
Frey, Roddy: Memoirs of a Wannabe Apeman: Autobio Intro of new member ~ 3 illos
Howell, Dorothy J.: FanFic: Lord of Two Worlds - Jer'ok in the Valley of Mithos: Synopsis - Ch. XIII Arenas (cont) ~ Postscript: Factoids and updates and connections from ERB world ~ Childhood Memories with 4 photos
Zeuschner, Bob: How Time Flies . . . Admiring the new Return of Tarzan 1st edition at ERB, Inc. with staff ~ Preview of the Table of Contents from the Zeuschner ERB Bibliography update ~ Mailing Comments
Lupton, Robert Allen: Under the Dum Dum Tree (20 pages): Acknowledgment of Fanzines and Burroughs Bulletin concerns ~ Reviews: Dynamite Comics' Dejah Thoris ~ GrayMorrow: Visionary ~ Please Don't Call Me Tarzan by Mike Chapman ~ Other titles of interest and comments on the new Russ Manning and Burne Hogarth collections ~ Art: Dejanna of Mars II by Newton Burchan ~ FanFic Chapters 8-10 ~ ERBapa #120 Comments
Dumont, Richard: Reflections of a Collector - Looking back over a lifetime of collecting
Franke, Henry G.: Tarzan the Stage Musical - Another Visit ~ MTI and UWFox Valley productions ~ Synopsis ~ Playbook ~ Facts ~ Reviews and assorted small photos
Guidry, John H.: Beyond Thirty ~ Looking back to his first issue 30 years ago ~ Greystoke film
Spargur, Richard C.: Purchase and disatisfaction with the John Carter Chest Prop from the film ~ Return of chest and purchase of 3 "jewels" from the Barsoom Atmosphere Factory ~ 5 photos of the chest and jewels
McGeeney, Bob: Return to membership ~ History of the long connection with ERB ~ Current Passions: Metal miniatures, comics and strips, Princess of Mars illustrated by Michael Kaluta ~ Illos: 2 commissioned Artist Cards by Anthony Gay, Dejah and Lana from Solar Winds ~ The Great Sandow: ERB's Inspiration for Tarzan? ERBzine Ref: 1893 Columbian Exposition 2 Sandow photos.
Sigmund, Rudy: A Tribute to Pete Ogden and ERBANIA ~ A stellar fanzine published since 1956. Pete has published the last issue. 2 Illos: Covers of issues 1 and 28 and last issue: No. 103 December 2013.
Wilcutt, Dennis: Interview with Steven E. Gordon - April 13, 2014 - Sample art from ERB, Inc's Eternal Savage strip (3 strips)
Cavender, Shawn: Comments on the Contantin Tarzan film and Dynamite Comics ~ 3 illustrations.

---
ERBapa ROSTERS: PAST and PRESENT

Edgar Rice Burroughs Amateur Press Association
Navigation Chart

The Fantastic Worlds of Edgar Rice Burroughs
| | | | |
| --- | --- | --- | --- |
| Tarzan.com | ERBzine.com | DantonBurroughs.com | Tarzan.org |
| BurroughsBibliophiles.com | JohnColemanBurroughs.com | Tarzan.com/tarzine | JohnCarterOfMars.ca |
| ERBzine.com/edgarriceburroughs | Weekly Webzine | Weekly Webzine | Pellucidar.org |
| John Carter Film News | ERB, Inc. Corporate Site | ERB Centennial | tarzana.ca |

BILL HILLMAN
Visit our thousands of other sites at:
BILL and SUE-ON HILLMAN ECLECTIC STUDIO
ERB Text, ERB Images and Tarzan® are ©Edgar Rice Burroughs, Inc.- All Rights Reserved.
All Original Work ©1996-2002/2014 by Bill Hillman and/or Contributing Authors/Owners
No part of this web site may be reproduced without permission from the respective owners.