Official Edgar Rice Burroughs Tribute and Weekly Webzine Site
First and Only Weekly Online Fanzine Devoted to the Life and Works of ERB
Since 1996 ~ Over 10,000 Webpages in Archive
presents
ERB-APA
Edgar Rice Burroughs Amateur Press Association
www.ERBzine.com/apa
Welcome to ERBapa

Amateur Press Associations are a means to bring together those interested in a common subject through their regular contributions to a shared publication. APA members must maintain active participation to remain in good standing. Memberships in APAs are usually small to keep the publications manageable. Each member offers a unique perspective which meets few restrictions from editorial control. Because of the limited membership and the number of issues published, only a few outsiders are able to see all the hard work and worthwhile articles put into most APA issues.

ERBapa was founded in 1984 by ERB fan, John Guidry. He modeled the society after other typical amateur press societies, seeing the organization as one which would allow ERB fans to share their "comments, musings, rantings and ravings, fond memories, whatever...."

John decided to limit membership to 36 -- to commemorate the age at which ERB began writing. Members would pay a nominal membership fee and would then, four times a year, type up a minimum of two pages of material and send 50 copies to John. He would then collate and bind the material, and return a copy to each member. Six slots were set aside for "Honourary Members" (chosen by member vote) which were honoured for their lifetime commitment to ERB fandom. People on the waitlist had first option to buy any extra copies.

---


Our ERBzine APA site has been created to give Burroughs fans a better idea of this very special organization for ERB fans and scholars. We have included all the APA cover art from issue #1, membership information, APA news, searchable contents lists from the later editions, membership lists -- past and present -- and links to scores of articles by ERBapa members that have been reprinted in our weekly online fanzine -- ERBzine.

We hope you enjoy your visit to world of ERBapa
CONTENTS OF THE CURRENT ISSUE
ERBapa 124 ~ Winter 2015 (with ERBzine references)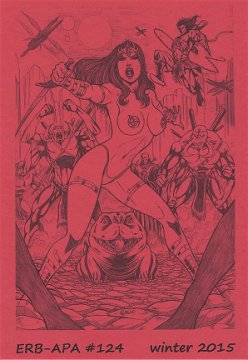 The ERBapa Webpages in ERBzine start at: www.ERBzine.com/apa

Cover: Barsoom art by Cesar Grego
Contents and Roster - 216 pages
Kaor: Art Credits ~ Ballot Results: George McWhorter voted Honorary Member - Shawn Cavender voted OE) ~ Farewell Bob O'Malley and Paul Spencer ~ Early Mailer Awards (11) ~ Membership Report ~ Kreegah! (Submission Warnings) ~ Membership Dues ~ Treasury Report ~ Back Issue Report (Numerous issues after No. 93 available) ~ ERBapa Rules ~ Honorary Members (6)
Griffin, Scott Tracy: Tarzan and Hollywood: Another Shelf in the Completist's Library -- Part 8: Novels and Non-Fiction by the Tarzan Film Players and Crew
Goodwin, Jim: ERB books published by ERB, Inc.: First, Second, 1940, 1948 Editions ~ Mailer Comments for all (More info on all the ERB Editions at ERBzine Online Biblio)
McKosky, Ted: Comic Con 1 at New River Community College Nov 2014 - Report ~ 8 illos including Tarzan Radio Club Membership Card - Station WVRU
Hanson, Alan: Was ERB a Racist Author? - Understanding Context in the Tarzan Stories: Part One - The Accusers, ERB's Use of the "N-word", The Evidence: The "N-word" in the Tarzan Stories, The Context -- 2 St. John Illos ~ Mailing Comments on 5 submissions.
Critchfield, David: Archair Fiction: Discussion on ERB-related books plus 2014 Reading List - 4 cover illos ~ Comments on 3 member submissions
Dumont, Richard: Tarzan's Jungle Annual #1 comments ~ Illos: 5 comics pages plus Jungle World Map of Pal-ul-don from Dell Tarzan #20 (Read Annual #1 in ERBzine 2711) (See the Pal-ul-don map in ERBzine 2420)
Zeuschner, Bob: The Fantasy Realms of ERB: Mention of Jim Gerlach's edition of Back to the Stone Age (see ERBzine.com/bsa) ~ Review of Buddy Saunders' Martian Legion book: Intro, Physical Book, Story, Writing Style, Religion, Appendices, Plot Complications, Conclusion. (See the ERBzine review at: ERBzine.com/legion and a Web version of the Zeuschner review at: ERBzine 5353)
Karlen, Dave: National Comics. . . Korak, Son of Tarzan: Intro to Korak - Gold Key Korak Comics, DC Comics, Other Korak Appearances ~ Bio DC artist Frank Thorne - Other DC artists: Murphy Anderson, Florese, Kubert ~ Illos: 2 Korak comics splash pages.
Huckenpöhler, J.G.: The Burroughs Bibliophiles at Robercon 2 (Binghamton, NY) 9 Dec 2014: Report with 8 photos ~ Memoriams: Bob O'Malley and Phyllis Evanuk with two photos ~ Mailing Comments on all member submissions.
Lupton, Robert Allen: Family, collecting and travel updates. Reviews and titles list on numerous ERB-related books (print and eText) ~ 10 illos (photos and covers) ~ Mailing comments on all (many in-depth)
Martin, John "Bridge": An epic poem: John Carter: The Saga of the Gods of Mars by John "Bridge" Martin with covering 15 pages with 8 illos by Larry Ivie from the Canaveral edition (Web version of the poem was later published in ERBzine 5159) ~ In-Depth Comments on all APA 123 submissions ~ plus 2 ERB First Day Covers
Conran, Mike: John Carter of Mars Dynamite Comics Cover Checklist: Nos. 1-5 all covers illustrated including alternates and Special Edition plus Summary and artist info.
McGeeney, Bob: Customized Tarzan Miniatures, background and process with 4 illos ~ Comments on all APA 123 submissions.
Ross, Bill: Burroughs Fan Publications from the "S" File: 10 titles ~ 2 illos
Cavender, Shawn: Alien Worlds of ERB: At the Earth's Core Blu-Ray review ~ ERB, Inc. Online Comic Strips comments ~ Photo with Jungle Girl Taryn Terrell ~ 6 illos including comic art
Denkena, Kurt S.: Fuwalda: List of all the Tarzan of the Apes publications in Germany and Austria ~ 7 illos
Ekman, Fredrik: Some Dynamite Perspectives: Comments on these now-authorized ERB comics - Chronology, Chronology Notes, Cover Statistics, 3 charts ~ APA 123 Comments on 4 submissions.
Guidry, John H.: Lost Treasure - Review of the new Kellan Lutz Tarzan film ~ Paul Spencer RIP Tribute
Hillman, Bill: Directory for ERBzine issues 2700-2751 - Logos/Links for Hillman ERB-related sites ~ Review and Descriptions of The Martian Legion: In Quest of Xonthron by Jake "Buddy" Saunders (adapted to the Web in ERBzine.com/legion)
Shoemaker, Kurt: The Texas Wave: Tarzan's Quest and Gods of Mars Comments ~ Sundry Memories: "So That's Where I Got That" connection to classic films ~ 17 Mailing Comments ~ Collecting and Current Reading.
Barry, Rick: How I May Have Stumbled on a "Lost" Burroughs Essay: Intro ~ The Phillips Academy Connection ~ Ed Burroughs at Andover: A Horrible Example; or the Man Who Couild Not Say No ~ New Tarzan film storyline straight out of Burroughs' original Tarzan of the Apes ~ ERB questions
Hadac, Jim: "Elephant Bill": "A Reverse Tarzan" in Burma" ~ Discussion on "Elephant Company: The Inspiring Story of An Unlikely Hero and the Animals Who Helped Him Save Lives in World War II" by Vicki Constantine Croke.
Franke, Henry G.: "Tarzan and the Well of Slaves" and "Tarzan and the Tower of Diamonds" D&D roleplaying game reviews with scans of pages of alternate endings.
Grainger, Frank: FanFic: Tarzan at Empire's End, Part II: Ch. 5 Finding the Breaking Point ~ Ch. 6: Save My Granddaughter, Old Friend! ~ Ch. 7: Life and Death on the Savanna ~ Ch. 8: Dire Plans by Moonlight ~ Ch. 9: This French Woman Dies First! ~ Ch. 10: A Fateful Choice ~ Ch. 11: Tarzan and the Oathing . . . to be continued. (37 pages)
Sigmund, Rudy: My Memories of Denny Miller plus 8 autographed posters and photos of Denny - many with Rudy.
Krabacher, Tom: Thark Horizons - Rod Taylor remembered ~ Commentary on the film: People That Time Forgot ~ Likes: Tradition, Model Work, Casting, The Score, 90 minutes length ~ Comments on submissions of 13 contributors
Howell, DJ: In memory of Phyllis Hooghkirk Evanuk: Friend, Burroughsian, Fellow Aficionado of Popular Culture. ~ FanFic: Lord of Two Worlds: Jer-ok in the Valley of Mithos: Synopsis ~ XV Forced Estrangement ~ Comments on 9 submissions ~ ERB in Unexpected Places ~ Looking at the West in the Life and Works of ERB Part 3. From Life to Works.
Wilcutt, Dennis: Review of The Martian Legion by Buddy Saunders ~ Visit with George McWhorter in his new lodgings ~ 3 illos ~ ERBapa 123 Contributor Comments.
Thompson, James F.: Report on George McWhorter ~ Tributes to Phyllis Evanuk and Bob O'Malley with Obituary ~ Letter with memories of Bob from his son-in-law and the first letter from Bob describing his devotion to ERB and fandom ~ Many memories of Jim's longtime friend ~ 3 photos of Bob at fan gatherings.

LAST WORD: From the OE an acknowledgment of this issue's submissions.
---
LAST ISSUE
---
ERBapa 123 ~ Autumn 2014 (with ERBzine references)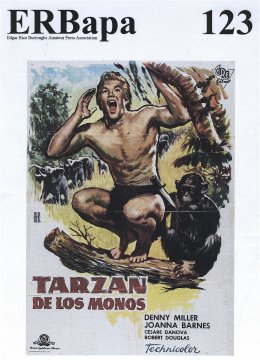 The ERBapa Webpages in ERBzine start at: www.ERBzine.com/apa

Cover: Denny Miller Movie Poster for Tarzan the Ape Man
Contents and Roster ~ 230 pages
Kaor: Remembering Denny Miller ~ Annual ERB Ballot for OE and Honourary Member ~ Membership Report ~ Early Mailer Awards ~ Kreegah! ~ Membership Dues ~ Treasury Report ~ Back Issue Report
Griffin, Scott Tracy: Tarzan and Hollywood - Another Shelf in the Completist's Library Part 3: Supporting Actors and other Contributors to the Tarzan Film Legacy (cont.): Two Raymond Burr biographies ~ Staters' Rights!: ERB Conventions by State and City ~ Feedback on 4 submissions from APA 122
Goodwin, Jim: Interview with Bill Hillman at Brad Vinson's during Dum-Dum 2014: "A Mover and Shaker in the ERB World" Refs: Hillman Roots and Wings starting at: ERBzine 0573 ~ Hillman Music Bio Book ~ Gig Notes ~ Bill and Sue-On Hillman Website ~ 2 photos ~ 24 Comments ~ 8 pages
Hanson, Alan: Tarzan the Swimmer: His Adventures in Rivers, Lakes, and Oceans: Tarzan of the Apes, Return of Tarzan, Beasts of Tarzan, Tarzan and the Jewels of Opar, Tarzan the Terrible, Tarzan the Invincible, Tarzan and the Lion Man, Tarzan and the City of Gold, Tarzan and the Forbidden City, Quest of Tarzan, Tarzan and The Foreign Legion", Summary ~ 16 Comments ~ 3 Illos ~ 8 pages
Critchfield, David: Another Book from the Hollow Earth Bookshelf: The Great Stone of Surdis by Frank R. Stockton ~ 2 Illos ~ 6 Comments from #121 and 6 Comments from #122.
Denkena, Kurt S.: Fuwalda - German Copyright Info ~ Disney's Tarzan Blu-Ray Release and Illos ~ Tarzan Radio Plays ~ Publication on German Tarzan Merch
McGeeney, Bob: FunAddict: Summer Travels and collectibles acquisitions ~ 23 Mailing Comments
McKosky, Ted: Tarzan Trading Cards on 3 colour glossy pages.
Martin, John: Denny Miller Tributes ~ Las Vegas Review-Journal tribute article on Denny ~ Farewell Gesture for a Young Boy (John's grandson Schuyler White) ~ Tarzan and the Circus (6 parts) ~ Tarzan and Bad Guys: Jack Elam and Leo Gordon ~ POEM: "That Daring Ape Man" by John Martin ~ Converging Trails: Comments of Nos. 121 and 122 ~ 'In Memoriam' postal cover for Denny Miller ~ Approx. 25 illos ~ 16 pages.
Conran, Mike: Dum-Dum 2014 Report with 26 photos and list of Sites, Panels/Presentations, Tours, Souvenirs, Events and Reports
Karlen, Dave: John Carter, Warlord of Mars: History and Comics appearances with JC Sunday page by John Coleman Burroughs and recent comic book page ~ 4 pages
Huckenpöhler, J.G.: In Memoriam: Denny Miller (25 Apr. 1934 - 9 Sept. 2014) Email Correspondence: Bill Hillman, Nancy Miller, Huck and Victoria ~ 3 Denny Photos: With Panthans, with Nancy, with his Tarzan License Plate) ~ 24 Mailing Comments ~ 6 pages
Zeuschner, Bob: Reviews on Jake "Buddy" Saunders' THE MARTIAN LEGION ~ ERB, Inc. and LA SubERBs News: Warner Tarzan Movie ~ Possible LA ECOF 2016 ~ 3 pages
Burrows, Robert J.: FanFic: The Case Files of Dotar Wat - Chapter 16: Conception vs Deception ~ Notes: APA 121 (9) APA 121 (9)
Krabacher, Tom: Thark Horizons: Denny Miller, John Carter On The Move back to ERB, Inc., Tarzan (Constantin Films), 11 Mailing Comments, A Look Inside The All-Story Oct, 1912: Summaries of the stories in that landmark Tarzan of the Apes issue ~ 10 pages
Spargur, Dick: Seeing Brad Vinson's Art Collection: Dum-Dum 2014 - Bryan, Texas: 20 photos of the Vinson ERB Art Collection ~ 4 pages
Shoemaker, Kurt: Texas Wave: Summer activities ~ In-Depth discussion of all the submissions in APA 122 ~ 8 pages
Lupton, Robert Allen: Summer Activities and Events ~ Review of DeWet Dutoit short Tarzan film on YouTube ~ Fake Tarzan vs. Predator poster ~ 6 First Day Covers ~ Dejanna of Mars Fiction: Ch. 11: "Rock Me Like a Wagon Wheel" ~ 10 Illos ~ 24 Mailing Comments ~ 16 pages
Barry, Richard H.: Leon Rom and George Washington Williams: Who Art They?. . . What Are They Doing in David Yates' New TARZAN Film?: Intro ~ Alexander Skarsgard Buzz, King Leopold's Ghost ~ Historical background of Rom and Williams ~ 4 Illos ~ 4 pages
Thompson, James F.: Medical updates on George McWhorter and Bob O'Malley and Phil Normand ~ Denny Miller Tribute ~ Dum-Dum 2013 Louisville Part 3 Report ~ 4 pages
Hadac, Jim: Say It Ain't So! Bigfoot a Fake? Through the years reports and tie-in with ERB ~ Denny Miller Tribute and General Comments on APA 122
Van Hise, Jim: Reprints Burroughsiana 18 - April 1958 ~ E. Everett Evans poem to ERB ~ Analog June 1964 Reviews of new ERB editions ~ 5 Illos ~ 8 Pages
Frey, Roddy: Memoirs of a Wannabe Apeman: Mangani for Moderns: Apes - Mangani names for apes in today's world ~ Thoughs on Tarzan's Physique As ERB described him ~ 4 RGF Illos ~ 4 pages
Hillman, Bill: Russ Manning Tarzan Daily Strips reprinted in ERBzine.com ~ Logos for other ERB Websites published by Hillman ~ Denny Miller (April 25, 1934 - September 9, 2014) Obituary by George McWhorter. A multitude of photos of Denny in 2 collages plus 2 Xmas Cards from the Millers and Denny's fitness book cover: "Me Tarzan, You Train - Without Pain"
Wilcutt, Dennis: Mike Grell Interview over 12 pages ~ 4 photos ~ 12 reproduced Tarzan Sunday pages by Grell.
Franke III, Henry G.: Tarzan and the Leopard Men: Discussion and Review ~ 12 Colour covers and 3 photos ~ 20 pages
Howell, DJ: FanFic: Lord of Two Worlds: Jer'ok in the Valley of Mithos -- Synopsis, Ch. IV King's Ward (cont.) ~ Postscript: New Tarzan animated, Kitsch in Lone Survivor, about Tony Goldwyn profile, Newsweek reports dangerous Tarzan rides in amusement parks, Tarzan ref in Chasing Fire ~ "Looking at the West in the Life and Works of ERB" Part 2
Guidry, John H.: Denny Miller Tribute ~ Books/Videos referencing ERB: Casanova Was a Book Lover. . . " by John Maxwell Hamilton, Martin and Lewis DVD Tarzan skit, "Best of the Badmen. . . " by Magers, Nareau and Copleand.
Grainger, Frank: FanFic TARZAN AT EMPIRE'S END: Intro ~ Chapter One: A Most Curious Safari ~ Chapter Two: "What Are You Doing Here?" ~ Chapter Three: Introductions and Explanations ~ Chapter Four: A Life in the Balance ~ 27 pages
Cavender, Shawn: Alien Worlds of ERB: Remembering Denny Miller ~ New Era of Dynamite Barsoom Comics Begins ~ Comic page: Dejah Thoris and the Green Men of Mars #10 page 13 - 2 other illos of Dejah ~ 3 pages
Ekman, Fredrik: The Third Republic backround: Early Republics, France, Holland, Switzerland, California Republic, Conclusions ~ Sources: PM, GM, Wikipedia ~ Jujitsu Addendum ~ Tarzan Spottings: Player Piano by Kurt Vonnegut, Jr. and W. G. Grace's Last Case by William Rushton ~ Reasons for Being a Member of ERBapa ~ 6 Mailing Comments ~ 7 Illos and 1 Strip
LAST WORD by OE Shawn Cavender ~ 3 pages

---
ERBapa ROSTERS: PAST and PRESENT

Edgar Rice Burroughs Amateur Press Association
Navigation Chart

The Fantastic Worlds of Edgar Rice Burroughs
| | | | |
| --- | --- | --- | --- |
| Tarzan.com | ERBzine.com | DantonBurroughs.com | Tarzan.org |
| BurroughsBibliophiles.com | JohnColemanBurroughs.com | Tarzan.com/tarzine | JohnCarterOfMars.ca |
| ERBzine.com/edgarriceburroughs | Weekly Webzine | Weekly Webzine | Pellucidar.org |
| John Carter Film News | ERB, Inc. Corporate Site | ERB Centennial | tarzana.ca |

BILL HILLMAN
Visit our thousands of other sites at:
BILL and SUE-ON HILLMAN ECLECTIC STUDIO
ERB Text, ERB Images and Tarzan® are ©Edgar Rice Burroughs, Inc.- All Rights Reserved.
All Original Work ©1996-2002/2015 by Bill Hillman and/or Contributing Authors/Owners
No part of this web site may be reproduced without permission from the respective owners.