Official Edgar Rice Burroughs Tribute and Weekly Webzine Site
First and Only Weekly Online Fanzine Devoted to the Life and Works of ERB
Since 1996 ~ Over 15,000 Webpages in Archive
presents
ERB-APA
Edgar Rice Burroughs Amateur Press Association
www.ERBzine.com/apa
Welcome to ERBapa

Amateur Press Associations are a means to bring together those interested in a common subject through their regular contributions to a shared publication. APA members must maintain active participation to remain in good standing. Memberships in APAs are usually small to keep the publications manageable. Each member offers a unique perspective which meets few restrictions from editorial control. Because of the limited membership and the number of issues published, only a few outsiders are able to see all the hard work and worthwhile articles put into most APA issues.

ERBapa was founded in 1984 by ERB fan, John Guidry. He modeled the society after other typical amateur press societies, seeing the organization as one which would allow ERB fans to share their "comments, musings, rantings and ravings, fond memories, whatever...."

John decided to limit membership to 36 -- to commemorate the age at which ERB began writing. Members would pay a nominal membership fee and would then, four times a year, type up a minimum of two pages of material and send 50 copies to John. He would then collate and bind the material, and return a copy to each member. Six slots were set aside for "Honourary Members" (chosen by member vote) which were honoured for their lifetime commitment to ERB fandom. People on the waitlist had first option to buy any extra copies.

---


Our ERBzine APA site has been created to give Burroughs fans a better idea of this very special organization for ERB fans and scholars. We have included all the APA cover art from issue #1, membership information, APA news, searchable contents lists from the later editions, membership lists -- past and present -- and links to scores of articles by ERBapa members that have been reprinted in our weekly online fanzine -- ERBzine.

We hope you enjoy your visit to world of ERBapa
CONTENTS OF THE CURRENT ISSUE
---
ERBapa 144 ~ Winter 2020
(with ERBzine references)
---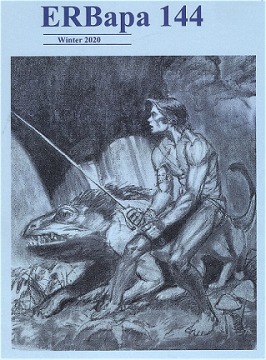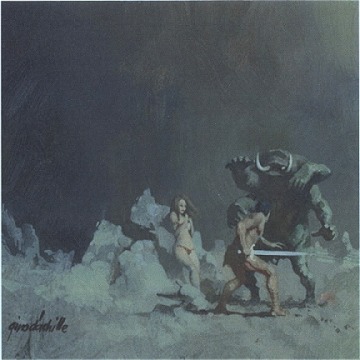 COVER: Front: Michael Whelan Sketch - commissioned by Ballantine in 1978 for a new ERB Mars series. Back: Gino D'Achille preliminary painting for Ballantine.(Whelan Cover Collage) (D'Achille Cover Collage)
KAOR from OE Henry G. Franke III
Next Official Editor: Bob McGeeney for Nos. 145-148. Address for submissions: 3266 Somerset Dr., Shaker Heights, OH 44122-3873 -- mcgeeney5@juno.com
Denkena, Kurt S.: A look at German language ERB publications by Munich publisher APEX ~ Three cover illos.
Conran, Mike: Cover Checklist for Dynamite Comics' "Warlord of Mars Attacks" ~ Tarzan the Stage Musical at Two Local Venues: Annapolis and Grand Rapids: - 52 cover and stage illos (Tarzan the Musical On 5 Stages)
Ekman, Fredrik: Barsoom Comic Displays ~ 35 comic covers and comments from personal collection ~ A. Wilson's Screenplay and "Jet-an" article with 9 illos ~ 23 Mailing Comments. (Exploring Jetan)
Goodwin, Jim: Description of a recently-found ERB fanzine from 1978 call "Puck's Corner" and five "Earth's Core" illlustrations by John Cody.
McGeeney, Bob: Discussion of fun items from his collection ~ 5 illos: Old Lunch Box Tarzan Thermoses, Monster Man-type miniature, three Collector Cards with art by Robert A. Kraus ~ Thanks to Jim Gerlach for the "Princess of Mars" Manuscript Edition. (ERB Collectibles Emporium - 7 Pages)
Dumont, Richard: Description and memories of Dell, Western and Whitman Tarzan Comics. 6 illos. (ERBzine Comics Encyclopedia)
Hillman, Bill: First pages of ERB's Wartime Journals: THE DIARY OF A CONFUSED OLD MAN or Buck Burroughs Rides Again (Dec 1942). Transcribed by Bill Hillman from ERB's typed manuscript from the Danton Burroughs Family Archive. Illo: Scans of the first two ERB pages plus 16 illos of Hillman ERB Websites and art by Thomas Yeates and China-Li Hillman. Titles of ERBzine.com Articles 3700-3751.
Zeuschner, Bob: Review on Jim Gerlach's Deluxe Manuscript Edition of Princess of Mars ~ Reflections Upon the Earliest Manuscript Pages of A Princess of Mars. An 8-page analysis. Dejah Thoris art by Bill Stout.
Lupton, Robert Allen: Discussion of the Tarzan 1954 Radio Show from Australia starring Rod Taylor. Actor credits and bios on some. 15 illos. ERBzine references and links to two shows in ERBzine 1 and ERBzine 2 ~ 12 Pages
Shoemaker, Kurt B.: Impression on reading Tarzan the Invincible ~ The Texas Wave Soundtrack: Listening to The Beatles: Singles and White Album
Hanson, Alan: Newspapers in the Fiction of ERB: Part Two ~ 14 ERB titles covered ~ 6 illos
Ross, Bill: Meeting with The Muckers in Oak Park ~ 12 photos.
Adams, Chris L. One Year in the ERB-apa ~ An in-depth reflection and appreciation of the APA experience and recognition of fellow APA members. 16 giant pages with 3illos ~
A click on Chris's Website makes for a great visit: ChrisLAdamsBizarreTales.com
Huckenpohler, J.G.: Descripton of A Quarter Century of ERB-apa Contributions ~ Descriptions of Huck submissions from Issues 43-143. Michael Resnick Memoriam (1942.03.05-2020.01.09) ~ COMMENTS on 23 Submissions in #143 ~ 3 photos.
Strong, Lee: Fan Fiction: Dragons of Pellucidar (4 pages. . . to be continued) ~ Comments on two authors ~ On the panel at the Comic-Con in Dublin, Virginia.
Wilcutt, Dennis: Recovering from injury ~ Discussion of John Nolte's favourite films, including six Tarzan films ~ Comments on 15 of the submissions in APA 143 ~ Reprint of Frank Puncer's article "ERB Hunted the Apache Kid" ~ 20 illos ~ 16 pages
Franke III, Henry G.: Bob Abbett (Part 2), Gino D'Achille, and Michael Whelan Art Contest ~ 63 large colour illustrations of cover art plus a variety of smaller B/W photos and art pieces ~ 48 pages.
Howell, Dorothy: Fan Fiction: The Sacrifice of Tarzan (5 pages) ~ Postscript: Recognizing 9 submissions.
Krabacher, Tom: Recent Mangani Activities ~ Downey, CA Revisited: The banning of Tarzan books in their library in the '60s ~ Mailing Comments on 13 submissions ~ Reprint of ERB's Comments on His Apache Novel.
Sachlas, Demos: ERBographia ~ ERB letters, quotes, works and events through the years ~ Notes and References ~ Jewels of Opar chapter titles in pulp and book ~ Comments on 15 submissions ~ 12 pages
Martin, John: A long poem, "Comics for Our Cravings" by John "Bridge" Martin
Griffin, Scott Tracy: ERB and the El Caballero Country Club in the Los Angeles Times 1924, Part I ~ Related news items.
Guidry, John H.: Influence of The Son of Tarzan and following reads ~ Flashman/ERB Connection
OE Henry Franke's LAST WORD: Detailed comments on each of the submissions in this #144 APA issue with many accompanying illos plus Henry's farewell as OE including cover images of his 4 issues.
---
ERBapa ROSTERS: PAST and PRESENT
---
Edgar Rice Burroughs Amateur Press Association
Navigation Chart

The Fantastic Worlds of Edgar Rice Burroughs
ERB Companion Sites Created by Bill Hillman
| | | | |
| --- | --- | --- | --- |
| Tarzan.com | ERBzine.com | DantonBurroughs.com | Tarzan.org |
| burroughsbibliophiles.com | JohnColemanBurroughs.com | Tarzan.com/tarzine | JohnCarterOfMars.ca |
| ERBzine.com/edgarriceburroughs | Weekly Webzine | Weekly Webzine | Pellucidar.org |
| John Carter Film | ERB, Inc. Corporate Site | ERB Centennial | tarzana.ca |

BILL HILLMAN
Visit our thousands of other sites at:
BILL and SUE-ON HILLMAN ECLECTIC STUDIO
ERB Text, ERB Images and Tarzan® are ©Edgar Rice Burroughs, Inc.- All Rights Reserved.
All Original Work ©1996-2002/2020 by Bill Hillman and/or Contributing Authors/Owners9
No part of this web site may be reproduced without permission from the respective owners.