Official Edgar Rice Burroughs Tribute and Weekly Webzine Site
First and Only Weekly Online Fanzine Devoted to the Life and Works of ERB
Since 1996 ~ Over 15,000 Webpages in Archive
presents
ERB-APA
Edgar Rice Burroughs Amateur Press Association
www.ERBzine.com/apa
Welcome to ERBapa

Amateur Press Associations are a means to bring together those interested in a common subject through their regular contributions to a shared publication. APA members must maintain active participation to remain in good standing. Memberships in APAs are usually small to keep the publications manageable. Each member offers a unique perspective which meets few restrictions from editorial control. Because of the limited membership and the number of issues published, only a few outsiders are able to see all the hard work and worthwhile articles put into most APA issues.

ERBapa was founded in 1984 by ERB fan, John Guidry. He modeled the society after other typical amateur press societies, seeing the organization as one which would allow ERB fans to share their "comments, musings, rantings and ravings, fond memories, whatever...."

John decided to limit membership to 36 -- to commemorate the age at which ERB began writing. Members would pay a nominal membership fee and would then, four times a year, type up a minimum of two pages of material and send 50 copies to John. He would then collate and bind the material, and return a copy to each member. Six slots were set aside for "Honourary Members" (chosen by member vote) which were honoured for their lifetime commitment to ERB fandom. People on the waitlist had first option to buy any extra copies.

---


Our ERBzine APA site has been created to give Burroughs fans a better idea of this very special organization for ERB fans and scholars. We have included all the APA cover art from issue #1, membership information, APA news, searchable contents lists from the later editions, membership lists -- past and present -- and links to scores of articles by ERBapa members that have been reprinted in our weekly online fanzine -- ERBzine.

We hope you enjoy your visit to world of ERBapa
CONTENTS OF THE CURRENT ISSUE
---
ERBapa 148 ~ Winter 2020/2021
CONTENTS NOTES
(with ERBzine references)
---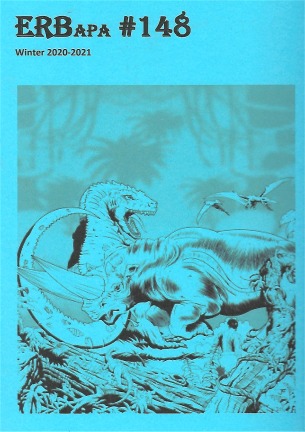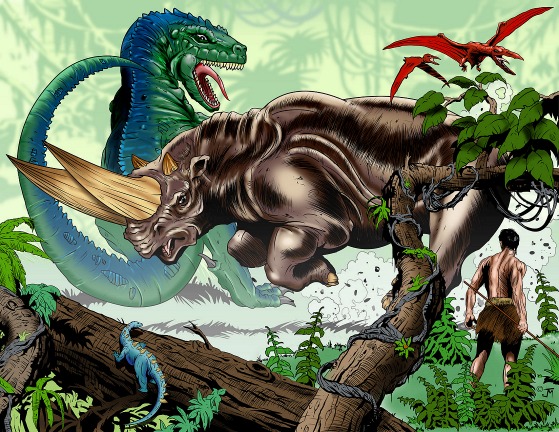 KAOR: ERBapa Official Editor (OE) is Bob McGeeney - mcgeeney5@juno.com
Cover art by James W. McGurk
Early Mailer Awards: Jim Goodwin, Scott Tracy Griffin, Robert Allen Lupton, Mike Conran
Membership Report: Dorothy (DJ) Howell and Dale Cozart are retiring from ERBapa ~ Bob Zeuschner, Jim Thompson and Rudy Sigmund on Sabbatical ~ 25 Regular Members and Five Honorary Members.
Rules of the Edgar Rice Burroughs Amateur Press Association: www.ERBzine.com/apa/rules.html
---
ARTICLES
Goodwin, Jim: Reprint of article "Bring Back Tarzan! But How Far?" by Dale Walker ~ Jim notes that a search for Dale Walker in ERBzine brings up his contribution in The Dream Weaver and numerous other articles in ERB Fanzines. The Dale Walker Obituary.
Griffin, Scott Tracy: ERB and the El Caballero Country Club in the Los Angeles Times 1925, Part 1. Many articles and excerpts collated across 10 pages
Conran, Mike: Dynamite Comics Dejah Thoris Volume 3 Cover Checklist ~ Part 2. 113 cover images with credits for issues No. 5-9 -- including all the alternates.
Lupton, Robert Allen: Announcement of the author's latest novel and short story anthology releases ~ Bio and Photo coverage on Tarzan film actress Betta St. John ~ Reada multitude of Lupton articles featured in ERBzine: www.ERBzine.com/lupton
McGeeney, Bob: Items of interest added to the collection ~ Recommended book releases including Feral edited by Robert Allen Lupton ~ 4 cover illustrations
Hanson, Alan: Announcement and background to Alan's latest ERB book: "Exploring Tarzan's Africa" including Contents and Cover illo ~ Enjoy a multitude of Alan's ERB articles in ERBzine: www.ERBzine.com/hanson
Dumont, Richard: Harry Hausen: The Lost Movies ~ Comments and Review Links ~ plus the "What Mighta Bin" ERB Connection ~ 4 illos
Ross, Bill: Notes on various ERB Bibliographies by Heins, Lupoff, Bergen, Peters, ERBdom, Richardson, Cook, Miller, Julius, Lukes and Ross, Barrie, Brown, Dunn, et al.
Martin, John: "But when he got there, the bookshelf was bare. . ." How ERB dealt with misinformation, lack of references, letters to the editor, etc.
Adams, Chris L.: TARZAN AND THE SABOTEUR ~ Chris's Exciting sequel to TARZAN and the FOREST of STONE ~ All 16 chapters across 24 pages.
Huckenpohler, J. G.: Tarzan, Conqueror of Mars: A Review of Will Murray's recent book in the Wild Adventures Series ~ 21 Comments of Submissions in APA #147
Sachlas, Demos: ERBographia: Eight pages containing a multitude of comments and quotes associated with ERB's work -- concentrating on how many of ERB's ideas are recycled through numerous novels. 14 Comments on last issues submissions ~ 3 illos
Franke III, Henry G.: Under the Moons of Mars ~ Discussion with photos on the two natural satellites of the planet Mars. Many ERB novels and artists are cited.
Wilcutt, Dennis: Comments on recent books and articles read plus video watching. Article Reprint: "Mythic Storytelling: Look At How Tarzan Swung Into Immortality" aby Michael Dirda - Washington Post.
Comments on selected submissions from APAs 146 and 147.
Terrell, Jess: THE KALDANE COWBOY Pt. I: 9 Chapters of Mars Fanfiction across 16 pages -- includes one Jusko Kaldane art piece.
Strong, Lee: DRAGONS OF PELLUCIDAR: Ch. 5: Abner Perry: Missing in Action
THE LAST WORD by Editor Bob McGeeney: Comments on each submission in this issue of ERBapa.



---
ERBapa 147 ~ Fall 2020
CONTENTS NOTES
(with ERBzine references)
---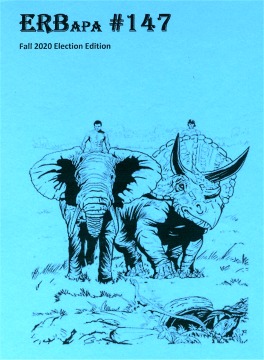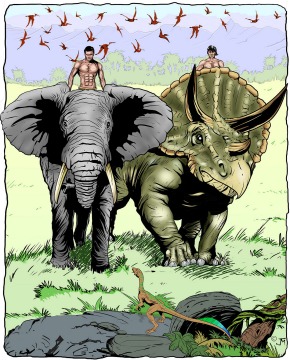 KAOR: ERBapa Official Editor (OE) is Bob McGeeney - mcgeeney5@juno.com
Cover art by James W. McGurk:
Early Mailers: Bill Hillman ~ Fredrik Ekman ~ Jim Goodwin ~ Jess Terrell ~ Robert Lupton ~ Henry Franke
Membership Report: 29 regular members ~ Bill Hillman and Brandon Carr exited ~ New members: Daniel Moore, Dale Russell, and Roland Trenary.
Annual dues now US$35
ARTICLES
Hillman, Bill: ERB Wartime Journals Pt. IV ~ "Diary of a Confused Old Man" ~ Contents of ERBzine Issues 3850-3899 ~ Logos for the ERBzine Companion Sites
Conran, Mike: Carson of Venus American Mythology Comics Checklist: covers and credits ~ 27 Cover Illustrations
Ekman, Fredrik: Richard A. Proctor: Burroughs Inspiration? - Summary and Comments ~ Conclusions ~ 3 Mailing Comments ~ Proctor sketch
Terrell, Jess: Discussion of the Manganifest - For The Love Of All Things ERB Facebook Project: 1. Conception and Initiation ~ 2. Definition and Planning ~ 3. Launch or Execution ~ 4. Performance and Control ~ 5. Project Close ~ GoH ERBzine's Bill Hillman (Thanks Jess and Lilla) ~ 12 Illustrations
PART II: The Kavuru Question - Resolved: 6 illos - (Jess's Alternate ERBzine Version)
Lupton, Robert Allen: Working under COVID restrictions: Many writing projects including daily 100-word ERB drabbles based on ERB events - all 900 (so far) featured at www.ERBzine.com/lupton ~ 3 sample Drabble entries shared: ERB Sept 1, 1875 Birthday ~ J. Allen St. John Oct. 1, 1872 Birthday ~ P.J. Monahan died on Nov. 1, 1931. ~ 2 illos (Guide to the Robert Allen Lupton Features in ERBzine)
Franke III, Henry G.: Venus Art Contest: ACE Books editions ~ Four Square Books ~ New English Library (NEL) ~ Ballantine Books / Del Rey: Multiple colour covers and credits included for each publisher ~ 70 Colour Illustrations.
Goodwin, Jim: A Bibliography of ERB Bibliographies: Bradford M. Day (4) ~ Henry Hardy Heins (3) ~ The Antiquarian Bookman ~ Richard Lupoff (5) ~ P. H. Adkins ~ Irwin Porges (2) ~ James A. Bergen, Jr. (5) ~ George T. McWhorter ~ Harold R. Peters ~ Glenn Erardi ~ J. G. Huck Huckenpohler (8) ~ Robert Zeuschner (4) ~ Joe Lukes (2) ~ Jerry Schneider (2) ~ Jimmie (Jim) C. Goodwin ~ One Illustration ~ (ERBzine's Online C.H.A.S.E.R. is worth a look - BH)
Hanson, Alan: ERB and the Automobile: A One-Sided Love Affair: Intro ~ The 1916 Road Trip East and West ~ The 1924 Trip to Mono Creek ~ The 1925 Trip to Grand Canyon ~ The 1930 Trip to Oregon ~ The 1933 Trips to Death Valley and Arizona ~ ERB's Wheels in Hawaii ~ ERB's Final Cars ~ Three Illustrations (Guide to the Alan Hanson Articles in ERBzine)
McGeeney, Bob: Reflections of the Official Editor ~ Photo of Bob's recently completed miniature: "Jane and a Lioness"
Denkena, Kurt, S: Report on three ERB books by German publishers APEX: A Fighting Man of Mars, Jungle Tales of Tarzan, Tarzan and the Ant Men ~ Honouring George T. McWhorter ~ 4 illos
Trenary, Roland: Seven Days in New York City - I am Mahlon Blaine: The Blaine / NYC / Canaveral Press Connection ~ 3 Blaine Illos.
Martin, John: The Edge of the Edgar Rice Burroughs Universe: The stories of ERB characters where ERB left off. "Carson of Venus: The Edge of All Worlds" by Matt Betts with shorts by Christopher Paul Carey (Guide to All the John Martin Features in ERBzine)
Adams, Chris L: ECOF 2020: Fort Atkinson, Wisconsin: Host: Gary Buckingham ~ Full Review of Events with 13 colour illustrations. See Chris' writing and art at: https://www.chrisladamsbizarretales.com/
Sachlas, Demos: Events leading up to the writing of ERB's favourite Tarzan book with related books and references. Full report on Tarzan the Terrible with many references including ERB's map of Pal-Ul-Don and St. John art piece. Comments on 10 contributors in APA 146
Huckenpohler, J.G.: Report on ECOF 2020 with two illos plus Comments on 18 submissions from APA 146.

Griffin, Scott Tracy: Frank Cherry: Sleuthing a Lost Tarzan Films Player. Bio info on his participation in Tarzan the Ape Man
Plus: In Memoriam: ERB Film Personnel 2016-2017: Lennie Bluett - extra in Tarzan's Peril ~ Bayard Johnson scripted Tarzan and the Lost City ~ George Kennedy villain in Ron Ely TV episode "Thief Catcher ~ Iris Flores: Zambezi maiden in Tarzan and the Leopard Woman ~ James Carroll in the Fimmel TV fourth episode "Rules of Engagement" ~ Aharon Ipale as sheik in Larson TV episode "The Mysterious Sheik" ~ Joe Powell as stunt arranger in Tarzan and the Lost Safari ~ Seamon Glass as the heavy in Ely's TV episode "Hotel Hurricane" ~ Donald Marshall as Kimini in Ely TV episode "The Fanatics" ~ Tammy Grimes as Polly Larkin in Ely TV episode "Man Killer" ~ Linda Kemp as script supervisor in Tarzan the Ape Man (1981) ~ Sabrina as Millie in Ely TV episode "Mountains of the Moon" ~ Bob Larson as production assistant in Weissmuller's Amazons, Leopard Woman, Huntress, Mermaids ~ Mike Connors as candidate for Tarzan role to replace Lex Barker ~ Robert Day directed Magnificent, Three Challenges, Valley of Gold, Great River ~ Gustavo Rojo as Tiko in Tarzan and the Mermaids ~ Jack Cheap as sound editor for Tarzan the Ape Man (1981) ~Curt Lowens as Wilheim in Ely TV episode "The Day of the Golden Lion" ~ Joe Billingiere as Apache #1 in John Carter ~ Joseph "Tiger Joe" Robinson as the ape man in Italian bootleg Taur ~ Lori Tritel did voices in Disney's Tarzan II (2005) ~ Patti Deutsch did voices in Disney's Tarzan (1999) ~ Anne Jeffreys as a young woman in New York Adventure and as Melody in the Ely TV episode "Tiger, Tiger!" ~ Jack Bannon did voiceover work in Filmations's animated Tarzan, Lord of the Jungle ~ John Mollo as costume designer on Greystoke ~ Deon Stewardson opposite Joe Lara in TV episode "Tarzan and the Beast of Dunali" ~ Ned Romero as Oringa in Ely TV episode "Eyes of the Lion" ~ Keith Barron as Bradley in The Land That Time Forgot and as Dowsett in At the Earth's Core ~ FAREWELL TO GEORGE McWHORTER ~ 14 pages

Strong, Lee: Expanding Universes: Fan Fiction Dragons of Pellucidar Ch. 4 ~ The Polodian Times: Dejah "Thoris" Burroughs to become Movie Star ~ Dr. Isaac Asimov Was Influenced by Burroughs ~ Lee Strong Books Earn Some Money ~ Lee Strong Sends Goodie Packages to Tarzana ~ Lee Strong Re-Reconnects to the 21st Century ~ The Magic Typewriter Comments on 5 APA 146 Submisions.
Shoemaker, Kurt B.: The Texas Wave ~ Activity update: Retirement ~ Writing ~ Music ~ APA 146 Mailing Comments on all Submissions
Krabacher, Tom: Thark Horizons #19 ~ Activity update: Night sky studies ~ University work ~ Coping with COVID ~ Local ERB fan contacts ~ ERB ODD BITS: Fanzine discussion ~ Tom Tolley collection ~ Richard Lupoff: In Memoriam ~ 8 Illos
Howell, DJ: The Sacrifice of Tarzan by DJ: Summary to date ~ Chapter XIII United ~ POSTSCRIPT: Ron Ely mentioned in Entertainment Weekly article (March 2020) ~ ERB in Unexpected Places: Mentioned in Wall Street Journal July 2, 2020 in John J. Miller's review of Sarah Steart Johnson's The Sirens of Mars . . . also in Wall Street Journal of August 1-2, 2020: James Rollins notes ERB's The Land That Time Forgot as a favourite novel . . . also in Wall Street Journal of August 14, 2020 John Anderson's review of the show: Lovecraft Country he mentions a character reading A Princess of Mars: "a seminal work of pulp fiction." (Read more of DJ's fiction and articles in ERBzine: 6025 ~ 6027 ~ 6051 ~ 6070 ~ 6202 ~ 6376 ~ 6378 ~ 6450 ~ etc.)
OE Bob McGeeney: ERBapa 147 Last Word: Discussion on all submissions in this issue.
---
PREVIOUS ISSUE:
ERBapa 146 ~ Summer 2020
CONTENTS NOTES
(with ERBzine references)
---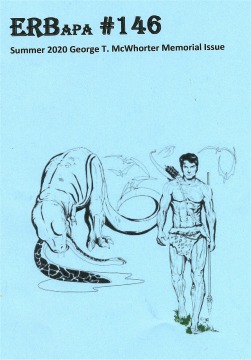 .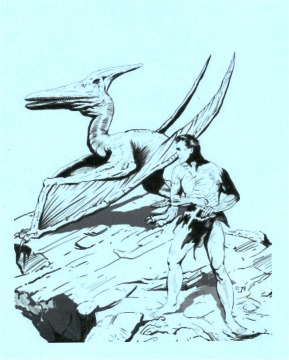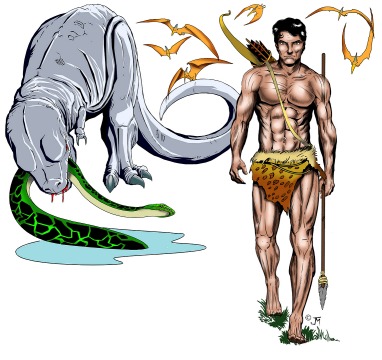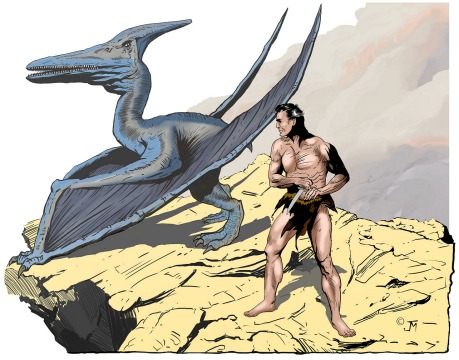 KAOR: ERBapa Official Editor (OE) is Bob McGeeney - mcgeeney5@juno.com
Cover art by James W. McGurk:
Early Mailers: Bill Hillman ~ Kurt Denkena (145) ~ Fredrik Ekman ~ Jim Goodwin ~ Alan Hanson ~ Mike Conran
Membership Report: 28 regular members ~ Richard Pryor has exited.
ARTICLES
Hillman, Bill: Access to Full George McWhorter Tribute ~ Links to ERBzines 3800-3852 and Companion ERB Sites ~ ERB Wartime Journals Dec 1942 - April 1943: Part III Scanned and Transcribed by Bill Hillman ~ 4 pages with logo illos
Denkena, Kurt S.: Fuwalda 122 ~ ERB's Tarzan Von Den Affen, etc.: "Martian Dreams" poem ~ News of releases and pics of German Comics and previous Fuwalda issues ~ 8 color pages
Goodwin, Jim: George McWhorter Summer Symposium ~ Memories of George ~ Photo with George in his U of L ERB Collection
Hanson, Alan: George McWhorter: A Remembrance ~ Scans of three of 20 letters from George ~ Two photos of George from 1990 and 2006 ~ 8 Pages
Conran, Mike: Memories of George T. McWhorter ~ 7 photos of George ~ Checklist of Dynamite Comics Dejah Thoris Volume 2 Comics: Illos of 34 comic covers.
Ekman, Fredrik: The Many Mothers of Dejah Thoris: "The Master Assassins of Mars"~ "A Princess of Jasoom" ~ "Warriors of Mars" ~ " Another Princess of Mars" ~ Concluding Words ~ SOURCES: Claremont (Marvel comics)~ Long (ERBzine) ~ Napton (Dynamite) ~ Tindomerel (fanfiction.net3) ~ 4 Mailing Comments
McGeeney, Bob: Reflections: George T. McWhorter ~ ERB titles published during the 1918-1919 Pandemic its affect of ERB's life and work during that time.
Dumont, Richard: Reproduction of pages from Dell Tarzan's free giveaway subscription of February 1952.
Krabacher, Tom: Personal summer-time experiences ~ Reflections On George McWhorter by members of the Northwest Coast Mangani fan org.: Tom Tolley ~ Richard Lupoff ~ Ralph Brown ~ Dwayne Covey ~ Nels Myrhoj ~ Thomas Yeates ~ David Lemmo ~ John Martin -- 21 Mailing Comments with two photos.
Wilcutt, Dennis: George McWhorter, a Lion of the ERB World: Influence of George and collecting experiences -- 20 Mailing Comments ~ 3 strips and 2 Dejah Comics cover illos
Thompson, James: George McWhorter Tribute: Full-page newspaper tribute reprint ~ 5-page McWhorter Curriculum Vitae shared with James Thompson
Ross, Bill: George T. McWhorter: A Remembrance illustrated with 10 photos.
Strong, Lee: Expanding Universes Fanzine: "Giants in the Earth: A Memorial to Absent Friends": George T. McWhorter, Mike Resnick and Ellen Vartanoff. -- Strong Fiction: 1. "Dreams of Barsoom: Journeys to the Red Planet Not Yet Taken." ~ 2. "Dragons of Pellucidar: Ch. 3 A Flash of Light" -- 15. Mailing Comments
Lupton, Robert Allen: Review of Indian film: TARZAN 303. . . story, credits, actors, photos, posters This and all of Roberts Indian Film Reviews, 100-word Drabbles, articles, etc. are featured in ERBzine at: www.ERBzine.com/lupton
Huckenpohler, J. G.: In Memoriam: George Tuberville McWhorter with two photos ~ All 24 Mailing Comments.
Zeuschner, Bob: Fond Memories of George McWhorter
Franke, Henry G.: Article on Llana of Gathol - Part 2: The Martian Moons, Gathol (and lifestyles), Martian forests, Ocher moss and scarlet sward/grass - I can't let it go, The North, The Apt, Martian Flyers, airship tactics, and flying technology, More humor, Love and would-be lovers, Martian customs, Telling time, Military ranks and units, Martian telepathy, The philosophy of John Carter, John Carter's physical prowess - sak! ~ John Carter in disguise - how good at it can he be? ~ Frozen men ~ The age difference - Hollywood would have loved this ~ Inspired by the movies? ~ The city of Invak ~ Ending a novelette when you reach page count, but need a cliffhangar - Escape on Mars ~ Ending the novel when you reach page count -- +25 colour illustrations ~ 23 pages of text.
Howell, DJ: Fiction: The Sacrifice of Tarzan Ch. XII: Flight -- POSTSCRIPT: Edgar Rice Burroughs in Unexpected Places: Discussion of Amanda Quick's 2020 novel: "Close Up" ~ Wall Street Journal feature on Jane Goodall ~ A Ron Ely interview with references to Tracy Scott Griffin, Dum-Dum, Tarzan in All-Story, the bestial quality of Tarzan ~ "One Last Farewell to George T. McWhorter - Forever In Our Hearts - Thank You, George!"
Demos Sachlas: ERBographia: ERB's later Oak Park years and move to Tarzana -- An Appreciation of Tarzan the Untamed with quotes and analyses and WWI Africa maps plus The German Controversy. Subsequent and Related Works and large Bibliography, Notes and Chapters Names sections ~ POSTSCRIPT: In Memory of George McWhorter ~ 6 Photos ~ 17 Mailing Comments ~ 18 pages.
LAST WORD for APA #146 by OE Bob McGeeney: Comments on all of this issues contributions plus Financial Report and the rising expense of mailing costs.

ERBapa ROSTERS: PAST and PRESENT
---
Edgar Rice Burroughs Amateur Press Association
Navigation Chart

The Fantastic Worlds of Edgar Rice Burroughs
ERB Companion Sites Created by Bill Hillman
| | | | |
| --- | --- | --- | --- |
| Tarzan.com | ERBzine.com | DantonBurroughs.com | Tarzan.org |
| burroughsbibliophiles.com | JohnColemanBurroughs.com | Tarzan.com/tarzine | JohnCarterOfMars.ca |
| ERBzine.com/edgarriceburroughs | Weekly Webzine | Weekly Webzine | Pellucidar.org |
| John Carter Film | ERB, Inc. Corporate Site | ERB Centennial | tarzana.ca |

BILL HILLMAN
Visit our thousands of other sites at:
BILL and SUE-ON HILLMAN ECLECTIC STUDIO
ERB Text, ERB Images and Tarzan® are ©Edgar Rice Burroughs, Inc.- All Rights Reserved.
All Original Work ©1996-2002/2021 by Bill Hillman and/or Contributing Authors/Owners
No part of this web site may be reproduced without permission from the respective owners.