Official Edgar Rice Burroughs Tribute and Weekly Webzine Site
First and Only Weekly Online Fanzine Devoted to the Life and Works of ERB
Since 1996 ~ Over 15,000 Webpages in Archive
presents
ERB-APA
Edgar Rice Burroughs Amateur Press Association
www.ERBzine.com/apa
Welcome to ERBapa

Amateur Press Associations are a means to bring together those interested in a common subject through their regular contributions to a shared publication. APA members must maintain active participation to remain in good standing. Memberships in APAs are usually small to keep the publications manageable. Each member offers a unique perspective which meets few restrictions from editorial control. Because of the limited membership and the number of issues published, only a few outsiders are able to see all the hard work and worthwhile articles put into most APA issues.

ERBapa was founded in 1984 by ERB fan, John Guidry. He modeled the society after other typical amateur press societies, seeing the organization as one which would allow ERB fans to share their "comments, musings, rantings and ravings, fond memories, whatever...."

John decided to limit membership to 36 -- to commemorate the age at which ERB began writing. Members would pay a nominal membership fee and would then, four times a year, type up a minimum of two pages of material and send 50 copies to John. He would then collate and bind the material, and return a copy to each member. Six slots were set aside for "Honourary Members" (chosen by member vote) which were honoured for their lifetime commitment to ERB fandom. People on the waitlist had first option to buy any extra copies.

---


Our ERBzine APA site has been created to give Burroughs fans a better idea of this very special organization for ERB fans and scholars. We have included all the APA cover art from issue #1, membership information, APA news, searchable contents lists from the later editions, membership lists -- past and present -- and links to scores of articles by ERBapa members that have been reprinted in our weekly online fanzine -- ERBzine.

We hope you enjoy your visit to world of ERBapa
CONTENTS OF THE CURRENT ISSUE
---
ERBapa 149 ~ April 2021
---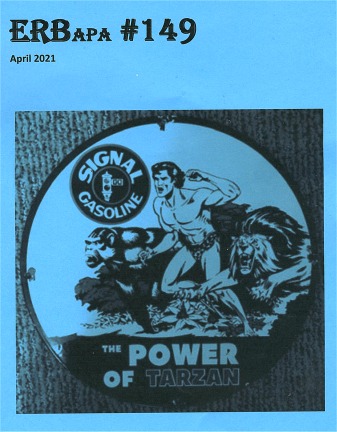 COVER: Tarzan featured in a Signal Gasoline ad: The Power of Tarzan.
Kaor: APA info from O/E Bob McGeeney
Denkena, Kurt S.: FUWALDA Updates from Germany ~ APEX Publisher announces German editions of Tarzan the Untamed and Tarzan the Terrible ~ Many ERB titles appear every month from small publishers ~ 10 cover illustrations
Dumont, Richard: Dorothy Dandridge in Tarzan's Peril: Bio info with photos from the film.
DeForest, Tim: Tarzan's Magic Fountain (1948) - a review ~ Two illos
Goodwin, Jim: Discussion on Doug Ellis' fanzine about fanzines ~ Reprinted Dick Lupoff's contribution: "Burroughs Bounces Back" and one illo.
Conran, Mike: Dynamite Comics Cover Checklist: Vampirella and Dejah Thoris -- Covers including variants with artists identified plus info on writer Erik Burnham and artist Ediano Silva ~ 74 thumbnail cover illos.
Hanson, Alan: ERB and the Automobile - Part 2: ERB's First Fictional Cars. Cars described in Tarzan of the Apes (Dec. 1911- May 1912), The Return of Tarzan (Dec 1912 - Jan. 1913) ~ The Beasts of Tarzan (Jan-Feb, 1914) ~ The Girl From Farris's (July 1913 - March 1914) ~ The Mad King (Oct.-Nov. 1913 / Sept.-Nov. 1914) ~ In-depth commentary with two photos and one St. John art piece ~ 8 Pages. Read over 60 of Alan's incredibly researched ERB articles in ERBzine: www.erbzine.com/hanson
Ross, Bill: ERB Collector #114 ~ Fanzines mentioned: Keys to Other Doors: Some Lists for a Pulp Collector's Notebook edited by John DeWalt and Iscariot. Commentary of their relation to ERB and pulp zines. 8 Cover illos.
Griffin, Scott Tracy: In Memoriam - ERB Film Personnel 2018-2019: Bios and Filmographies of recently departed actors: Donnelly Rhodes ~ Edward M. Abroms ~ Anne V. Coates ~ Patricia Morison ~ Les Kaluza ~ Russ McCubbin ~ Gary Cockrell ~ Ivan J. Rado ~ Winston Ntshona ~ Nicolas Roeg ~ Lena Ferugia ~ Jan-Michael Vincent ~ Don Bragg ~ Morgan Woodward ~ John Carl Buechler ~ Noah Keen ~ Shane Rimmer ~ JohnMcEnery ~ Ron Smerczak ~ Bridget Biagi ~ Steve Hawkes ~ Danny Keogh ~ Alien Church ~ Martin H. Tubor ~ Jan Merlin ~ Diahann Carroll ~ Igo Kantor ~ William Wintersole ~ Rene Auberjonois ~ Tony Britton ~ Helen Gerald.
Part II: Tarzan and Hollywood: Another Shelf in the Completist's Library ~ Part 9: The Film and Television Industry: A review of The Invisible Art: The Legends of Matte Painting by Barron and Cotta Vaz.
TRACY'S FEEDBACK: Bill Hillman Congratulations (Many thanks for this Tracy - Bill) ~ Sad farewell to long-time ERBapan Dorothy "D.J." Howell after 147 issues ~ Increase efforts to bring up dwindling membership :: 12 pages
McGeeney, Bob: Many rediscoveries while organizing personal collection: Larry Ivie's Monsters and Heroes with ERB connections and MAD' Tarzan parodies.
Illos: 5 Ivie covers and a MAD Special cover with a page of Tarzan Parodies.
Wilcutt, Dennis: Top Ten Lists: Westerns, Movies, Fictional Characters, Writers, Artists, TV Westerns, Favourite Books ~ 15 Comments
Sachias, Demos: ERBographia: A multitude of quotes and thoughts related to Tarzan and the Ant Men -- many from ERB . . . plus 32 reference notes. ~ 13 Comments.
Adams, Chris L.: Firepower of The Legend of Tarzan: The Guns of the Belgians ~ The Movie Guns of the Good Guys: Descriptions with 21 photos.
Strong, Lee: The Polodian Times: ERB, Inc. to Publish Multiple New and Old Books ~ Publications will include Tarzan, Mars, Venus, Pellucidar and More :: "Lee Strong Putters Along" with many writing projects ~ Essay: Forward Into the Future! What is "the Burroughs Universe" and Where Should It Go? ~ Review: The Pursuit of the Pankera by Robert A. Heinlein. ~ 8 pages.
Martin, John: "Tarzan's Closeup View of Eternity" Pondering religion in ERB's books.
Huckenpohler, J. G.: Thoughts on Alan Hanson's Exploring Tarzan's Africa ~ In Memoriam: Michael Dennis Henry (15 August 1936 - 8 January 2021) ~
18 Comments
Cozort, Dale: Ape-Men and Lost Cities Zine ~ CONTENTS: What This? ~ Reading/Movies ~ Writing ~ Comments ~ Josiah Wild, Ape Man in Space ~ 8 Pages
Franke, Henry G. III: Under the Moons of Mars: Discussion of ERB's version of Mars and what we have learned of Mars in the century since his depictions a century ago. 18 photos of Mars.
Lupton, Robert Allen: The many writing successes under Robert's Dum Dum Tree ~ 6 Colour Illos.
Shoemaker, Kurt: Pursuits and purchases over the last three months ~ 22 extensive comments
Krabacher, Tom: Comments on the work of Jim Cawthorn and UK's Anotar ~ Report on personal activities ~ Remembering Mike Henry ~ Appearance in Thomas Yeates' Prince Valiant strip ~ Three Krenkel sketches from Amra ~ 11 Comments
Terrell, Jess: Recent events in FLAT-ERB Facebook Group ~ Discussions: 1. Does the presence of Jane limit ERB's storytellig? ~ 2. Does Jane have potential beyond what we saw in the Tarzan books? ~ 3. How would Tarzan and Jane work together in a jungle adventure? ~ 4. Who is Loto? And who is Betty Callwell? ~ 5. Did Burroughs know of Kipling and Mowgli? Was Burroughs influenced by Haggard? ~ 6. What was the purpose of Jungle Tales and why did Burroughs use the short story format? ~ 7. What are some of the plot points and techniques used by Edgar Rice Burroughs? ~ 8. Why did the period of 1969-80 inspire the ERB resurgence? :: 14 Illustrations
OE Bob McGeeney's Last Word: Comments on all submissions in this issue of ERBapa #149.




---
Previous Issue
ERBapa 148 ~ Winter 2020/2021
CONTENTS NOTES
(with ERBzine references)
---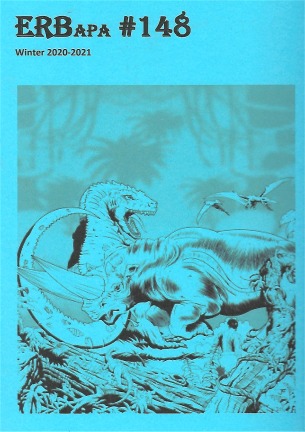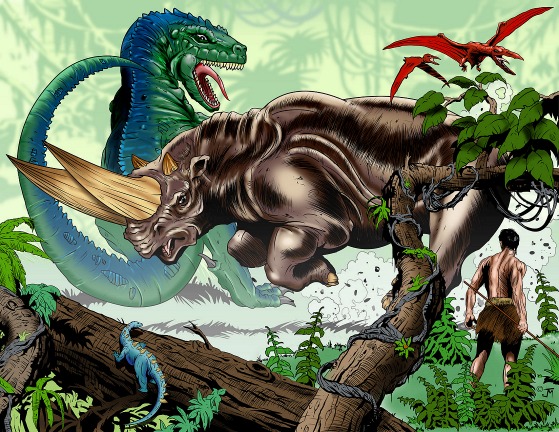 KAOR: ERBapa Official Editor (OE) is Bob McGeeney - mcgeeney5@juno.com
Cover art by James W. McGurk
Early Mailer Awards: Jim Goodwin, Scott Tracy Griffin, Robert Allen Lupton, Mike Conran
Membership Report: Dorothy (DJ) Howell and Dale Cozart are retiring from ERBapa ~ Bob Zeuschner, Jim Thompson and Rudy Sigmund on Sabbatical ~ 25 Regular Members and Five Honorary Members.
Rules of the Edgar Rice Burroughs Amateur Press Association: www.ERBzine.com/apa/rules.html
---
ARTICLES
Goodwin, Jim: Reprint of article "Bring Back Tarzan! But How Far?" by Dale Walker ~ Jim notes that a search for Dale Walker in ERBzine brings up his contribution in The Dream Weaver and numerous other articles in ERB Fanzines. The Dale Walker Obituary.
Griffin, Scott Tracy: ERB and the El Caballero Country Club in the Los Angeles Times 1925, Part 1. Many articles and excerpts collated across 10 pages
Conran, Mike: Dynamite Comics Dejah Thoris Volume 3 Cover Checklist ~ Part 2. 113 cover images with credits for issues No. 5-9 -- including all the alternates.
Lupton, Robert Allen: Announcement of the author's latest novel and short story anthology releases ~ Bio and Photo coverage on Tarzan film actress Betta St. John ~ Reada multitude of Lupton articles featured in ERBzine: www.ERBzine.com/lupton
McGeeney, Bob: Items of interest added to the collection ~ Recommended book releases including Feral edited by Robert Allen Lupton ~ 4 cover illustrations
Hanson, Alan: Announcement and background to Alan's latest ERB book: "Exploring Tarzan's Africa" including Contents and Cover illo ~ Enjoy a multitude of Alan's ERB articles in ERBzine: www.ERBzine.com/hanson
Dumont, Richard: Harry Hausen: The Lost Movies ~ Comments and Review Links ~ plus the "What Mighta Bin" ERB Connection ~ 4 illos
Ross, Bill: Notes on various ERB Bibliographies by Heins, Lupoff, Bergen, Peters, ERBdom, Richardson, Cook, Miller, Julius, Lukes and Ross, Barrie, Brown, Dunn, et al.
Martin, John: "But when he got there, the bookshelf was bare. . ." How ERB dealt with misinformation, lack of references, letters to the editor, etc.
Adams, Chris L.: TARZAN AND THE SABOTEUR ~ Chris's Exciting sequel to TARZAN and the FOREST of STONE ~ All 16 chapters across 24 pages.
Huckenpohler, J. G.: Tarzan, Conqueror of Mars: A Review of Will Murray's recent book in the Wild Adventures Series ~ 21 Comments of Submissions in APA #147
Sachlas, Demos: ERBographia: Eight pages containing a multitude of comments and quotes associated with ERB's work -- concentrating on how many of ERB's ideas are recycled through numerous novels. 14 Comments on last issues submissions ~ 3 illos
Franke III, Henry G.: Under the Moons of Mars ~ Discussion with photos on the two natural satellites of the planet Mars. Many ERB novels and artists are cited.
Wilcutt, Dennis: Comments on recent books and articles read plus video watching. Article Reprint: "Mythic Storytelling: Look At How Tarzan Swung Into Immortality" aby Michael Dirda - Washington Post.
Comments on selected submissions from APAs 146 and 147.
Terrell, Jess: THE KALDANE COWBOY Pt. I: 9 Chapters of Mars Fanfiction across 16 pages -- includes one Jusko Kaldane art piece.
Strong, Lee: DRAGONS OF PELLUCIDAR: Ch. 5: Abner Perry: Missing in Action
THE LAST WORD by Editor Bob McGeeney: Comments on each submission in this issue of ERBapa.

ERBapa ROSTERS: PAST and PRESENT
---
Edgar Rice Burroughs Amateur Press Association
Navigation Chart

The Fantastic Worlds of Edgar Rice Burroughs
ERB Companion Sites Created by Bill Hillman
| | | | |
| --- | --- | --- | --- |
| Tarzan.com | ERBzine.com | DantonBurroughs.com | Tarzan.org |
| burroughsbibliophiles.com | JohnColemanBurroughs.com | Tarzan.com/tarzine | JohnCarterOfMars.ca |
| ERBzine.com/edgarriceburroughs | Weekly Webzine | Weekly Webzine | Pellucidar.org |
| John Carter Film | ERB, Inc. Corporate Site | ERB Centennial | tarzana.ca |

BILL HILLMAN
Visit our thousands of other sites at:
BILL and SUE-ON HILLMAN ECLECTIC STUDIO
ERB Text, ERB Images and Tarzan® are ©Edgar Rice Burroughs, Inc.- All Rights Reserved.
All Original Work ©1996-2002/2021 by Bill Hillman and/or Contributing Authors/Owners
No part of this web site may be reproduced without permission from the respective owners.