Official Edgar Rice Burroughs Tribute and Weekly Webzine Site
Since 1996 ~ Over 15,000 Web Pages in Archive
Presents
Volume 6264

EDGAR RICE BURROUGHS STILL LIVES!


In recent years there has been an explosion of new books dedicated to the legacy of
Edgar Rice Burroughs:
Master of Fantasy Adventure ~ Grandfather of American Science Fiction
Creator of Tarzan, John Carter of Mars,
and countless Fantastic Worlds and Exciting Characters.
The authorized editions and most popular releases are featured on this ERBzine Webpage.
Most of these books are available through:
www.edgarriceburroughs.com
www.erbbooks.com
www.amazon.com
and popular book stores and online dealers.
Click each book cover for full-page view


The Wild Adventures of Edgar Rice Burroughs Series
Books One to Eight from Edgar Rice Burroughs, Inc.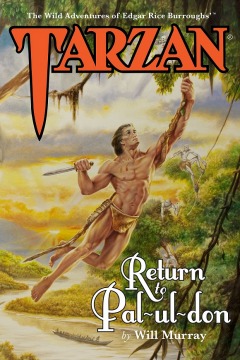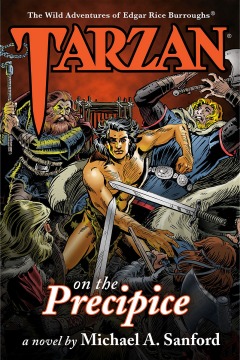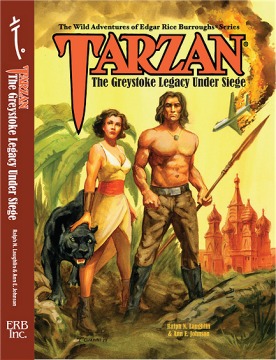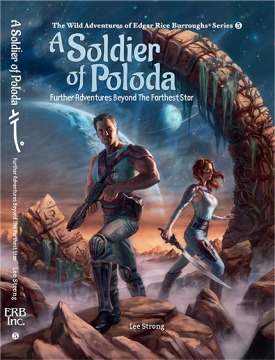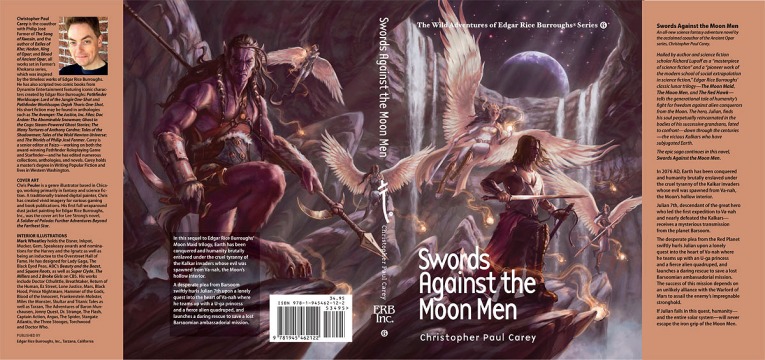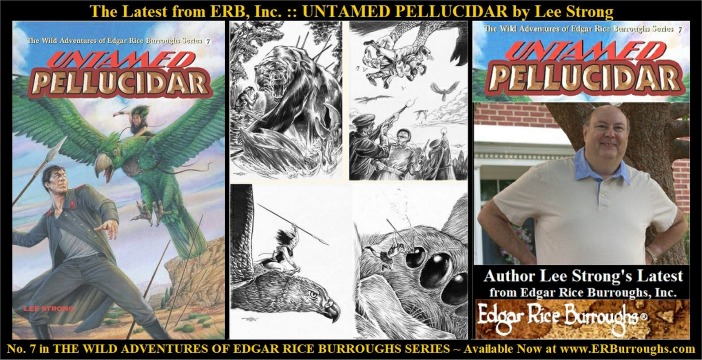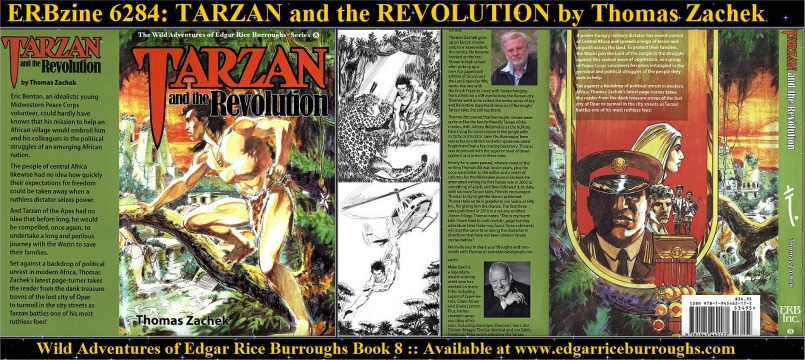 Book #1
Tarzan: Return to Pal-ul-don
By Will Murray
With the African continent engulfed by World War II, John Clayton, Lord Greystoke, abandons his role as Lord of the Jungle in order to combat the spreading Nazi menace. Flying a P40 Tomahawk warplane, Clayton is sent on his first mission: to rescue the missing British Military Intelligence officer code-named Ilex. But the daring task plunges him into his savage past after he's forced down in a lost land that seems hauntingly familiar. When Tarzan of the Apes returns to the prehistoric realm called Pal-ul-don, he must revert to his most savage persona, that of Tarzan-jad-guru—Tarzan the Terrible!
Book #2
Tarzan: On the Precipice
by Michael A. Sanford
Cover and Interior Illustrations: Will Meugniot
With Tarzan alone in Wisconsin after nobly allowing Jane to leave with his cousin – who believes he is the rightful heir to the Greystoke estate – Tarzan is despondent and seeks the wilderness to console himself. And there is a vast wilderness just north of him in Canada. Intending to be alone, Tarzan is soon anything but. Captured and put in chains by vicious criminals, Tarzan is pushed off the precipice of a volcanic crater. While surviving that fall he discovers a lost Viking civilization, but he again becomes a captive. And this time the odds are overwhelming. Tarzan's punishment Includes running unarmed through a gauntlet of a dozen heavily armed Norsemen with axes, swords and hammers. Tarzan's fight for survival is epic and will keep you fascinated throughout the entire novel. Join Tarzan as he ventures into Canada and encounters untold dangers with deadly consequences that cast doubt on whether Tarzan can ever return to Africa.
Book #3
Tarzan Trilogy
by Thomas Zachek
Cover Art: Joe Jusko / Interior Illustrations: Douglas Klauba
Three tales of Tarzan at Point Station – a remote English outpost near the Waziri homelands – set during the advent of World War II. With greater European intrusion to the Bolongo River Basin, Tarzan becomes embroiled in increasingly dangerous events as cultures clash.
1] Tarzan and the "Fountain of Youth": Searching for the missing son of a friend, Tarzan encounters agents of an unscrupulous pharmaceutical company exploiting jungle resources for its own profit.
2] Tarzan and the Cross of Vengeance: A team of archaeologists make a groundbreaking discovery; a group of well-meaning but naive American missionaries arriving to convert the native tribes; and a ruthless band of men with a dark purpose stir up a heady mix of challenges for Tarzan, fomenting an intertribal war that only he can stop.
3] Tarzan the Conqueror: When the Third Reich invades Africa to exploit the land for riches and enslave the native populations in labor camps, Tarzan leads the tribes in an un-precedented tribal resistance.
Book #4
Tarzan: The Greystoke Legacy Under Siege
by Ralph N. Laughlin & Ann E. Johnson
Cover Art: Tom Gianni / Interior Illustrations: Mike Grell
This is a seminal book as it introduces four generations of Tarzan, including Tarzan's great grandson, Jonathan, who is unsure of his place in the Tarzan Legacy. Also in this novel, Tarzan's African estate is demolished and many people are killed by an unknown guerrilla militia; Tarzan's son, Jack, is accused of Dian Fossey's murder and is sought by the authorities; and Tarzan's grandson, Jackie – who runs the behemoth Greystoke Trust – is accused and imprisoned for crimes against the Crown – a capital offense. This compelling tale, set in the 1980s, chronicles the family's epic battle for survival.
http://edgarriceburroughs.com/store/product/tarzan-the-greystoke-legacy-under-siege/
Book #5
A Soldier of Poloda
Further Adventures Beyond the Farthest Star
by Lee Strong
Cover Art: Chris Peuler / Interior Illustrations: Earl Geier
Like fellow Earthman, Tangor from the story Beyond the Farthest Star, American OSS officer Thomas Randolph is mysteriously teleported to a foreign planet where he lands in the center of a 100-year war that mirrors the Allied Powers' struggle against Adolph Hitler's Third Reich. Unlike Tangor, Randolph – now Tomas Ran – finds himself behind enemy lines where he gains a first-hand view of the inner workings of the corrupt Kapar empire. Will Tomas, using his OSS skills, be able to devise a plan to escape with the beautiful Unisan prisoner, Loris Kiri, that will allow them to join her countrymen in their struggle against the Kapars?
American novelist Edgar Rice Burroughs debuted the world of Poloda in the pulp story Beyond the Farthest Star in 1940 just as Hitler's Nazis marched across Europe and the Imperial Japanese extended their reach across the South Pacific. Burroughs' youthful idealism regarding the nobility of America's previous war efforts had given way to a mature perspective of the savagery of combat that stains every battlefield. Burroughs' deeply-held views are reflected in this tale about a planet ravaged by 100 years of conflict as the nation of Unis devotes its entire existence to the struggle of freedom against tyranny.
More at: www.erbzine.com/mag37/3706.html
Book #6
SWORDS AGAINST THE MOON MEN
A sequel to Edgar Rice Burroughs' THE MOON MAID
by Christopher Paul Carey
Cover art by Chris Peuler and interior illustrations by Mark Wheatley
Hailed by author and science fiction scholar Richard Lupoff as a "masterpiece of science fiction" and a "pioneer work of the modern school of social extrapolation in science fiction," Edgar Rice Burroughs' classic lunar trilogy—The Moon Maid, The Moon Men, and The Red Hawk—tells the generational tale of humanity's fight for freedom against alien conquerors from the Moon. The hero, Julian, finds his soul perpetually reincarnated in the bodies of his successive grandsons, fated to confront—down through the centuries —the vicious Kalkars who have subjugated Earth.
The epic saga continues in this by Christopher Paul Carey novel, Swords Against the Moon Men.
http://edgarriceburroughs.com/store/product/swords-against-the-moon-men/
Book #7
Untamed Pellucidar
by Lee Strong
Art by Douglas Klauba
Northern Russia, 1924: The Red Army is eliminating those who resist the fledgling Soviet government. At The Battle of the Plutonian Plain, the White Russian forces, aided by wily American Edgar Rice Burroughs, do not fall, instead retreating into the dangers of Pellucidar. Comrade Trotsky, the Soviet leader, sends his troops to hunt them down—and destroy them.

Mikhail Kirillivitch Kirov, a young conscript caught up in this mad scheme, is fascinated by this new world. Formerly a student anthropologist, he finds Pellucidar's Stone Age landscape and inhabitants a revelation—until he's grabbed by a mammoth Skal and flown back to its aerie to feed its giant offspring.

Thus begins Kirov's astounding adventure in the Northern environs of Pellucidar, rife with its incredible Paleolithic animal life, including Skals, Trals and Dyals, tremendous birds with sharp talons and fierce beaks; Ryths, the huge Stone Age cave bears whose claws can tear a man apart; and the vicious Jaloks, hyaenodons whose wild packs slaughter their prey mercilessly. These and other fantastic beasts stalk Kirov as he navigates the complex world of Pellucidar's most dangerous predator: Man.

To survive, Kirov must escape slavery from the Beautiful Ala and her mighty Black Birdriders, foster a civil war, impress the natives with his "inventions," conquer the terrifying Pulka Horde, and become a warlord of several tribes as they flee the Soviet invaders. It's a tale in the grand tradition of Edgar Rice Burroughs' epic adventures at the Earth's Core.

Available Now at:
http://edgarriceburroughs.com/store/product/untamed-pellucidar/
Book #8
Tarzan and the Revolution
By Thomas Zachek
Art by Mike Grell

Eric Benton, an idealistic young Midwestern Peace Corps volunteer, could hardly have known that his mission to help an African village would embroil him and his colleagues in the political struggles of an emerging African nation.

The people of central Africa likewise had no idea how quickly their expectations for freedom could be taken away when a ruthless dictator seizes power. And Tarzan of the Apes had no idea that before long, he would be compelled, once again, to undertake a long and perilous journey with the Waziri to save their families.

Set against a backdrop of political unrest in modern Africa, Thomas Zachek's latest page-turner takes the reader from the dank treasure troves of the lost city of Opar to turmoil in the city streets as Tarzan battles one of his most ruthless foes!

Available Now at
https://edgarriceburroughs.com/store/product/tarzan-and-the-revolution/


MORE TITLES AUTHORIZED BY
EDGAR RICE BURROUGHS, INC. ~ TARZANA, CA


ERB's LAND OF TERROR
First-Time Authorized Reprints by ERB, Inc, and G&D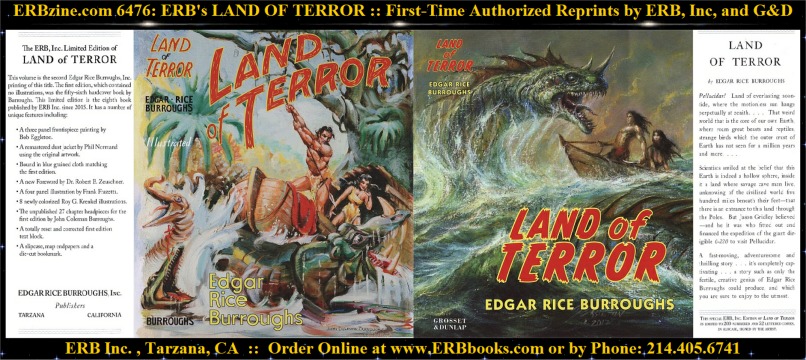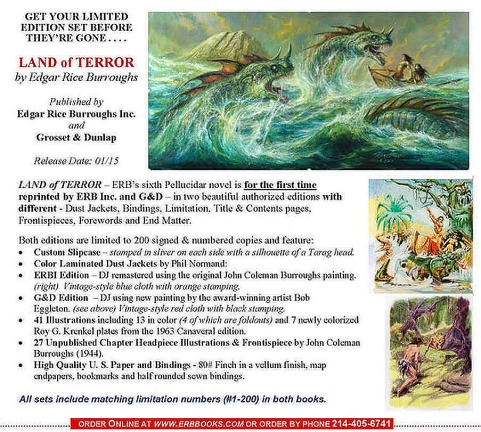 SPECIAL EDITION IN THE PELLUCIDAR SERIES
SAVAGE PELLUCIDAR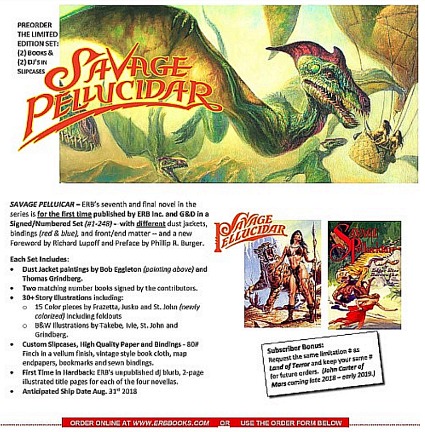 THE LIMITED EDITION SET
Order From
www.ERBbooks.com
Jane: The Woman Who Loved Tarzan
by Robin Maxwell
Cambridge, England, 1905. Jane Porter is hardly a typical woman of her time. The only female student in Cambridge University's medical program, she is far more comfortable in a lab coat dissecting corpses than she is in a corset and gown sipping afternoon tea. A budding paleoanthropologist, Jane dreams of traveling the globe in search of fossils that will prove the evolutionary theories of her scientific hero, Charles Darwin. When dashing American explorer Ral Conrath invites Jane and her father to join an expedition deep into West Africa, she can hardly believe her luck. Africa is every bit as exotic and fascinating as she has always imagined, but Jane quickly learns that the lush jungle is full of secrets and so is Ral Conrath. When danger strikes, Jane finds her hero, the key to humanity's past, and an all-consuming love in one extraordinary man: Tarzan of the Apes. Jane is the first version of the Tarzan story written by a woman and authorized by the Edgar Rice Burroughs estate. Its publication marked the centennial of the original Tarzan of the Apes.
More at: www.erbzine.com/mag37/3706.html
.
The Martian Legion: In Quest of Xonthron
By Jake "Buddy" Saunders
Presenting a Pantheon of ERB Heroes Conceived by Edgar Rice Burroughs, Brought to life by Jake (Buddy) Sanders, Russ Cochran and Team
In 1913, Edgar Rice Burroughs contemplated penning a crossover tale uniting his two greatest creations, Tarzan and John Carter of Mars. He ultimately gave the idea up as unworkable, concerned that he couldn't do justice to both heroes in one novel. In an alternate universe, Burroughs not only wrote that tale, he lived it—and presented the manuscript to author Jake "Buddy" Saunders' grandfather. Decades later, Saunders has chosen to share it with the world.
Visit TheMartianLegion.com and www.ERBzine.com/legion for more information.
Tarzan and the Cannibal King
By Jake Saunders
A delightful, action-packed, never before told coming of age Tarzan tale from Burroughs aficionado Jake Saunders. Features a full color dust jacket, gold stamped cloth and printed on 80# paper with a letterpress printed title page and symth-sewn binding. The story is wonderfully illustrated with page designs by Zavier Cabarga and nine full color paintings (3 fold-out) by acclaimed artist Alex Niño.
Tarzan and the Cannibal King is Available in Two Editions
See more at: www.erbbooks.com
Edgar Rice Burroughs: The Bibliography
By Robert B. Zeuschner
This bibliography is the most comprehensive, entertaining and visually stunning guide to the works of ERB ever published. Edgar Rice Burroughs, well known for his tales of Tarzan and John Carter of Mars, has been rightfully dubbed the Master of Adventure, but few are aware of the truly fantastic landscapes encompassed by that title. During his lifetime, Burroughs created worlds that ranged from the Earth's core to the Farthest Star, inhabited by larger-than-life heroes and heroines, populated by unimaginable creatures and captivating landscapes. Now, Dr. Robert B. Zeuschner, one of the world's most highly respected ERB scholars, has put together a one-of-a-kind illustrated bibliography that is a must for anyone interested in ERB, the history of pulp fiction and the works that inspired Superman and every other pulp hero since. EDGAR RICE BURROUGHS: THE BIBLIOGRAPHY, features over 2000 annotated, illustrated entries describing ERB publications from 1911 to the present and 500 color images including 1st and reprint edition books and dustjackets, paperbacks and the 97 ERB story-related pulp covers Two 736-page editions are available in limited numbers and both editions are 7 by 10 inch hardcover books.
Order Information
Tarzan: The Centennial Celebration
By Scott Tracy Griffin
With the full cooperation of Edgar Rice Burroughs Inc., Scott Tracy Griffin has compiled the only official commemorative visual history of Tarzan. Lavishly illustrated and with fascinating insight into every element of Edgar Rice Burroughs' extraordinary legacy, the book commemorates 100 years of Tarzan tales, television, movies and memorabilia. Internationally-acclaimed Edgar Rice Burroughs expert Scott Tracy Griffin explores the 24 original novels and the many varied appearances on stage, screen and in print. Each receives a detailed commentary, illustrated with some of the most evocative and beautiful artworks, illustrations and photographs, many rarely seen in print before.
More at www.erbzine.com/mag39/3946.html
Tarzan On Film
By Scott Tracy Griffin
In this authoritative volume, writer and historian Scott Tracy Griffin traces the development of the history-making Tarzan franchise, from the motion-picture industry's early silents and serials, through the high point of the Metro-Goldwyn-Mayer era featuring Johnny Weissmuller and Maureen O'Sullivan, to modern worldwide hits like Greystoke: The Legend of Tarzan, Lord of the Apes and Walt Disney Studios' animated Tarzan.
Back to the Stone Age, Publisher's Limited Edition
By Edgar Rice Burroughs ~ Editor: Jim Gerlach
This Limited Edition BACK TO THE STONE AGE novel was first printed in 1937 and now reprinted using the Original Printing Plates! Each book will be signed and numbered [edition of 300] and will feature spectacular full-color illustrations – stunning works by some of the best ERB artists past and present. The book will be printed the same way ERB books were printed 50 years ago – only better. A master printer will use the original plates to letterpress print on premium paper which will be sewn and cased into a vintage-style binding, and covered in a dust jacket produced by Phil Normand.
See more at: www.ERBzine.com/bsa
Edgar Rice Burroughs: The Descriptive Bibliography of the Grosset and Dunlap Reprints
by B. J. Lukes
This is the definitive guide to the most prolific publisher of the books of Edgar Rice Burroughs. It features a full color dust jacket, gold stamped cloth over boards, over 1000 entries and 450 images including a 28 page full color section. Author Joe Lukes has created an authoritative, concise and carefully researched bibliography important to collectors, and valued by rare book dealers, libraries, and auction sites. The author includes over 1000 entries and provided a thorough analysis of the ERB Grosset and Dunlap books based on over 40 years of research and study. He not only chronicles the various reprints by G&D, but he recounts much of the history of how these millions of books came to be published. his work is clearly a remarkable labor of love that pays tribute to the imaginative mind of Mr. Edgar Rice Burroughs, one of the greatest storytellers of the twentieth century.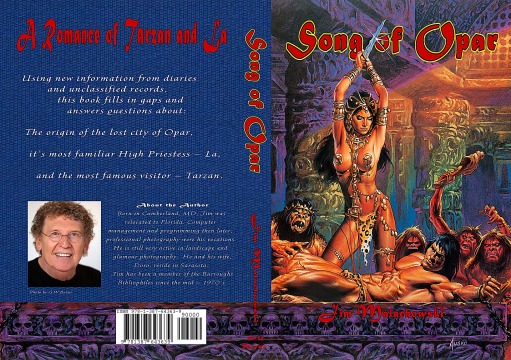 Cover Art: Joe Jusko / Interior Illustrations: Jim Malachowski
Song of Opar
by Jim Malachowski
Song of Opar was written with the approval of Edgar Rice Burroughs, Inc. Song of Opar expands on information ERB supplied in the first three novels which featured Opar, and of course La. The history of La and her close predecessors is given more detailed attention. The storyline of Song of Opar balances the lives of La and Tarzan. While Tarzan plays a large part in La's reign, he is not the main and total focus of the novel. Song of Opar concentrates on the interactions between Tarzan and La. The story adds new details about La's life and the background that created the woman with whom Tarzan interacts with for many years. Song of Opar deals with the origins of Opar and the demise of the city and its people. Song of Opar answers questions about La and Opar upon which ERB was silent.

Currently, Jim is offering free shipping on orders placed thru him. Free shipping is available thru the end of July 2018. Orders from Jim will be autographed and will include a custom bookmark. Song of Opar is also available from Bud Plant, Lulu, Amazon, Barnes & Noble, and Ingram network.

More information: http://www.erbzine.com/mag64/6420.html
Contact Information: SongofOpar@gmail.com


Special Editions by
Sean Eagan ~ Michael Hatt ~ Martin Powell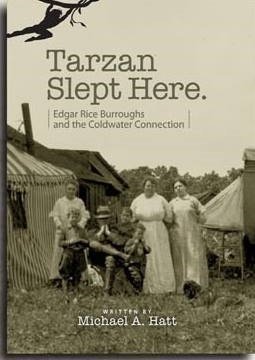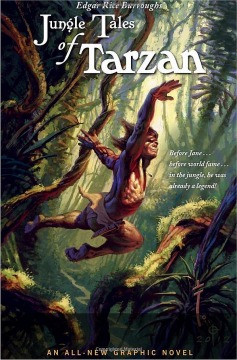 Tarzan: The Biography (A giant 415-page resource)
By Sean Egan
In 1912, Edgar Rice Burroughs created Tarzan, an orphaned English lord given a simian upbringing in the African jungle. The 'ape-man' has been an iconic character ever since. Tarzan: The Biography traces his history in prose, film, comic strips, comic books, radio, stage, television, video games and merchandise. It contains exclusive interviews with Burroughs family and associates, and with actors, directors, writers and artists who have brought the character to the public. Originally published as Ape-Man, this improved publication has been fully updated and augmented by over 100 images. This is the definitive word on the Lord of the Jungle. Interviewees include: • Danton Burroughs, grandson of Edgar Rice Burroughs • Gerry Conway and Roy Thomas, Tarzan comics writers • Gary Goddard, co-screenwriter of Tarzan the Ape Man (Bo Derek version) • Hugh Hudson, director of Greystoke • Joe Kubert, Tarzan comics artist • Christopher Lambert, star of Greystoke • Denny Miller, Tarzan actor • Michael Moorcock, author and Tarzan expert • R A Salvatore, Tarzan author • David Yates, director of The Legend of Tarzan "… excellent book … Egan writes … with a winning mixture of affection, cattiness and awe-inspiring erudition" - Starburst

ERBzine Acknowlegement:
I extend my vast gratitude to lifelong Edgar Rice Burroughs fan Bill Hillman, who provided assistance over and above the endless queries he patiently answered simply via maintaining his multitude of ERB sites, the main one of which -- ERBzine.com -- constitutes a staggering Burroughs resource.
More at: www.erbzine.com/mag37/3739.html
Tarzan Slept Here
By Michael Hatt
For over two decades, the "small town" of Coldwater, Michigan provided a "big city" getaway for Tarzan author, Edgar Rice Burroughs. Tarzan Slept Here details the authors time spent in Coldwater, the summer home to his wife's family, the Hulberts. A pair of Burroughs' well-known works were penned in Coldwater: "Beyond Thirty" was imagined at Sunnyside Farm; and the fourth chapter of Jungle Tales of Tarzan was written while overlooking Morrison Lake. Written by Michigan author and historian, Michael A. Hatt, and illustrated with numerous photos and artifacts of the period, Tarzan Slept Here tells of life-changing decisions made by Burroughs, in this often overlooked chapter of his life.
More at: www.erbzine.com/mag56/5648.html
Edgar Rice Burroughs' Jungle Tales of Tarzan (Graphic Novel)
Script by Martin Powell with many contributing artists
Twelve stories from twelve dynamic, diverse artists in a brand new Tarzan anthology based on Edgar Rice Burroughs' classic pulp novel. Each vine-swinging tale takes place within chapter eleven of Tarzan of the Apes -- between Tarzan's avenging of his ape foster mother's death and his ascent to leader of his ape tribe--and has been matched up with an artist whose passion for Burroughs' work will ensure Jungle Tales of Tarzan becomes a cherished contribution to the Tarzan canon.


Special Editions
Michael D. Sellers ~ Will Murray ~ Bobby Nash/Jamie Chase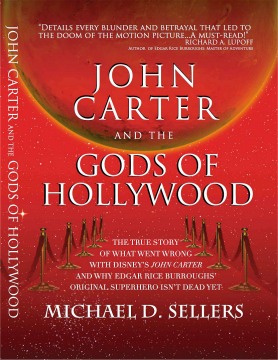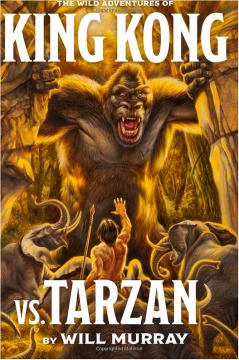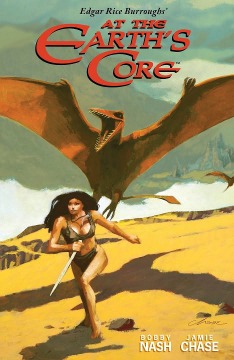 John Carter and the Gods of Hollywood
By Michael D. Sellers
How did Disney's film become a calamity of historic proportions? Michael Sellers, a Hollywood filmmaker himself, saw the disaster approaching and fought to save the project - but without success. In John Carter and the Gods of Hollywood, Sellers details every blunder and betrayal that led to the doom of the motion picture - and that left countless Hollywood careers in the wreckage. JOHN CARTER AND THE GODS OF HOLLYWOOD examines every aspect of Andrew Stanton's adaptation and Disney's marketing campaign and seeks to answer the question: What went wrong? it includes a history of Hollywood's 100 year effort to bring the film to the screen, and examines the global fan movement spawned by the film.
More at: http://thejohncarterfiles.com
King Kong vs. Tarzan
By Will Murray
Beast-God Versus Ape-Man. The year was 1933. Filmmaker Carl Denham had captured the stupendous monster he had dubbed "King" Kong. But that was only the beginning. Denham was determined to get the dethroned ruler of Skull Mountain Island back to America, and cash in on the greatest wild animal capture in human history. The saga of how Kong was taken in chains from his Indian Ocean kingdom to New York City has never been told. In order for the cargo freighter Wanderer to make the long transit to the Atlantic, she is forced to circumnavigate Africa—jungle home of the legendary Tarzan of the Apes! Here is the long-anticipated clash between the Monarch of Skull Island and Lord of the Jungle. When the largest anthropoid who ever lived encounters the savage superman raised by the great apes, will they make peace—or war?
At The Earth's Core
Adapted by Bobby Nash ~ Illustrated by Jamie Chase
Edgar Rice Burroughs' 1914 pulp fantasy epic comes to life! This special, limited edition hardcover features an extensive gallery of behind-the-scenes sketches and characters studies from Jamie Chase, further expanding the world of Pellucidar.


Special Editions
David A. Ullery ~ Stan Galloway ~ Brian Bohnett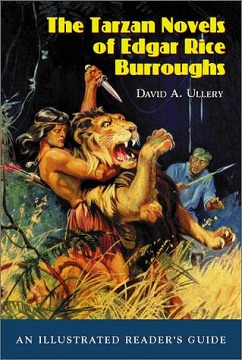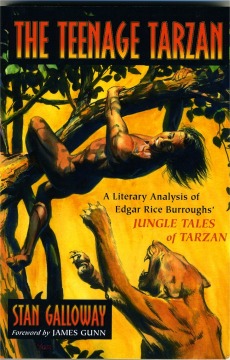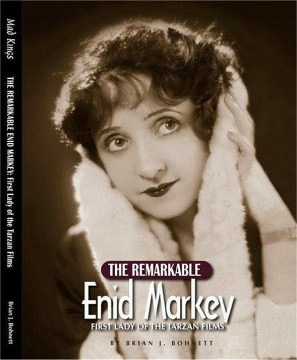 The Tarzan Novels of Edgar Rice Burroughs:
An Illustrated Reader's Guide
By David A. Ullery
Those who recognize that the original Tarzan is a literary creation of Edgar Rice Burroughs understand that the exploits of Tarzan are best explored through the magical medium of the printed word. Readers can experience a journey that lasts through 24 books and wanders not only into the jungle depths but farther down through the Earth's crust intothe savage prehistoric land of Pellucidar. Also covered is the long out of print The Tarzan Twins as well as the more recent Tarzan, the Lost Adventure and The Eternal Savage. This book serves as a literary guide to all the Tarzan novels.
The Teenage Tarzan
By Stan Galloway
Following the 1912 publication of his wildly successful Tarzan of the Apes, Edgar Rice Burroughs authored four bestselling sequels in quick succession. In 1916, Burroughs decided to backtrack a bit by recounting selected adventures from Tarzan's teenage years. The result was Jungle Tales of Tarzan, a dozen short stories bearing such titles as "Tarzan's First Love" and "Tarzan Captures the Moon" and which chronicle the events preceding the youthful hero's ascension to "King of the Jungle." The adolescent phase of the character is the primary focus of this detailed analysis. The context, themes, motifs, and stylistic techniques of Jungle Tales of Tarzan are all fully explored, as well as the property's literary antecedents and its links to the various comic book and film adaptations of Edgar Rice Burroughs' most celebrated and enduring creation.
More at: www.erbzine.com/mag29/2990.html
The Remarkable Enid Markey: First Lady of the Tarzan Films
By Brian Bohnett
Enid Markey's storied career is well presented in the book. Numerous illustrations show her advancement from budding starlet to established icon. This highly illustrated edition includes a visual cornucopia of photos, clips, posters, advertisements and events from her life and career. A special starring role as Jane Porter in the first Tarzan movie, "Tarzan of the Apes", a silent movie from 1918, is discussed in detail. Brian Bohnett has done his own "remarkable" job of researching and writing the book. Always easy to read, and always informative, Enid Markey's life is laid out in a rich visual display. Anyone with any interest in Hollywood history cannot ignore this book.
.


Special Editions
Charles A. Madison (ed) ~ David Lemmo ~ Mike Resnick/Robert T. Garcia (editors)
.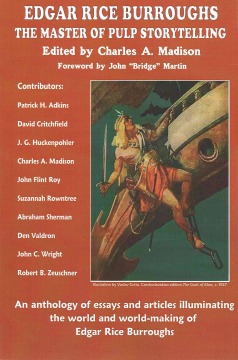 .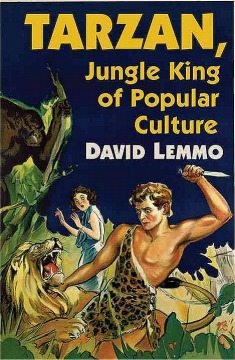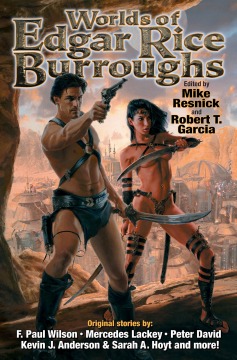 Edgar Rice Burroughs: The Master of Pulp Storytelling
Edited by Charles A. Madison ~ Foreword by John "Bridge" Martin
Cover Illustrations: Vaclav Cutta: Czech Edition of The Gods of Mars
Contributors: Patrick H. Adkins ~ David Critchfield ~ J. G. Huckenpohler ~ Charles A. Madison ~ John Flint Roy ~ Suzannah Rowntree ~ Abraham Sherman ~ Den Valdron ~ John C. Wright ~ Robert B. Zeuschnerr
(Most of the contributors are regular ERBzine contributors.)
An anthology of essays and articles illuminating the world and world-making of Edgar Rice Burroughs.
The acknowlegement to Bill Hillman was most appreciated:
"One of the uberfans, the web master and editor of erbzine.com, the indispensable person in the ERB world. His website is a treasure trove for anyone interested in any aspect of the phyenomenon that is Edgar Rice Burroughs. In my writing, I have consulted his web site many times. Also, I have personally made many requests of Bill for information and guidance. He has come through every time."
Tarzan, Jungle King of Popular Culture
By David Lemmo
"If you're looking for a well-researched and well-written history of Edgar Rice Burrough's best-known fictional creation, you needn't look any further. Tarzan fans will devour this book"--Booklist
From his first appearance in 1912, Tarzan became a multimedia franchise whose cultural influence extended well beyond mere entertainment. The original 20th century superhero, the Lord of the Apes was the inspiration behind such early archetypes as The Shadow and Doc Savage, themselves the basis for heroes like Batman and Superman. Long before Comic-Cons and Trekkies, the first Tarzan fan club was formed in America in 1916, pioneering the fandom movement that pervades modern pop culture. This book examines Tarzan in his various media representations--hunter, warrior, secret agent, fighter of communists and Nazis--and in his numerous story arcs, including crossover adventures featuring historical characters like Arthur Conan Doyle and Nikola Tesla.
ERBzine Acknowledgement:
ERBzine, the official Edgar Rice Burroughs tribute and weekly webzine site, with over 15,000 pages of archives. ERBzine has it all: documents, photographs, artwork and lots of information.
Worlds of Edgar Rice Burroughs
Edited by Mike Resnick and Robert T. Garcia ~ Art by Dave Seeley
Original theme anthology. Eleven new tales set in the legendary worlds of Edgar Rice Burroughs. Contains stories by top writers such as Mercedes Lackey, Sarah Hoyt, and Mike Resnick.
More at www.erbzine.com/mag45/4509.html


TARZAN BOOKS by ANDY BRIGGS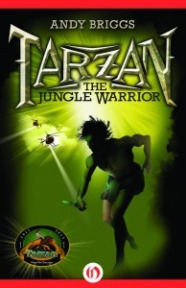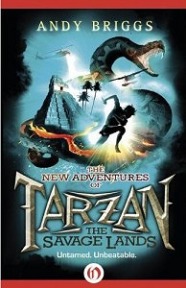 Tarzan: The Greystoke Legacy
By Andy Briggs
Robbie Canler flees to the Congo to escape a dark secret, and finds work with an illegal logging operation. Suddenly, his camp is attacked by a savage force. When Jane Porter, the daughter of the camp's boss, goes missing, the loggers assume bloodthirsty rebel soldiers have kidnapped her. Spurred into action, Robbie sets out alone to find her—completely unaware that he is being watched.
More at: www.erbzine.com/mag39/3960.html
Tarzan The Jungle Warrior
By Andy Briggs
The world's most infamous hunter, Nikolas Rokoff, is sent into the jungle to steal a rare prize from Tarzan's camp. But Tarzan and his friends Jane and Robbie will stop at nothing to track him down—crossing the wild rainforest and hostile African savannah on a daring rescue mission.
Tarzan: The Savage Lands
By Andy Briggs
The treacherous Lord Greystoke arrives at the logger's camp in the Congo, and will stop at nothing to find and assassinate his long-lost cousin, Tarzan. Robbie and Jane set out through the jungle to warn Tarzan, and find themselves trapped in the sprawling ancient city of Opar, where the insane Queen La rules an army of man-eating apes. With a volcano threatening to explode, Tarzan, Robbie, and Jane must form an unlikely alliance to save themselves. Not everyone will make it out alive.
On Tarzan
By Alex Vernon
On Tarzan is a sometimes playful, sometimes serious, and always provocative consideration of the twentieth century's best-known fictional character. It is also the first book-length investigation of a century's worth of Tarzan's incarnations and our varied imaginative responses to them. As Alex Vernon looks at how and why we have accorded mythical, archetypal status to Tarzan, he takes stock of the Tarzan books, films, and comics as well as some of the many faux- and femme-Tarzan rip-offs, the toys and other tie-in products, the fanzines, and the appropriation of Tarzan's image in the media.
More at: www.erbzine.com/mag28/2899.html
This space reserved for omissions
and
projects currently in the works.


Further to this compilation are many projects currently in the works
as well as a multitude of ERB reprint editions, comics compilations,
art books, movie books, juveniles, etc. etc.
Part II: A future page in the works will attempt to cover this jungle of publications.
Suggestions are welcomed.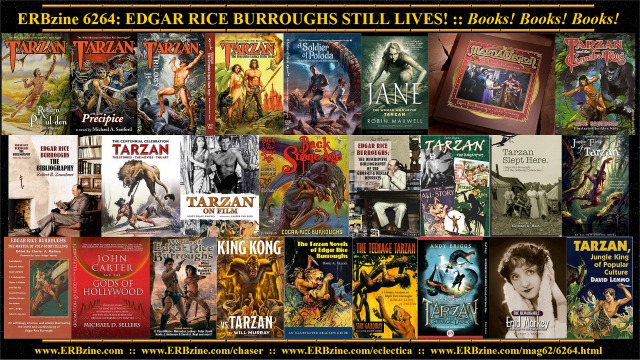 Click to view full-size promo collage poster



Zeuschner Bibliography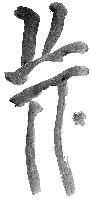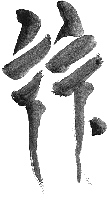 BILL HILLMAN
Visit our thousands of other sites at:
BILL and SUE-ON HILLMAN ECLECTIC STUDIO
ERB Text, ERB Images and Tarzan® are ©Edgar Rice Burroughs, Inc.- All Rights Reserved.
All Original Work ©1996-2017/2018 by Bill Hillman and/or Contributing Authors/Owners
No part of this web site may be reproduced without permission from the respective owners.