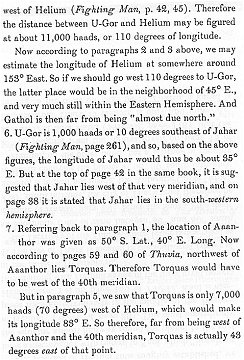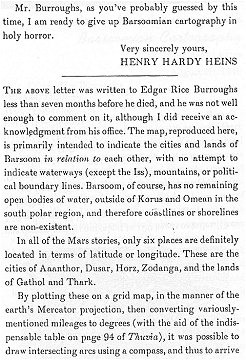 west of Helium (Fighting Man, p. 42, 45). Therefore the distance between U-Gor and Helium may be figured at about 11, 000 haads, or 110 degrees of longitude.
Now according to paragraphs 2 and 3 above, we may estimate the longitude of Helium at somewhere around 153o East. So if we should go west 110 degrees to U-Gor, the latter place would be in the neighborhood of 45o E., and very much still within the Eastern Hemisphere. And Gathol is then far from being "almost due north."
6. U-Gor is 1,000 haads or 10 degrees southeast of Jahar (Fighting Man, page 261), and so, based on the above figures, the longitude of Jahar would thus be about 35o E. But at the top of page 42 in the same book, it is suggested that Jahar lies west of that very meridian, and on page 38 it is stated that Jahar lies in the south-western hemisphere.
7. Referring back to paragraph 1, the location of Aaanthor was given as 50o S. Lat., 40o E. Long. Now according to pages 59 and 60 of Thuvia, northwest of Aaanthor lies Torquas. Therefore Torquas would have to be west of the 40th meridian.
But in paragraph 5, we saw that Torquas is only 7,000 haads (70 degrees) west of Helium, which would make its longitude 83o E. So therefore, far from being west of Aaanthor and the 40th meridian, Torquas is actually 43 degrees east of that point.
Mr. Burroughs, as you've probably guessed by this time, I am ready to give up Barsoomian cartography in holy horror.
Very sincerely yours,
HENRY HARDY HEINS

---
The above letter was written to Edgar Rice Burroughs less than seven months before he died, and he was not well enough to comment on it, although I did receive an acknowledgement from his office. The map, reproduced here, is primarily intended to indicate the cities and lands of Barsoom in relation to each other, with no attempt to indicate waterways (except the Iss), mountains or political boundary lines. Barsoom, of course, has no remaingin open bodies of water, outside of Koras and Omean in the south polar region, and therefore coastlines or shorelines are non-existent.
In all of the Mars stories, only six places are definitely located in terms of latitude or longitude. These are the cities of Aaanthor, Dusar, Hors, Zodanga, and the lands of Gathol and Thark.
By plotting these on a grid map, in the manner of the earth's Mercator projection, then converting variously-mentioned mileages to degrees (with the aid of the indispensable table on page 94 of Thuvia), it was possible to draw intersecting arcs using a compass, and thus to arrive