READ THE E-TEXT EDITION
---
PUBLISHING HISTORY (USA)
---
PULP
"The Oakdale Affair": Blue Book Magazine: March 1918
Dom J. Lavin two interior illustrations
"H.R.H. The Rider": All-Story Weekly: December 14, 21, 28, 1918 ~ unrelated to The Oakdale Affair.
George Brehm cover illustration in the first installment
FIRST EDITION (published with The Rider)
ERB, Inc.: February 15, 1937 ~ 172 and 144 pages ~ Print Run: 3,000 ~ missing the last 174 lines of the magazine version ~ Word count estimate: 42,000
John Coleman Burroughs wrap-around dust jacket and two B/W interiors ~ (Jim Pierce and Jane Ralston Burroughs modelled)
REPRINT EDITIONS (published with The Rider in hardcover reprints)
Grosset & Dunlap: 1937 (mixed edition) and 1938
John Coleman Burroughs wrap-around dust jacket and two B/W interiors
Grosset & Dunlap: 1940
John Coleman Burroughs dust jacket but no interiors
Ace paperback: July 1974 ~ 152 pages
Frank Frazetta cover
Buccaneer hardcover reprint (contains The Rider): 1977 ~ contains magazine ending ~ 152 pages
No dust jacket or illustrations
Charter paperback: August 1979 ~ 152 pages ~ contains magazine ending
Frank Frazetta cover art (first used in Ace)
Ameron Hardcover Edition: Mattituck, New York ~ Limited to 80 copies ~ No dust jacket
For detailed information, see Robert B. Zeuschner's
Edgar Rice Burroughs: The Bibliography (ERB, Inc., 2016).
Click on www.erbbooks.com or call 214-405-6741 to order a copy.
---
The Oakdale Affair

The beautiful young daughter of a wealthy family is robbed of her money and jewels, and she herself disappears soon after... A young man fleeing a band of murderous hobos becomes the target of a lynch mob... Frozen to silent rigidity, they sat straining every faculty to catch the minutest sound from the black void where the dead man lay. As they listened there came up to them, mingled with inexplicable footsteps, a hollow reverberation from the dank cellar- a hideous dragging of chains behind the nameless horror which had haunted them through the interminable eons of the ghastly night. Up, up it came toward the room at the head of the stairs where they huddled fearfully. They could now hear quite clearly what might have been the slow and ponderous footsteps of a heavy man dragging painfully across the rough floor . It stopped in front of their hideout and all was silent. Suddenly there rang out against the silence of the awful night a piercing shriek, and a great The Oakdale Affair force began to bend the flimsy door....
---
GALLERY
---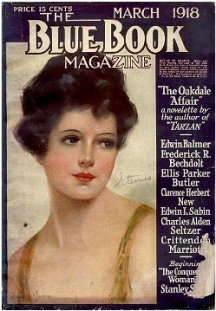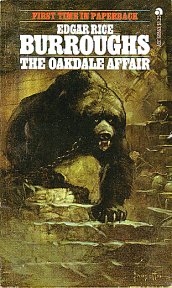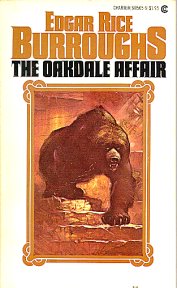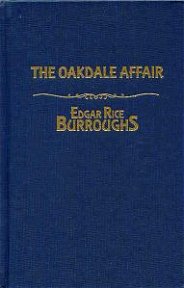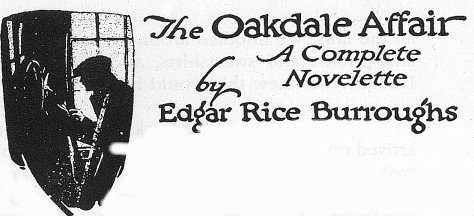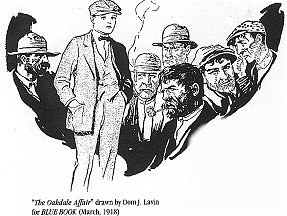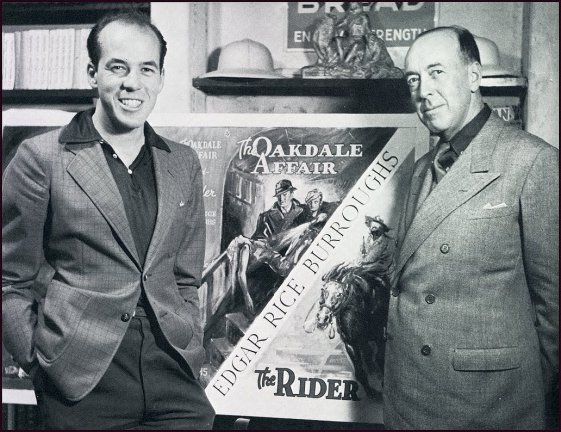 click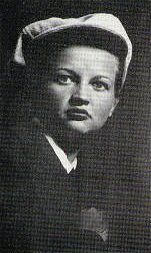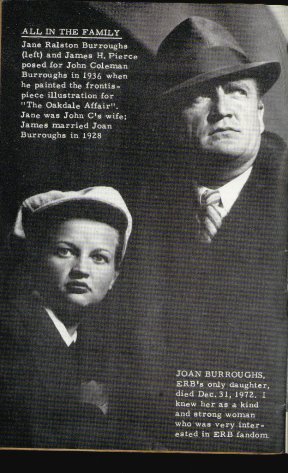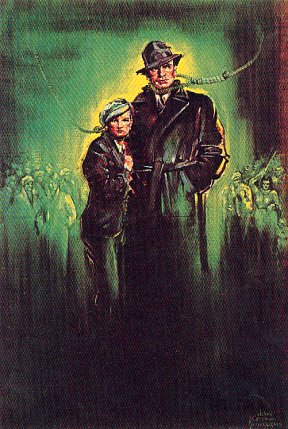 click
At age 23, John Coleman Burroughs was given the chance to illustrate his father's book,
The Oakdale Affair and the Rider.
JCB was very dedicated to his art and threw himself completely into his work, striving
hard to justify his father's faith in him.
He used his wife, Jane Ralston, and his brother-in-law, James
Pierce as models for the dust jacket, which he painted on a 30" x 50" canvas.
The cover and the two interior illustrations were a success and he matured rapidly as an artist.
He went on to illustrate all future ERB books published during the author's lifetime -
a total of over 125 illustrations.
ERB's Jack London / H.H. Knibbs-inspired, selfless, poetry-spouting, hobo character, Bridge, makes another appearance in the novellete, The Oakdale Affair (original title, Bridge and the Oskalooska Kid. Joining the poetic hobo in this gothic-like tale are many other unusual elements: dark mysterious nights, a deserted haunted farmhouse, a violent thunderstorm, the Oskalooska Kid, a girl disguised as a boy, thieves and murderers, Beppo the bear in chains, and other surprises. This sequel to The Mucker, written between January 10 and June 12, 1917, was rejected by All-Story magazine but later published in the March 1918 edition of Blue Book. The story, along with H.R.H. The Rider, was eventually published in hardcover by ERB, Inc. on February 15, 1937. This was the first ERB novel illustrated by John Coleman Burroughs. He did the dust jacket painting and two interiors using his wife Jane Ralston Burroughs and brother-in-law James Pierce as models for the illustrations. The story also has the distinction of being the first ERB story adapted to film, predating Lincoln's Tarzan of the Apes by more than a year.

---
SEE THE FILM COVERAGE AT
ERBzine 0765a
Evelyn Greeley
in
THE OAKDALE AFFAIR
A New Production from a Story by
Edgar Rice Burroughs,
Author of "TARZAN."

Synopsis of "THE OAKDALE AFFAIR."
Evelyn Greeley, Oscar Apfel and
Edgar Rice Burroughs!
A wonderful trio!
"THE OAKDALE AFFAIR is the name of the picture!
And the picture is all you would expect it to be!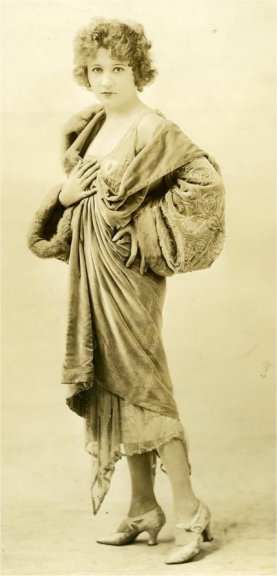 From the Brian Bohnett Collection
Evelyn Greeley
"The Oakdale Affair" is a mystery play made for the average theatre patron. It affords real entertainment. There is not a heavy or dull moment in the picture. The action is rapid and filled with that fast-moving punch that gets an audience right at the start and holds them tense all the time the picture is being screened!

The mystery is deep and would puzzle even Sherlock Holmes. But isn't the kind that tires your audience. Director Apfel took care that only an element of that tantalizing uncertainty that holds the audience, was introduced.

Gail Prim runs away from home, taking with her her jewels and some money. She joins a band of tramps and poses as a noted criminal. Her father believes that she has been kidnapped by the thieves who robbed her jewel case. The story ends with Gail in jail after many thrilling adventures. Her father comes and easily proves her innocence of any crime, and she returns home.

With an excellent cast, headed by Evelyn Greeley, this is one of the best pictures yet!
~Playbill from the Mercury Film Service, Leeds, England ~ 1917
---
~THE ORIGINAL PULP ENDING ~
MISSING FROM THE ERB, INC. FIRST EDITION
---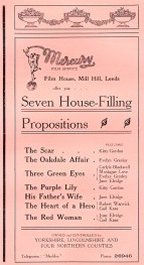 The man stepped toward the car, shaking his head.
"Oh, no, Miss Prim," he said, "I can't do that. Here's your 'swag.'" And he smiled as he passed over her jewels and money.
Mr. Prim's eyes widened; he looked suspiciously at Bridge. Abigail laughed merrily. "I stole them myself, Dad," she explained, "and then Mr. Bridge took them from me in the jail to make the mob think he had stolen them and not I — he didn't know then that I was a girl, did you?"
"It was in the jail that I first guessed; but I didn't quite realize who you were until you said that the jewels were yours — then I knew. The picture in the paper gave me the first inkling that you were a girl, for you looked so much like the one of Miss Prim. Then I commenced to recall little things, until I wondered that I hadn't known from the first that you were a girl; but you made a bully boy!" and they both laughed. "And now good-by, and may God bless you!" His voice trembled ever so little, and he extended his hand. The girl drew back.
"I want you to come with us," she said. "I want Father to know you and to know how you have cared for me. Wont you come — for me?"
"I couldn't refuse, if you put it that way," replied Bridge; and he climbed into the car. As the machine started off a boy leaped to the running-board.
"Hey!" he yelled, "where's my reward? I want my reward. I'm Willie Case."
"Oh!" exclaimed Bridge. "I gave your reward to your father — maybe he'll split it with you. Go ask him." And the car moved off.
"You see," said Burton, with a wry smile, "how simple is the detective's job. Willie is a natural-born detective. He got everything wrong from A to Izzard, yet if it hadn't been for Willie we might not have cleared up the mystery so soon."
"It isn't all cleared up yet," said Jonas Prim. "Who murdered Baggs?"
"Two yeggs known as Dopey Charlie and the General," replied Burton. "They are in the jail at Oakdale; but they don't know yet that I know they are guilty. They think they are being held merely as suspects in the case of your daughter's disappearance, whereas I have known since morning that they were implicated in the killing of Baggs; for after I got them in the car I went behind the bushes where we discovered them and dug up everything that was missing from Baggs' house, as nearly as is known — currency, gold and bonds."
"Good!" exclaimed Mr. Prim.
On the trip back to Oakdale, Abigail Prim cuddled in the back seat beside her father, told him all that she could think to tell of Bridge and his goodness to her.
"But the man didn't know you were a girl," suggested Mr. Prim.
"There were two other girls with us, both very pretty," replied Abigail, "and he was as courteous and kindly to them as a man could be to a woman. I don't care anything about his clothes, Daddy; Bridge is a gentleman born and raised-anyone could tell it after half an hour with him."
Bridge sat on the front seat with the driver and one of Burton's men, while Burton, sitting in the back seat next to the girl, could not but overhear her conversation.
"You are right," he said. "Bridge, as you call him, is a gentleman. He comes of one of the finest families of Virginia and one of the wealthiest. You need have no hesitancy, Mr. Prim, in inviting him into your home."
For a while the three sat in silence; and then Jonas Prim turned to his daughter. "Gail," he said, "before we get home I wish you'd tell me why you did this thing. I think you'd rather tell me before we see Mrs. P."
"It was Sam Benham, Daddy," whispered the girl. "I couldn't marry him. I'd rather die, and so I ran away. I was going to be a tramp; but I had no idea a tramp's existence was so adventurous. You won't make me marry him, Daddy, will you? I wouldn't be happy, Daddy."
"I should say not, Gail; you can be an old maid all your life if you want to."
"But I don't want to — I only want to choose my own husband," replied Abigail.
Mrs. Prim met them all in the living-room. At sight of Abigail in the ill-fitting man's clothing she raised her hands in holy horror; but she couldn't see Bridge at all, until Burton found an opportunity to draw her to one side and whisper something in her ear, after which she was graciousness personified to the dusky Bridge, insisting that he spend a fortnight with them to recuperate.
Between them, Burton and Jonas Prim fitted Bridge out as he had not been dressed in years, and with the feel of fresh linen and pressed clothing, even if ill fitting, a sensation of comfort and ease pervaded him which the man would not have thought possible from such a source an hour before.
He smiled ruefully as Burton looked him over. "I venture to say," he drawled, "that there are other things in the world besides the open road."
Burton smiled.
It was midnight when the Prims and their guests arose from the table. Hettie Penning was with them, and everyone present had been sworn to secrecy about her share in the tragedy of the previous night. On the morrow she would return to Payson and no one there the wiser; but first she had Burton send to the jail for Giova, who was being held as a witness, and Giova promised to come and work for the Pennings.
At last Bridge stole a few minutes alone with Abigail, or, to be more strictly a truthful historian, Abigail outgeneraled the others of the company and drew Bridge out upon the veranda.
"Tell me," demanded the girl, "why you were so kind to me when you thought me a worthless little scamp of a boy who had robbed some one's home."
"I couldn't have told you a few hours ago," said Bridge. "I used to wonder myself why I should feel toward a boy as I felt toward you, — it was inexplicable, — and then when I knew that you were a girl, I understood, for I knew that I loved you and had loved you from the moment that we met there in the dark and the rain beside the Road to Anywhere."
"Isn't it wonderful?" murmured the girl, and she had other things in her heart to murmur; but a man's lips smothered hers as Bridge gathered her into his arms and strained her to him.
---
UNAUTHORIZED and POD EDITIONS
---
| | | |
| --- | --- | --- |
| Public Bookshelf | BiblioBazaar | CreateSpace |
| | | |
| --- | --- | --- |
| Alliedendeavours iTunes | Cosimo Classics | Questia Online |

Armada of ERB Web Sites
Over 10,000 Webpages
The Fantastic Worlds of Edgar Rice Burroughs
| | | | |
| --- | --- | --- | --- |
| Tarzan.com | ERBzine.com | DantonBurroughs.com | Tarzan.org |
| BurroughsBibliophiles.com | JohnColemanBurroughs.com | Tarzan.com/tarzine | JohnCarterOfMars.ca |
| ERBzine.com/edgarriceburroughs | Weekly Webzine | Weekly Webzine | Pellucidar.org |
| John Carter Film News | ERB, Inc. Corporate Site | ERB Centennial | tarzana.ca |