Official Edgar Rice Burroughs Tribute Weekly Webzine Site
Since 1996 ~ 10,000 Web Pages In Archive
www.ERBzine.com/dumdum
Dum-Dum 2014 will be hosted by Brad and Pat Vinson ~ Bryan, TX ~ July 31, August 1 and 2

Dum-Dum 2014 ~ Bryan, TX ~ July 31, August 1 and 2
Hosted by Brad and Pat Vinson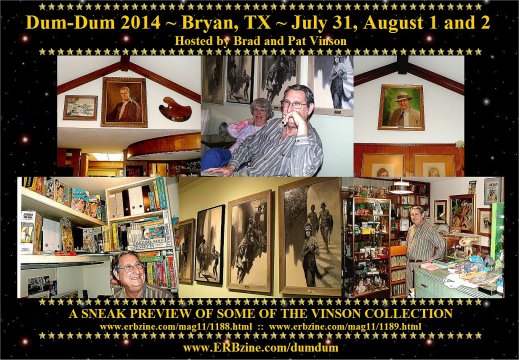 click
Location: LaSalle hotel in downtown Bryan, Texas
* LaSalle is a recently restored 100-year-old hotel with good free parking
* Large basement room for displays
* Bryan First Friday Celebrations:
diversity of foods as well as live music, and art galleries and shops in a 3 block area.
* Vinson barbecue on Saturday with viewing of the Vinson art collection
* Texas A & M University in College Station is five miles away
* Bush Library is 20 minutes away
* Star of Texas Museum (where Texas declared independence from Mexico) is 40 minutes away
* Guests of Honour and other events will be announced later
Room rates and other activities will be determined by the number of registrants.
If you plan to attend, please contact Brad Vinson:
bvinson@ag.tamu.edu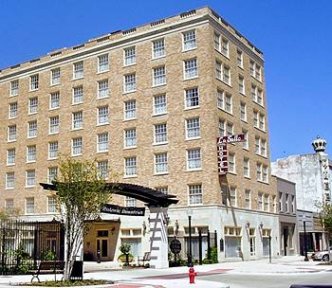 DUMDUM PROGRAM SCHEDULE and Costs
To register at the LaSalle Hotel, 120 S. Main St. Bryan, TX
for the $90 special rate you need to call 979-822-2000
and mention DumDum to get this rate as long as rooms are available
but only by June 30.

---

THURSDAY: July 31

---


4-6 pm:
* Registration at the LaSalle Hotel, 120 S. Main St. Bryan - hotel lobby
* Cost is $45 for registrants and $15 for spouse (barbeque).
* To receive registration packet please pay Brad Vinson, 921 N. Rosemary Dr. Bryan 77802.
* Tables are included in the registration fee.
6:00 pm: Greet and meet in hotel restaurant to decide to eat there or visit other dining choices. Information will be in registration packet.
8:30: Burroughs Bibliophile Board meeting in the board room located in the basement of the hotel.
* Set up for the Huckster room is at the same location (adjoining room) and can be done at this time.
* Procedure is to get the key from the front desk and return it there. Future meeting sites will be given.

---

FRIDAY: August 1

---


* Hot breakfast served until 9am
9:00 am: Huckster room opens for business 9-5 (closed at noon hour) Setup can be done earlier that morning.
* Opening presentation by Buddy Saunders about the new ERB book/Buddy Saunders book, "The Martian Legions: The Quest for Xonthron", published by Russ Cochran.
12 noon: Closed for lunch Visit art galleries
1:15 reopen
1:30: Presentation of "The Passing of My Pal Bill" of ERB's western poem from The Bandit of Hell's Bend.
4:00: Auction benefiting Burroughs Bibliophiles.
5:30/6:00: Dinner on your own

---

SATURDAY: August 2

---


9:00 am: Hot breakfast buffet closes
9:30: Leave for Texas A&M campus.
* We have scheduled a visit to the Science Fiction and Fantasy Research Collection at Cushing Memorial Library and Archives.
* Larry Mitchell, the director will open especially for our group. Jeremy Brett will do the tour. An extensive exhibit on World War I can be seen in the lobby and 2nd floor.
* Lunch on your own- on campus/ recommend the many restaurants along University Dr. E afterwards
2:00: Visit Brad's collection-directions given that morning with transportation arranged.
5:00: Texas barbeque at the home of Brad and Pat Vinson. Seating for 42+.

---

SUNDAY: August 3

---


* Farewell breakfast- LaSalle breakfast buffet
A SNEAK PREVIEW OF SOME OF THE VINSON COLLECTION
http://www.erbzine.com/mag11/1188.html
http://www.erbzine.com/mag11/1189.html
.
NOTE!
The Vinsons' 2014 Texas Dum-Dum will be of special interest to all
ERB-Related ART LOVERS
Not only will Brad's marvelous art collection be featured
. . . but also . . .
Dela White will be bringing a huge selection of original art from
the incredible White Collection.
This will include drawings and paintings by
St. John, Whelan, Manning, Marsh, Krenkel, and more.

ECOF 2014 was hosted by Rudy Sigmund in Fargo, ND JUNE 19-22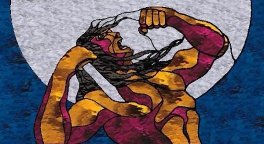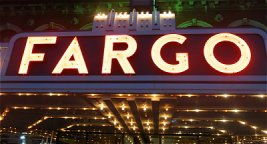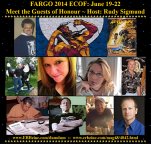 Read the reports and see all the photos from this event
ERBzine PHOTO COVERAGE CONTENTS


2013 Dum-Dum in Louisville, Kentucky: August 8-11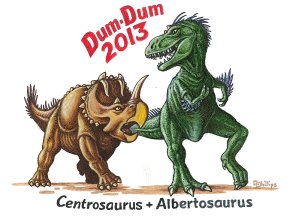 CONTENTS



THANKS TO ERB FANS FOR MAKING THE 2013 ECOF A SUCCESS

!!!WOW!!!
The 2012 Centennial Celebrations were a terrific success.
Visit ERBzine to see hundreds of photos and reports of these events.
www.ERBzine.com/2012
Also see links to the ERBzine Reports below.
Tarzana Dum-Dum 2012: August 16-18
NAVIGATION GUIDE TO THE ERBzine PHOTO JOURNAL COVERAGE
.

.
..

.
.

.
OCTOBER 28th EVENT AT LOUISVILLE, KY

Tracy Griffin, Robin Maxwell, Jim Sullos, Denny Miller and John Ralston Burroughs
were in Louisville on October 28th for book signing at the Burroughs Memorial Collection.
The event was hosted by George McWhorter - Curator of the ERB Memorial Collection at the Ekstrom Library University of Louisville and was attended by many ERB fans and scholars. Sunday, October 28, 2012

ERBzine 3899 REPORT

Dr. Stan Galloway's Tarzan Centennial Conference
Bridgewater College, Bridgewater, VA ~ November 1-4, 2012
Guests: Denny Miller ~ Henry Franke ~ DJ Howell ~ Ellen Vartanoff ~ Jonathan Atkins ~ Lee Strong ~ Rand Muender ~ Chuck Early ~ Demo Sachlas ~ Jim Sullos ~ John Ralston Burroughs ~ Huck Huckenpohler, Lee Strong ~ Stan Galloway
ERBzine 3939 REPORT

.


What is ECOF?
English fan ~ Frank Shonfeld ~ established a loose network of pen pals
who shared his love for Burroughs, the man and his works.
He eventually named this group the
Edgar Rice Burroughs Chain of Friendship (ECOF).
See the Shonfeld story in ERBzine 1159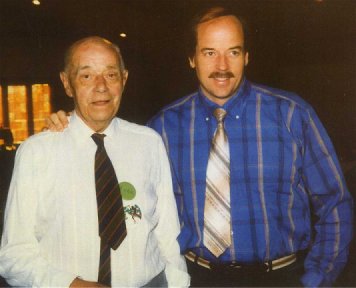 Frank Shonfeld and Danton Burroughs
Visit ERBzine 0839 to see Photo Journals on Previous Gatherings
Burroughs Bibliophile Features In ERBzine
www.ERBzine.com/bb

Navigation Map To Our Other
Burroughs Bulletin and Burroughs Bibliophile Sites
www.ERBzine.com/bb

The Fantastic Worlds of Edgar Rice Burroughs
| | | | |
| --- | --- | --- | --- |
| Tarzan.com | ERBzine.com | DantonBurroughs.com | Tarzan.org |
| BurroughsBibliophiles.com | JohnColemanBurroughs.com | Tarzan.com/tarzine | JohnCarterOfMars.ca |
| ERBzine.com/edgarriceburroughs | Weekly Webzine | Weekly Webzine | Pellucidar.org |
| John Carter Film News | ERB, Inc. Corporate Site | ERB Centennial | tarzana.ca |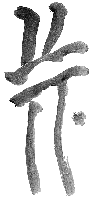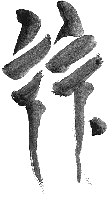 BILL HILLMAN
Visit our thousands of other sites at:
BILL AND SUE-ON HILLMAN ECLECTIC STUDIO
ERB Text, ERB Images and Tarzan® are ©Edgar Rice Burroughs, Inc.- All Rights Reserved.
All Original Work ©1996-2014 by Bill Hillman and/or Contributing Authors/Owners
No part of this web site may be reproduced without permission from the respective owners.