Official Edgar Rice Burroughs Tribute and Weekly Webzine Site
Since 1996 ~ Over 15,000 Webpages in Archive
Volume 6341

ERB'S LIFE and LEGACY :: DAILY EVENTS
A COLLATION OF THE DAILY EVENTS IN ERB-WORLD
FROM THE PAGES OF ERBzine CREATED BY BILL HILLMAN
Collated by John Martin and Bill Hillman
With Web Design, Added Events, Links,
Illustrations and Photo Collages by Bill Hillman
FULL YEAR'S CONTENTS

AUGUST CONTENTS: WEEK THREE
AUG 15 ~ AUG 16 ~ AUG 17 ~ AUG 18
AUG 19 ~ AUG 20 ~ AUG 21

VISIT THE AUGUST WEEK III PHOTO ALBUM
www.ERBzine.com/mag63/6341pics.html
BACK TO AUGUST WEEK 2
www.ERBzine.com/mag63/6340.html

Click for full-size images
---
AUGUST 15
---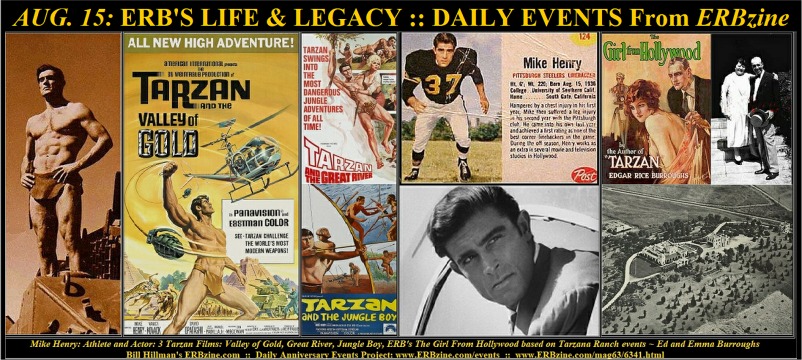 Mike Henry: Athlete and Actor: 3 Tarzan Films: Valley of Gold, Great River, Jungle Boy,
ERB's The Girl From Hollywood based on Tarzana Ranch events ~ Ed and Emma Burroughs
---
*** 1936: Mike Henry reached the milestone of 82 on this day in 2018, having been born that many years ago, on Aug. 15, 1936, in Los Angeles, Calif.
Mike apparently never strayed far from home, being born in the little burg of L.A., playing professional football there, working in movies there, and today still breathing in what ERB would no doubt describe as the fetid breath of the byproduct of civilization for which the city is famous. In spite of the air pollution, Mike hangs on, though he retired from acting in 1988 due to the onset of Parkinson's disease.
In his second Tarzan movie, Henry was bitten by his sidekick, Dinky the chimp, so badly that he suffered a huge cut on his chin and was sick three weeks with chimp fever. The rascally Dinky was put down for his bad behavior and other chimps filled in. Later in his career, Henry himself played a sidekick to Jackie Gleason -- the head lawman in the "Smokey and the Bandit" films. However, unlike Dinky, Henry never bit anyone.
The peak of Henry's career, at least as far as ERB fans are concerned, was his three Tarzan movies, in which he portrayed the apeman pretty much the way that ERB portrays Tarzan in his Ape Man movies: "Tarzan and the Valley of Gold" ~ "Tarzan and the Great River" ~ "Tarzan and the Jungle Boy" Mike was film Tarzan number 14.
ERBzine's 8-Page Mike Henry Tribute starts at:
http://www.erbzine.com/mag19/1964.html
Tarzan and the Valley of Gold
http://www.erbzine.com/mag2/0210.html
Tarzan and the Great River
http://www.erbzine.com/mag19/1962.html
Tarzan and the Jungle Boy
http://www.erbzine.com/mag19/1963.html

Off-Site Trailers:
Valley of Gold ~ Great River ~ Jungle Boy~ "secret"
Valley of Gold Review
---
*** 1923: On this date, ERB presented his wife, Emma, with a copy of his latest novel, "The Girl from Hollywood," which had rolled off the presses of the Macauley Company Aug. 10. He inscribed it: "To / My dear wife / with all my love / Edgar Rice Burroughs / Good Samaritan Hospital / Los Angeles / Aug 15 1923." Emma was recovering in hospital from an appendectomy procedure. Joan's comments about the book: "My father did considerable research on the story [The Girl from Hollywood] and our ranch was used as the basis for the background. Dad even instilled some of my speeches and mannerisms into the character of one of the girls. He believed very much in this story and always felt that it was killed quickly by certain Hollywood elements." ERB was disappointed about the critical reaction to the book: "The critics said that no ranch such as I described in the story ever existed. The joke of it was that I merely described my own ranch!"
Other titles considered for the book included: Other titles considered were: "Shannon", "Fetters of Snow", "The Snow Slave", "The Demon of the Snow", "Rancho del Ganado", "The Little Black Box" - and editor Davis' suggestion, "The Needlewoman."
The Girl From Hollywood: ERB C.H.A.S.E.R.
http://www.erbzine.com/mag7/0769.html
Read the e-Text Edition
http://www.erbzine.com/craft/girlholl.html
Tarzana Ranch Photos with Art by Studley O. Burroughs
http://www.erbzine.com/mag10/1091.html
---
MORE EVENTS FROM THE BIO TIMELINE
*** 1881: A younger brother, Charles Stuart, was born, but died five months later on January 18, 1882.
*** 1913: ERB accepted New Story's $500 offer for The Outlaw of Torn
*** 1945: LETTER home to grandson Mike Pierce.
ERB Bio Timeline
http://www.ERBzine.com/bio

---
AUGUST 16
---
Aquanetta (nicknamed the "Venezualan Volcano"): High Priestess Lea in Tarzan and the Leopard Woman
Oakdale Affair: 1st Ed cover ~ The Mucker in All-Story ~ Script Magazine: ERB's Mystery Puzzles
---
*** 1921: The first indications of overheating in the ozone came in 1921, when a girl was born in Ozone, Wyoming, near Cheyenne.
She grew up to become Lea, the Leopard Woman, opposite Johnny Weissmuller in "Tarzan and the Leopard Woman."
Her name was Acquanetta, but she was born either Burnu Acquanetta or Mildred Davenport, depending on which Hollywood version you read...and there were several stories the studio publicity departments dreamed up to promote her, one of which was to nickname her "The Venezuelan Volcano," though she has no more links to that South American country than she might have had to Ozone, since she's the one who claimed that was her place of birth, while other biographers insist that Mildred Davenport, as she was named by her parents, was actually born in Newberry, S.C. She also claimed to be part British nobility (her great-grandfather was an illegitimate son of the King of England).
Acquanetta made several movies, then settled down in Arizona as the wife of a well-to-do automobile dealer.
Acquanetta passed away on Aug. 16, in 2004, at the age of 83 in a town not unlike her stage name, Ahwatukee, AZ.
Acquanetta Tribute and Bio in ERBzine
http://www.erbzine.com/mag62/6270.html
Acquanetta Photo Gallery and Filmography
http://www.erbzine.com/mag62/6271.html
Tarzan and the Leopard Woman
http://www.erbzine.com/mag6/0626.html
Leopard Woman Cards from Ron de Laat
http://www.erbzine.com/mag13/1382.html

Off-Site Reference:
Acquanetta's story
---
*** 2014: As of Aug. 16, 2014, Librivox made a reading of ERB's "The Oakdale Affair" available online. Ralph Snelson is doing the reading. If he doesn't read it fast enough for your liking, there's a tool you can use to speed him up. If you prefer to read it the old-fashioned way and don't have a copy, the Pulpville Press edition of "The Oakdale Affair" is one way to get one:
Oakdale Affair: Art ~ Photos ~ Text ~ History
http://www.erbzine.com/mag7/0765.html
Oakdale Affair: 1919 Film Coverage
http://www.erbzine.com/mag7/0765a.html
Read Oakdale Affair free in eText
http://www.erbzine.com/craft/o6oa.html
Off-Site Reference:
Oakdale Audio Reading
ERB books at librivox
---
*** 1884: Hugo Gernsbacher was born in Luxembourg. During their school years both Edgar Rice Burroughs and Hugo Gernsback discovered a book that would have a profound influence on each of these SF pioneers for the rest of their lives: astronomer Percival Lowell's book, Mars As the Abode of Life. This book started Gernsback on a lifelong quest in which he speculated on the nature of life and civilization on Mars. He wrote novels and went on to publish a long line of groundbreaking science and science fiction magazines. Some of his magazines featured reprints of stories by Edgar Rice Burroughs.
ERB / Hugo Gernsbach Connection starts at:
http://www.erbzine.com/mag14/1462.html
Accompanying Photo Collage:
http://www.erbzine.com/cards/erb/hugoall.jpg
---
*** 1913: ERB started The Mucker which he completed on October 9:
The Mucker
http://www.erbzine.com/mag7/0757.html
Read The Mucker in eText
http://www.erbzine.com/craft/o1m.html
---
*** 1915: "His Majesty, The Janitor" a 7-page synopsis was written at his 414 Augusta St. Oak Park residence.
Burroughs Fans at 414 Augusta St. Oak Park
http://www.erbzine.com/mag33/dc3043h5.jpg
Lost Words of ERB listing
http://www.erbzine.com/mag2/0219.html
---
*** 1932: "Who Murdered Mr. Thomas?" appeared in Script Magazine - A Police Inspector Muldoon Mystery.
Who Murdered Mr. Thomas?: Mystery and Solution
http://www.erbzine.com/mag0/0047.html

---
AUGUST 17
---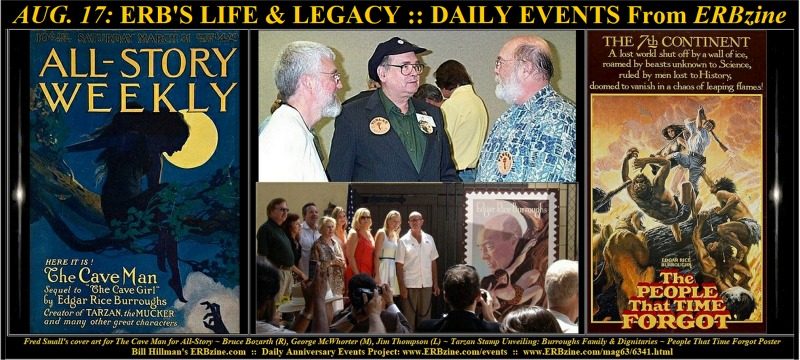 Fred Small's cover art for The Cave Man for All-Story ~ Bruce Bozarth (R), George McWhorter (M), Jim Thompson (L)
Tarzan Stamp Unveiling: Burroughs Family & Dignitaries ~ People That Time Forgot Poster
---
*** 1948: He keeps a bit of a low profile in the world of ERB -- he's not on facebook and he doesn't show up at ERB gatherings very often anymore, but part of the reason for that is that he's a 24/7 caregiver. The man is David Bruce Bozarth, known to many simply as Tangor, and while he's not on facebook he is on the internet with erblist.com. Bruce was born this date, Aug. 17, but the closest he'll come to mentioning the year is that it was some time in the latter part of the first half of the 20th Century.
Besides maintaining the website and moderating the erblist discussion, Bruce has put together an ERB watering hole full of impressive non-fiction and fictional articles with contributors such as David Adams, J.H. (Huck) Huckenpohler, Andy Nunez, Ken Webber, Lew Kaye-Skinner, Dale Robinson, Serena Dubois, Joel Jenkins, John Martin, Bill Hillman and many others.
Bozarth himself is a featured writer and has turned in numerous works of fan fiction, including 22 stories about "Ras Thavas the the Calot;" a novel, "La of Opar," and other tales, sometimes in collaboration with others, such as "When the Princess Disappeared." Many treasures turn up in an exploration of the site.
There is also a "Hall of Memories" featuring fan tributes to people in the world of ERB who have passed on, and memories are still welcomed for that section. Bozarth has attended some fan gatherings in the past when he was able to do so and also in the past hosted his own ERB gathering, known as ERB Wake, usually held around the third weekend in March, the anniversary of ERB's death.
Like his colleague in the world of ERB fan sites, Bill Hillman, who provides the erbzine.com venue for ERB fans both on the web at large and here on facebook, Bozarth is also an accomplished musician and singer, playing electric guitar in a band known as the Greyfoxxe.
Back in 1996, as I was preparing to create tribute Webpages to ERB one of the few places devoted the Master of Fantasy Adventure was Tangor's ListServ, ERBlist. This opened a Web door to numerous other ERB fanatics, many of whom I had lost touch with since joining the Burroughs Bibliophiles back in the '60s. This was all the incentive I needed to create my site that eventually morphed into ERBzine.
Code of Tarzan by Tangor
http://www.erbzine.com/mag1/0128.html
War Correspondent's Notebook by Tangor
http://www.erbzine.com/mag2/0203.html

Off-Site References:
Tangor's erblist
Tangor Responds
Hall of Memories
---
*** Open ALL-GORY PULP PARODY ZINE to the RATNAZ FILES and discover the whacky Worlds of Edgar Nyce as he Burrows to countless exciting adventures as told to Tangor and Bill Hillman All-Gory invites you to travel through space and time and follow the tribulations of a traditional pulp author as he flounders in the fast lane of our modern electronic age.
*** Back in the mid-90s Tangor challenged readers of his ERBlist listserv to join him in the writing of a round-robin parody on the life and works of Edgar Rice Burroughs. I was the only one who took up the challenge and the next few years were spent goading each other on in silliness. Tangor wrote an opening chapter for which I did a follow-up. We took turns writing sequel chapters and displayed the results on our respective Websites. We even worked ourselves, families, contemporary news events and personalities of the day into the plot. The result was 123 chapters of a book like no other: THE RATNAZ FILES. My daughter even rewarded my craziness by lifting my text from the Web and having it bound in a rare one-of-a-kind self published hardback book -- a surprise gift to her dad on Father's Day. We had hoped to carry the storyline even further, but real life got in the way and we never returned to the adventure. The results of this immense waste of time are still preserved for posterity on the Web at:
Ratnaz: 123-Chapter ERB Parody by Tangor and Hillman
http://www.erbzine.com/mag0/meetratz.html

JoN: Jeddak of the North (Bill Hillman) and Tangor (Bruce Bozarth) ~ Art by Duane Adams
---
*** 2012: A stamp honoring Edgar Rice Burroughs was issued nationwide this date, Aug. 17, 2012, with official first-day-of-issue postmark offered at a ceremony in Tarzana, Calif. The Dum Dum was timed to coincide with the first-day ceremony, which was held at the Tarzana Cultural Center. Several different postmarks were available for fans who bought stamps there.
Four Tarzans were in attendance at the ceremony -- Denny Miller, Ron Ely, Casper Van Dien and a local hunk in a loin cloth!
Not many people at the ceremony realized it, because Denny had been bound by the U.S. Postal Service to keeping a low profile, but the stamp was actually made possible because Denny himself had made the suggestion to the man who was, at the time, the chairman of the Citizens Stamp Advisory Committee.
Story Behind the Stamp by John Martin
http://www.erbzine.com/mag43/4395.html
ERBzine Stamp Ceremony coverage in Tarzana
http://www.erbzine.com/mag41/4106.html
First impressions of the Stamp
http://www.erbzine.com/mag37/3718.html
Tarzan Stamp Previews
http://www.erbzine.com/mag36/3611.html

Off-Site Reference
John Martin Story of the Stamp
---
*** 1977: When they made the movie version of "The People That Time Forgot," they must have wanted you to forget the people who were in ERB's original book, along with the plot. The film was released Aug. 17, 1977, in France, after its earlier release July 6, 1977, in New York City.
The movie plays havoc with ERB's sequel to "The Land that Time Forgot." They couldn't get Susan Penhaligon back, so they killed off Lys La Rue (Oops! I mean Lisa Clayton, who they had named the Lys La Rue character in the previous LTF film!). She was killed off before "People" even started, and then, so Bowen Tyler wouldn't have to spend the rest of his life in mourning, they put him out of his misery during "People" as well. They changed the name of the lead character from Tom Billings to Major Ben McBride, for no perceptible reason, and they saved on the makeup budget by simply decorating bald-headed villains with eye shadow.
The People That Time Forgot: ERBzine Silver Screen
http://www.erbzine.com/mag30/3029.html
Off-Site Reference
People Time Forgot Trailer
---
*** 1881: Frederic Charles William Small, often identified as just Fred W. Small, was born August 17, 1881 in San Francisco, California. He worked for Munsey Magazines and was involved in the first public presentation of some ERB stories through that venue. He did the covers for "The Mad King" and "The Cave Man" (sequel to "The Cave Girl") and also "headpieces" for such stories as "A Man Without A Soul" (part 1 of "The Mucker") and "Sweetheart Primeval," (part 2 of "The Eternal Lover").
The Cave Man
http://www.erbzine.com/mag7/0755.html
Off-Site Reference
Small in pulpartists.com
---
ERBzine Bio Timeline Notes
*** 1914: ERB sent Cave Man to Davis
*** 1921: The Burroughses decided to try educating the children with a tutor for one year. Ed wrote the Hollywood School for Girls to tell them he was satisfied with Joan's education there but the daily commute was getting too hard to handle. He also requested that the tuition he had paid for Hulbert's and Jack's attendance there be refunded since they did not plan to attend.
*** 1930: Ed noted receiving letters from the Dearholts who were travelling around the Southwest in their "land yacht" -- a mobile home constructed by Ashton.
*** 1935: Rothmund began a barrage of submissions of ERB's 1930 western That Damned Dude now renamed The Brass Heart by John Mann. It met with 24 rejections but eventually was purchased by Thrilling Wonder stories in 1939 and serialized in 1940
ERB Bio Timeline
http://www.ERBzine.com/bio

---
AUGUST 18
---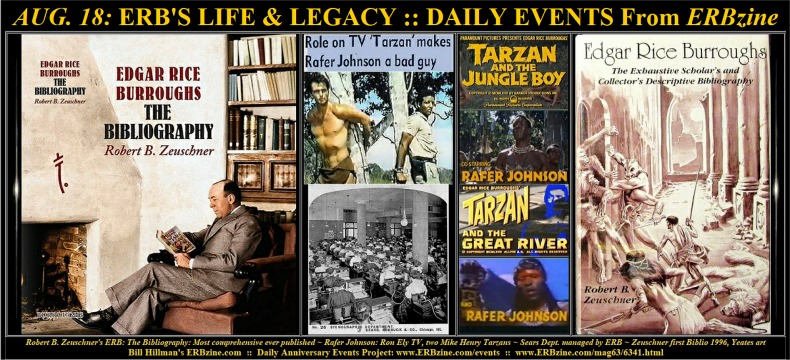 Robert B. Zeuschner's "ERB: The Bibliography": Most comprehensive ever published ~ Rafer Johnson:
Ron Ely TV, two Mike Henry Tarzans ~ Sears Dept. managed by ERB ~ Zeuschner first Biblio 1996, Yeates art
---
*** 2016: "Edgar Rice Burroughs: The Bibliography," by Robert Zeuschner is the comprehensive work listing first and reprint editions of Edgar Rice Burroughs books, became available Aug. 18, 2016. The edition has 736 pages, and more than 600 images, 500 of which are in color on glossy stock. There is more about Bob's guide to ERB books as well as information on other new editions of ERB books for sale in ERBzine's ERB Still Lives.
Edgar Rice Burroughs Still Lives!
http://www.erbzine.com/mag62/6264.html

Off-Site Reference
https://www.erbbooks.com/erb-bibliography.html
---
*** 1935: It is known that some ERB fans on facebook are residents of The Lone Star state and there have even been ERB gatherings held in the great state of Texas.
Sadly, though, not everyone loves Texas all that much. One of those who hasn't much use for the state is Rafer Johnson, who was born this date, Aug. 18,1935, in Hillsboro, Texas.
"I don't care if I never see Texas again," he said. "There's nothing about it I like...."
Johnson is probably most well known to the world, and that would include ERB fans, as an Olympic record setter in the Decathlon.
However, ERB fans are also aware of his other career, in the film industry, where he played opposite Mike Henry's Tarzan in two movies and with Ron Ely in "The Prodigal Puma," an episode of "Tarzan" on TV.
MARTIN POEM:
In youth, Rafer Johson won races ~ With speed like a fully grown Bambi.
In "Jungle Boy" he battled Tarzan ~ In the role of the evil Nagambi
In "Tarzan and the Great River," ~ He was cast as the tough guy, Barcuna,
And on TV with Ely he landed ~ A role in"The Prodigal Puma."
Denny Miller Career Flashback: Rafer Johnson
http://www.erbzine.com/mag45/4588.html
Ron Ely TV Series
http://www.erbzine.com/mag0/0014.html
"Tarzan and the Jungle Boy," plus Allsup review:
http://www.erbzine.com/mag19/1963.html
"Tarzan and the Great River":
http://www.erbzine.com/mag19/1962.html
Off-Site Reference
Johnson's thoughts on Texas
---

*** 1908: Ed left his success and security at Sears to go into business for himself. Ed and a partner started an advertising agency based upon a correspondence course aimed at preparing students in salesmanship: Burroughs & Dentzer, Advertising Contractors. It failed.
ERB: Manager of the Sears Stenographic Department
http://www.erbzine.com/mag12/1288.html
---
*** 1908 Ed wrote the poem "Poverty!" and pawned Emma's jewelry.
ERB's Poem: Poverty!
http://www.erbzine.com/mag0/0003.html#poverty
---
*** 1907: ERB inquired about books on fingerprinting and on the care of infants, suggesting that the first ideas for his Tarzan of the Apes plot may be developing.
*** 1915: Ed wrote two synopses: Lion Hunter (5-page comedy) and The Mucker to be submitted as film ideas
ERB Bio Timeline
http://www.ERBzine.com/bio

---
AUGUST 19
---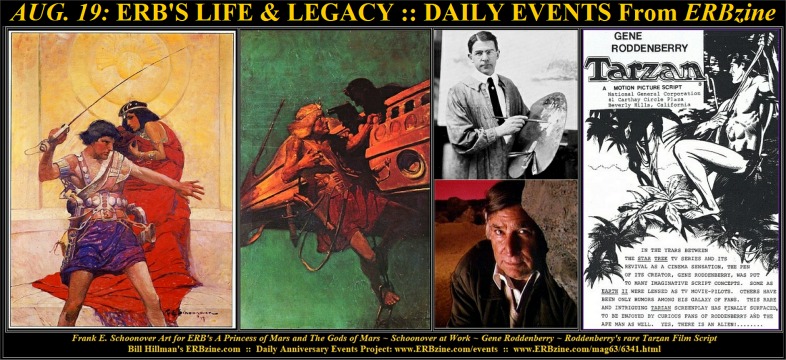 Frank E. Schoonover Art for ERB's A Princess of Mars and The Gods of Mars ~
Schoonover at Work ~ Gene Roddenberry ~ Roddenberry's rare Tarzan Film Script
---
*** 1877 Frank Schoonover who illustrated two ERB books, dust jacket and inside: "A Princess of Mars" and "The Gods of Mars," was born this date in New Jersey, and passed away a few days shy of his 95th birthday.
His cover for "A Princess of Mars," with John Carter defending Dejah Thoris, became the classic and oft-imitated image for the novel, and the followup cover for "The Gods of Mars" was first to feature a Barsoomian airship.
Bill Hillman's ERBzine presents Schoonover at:
http://www.erbzine.com/mag4/0422.html
A Princess of Mars: Art ~ History ~ e-Text ~ etc.
http://www.erbzine.com/mag4/0421.html
The Gods of Mars: Art ~ History ~ e-Text ~ etc.
http://www.erbzine.com/mag4/0423.html

Off-Site References
Schoonover site
Schoonover at americanillustration
Schoonover studio visit
---
*** 1921: Gene Roddenberry born was born Aug. 19, 1921, and, as any schoolboy knows, created "Star Trek." After the USS Enterprise completed its five-year mission in only three years, thanks to warp drive and other factors, Roddenberry decided to write a Tarzan script for a new movie. Alas, the movie never came to be. However, the script survived, along with lots of photocopies of it, which continue to be available in ERB fandom if you ask around as to who might have a copy of it for sale. Roddenberry Quote: "I wish I had more control, more like Edgar Rice Burroughs had, but I'm a realist, too. I work in television. I don't know that I would want to spend the rest of my life controlling my characters." Gene Roddenberry ~ Interesting Factoid from our ERB Genealogy Series: Roddenberry is 11th cousing one-time removed to Edgar Rice Burroughs: Famous Kin Site
Quotes Recognizing the Influence of ERB in Popular Fiction
http://www.erbzine.com/mag28/2875.html
Roddenberry: Distant Cousin to ERB ~ ERB Eclectica 2016.07
http://www.erbzine.com/mag58/5814.html
Off-Site Reference
10 Roddenberry Facts
---
ERB Bio Timeline Notes
*** 1927: Tarzana Bulletin "an aid to the development of Tarzana" was published. Edited by Ed's new secretary Ralph Rothmund. "Building Notes" section reported construction of a new store ad office building at 18352 Ventura Blvd. and made references to the "beautiful old walnut tree in the center of the yard" and Ed's study
*** 1938 : Ed & Flo left on the Lurline for Hawaii vacation

---
AUGUST 20
---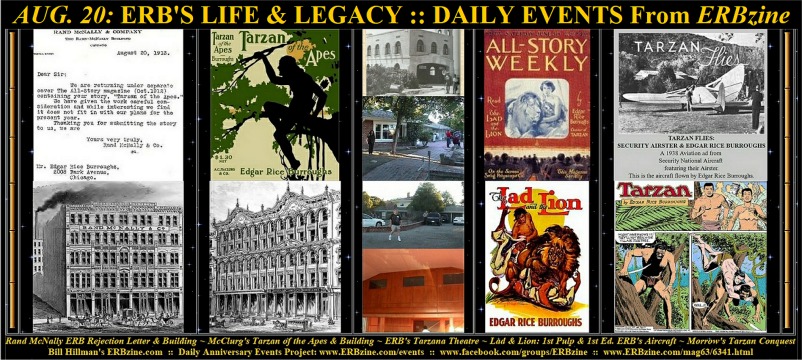 Rand McNally ERB Rejection Letter and Building ~ McClurg's Tarzan of the Apes and Building ~ ERB's Tarzana Theatre
Lad and the Lion: 1st Pulp & 1st Ed. ~ ERB's Aircraft ~ Gray Morrow's Tarzan's Conquest Strip
---
*** 1913: "For of all sad words of tongue or pen, ~ "The saddest are these: 'It might have been!'
Did the editors at Rand McNally ever ponder that stanza near the end of the John Greenleaf Whittier poem, "Maud Muller?" The firm is certainly in good company with many book publishers who have rejected something, only to see it go on to everlasting fame in the hands of someone else.
Such was the case for Rand McNally, which wrote a letter this date, Aug. 20, in 1913 to struggling author Edgar Rice Burroughs, to inform him that their editors had given "Tarzan of the Apes" some "careful consideration" but, while it was interesting, they wrote, "we find it does not fit in with our plans."
Yes indeed! Considering that "Tarzan of the Apes" was a story based on a new concept, it is easy to see that Rand McNally did not have any "plans" for such a story (but neither did any other publisher!) Obviously, Rand McNally didn't plan for the unanticipated, either!
After Tarzan became a success, Rand McNally changed its tune some years later and was quite happy to become the publisher of a couple of Tarzan coloring books.The Rand McNally building pictured stood from 1889 to 1911, and was also headquarters for the Chicago Worlds Fair in 1983, in which ERB had a role, so the Rand McNally outfit may have seemed a logical place to market his book. By the time ERB wrote "Tarzan of the Apes," this building had been razed and a new one erected. Bookselling was profitable enough to build new buildings when the old ones burned down. The first McClurg building burned down in the Great Chicago Fire of 1871 and the second one also was destroyed by fire. The current building was raised in 1899, in plenty of time to publish "Tarzan of the Apes" in 1914.
Rand McNally Rejection Letter to ERB
http://www.erbzine.com/mag9/0940.html
ERB's remarkable summer of 1893
http://www.erbzine.com/mag12/1275.html
Tarzan of the Apes
http://www.erbzine.com/mag4/0483.html

Off-Site Reference
ERB and Rejection
Rand McNally Buildings
ERB and A.C. McClurg
---
*** 2000: "The Contest," by Gray Morrow and Mark Kneece, began Aug. 20, 2000, in Sunday newspapers and continued through Nov. 26.
The Contest: All 15 Tarzan Strips by Gray Morrow
http://www.erbzine.com/mag34/3487.html
---
*** 1934: Ed writes a letter to daughter Joan with talk about the baby crying. Plus "Am going over this afternoon to watch Jim Granger test his new ship that he is to fly in the London-Melbourne race in October." (Jim Granger would die in this ship on Oct.3)
Ed's Letter to Joan
http://www.erbzine.com/mag10/1049.html#August%2020,
---
*** 1937: ERB Added 21,000 words to the 1914 novelette Lad and the Lion for book release - the retitled Men and Beasts
The Lad and the Lion
http://www.erbzine.com/mag7/0760.html
---

*** 1950: Last Burne Hogarth Tarzan Sunday page ~ Next week's strip by Bob Lubbers
ERBzine Comics Archive
http://www.ERBzine.com/comics
---
*** 1921: August films that Ed showed in the Tarzana Ranch Ballroom Theatre included Stuffed Lions (short) ~ The Fire Cat ~ Tee Time ~ Society Secrets ~ Colorado with Frank Mayo.
ERB's Tarzana Ranch Theatre Today
http://www.erbzine.com/mag9/0955.html
Tarzana Ranch: Then and Now
http://www.erbzine.com/mag11/1161.html

---
AUGUST 21
---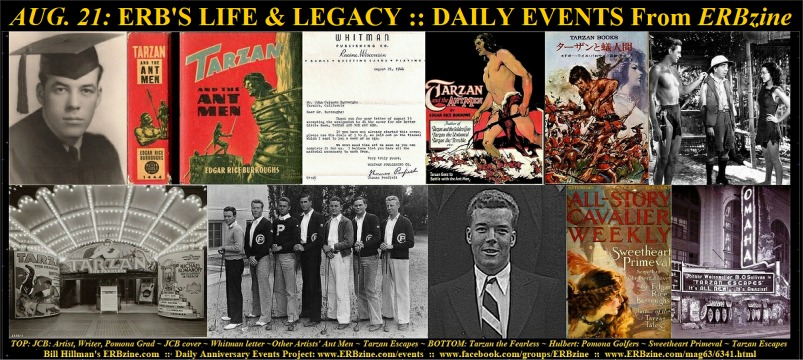 TOP: JCB: Artist, Writer, Pomona Grad ~ JCB cover ~ Whitman letter ~Other Artists' Ant Men ~ Tarzan Escapes
BOTTOM: Tarzan the Fearless Marquee ~ Hulbert: Pomona Golfers ~ Sweetheart Primeval ~ Tarzan Escapes Marquee
---
*** 1944: The deal was solidifed on Aug. 21, 1944, in a letter from Thomas Penfield of Whitman Publishing Company: John Coleman Burroughs, ERB's youngest son, would do the cover for the Better Little Books version of "Tarzan and the Ant Men." See that letter, and the cover, along with some other JCB work -- both illustrative and literary -- in ERBzine.
John Coleman Burroughs: The Writer
http://www.erbzine.com/mag19/1982.html
Our John Coleman Burroughs Tribute Site
http://www.johncolemanburroughs.com
Tarzan and the Ant Men: Better Little Book Gallery
http://www.erbzine.com/mag0/0044c.html
Tarzan and the Ant Men: The Original
http://www.erbzine.com/mag4/0497.html
---
*** 1914: Ed started Sweetheart Primeval which he finished on September 14 (Part II of The Eternal Lover).
The Eternal Lover
http://www.erbzine.com/mag7/0759.html
---
*** 1933: Tarzan the Fearless was released
Tarzan the Fearless
http://www.erbzine.com/mag5/0595.html
---
*** 1933: Hulbert graduated from Pomona College and attended the U. of New Mexico summer school of archaeology at Jemez Springs. Both Hulbert and his younger brother, Jack, were Pomona grads.
Hulbert at Pomona College and More
http://www.erbzine.com/mag19/1985.html
---
*** Herbert Mundin was added to the cast of "Tarzan Escapes" for comic relief, to help tone down the violence in the first version of the film. Mundin, who generally played comic characters, was born Aug. 21, 1898, in St. Helens, Lancashire, England.
Over breakfast one morning at a past Dum-Dum, a few of us got into a conversation about the different ways that non-locals pronounce the names of places. England's own Laurence Dunn told me, my grandson Schuyler and Tom Tolley that, in England, the word "shire," by itself, is pronounced with a long "i" and two syllables. When it is added to another word though, such as Yorkshire, or the above-mentioned Lancashire, the "shire" is pronounced as "sure." It is funny, he said, to hear tourists mispronounce the names of such places.
When tourists flock to visit the boyhood home of Herbert Mundin nowadays, though, there may not be as many mispronouncing the "shire" part of the name, since St. Helens is now, geographically, considered part of Merseyside.
Herbert Mundin in "Tarzan Escapes"
http://www.erbzine.com/mag6/0618.html
"Escapes" missing Vampire Bats footage
http://www.erbzine.com/mag21/2141.html
"Escapes" BLB's Original Script
http://www.erbzine.com/mag6/0648.html
"Escapes" 3 Lobby Displays
http://www.erbzine.com/mag6/0618a.html
http://www.erbzine.com/mag21/2141a.html
http://www.erbzine.com/mag21/2141b.html

Off-Site References
Mundin in IMDB
Mundin in Wikipedia
---


VISIT AUGUST WEEK 3 PHOTO ALBUM
www.ERBzine.com/mag63/6341pics.html



BACK TO AUGUST WEEK 2
www.ERBzine.com/mag63/6340.html



BACK TO DAILY EVENTS INTRO and CONTENTS
www.ERBzine.com/events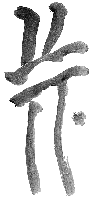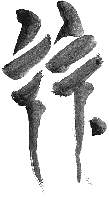 BILL HILLMAN
Visit our thousands of other sites at:
BILL AND SUE-ON HILLMAN ECLECTIC STUDIO
ERB Text, ERB Images and Tarzan® are ©Edgar Rice Burroughs, Inc.- All Rights Reserved.
All Original Work ©1996-2018/2019 by Bill Hillman and/or Contributing Authors/Owners
No part of this web site may be reproduced without permission from the respective owners.