Official Edgar Rice Burroughs Tribute and Weekly Webzine Site
Since 1996 ~ Over 15,000 Web Pages in Archive
Volume 7401

ERBzine WEB PROJECTS
HONOURING THE WEB LEGACY OF
DANTON BURROUGHS
A Multitude of ERBzine Projects
Drawing From and Expanding Upon
Material Shared by Danton Burroughs
From the Burroughs Family Archive


I've been an ERB fan, collector and researcher since the late 1940s when I was captivated by the Weissmuller and Lex Barker films, Tarzan comics and strips (Marsh Dell comics, BLBs, Hogarth Sundays, etc.). Soon after I was captivated even further by Tarzan radio shows and ERB hardcover books.

This led me on what was a rather difficult quest in the '50s -- searching for long out-of-print ERB books. The search became much easier during the Burroughs boom of the '60s and led to the discovery of ERBANIA, ERB-dom, and other fanzines and correspondence with Burroughs Bibliophiles founder, Vern Coriell.

In the '70s Sue-On and I drove to Tarzana where we met Hully and Joan Burroughs and Jim Pierce who took us on two afternoon tours of the ERB, Inc. offices and warehouse.

With the coming of the Internet in the '90s I started the creation of ERB-related Websites. We made contact with Danton during our Tarzana Dum-Dum 1999 visit after which he enlisted me to create a Website and take over what Disney had created -- a task that led to over a dozen Websites and 15,000 Webpages. It also led to many more visits with Dan in Tarzana, countless hours of phone conversations, and Dan's regular sharing of an unbelievable assortment of treasures from his family's Tarzana archive.

This relationship came to a sad sudden end when Danton died on May 1, 2008. Two weeks later, I was invited to fly to Tarzana to give the eulogy at the Memorial Service for my dear friend.

Since then I've carried on with perpetuating Danton's legacy and that of his family and famous grandfather. With the support and patience of Sue-On, the love of my life, I've never missed a Friday deadline for the weekly ERBzine Webzine since 1996 . . . even though it has meant working until 4 or 5 AM most nights. It also meant that we had to publish it from a variety locations: via satellite from the Far North while on University assignments, from hospital beds, on the road during music tours, and while on annual road trips across North America. In more recent times we have made use of WiFi during our many travel adventures across the UK, Europe, China, India, Japan, Korea, Vietnam, Indonesia, SE Asia and a multitude of other Asian countries.

What follows are a few of the projects that Danton and I were involved in and created on the Internet. All of these features are readily available in our huge online searchable archive.
The small thumbnail images on this page may be clicked to full size display


www.erbzine.com



Official Edgar Rice Burroughs Tribute and Weekly Webzine Site
Since 1996 ~ Your Portal to 15,000 Web Pages in Archive
Start your visit by clicking on the hot links in the ERBzine Logo above.
The Internal Google Search is located at the top of the ARCHIVE page.



www.dantonburroughs.com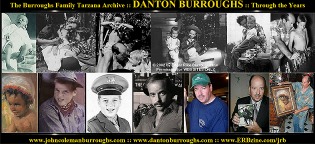 Danto and I worked daily at developing and expanding this Website
until his sudden death in 2008


www.johncolemanburroughs.com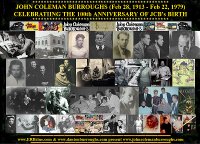 We created this Website as a tribute to artist and writer
JOHN COLEMAN BURROUGHS
Younger son of Edgar Rice Burroughs and
Father to John, Danton and Dian



www.ERBzine.com/jrb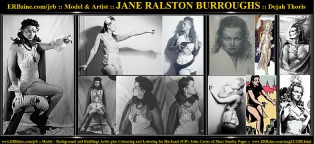 Danton shared countless photos and memories of his dear mother
JANE RALSTON BURROUGHS
Artist, Writer and Inspiration for husband JCB's artwork.

Wartime Journals of Correspondent Edgar Rice Burroughs
December 1942-April 1943
THE DIARY OF A CONFUSED OLD MAN
or Buck Burroughs Rides Again

Back in 2004, Danton Burroughs had his ERB, Inc. office staff photocopy his grandfather's 50-page Wartime Journal from 1942/43.
Dan then shared this and many other rare and interesting documents with me to feature on the ERBzine Tribute Site.
My first step was to summarize the events from the journal and add relevant illustrations compiled from Web searches.
We then uploaded this timeline summary to ERBzine 1035 and ERBzine 1036.
Danton's untimely death disrupted many of the plans we had for ERB-related projects and Step 2 was put on hold. . . until 2019:
I finished keying in all 50 pages of Ed's manuscript, added an abundance of illusrations and links for each page,
and included small scanned images of each of Ed's original pages.
The Intro and Contents featuring links to all 50 pages is featured at:
www.erbzine.com/mag68/6800.html


THE WAR YEARS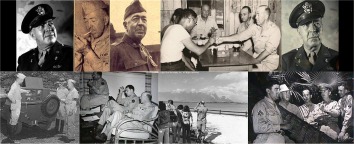 The Wartime Letters, Articles, Photographs and Journals of the
Edgar Rice Burroughs :: The War Years :: 1940-1945
Compiled by Bill Hillman
This is your introduction to our online booklength feature chronicling the many adventures of the
Dean of American War Correspondents in the WWII Pacific Theatre.
https://www.erbzine.com/war



Edgar Rice Burroughs' Wartime
Autograph Book Series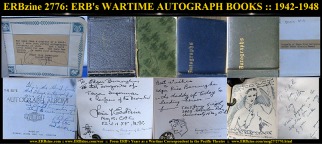 On November 6, 1942 ERB started his autograph album which he planned to carry with him.
www.erbzine.com/mag27/2776.html
Danton revealed the pages of these booklets for me to photograph.
The handwriting on many of the pages is hard to read,
but I spent many hours interpretting all the entries as part of the ERB War Years Project.
CONTENTS


Lost Words of ERB



A Hypertexted Guide to ERB's Obscure Fiction, Articles & Poetry
Plus a Multitude of Personal Letters
Hundreds of Links to ERBzine Locations
https://www.erbzine.com/mag2/0219.html

Back in 2004, Danton Burroughs shared stacks of personal letters written by his great uncles Harry and George during 1886-88.
These letters from Edgar Rice Burroughs' older brothers were sent back home to Chicago from Yale University and summer camp.
I spent countless hours deciphering the handwriting and typing out the contents across eight very large ERBzine Webpages.
Although the letters didn't contain photographs, I did an intensive search of the Internet as well
as through my personal and Burroughs Family Archives to find relevant photos to illustrate the brothers' letters.
These letters provide a wonderful and unique view of history of that time and the personal thoughts and experiences of the Burroughs family.



THE BATTLE OF HOLLYWOOD
JAMES PIERCE AUTOBIOGRAPHY



Danton had the office staff photocopy the pages of this hard-to-find book.
I typed out the text from all of the pages for display on his site.
I scanned the photos and included previous ERBzine features on Jim.
I also added links to his 77 Tarzan radio show episodes from my collection.
I bought these tapes back in the '60s to add to my collection of 25,000 old time radio shows.
Back in 1971 when we spent an afternoon with Jim, Joan and Hully they were excited to learn
that some of their shows from 1932 still existed. . . shows they hadn't heard since they had recorded them so long ago.
I sent them tapes containing these shows.
A few weeks later I was surprised and excited to receive a huge gift box from them
that was full of ERB, Inc, editions and dust jackets!
https://www.erbzine.com/mag27/2729.html




MEMOIRS OF A WAR BRIDE BOOKLET
By Mary Evaline Burroughs (Mother of Edgar Rice Burroughs)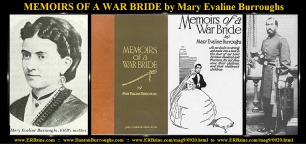 Twenty years ago Danton sent a copy of this 80-page manuscript
for me to convert to a series of Webpages to share on his site.
Mary Evaline Burroughs, at the encouragement of sons Edgar, George, Henry (Harry), and Frank,
wrote and distributed her memoirs to all members of the Burroughs family in 1914.
Ed and his brothers collaborated in preparing the book for the printer
and in assembling the genealogical sections.
The original handwritten manuscript is still preserved at the ERB, Inc. office in Tarzana, California.
It is dated Chicago, June 23, 1914 and addressed to "My dear son Edgar."
www.erbzine.com/mag9/0920.html




CHICAGO 1893 COLUMBIAN EXPO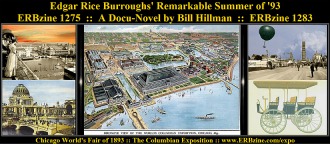 An Illustrated Docu-Novel by Bill Hillman
Danton had sent me an assortment of notes and photos related to
ERB's involvement in the 1893 Columbian Exposition.
I did extensive research on the event and found hundreds of photos and stereoviews
that I used to create a huge illustrated Docu-Novel of the event . . . through ERB's eyes.
www.ERBzine.com/expo


I created a second Docu-Novel incorporating some of the info
from our many conversations and the shared Tarzana material.
BACK TO EDGAR RICE BURROUGHS' TARZANA RANCH 1921
An Illustrated Docu-Novel by Bill Hillman



https://www.erbzine.com/mag10/1041.html



THE JOHN COLEMAN BURROUGHS TREASURE VAULTS
A great deal of John Coleman Burroughs' personal effects and artwork
was stored in storage lockers after he died.
I helped Danton organize this material and to transport much of it
for storage up to the original ERB Tarzana Ranch site.
Some of this we shared on the Website I created for Dan
which was in honour of his father.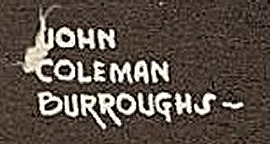 www.johncolemanburroughs.com
The Webpages showing highlights of the locker rescue projects we shared at: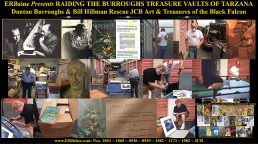 https://www.erbzine.com/mag10/1053.html
and
Rare Art from the Tarzana Vaults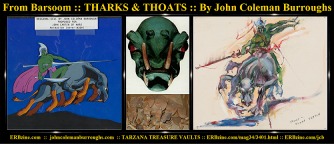 https://www.erbzine.com/mag34/3401.html



TARZANA AND FAMILY PHOTOS and DOCUMENTS
Exploring Edgar Rice Burroughs'



A collection of newspaper and magazine articles, aerial photos, post cards, excerpts,
new and archival photos and links to the many Tarzana features in ERBzine
https://www.tarzana.ca



ERB IN THE WILD WEST
WILD WEST - MINIDOKA
www.erbzine.com/wildwest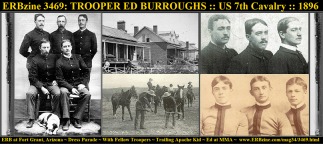 US CAVALRY FORT GRANT
www.erbzine.com/arizona



THE STORY OF TARZANA



A rare booklet from the '20s
written and published by Edgar Rice Burroughs
https://www.erbzine.com/mag10/1057.html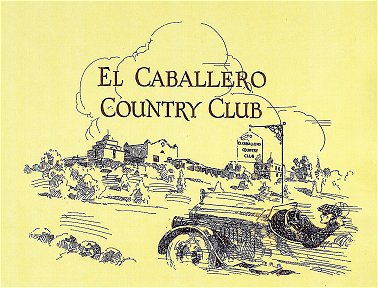 El Caballero Souvenir Booklet
Tarzana Ranch Photos with Art by Studley O. Burroughs
https://www.erbzine.com/mag10/1091.html



TARZANA RANCH PHOTOS and PAGES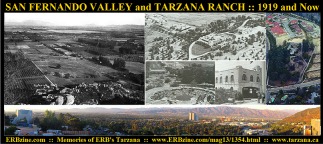 Danton has shared countless photos of family and Tarzana Ranch
Access to much of this material is via
https://www.erbzine.com/mag68/6895.html



JOHN CARTER ANIMATION PROJECT
PROMOTIONAL PORTFOLIO
BY JOHN COLEMAN BURROUGHS and BOB CLAMPETT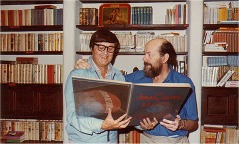 This was one of the finds we came across
during our searches through the Tarzana ERB, Inc. Warehouse
PART I
https://www.erbzine.com/mag21/2175.html
PART II
https://www.erbzine.com/mag21/2176.html



JCB's WWII WORKERS' INSTRUCTION MANUAL
FOR DOUGLAS AIRCRAFT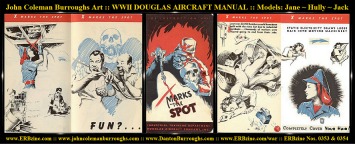 Danton was very proud of this war effort.
His dad had used himself, his wife Jane and brother Hully as models for the art.
https://www.erbzine.com/mag3/0353.html
and
https://www.erbzine.com/mag3/0354.html




THE DANTON BURROUGHS TARZANA ARCHIVE PRESENTS
The Art of Edgar Rice Burroughs


Young Eddie corresponded with his older brothers regularly.
His letters were filled with news items, questions, humorous comments and simple poems --
all illustrated with his own drawings and cartoons.
Later, after he and Emma married he enjoyed documenting many of
their everyday activities and news events with sketches.
Presented here are 12 pages of ERB's art.
https://www.erbzine.com/mag27/2760.html




Edgar Rice Burroughs' John Carter® of Mars
73 Sunday Pages by John Coleman Burroughs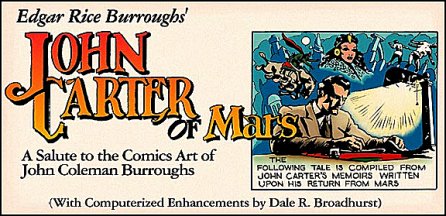 Danton shared a number of John Carter of Mars Sunday pages from his father's archive.
Dale Broadhurst and I tracked down many more.
Dale did graphic enhancemants of most of these, summarized the plot
and expanded the whole series into a full novel.
I then pulled the whole package together and then designed and displayed it across 75 Webpages.
https://www.erbzine.com/mag22/2288.html



EDGAR RICE BURROUGHS
ERB CLIPPING SERVICE SCRAPBOOKS 1933-34
Edgar Rice Burroughs was a dedicated record keeper.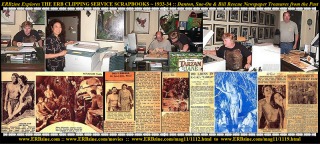 The Danton Burroughs Tarzana Archive contains boxes, folders, suitcases, cabinets, photo albums, journals, and scrapbooks which chronicle the life and times of the Burroughs family.
As is common with many showbusiness people, ERB subscribed to a clipping service which scoured newspapers and magazines for Burroughs and Tarzan references.
As this material was sent to him he collated the clippings into scrapbooks. We spent many hours in Danton's Tarzana offices going through these scrapbooks.
Danton opened the books and passed interesting pages over for me to examine and to unfold the clippings.
We sent a steady stream of clippings for Sue-On to copy on the ERB, Inc. the office photocopier.
We have compiled photocopies of hundreds of these clippings across eight ERBzine Webpages.

https://www.erbzine.com/mag11/1112.html
to
https://www.erbzine.com/mag11/1119.html


THE GHOSTLY SCRIPT
The Last Page of a Rare 28-page Unfinished Script
by Edgar Rice Burroughs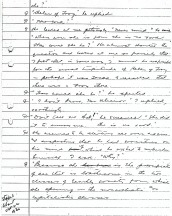 NOTE: ERB started this story in March 16, 1920 - he abandoned the project for over 10 years.
He resumed writing in October 1930 and stopped writing October 22, 1930
This unfinished story remains unpublished.
Danton Burroughs forwarded ERB's handwritten unfinished GHOSTLY SCRIPT manuscript to me back in 2005 -- one of many rare items he shared.

I worked on this story, along with an unfinished Tarzan short story -- YOUNG TARZAN PONDERS -- and carefully "interpretted" ERB's handwritten words and transcribed them for an easier read.

Our plan was to circulate the typed versions to numerous well-known writers who might be interested in finishing the stories. A collection of these versions could then be collated into a book release. Sadly, Danton died before this ambitious project could be completed.


YOUNG TARZAN PONDERS
Page 1 of 5 unreleased handwritten manuscript fragment
by Edgar Rice Burroughs ~ October 28, 1930
Transcribed for limited distribution by Bill Hillman (2005)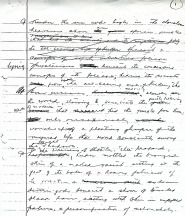 Through the years Danton has shared many unreleased ERB stories. I've typed out each one, but did not release them on the Web until they were published in authorized print editions.

These stories were featured in books edited by numerous ERB fans such as Robert Barrett, Jerry L. Schneider, John H. Guidry, Patrick H. Adkins, Michael Tierney, and others . . . as well as in a number of fanzines.


DANTON'S FAMILY SCRAPBOOK SERIES
Mirrored from our DantonBurroughs.com site



Scrapbooks
https://www.erbzine.com/mag19/1928.html
https://www.erbzine.com/mag19/1944.html
https://www.erbzine.com/mag19/1945.html
https://www.erbzine.com/mag19/1946.html
https://www.erbzine.com/mag19/1949.html
ERB Letters File: Fans and Friends
https://www.erbzine.com/mag20/2081.html
Memorabilia II
https://www.erbzine.com/mag20/2082.html
Odds and Sods from ERB's Miscellanea Drawer
https://www.erbzine.com/mag21/2173.html
Early ERB Correspondence
https://www.erbzine.com/mag19/1979.html
John Coleman Burroughs Memories
https://www.erbzine.com/mag19/1925.html
https://www.erbzine.com/mag19/1926.html
https://www.erbzine.com/mag19/1927.html
JCB The Writer
https://www.erbzine.com/mag19/1982.html
ERB's Tarzana Ranch
https://www.erbzine.com/mag19/1939.html
The ERB / General Charles King Connection
https://www.erbzine.com/mag19/1927.html
Danton the Writer: Book Forewords
https://www.erbzine.com/mag21/2159.html
Tarzana: The Early Years
https://www.erbzine.com/mag20/2089.html
Rare Sketches by JCB
https://www.erbzine.com/mag20/2086.html
Rare Screen Test Photos of Joan Burroughs
https://www.erbzine.com/mag20/2087.html
Jane Ralston Burroughs: Photo ~ Diary ~ ERB Letters
https://www.erbzine.com/mag20/2085.html
ERB Business Letters from the 1920s
https://www.erbzine.com/mag20/2083.html
The ERB / Hagenbeck Connection
https://www.erbzine.com/mag20/2084.html



Our Final Tributes
DANTON REMEMBERED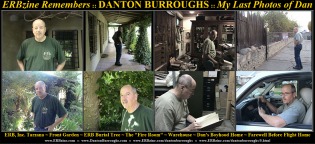 Danton Burroughs, Chairman of the Board of Edgar Rice Burroughs, Inc.
Who Maintained the ERB Legacy Died at Age 63.
THE DANTON BURROUGHS MEMORIAL
was held on May 17, 2008
Tarzana Cultural Centre ~ Tarzana, CA
https://www.erbzine.com/dantonburroughs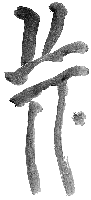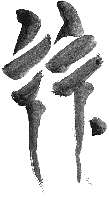 BILL HILLMAN
Visit our thousands of other sites at:
BILL AND SUE-ON HILLMAN ECLECTIC STUDIO
ERB Text, ERB Images and Tarzan® are ©Edgar Rice Burroughs, Inc.- All Rights Reserved.
All Original Work ©1996-2021 by Bill Hillman and/or Contributing Authors/Owners
No part of this web site may be reproduced without permission from the respective owners.