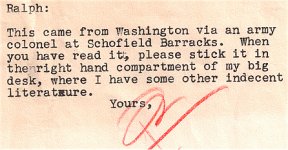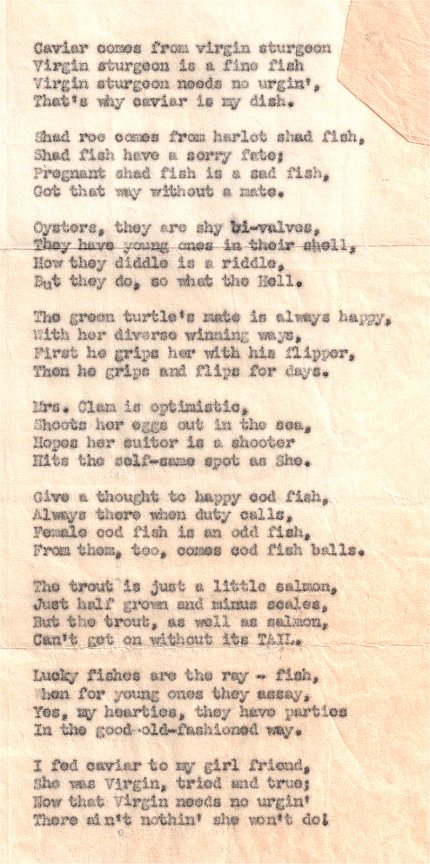 Ralph:
This came from Washington via an army colonel at Schofield barracks. When you have read it, please stick it in the right hand compoarment of my big desk, where I have some other indecent literature.
Yours, OB
---
Caviar comes from virgin sturgeon
Virgin sturgeon is a fine fish
Virgin sturgeion needs no urgin'
That's why caviar is my dish.

Shad roe comes from harlog shad fish,
Shad fish have a sorry fate;
Pregnant shad fish is a sad fish,
Got that my way without a mate.

Oysters, they are shy bi-valves,
They have young ones in their shell,
How they diddle is a riddle,
But they do, so what the Hell.

The green turtle's mate is always happy,
With her diverse winning ways.
First he grips her with his flipper,
Then he grips and flips for days.

Mrs. Clam is optimistic,
Shoots her eggs out in the sea,
Hopes her suitor is a shooter
Hits the self-same spot as She.

Give a thought to happy cod fish,
Always there when duty calls,
Female cod fish is an odd fish,
From them, too, comes cod fish balls.

The trout is just a little salmon,
Just half grown and minus scales,
But the trout, as well as salmon,
Can't get on without its TAIL.

Lucky fishes are the ray - fish,
When for young ones they assay,
Yes, my hearties, they have parties
In the good old-fashioned way.

I fed caviar to my girl friend,
She was Virgin, tried and true;
Now that Virgin needs no urgin'
There aint't nothin' she won't do!