Official Edgar Rice Burroughs Tribute and Weekly Webzine Site
Since 1996 ~ Over 15,000 Webpages in Archive
Volume 6800

Wartime Journals of Correspondent Edgar Rice Burroughs :: December 1942-April 1943
THE DIARY OF A CONFUSED OLD MAN
or Buck Burroughs Rides Again

Written April 1943 ~ Copyright ERB, Inc.
Shared by Danton Burroughs from his Burroughs Family Archive
Transcribed and Illustrated for ERBzine by Bill Hillman

"Hulbert asked for it. So I shall set it down for my children, my children's children,
and any one else dumb enough to want to read it."
~ Ed Burroughs
Back in 2004, Danton Burroughs had his ERB, Inc. office staff photo copy his grandfather's 50-page Wartime Journal from 1942/43.
Dan then shared this and many other rare and interesting documents with me to feature on the ERBzine Tribute Site.
My first step was to summarize the events from the journal and add relevant illustrations compiled from Web searches.
We then uploaded this timeline summary to ERBzine 1035 and ERBzine 1036.
Danton's untimely death disrupted many of the plans we had for ERB-related projects and Step 2 was put on hold. . . until now:

CONTENTS
Our Gallery of Illustrations used in this main journal project:
PART I: 1-25 :: ERBzine 6800a
www.erbzine.com/mag68/6800a.html
PART II: 26-50 :: ERBzine 6800b
www.erbzine.com/mag68/6800b.html
---
An Illustrated Time Line of Events
Covered in this 1942/43 Wartime Journal
Collated and Illustrated by Bill Hillman
Is Featured at:
www.erbzine.com/mag10/1035.html
and
www.erbzine.com/mag10/1036.html
---
The Hillmans Visit Hulbert Burroughs in Tarzana 30 Years Later
http://www.erbzine.com/mag1/0192.html
http://www.erbzine.com/mag1/0193.html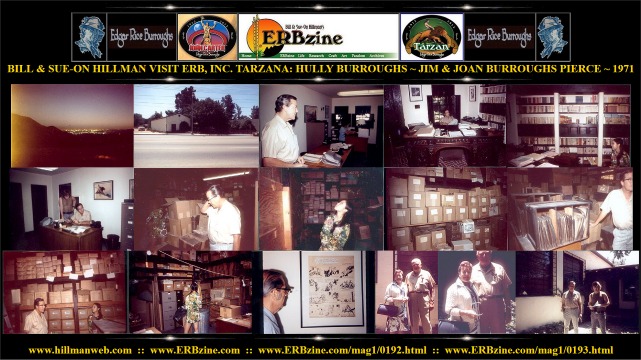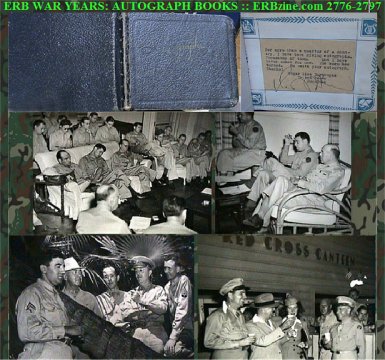 ---
References
ERB: The War Years
www.ERBzine.com/war
ERB's Wartime Autograph Book Series: Introduction
AUTOGRAPHS
NEW CALEDONIA
Dec 1-11
Dec Misc.
Dec 11-14
Dec 14-19
USS SHAW
Feb 1-18
March 18-28
April 1-30
ERB Letters Written to Home During This Time Period
Jan 20 letter


Rare Edgar Rice Burroughs WWII Photos
Col. David Taylor shares eight photos of ERB as a WWII correspondent
from the National Archives in Washington, DC.
www.erbzine.com/mag41/4195.html
www.erbzine.com/mag41/4196.html


---
Off-Site
www.cheminsdememoire.gouv.fr/en/new-caledonia-two-world-wars
www.med-dept.com/unit-histories/27th-station-hospital/
www.flickr.com/photos/kamaaina56/9283080791/in/photostream/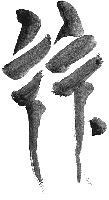 BILL HILLMAN
Visit our thousands of other sites at:
BILL and SUE-ON HILLMAN ECLECTIC STUDIO
ERB Text, ERB Images and Tarzan® are ©Edgar Rice Burroughs, Inc.- All Rights Reserved.
All Original Work ©1996-2019 by Bill Hillman and/or Contributing Authors/Owners
No part of this web site may be reproduced without permission from the respective owners.