Official Edgar Rice Burroughs Tribute and Weekly Webzine Site
Volume 0920
From Tarzana, California
Memories from the
Danton Burroughs
Family Archive
MEMOIRS OF A WAR BRIDE I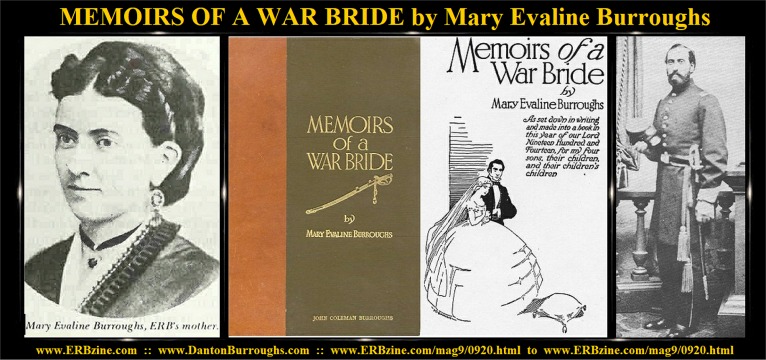 By Mary Evaline Burroughs
(Mother of Edgar Rice Burroughs)
Pages 1 - 8

Mary Evaline Burroughs, at the encouragement of sons Edgar, George, Henry (Harry), and Frank, wrote and distributed her memoirs to all members of the Burroughs family in 1914.
Ed and his brothers collaborated in preparing the book for the printer and in assembling the genealogical sections. The original handwritten manuscript is still preserved at the ERB, Inc. office in Tarzana, California. It is dated Chicago, June 23, 1914 and addressed to "My dear son Edgar."
To us who have heard these memoirs and anecdotes more than once from the lips of our father and mother, they might be, if to anyone, "old stories;" yet to them still clings, for us, all the zest and freshness and infinite interest of a first telling, and so I believe that generations yet but dreamed of who may trace their origin to this strong man and his sweetly noble mate, will find an equal, possibly a greater interest in them; and that they will be thankful for even this brief withdrawal of the impenetrable curtain of time which shall hide from them forever the greater portion of the lives and loves and interests of their forebears.

To those who come after -- a long time after -- this volume will tend to make George and Mary Burroughs more than merely a rather vague conception of two names. It will bring you in whose veins flows the red blood of the Puritan and the Pioneer, bequeathed to you, uncontaminated, by these two, a livlier sense of reality of these ancestors of yours. It will depict them as living, breathing people, who lived and loved as you, let us hope, shall live and love, through fifty years of prosperity and adversity; a personification of what might justly be emblazoned upon the arms of the Burroughs -- Loyalty and Constancy.

~ Edgar Rice Burroughs
Oak Park, Illinois
December, 1914
Richer than any dream of hoarded gold,
Inheritors of virtues manifold,
We count in strength of body and of mind,
The Power of Conquest they have left behind.
"Man lives not to himself alone," and they
Whose Page of Drama we may read today,
By self-denial, industry and thought,
Have lived for us and our endowment bought.
Each generation of another day
This Debt of Honor, then, is yours to pay --
By Soldier courage and sweet woman's grace.
With simple Truth and Goodness thus to trace
As fair a record with us little blame,
As they who gave to us their honored name.
Ella Oldham Burroughs,
November 23rd, 1914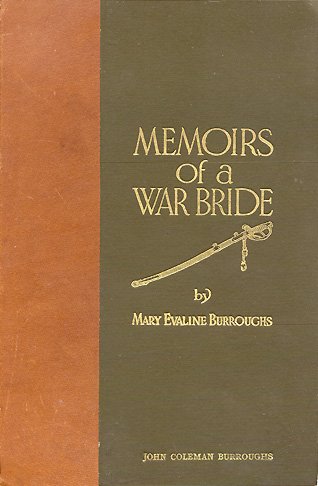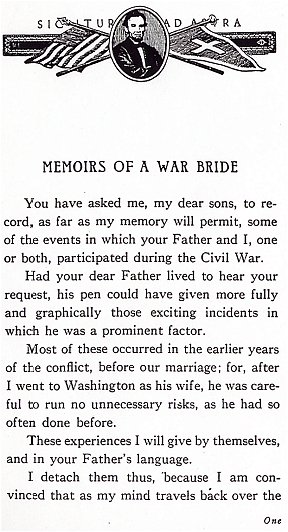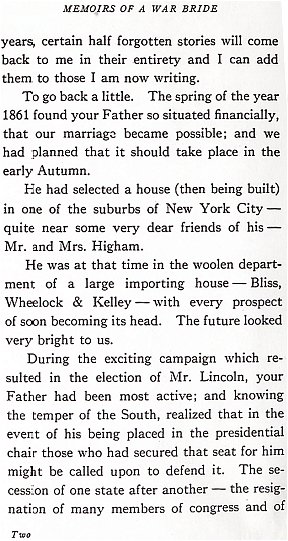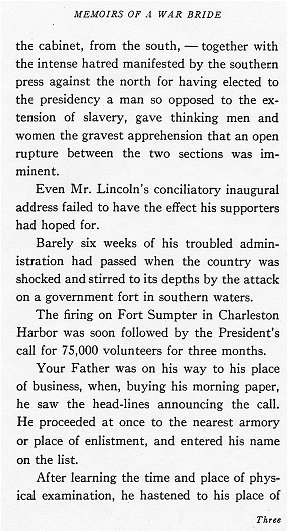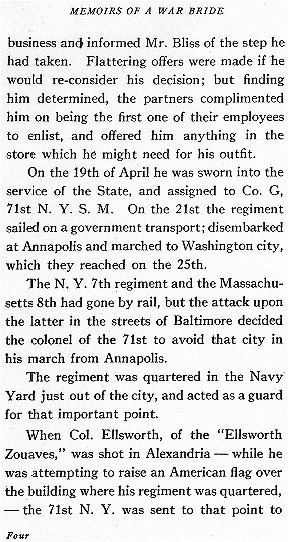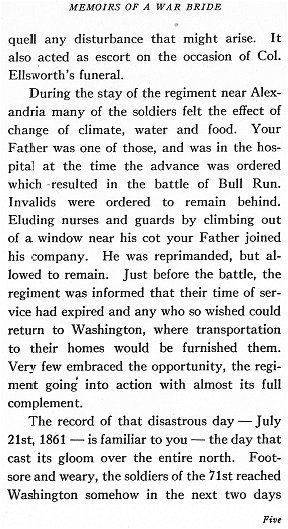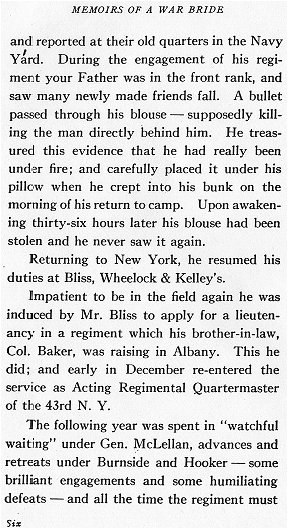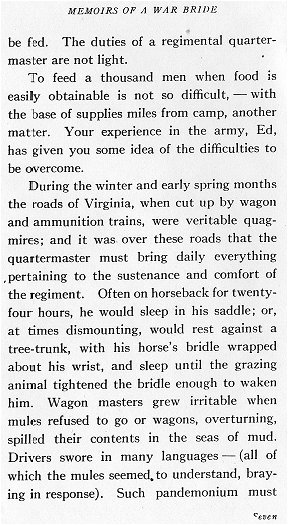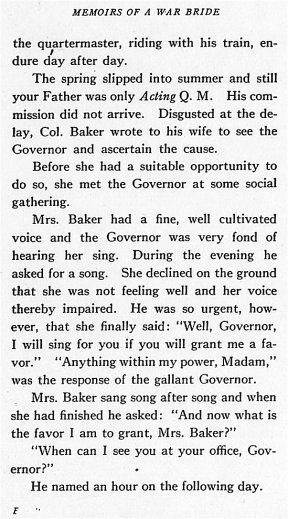 To Be Continued . . .



Volume 0920

WEBJED: BILL HILLMAN
Visit our thousands of other sites at:
BILL AND SUE-ON HILLMAN ECLECTIC STUDIO
All ERB Images© and Tarzan® are Copyright ERB, Inc.- All Rights Reserved.
All Original Work © 1996-2002/2018 by Bill Hillman and/or Contributing Authors/Owners
All scanned material courtesy ERB Inc. Offices
No part of this web site may be reproduced without permission from the respective owners.