Official Edgar Rice Burroughs Tribute and Weekly Webzine Site
Since 1996 ~ Over 15,000 Webpages in Archive
Volume 6354

ERB'S LIFE & LEGACY :: DAILY EVENTS
GO TO OUR FULL YEAR'S CONTENTS
www.ERBzine.com/events
A COLLATION OF THE DAILY EVENTS IN ERB-WORLD
FROM THE PAGES OF THE HILLMANS' ERBzine
Collated by John Martin and Bill Hillman
With Web Design, Added Events, Links,
Illustrations and Photo Collages by Bill Hillman

NOVEMBER CONTENTS: WEEK FOUR
NOV 22 ~ NOV 23 ~ NOV 24 ~ NOV 25
NOV 26 ~ NOV 27 ~ NOV 28 ~ NOV 29 ~ NOV 30

VISIT NOVEMBER WEEK 4 PHOTO ALBUM
www.ERBzine.com/mag63/6354pics.html
BACK TO NOVEMBER WEEK 3
www.ERBzine.com/mag63/6354.html



Click for full-size images
---
NOVEMBER 22
---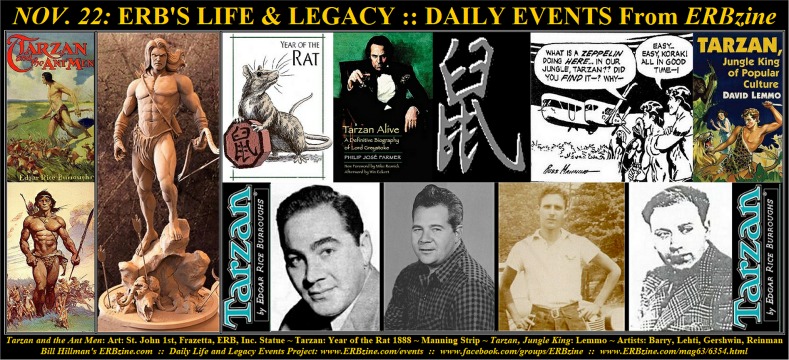 Tarzan and the Ant Men: Art: St. John 1st, Frazetta ACE cover, ERB, Inc. Statue ~ Tarzan: Year of the Rat 1888
Manning Strip ~ Tarzan, Jungle King: Lemmo ~ Strip Artists Controversy: Barry, Lehti, Gershwin, Reinman
---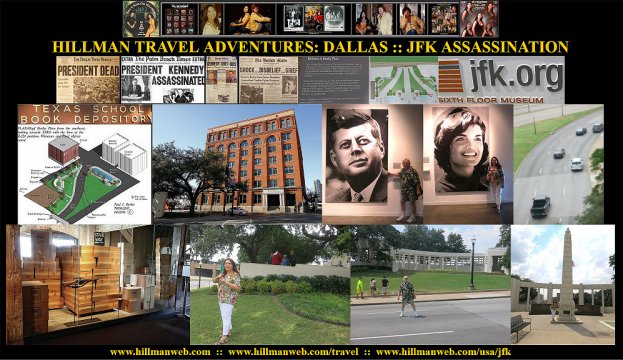 ---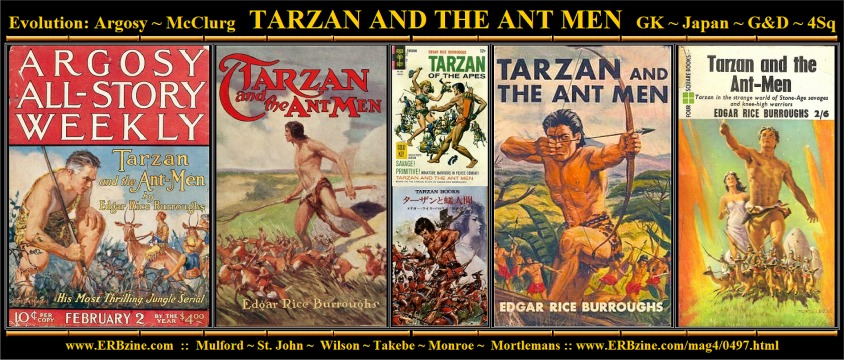 ---
*** 1888: Tarzan is a Rat! Philip Jose Farmer determined the actual birth date of John Clayton, Lord Greystoke, to be November 22, 1888. If this is indeed the actual date of Tarzan's birth, then he is an "Earth Child" and ... a RAT. Rat people are born under the sign of charm and aggressiveness. They can always make a success of their lives as long as they manage to master their perpetual discontent and their insistence on living for the present moment. Rats are self-contained and keep problems to themselves and even though they can be talkative at times, they never confide in anyone. Rats are quick-witted. They are confident and usually have good instincts. Stubborn as they are, they prefer to live by their own rules rather those of others. . . .
He's certainly in good company since a great many famous people are Rats. . . including my own China Princess. . . Sue-On :)
Tarzan the Rat
http://www.erbzine.com/mag2/0212a.html
Tarzan Alive: A Chronology by PJ Farmer
http://www.erbzine.com/mag15/1501.html
---
*** 1963: The world will recall this as the date of the John Kennedy assassination. However, if not for the desire of John Clayton to keep his true identity out of the public eye, in order to shield himself and his family from unwanted attention from the persistent papparazzi, the world would more likely be focused on the birth of Tarzan this date, back in 1888 (at 12:05 a.m., to be precise).
We can thank an esteemed Tarzan researcher, the late Philip Jose Farmer, for digging up this fact and publicizing it in his writings and speeches. However, Tarzan's secret is still safe, since Mr. Farmer's research is shared only among trusted fans, and not accessed by the prying world. Tarzan's birthday along with timelines on other characters from the Wold Newton Universe can be found at pjfarmer.com It needs to be noted that some researchers would disagree with Farmer's determination of the date Tarzan was born. For plenty of good reasons, Greystoke Chronologist James Michael Moody has arrived at the earlier day and year of Sept. 1, 1872:
Appropriately enough, it was on Tarzan's birthday in 1929 that ERB was quoted in the L.A. Times' column, "The Lee Side of L.A.," as saying Tarzan was a good influence on children, based on his observation of the behavior of his own children: "We tried to keep the books from them at first," he said, "but couldn't. They almost know them by heart. And the only bad effect we've ever noticed is that for awhile one of the boys wanted to eat with his hands, because Tarzan did that when a boy." See the third clipping down in the article.
Remembering JFK: ERB Admirer
http://www.hillmanweb.com/usa/jfk/
The Lee Side of L.A.: Times Column
http://www.erbzine.com/mag13/1365.html

Off-Site Reference
Woldnewton Chronology
Moody's Chronology
---
*** 1923: ERB commenced writing Tarzan and the Ant Men on June 20, 1923 and finished it on November 22, 1923 ~ 86,000 words. Tarzan was shrunk to the size of the tiny ant men.
"Originally serialized in seven installements from February to March 1924 in ALL STORY this is a pretty wild adventure with strong elements of satire. People who have only a passing knowledge of Tarzan may think the books are a simple series of fights with wild animals and African tribes, but this book in particular shows a vivid imagination with a good use of extrapolated detail that makes the improbable events more convincing. . .
Underneath the classic pulp adventure is a large dose of Burroughs` social criticism, as we find the Minunians are suffering through their own Prohibition, and that the king has been taxing wealthy people so heavily that they have to work harder than ever just to stay afloat (being rich and famous was not all Burroughs thought it would be. "...those who work hard and accumulate property have only their labor for their effort, since the government takes all from them in taxes.") As satire goes, it`s pretty blatant but not really overbearing, and it provides an interesting counterpoint to the bitter remarks in GULLIVER`S TRAVELS." ~ Excerpt of Hermes Review in ERBzine
Note: Although the G and D cover art for Ant Men is usually credited to C.E. Monroe, Monroe denied having done the art and couldn't identify the actual artist.
Interestingly, on this date in 2018 ERB, Inc. offered fans another in their series of collectibles: A Tarzan statue with the Ant Man with a size of around 50cm.
Tarzan and the Ant Men: History ~ Art ~
http://www.erbzine.com/mag4/0497.html
Tarzan and the Ant Men: Read the e-Text Edition
http://www.erbzine.com/craft/tzant.html
Tarzan and the Ant Men Review by R.E. Prindle
http://www.erbzine.com/mag16/1660.html
Ant Men Gold Key Comic Book Adaptation (Russ Manning)
http://www.erbzine.com/mag25/2574.html
http://www.erbzine.com/mag25/2575.html
Ant Men: Rex Maxons Adaptation in 126 daily strips
http://www.erbzine.com/mag32/3214.html
---

*** Speaking of John Kennedy, David Lemmo, in his book, "Tarzan, Jungle King of Popular Culture," reports: "On the 15th of that month [February 1926], Edgar signed a contract with Joseph P. Kennedy's FBO and R-C Pictures for the production of a new Ape-Man film adventure, 'Tarzan and the Golden Lion.' Kennedy was father of future president of the United States, John F. Kennedy."
A reminder that David Lemmo and partner Rachael Wenban lost their home in Paradise, Calif., in the recent devastating fires. One way to help them is to buy David's books about ERB's Tarzan, John Drake and Frankenstein through Amazon.:
"Tarzan, Jungle King. . ." by David Lemmo
http://www.erbzine.com/mag62/6264.html#lemmo

Off-Site References
Lemmo Books on Amazon
David Lemmo Go-Fund-Me
---
*** 1947: The John Lehti Controversy: John Lehti was claimed to have taken over the daily Tarzan strip on this date which he ghosted for Dan Barry for 10 weeks. But, according to Ron Goulart, who had an interview with John Lehti, Lethi did NOT do the Tarzan dailies. But Vern Coriell did an interview with John Lehti and Dan Barry in which they claimed that Lehti was ghosting for Barry and DID the Tarzan daily. Jostein Hansen of Norway claims that strips 2719-2832 and 2893-2958 were mainly ghosted by Emil Gershwin. Emil's father, Aaron, was George and Ira Gershwin's uncle.
Tarzan and the Fires of Tohr
http://www.erbzine.com/mag34/3442.html
http://www.erbzine.com/mag34/3434.html
Off-Site Reference:
Lehti in Pulp Artists
Emil Gershwin Bio
---
*** 1971: Tarzan Returns to the Earth's Core daily strips by Russ Manning: November 22, 1971 - July 29, 1972 ~ Strips: 10093-10308
Tarzan Returns to the Earth's Core by Russ Manning
http://www.erbzine.com/mag29/2942.html

---
NOVEMBER 23
---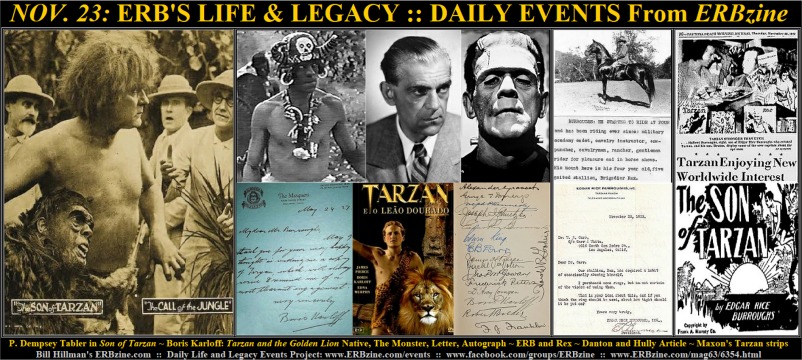 P. Dempsey Tabler in Son of Tarzan ~ Boris Karloff: Tarzan and the Golden Lion Native,
The Monster, Letter, Autograph ~ ERB and Rex ~ Danton and Hully Article ~ Maxon's Tarzan strips
---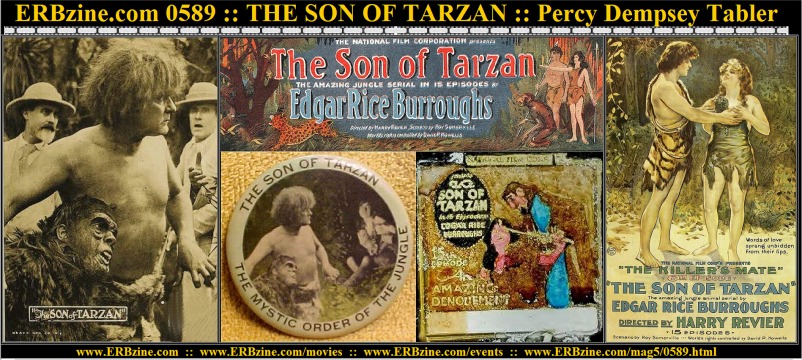 ---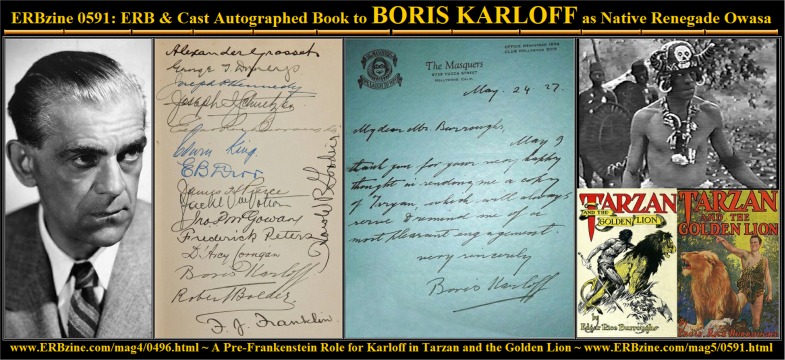 ---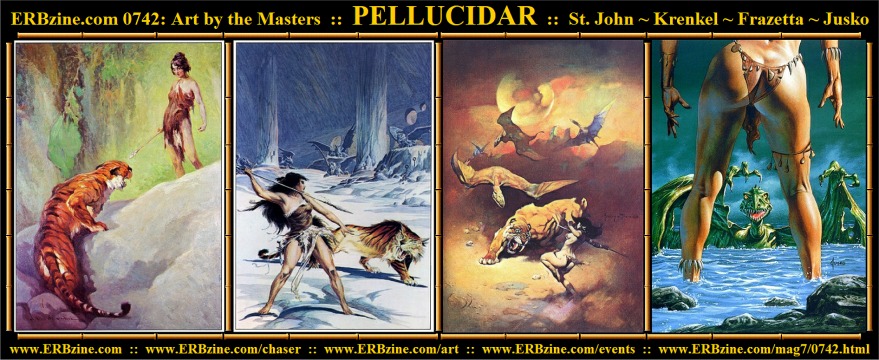 ---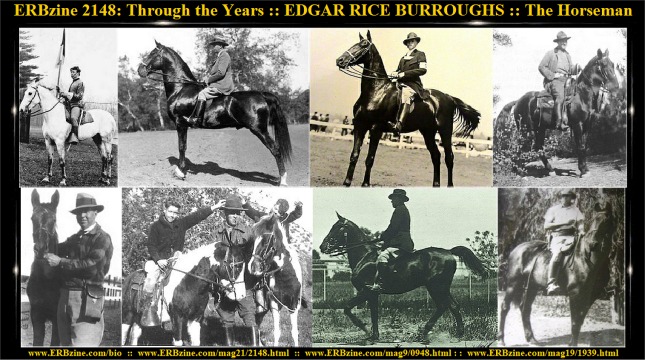 ---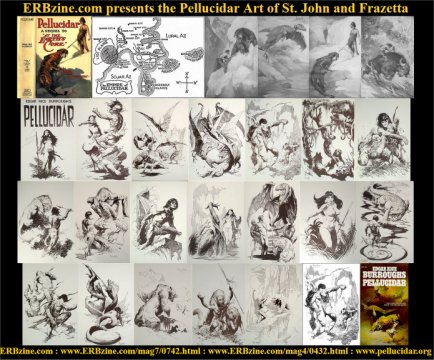 ---
*** 1876: When Perce Dempsey Tabler was born on Nov. 23, 1876, one-year-old ERB was far from even considering the idea that some day he would write a novel titled "The Son of Tarzan," and that it would be made into something known as a "movie." But P. Dempsey Tabler, minus a hairbrush, grew up to play Tarzan in that very film.
Scott Tracy Griffin noted in his book: Tarzan Centennial Celebration that the actor chosen to play Tarzan in The Son of Tarzan 1920 was "One of the more unconventional castings, Tabler, a 40-year-old opera singer, broke several ribs and had to wear bindings for much of the rest of the movie, taking them off for photography. The marks from the bandages are clearly visible in some of the film stills. Tabler performed real-life heroics on the set when he spotted an escaped lion stalking a small boy, and charged it, scaring it away with a fierce yell."
Son of Tarzan 1920: Credits ~ Trivia ~ Stills ~ Ads
http://www.erbzine.com/mag5/0589.html
Son of Tarzan: The Novel
http://www.erbzine.com/mag4/0487.html
Tarzan Centennial Celebration by Scott Tracy Griffin
http://www.erbzine.com/mag39/3946.html
---
*** 1887: Boris Karloff who played Owaza, a villain, in "Tarzan and the Golden Lion," was born on this date. Back then, in Camberwell, London, England, he was known as William Henry Pratt.
I've featured interesting memorabilia on my Golden Lion Movie Edition page including a Karloff "thank-you" letter to ERB as well as his signature with all the other cast autographs. He appeared in full native make-up and costume in the film.
Tarzan and the Golden Lion: Film Credits ~ Photos
http://www.erbzine.com/mag5/0591.html
Tarzan and the Golden Lion: Movie Edition Book
http://www.erbzine.com/mag4/0496.html
Tarzan and the Golden Lion: Read the e-Text
http://www.erbzine.com/craft/t9gl.html
Golden Lion Film Stills Webpages and Collages
http://www.erbzine.com/mag6/0640.html
http://www.erbzine.com/mag6/0641.html
Special Screen Showing at the 2014 Fargo ECOF
http://www.erbzine.com/mag50/5045.html

Off-Site Reference:
Karloff Site
---
*** 1929: On Saturday, Nov. 23, 1929, the L.A. Times ran a story announcing that the last strip in Rex Maxon's adaptation of "The Beasts of Tarzan" was appearing in the newspaper that day. However, fans need not be forlorn, because the next ERB story, "The Son of Tarzan," would be picked up starting that Monday. The Times had a nice article to announce the new storyline on the comics page, the type of article you seldom -- if ever -- see in newspapers today. All 96 strips are reproduced in ERBzine starting at ERBzine 2041
LA Times Announces Son of Tarzan To Start
http://www.erbzine.com/mag20/2040.html
Son of Tarzan: 96 Strips by Rex Maxon
http://www.erbzine.com/mag20/2041.html
Son of Tarzan Newspaper Serial Illustrations
http://www.erbzine.com/mag17/1752.html
---
*** 1923: "BURROUGHS: HE STARTED TO RIDE AT FOUR and has been riding ever since: military academy cadet, cavalry instructor, cowpuncher, cavalryman, rancher, gentleman rider for pleasure and in horse shows. His mount here is his four year old, five gaited stallion, Brigadier Rex"
ERB sent a telegram to veterinarian Dr. Carr in LA: "Our stallion, Rex, has acquired a habit of occasionally abusing himself. I purchased some rings, but am not certain of the wisdom of using them. What is your idea about this, and if you think the ring should be used, about how tight should it be put on?"
Carr responded: "Rings are commonly used. Just put on loose just so they will stay on and when erection takes place it pinches them so they will not abuse themselves. Wear it for a week or so then remove for a week and repeat again a week. If he continues to do so when off keep it on continually. If they are not to tight will do no harm."
Danton Burroughs Scrapbook: Tarzana Ranch I
http://www.erbzine.com/mag19/1939.html
Horse Talk: Burroughs Family Horses
http://www.erbzine.com/mag21/2148.html
My Diversions by Edgar Rice Burroughs
http://www.erbzine.com/mag9/0948.html
---
***1972: TARZAN STRONGER THAN EVER :: TARZAN ENJOYING NEW WORLDWIDE INTEREST
PHOTO CAPTION: Hulbert Burroughs, son of Edgar Rice Burroughs who created Tarzan and his son, Denton (sic), displayed some of the new reprints about the ape-man. ~ Daytona Beach Morning Journal ~ November 23, 1972 ~ Read the article which I've transcribed for easier reading.
Tarzan Stronger Than Ever
http://www.erbzine.com/mag7/0701.html
---
1914: From November 23 - January 11, 1915: ERB wrote Pellucidar (60,000 words). ERB prepared a long glossary and drew maps. It was serialized in All-Story Weekly from May 8, 1915 May, 8 - May 29, 1915. The first edition was published by A.C. McClurg on September 5, 1923.
Pellucidar: History ~ Art ~ Covers ~ Map
http://www.erbzine.com/mag7/0742.html
Pellucidar: Read the eText Edition
http://www.erbzine.com/craft/p2p.html
St. John and Frazetta Pellucidar Art Collage
http://www.erbzine.com/cards/art/pellartall.jpg
---
NOVEMBER 24
---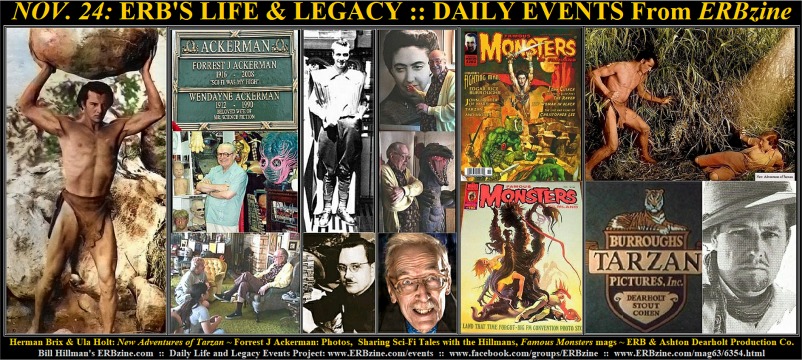 Herman Brix and Ula Holt: New Adventures of Tarzan ~ Forrest J Ackerman: Lifetime Photos,
Sharing SciFi Tales with the Hillmans, Famous Monsters mags ~ ERB and Ashton Dearholt Production Co.
---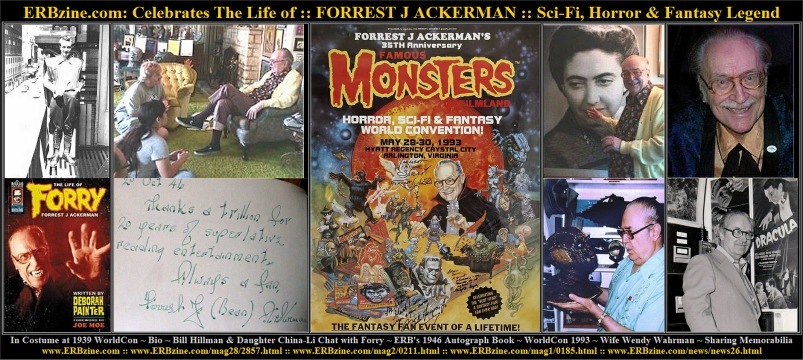 ---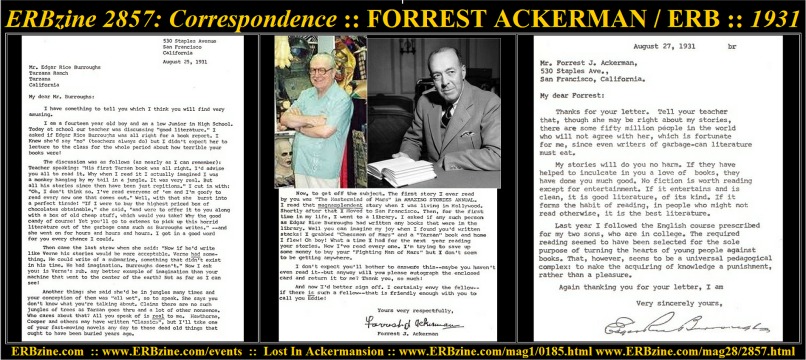 ---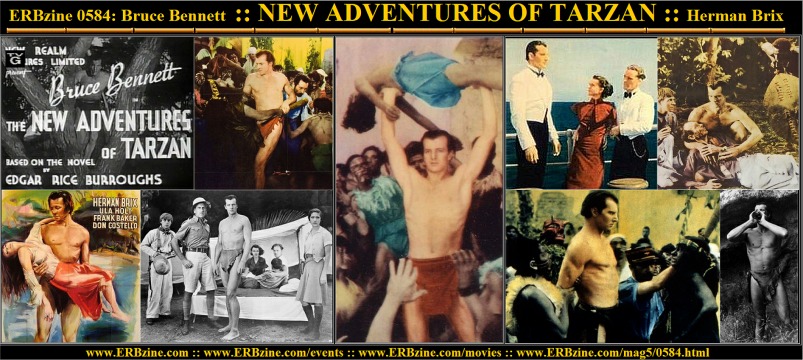 ---
*** Forrest J Ackerman (1916.11.24-2008.12.04): Forry is legendary in science-fiction circles as the founding editor of the pulp magazine Famous Monsters of Filmland. Although this title debuted in the late '50s, I didn't discover it until later when I became a great fan and collector of Warren magazines: Kurtzman's Help!, Creepy, Eery, Blazing Combat, The Spirit, Vampirella, etc. He was also the owner of a huge private collection of science-fiction movie and literary memorabilia that for years filled every nook and cranny of a hillside mansion overlooking Los Angeles. His collection once included more than 50,000 books, thousands of science-fiction magazines and such items as Bela Lugosi's cape and ring from the 1931 film "Dracula."
Another major achievement was the discovery of Ray Bradbury. Ackerman had placed a flyer in a Los Angeles bookstore for a science-fiction club he was founding and a teenage Bradbury showed up. As a literary agent, Ackerman represented Bradbury, Isaac Asimov, L. Ron Hubbard, A.E. van Vogt, Ray Cummings, Hugo Gernsback and numerous other science-fiction writers. He said the term "sci-fi" came to him in 1954 when he was listening to a car radio and heard an announcer mention the word "hi-fi." He was also co-creator of the popular comic book superheroine Vampirella.
Forry was Guest of Honor at the 1999 Tarzana Dum-Dum and invited us to his Ackermansion the next day. We spent hours marvelling at his collection of books, movie memorabilia, magazines, photos, film props, etc. jammed floor to ceiling in all 18 rooms of his two storey home. I took many photos, many of which I've shared in my ERBzine Feature: Hillman Lost In Ackermansion.
He was very proud of the giant portrait of his late wife, Wendayne (Wendy) Wahrman (1912–1990). Wendayne (the name Forry created for her) translated "Tarzan, The German Eater" from German to English and I've featured it in my ERB/German Incident series.
Mr. Science Fiction took a break from his tour guide role to sit with Sue-On, our young daughter China, and I and to share many memories of his long career as writer, editor, agent, and collector of all things Sci-Fi. He told of his love of the Burroughs books and how, as a teenager he had started a letter correspondence with ERB and later visited the Master of Sci Fi and Fantasy Adventure at his home in Tarzana. I've featured these letters and Forry's description of his visit with ERB in the accompanying links.
Following our long chat, Forry proudly led the three of us out onto his balcony overlooking LA and into his dungeons under the house where I took photos of coffins, creepy figures, bodies . . . and cobwebs. Then it was back to the stacks to explore and handle so many of Forry's treasures. I know of few collectors who would invite strangers into his home and to let them roam through a trove lovingly collected over a lifetime. When we left he gave us autographed photos to remind us of the visit.
After we returned to Brandon I followed news items on Forry and shared them in our ERBzine News and Eclectica pages. Later reports were very disturbing. I sadly reported his failing health, his selling off much of the collection to pay for health and legal bills, loss of his house, his eventual death, and his obituary. The reports of his mansion and so many of his treasures being sold were upsetting. Even more upsetting were reports of so much of his collection being thrown into trash dumpsters when the house was being cleared for the new owners. I and so many of my collector friends can identify with this as we enter our final years.
My buddy John Martin has also shared memories of what Forry meant to him. I've included his text in a companion page at: martin1
Forrest J Ackerman / ERB Letters
http://www.erbzine.com/mag28/2857.html
Forry Ackerman's Visit with ERB
http://www.erbzine.com/mag2/0211.html
Hillmans Lost in Ackermansion
http://www.erbzine.com/mag1/0185.html
http://www.erbzine.com/mag1/0186.html
Visit Collage
http://www.erbzine.com/cards/archive/forryall.jpg
Tarzan, the German-eater
translated by Wendy Wahrman-Ackerman
http://www.erbzine.com/mag32/3295.html
Sci-Fi's Grand Old Man Dies At 92
http://www.erbzine.com/news/news26.html

Off-Site References
Tour of Ackermansion Video
Ackerman "Museum"
---
1934: November - end: Ashton Dearholt's Tarzan film expedition sailed for Guatemala. For his film production company, ERB had outlined a new story Tarzan and the Green Goddess, which the screenwriters had renamed Tarzan in Guatemala. Dearholt had visited the country in 1933 as a trouble-shooter for RKO-Radio Pictures. He felt that he knew enough about the country, had the contacts there including within the government, and could make the film far more economically than in Hollywood. The company had no studio and so it was decided to film on location instead. Unfortunately, Dearholt ran out of money before leaving for Guatemala so ERB had to reluctantly involve himself as co-signatory and the loan was approved the day before the party was due to sail. Therefore, in November 1934, Dearholt "led an expedition" of 29 cast and crew, with several tons of freight, aboard the liner Seattle to begin filming in highland ruins in Guatemala.
ERB: Film Producer
http://www.erbzine.com/mag2/0287.html
New Adventures/Green Goddess
http://www.erbzine.com/mag5/0584.html
---
*** On Nov. 24, 1943, Lt. Cmdr. John Hall Allen wrote in ERB's autograph book:
Edgar Burroughs, here's to you
Your pen travels fast and true
Tarzan brave and jungle dense
How are you, and where, and whence.
ERB's Autograph Pages November 1943
http://www.erbzine.com/mag27/2786.html
---
*** More Notes from the ERB Journals
1912: The Pioneer published at Camp E. S. Otis in the Canal Zone published ERB's November 13th letter answering a fan letter from one of the troops.
1925: Emma had gallbladder surgery and later suffered from arthritis.
1930: ERB wrote: "We are hoping that our future address will be Tarzana Ranch, Tarzana Drive, Tarzana, California, which ought to be the height of something or other."
1930: ERB rode out with Jack to inspect damage from the recent storm. The gale had blown down a favourite old sycamore tree and others -- "like losing an old friend." Ed and Emma drove into Hollywood to see Minn and Bill starring Marie Dressler and Wallace Beery.
ERB Bio Timeline
http://www.ERBzine.com/bio

---
NOVEMBER 25
---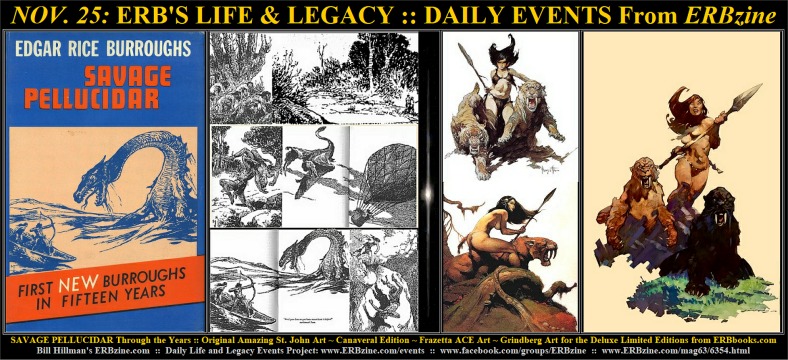 SAVAGE PELLUCIDAR Through the Years :: Original Amazing St. John Art ~ Canaveral Edition
Frank Frazetta ACE Art ~ Grindberg Art for the Deluxe Limited Editions from ERBbooks.com
---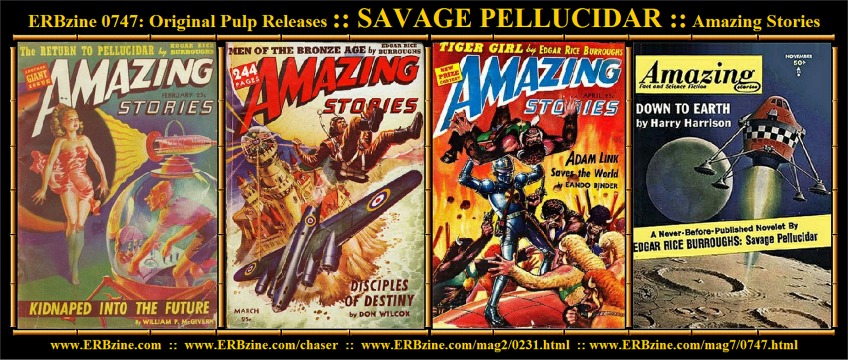 ---
*** 1963: Savage Pellucidar (1st edition) was published with 274 pages was published on this date. ERB had originally planned to name the book: Girl of Pellucidar.Three of the stories that make up this 1963 first edition hardcover were first published in 1942 in Amazing pulp magazine: "The Return to Pellucidar" ~ "Men of the Bronze Age" ~ "Tiger Girl" with two interior St. Johns in each issue. These six St. Johns plus a cover were included in the Canaveral. The fourth story: "Savage Pellucidar" had remained unpublished until it appeared in Amazing in 1963 with three Larry Ivie illustrations. It was a thrill to see it appear on the newstands. . . and an even greater thrill later to see all stories finally collated in the Canaveral hardcover.
Thanks to Jim Gerlach's ERBbooks.com two splendid, lavishly illustrated editions under the BURROUGHS and GROSSET & DUNLAP banners were published in twin Special Limited Collector editions in 2018. An amazing amount of work went into these twin releases and Jim had collated virtually all the Savage Pellucidar art that has appeared since 1942. OB would be very proud.
Canaveral Publications
http://www.erbzine.com/mag28/2805.html
Savage Pellucidar: History ~ Art
http://www.erbzine.com/mag7/0747.html
Savage Pellucidar: Read the e-text
http://www.erbzine.com/craft/p7savagepellucidar.html
The ERB, Inc. Authorized Editions: ERBbooks.com Limited Edition
http://www.erbzine.com/mag62/6264.html#savage
Pulp Biblio: Savage Pellucidar serialized in Amazing
http://www.erbzine.com/mag2/0231.html
---
*** 1929: ERB answered a letter from a New York fan who wanted to know when his Efficiency Expert would be published. He explained that his publisher limited his releases to two a year and since he was such a prolific writer there was a backlog of material to see book release.
Letter to Fan
http://www.erbzine.com/mag7/0719.html
---
*** 1930: Ed had an 11 A.M. operation at Hollywood Hospital. Suffering severe pain from a bladder obstruction, he had a series of operations. The condition, called epididymitis, involved an inflammation related to the testicles. Two operations were performed at the Hollywood Hospital - November and January. The bill was $2,551.45.
ERB Bio Timeline
http://www.ERBzine.com/bio

---
NOVEMBER 26
---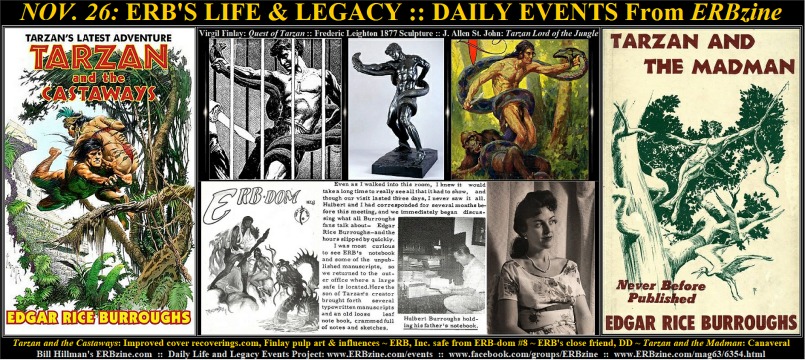 Tarzan and the Castaways: Improved cover recoverings.com, Finlay pulp art and influences
ERB, Inc. safe from ERB-dom #8 ~ ERB's close friend, DD ~ Tarzan and the Madman: Canaveral
---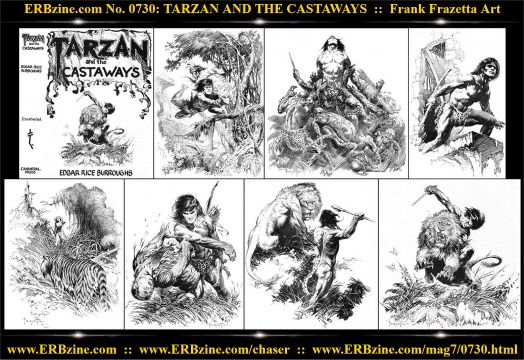 ---
*** 1963: Unpublished Manuscripts in ERB's Safe: Geraldo Rivera would have had a much more interesting time opening Edgar Rice Burroughs's safe than he had opening Al Capone's. The New York Times, on Nov. 26, 1963, printed a story about the discovery of unpublished manuscripts in Edgar Rice Burroughs's safe. However, the New York Times was not the first one to know about those.
It was always known, at least by those in the office and family members, that ERB had a safe and that there were manuscripts in there, but it was, apparently, just assumed they were manuscripts of stories that had already been published. At some point -- does anyone know exactly when? -- it was discovered that, among those manuscripts, were totally new stories!
According to ERBzine 0326:
"Not long after Edgar Rice Burroughs died in March, 1950, rumors were whispered that ERB had left in his massive office safe many unpublished manuscripts. For years this legend retained its currency among science-fantasy fans. And now -- from Hulbert Burroughs, ERB's son -- comes confirmation."
This is the type of rumor that seems to surface about most successful authors. In some cases, such as Ian Fleming's "The Man with the Golden Gun," it was true. In some other cases, such as John D. McDonald's "Travis McGee" series and Donald Hamilton's "Matt Helm," it apparently was not true.
At some point in the past, family members realized there were unpublished stories in that safe. But at what point? Did they know about them all along, or was there a time when someone was going through the safe, grabbed a manuscript with an unfamiliar title, and exclaimed: "What's this?"
In any case, The New York Times was "scooped" several months before, when The Knickerbocker News of Albany, N.Y., printed on April 30, 1963, the article. Bill Hillman keyed the article into Bob Hyde's Odyssey of a Tarzan FANatic. Read it all at ERBzine 0695.
Some of those have been published since that article appeared, but certainly not all. It is my understanding that "If Tarzan Came to Hollywood" is actually the same story that is found as the last chapter of "Tarzan and the Lion Man," but not having seen the manuscript for "Came to Hollywood," I can't say for sure. The biography was not published in "Tarzan and the Madman" by Canaveral. It is likely that Irwin Porges may have drawn extensively from it in his research for writing "Edgar Rice Burroughs: The Man Who Created Tarzan."
Knickerbocker "Article on the ERB, Inc. Safe Contents
http://www.erbzine.com/mag6/0695.html
Tarzan and the Madman
http://www.erbzine.com/mag7/0731.html
---
*** In the December 1963 issue of ERBdom (No. 8), Caz reported on a trip he took to ERB Inc. in which Hulbert Burroughs gave him a peek at some of the unpublished manuscripts. He wrote: "I was most curious to see ERB's notebook and some of the unpublished manuscripts, so we returned to the outer office where a large safe is located. Here the son of Tarzan's creator brought forth several typewritten manuscripts and an old looseleaf notebook, crammed full of notes and sketches."
Caz mentioned that Hulbert had said he was considering publishing ERB's notebook someday. Perhaps it will be among the ERB books to be published over the next few years by ERB Inc.
The news about the unpublished manuscripts was a pleasant surprise to many in the early 1960s, but apparently their existence was known for years, and needed only the enthusiastic Burroughs Boom of the 60s to convince ERB Inc. that someone just might be interested in reading those unpublished stories after all!

*** Danton had shared photocopies of ERB's journals and I've shared much of ERB's Journal writings across ERBzine in various articles, The ERB Bio Timeline, The ERB Annotated Calendar, DantonBurroughs.com, many Wartime Journals, and this current ERB Life and Legacy Daily Events project.
Sue-On and I visited Hully in the Tarzana office in 1971 after the contents of the safe had been pretty much explored and itemized. After guiding us through the office treasures, Hully led us next door to the warehouse where we had a great time exploring and taking photos. Twenty-five years later Danton and I spent much time in the warehouse -- cataloging and scanning rare items. I have very few interior photos on that visit since security had tightened and access to the building was very limited.
Caz's Tarzana visit: ERB-dom #8
http://www.erbzine.com/mag29/2991.html
Hillman Tarzana visit with Hully, Joan and Jim
http://www.erbzine.com/mag1/0192.html
http://www.erbzine.com/mag1/0193.html
ERB-dom Illustrated Index (5 pages)
http://www.erbzine.com/mag1/0117.html
Diary of a Confused Old Man: WWII Journals
http://www.erbzine.com/mag68/6800.html

---
*** 1940: November 26 - December 13: Tarzan and the Castaways of the "New Tarzan Series" is written (37,000 words).
Tarzan and the Castaways: History ~ Art ~ Reviews
http://www.erbzine.com/mag7/0730.html
Tarzan and the Castaways: eText Edition
http://www.erbzine.com/craft/tzcast.html
Frazetta Castaways Art Collage
http://www.erbzine.com/cards/art/frazettacastawaysall.jpg
---
1944: Ed met George and Dorothy Dahlberg at Joan's. Ed went home with the Dahlberg's to spend the night with his new friends. This was the start of a close relationship with the Dahlbergs -- especially Dorothy.
ERB's Friend Dorothy Dahlberg
http://www.erbzine.com/mag62/6278.html

---
NOVEMBER 27
---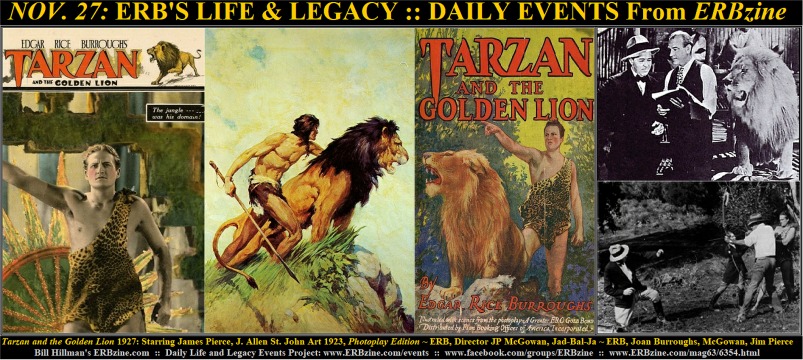 Tarzan and the Golden Lion 1927: Starring James Pierce, J. Allen St. John Art 1923, Photoplay Edition
ERB, Director JP McGowan, Jad-Bal-Ja ~ ERB, Joan Burroughs, McGowan, Jim Pierce
---
*** In the 1930 version of "Moby Dick," Ahab was portrayed as a friendly soul with a romantic interest and actually survived the trip to hunt the white whale. He successfully harpoons Moby Dick and kills him. The crew boils the whale down for oil, and they return to New Bedford, where Ahab and his sweetheart are reunited. That movie sure opened my eyes to how much liberty film makers can take with converting an author's words to celluoid!
And so it has been with the transfer of ERB's characters and plots from printed page to cinema screens.
One example is "Tarzan and the Golden Lion," released just three years before Moby Dick, in March of 1927. Anyone who had read the photoplay edition of the book would realize right away that the movie was far different from the book, just by comparing the four photos (and their captions) in the book with what the novel actually said. Years before, I had read a photoplay edition of Jules Verne's "Twenty Thousand Leagues Under the Sea" and the photos in that didn't match the story either. Even Disney, many years later, took his own liberties with Verne's original.
One unfamiliar with the Tarzan books, though, might have thought that articles like the one in The Mansfield News on Nov. 27, 1927, were accurately describing the plot of ERB's book.
If James Pierce, who starred as Tarzan, read this article, or one like it, he might have groaned at the part about the "masterful direction" of McGowan. Said Pierce later: "Because of poor direction, terrible story treatment and putrid acting, the opus was a stinkeroo. I emerged with nothing to show for my strenuous effort except being typecast as Tarzan. I was out of a job."
Tarzan and the Golden Lion: Mansfield News Article
http://www.erbzine.com/mag11/1196.html
Tarzan and the Golden Lion: Facts ~ Photos ~ Links
http://www.erbzine.com/mag5/0591.html
Tarzan and the Golden Lion: Photoplay Edition
http://www.erbzine.com/mag4/0496.html
Pierce's Autobio: The Battle of Hollywood
James Pierce discusses working with McGowan
http://www.erbzine.com/mag27/2730.html
Screen Capture Collages I
http://www.erbzine.com/cards/film/golden1all.jpg
Screen Capture Collages II
http://www.erbzine.com/cards/film/golden2all.jpg
---
*** How many of you would like to see the movie, "Tarzan the Untamed"? I think we would all like to see that movie, but we can't. And Gomer Pyle wasn't able to see it either because he was roped in to taking the colonel's daughter to a dance. Watch about three and a half minutes of this episode, "A Date for the Colonel's Daughter," from Nov. 27, 1964, to find out what Gomer (Jim Nabors) was looking forward to seeing in the movie.
Gomer Dates The Colonel's Daughter
http://www.erbzine.com/mag62/6278.html
Tarzan the Untamed
http://www.erbzine.com/mag4/0493.html

Off-Site Reference
Gomer Pyle
---
*** 1913: ERB started the 25,000-word "Nu of the Neocene" and finished in 20 days.
Eternal Lover: Nu of the Neocene Pt. I
http://www.erbzine.com/mag7/0759.html
---
***1934: Ed wrote in his diary that Emma was bent on ruining him.
1940: Rothmund sent word that feedback on Tarzan and the Jungle Murders and "The Giant of Mars" was bad - many fans did not believe that ERB had written them.
ERB Bio Timeline
http://www.ERBzine.com/bio

---
NOVEMBER 28
---
Cathy Mann Wilbanks: VP ERB, Inc., Tarzana ~ Tarzan At The Earth's Core: Metropolitan 1st Ed with
St. John DJ & FP Art ~ Canaveral Ed. Frazetta DJ/inside Art ~ Ace PB Frazetta Art ~ Gold Key Comic
---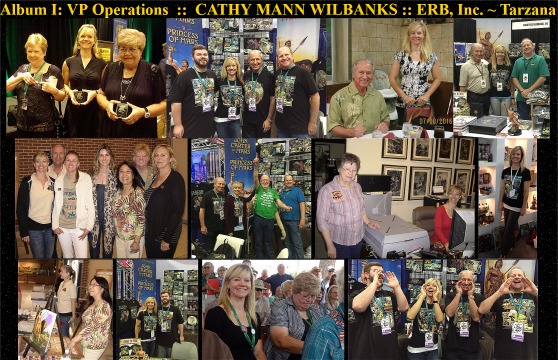 ---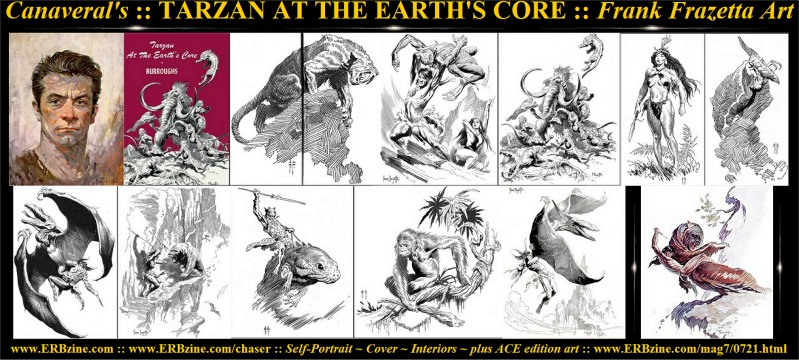 ---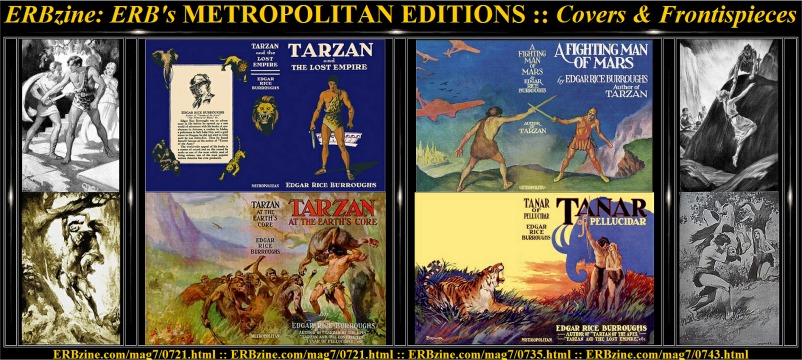 The Four ERB Books Published by Metropolitan Books
Tarzan and the Lost Empire ~ 1929 :: Tarzan At The Earth's Core ~ 1930
Tanar of Pellucidar ~ 1930 :: A Fighting Man of Mars ~ 1931
---
*** Cathy Mann Wilbanks was born on this date. Cathy is Vice President of Operations of Edgar Rice Burroughs, Inc., Tarzana, California
In recent years, Ms. Wilbanks served as Archivist, where she oversaw the company's vast library of historical publications, artwork and other artifacts owned by the company.
She is responsible for all internal operations and continues to assist in marketing.
Ms. Wilbanks, who joined ERB, Inc. in 1984, holds a Bachelor's degree in Education and Masters of Education from California State University Northridge.
Cathy Mann Wilbanks Photo Galleries
http://www.ERBzine.com/cathy
Edgar Rice Burroughs, Inc.
http://www.edgarriceburroughs.com
---
*** 1930/1963: "Tarzan at the Earth's Core" was published Nov. 28 -- twice.
The first-ever hardbound of the mid-series Tarzan book was published by Metropolitan on Nov. 28, 1930. It sold for $2.
The Canaveral edition was published on Nov. 28, 1963. Its price was $2.95.
Apparently, prices for new books had not gone up that much in 33 years. Too bad the same can't be said for books published 33 years and more after the Canaveral edition!
This was the second and last Tarzan book published by Metropolitan, the first being "Tarzan and the Lost Empire." After Metropolitan published four ERB books, including the non-Tarzan books "A Fighting Man of Mars" and "Tanar of Pellucidar," Burroughs himself started his own publishing company.
"Tarzan at the Earth's Core" is a unique volume in ERB's world, being a crossover between his Tarzan series and his series about the inner world of Pellucidar. At the end of the third Pellucidar book, "Tanar of Pellucidar," inner world hero David Innes is languishing in a Korsar dungeon. An Earth expedition is mounted to rescue him and enters Pellucidar via a Zeppelin through an opening in the North Pole that leads to the Earth's interior. Tarzan goes along as a member of that rescue expedition.
The book also has a detailed foreword to acquaint Tarzan readers with the singular characteristics of Pellucidar, including its prehistoric inhabitants and its anomaly with regard to the passing of time.
The first edition of "Tarzan at the Earth's Core" featured a wonderful J. Allen St. John wraparound dust jacket with Tarzan battling Sagoths in Pellucidar.
Canaveral's edition is a much-sought after book due to its cover and eight interior illustrations by Frank Frazetta. Frazetta illustrated just two of the Canaverals -- both of them Tarzans. The other one was "Tarzan and the Castaways," published just over a year later.
For those who own both the Canaveral hardback and the Ace paperback, there is an expanded look at Tarzan's battle with the giant cave bear. In this exciting sequence, Tarzan has to use each of his weapons to win his way to victory. He first shoots the bear with his last four arrows, then gives it a dose of his spear (the scene opposite page 158 of the Canaveral). He then uses his rope to get above it and finally lands astride the creature after his rope breaks. He administers the coup de grace with his knife (pictured on the cover of the Ace paperback).
ERB gets a lot of mileage out of this battle, starting it at the end of one chapter, followed by a chapter about Jason and Jana, and then winding up the battle in the chapter after that. That's why ERB's books are known as "page turners."
Tarzan At the Earth's Core: History ~ Art ~ Reviews
http://www.erbzine.com/mag7/0721.html
Tarzan At the Earth's Core: Read e-Text Edition
http://www.erbzine.com/craft/p4tzec.html
All the Pulp Covers in Collage
http://www.erbzine.com/cards/pulps/tzcoreall.jpg
Tarzan At the Earth's Core: 96 Maxon Strips
http://www.erbzine.com/mag30/3084.html
Tarzan At the Earth's Core: Gold Key Comics
http://www.erbzine.com/mag25/2579.html
http://www.erbzine.com/mag25/2580.html
The Four ERB Books Published by Metropolitan Books
Tarzan and the Lost Empire ~ 1929
Tarzan At The Earth's Core ~ 1930
Tanar of Pellucidar ~ 1930
A Fighting Man of Mars ~ 1931

Off-Site References:
TEC summarized
TEC Recoverings I
TEC Recoverings II

---
NOVEMBER 29
---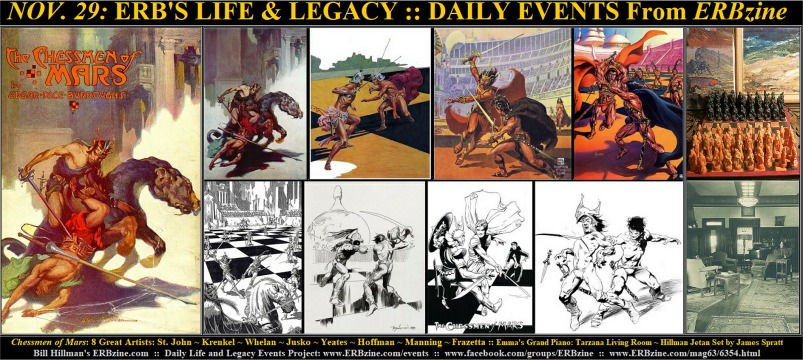 Chessmen of Mars: 8 Great Artists: St. John ~ Krenkel ~ Whelan ~ Jusko ~ Yeates ~ Hoffman ~ Manning ~ Frazetta
Emma's Grand Piano: Tarzana Living Room ~ Hillman Jetan Set by James Spratt
---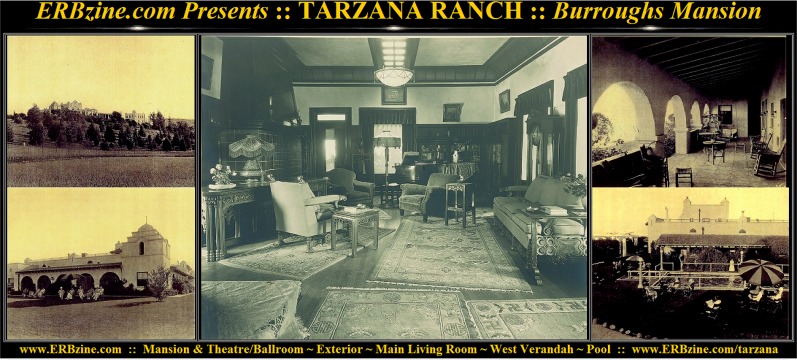 ---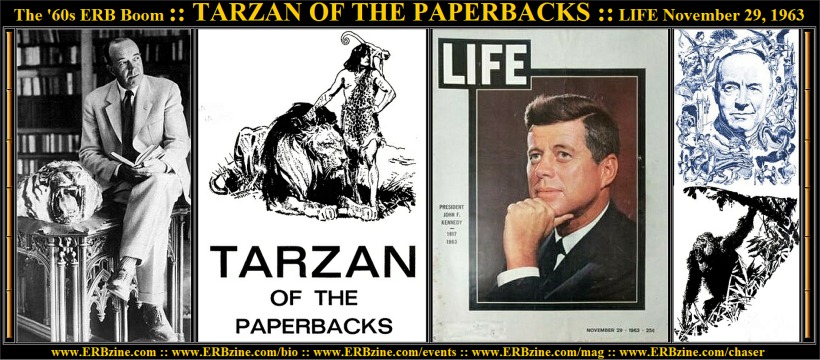 ---
*** 1922: The Chessmen of Mars was published by McClurg ~ 375 pages ~ 1st Ed. Print Run: 12,500 ~ Total: 89,000 ~ Heins word count: 93,000.
I had been captivated by the fantastic worlds and characters since the late '40s when I faithfully read the large front page Tarzan Sunday pages in the Toronto Star Weekly. I went so far as to create my own versions of Big Little Books by cutting out the panels of the Sunday pages and gluing them on backing and stapling them into booklet form. This idea came after finding Big Little Books in the attic of the home my dad grew up in over in Elrose, SK. Then came Dell Tarzan comic books purchased with my Saturday night allowance followed by the purchase of a coverless John Carter Dell comic (the druggist used to sell coverless comics for 5 cents after returning the covers for refund from the distributor). I don't think I made the connection with ERB and Tarzan but I loved the strange tale of a WWII soldier being transported to Mars where he experienced fantastic adventures. Also at this time I faithfully listened to the Tarzan radio shows and thrilled at the intro when I heard "author ERB :): "And now in the very words of Mr. Burroughs. . . "
I was ripe for a real introduction to the wonderful worlds of ERB's Barsoom. After school one day, I found a ragged red book with loose pages that had been discarded in the wastebasket beside our Grade 5 clasdsroom bookcase. Wow. . . weird and fantastic art with headless bodies and crawling heads. . . warriors doing battle on giant chess fields. . . my 11-year-old imagination was captivated. I rescued the book and soon created my own Jetan set by drawing designs on milk bottle caps. I continually pestered my sister and cousins to play this weird version of chess with me. Now, decades later I'm still pestering people to play ERB with me by sending thousands of ERBzine Webpages and Webzines around the world. :)
*** Chessmen started me on a life long search for all-things Burroughs -- a difficult task in the '50s before the '60s boom hit. I bought the G&Ds, and Whitmans and sent out letters looking for rare copies all over Canada and England. I naively but lovingly place my name and date of purchase into every book as it appeared on my bookshelves. I shared that list in one of my first ERBzine pages back in 1996 and reprinted it again in ERBzine 6263
*** My dreams of having a Jetan set worthy of Burroughs creations' came about after George McWhorter proudly showed the marvelous set in his collection at U of Louisville. He said it had been created by a sculptor/artist named James Spratt. I was thrilled when James contacted me to ask if I'd like to share his illustrated version of A Princess of Mars that he had started to draw. Spratt?. . . "Have you ever made a Jetan set?" Before long we were working on creating a series of Jetan Webpages in ERBzine . . . and a wonderful gift came in the mail: A full Jetan set created by Mr. Spratt.
---
*** "The Chessmen of Mars" stands unique in the world of Edgar Rice Burroughs because of its clever premise based on the game of chess and ERB's inclusion of rules for playing Jetan, the name of the Barsoomian version of the game. Chessmen appeared in book form for the first time Nov. 29, 1922, with publication by A.C. McClurg & Co.
The story itself would have been an intriguing Burroughs adventure even without the element of chess -- the opening featuring the kaldanes with their separate heads and bodies, the city of Manator featuring the stuffed remains of residents who had died, and wicked O-Tar the jeddak who redeemed himself the only way he could, by committing suicide.
ERB framed the story by writing about his own chess game, played on earth, then told the story of the chess game on Mars that could be played either with living people battling each other to the death for possession of squares, or as a quiet board game. John Carter, in fact, had a pocket set of Jetan which he carried with him on his adventures, just in case there was time between sword fights to squeeze in a game.
And how often might this have been heard back then: "Mom, I want a Jetan set for Christmas." Since "The Chessmen of Mars" was published just a month before Christmas, some may have wished for a set of their own and, logically, it should have been in the stores, or maybe Santa could have had his elves whip up a set!
Burroughs was pretty clever at thinking of ways to make money off his stories, but this is one idea he either didn't think of or couldn't find a manufacturer who thought many of the sets could be sold.
Chessmen of Mars: History ~ Art ~ Rules
http://www.erbzine.com/mag4/0426.html
Spratt's Jetan figures and Sarang (variant): 3 pages
http://www.erbzine.com/mag11/1148.html
Chessmen of Mars: Read the full e-Text
http://www.erbzine.com/craft/m5cm.html
Chessmen Review by R.E. Prindle: 6 Parts
http://www.erbzine.com/mag23/2315.html
Bill Hillman Discovers Barsoom in 1955
http://www.erbzine.com/mag62/6263.html
Spratt's A Princess of Mars Illustrated
http://www.erbzine.com/mag13/1301.html

Off-Site Reference
Chessmen summary
---
*** 1911: Ed submitted the Outlaw of Torn manuscript to Metcalf.
Outlaw of Torn:
http://www.erbzine.com/mag7/0754.html
Outlaw of Torn: eText
http://www.erbzine.com/craft/o4ot.html
---
1919: Ed and Emma ordered a Mason & Hamlin Ebony grand piano from Jack Marrill Co., NY at a cost of $900 They had compared this piano to a Steinway and preferred the Mason & Hamlin.
Danton sent me a high resolution photo of the living room in the Burroughs Tarzana Ranch Mansion. The grand piano is shown in the living room photo -- most of the family, other than ERB, were keen musicians or singers. Danton had preserved some of the artifacts from the mansion - a few of them were lost in his house fire the day before the night he died.
Grand Piano in Tarzana Living Room
http://www.ERBzine.com/cards/erb3/tarzanamansionall.jpg
Back To Tarzana Docu-Novel by Bill Hillman
http://www.erbzine.com/mag10/1041.html

---

*** 1944: Ed sold Emma's Bellagio Road house to Helen M. and Mac Neel Pierce for $25,000. Ed stayed on, before returning to Hawaii, to take inventory and box up Emma's and ERB, Inc. property.
The Burroughs house on Bellagio Road
http://www.dantonburroughs.com/pics/bellag1.jpg
---
*** 1945: ERB wrote a letter to Mrs. Charles Westendarp of New Jersey (his Coldwater Niece) relating family news. Joan and Jim are divorcing. Hully is an Air Force Captain. Jack is working in the Warner Brothers Art Department
ERB Family News Letter
http://www.erbzine.com/mag10/1027.html
---
*** 1963: Tarzan of the Paperbacks by Paul Mandel appeared in LIFE Magazine: The Burroughs Boom of the '60s: In 1961, a lady librarian in California took a Tarzan book off the shelf on the spoilsport grounds that Tarzan and Jane were living together out of wedlock. She could have had no inkling of the consequences of her misguided act. The furore it aroused in newspapers has brought the Ape Man roaring back out of literary limbo to delight millions of nostalgic Americans and thrown a bomb into the paperback book business.
Tarzan of the Paperbacks in LIFE
http://www.erbzine.com/mag14/1433.html

---
NOVEMBER 30
---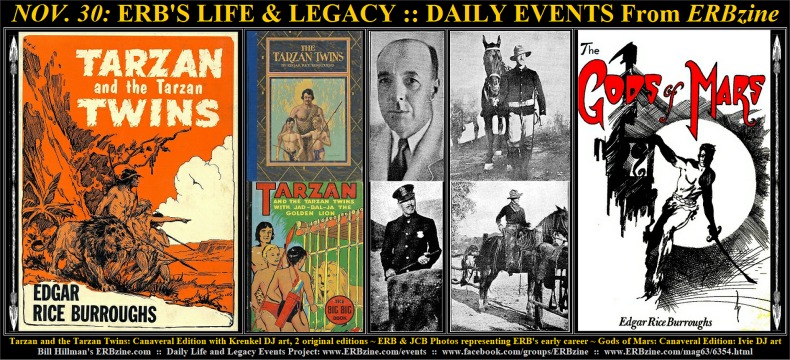 Tarzan and the Tarzan Twins: Canaveral Edition with Krenkel DJ art, Two original editions
ERB & JCB Photos representing ERB's early career ~ Gods of Mars: Canaveral Edition: Ivie DJ art
---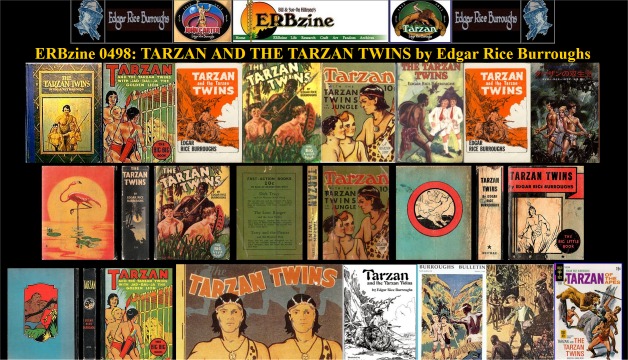 ---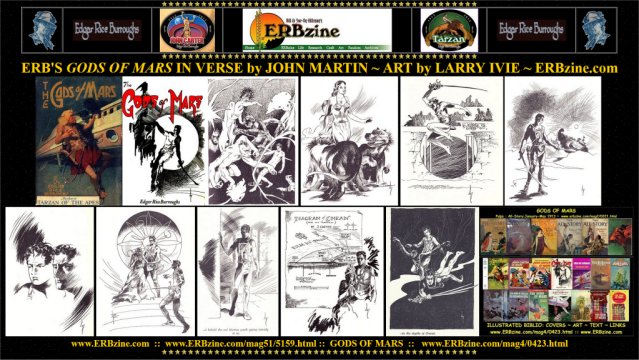 ---
*** 1962/1963: Canaveral published two ERB books this date, Nov. 30, one year apart.
In 1962, a first edition rolled off the press, "Tarzan and the Tarzan Twins." It contained two stories about Dick and Doc, who were not actually twins, but lookalike cousins, as the author explains in the introduction. The Canaveral book does not identify itself as a "first edition" but it is a "first edition thus," since it is the first time the two Tarzan twins stories appeared in the same volume. The blurb on the back of the book's jacket states it "is the first complete book edition of the Tarzan Twins saga."
Originally, the first half of the story, titled "The Tarzan Twins," was published as a children's book by Volland on Oct. 10, 1927, and was a story complete in itself. However, there was more to come, and the children who read that first story were nine years older when the second one was published. That was "Tarzan and the Tarzan Twins with Jad-bal-ja the Golden Lion," which was published by Whitman in its Big Big Book format on March 9, 1936. The book was formatted like a Big Little Book except that it was twice as tall and twice as wide. Although it was in no place stated to be a coloring book, the uncolored pictures on every other page no doubt invited some young people to haul out the box of Crayolas. Perhaps many of those pages did get colored and many books eventually discarded since the book is somewhat difficult to find in uncolored condition.
When Canaveral combined the printings, it did not identify the story as having been originally published in two editions, but simply begins the second story as chapter "Twelve." The long title with the name of Jad-bal-ja appears nowhere in the book itself but is found on the inside flap of the book's dust jacket.
The first book, "The Tarzan Twins," had color and black and white interior illustrations by Douglas Grant. The "Jad-bal-ja" book had illustrations by Juanita Bennett, and the Canaveral combo had illustrations by Roy G. Krenkel.
The adventures of the Tarzan Twins have also appeared as a Rex Maxon daily strip, Gold Key comic book, ERB, Inc. serialized Sunday pages, and in the Big Little Book format. It has been published in several limited modern editions in both paperback and hardback by Pulpville Press and Wildside Press and probably others.
Tarzan Twins: History ~ Art ~ Articles ~ Comics
http://www.erbzine.com/mag4/0498.html
Tarzan and the Tarzan Twins: Read the eText
http://www.erbzine.com/craft/twins.html
Tarzan Twins: 106 strips by Rex Maxon
http://www.erbzine.com/mag61/6102.html
Morphology of a Folktale by ERB: David Adams Article
http://www.erbzine.com/mag13/1367.html
David Adams on TTTWJTGL:
http://www.erbzine.com/mag13/1368.html
Tarzan Twins: Gold Key Comic Adaptation
http://www.erbzine.com/mag41/4176.html
Tarzan Twins serialized by Martin Powell and Artguello
http://www.edgarriceburroughs.com/comics
Tarza;n Twins Editions: Cover Art Collage
http://www.erbzine.com/cards/biblio/tarzantwinsall.jpg

Off-Site References
Twins summary
TTTWJTGL summary
---
*** 1963: A year to the day after releasing the combined Canaveral Twins edition, Canaveral published "The Gods of Mars," featuring a cover and interiors by Larry Ivie. It's a very nice book, but will forever leave ERB fans scratching their heads as to why Canaveral printed the middle book of the opening Mars trilogy and never published the first and third books.
Heins notes that the book also contains a "small detailed map (opposite page 132) that has long been needed to enable the reader to visualize the geographical relationship between Valley Dor and Omean."
This has been one my very favourite ERB books since first reading the Dell Comics adaptation in 1952. During my 40 years as a University and HS Educator I even made use of the Log Notes I created for the book in some of my English classes :) Since my first editions of ERBzine.com Weekly Webzine in 1996 I've featured many related articles -- including the excellent long poetry saga by John Martin. This and some of the articles are included in the accompanying links.
Gods of Mars: History ~ Art ~ Maps ~ Comics
http://www.erbzine.com/mag4/0423.html
"Gods": Hillman Log Notes Series:
A Study Guide for Fans and Researchers
http://www.erbzine.com/mag12/1289.html
Gods of Mars: Full eText Edition
http://www.erbzine.com/craft/m2gm.html
Saga of The Gods of Mars: Poem by "Bridge"
http://www.erbzine.com/mag51/5159.html
Gods of Mars: Chronology Charts by Fredrik Ekman
http://www.erbzine.com/mag5/0507.html
Gods of Mars: Cover Art Collage
http://www.erbzine.com/cards/biblio/godsall.jpg
Gods of Mars: Burroughs Bibliophiles #4
http://www.erbzine.com/mag52/5204.html
Gods of Mars: 1952 Dell Comic
http://www.erbzine.com/mag27/2703.html
Off-Site Reference
Gods Summary
---
*** 1918: Indianapolis Star, Saturday, Indianapolis, Indiana: Ashton Dearholt, who played opposite Priscilla Dean in the "The Two-Soul Woman," will again be her leading man in "Miss Defin, Safe Cracker," (probably renamed "The Silk-Lined Burglar") a crook comedy drama which she is now making under the direction of Jack Dilles. Dearholt has recently been playing Juanita Hansen and Jack Mulhall in "The Brass Bullet," Universal's latest serial.
ERB Film News
http://www.erbzine.com/mag11/1196.html
---
*** 1929: "How Tarzan Kept The Wolf From The Door" - a bio article on ERB is published in The Literary Digest.
How Tarzan Kept The Wolf From The Door
http://www.erbzine.com/mag0/0055.html
---
*** 1933: Florence Dearholt sought Ed's help in booking passage to join Ashton in Guatemala.
Florence Gilbert Burroughs Tribute
http://www.erbzine.com/mag8/0890.html
---
*** 1942: An Emma H. Burroughs cheque - number 4116. It was filled out by Mrs. Burroughs' own hand and issued to Cash in the amount of $5.00 on November 30, 1942. Emma was Edgar Rice Burroughs first wife and mother of his three children. Edgar and Emma were married on January 31, 1900.
Lost Words of ERB VII: Danton's Scrapbook
http://www.erbzine.com/mag8/0866.html
Emma's Cheque
http://www.erbzine.com/mag8/ebemachk.jpg

VISIT NOVEMBER WEEK 4 PHOTO ALBUM
www.ERBzine.com/mag63/6354pics.html

BACK TO NOVEMBER WEEK 3
www.ERBzine.com/mag63/6353.html

BACK TO DAILY EVENTS INTRO and CONTENTS
www.ERBzine.com/events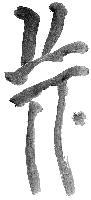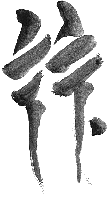 BILL HILLMAN
Visit our thousands of other sites at:
BILL AND SUE-ON HILLMAN ECLECTIC STUDIO
ERB Text, ERB Images and Tarzan® are ©Edgar Rice Burroughs, Inc.- All Rights Reserved.
All Original Work ©1996-2018/2019 by Bill Hillman and/or Contributing Authors/Owners
No part of this web site may be reproduced without permission from the respective owners.