Official Edgar Rice Burroughs Tribute and Weekly Webzine Site
Since 1996 ~ Over 15,000 Webpages in Archive
Volume 6331

ERB'S LIFE and LEGACY :: DAILY EVENTS
A COLLATION OF THE DAILY EVENTS IN ERB-WORLD
FROM THE PAGES OF ERBzine CREATED BY BILL HILLMAN
Collated by John Martin and Bill Hillman
With Web Design, Added Events, Links,
Illustrations and Photo Collages by Bill Hillman
BACK TO DAILY EVENTS INTRO

JUNE CONTENTS: WEEK ONE
JUNE 1 ~ JUNE 2 ~ JUNE 3 ~ JUNE 4
JUNE 5 ~ JUNE 6 ~ JUNE 7

VISIT THE JUNE WEEK I PHOTO ALBUM
www.ERBzine.com/mag63/6331pics.html
BACK TO MAY WEEK IV
www.ERBzine.com/mag63/6330.html

Click for full-size images
---
JUNE 1
---
Tarzan of the Apes brochure and cover ~ Hillmans and ERB's b-i-l Eddie Gilbert ~ Pellucidar
Pulp and Book covers ~ TV's Callies and Travis Fimmel ~ Maxon and Manning Tarzan strip art
---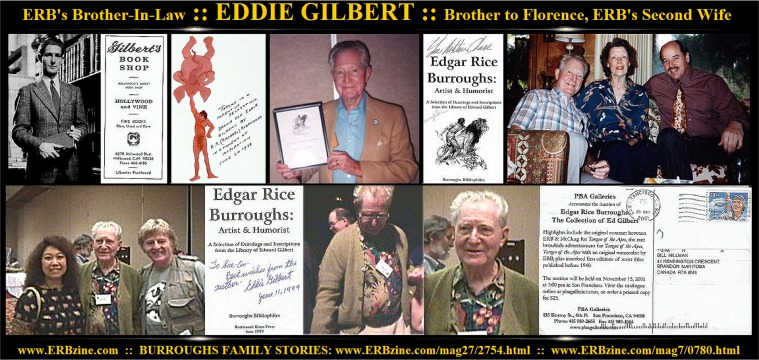 ---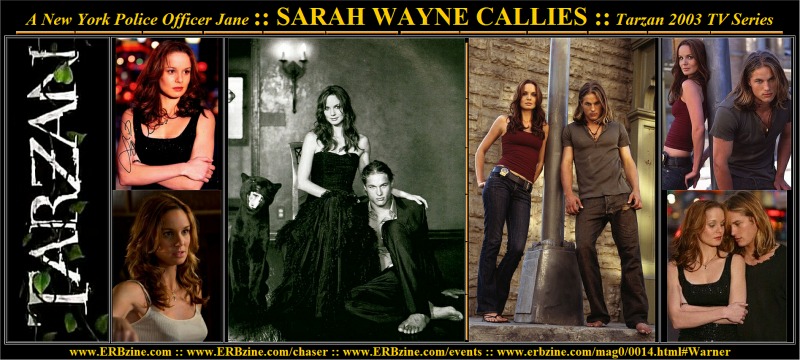 ---
*** We know the day and the month but not the year. Almost certainly it was 1914. A man named Cogdon Nestor stepped onto the stage of the world of ERB that summer for just a short while, and after that date we heard nothing of him again. It was on June 1 that Nestor had written to ERB, telling him of his lucky find of a telegraph apparatus buried in the Sahara Desert.
ERB had been planning a trip to Africa within a fortnight anyway, but the news caused him to immediately leave for Africa, where he met up with Nestor and spent two months in communication with David Innes, who was at the other end of that device, 500 miles down, at the Earth's core.
Considering the slower rate of travel in those days, and the necessity of getting one's house back in order after returning from an extended trip, it is logical that several more weeks passed before ERB was able to sit down and start writing a formal version of the story he had gleaned from the dispatches. Thus, his notebook records Nov. 23, 1914, as the day he began that task, finishing the account Jan. 15, 1915, in time for it to be published in several parts as "Pellucidar" in All-Story Cavalier, a scientific journal of that era, starting with the May 1, 1915, issue.
Pellucidar: Full coverage in ERBzine C.H.A.S.E.R Bio
http://www.erbzine.com/mag7/0742.html
---
*** Eddie Gilbert had the good fortune to be the official brother-in-law of ERB during the time that the Master of Adventure was married to his sister, Florence, and was counted among the fans and collectors of the works of the Wizard of Oak Park. One of his acquisitions was a "broadside," a promotional flyer and order form from A.C. McClurg & Co., announcing that on June 1, 1914, "there will be issued on June 17 one of the most original and remarkable stories ever written, Tarzan of the Apes, by Edgar Rice Burroughs."
Eddie Gilbert: The ERB Collection
http://www.erbzine.com/mag7/0783.html
https://www.erbzine.com/mag7/0780.html
Tarzan of the Apes: ERBzine C.H.A.S.E.R.
http://www.erbzine.com/mag4/0483.html
https://www.erbzine.com/mag7/eb102v5.jpg
https://www.erbzine.com/cards/erb4/eddiegilbertall.jpg

---
*** 1977: Actress, Sarah Wayne Callies, was born June 1, in 1977, in LaGrange, Illinois.
She played the New York Jane in 2003's short-lived "Tarzan" series. She was a police officer who had an obsession with Travis Fimmel's ape man, transplated from the jungles of Africa to the wild of the city.
IMDB FILM SUMMARY:
"This thrilling contemporary take transforms the classic Tarzan tale into a rapid-fire adventure, an intriguing mystery and, most of all, a fiery love story. Strong-willed NYPD detective Jane Porter's perfectly ordered life turns upside down when a routine case unexpectedly leads her to primal and passionate Tarzan, now loose in the urban jungles of New York City. After plucking the mysterious feral man from his wild home, Tarzan's billionaire uncle, the CEO of powerful Greystoke Industries, stops at nothing to 'civilize' Tarzan in his own image. And, inexorably attracted to Tarzan's dangerous yet profoundly innocent nature, Jane wrestles with reason and instinct, civilization and savagery, her heart and her head."
Sarah has gone on to perform in many successful TV series and films. She was a regular in the TV series "Prison Break. There, she missed an opportunity to get to know ERB fan and future author Scott Tracy Griffin, who was on the set one day to help make a crowd scene more realistic.
I once asked Tracy about his memories of that shoot, and he said: "Yes, I was on-set with Sarah, Wentworth Miller, and Dominic Purcell, who played Wentworth's brother. It was the third episode in the fourth and final season (the only one filmed in L.A.), when they were breaking into some computer facility. We filmed at a vacant office park in Chatsworth, west of Tarzana in the San Fernando Valley, and it hit 115 degrees that day. There was no air conditioning in our background holding area. So you can see, I have 'warm' memories of the shoot! "I didn't get to speak to any of the principals. I played one of the many office workers who had to evacuate the building when they set off a false fire alarm. I don't think I am identifiable in the chaos of the evacuation."
BIO BITS
* She is the daughter of two University Professors, her father is a Law Professor and her mother is a English Professor at University of Hawaii.
* Her maternal grandfather was a Hungarian Jewish immigrant. She also has German and Czech ancestry.
* [on growing up in Hawaii] It kept me out of trouble. On weekends, you'd wake up, go to the beach, go hiking, and by the time people in Iowa were drinking beer out of the back of a pickup truck, you were fast asleep.
* Graduated from Punahou High School in 1995 in Honolulu, Hawaii. ~ Dartmouth College (in Hanover, New Hampshire) in 1999 ~ Denver's National Theater Conservatory in 2002 with a Master of Fine Arts.
* She speaks basic Hawaiian and enjoys traditional Hawaiian music.
* She likes dancing the Argentine tango and has taken up low-flying trapeze.
* Currently are living between Atlanta, Canada and Los Angeles.
* Has two children with her husband Josh Winterhalt - a daughter Keala Wayne Winterhalt (b. July 20, 2007) and a son Oakes Wayne Winterhalt (b. August 2013, adopted).
* She was voted one of Maxim's The Hottest Women of Fall TV 2008.
Tarzan WB TV Series: Credits ~ Episodes ~ Articles ~ Photos
https://www.erbzine.com/mag0/0014.html#Warner
http://www.erbzine.com/mag8/0846.html
https://www.ERBzine.com/cards/film9/sarahwaynecallies2003janeall.jpg
https://www.erbzine.com/cards/film3/travisfimmelall.jpg

Off-Site Reference
Callies in IMDB
---
*** ERB's "Tarzan at the Earth's Core," as adapted for the comics by Rex Maxon and R.W. Palmer, began this date in 1931 and ran for 96 days.
Tarzan at the Earth's Core: 96 Maxon Strips
http://www.erbzine.com/mag30/3084.html
---
*** "White Hunters in Opar," illustrated and written by Russ Manning, began June 1 in 1969 and ran in the Sunday pages for 27 weeks.
White Hunters in Opar: 27 Manning Sundays
http://www.erbzine.com/mag17/1763.html
---
*** 1922: Ed wrote to the Matson Navigation Company for rates and reservation procedure for liner service from Los Angeles to Baltimore via Panama, Havana and other interesting ports of call along the route. He required a deluxe suite on the bridge deck for two adults and children ages 9, 12, and 14. He was sent a beautiful brochure and a quote of $2457.
*** 1927: ERB conceived the idea for the Tarzan strip -- he later suggested that a Tarzan parody strip also be created.
*** 1928: Ed is made plans for driving Joan and friend over to Flagstaff and Tuba, Arizona the next week, as Jim Pierce was on location with the Fred Thompson Motion Picture Company there.
ERB Bio Timeline and Journals
http://www.erbzine.com/bio

---
JUNE 2
---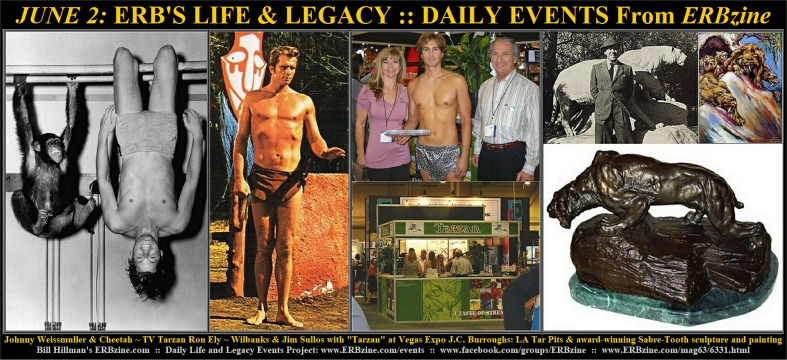 Johnny Weissmuller and Cheetah ~ TV Tarzan Ron Ely ~ Wilbanks and Jim Sullos with "Tarzan"
at Vegas Expo J.C. Burroughs: LA Tar Pits and award-winning Sabre-Tooth sculpture and painting
---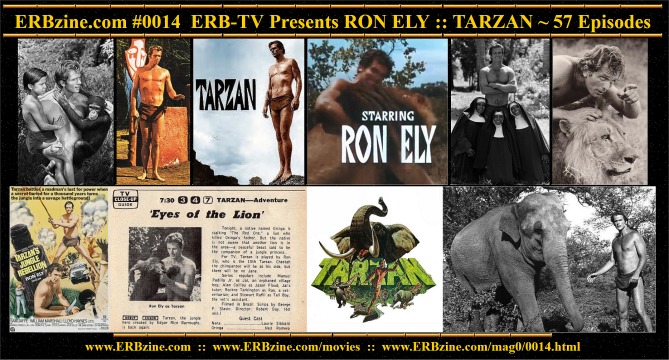 ---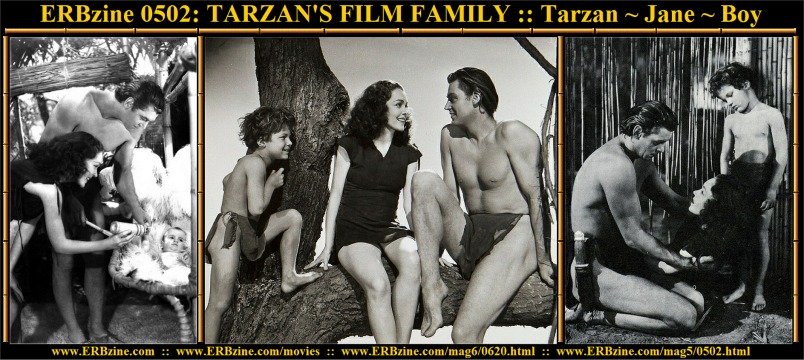 ---
*** John Coleman Burroughs took his art seriously and did a lot of research to learn how to illustrate the various exotic creatures who inhabited his father's books.
An article datelined Claremont, California, June 2, 1934 (but not published in the L.A. Times until the next day), began: "Modeling animals for museums is the unusual life vocation chosen by John Burroughs, a senior at Pomona College, son of Edgar Rice Burroughs, famous author of the Tarzan series."
The article said that John was to graduate from Pomona College later that month and created, as his senior honor project, a model of a sabre-tooth tiger.
"Burroughs has been studying painting under Prof. Thomas Beggs and sculpture under Prof. Cyril Jurecka....His life ambition is to illustrate animal stories and to produce models of animals for museums." The article said his model of the prehistoric tiger "has been produced after months of research and study, including a course in comparative anatomy, discussion of the muscles of a domestic cat, a study of the Brea pit specimens and many visits to zoos and lion farms. "Burroughs also is prominent in college dramatics, and recently was elected to Phi beta Kappa, national honorary scholastic fraternity." John Coleman Burroughs painted his cats for "Back to the Stone Age" only after carefully studying the likely looks of the sabre-tooth beasts.
See that article and others in the erbzine section,
Edgar Rice Burroughs and the Press
http://www.erbzine.com/mag14/1442.html
JCB's Sabre-Tooth Tiger Honours Project
http://www.erbzine.com/mag11/1176.html
Sabre-Tooth Cats in Back to the Stone Age
http://www.erbzine.com/mag7/0745.html
Our John Coleman Burroughs Tribute Site
http://www.johncolemanburroughs.com
http://www.ERBzine.com/mag63/jcbsabretooth.jpg
---
*** 1904: Johnny Weissmuller and Ron Ely were born 34 years and 6,000 miles apart but both had memorable expriences playing Tarzan on film, Weissmuller on the silver screen and Ely in two seasons of television.
For many years, Weissmuller's place of birth was said to have been in The Keystone State, but now is acknowledged to have been in Szabadfalva, Freidorf, in Hungary, which today is a part of Romania.
"Water, World and Weissmuller" by Narda Onyx states on the opening page of Chapter 1: "According to the statistics, Johnny was born on June 2, 1904. En route to Chicago, in a small coal town named Windber, in Pennsylvania, immigrant Peter Weissmuller's wife, Elizabeth Kersh, had to interrupt her journey which was to reunite the couple with her parents. She gave birth to a ten-pound boy child." Even then there may have been questions, since Onyx unnecessarily prefaced her statement with "According to...."
It has been established, though, that he was actually born in the "old country, but his parents apparently switched his records with his younger brother's to establish an American origin for Johnny that then satisfied U.S. Olympic Committee nationality requirements."
Weissmuller, of course, was an Olympics swimming champion before he was Tarzan.
In 1975, the Artcraft company started issuing a series of special postal covers honoring "Kings of Sport," featuring famous athletes on the envelope cachets with appropriate postage and a postmark with their birth anniversary from the town in which they were born. Thus, Weissmuller's cover in the series, No. 7, featured a Windber, Pa., postmark over a flag stamp and a stamp commemorating the 50th anniversary of motion pictures.
Later, on June 2, 2004, the country of Romania issued a sheet of stamps to honor its home-country hero on the 100th anniversary of his birth, as well as a series of other special postmarks and covers
Ely has been featured on several first-day covers with the Edgar Rice Burroughs stamp and as well as other stamps.
The Johnny Weissmuller Scrapbook
http://www.erbzine.com/mag3/0394.html
Weissmuller and Friends I
http://www.erbzine.com/mag55/5580.html
Weissmuller and Friends II
http://www.erbzine.com/mag55/5581.html
Weissmuller on Location in Florida 1 & 2
http://www.erbzine.com/mag5/0501.html
Weissmuller: Twice the Hero by David Fury
http://www.erbzine.com/mag3/0393.html
All the Weissmuller Films:
http://www.ERBzine.com/movies
https://www.erbzine.com/cards/film/tarzaninfloridaall.jpg
---
*** 1938: Ron Ely was born on this date in Hereford, Texas and raised in Amarillo. Ely is best known for having portrayed Tarzan on the 1966 NBC series Tarzan and for playing the lead role in the film Doc Savage: The Man of Bronze (1975).
During the filming of Tarzan, Ron Ely did virtually all of his stunts for the series, and suffered two dozen major injuries in the process, including two broken shoulders and various lion bites. He embarked on a professional writing career and has authored two published mystery novels featuring private eye Jake Sands: Night Shadows (1994) and East Beach (1995).
Ron Ely's TV Tarzan Episodes:
Reviews ~ Summaries ~ Dates ~ Guests ~ Screen Captures and Stills
https://www.erbzine.com/mag74/7420.html
Ron Ely's TV Tarzan Series
http://www.erbzine.com/mag0/0014.html

Off-Site References
Explore PA History
Baseball Stam
---

*** 2009: The Tarzan Jungle Cafe was in operation in Las Vegas for the weekend beginning June 2, 2009, when the ERB Inc. staff took the road to the Mandalay Convention Center for the Licensing International Expo. The ERB Inc. crew included Jim Sullos, president; Cathy Wilbanks, then archivist but now vice-president; Linda Burroughs and daughters Dejah and Llana Jane, and, of course, the ape man himself. The Jungle Cafe served an exciting and Tarzanic all-natural food line, giving out granola, trail mix, and energy drink samples.
ERB, Inc. and Tarzan in Vegas
http://www.erbzine.com/mag22/2295.html
---
*** 1928: Munsey, as a goodwill gesture, relinquished serial rights to four of Ed's stories
*** 1941: ERB's Old bladder obstruction problems were returning.
ERB Bio Timeline
http://www.ERBzine.com/bio
---
*** 1935: "Tarzan and the Vikings," by Hal Foster and Don Garden, began June 2 in 1935 and ran for 31 weeks.
The Sunday strips are summarized here:
Vikings: Blood Warrior ~ 1935.06.02 ~ #221
http://www.erbzine.com/mag65/6529.html
Tarzan and the Vikings
http://www.erbzine.com/mag8/0818.html
Hundreds of earlier Foster Strips reprinted
http://www.ERBzine.com/foster

---
JUNE 3
---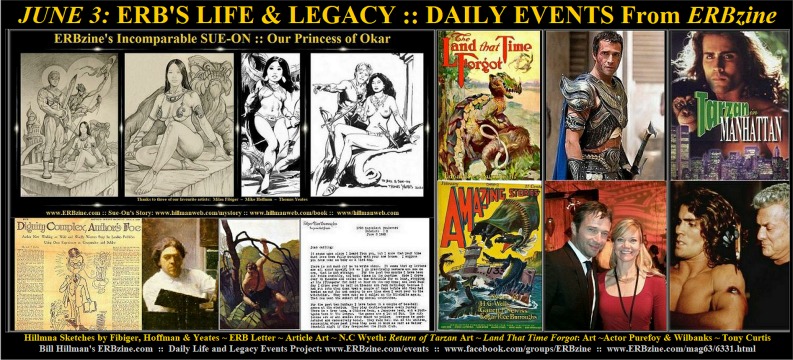 Hillman Sketches by Fibiger, Hoffman and Yeates ~ ERB Letter ~ Article Art ~ N.C Wyeth:
Return of Tarzan Art ~ Land That Time Forgot: Art ~ Actor Purefoy and Wilbanks ~ Tony Curtis
---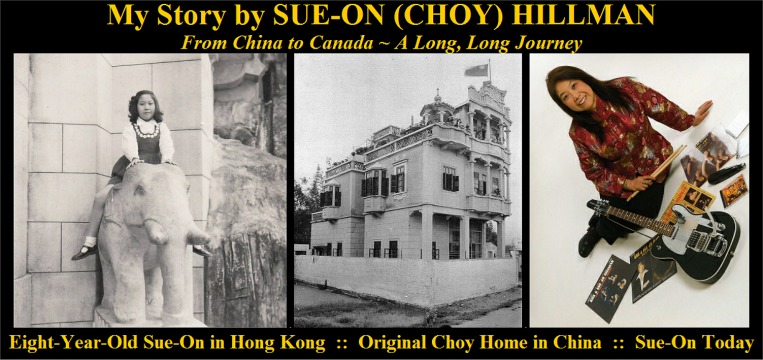 ---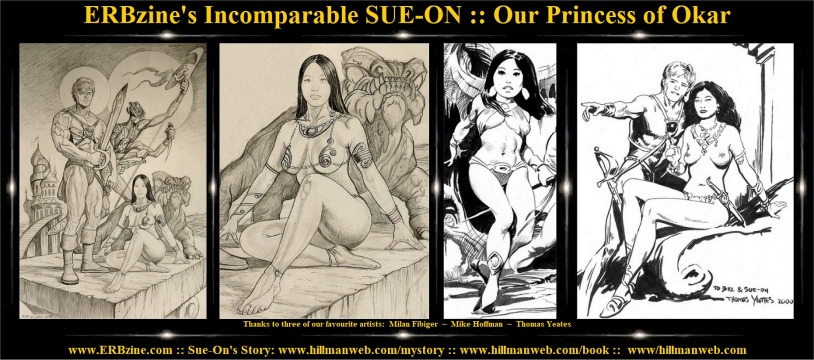 ---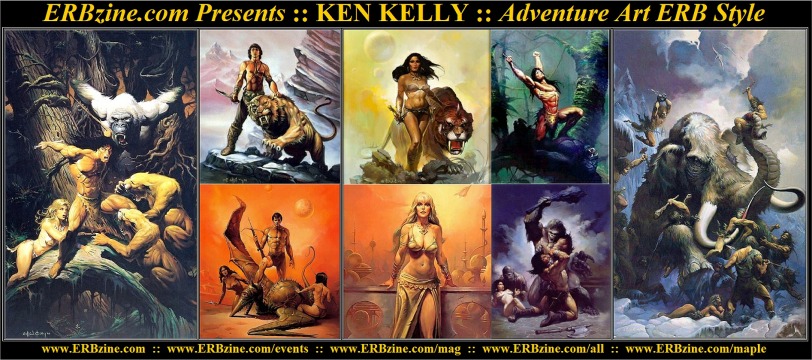 ---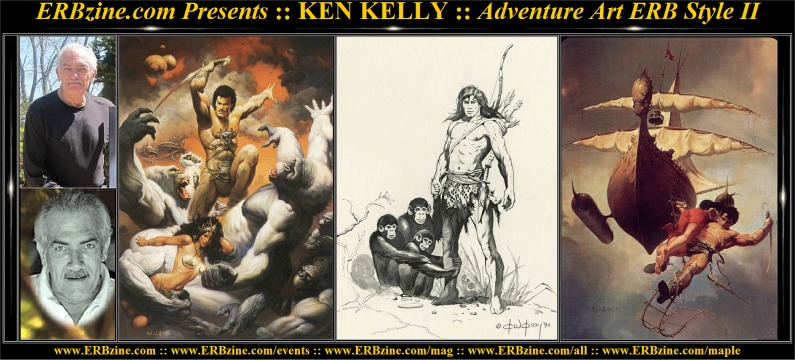 ---
*** 1948: Born on this day, Sue-On (Choy) Hillman - Co-Founder of the ERBzine.com Website . . . as well as the Burroughs Family Archive sites with Danton Burroughs: www.DantonBurroughs.com and www.johncolemanburroughs.com
Sue-On's mom smuggled the toddler out of Red China with children of a neighbour family, but was arrested when she tried to follow by wading across the river to Hong Kong during low tide. Eventually, Sue-On and her mom lived in Hong Kong with grandparents until she was 10. Canadian Exclusion restrictions for Chinese were finally relaxed and she and her mom joined her dad in Canada. Her Grandfather and Father had been there since the early 1900s, but their families hadn't been allowed to join them because of the anti-Asian racist policies in North America. Sue-On then went to school and worked in the family restaurant in a small prairie town until she married musician Bill Hillman. The two of them then pursued careers in music and as high school teachers and university professors for more than the next half century. Bill was responsible for her interest and love of the works of Edgar Rice Burroughs. Their love of travel has led them to scores of ERB-related places -- both real life and places described in his fiction: Tarzana, Chicago, Oak Park, Coldwater, NYC, SW USA, LA, London, Hawaii, Yucatan, Cambodia, Indonesia, etc. Together they began the ERBzine.com Website in 1996, which has grown to over 15,000 Webpages and has garnered over 20 million annual hits from countries around the world.
SUE-ON'S STORY
http://www.hillmanweb.com/mystory/
MY PRINCESS by Bill Hillman
http://www.hillmanweb.com/princess.html
Sue-On's Website
http://www.hillmanweb.com/soos/
Hillman Music Odyssey
http://www.hillmanweb.com/book
Princess Dejah's Amazing Amtorian Gardens
https://www.erbzine.com/mag2/0216.html
Hillman Travel Adventures:
https://www.hillmanweb.com/book/travel
Bill and Sue-On Hillman's ERBzine
https://www.ERBzine.com
Collage: Sue-On Art by Fibiger ~ Hoffman ~ Yeates
https://www.erbzine.com/mag63/sue-onprincess.jpg
https://www.hillmanweb.com/mystory/mystory.jpg
---
*** 1916: It was June 3, 1916, and Bowen Tyler was minding his own business at sea when a blasted German U-Boat sent a torpedo shooting toward his ship, blowing it to smithereens and killing all but a few. Tyler was one of the survivors and would have to continue to survive among untrustworthy Germans and ravenous dinosaurs in the 1918 ERB epic, "The Land That Time Forgot."
His ordeal was made a bit more bearable by the presence of a pretty girl named Lys La Rue, whose named morphed into Lisa Clayton for the movie version.
The Land That Time Forgot: The Book
http://www.erbzine.com/mag7/0766.html
The Land That Time Forgot: The Film
http://www.erbzine.com/mag21/2117.html
LTF: Read the Book
http://www.erbzine.com/craft/o8ltf.html

Off-Site Film Reference
LTF in IMDB
---

*** 1964: James Purefoy, like other actors in the 2012 film "John Carter," looked forward to roles in sequels. Since the sequel never materialzied, Purefoy went on to other film roles. But his performance as Kantos Kan in "John Carter" was memorable. Purefoy was born June 3, in 1964, in Taunton, Somerset, England.
John Carter (of Mars) Film
https://erbzine.com/cartermovie.com/
John Carter Film Photo Galleries
http://www.cartermovie.com/photos
100s of Off-Site Reviews and Interviews
http://www.cartermovie.com/reviews

Off-Site References
Purefoy in IMD
John Carter in IMDB
Purefoy Discussion
---
*** 1913: Ed was unsuccessful in his $25 dollar offer to buy N.C. Wyeth's cover painting of The Return of Tarzan
*** 1923: Ed reminisced about a major influence on the creation of his Mars and Tarzan novels. He recalled being a little boy sitting in the attic retreat in a country cottage with raindrops falling on the shingled roof. His most vivid memory was reading about a colony of ape men in a little province in China. This seems to be the first major event that stimulated his imagination which took him on fantasy trips to Africa, Mars, and far-off lands decades later.
*** 1923: Oakland Tribune Magazine publishes the article: "Dignity Complex, Author's Foe" ERB is quoted as saying that he feels he owes his success to never having taken himself seriously and never having excessive feelings of self-importance. His parents wanted him to be a doctor or lawyer and he had no formal training in writing: he trained himself.. He says there are no new plots and he constantly returns to his past experiences for plot ideas. He works after breakfast each day for four hours and believes that his best work comes out of a short day of writing. Ed says he is interested in all but excels in nothing. He prefers to read the type of stuff he doesn't write He feels that the time spent with his family is most important. He doesn't like to kill wild animals for sport and has only shot predators such as snakes and hawks. He professes to having no hobbies and does not excel in the sports he enjoys such as.tennis and golf. Two lifelong interests are horsemanship and auto expeditions.
*** 1941: In a letter home to Joan, ERB wrote: "Every boat for the mainland is crowded, and reservations are almost impossible to get. Soon there will be no one left here but the Army, the Navy, and me (or I; take your choice)."
ERB's Letter Home to Joan
http://www.erbzine.com/mag10/1022.html#June 3
ERB Article: "Dignity Complex, Author's Foe"
http://www.erbzine.com/mag12/1265.html
http://www.johncolemanburroughs.com/doc/t230603.jpg
The Return of Tarzan
http://www.erbzine.com/mag4/0484.html
ERB Bio Timeline
http://www.ERBzine.com/bio
---
*** 1925: Bernard Schwartz, who had a career in which he turned up in about every other movie made in Hollywood, was born June 3, 1925, in The Bronx. He was "The Son of Ali Baba," an escape artist in "Houdini," a high-flying circus performer in "Trapeze" and a cross-dresser in "Some Like It Hot."
For his acting career, he went by the name of Tony Curtis and under that nom de plume played Archimedes Porter in 1989's "Tarzan in Manhattan."
The ERB / Beatles Sgt. Pepper Connection
http://www.erbzine.com/mag57/5774.html
Off-Site References
Tarzan in Manhattan in IMDB
Curtis at IMDB
---
2022: Ken W. Kelly (1946.05.19-2022.06.03) who died on this date was an American fantasy artist. Over his 50-year career, he has focused in particular on paintings in the sword and sorcery and heroic fantasy subgenres.
Kelly is the nephew of Frank Frazetta's wife Eleanor "Ellie" Frazetta (1935-2009), whose maiden name was Kelly. Early in his career he was able to study the paintings of Frank Frazetta in the latter's studio.In the early 1970s he did a couple of cover paintings for Castle of Frankenstein magazine. Throughout the 1970s he was one of the foremost cover artists on Warren Publishing's Creepy and Eerie magazines.
He has depicted Tarzan, Conan the Barbarian, and the rock groups KISS, Manowar, Sleepy Hollow, Rainbow and Ace Frehley.
His work often portrays exotic, enchanted locales and primal battlefields. He recently developed the artwork for Coheed and Cambria's album, Good Apollo, I'm Burning Star IV, Volume Two: No World for Tomorrow, and a painting of his was used as the cover art for Alabama Thunderpussy's 2007 release, Open Fire. In 2012, one of Kelly's paintings was used for the cover of Electric Magma's 12" vinyl release Canadian Samurai II.
Kelly has been a guest at the Kiss by Monster Mini Golf course in Las Vegas, Nevada, doing autograph signings of prints for the classic Kiss albums for which he had drawn cover artwork.
Ken Kelly died on June 3, 2022, at the age of 76.
ERBzine M.A.P.L.E.: Art 9 Section
https://www.ERBzine.com/cards/film9/
The Gridley Wave Edition 122
https://www.erbzine.com/gwbb/gw122.html

---
JUNE 4
---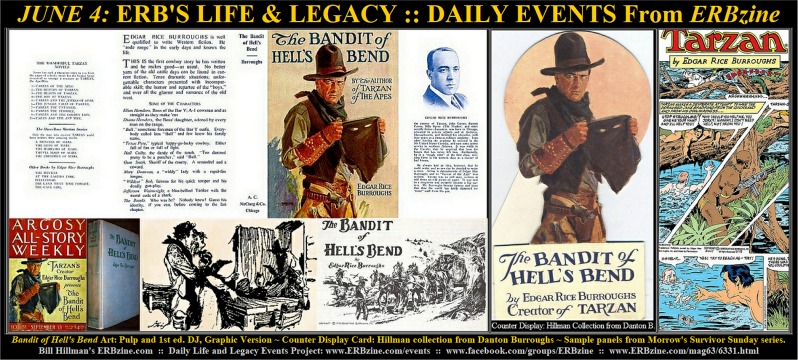 Bandit of Hell's Bend Art: Pulp and 1st ed. DJ, Graphic Version ~ Counter Display Card:
Hillman collection from Danton Burroughs ~ Sample panels from Morrow's Survivor Sunday series.
---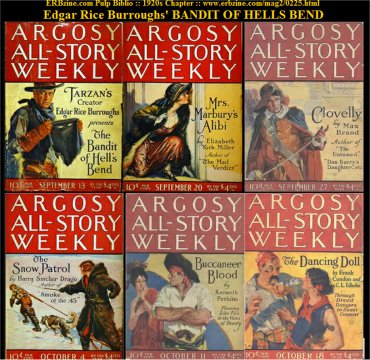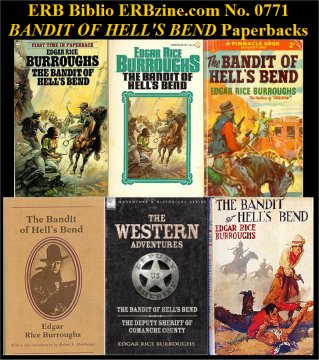 ---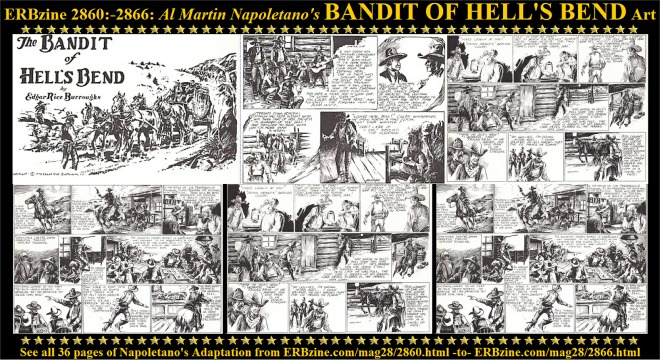 ---
*** 1925: When Edgar Rice Burroughs was a young man working as a ranch hand in the Raft River region of Southern Idaho, he would ride his horse to American Falls every day to pick up the mail. As he rode, he might have daydreamed of bandits lying in wait and how things would play out should one of them accost him. Thirty years after those days he was an established fiction writer and drew on his memories of the land and people of that area to write "The Bandit of Hell's Bend," although that specific story was set in Arizona, not Idaho.
ERB's first western, "The Bandit of Hell's Bend," was published in book edition on June 4 in 1925 by A.C. McClurg Co., with a Modest Stein cover and sepia frontispiece were from the same painting used on the earlier magazine appearance. The novel was set in Arizona but ERB drew from his experience on a ranch in Idaho for some of the background and characters.
Working titles were "The Black Coyote" and "Diana of the Bar Y."
In a 1924 letter to Maurice B. Gardner, ERB wrote: "I hope that you will like THE BANDIT OF HELL'S BEND, now running in Argosy-All Story, which is one of my vacation stories. It ought to be reasonably logical, or as nearly so as my style of fiction ordinarily is, since I soldiered in Arizonain the 7th Cavalry a great many years ago, and was a cow puncher in Idaho before that. However, styles change in cow punchers as in other things, and the puncher of the movies is not at all the sort of person I knew in Idaho and Arizona thirty years ago."
Al Martin Napoletano did a true-to-the-book illustrated strip, which ran in Bill Dutcher's ERB fanzine, Jasoomian, starting with issue 9, in February of 1973. He completed six chapters which I've reprinted in ERBzine 2860
A "Bandit of Hell's Bend" counter display was in the Danton Burroughs collection which he passed along to me for my Hillman ERB Library
The Bandit of Hell's Bend: Full C.H.A.S.E.R. Coverage
http://www.erbzine.com/mag7/0771.html
Napoletano's Graphic Interpretation of Bandit: 6 Pages of Strips with Intro
http://www.erbzine.com/mag28/2860.html
Bandit Display Card: Hillman Collection from Danton Burroughs
http://www.erbzine.com/mag7/banditcard.jpg
Bandit of Hell's Bend: Read the book in e-Text HERE
http://www.erbzine.com/craft/bandit.html

Off-Site Reference:
Hell's Bend Summary
---

*** 1989: "Survive" was the title of a Tarzan strip by Gray Morrow and Don Kraar, which ran for 12 Sundays, beginning June 4, 1989.
Survive: Read all 12 Morrow/Kraar Tarzan strips
http://www.erbzine.com/mag35/3529.html

---
JUNE 5
---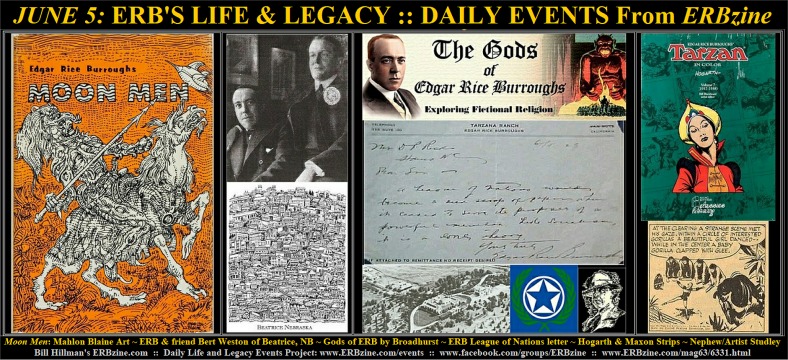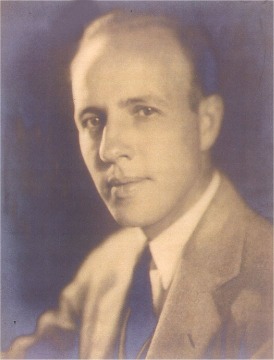 Moon Men: Mahlon Blaine Art ~ ERB and friend Bert Weston of Beatrice, NB ~ Gods of ERB by Broadhurst
ERB League of Nations letter ~ Hogarth and Maxon Strips ~ Nephew/Artist Studley Oldham Burroughs
---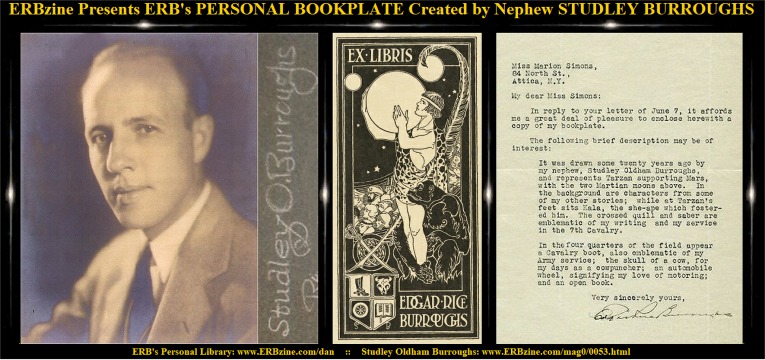 ---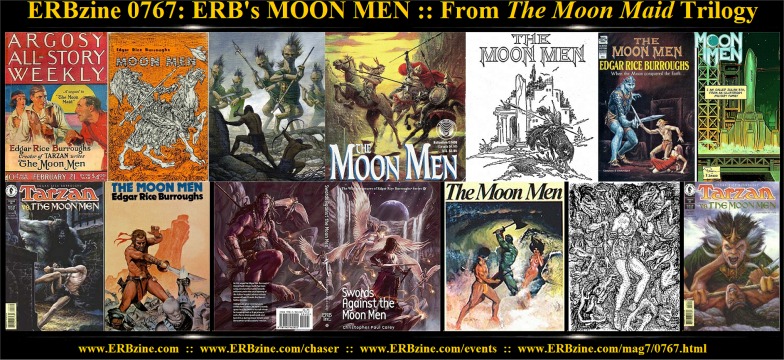 ---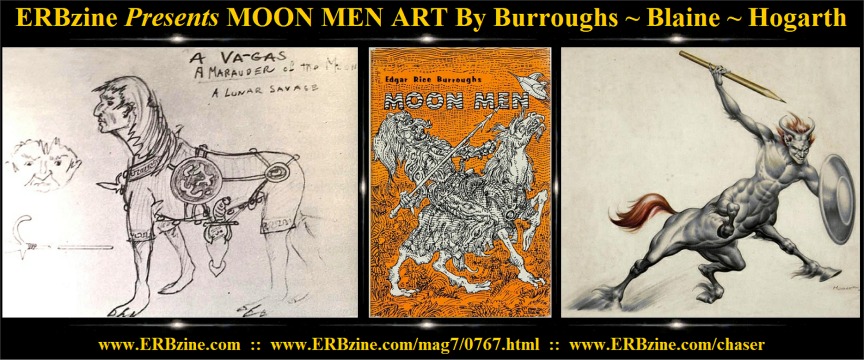 ---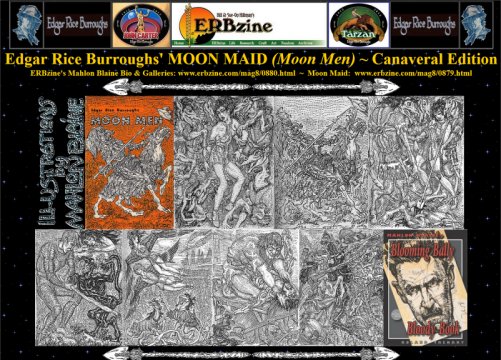 ---
*** 1917: Brother Harry's son, nephew Studley Oldham Burroughs married Mary Agnes Becker. Studley went on to work on many projects with Uncle Ed including a personalized ERB bookplate, Tarzana Golf Course and many illustrations for ERB's books.
The Burroughs family were quite excited about the birth of the new baby boy. In April 1895 Ed wrote to his brother, "How is the kid? From all of your letters I will expect to find him riding a bicycle and reading Caesar on my return in the summer. Don't rush him too much. He may get brain fever. Just tell him to follow after his uncle - if he wants to be a blooming idiot."
Young Studley, the budding artist was probably influenced by his uncle Ed more than most people realize. Long before his talents as a writer were recognized worldwide, Ed was writing humorous bits of fantasy, which he illustrated with quite clever and artistic sketches and cartoons. In 1909, ERB sent his young nephew a personally illustrated Christmas card. His verse is headed in large capitals: "S.O.B." and he jokes about his financial state: "Please accept from Edgar Rice The best he's got to give -- advice: Start a Bank Account."
The family's artistic talent influenced Studley who was drawing and painting at an early age. He sketched constantly and even created murals on the wallpaper of their home. He reflected in later years: "From the cave man down, I assume the artist's impulse instinctively has sought to express itself in mural decoration, so I simply behaved true to type." The young cave man artist went on to a moderately successful career in commercial design and illustration. But he is most remembered by Burroughs fans for the illustration he did for his uncle's books.
Studley Oldham Burroughs Tribute Pages
http://www.erbzine.com/mag0/0053.html
Studley's Cover Art for ERB Books
http://www.erbzine.com/mag0/0053a.html
Family Christmas Cards by Studley Burroughs
http://www.erbzine.com/mag19/1977.html
Studley Burroughs Cartoon Art
http://www.erbzine.com/mag20/2039.html
Studley's art and planning for ERB's El Caballero Golf Course
http://www.erbzine.com/mag10/1091.html
---
*** 1923: ERB wrote a letter discussing the League of Nations and socialism: "A League of Nations would become a mere scrap of paper when it ceased to serve the purposes of a powerful member. Like socialism, it is a lovely theory."
ERB's Thoughts on the League of Nations
http://www.erbzine.com/mag4/0440.html
---
*** 1929: Ed and Emma returned from a visit with Bert and Margaret Weston in Beatrice, Nebraska. Bert had been Ed's closest friend since their MMA football days. They corresponded through countless letters during their lifetimes. Danton has shared many of these with me for display in my ERBzine pages. In 2005, Bert's grandson compiled many of these letters for a Duke University project which he later published as the book: "Brother Men".
Westons' hometown: Beatrice, Nebraska
http://www.erbzine.com/mag51/5161.html
---
*** 1932: Elmo Lincoln complained to Ed that MGM's portrayal of Tarzan was without dignity
My Father, Elmo Lincoln, The Original Tarzan
http://www.erbzine.com/mag2/0283.html
---
*** 1941: Ed checked into hospital for treatment for his bladder problem.
ERB Bio Timeline
http://www.ERBzine.com/bio
---
*** 1944: ERB Celebrated the D-Day Invasion by playing Bridge with military officers and other friends in Hawaii.
ERB On D-Day
http://www.erbzine.com/mag64/6486.html
Entry in ERB's Wartime Autograph Book
http://www.erbzine.com/mag27/aeb403h5.jpg
---
*** 1865: It was the bleakest of times, but there was always hope, and a small group met in secret to express that hope and encourage one another. They were the little church that gathered secretly in a world controlled by the Kalkars, the villains of ERB's "The Moon Men."
It can be a bit depressing to read "The Moon Men," but one gets a respite in the story's church service, where a few people receive inspiration and hope from a talk by Orrin Colby, after they had sung "Onward Christian Soldiers." For this story, ERB chose a hymn that was especially fitting, since each person there was, in one way or another, a soldier fighting a difficult battle with seemingly inadequate weapons against overpowering odds. ERB wasn't the only ever to incorporate that particular hymn into a story. It's been in many movies and television shows, from "Stanley and Livingstone" to "Striptease." Sometimes it has been used to show people strengthened by faith; other times it has been sung for the purpose of typecasting or mocking the singers.
In the real world, when Churchill and Roosevelt met in 1941 on HMS Prince of Wales, a church service was held and Churchill chose the hymns, including "Onward, Christian Soldiers." Afterward, he made a radio broadcast explaining his choice: "We sang 'Onward, Christian Soldiers' indeed, and I felt that this was no vain presumption, but that we had the right to feel that we were serving a cause for the sake of which a trumpet has sounded from on high. When I looked upon that densely packed congregation of fighting men of the same language, of the same faith, of the same fundamental laws, of the same ideals ... it swept across me that here was the only hope, but also the sure hope, of saving the world from measureless degradation. "
It was on June 5, 1865, that the song was sung publicly for the first time, with its composer, the Rev. Sabine Baring-Gould, listening quietly and with pride in Horbury, England.
In 2012, when John Martin made a post similar to the above on the erbcof-l email list, Dick Spargur made this reply: You should watch the old movie "Mrs. Miniver" with Greer Garson and Walter Pidgeon. It's about the impact upon civilians in England at the onset of WWII. It covers stuff like the start of the war, the evacuation of British troops from Dunkirk and, of course, The Blitz. Toward
the end they're bombed heavily and afterwards hold a church service in a bombed out cathedral with no roof, just blue sky. And, as they sing "Onward Christian Soldiers", there goes the RAF back into the air, visible through the hole in the church's roof, to do battle with the Luftwaffe. It makes chills run up and down your back.
"The Gods of Edgar Rice Burroughs" by Dale Broadhurst discusses the Moon Men church and other uses of spirituality by ERB as a story-telling device. See part 8, the article titled: "The Crux of the Matter."
The Gods of ERB by Dale Broadhurst
http://www.erbzine.com/mag11/1135.html
Baring-Gould in the ERB: Kith and Kin Series
http://www.erbzine.com/mag21/2103.html
The Moon Men in the Maid Maid Trilogy
http://www.erbzine.com/mag7/0767.html
Read the Moon Men Segment of the book in e-Text
http://www.erbzine.com/craft/moonmen.html

Off-Site Reference:
Hymn on Youtube
---
*** "Tarzan and the Chinese," by Burne Hogarth and Don Garden, began June 5, 1938, and ran for 25 Sundays.
Tarzan and the Chinese
View the first Sunday page of the Series: #378
http://www.ERBzine.com/mag66/tzbh380605.jpg
Tarzan in Color Covers: Tarzan and the Chinese
http://www.erbzine.com/mag45/4564.html
ERBzine ERB Comics Archive
http://www.ERBzine.com/comics
*** "A Dance in the Jungle," written and illustrated by Rex Maxon, began this date in 1944 and ran for 18 days.
A Dance in the Jungle: All 18 Maxon Tarzan Strips
http://www.erbzine.com/mag54/5449.html

---
JUNE 6
---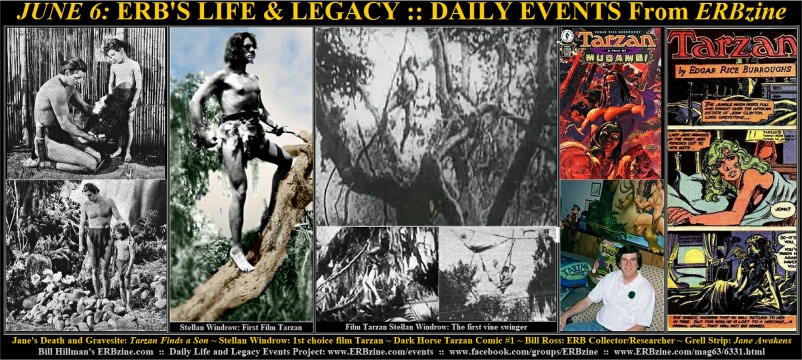 Jane's Death and Gravesite: Tarzan Finds a Son ~ Stellan Windrow: 1st choice film Tarzan
Dark Horse Tarzan Comic #1 ~ Bill Ross: ERB Collector/Researcher ~ Grell Strip: Jane Awakens
---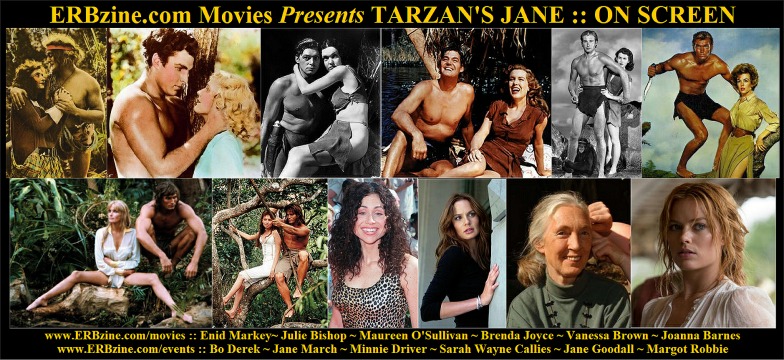 ---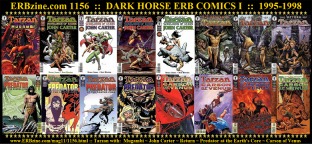 .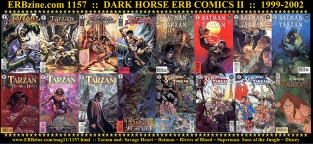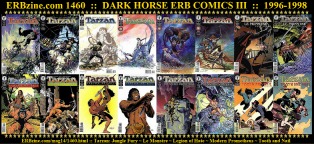 .
---
*** 1939: You can't kill Jane, so don't even try.
Edgar Rice Burroughs tried to kill Jane in 1919's "Tarzan the Untamed," but had to bring her back from the dead at the end of the book, making it possible for her to have a starring role in the sequel, "Tarzan the Terrible."
Twenty years later, MGM tried to kill Jane simply because Maureen O'Sullivan was of a mind (temporarily) to give up the role and retire from acting. "When Burroughs learned of the planned death of Jane he wired MGM from Hawaii, threatening to sue. There was nothing in Burroughs' contract with the studio to prevent this script decision but the backlash from fans was so overwhelming that they changed the script." It helped that Maureen changed her mind about retiring and decided to make more films after all.
"Tarzan in Exile" was the working title for what eventually became "Tarzan Finds a Son." The working title could have been "Tarzan Loses A Wife," since the original plan was for Jane to die at the end, leaving Tarzan with Boy as his jungle companion. In that original, Jane was to exit by way of a spear wound. A scene was filmed with Tarzan and Boy at her grave, which was to be adjacent to the grave of Boy's real mother, who died in an airplane crash. But once word got out about what the film-makers intended to do, the fans were outraged, as well as ERB, who threatened to sue, even though he had tried once to kill Jane himself 20 years earlier in "Tarzan the Untamed."
The death at the end of "Tarzan Finds a Son," would leave Tarzan and Boy as "Father and Son of the Jungle" in future film, but both Maureen O'Sullivan and MGM found a way to keep her above ground to make a few more Tarzan movies.
The June 6, 1939, issue of Look Magazine reported on the turnabout.
MGM didn't succeed in killing Jane, but death did come to others in both the Tarzan books and movies, there is a scene from the first Tarzan movie, picturing the passage from the first Tarzan book, in which the ape man finds the lifeless body of Kala, the she-ape, who raised him. From the look in Tarzan's eyes, the killer of his mom is not long for this world.
---
*** Note from Porges Biography: In a letter to ERB. on Dec. 7, 1918, Bert Weston wrote of the fact that his son, Collins, was in bed with the flu "…and I read to him endlessly of the Tarzan books. As a matter of fact the more I read those book (sic) the more I think of them. Collins detests Jane Porter. He thinks Tarzan was mightily stung when he married her. I do not know but what he was right. I should say that Tarzan was rather the choicer vessel."
By the time that letter was written, ERB had already sent the first of his Tarzan and the Hun stories to Red Book Magazine, and these stories eventually became the first part of 'Tarzan the Untamed' (1920), which opened with Jane's supposed death at the hands of renegade German soldiers. So apparently ERB didn't need any prompting from the Westons to take a whack at his blonde heroine.
On May 10, 1920, just over a week after the magazine serial finally appeared between hard covers, he wrote to Weston and said: "…I left Jane dead up to the last gasp and then my publisher and the magazine editor rose up on their hind legs and roared. They said the public would not stand for it as I was having Tarzan fall in love with Bertha, so I had to resurrect the dear lady. After seeing Enid Markey take the part of Jane in the first Tarzan picture I was very glad to kill her."
Poor little Collins was delighted when he began reading the magazine version of the adventures that eventually made up the book Tarzan the Untamed. Weston wrote ERB on April 29, 1919, that "Collins said: "Gee Whiz—I'm glad that Jane Clayton is dead!" Jane never was a favorite of his. Pity poor Collins when he got to the end of the saga and found out she was alive, after all!
Look Magazine: Article on Keeping Jane Alive
http://www.erbzine.com/mag16/1658.html
Tarzan Finds a Son: ERBzine Silver Screen Series
http://www.erbzine.com/mag6/0620.html
Tarzan the Untamed: Includes the "death" of Jane
http://www.erbzine.com/mag4/0493.html
Robin Maxwell touts the importance of Jane in the Tarzan mythos
http://www.erbzine.com/mag39/3943.html

Off-Site References:
Jane in Wikipedia

---
*** 1916: A few years earlier on June 6, this time in 1916, ERB had started the whole film thing going: "Burroughs had been exploring film production for "Tarzan of the Apes" ever since 1913 when a New York play broker had suggested it. After many rejections, he signed a personal contract with Chicago insurance salesman Bill Parsons, June 6, 1916, granting him the film rights for $5,000 in advance on royalties, plus $50,000 in common stock in the company Parsons would form to raise the money needed for production. By the end of the year Burroughs was Director General of Parsons' National Film Corporation of America."
Early Tarzan Film Plans and Stellan Windrow
http://www.erbzine.com/mag28/2876.html
Tarzan of the Apes: First Tarzan Film 1918
http://www.erbzine.com/mag5/0503.html
---
*** 1995: "June 6, 1995, was the lay-down date for Dark Horse's first Burroughs-related comic book," reported Bill Ross in his history of Dark Horse Tarzan comics. Approximately two years after Semic International with Malibu Comics ceased production of its Tarzan comic, Dark Horse Comics, Inc. took up the mantle. Again Edgar Rice Burroughs fans had high hopes, and again, except for a few highlights, those hopes were dashed. Poor scripts and poor artwork were the rule rather than the exception. For seven years and a little over fifty books (and several graphic novels) Dark Horse created and adapted numerous short run stories.
Bill Ross History of Dark Horse Tarzan Comics
http://www.erbzine.com/mag11/1156.html
Dark Horse ERB Comics II
http://www.erbzine.com/mag11/1157.html
Dark Horse ERB Comics III
http://www.erbzine.com/mag14/1460.html
Dark Horse ERB Comics IV
http://www.erbzine.com/mag14/1476.html
---
*** 1982: "Jane Awakens," a one-Sunday story was illustrated and written by Mike Grell for June 6, 1982. Wives everywhere ought to be able to relate to this!
Jane Awakens: Tarzan Sunday page by Mike Grell
http://www.erbzine.com/mag29/tz2651.jpg
From the Mike Grell Tarzan Strips Series
http://www.erbzine.com/mag29/2967.html
---
EVENTS FROM ERB'S JOURNALS
*** 1913: ERB submitted Prince of Helium (Warlord of Mars) to All-Story
*** 1925: ERB reported that Tarzan of the Apes had been published in over 20 languages resulting in huge royalty cheques
*** 1925: ERB wrote his Scopes trial report for the International Press Bureau & Universal Service.
*** 1929: Jack accumulated seventy newly-hatched baby turkeys and a bunch of light brahmas for Tarzana Ranch while Ed was away.
*** 1930: Ed rode to Chi-Go-Oy Hills (he had given them an Apache name) and through Jacknife Canyon (name derived from Hully having lost his jacknife there) and on to observe in sadness the clearing of trees: sycamores and live oaks. He visited Jim and Joan in the afternoon and they played golf followed by beer and bridge.
ERB Bio Timeline
http://www.ERBzine.com/bio

---
JUNE 7
---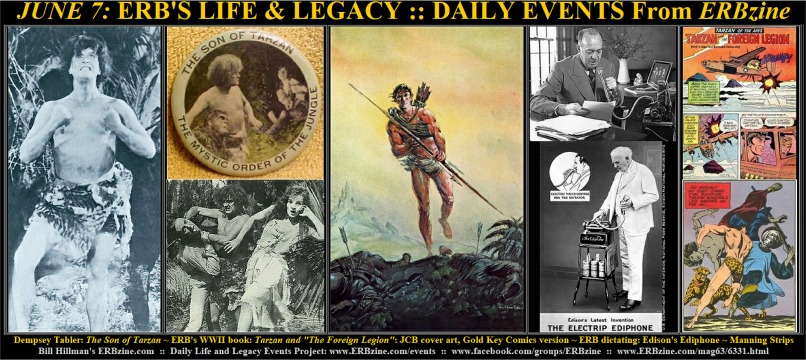 Dempsey Tabler: The Son of Tarzan ~ ERB's WWII book: Tarzan and "The Foreign Legion":
JCB cover art, Gold Key Comics version ~ ERB dictating: Edison's Ediphone ~ Manning Strips
---
---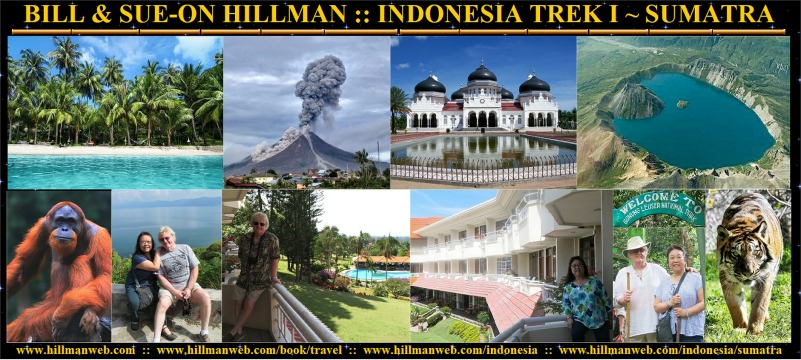 ---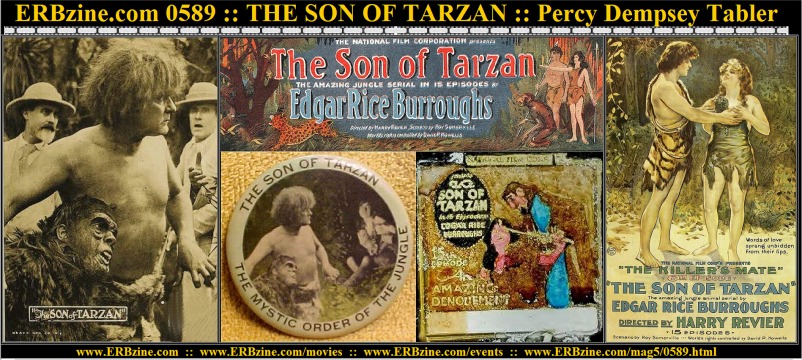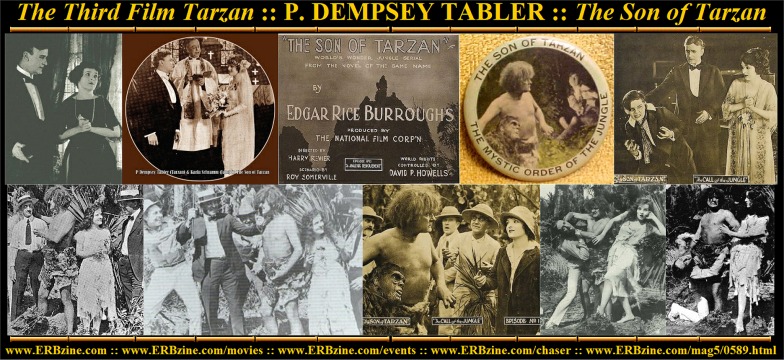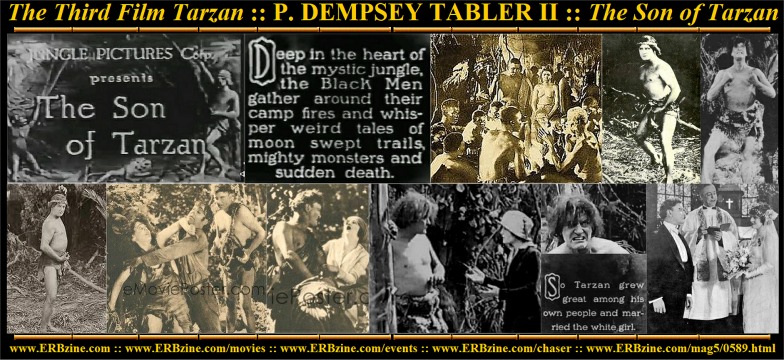 ---
*** 1944: The day after D-Day -- June 7, 1944 -- and the third and a half anniversary of the attack on Pearl Harbor -- ERB was in a warlike mood, and started compiling notes for his new Tarzan novel which would have the ape man battle Japanese on Sumatra. Tarzan and "The Foreign Legion" has appeared in many versions since, including a comic book version.
*** Hillman Sumatra Adventure: In 2019, Sue-On and I spent six weeks exploring Malaysia and Indonesia. This included tracing many of the locales that ERB described in Tarzan and "The Foreign Legion." We trekked through Sumatra jungles, up live volcanoes, across dormant craters and caldera lakes, native villages, mosques, to buildings and canals and defences built by the Dutch during their long colonial period. We also gathered horrific stories from the survivors of the Jap invasion and occupation.
We hadn't come across any tigers or rhinos, although there were numerous reported sightings in the jungles close to us. We did however, mingle with countless monkeys and orangutans as well as with a great variety of native birds and other wildlife. The food and fruits were in abundance and we especially enjoyed the local durian fruit that was mentioned a few times in the book. Great to see durian in such great abundance as it is quite expensive to buy back home in Canada. A great experience and we took thousands of photos.
Ballantine Promo Blurb: "When the American bomber crashed in the jungles of enemy-held Sumatra, the survivors faced the perils of a completely unknown world . . . and the RAF colonel who had flown with them as observer seemed to compound their danger by going mad—stripping to a loincloth and throwing away his weapons except for his knife. But for Colonel John Clayton, Lord Greystoke, the hazards of wild beasts and a remorseless enemy were a familiar and joyously accepted challenge — a chance to return to his true identiy of Tarzan of the Apes. Gathering a motley crew of allies of many nations, Tarzan worked a terrible vengeance on the occupying Japanese, led an epic trek to the coast — to a final ocean rendezvous with enemies human and inhuman."
*** ERB's Dedication and Foreword: To Brigadier General Truman H. Landon
My knowledge of Sumatra at the time that I chose it as the scene of a Tarzan story was pathetically inadequate; and as there was not a book on Sumatra in the Honolulu Public Library, nor in any of the book stores, it bade fair to remain inadequate.
I wish therefore to acknowledge my indebtedness to those whose kindness furnished me with the information I sought. If this volume happens to fall into the hands of any of them, I hope they will not feel that I abused that kindness.
And so, my sincere thanks to Messrs. K. van der Eynden, S. J. Rikkers, and Willem Folkers of the Netherlands India Government; to Mr. C. A. Mackintosh, Netherlands Consul in Honolulu; to Messrs. N. A. C. Slotemaker de Brume, Director, B. Landheer, and Leonard de Greve of The Netherlands Information Bureau, New York, and to my good friend Capt. John Philip Bird, A.A.C. of S., G-2, USAFPOA, who arranged my first meeting with the Netherlanders.
~ EDGAR RICE BURROUGHS ~ Honolulu ~ 11 Sep. 1944
Tarzan and "The Foreign Legion: ERB C.H.A.S.E.R.
http://www.erbzine.com/mag7/0732.html
Tarzan and "The Foreign Legion: Read the eText Edition
http://www.erbzine.com/craft/tzfl.html
Tarzan and the "Foreign Legion": Gold Key Comics Version
http://www.erbzine.com/mag25/2592.html
http://www.erbzine.com/mag25/2593.html
Illustrated Time Line of 1944 WWII Events
http://www.erbzine.com/mag10/1037.html
Hillman Travel Adventures
http://www.hillmanweb.com/indonesia/sumatra/
http://www.hillmanweb.com/book/travel
Wartime Journals of Correspondent ERB: 1942-43
http://www.erbzine.com/mag68/6800.html
---
*** 1956: Perce Dempsey Tabler, the third screen Tarzan, died on this date in San Francisco. By the time he did "The Son of Tarzan", at age 41, the Tennessee athlete had four seasons of light opera, had produced films, starred in several of Thomas H. Ince's Triangle productions, co-starred with William S. Hart in "Captive God", and had helped found Paramount Studios.
National Film Corporation renewed their contract with Burroughs after Bill Parsons' death in 1919. Tarzan was now considered a valuable property and Burroughs was paid a whopping $20,000 plus a percentage for The Son of Tarzan. Veterans of earlier Tarzan films, Karla Schramm and Gordon Griffith, were hired to play Jane and Tarzan's son, Jack. Since Lincoln and Pollar were still under contract to Universal they made a surprising choice for the new Tarzan. The role went to Perce Dempsey Tabler (a.k.a. Percy Dempsey Tabler or P. Dempsey Tabler), a middle-aged actor whose feeble physique and poorly designed toupee failed to convince anyone that he was the Lord of the Jungle.
Luckily the role of Tarzan was secondary in the film and their choice for the starring role of Tarzan's son Jack (his ape name was Korak), went first to western star Jack Hoxie who was replaced before production began by an exotic young actor from Hawaii, Kamuela Searle.
Tabler's film career sagged after his appearance as the ape man in the serial, "The Son of Tarzan," but he did have a business acumen that he put to work in the adverising industry and later made his fortune that way. He was the third screen Tarzan and, in 1916, had been a supporting actor with she who was to be the first screen Jane, Enid Markey, in "The Phantom," about a jewel thief, not the jungle policeman, who wasn't created until 1936.
TRIVIA
* "Numa", the lion in this film, was the first lion -- then called "Leo" -- used when the MGM logo appears at the beginning of that studio's films.
* Kamuela C. Searle was seriously injured during filming and Tabler broke several ribs in a fight scene with Eugene Burr.
* The original plan was to film the production on a tropical island in the South Pacific where they would use the natives as extras. It was eventually filmed at Corona del Mar.
* During the filming at Corona del Mar, the boats "Lady Alice" and "Comfort" replicas were stripped by pirates during the night and no trace of the stolen property was ever found.
* A prologue summarizing the first three Tarzan films was added to the beginning of the serial.
* Three actors played Korak in this movie: (1) Gordon Griffith played Korak as a child (having previously played Tarzan as a child). (2) Kamuela C. Searle played Korak as an adult. (3) A third, unidentified actor plays Korak in the final scene, in which he is reunited with his mother and with his beloved Meriem. This actor has short hair and never turns his face to the camera.
* The producer hired Norman Tuckey' (music) and Osborne Tedman (lyrics) to write the first Tarzan song, "Tarzan, My Jungle King," sheet music. "Written and composed especially for Son of Tarzan" (which was, ironically, a silent movie).
The Son of Tarzan with Tabler as Tarzan
https://www.erbzine.com/mag5/0589.html
Son of Tarzan is featured in Scott Tracy Griffin's TARZAN ON FILM Book
https://www.erbzine.com/mag63/6308.html

Off-Site References
Tabler at IMDB
Son at IMDB
---
*** 1953: "Tarzan and the Mongol Horde," by Bob Lubbers, illustrator, and Dick Van Buren, writer, began June 7, 1953, and ran for 14 Sundays.
Bob Lubbers Tarzan Strips Directory
http://www.erbzine.com/mag48/4855.html
---
*** 1970, "Tarzan and the Slavers," written and illustrated by Russ Manning, began June 7, 1970, and ran for 23 Sundays.
At this link, you have the option of reading the U.S. version or the alternate French version, with different coloring.
Tarzan and the Slavers: 23+ Sunday Pages
http://www.erbzine.com/mag21/2124.html
---
1944: In his letter to Thelma Terry, Ed reported that he saw son, Hulbert occasionally when he is not off on a mission. "He was in Sydney early in 1942 with Gen. Emmons. I doubt that the will get there again, as his outfit operates in the Central Pacific." Ed asked her if she could find a replacement for a brass war correspondent insignia (available only in Australia) that he lost at Kwajalein. He sent a tracing of it for identification.
ERB's Letter to UK Fan: Thelma Terry
http://www.erbzine.com/mag10/1026.html

---
From ERB's Bio Timeline:
*** 1921: June 7: Ed sent a sample of a plant he believed was Loco weed to California authorities for verification that it might be harmful to livestock. His gardener had planted it as an ornamental shrub. Professor Kennedy responded that it is a California variety of Loco weed, but since they only have information on Colorado varieties they cannot determine how dangerous it is. Ed was requested to send reports on any harmful effects it may have on his livestock. Ed destroyed the plant.
*** 1922: June 7 - July 20: The Moon Maid was written. Ed made use of the Ediphone - i.e. "Dic to Pg. 80, Typewritten from Chap. VIII."
*** 1929: ERB contacted Bray about the possibility of repurchasing all of his book rights.
*** 1940: ERB reported: "I hear plenty about the war here. he people are not so happy. An enemy from the West would probably try to mess up this island -- the largest military and naval establishment belonging to the US. Worse still, the food problem would be terrible. They don't raise enough to feed the population I am told. We live between two heavily fortified Points which an enemy would certainly bomb. They might miss and hit us.
"Am not so happy with myself today. Went on a picnic yesterday with the Hallidays and Mitchells. Halliday is John Halliday the actor. I spent four hours on and in the water during the hottest part of the day, and although I tried to protect myself to some extent, I am badly burned and swelling. My hands and arms look like those of pithecanthropus erectus; and my head will, I fear, soon bear a startling resemblance to that of a man from some distant planet. We picnicked on Sand Island in Kaneohe Bay. I went over in Halliday's sampan and came back in Mitchell's speed boat. It was lots of fun, but not so funny today. Sand Island is a spit of sand. When we arrived it was about a quarter of a mile long and a few yards wide. Not a tree or spear of grass on it -- just white sand. Before we left the tide had come in and you could have covered the whole island with your front parlor rug. The swimming was fine and so were the highballs on Mitchell's boat -- a cabin job. A few days ago some swimmer s reported seeing five sharks at the island. We didn't see any, but that was not because we didn't look for them."
*** 1944: Brother George died at Fontana, CA
*** 1944: Dinner with Frank Capra, Phil, et al at the Roundhouse. Ed returned to the hotel to find that his director's chair had been swiped.
ERB Bio Timeline
http://www.ERBzine.com/bio


BACK TO MAY WEEK IV
www.ERBzine.com/mag63/6330.html



VISIT JUNE WEEK I PHOTO ALBUM
www.ERBzine.com/mag63/6331pics.html
BACK TO DAILY EVENTS INTRO and CONTENTS
www.ERBzine.com/events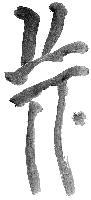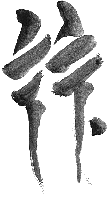 BILL HILLMAN
Visit our thousands of other sites at:
BILL AND SUE-ON HILLMAN ECLECTIC STUDIO
ERB Text, ERB Images and Tarzan® are ©Edgar Rice Burroughs, Inc.- All Rights Reserved.
All Original Work ©1996-2018/2021 by Bill Hillman and/or Contributing Authors/Owners
No part of this web site may be reproduced without permission from the respective owners.