Official Edgar Rice Burroughs Tribute Site
Since 1996 ~ Over 15,000 Webpages and Webzines in Archive
Volume7420
Mirrored from our 1996 ERB-TV Feature
TARZAN TV SERIES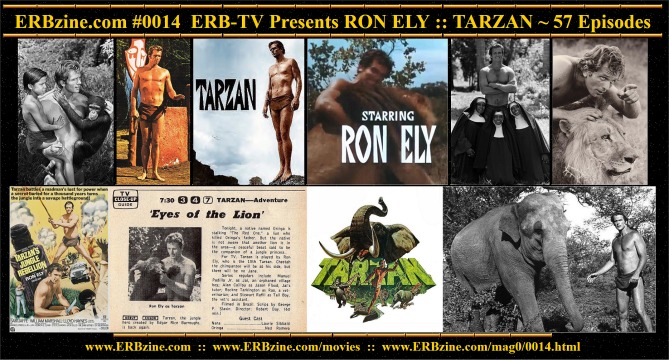 Starring Ron Ely
We Are Adding Episode Reviews by
CHARLES MENTO
Click on the READ REVIEW Links for ALL 57 Episodes

The first Tarzan television series ran on NBC from September 1966 to April 1968,
for a total of 57 episodes. Ron Ely played an intelligent Tarzan.
Tagline: The Original Swinger...swinging to new heights of adventure!
---
Ron Ely Series (1966-1968)
TITLES ~ DATES ~ GUEST STARS
LINKS TO EPISODE REVIEWS WITH MANY SCREEN CAPTIONS
---
One of the best features of the series as a whole is the excellent selection and acting ability of the guest stars.
For this reason I have included the names of the featured guest stars with every episode.
The main weaknesses of the series are inconsistent story lines, overuse of the young boy Jai character,
and too little interaction with the world of animals.
---
Season 1 Episodes
---

1. Eyes of the Lion (Laurie Sibbald ~ Nara, Ned Romero ~ Oringa)
9/8/1966 A man-eating lion is mistaken for the 'seeing-eye' lion of a young blind girl, who has trained the animal from infancy to be her eyes and protector in the jungle. Tarzan must prevent the hostile villagers from killing the wrong lion.
READ REVIEW
---
2. The Ultimate Weapon (Andrew Prine ~ Peter Haines, Jock Mahoney ~ Hoby Wallington)
9/16/1966 When a game warden is shot by an ivory poacher looking to make a fortune off the seasonal elephant migration, the poacher falls off a cliff after tangling with Tarzan, but the accidental death causes the man's son to vow revenge.
READ REVIEW
---
3. Leopard on the Loose (Russ Tamblyn ~ Bell, Ken Scott ~ Morrisey, Morgan Jones ~ Galloway)
9/23/1966 A trading-post worker in need of money tries to steal Jai's pet leopard.
READ REVIEW
---
4. A Life for a Life (Jon Alvar ~ Obasi, Danica d'Hondt ~ Calloway)
9/30/1966 After a spider bite fells Jai, Tarzan races to find one of two people whose blood might have antibodies that could save the boy: a lady photographer and a wanted murderer.
READ REVIEW
---
5. The Prisoner (Robert J. Wilke ~ Spooner, Charles Maxwell ~ Mac, Ken Drake ~ Dude)
10/7/1966 When a native policeman is seriously injured by a diamond thief, Tarzan tries to get the criminal to jail - and keep the officer's angry tribe from taking the law into its own hands.
READ REVIEW
---
6. The Three Faces of Death (Ena Harman ~ Laneen, Woody Strode ~ Jamoya)
10/14/1966 Tarzan agrees to compete in three death-defying events to prove a native woman's right to retain the rulership of her tribe.
READ REVIEW
---
7. The Prodigal Puma (Rafer Johnson ~ Spandrell, Gigi Perreau ~ Sheri Kapinski)
10/21/1966 An embittered big-game hunter tries to steal a rare puma that Tarzan has captured.
READ REVIEW
---
8. The Deadly Silence, Pt. 1 (Bob Doqui ~ Metusa, Jock Mahoney ~ mad colonel, ...)
10/28/1966 Tarzan tries to stop a bloodthirsty Colonel from taking over an African village with his soldiers of fortune. However, Tarzan has been rendered temporarily deaf by an exploding hand grenade, effectively limiting one of his keen senses, so he must rely on his near-telepathic ability to communicate with a lion.
READ REVIEW
---
9. The Deadly Silence, Pt. 2 (...Woody Strode ~ Sgt. Marshak, Gregorio Acosta ~ henchman)
11/4/1966 Though still deafened by grenades, Tarzan relies on his animal friends to help him elude the colonel's heavily-armed soldiers.
READ REVIEW
---
TARZAN'S DEADLY SILENCE
Feature film created from the two episodes of DEADLY SILENCE TV episodes
---
10. The Figurehead (Ricky Cordell ~ Prince Shariff, Ken Drake ~ Karim)
11/11/1966 Tarzan and Jai try to get young Prince Sharif out of the jungle to safety. The boy is being pursued by the same conspirators who assassinated his father.
READ REVIEW
---
11. Village of Fire (Nobu McCarthy ~ Dr. Haru)
11/18/1966 Tarzan races to recover a serum stolen by a native chief. The drug is the only hope for the fever-wracked Jai, who has been bitten by a jaguar and is near death.
READ REVIEW
---
12. The Day of the Golden Lion (Suzy Parker ~ Laura Keller, George Murdock and Curt Lowens)
12/2/1966 A native athletic championship is to take place, with Tarzan taking part, but there is an attempt to steal the prize.
READ REVIEW
---
13. Pearls of Tanga (Carlos Riva ~ Admiral Gioco)
12/9/1966 Tarzan does battle with a criminal known as 'The Admiral' who has his own submarine and has been poisoning the waters so that his own crew are the only ones able to recover fabulously valuable pearl oysters.
READ REVIEW
---
READ REVIEW
14. The End of the River (Jill Donahue ~ Suzanne, Michael Whitney & Robert Wilke & G. Murdock)
12/16/1966 A airplane crash in the jungle results in Tarzan racing to save a girl's life and a perilous struggle with a convicted criminal.
---
READ REVIEW
15. The Ultimate Duel (Henry Silva ~ Dr. Ivor Merrick)
12/23/1966 A deadly survival test pits Tarzan against an electronic computer. The jungle lord is being tracked by a tribe of native killers, directed by a scientist who uses a computer to predict Tarzan's every move.
---
READ REVIEW
16. The Fire People (Mel Lettman ~ David Chaddo, Elsa Gardenas ~ Dr. Halverson)
12/30/1966 Tarzan and Jai risk their lives to help a native chief save his people. The superstitious tribesmen, frightened by a witch doctor, won't abandon their home on a volcanic mountain that's about to erupt.
---
READ REVIEW
17. Track of the Dinosaur (Lloyd Bochner ~ Bergstrom)
1/6/1967 Tarzan is marked for murder when he clashes with a corrupt government official and his female co-conspirator. The pair are using the natives' beliefs in a monster to drive them away from a rich mineral deposit.

---
READ REVIEW
18. The Day the Earth Trembled (Susan Oliver ~ Peggy Dean)
1/13/1967 Tarzan reluctantly enlists the aid of three escaped convicts to escort a group of endangered children to safety.
---
READ REVIEW
19. Cap'n Jai (Rockne Tarkington as Tao, Alan Caillou as Jason Flood, Ben Wright as Hatcher, Chips Rafferty as Dutch, Russ McCubbin as Zato, Gregg Palmer as Cookie)
1/20/1967 Jai is duped by three double-crossing sailors, who are attempting to recover some stolen diamonds.
---
READ REVIEW
20. A Pride of Assassins (Jill Donahue ~ Diana Lawton, Gene Evans ~ Albers)
1/27/1967 When Tarzan and a young woman threaten to expose his gunrunning scheme, a smuggler sends assassins after them.
---
READ REVIEW
21. The Golden Runaway (Gia Scala ~ Martha Tolbooth, Khalil Dezaleel ~ Chundra Lai, Stacey Harris)
2/3/1967 To help find a woman's missing brother, Tarzan takes her to see a village headman, who turns out to be a red-headed Irishman.
---
READ REVIEW
22. Basil of the Bulge (Maurice Evans ~ Sir Basil Bertram, Warren Stevens ~ Roger Bradley)
2/10/1967 A renowned war-time general, on a treaty mission in the jungle, is captured by a dissenting tribe with the connivance of a corrupt official.
---
READ REVIEW
23. Mask of Rona (Leslie Parrish ~ Beryl Swann, Martin Gabel ~ Peter Maas)
2/17/1967 Tarzan is hired by wealthy, pampered Peter Maas to located Rona Swann who has disappeared into the jungle. When Tarzan locates the reclusive artist she declines to return and Maas is actually a gun smuggler.
---
READ REVIEW
24. To Steal the Rising Sun (Ron Glenn, Sr. ~Lukumba, Victoria Shaw ~ Lita MacKenzie)
2/24/1967 An exiled chief returns to the jungle with three thieves and a plan to steal his former tribe's valuable ruby - using Tarzan as his unwitting accomplice.
---
READ REVIEW
25. Jungle Dragnet (Victoria Meyerink ~ Mandy Mason)
3/3/1967 A local revolutionary joins forces with a foreign soldier to try to prevent the discovery of a rich oil field by silencing a little girl.
---
READ REVIEW
26. The Perils of Charity Jones, Pt.1 (Julie Harris ~ Charity Jones, Woody Strode ~ Chaka)
3/10/1967 A missionary from America's midwest enlists Jai's help to fulfill her father's last wish and deliver an organ to a primitive tribe, but their boat is disabled.
---
READ REVIEW
27. The Perils of Charity Jones, Pt.2
3/17/1967 Tarzan rescues Charity and Jai from hostile natives, but then the trio are pursued by another tribe who are after the guns that Jai has hidden.
---
READ REVIEW
28. The Circus (Chips rafferty ~ Dutch Jensen)
3/24/1967 Jai and Dutch encounter a fugitive who is trying to evade a manhunt by joining the circus.
---
READ REVIEW
29. The Ultimatum (Ruth Roman ~ Madiline Riker, Ralph Meeker ~ Karnak)
3/31/1967 A dangerous woman and her hired thugs threaten to destroy a native village unless Tarzan submits to being their prisoner.
---
READ REVIEW
30. Algie B. for Brave (Maurice Evans ~ Sir Basil Bertram, Tod Barrett)
4/7/1967 General Bertram returns, and gets Jai's help on a mission to locate a foreign power's nuclear-detection equipment.
---
READ REVIEW
31. Man Killer (Tammy Grimes ~ Polly Larkin)
4/14/1967 Tarzan's search for a murderer is complicated by a village whose natives employ drugs in their ceremonial rituals.

---
Season 2 Episodes
---

READ REVIEW
32. Tiger, Tiger (James Whitmore ~ Cliff Stockwell, Anne Jeffreys ~ Melody)
9/15/1967 Despite a warning from Tarzan that a deadly tiger is loose in the area, an engineer insists on continuing work on an irrigation project.
---
READ REVIEW
33. Voice of the Elephant (Fredrick O'Neal ~ tribal spokesman, Murray Matheson ~ Judge)
9/22/1967 The life of Jai's pet elephant is in danger after it receives the blame for the death of a commissioner.
---
READ REVIEW
34. Thief Catcher (Donald Mitchell ~N'duma, George Kennedy & John Haymer ~ convicts)
9/29/1967 The lives of both Tarzan and a native chief are in danger from two escaped convicts, whose plan involves Jai.
---
READ REVIEW
35. The Blue Stone of Heaven, Pt.1 (Sam Jaffe ~ Dr. Singleton, William Marshall ~ Tatakombi...)
10/6/1967 Tarzan leads an archaeological expedition to a burial ground deep in the jungle, in defiance of an ancient taboo.
Tarzan's Jungle Rebellion
This is a feature film version of episodes 35 and 36, "The Blue Stone of Heaven."
---
READ REVIEW
36. The Blue Stone of Heaven, Pt.2 (...Harry Lauter ~ Josh Miller, Ulla Stromstedt ~ Mary)
10/13/1967 A power-mad colonel plans to steal the jeweled idol and dynamite the burial ground.
---

READ REVIEW
37. Muguma Curse (Simon Oakland ~ Burnett, Barbara Luna ~ Frankie)
10/20/1967 Tarzan battles to save a young woman from a curse of death implemented by an treacherous engineer.
---
READ REVIEW
38. The Fanatics (Diana Hyland ~ Diana Russell, Donald Marshall ~ Kimini, William Smithers)
10/27/1967 Tarzan helps a female reporter expose a rigged tribal election.
---
READ REVIEW
39. The Last of the Supermen (Alf Kjellin ~ von Wolvner, Antoinette Bower ~ Helge)
11/3/1967 A unrepentant Nazi forces Tarzan to help him locate a buried fortune left over from the war.
---
READ REVIEW
40. Hotel Hurricane (Stewart Raffill as Tall Boy, Manuel Padilla, Jr. as Jai, Rockne Tarkington as Tao, Alan Caillou as Jason Flood, Seamon Glass as Freddy, Donnelly Rhodes as Hank, Jean Hale as Lora, Bert Freed as Bonacci, Michael Tolan as John Turner, Ronn Glenn Sr.
11/10/1967 Mobsters try to fool Tarzan and Jai into helping them recover stolen money.
---
READ REVIEW
41. The Pride of a Lioness (James MacArthur ~ Dr. Wilson, Helen Hayes ~ mother, Geoffrey Holder)
11/17/1967 A young doctor is faced with two opponents in his attempt to keep his late father's clinic in operation. A native witch doctor has threatened his death and his socialite mother wants to have him deported. His mother, Mrs. Wilson, spent 30 lonely years in America while her husband was a jungle doctor in Africa. When Tarzan refuses to help her, she bands together with any evil faction in her attempt to get her son back. Tarzan helps her to realize that her husband was noble and she decides to stay with her son and help him.

---
READ REVIEW
42. Mountains of the Moon, Pt. 1 (Ethel Merman, Harry Lauter ~ Whitehead, Rokne Tarkington)
11/24/1967 A widow leads a cult of religious pilgrims on a dangerous journey into forbidden land, beset by saboteurs as well as hostile natives.
---
READ REVIEW
43. Mountains of the Moon, Pt. 2
12/1/1967 McCloud and her followers continue into forbidden land, but natives on horseback are waiting in ambush.
---
READ REVIEW
44. Jai's Amnesia (John Dehner ~ J.C. Crosby)
12/15/1967 Jai suffers a loss of memory as a result of an accident and ends up involved in an attempt to steal a sacred ruby.
---
READ REVIEW
45. Creeping Giants (Robert Wilke ~ Colin Yeager, Raymond St. Jacques ~ Wilson, Joel Fluellen)
12/29/1967 Tarzan fights a powerful land owner who has duped an engineer into dynamiting a mountain range, a project that will wipe out several native villages.
---
READ REVIEW
46. The Professional (Pat Conway ~ Colonel Stone, Clarence Williams ~ Sorda)
1/5/1968 A mad colonel and his heavily armed troops overrun the land of a peace-loving tribe, but he has reckoned without Tarzan.
---
READ REVIEW
47. The Convert (Malachi Throne ~ Larson, James Earl Jones ~ Nerlan, Diana Ross & Supremes ~ Nuns)
1/12/1968 Three nuns who have come to a native village to set up a hospital become unwitting pawns in a struggle between the village chief and a scheming land developer.

---
READ REVIEW
48. King of the Dwsari (Robert Loggia ~ Brown, Ernie Terrell [boxer] ~ Zwaka)
1/26/1968 Tarzan is imprisoned when he tries to free a native tribe that has been duped by a smooth-talking American expatriate.
---
READ REVIEW
49 A Gun for Jai (Ed Bakey ~ Prince, Peter Whitney ~ Mulvaney)
2/2/1968 While protecting a trigger-happy safari group from angry natives, and from themselves, the jungle lord must search for the wounded Cheetah the chimp.
---
READ REVIEW
50. Trek to Terror (Michael Ansara ~ Regis, Booker T. Bradshaw ~ Dr. Kenny)
2/9/1968 Tarzan is duped into helping a corrupt police inspector who arrests a crusading missionary and intends to kill him.
---
READ REVIEW
51. End of a Challenge (Woody Strode ~ Bangu, Chill Wills ~ Montrose, Henry Jones, Pedro Gonzales)
2/16/1968 Tarzan and Chief Bangu are forced to forget their mutual animosity as they team up to search for the chief's son and Jai, who have been kidnaped by a gun-toting thief.
---
READ REVIEW
52. Jungle Ransom (Fermando Lamas ~ Ramon Cortinez, Barbara Bouchet, Ted Cassidy)
2/23/1968 As Tarzan and a bandit engage in a battle of wits, a young woman tries to use both men in an effort to free her husband, a hostage in the bandit's camp.
---
READ REVIEW
53. Four O'Clock Army, Pt. 1 (Maurice Evans ~ Sir Basil Bertram, Julie Harris ~ Charity Jones...)
3/1/1968 No one can agree on how to prevent a forthcoming raid by slave traders.
---
READ REVIEW
54. Four O'Clock Army, Pt. 2 (...Bernie Hamilton ~ Waziri Chief)
3/8/1968 Tarzan goes after the slave traders, whose prisoners include Jai.
---
READ REVIEW
55. Rendezvous for Revenge (John Vernon ~ Dan Burton, Laraine Stephens ~ Doria)
3/15/1968 ~ Tarzan pursues a fugitive couple who are armed with hand grenades.
---
READ REVIEW
56. Alex the Great (Neville Brand ~ Alex Spence, Michael Dunn ~ Amir)
3/22/1968 ~ The task of protecting a village from a man-eating lion is complicated by the arrival of a man determined to prove himself superior to Tarzan - by killing the jungle lord.
---
READ REVIEW
57. Trina (Stacey Maxwell ~ Trina McKenzie, Nehemiah Persoff ~ Chembe Kunja)
4/5/1968 ~ A girl requests help from Tarzan to find her long-lost uncle.
---
Tarzan's Jungle Rebellion
This is a feature film version of episodes 35 and 36, "The Blue Stone of Heaven."

It is the only film version whose title was changed from that of the original 2-part episode.
---
Click for full sizes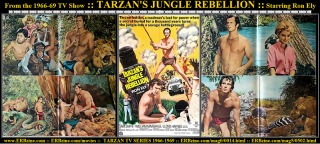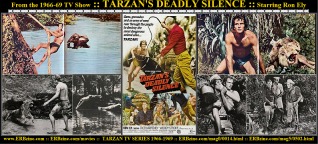 TARZAN'S JUNGLE REBELLION :: TARZAN'S DEADLY SILENCE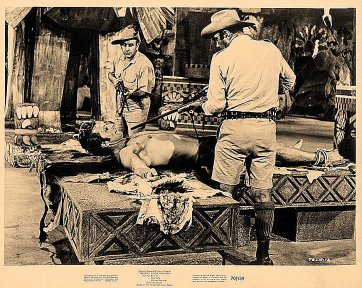 ---
STUNTS:
Ron Ely insisted on doing all his own stunts and animal fights.
This resulted in at least 17 wounds and injuries ~~ in the first season alone:

~1. Seven stitches to the head from a lion bite
~ 2. broken nose in a water fight
~ 3. dislocated jaw in a fight
~ 4. wrenched neck and disc in vine swinging accident
~ 5. right shoulder separation in vine swinging accident
~ 6. left shoulder separation from vine breaking during swing
~ 7. 3 broken ribs from same accident
~ 8. right biceps muscle torn in lion fight
~ 9. claw marks from leopard and puma fight
~ 10. sprained wrists from action scenes
~ 11. left leg hamstring muscle pulled
~ 12. right thigh muscle pulled
~ 13. bites and claw marks from jungle animals
~ 14. both ankles sprained from hard landings after leaps
~ 15. tops of feet badly scratched in fall down hill
~ 16. cracked left heel and
~ 17. bottom of right foot torn slipping on rocky mountains.
Ron Ely, fallen angelóTVís Tarzan separated a shoulder and cracked a rib
when a vine gave way, but like a trouper, went right back to work.


WEBPAGE GUIDE TO OUR 57 RON ELY TV TARZAN EPISODE REVIEWS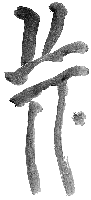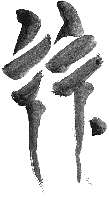 BILL HILLMAN
Visit our thousands of other sites at:
BILL and SUE-ON HILLMAN ECLECTIC STUDIO
ERB Text, ERB Images and Tarzan® are ©Edgar Rice Burroughs, Inc.- All Rights Reserved.
All Original Work ©1996-2022 by Bill Hillman and/or Contributing Authors/Owners
No part of this web site may be reproduced without permission from the respective owners.