Official Edgar Rice Burroughs Tribute and Weekly Webzine Site
Since 1996 ~ Over 15,000 Webpages in Archive
Volume 6323

ERB'S LIFE and LEGACY :: DAILY EVENTS
A COLLATION OF THE DAILY EVENTS IN ERB-WORLD
FROM THE PAGES OF ERBzine CREATED BY BILL HILLMAN
Collated by John Martin and Bill Hillman
With Web Design, Added Events, Links,
Illustrations and Photo Collages by Bill Hillman
DAILY EVENTS CONTENTS

APRIL CONTENTS
WEEK 1
APR 1 ~ APR 2 ~ APR 3 ~ APR 4 ~
APR 5 ~ APR 6 ~ APR 7

BACK TO MARCH WEEK IV
http://www.ERBzine.com/mag63/6322.html
VIEW THE PHOTO ALBUM FOR THIS WEEK'S EVENTS
http://www.ERBzine.com/mag63/6323pics.html
Click for full-size images
---
APRIL 1
---
Tarzan and Manu Companion, Nkima: Frazetta and Floyd art ~ Wallace's King Kong ~ 11 Film Tarzans in
TV Guide ~ John Carter Premiere in Japan ~ Barsoom News: Mystery figure seen on Mars
---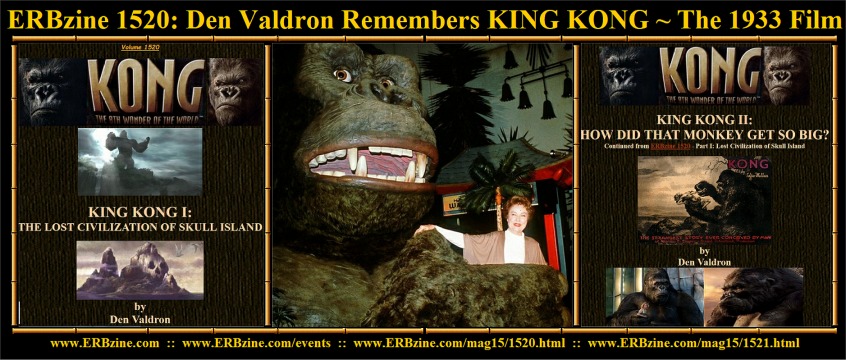 ---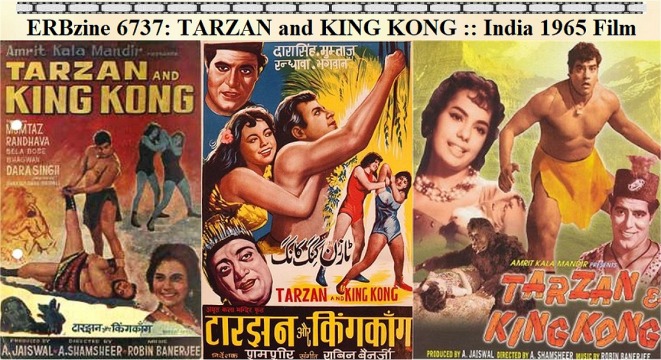 ---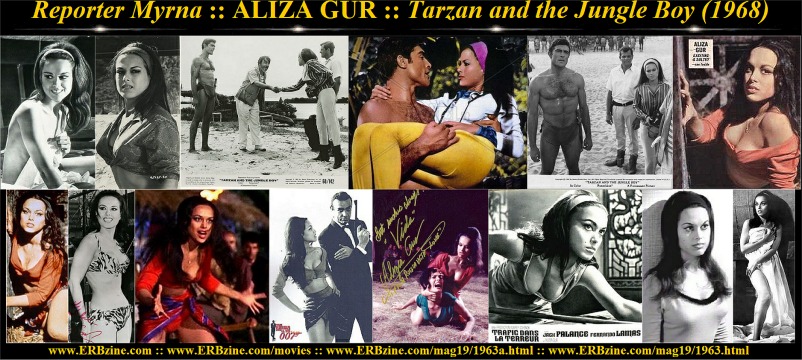 ---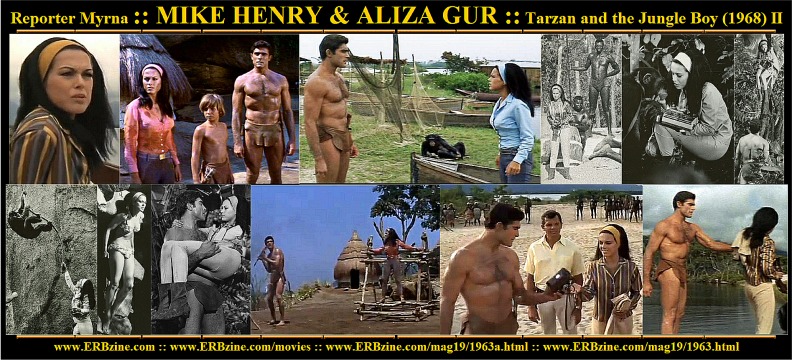 ---
*** 1875: Edgar Wallace (1875.04.01 - 1932.02.10) was born on this date. He was an English writer who narrated his words onto wax cylinders (the dictaphones of the day) and his secretaries typed up the text. This may be why he was able to work at such high speed and why his stories have narrative drive. Many of Wallace's successful books were dictated like this over two or three days, locked away with cartons of cigarettes and endless pots of sweet tea, often working pretty much uninterrupted in 72 hours. Most of his novels were serialised in segments but written in this way. The serialised stories that were instead written piecemeal have a distinctly different narrative energy, not sweeping up the reader on the story wave. Edgar Wallace enjoyed writing science fiction but found little financial success in the genre despite several efforts. His constant need for income always brought him back to the more mundane styles of fiction that sold more easily. His last work of science fiction and the only one widely remembered today is the screenplay for King Kong. He is given a credit, along with Merian C. Cooper and Delos W. Lovelace, on the book which features the novelization of that first film.
Among the books Wallace wrote were a series of jungle stories featuring Mr. Commissioner Sanders, who was in a number of books with the word "River" in the title. ERB had four of these books in his library and some see an influence on ERB's writing from the books, primarily in "The Beasts of Tarzan." Sanders also invented the name of N'Kima for monkeys, and that may have lingered in ERB's mind when he finally provided Tarzan with a monkey companion named Nkima, starting in "Tarzan and the Lost Empire." (Tarzan also had a monkey companion in the previous book, "Tarzan, Lord of the Jungle," but he was known simply as "Manu," the generic name for monkey in the language of the Great Apes.)
Since Tarzan is at home with jungle creatures, it was only natural that efforts would be made to feature him in some way with King Kong. There was a German-language book, "Tarzan Jagd auf King-Kong," in which the ape-man battles the behemoth, and the more recent Will Murray entry, "King Kong vs. Tarzan," in the Wild Adventures of Edgar Rice Burroughs series. There have also been some foreign-produced movies with "Tarzan" and "King Kong" in the titles.
R.E. Prindle writes about the ERB/Wallace connection
http://www.erbzine.com/mag30/3099.html
King Kong I: Skull Island by Den Valdron
https://www.erbzine.com/mag15/1520.html
King Kong II: How Did That Monkey Get So Big by Den Valdron
https://www.erbzine.com/mag15/1521.html
The Entire Screenplay: King Kong 1933
https://www.erbzine.com/mag51/5171.html
TARZAN AND KING KONG :: 1965 Indian Film Reviewed By Robert Allen Lupton
https://www.erbzine.com/mag67/6737.html
Recent ERB Book Releases
http://www.erbzine.com/mag62/6264.html
https://www.erbzine.com/erbalive/
The Beasts of Tarzan: ERB C.H.A.S.E.R. Bibliography Entry
http://www.erbzine.com/mag4/0485.html
---
*** Eleven Tarzans, up to and including Gordon Scott, were featured in a two-page spread in "TV Guide" on April 1, 1961. The article, "Me Tarzan No. 11" was about the fact that a Tarzan television series was in the works. Scott had been considered for the role earlier but it ended up going to eRB.
http://www.erbzine.com/bio/years50.html
---
*** And, considering today's date, one's attention is directed to an ERBzine news page which has an item which might just tie in with the traditional celebrations which are under way on this date. It is left to you, dear reader, to find the article on this page and judge for yourself:
ERBzine News Page 24
http://www.erbzine.com/news/news24.html
---
*** ERBzine contributor, Rick Barry, has noted that on April 1, 2012, JOHN CARTER had its Japanese premiere in Tokyo, with Andrew Stanton, Taylor Kitsch, Lynn Collins, and something green, resembling a Thark, in attendance.
John Carter (of Mars) - 2012 Film
http://www.cartermovie.com
---
*** While in wartime Hawaii in 1942, Ed completed the first of a series of radio programs which CBS plans to air weekly on the mainland.
In 1929 ERB made a formal complaint about royalties paid by McClurg. . . just one of the reasons he decided to incorporate himself and to publish his own books under ERB, Inc.
On April 1st, 1935, LA Times photographers, hearing rumours of ERB's planned second marriage, started to stake out Ed's house and on April 4th Ed and Florence took a Western Air Express flight to Las Vegas where they were married.
ERBzine's Perpetual Calender of ERB Events
http://www.erbzine.com/mag5/0564.html
---

1944: Aliza Gur was born Aliza Gurgross in Ramat Gan, Israel, on this date. She was Miss Israel of 1960 in the Miss Universe pageant, placing in the top 15. Her parents had fled Germany during the rise to power of Nazi leader Adolf Hitler and they eventually settled in Israel, where she and her brother were born.
She emigrated to the US in her 20s and settled in California, where she began her film and television career. Her television credits include guest appearances on Get Smart (1965) and The Wild Wild West (1965), among other shows. Her film credits include From Russia with Love (1963), Kill a Dragon (1967), Tarzan and the Jungle Boy (1968) and the cult vampire film The Hand of Night (1968) (she was also, at 12 years of age, an extra in The Ten Commandments (1956). Her parents came to the United States and settled in Cleveland, Ohio, for a time. They passed away in the mid-'70s.
Tarzan and the Jungle Boy (1968)
https://www.ERBzine.com/mag19/1963.html
Lobby Display
https://www.ERBzine.com/mag19/1963a.html
Mike Henry Tarzan Film Tributes
https://www.erbzine.com/mag19/1964.html
https://www.ERBzine.com/cards/film8/alizagurtarzanjungleboyall.jpg
https://www.ERBzine.com/cards/film11/alizagur2tarzanjungleboyall.jpg

---
APRIL 2
---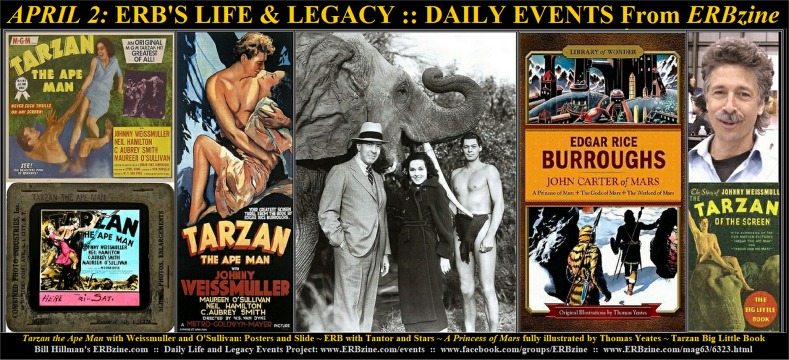 Tarzan the Ape Man with Weissmuller and O'Sullivan: Posters and Slide ~ ERB with Tantor and Stars
A Princess of Mars fully illustrated by Thomas Yeates ~ Tarzan Big Little Book
---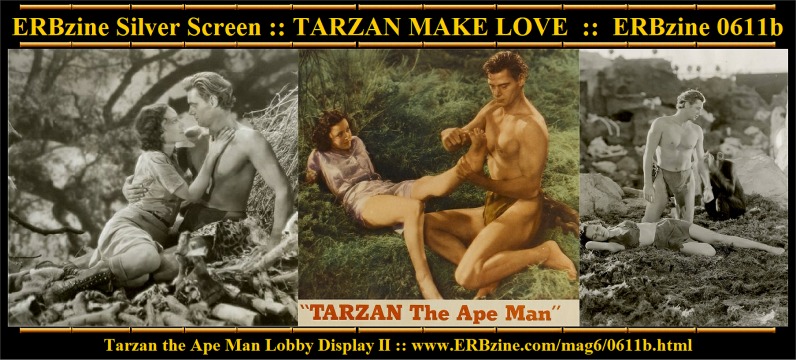 ---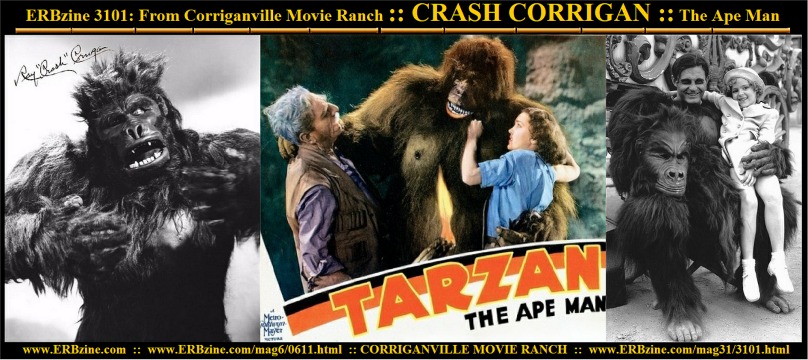 ---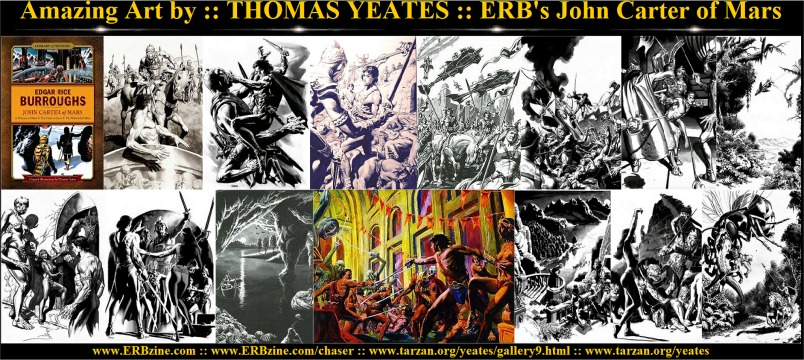 ---
*** 1932: "Tarzan the Ape Man," perhaps the most well-known Tarzan movie of them all, was released on this date.
Johnny Weissmuller was the face of the ape-man for 12 movies total over a 16-year period and, for many, is still the one who comes to mind when Tarzan is mentioned. And if there's anyone who wouldn't recognize his face, they would certainly recognize his yell.
While many fans of today appreciate the personas of Johnny Weissmuller and Maureen O'Sullivan as Tarzan and Jane, and can enjoy the screen stories for what they are, many wish that the Weissmuller movies would have portrayed Tarzan more in the way he is in the books.
However, it was ERB himself who insisted in his initial contract with the movie makers that they were to leave out "...any material which conflicts or infringes upon any story heretofore written by author," and ERB visited the set frequently to make sure they stuck to the bargain.
So, accordingn to a "background notes" section at ERBzine, "In exchange for substantial royalty cheques, Burroughs now seemed quite willing to give up his long, ongoing feud with Hollywood over the liberties taken with his original view of Tarzan that he often had found objectionable in earlier years. In fact, he made a public statement to MGM: 'Now that I have seen the picture I wish to express my appreciation of the splendid job you have done. This is a real Tarzan picture. . . . Mr. Weissmuller makes a great Tarzan. He has youth, marvelous physique and magnetic personality.'
Back in 2002 in ERBapa #73, I created a Chrono-Log of 100 Q and A's based on the film ~ This project is featured at: ERBzine 0642.
The ape in the film was played by Ray "Crash" Corrigan -- his first appearance as an ape. Crash and his Corriganville Movie Ranch are legendary. We spent a couple days exploring the Ranch and recalling all the famous sites there that have appeared in countless films over the years -- there was even a cement pond with a below-the-surface camera capsule where underwater scenes were filmed through the glass. We've shared the many photos we took of these visits across 8-pages starting at ERBzine 3101
Tarzan the Ape Man: ERBzine Silver Screen
https://www.erbzine.com/mag6/0611.html
Tarzan the Ape Man: 5 Lobby Displays starting at:
https://www.erbzine.com/mag6/0611a.html
BLB Summary of Tarzan the Ape Man
http://www.erbzine.com/mag6/0612.html
Colour Trading Cards Adaptation of Tarzan the Ape Man
http://www.erbzine.com/mag13/1373.html
Tarzan the Ape Man Log Notes and Study Guide by Bill Hillman
100 Q and A Questions
https://www.erbzine.com/mag6/0642.html
Crash Corrigan's Corriganville Movie Ranch
https://www.erbzine.com/mag31/3101.html
https://www.erbzine.com/mag6/tarzanmakelove.jpg
https://www.ERBzine.com/cards/film4/crashcorriganapeman.jpg

Off-Site References:
The IMDB report
As seen by AMC
---
*** Thomas Yeates Barsoom Art: The Barnes & Noble illustrated edition of the John Carter opening trilogy in its "Library of Wonder" series featured illustrations by well-known artist Thomas Yeates, who has provided illustrations for many ERB projects, for a Zorro newspaper strip, and, currently, for Prince Valiant. The handsome volume was titled "John Carter of Mars" and contained "A Princess of Mars," "The Gods of Mars," and "The Warlord of Mars."
The B&N John Carter Trilogy contains an incredible array of Barsoom art by Thomas Yeates. When I discovered this edition during a trip to the States I bought every edition off the B&N shelves. We have been long-time admirers of Thomas' talents. . . we've even jammed together and his sketch of Sue-On and I in a Barsoom setting is proudly displayed on the front page of our ERBzine.com Website.
In an interview published at Comicon.com on April 2, 2009, Yeates talked about his enthusiasm for ERB and the Martian trilogy project.
Read it and see more information about Thomas Yeates at:
Thomas Yeates in ERBzine's tarzan.org Companion Site:
http://www.tarzan.org/yeates/gallery9.html
Our ERBzine Yeates Tribute contains
a mulitude of spectacular Barsoom illustrations
http://www.tarzan.org/yeates
https://www.ERBzine.com/cards/art8/thomasyeatesjohncarterall.jpg
Off-Site Reference
Thomas Yeates website
---
*** On April 2, 2012, JOHN CARTER held a press event in Tokyo the day after its Japanese premiere, with Andrew Stanton, Taylor Kitsch, Lynn Collins, and singer Sachiko Kobayashi present.
John Carter: the 2012 film from Disney
http://www.cartermovie.com

---
APRIL 3
---
Peter Ogden: ERBANIA Publisher and BB Award ~ Jane Goodall & BB Award and The Hillmans
ERBANIA Early and Later ~ ERB, Emma and Hully: Death Valley ~ Tarzan, Maynard's Wonder Horse
---
---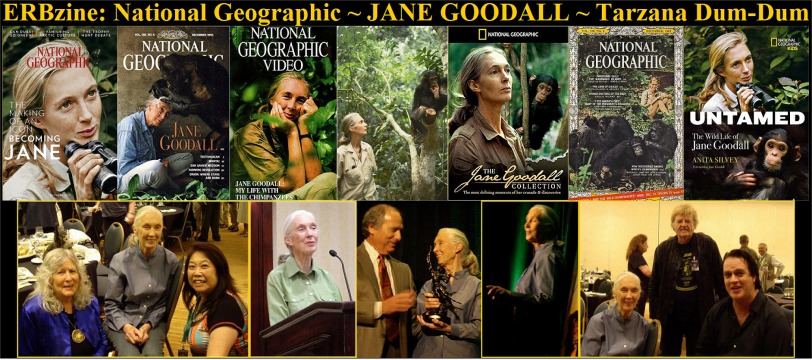 ---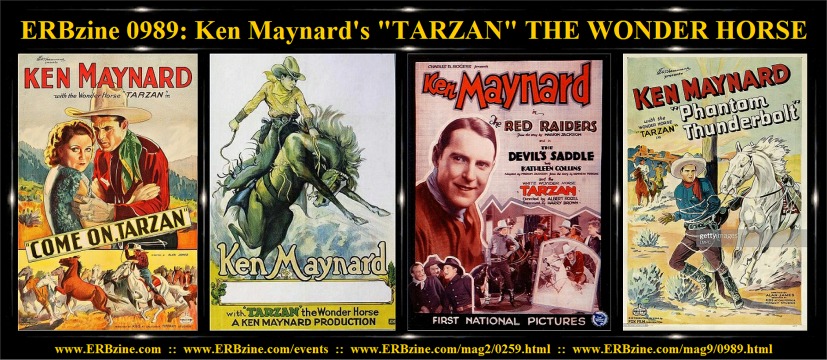 ---
*** In 1956 on April 3, more than 60 years ago, D. Peter Ogden published his first issue of "ERBANIA," in England. It was a 20-pager and included an article by Peter on "The American Tarzan Strip" and a bibliography of the original appearances of the novels. Later, Peter moved to Canada and then to Florida, where he continued to publish ERBANIA up through issue 103 a few years ago.
Peter passed on October 22, 2017.
I'd been exposed to Tarzan and John Carter in comics, films, strips, radio shows, BLBs and merch as a kid since the late '40s and into the early '50s. The mid-50s were an exciting time when I discovered MAD, football, Zane Grey, Elvis. . . and The Chessmen of Mars. . . followed by the Tarzan Whitmans and G&Ds . . . I had to find more Burroughs . . . a very difficult task in those years. I contacted booksellers around Canada which led me to the UK paperbacks and second hand book dealers, which led me to dealers in England. I discovered a magazine devoted to Burroughs published by an English fan -- Peter Ogden's ERBANIA! I bought 'em all. I've been a fan and in awe of Pete's treasure trove of ERB knowledge ever since. It was a thrill to finally meet and visit with Pete and Joan at numerous ERB conventions. I've tried to convey my appreciation of Pete's contribution to ERB fans by compiling a lengthy illustrated bibliography featured in the links below, starting at ERBzine 0119. We miss you Pete.
.Peter Ogden Remembered
https://www.erbzine.com/mag64/6412.html
Peter Ogden Receives the Prestigious Empire Medal
https://www.erbzine.com/mag28/2888.html
Guide to Peter's ERBANIA -
ERBBANIA covers, dates and contents for 1-25
http://www.erbzine.com/mag1/0119.html
Cover Collage for Issues 1-25
https://www.erbzine.com/cards/writers/erbania01all.jpg
ERBANIA: Issues 26-50
https://www.erbzine.com/mag1/0119a.html
https://www.erbzine.com/cards/writers/erbania2all.jpg
ERBANIA: Issues 51-75
https://www.erbzine.com/mag1/0120.html
https://www.erbzine.com/cards/writers/erbania3all.jpg
ERBANIA: Issues 76-Last
https://www.erbzine.com/mag1/0120a.html
https://www.erbzine.com/cards/writers/erbania1all.jpg
---

*** "Somewhere in Sonora," released April 3, 1927. featured the first appearance of Tarzan the Wonder Horse. Tarzan was born in 1925 and Ken Maynard, star of many old cowboy movies, trained Tarzan to do amazing tricks. ERB was at first very unhappy that Maynard had named the horse Tarzan and filed suit, but the issue was settled amicably and Tarzan was allowed to keep his name. ERB thought Maynard went too far, however, when, in 1932, one of the movies bore the Tarzan: "Come on, Tarzan." Note: There was a remake of "Somewhere in Sonora" in 1933, starring John Wayne.
Ken Maynard's Tarzan, the Wonder Horse
http://www.erbzine.com/mag2/0259.html#2. Ken Maynard's Wonder Horse,

Off-Site References:
All about Tarzan in IMDB
Somewhere in Sonora: IMDB
---
*** Most of us couldn't tell what we were doing on past April 3's if our lives depended on it. ERB kept better records than most, though, so we do know some things that he did on April 3's, such as:
1917 -- ERB returned to Oak Park to buy a larger home at 700 Linden Avenue.
1921 -- Ed's Packard was hit by a dangerous driver on Ventura Boulevard. He fired off a letter to the Automobile Club asking them to prosecute the driver, the likes of whom should be kept off the roads, he asserted. "Only my good driving prevented a serious accident," he said.
1933 -- From April 3 to 7, the Burroughs family took a vacation trip to Death Valley. ERB wrote a humorous account of the expedition in a nine-page, 2,700-word piece titled "The Death Valley Expedition of the Intrepid Thirty-Threers."
The 1933 trip is described on pages 549-50 of "Edgar Rice Burroughs: The Man Who Created Tarzan," by Irwin Porges. It says in part that "Burroughs sets the amusing theme in which he contrasts the obstacles and dangers faced by the original gold pioneers [the Forty-Niners] with the 'sufferings' of the intrepid Burroughses."
ERBzine's ERB Perpetual Calendar:
http://www.erbzine.com/mag5/0564.html
ERB Bio Timeline
http://www.erbzine.com/bio/years20.html
---
*** April 3, 1934 is the birthdate of Dame Jane Morris Goodall DBE, the world's foremost expert on chimpanzees and fan of the Tarzan books. When, as a young child, Jane read about Tarzan's adventures, she herself began to dream of going to Africa to live among the apes. Burroughs' stories of the African forests sparked her love for that wild world. Jane also developed a bit of a crush on Tarzan, and thought she would be a much better partner for him than the Jane that he chose. "Silly man," she says. "He married the wrong Jane."
Although she was never Tarzan's Jane, Dr. Goodall did fulfill her dream of living among the apes. Famed anthropologist, Louis Leakey, had been looking for someone to study chimpanzees in the wild when he met Jane and the rest, as they say, is history. What began as the love of a story turned into decades of groundbreaking research on chimpanzees that redefined our understanding of both them and us. From her discovery of tool-making behavior to her establishment of the Jane Goodall Institute, and wide-ranging programs to protect chimpanzees and their habitat, Dr. Goodall has had a profound impact on the world. We have Tarzan to thank for starting Dr. Goodall on the path to becoming the prolific scientist and dedicated conservationist she is today!
Dame Goodall was our special guest speaker at the 2012 Tarzana Dum-Dum where she was awarded the Golden Lion Award.
One of the main events at this Dum-Dum was the Tarzan Yell Contest. I had the pleasure of acting as moderator for the event and we called up a long line of contestants who gave their versions of the famous Tarzan yell. The judges were the Linda, Dejah, and Llana Jane of the Burroughs family, as well as Johnny Weissmuller's granddaughter, Lisa Maria. Sue-On had surprised me when she entered the contest at the last minute and was declared the female contestant winner.
While the judges had been making their decision as to winners, I escorted a surprise guest contestant to the podium. Jane Goodall received a standing ovation before she even performed. Following a description of the chimpanzee sounds that she was so familiar with, she gave a thrilling authentic ape yell -- quite different from the ones that we had heard from the previous contestants. It was the highlight of the event.
Meeting Dr. Jane Goodall at the Tarzana 2012 Dum-Dum
Jane Goodall performs at our Tarzan Yell Contest
http://www.ERBzine.com/mag41/4110.html
Guest Speaker Jane Goodall Receives the Golden Lion Award
http://www.ERBzine.com/mag41/4116.html
http://www.ERBzine.com/mag41/4117.html
http://www.erbzine.com/mag58/goodall.jpg
Lane Batot's Association With Jane Goodall and ERB
https://www.erbzine.com/mag19/1983.html
Off-Site Reference
Tarzan Married the Wrong Jane

---
APRIL 4
---
ERB and Bride Florence: Honeymoon and Marriage Certificate ~ Sy Weintraub and Tarzans
Mexican Tarzan Reunion ~ Tarzan's Quest: St. John Art ~ ERB article in Urbanite Magazine
---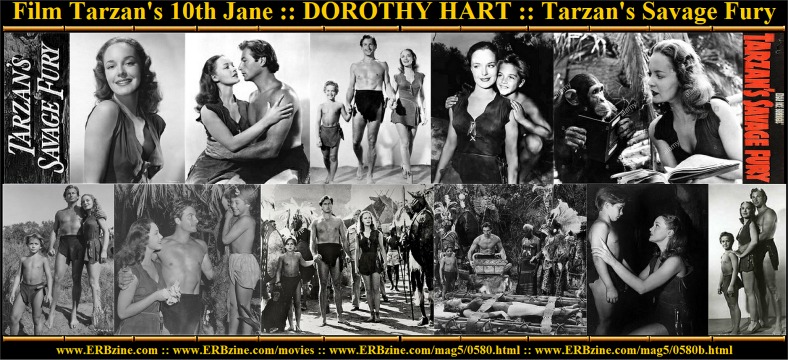 ---
*** 1935: ERB married Florence Gilbert Dearholt on this date. In his book, "Tarzan: The Centennial Celebration," Scott Tracy Griffin noted that shortly after the marriage ERB began writing "Tarzan's Quest," which explores the concept of immortality: "The eternal-youth formula that drives this story may represent a personal fantasy for Burroughs....At 30, Florence was half his age; Burroughs' April 4, 1935 marriage to her began a cycle of nightly socializing and parties with Hollywood friends as he approached life with redoubled vigor." (Page 150)
Following their Las Vegas wedding, Florence and Ed returned to LA via Western Airlines. For their honeymoon they then sailed on the S.S. Lurline to Honolulu, where they stayed for a month at the Royal Hawaiian hotel. ERB, Florence and her two kids, Caryl Lee and Lee, later sailed a number of times on this ship between Honolulu and the Mainland.
ERB's stepson Lee Chase shared many photos with us that relate to this event. I have displayed some of these photos on our ERBzine 4119 Webpage. I've also shared photos and events of many of the couple's activities in Hawaii and on the mainland across other ERBzine pages.
Ed and Flo Photos and Memorabilia from the Lee Chase Collection
https://www.erbzine.com/mag41/4119.html
A Collage of Photos from Lee Chase's Family Album
https://www.erbzine.com/cards/leeall.jpg
Tarzan's Quest: ERB C.H.A.S.E.R Biblio entry
http://www.erbzine.com/mag7/0727.html
---
*** Among ERB's writings published in 1918 were an April 4 article in the Chicago Tribune, "How I Became an Author," and the novelette, "Out of Time's Abyss," published in Blue Book Magazine in December of 1918.
Six years later, on April 4, 1924, ERB used the "Out of Time's Abyss" title for another piece of writing. This was an article for the weekly Urbanite, the official organ of the Urban Military Academy in Los Angeles.
In keeping with his "time's abyss" theme, ERB indicated in the Urbanite article that his own days at a military academy had been "eighty or ninety years" ago.
One of ERB's experiences at the Michigan Military Academy may well have been the seed for the duel that Tarzan fought in "The Return of Tarzan."
ERB described the great Michigan Military Academy "duel to the death" in his Urbanite article, which may be read here:
ERB's "Duel to the Death" article in Urbanite
ERBzine has scanned and typed out the text for an easier read.
http://www.erbzine.com/mag11/1144.html
The Return of Tarzan: ERB C.H.A.S.E.R. entry
http://www.erbzine.com/mag4/0484.html
The Return of Tarzan: Read the e-text edition in ERBzine
http://www.erbzine.com/craft/t2rt.html
---
*** As for the 1918 article, "How I Became an Author," ERB's tongue was in cheek about as much as it was in the 1924 article. Among other lines was this: "At home Tarzan is vulgarly known as our meal ticket. Whenever the sheriff gains on me and is about to levy on my coat-tails I draw my trusty Underwood and dash off another Tarzan novel."
"How I Became An Author" article by ERB - Keyed for easier read
http://www.erbzine.com/mag16/1696.html
---
*** 1922: Actress Dorothy Hart was born in Cleveland, Ohio. She was the tenth actress to play Jane, starring opposite Lex Barker in "Tarzan's Savage Fury."
She won (over 20,000 contestants) a movie contract at Columbia Studios when a newspaperman friend entered her picture in Columbia's "National Cover Girl" contest in 1944. Instead of taking the contract, she studied drama at the Cleveland Playhouse and in New York because she felt she "wasn't ready." A few years later, Columbia signed her.
Hart played mostly supporting roles during her eight year career from 1947 through 1955, appearing in sixteen films and thirteen television series. Her first film was 1947's "Gunfighters, "with Randolph Scott. Her last films were "Tarzan's Savage Fury" with Lex Barker and "Loan Shark," with George Raft. She grew to detest Hollywood, left the film business in 1952, moved to New York and did occasional guest spots on TV dramas and game shows. Eleanor Roosevelt appointed Hart to the "American Association of the United Nations' speakers committee in 1952 and she was very active in working through the United Nations for the world's children. She continued to model and appeared on the covers of Cosmopolitan, Esquire, and Vogue.
Dorothy Hart died of Alzheimer's disease on July 11, 2004, in Asheville, North Carolina, at age 82. She was survived by her
Tarzan's Savage Fury: ERBzine Silver Screen
https://www.erbzine.com/mag5/0580.html
Savage Fury Lobby Display I
https://www.erbzine.com/mag5/0580a.html
Savage Fury Lobby Display II
https://www.erbzine.com/mag5/0580b.html
https://www.erbzine.com/cards/film4/dorothyharttarzanjaneall.jpg

---
*** Sy Weintraub held the rights for the "Tarzan" franchise from 1958 to 1984. According to IMDB, "His depiction of Tarzan was an educated well-spoken lone adventurer...." His Tarzans were played by Gordon Scott, Jock Mahoney, Mike Henry and Ron Ely. At a Tarzan reunion in Mexico, a few ape-men sat down with Sy Weintraub to give voice to the Tarzan yell. In the ERBzine Photo: from left, Jock Mahoney, Johnny Weissmuller, Jim Pierce, Weintraub and Ron Ely. Man in back is an AP reporter with a microphone.
Sy Weintraub Obituary in ERBzine
http://www.erbzine.com/mag3/0319.html#13. SY WEINTRAUB, PRODUCER OF TARZAN MOVIES DIES

Off-Site Reference
Weintraub in IMDB

---
APRIL 5
---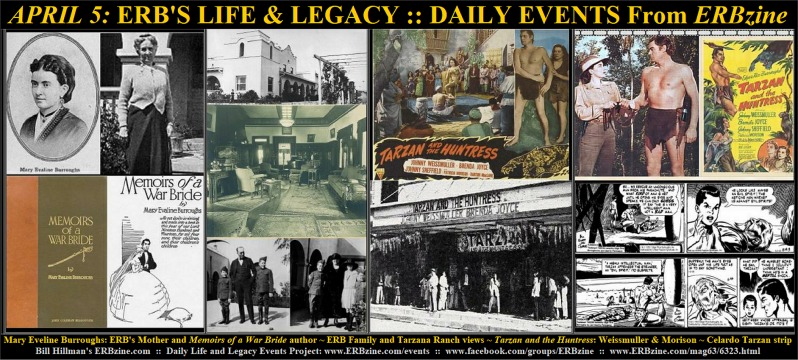 Mary Eveline Burroughs: ERB's Mother and Memoirs of a War Bride author ~ ERB Family and
Tarzana Ranch views ~ Tarzan and the Huntress: Weissmuller & Morison ~ Celardo Tarzan strip
---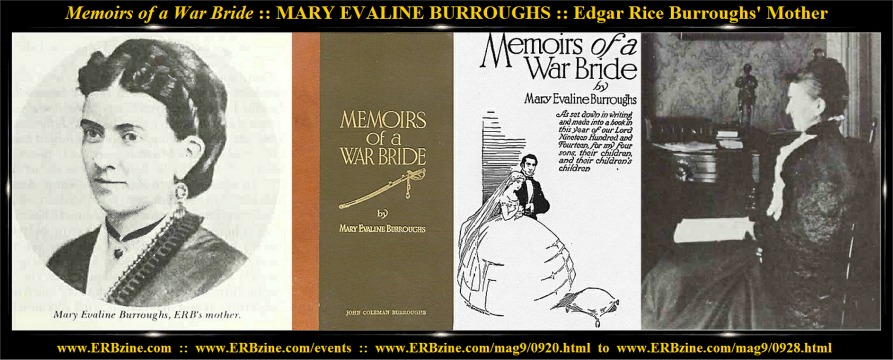 ---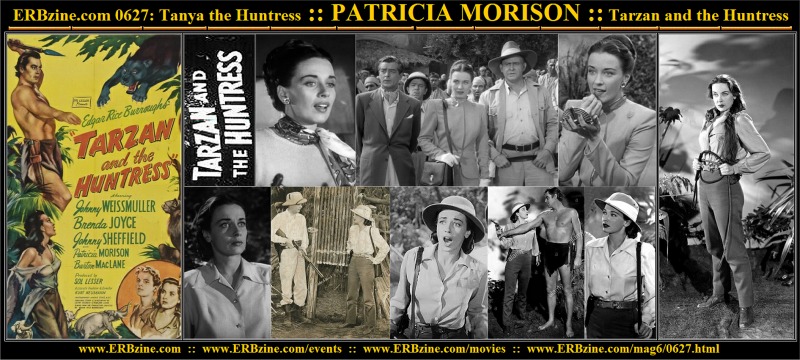 ---
*** 1920: MARY EVALINE BURROUGHS RIP: In the last month of her life, while staying at ERB's Tarzana Ranch, his mother, Mary Evaline Burroughs, enjoyed herself and wrote cheerful letters to family members. But undiagnosed disease was taking its toll, and she passed away on this date, April 5, in 1920. "As her condition worsened, Mary Evaline asked that she be examined by Ed's physician, Dr. Egerton Crispin. The doctor found that her heart was badly affected and, in addition, discovered a tumorous growth on her kidney. Her death, at age seventy-nine, came shortly afterward. The Burroughs family had shown a preference for cremation, and this practice was followed with Ed's mother. The first plan had been to scatter her ashes, but it was decided to place them in a receptacle at the Los Angeles Crematory.
"The ashes were stored at a crematorium for over 24 years. In response to a letter from ERB in Hawaii, John Coleman Burroughs moved the ashes to Tarzana. A memo dated Oct. 13, 1944 states:
"Today the cremated remains of Mary Evaline Burroughs were buried at 18354 Ventura Blvd., Tarzana, California, in the ground at the south side of the walnut tree growing in front of the building at that location." It is signed "John Coleman Burroughs, Joan Burroughs Pierce, C. R. Rothmund."
Six years later, her son Ed's ashes would be buried next to hers by that same walnut tree.
Mary Evaline Burroughs, at the encouragement of sons Edgar, George, Henry (Harry), and Frank, wrote and distributed her memoirs to all members of the Burroughs family in 1914. Ed and his brothers collaborated in preparing the book for the printer and in assembling the genealogical sections. The original handwritten manuscript is still preserved at the ERB, Inc. office in Tarzana, California. It is dated Chicago, June 23, 1914 and addressed to "My dear son Edgar." I've shared more information on the book in the Events entry for June 23.
Mary Evaline Burroughs last month at Tarzana Ranch
http://www.erbzine.com/mag9/0932.html
Mary's book, "Memoirs of a War Bride" - All pages reprinted here in ERBzine
http://www.erbzine.com/mag9/0920.html
ERB's bio and burial of his ashes:
http://www.erbzine.com/mag13/1372.html
https://www.erbzine.com/cards/erb4/maryburroughswarbrideall.jpg
---
*** 1947: "Tarzan and the Huntress" was released April 5, 1947. Modern fans might think of a "huntress" as someone in a skimpy, two-piece animal fur bikini, leading about two wild saber-tooth tigers, as depicted by Frazetta for the Ace edition of "Savage Pellucidar." But this huntress was more conservatively dressed, armed with a black whip instead of spears and with safari-outfitted men instead of savage cats as hunting companions.
Patricia Morison (1915.03.19 - 2018.05.20) was born on March 19 in 1915, 35 years to the day before ERB died in 1950. She has a terrific singing voice and used it in productions of "Kiss Me, Kate" and "The King and I." She is 103 years old. She shared memories of filming "Huntress" (with a romantically preoccupied Johnny Weissmuller, a rampaging chimpanzee, and a loose lion).
"In 1947, Morison found herself at war with the loincloth-clad jungle hero Johnny Weissmuller in 'Tarzan and the Huntress.' 'Johnny was beautiful to watch, whether just standing or gracefully swimming. I didn't socialize with him much as he was too busy with a new love affair.'
"While the film used stock footage for many African scenes, there were animals on the set. 'I remember the chimp going berserk, tearing around the set trying to beat up the crew. We had to hide in our cars until he calmed down. They also used an old MGM lion. It was very hot on the set, so the big stage doors were opened to let in air. Then suddenly, the lion disappeared. We found him walking down La Cienega Boulevard with people fleeing in all directions.'
"Morison's apartment, where she has lived since the 1960s, has been home to more manageable critters, including dogs and birds. Her last pet was a cockatiel that would perch on her head and sing. 'I can still sing, too,' she laughed, referring to her performance at her recent birthday celebration. When you consider I'm 100, I probably should only be able to croak! But I'm a very fortunate woman. I've done what I wanted with my life and worked with some wonderful people along the way.'" ~ Mesquite News
Tarzan and the Huntress: ERBzine Silver Screen Entry
http://www.erbzine.com/mag6/0627.html
Tarzan and the Huntress Lobby Display
https://www.erbzine.com/mag6/0627a.html
https://www.erbzine.com/cards/film4/patriciamorisonall.jpg

Off-Site References
Mesquite Local News
Patricia Morison Wikipedia bio
Tarzan and the Huntress in IMDB
---
*** "Professor Plandome's Secret" was eventually revealed in the Tarzan Sunday comics story which started this date, April 5, in 1959 and continued for 10 weeks. John Celardo drew it and Bill Elliot wrote it. It was fortunate the story was not titled "Professor Palindrome's Secret," as it would have had to reverse itself halfway through!
Huck's list of comic start and stop dates at:
Professor Plandome's Secret: Tarzan strips by John Celardo
http://www.erbzine.com/mag43/4352.html

---
APRIL 6
---
"Tarzan Yell" sound graph and Film Tarzans doing the Yell
ERB: WWI Militia Uniform and St. John Portrait ~ ERB Oak Park home on Linden Ave
---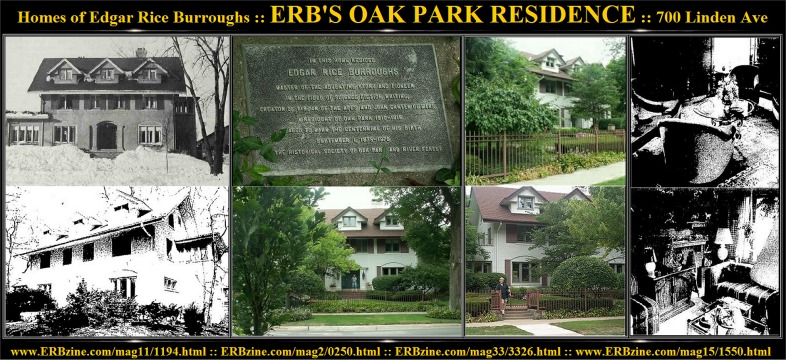 ---
---
*** 2008: "Tarzan yell may hold lesson for today's kids" was the headline April 6, 2008, in The Wichita Eagle, in which the author, Patric Rowley, reminisced about the yell and what, exactly, it meant when kids used it. "The yell," he wrote, "was an opportunity to exercise free speech without fear of impediment by parents, teachers, cops -- or any other authoritarian figures. In a culture where kids were expected to be seen but not heard, it gave us our own unique voice."
Patric went on to say other things about the yell as well. Robert (Bob) Barrett saw the article, clipped it out, and sent it to George McWhorter, who published it in The Gridley Wave. See the article in that issue of the Wave, along with another of Barrett's discoveries -- a page that was supposed to be in a Tarzan comic book but didn't make the cut.
It was a real thrill seeing and hearing Danton Burroughs giving the Tarzan yell as he swung on a "vine" through the trees on his Tarzana mansion property. Dan had provided the Tarzan yell for the Filmation Tarzan animated series.
Gridley Wave #308 in PDF
http://www.erbzine.com/gw/GridleyWave308.pdf
Alt: A typed-out copy of the article, and other ERB eclectica
http://www.erbzine.com/mag21/2147.html
ERBzine pages on evolution of the Tarzan yell: Parts I and II
http://www.erbzine.com/mag14/1482.html
http://www.erbzine.com/mag19/1929.html
Tarzan Yell Contest in Tarzana with guest Jane Goodall
http://www.erbzine.com/mag41/4110.html
Sample Yells
Elmo's Original 1918 Tarzan Yell
Weissmuller MGM Tarzan Yell
Weissmuller RKO Tarzan Yell
The 1950s Radio Show Yell

Off-Site Reference:
You, too, can do the Tarzan yell
---
*** Well-known Burroughs fan Stanleigh Vinson passed away April 6 in 1982. He was vice president of The Burroughs Bibliophiles and also a contributor to its publications. The Vinson family is still represented in the ERB community by his son, Brad, who is a regular at ERB conventions.
Stanleigh Vinson: A Burroughs Biblio-Pro-Phile (5 Webpages)
http://www.erbzine.com/mag11/1185.html
ERB's Portrait by J. Allen St. John
http://www.erbzine.com/mag23/stjerb.jpg
---
ERB EVENTS APRIL 6: ERB'S OAK PARK HOME: LINDEN AVE
https://www.erbzine.com/mag63/6323.html#APRIL6
*** 1917: On his return to Oak Park from LA on April 3, 1917 ERB sought a larger, more elaborate home in Oak Park. He found and bought a two-story residence at 700 Linden Avenue. An advertisement offering "Two houses and a vacant lot" for sale ran in an Oak Park newspaper, March 16, 1918. The 1918 advertisement said, "The home, with eight bedrooms, three baths, four toilets, a sun parlor and a glazed sleeping porch, still in splendid shape, is at 700 Linden Avenue."
On the day that the U.S. declared war on Germany - April 6, 1917 -- ERB and his family moved into their new three-story brick house at 700 Linden Avenue in Oak Park, Illinois. Because of his patriotism and military know-how, ERB immediately had a desire to join the Army to help in the war effort, but he was a bit past the prime of his life and his wife at that time, Emma, prevailed upon him to join only a U.S.-stationed militia, which he did, helping to train recruits for the war effort.
Sue-On and I have visited Oak Park many times and during each visit we make a point of stopping at the former homes of the Burroughs family. The Linden home is still there -- in excellent condition and surrounded by lush foliage. Recognizing the Centennial of ERB's birth, a plaque had been placed by the house:
IN THIS HOME RESIDED EDGAR RICE BURROUGHS ~ MASTER OF THE ADVENTURE STORY AND PIONEER IN THE FIELD OF SCIENCE FICTION WRITING, CREATOR OF TARZAN OF THE APES AND JOHN CARTER OF MARS ~ A RESIDENT OF OAK PARK 1910-1919. ~ PLACED TO MARK THE CENTENNIAL OF HIS BIRTH, SEPTEMBER 1, 1875-1975. ~ THE HISTORICAL SOCIETY OF OAK PARK AND RIVER FOREST.
ERB And The Great War
http://www.erbzine.com/mag11/1169.html
Burroughs Home: 700 Linden Avenue in Oak Park, Illinois
http://www.erbzine.com/mag11/1194.html
Photos of ERB Residences and List of Books Written There
http://www.erbzine.com/mag2/0250.html
Visits to Oak Park Residences
http://www.erbzine.com/mag33/3326.html
http://www.erbzine.com/mag15/1550.html
https://www.ERBzine.com/cards/erb4/lindenoakparkhomeall.jpg
---
*** 1893: At the Columbian Saddle Horse Show at the Detroit Riding Club, Ed rode with the Orchard Lake Cadets' in exhibition drills with and without saddle and equipment. Ed and his horse, Captain, won second prize. The audience and newspapers are enthusiastic.
*** 1927: Ed commenced writing his play: "Mary Who?" aka "Why Razz the Kids" aka "Holy Bonds of Wedlock". It was perhaps written for Joan but was never published.
*** 1932: Ed writes Lost on Venus at ERB's beach home at 90 Malibu La Costa.
http://www.ERBzine.com/bio
---
*** 2000: Gil Kane (1926.04.06 - 2000.01.31) was a Latvian-born American comics artist whose career spanned the 1940s to the 1990s and virtually every major comics company and character. In 1997, he was inducted into both the Will Eisner Comic Book Hall of Fame and the Harvey Award Jack Kirby Hall of Fame. Gil created the B/W dust jacket art for ERB's Beyond Thirty and The Man-Eater for Bradford M. Day's Science-Fiction & Fantasy Publications in 1957.
Along with Archie Goodwin (writer) he did the art for 84 Tarzan Sunday pages. Gil did 28 issues of the Marvel Comic: John Carter - Warlord of Mars in the '70s.
I've been a fan of Gil's art since I bought the Beyond 30 book back in '57. Since then I've collected all his John Carter comics and his Tarzan Sunday pages.
Beyond Thirty and The Man-Eater
http://www.erbzine.com/mag7/0763.html
Tarzan Sunday Pages by Gil Kane
http://www.ERBzine.com/mag34/3499.html
John Carter: Warlord of Mars ~ 28 Marvel Comics
http://www.ERBzine.com/comics/jcmarv1.html
http://www.ERBzine.com/comics/jcmarv2.html

---
APRIL 7
---
The Big Swingers ERB Bio by Fenton and Republished Edition by GTM
George T. McWhorter through the years ~ Worlds of ERB Art ~ Horseman ERB on Tarzana Ranch
---
1967: "The Big Swingers," by Robert Fenton, a parallel biography of Edgar Rice Burroughs and Tarzan, was published this date, April 7, in 1967.
If it had been published today, we would have known about it months in advance, through the internet and facebook groups such as this one, where it would have been discussed, and anticipated.
It may have been known about among some fans in advance back in 1967 too, but the knowledge was not as widespread as it would have been today. I was a subscriber to a fanzine or two back then, and it's possible it was mentioned in one, but I never saw it. A few years later I picked up a copy in a book sale at the Brandon Library.
In 2003, it was republished by McFarland with a new introduction, by George T. McWhorter, along with a new title: "Edgar Rice Burroughs and Tarzan." George used a close-up of ERB with an action photo of Denny Miller as Tarzan in the background. This was the first commercially published biography of ERB. George realized that it was an excellent source of information and entertainment for a later generation of readers and provided a great service for fandom when he released his reprint edition -- 30 years after the appearance of the original "The Big Swingers." George, as meticulous as always, was careful to include the many additions and changes that occured in "ERBworld" since the 1967.
Edgar Rice Burroughs and Tarzan by George T. McWhorter
http://www.erbzine.com/gw/1011.html
George T. McWhorter Tribute Site
http://www.ERBzine.com/mcwhorter
The ERBzine Swag Site
http://www.erbzine.com/swag/books2.html
---
*** Another ERB book, made available April 7, 2016, was an ebook that claimed to have just about everything. The description at amazon states: "One of the most imaginative writers of the twentieth century, Edgar Rice Burroughs created popular and exciting heroes such as Tarzan and John Carter, whose thrilling adventures continue to entertain millions of readers across the world. This comprehensive eBook presents most complete edition possible of Burroughs' works in the U.S., with numerous illustrations, rare texts, informative introductions and the usual Delphi bonus material."
To find out if the eBook is what it is cracked up to be, it will cost you just about two bucks.
Meanwhile, I worked hard since 1996 to include pretty much all this material in ERBzine and much, much more in the +15,000 pages on the site plus in a dozen more of my ERB companion sites. Finding this material is made easier through the opening page icon/links, the ERBzine logo with its hot links at the top of every page, and the archive pages with their internal Google search features.
The Works of Edgar Rice Burroughs
Books ~ e-Texts ~ Art ~ Reviews ~ Links
www.ERBzine.com/chaser
Film
www.ERBzine.com/movies
Comics
www.ERBzine.com/comics
Military
www.ERBzine.com/war
Lost Words
www.erbzine.com/mag2/0219.html
Biographies
www.ERBzine.com/bio

Off-Site Reference:
ERB Collected Works in Kindle


VIEW THE PHOTO ALBUM FOR THIS WEEK'S EVENTS
http://www.ERBzine.com/mag63/6323pics.html
BACK TO MARCH WEEK IV
http://www.ERBzine.com/mag63/6322.html
NEXT: APRIL WEEK II
http://www.ERBzine.com/mag63/6324.html


BACK TO DAILY EVENTS CONTENTS
www.ERBzine.com/events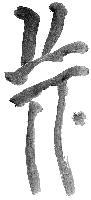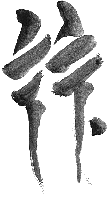 BILL HILLMAN
Visit our thousands of other sites at:
BILL AND SUE-ON HILLMAN ECLECTIC STUDIO
ERB Text, ERB Images and Tarzan® are ©Edgar Rice Burroughs, Inc.- All Rights Reserved.
All Original Work ©1996-2018/2020 by Bill Hillman and/or Contributing Authors/Owners
No part of this web site may be reproduced without permission from the respective owners.