First and Only Weekly Online Fanzine Devoted to the Life & Works of Edgar Rice Burroughs
Since 1996 ~ Over 15,000 Web Pages in Archive
presents
Volume 3101
From
To

.

.

Danton Burroughs

With Danton Burroughs in Tarzana

Over the years I have made numerous visits to Tarzana where I put in long hours with Edgar Rice Burroughs' grandson, Danton Burroughs, in documenting the massive Burroughs Family Archives for our ERB Websites and Webzines.

My last week-long visit with Danton Burroughs of Edgar Rice Burroughs, Inc. was in July 2007 . . . eight months before his death. As usual Danton displayed a mind-boggling array of ERB documents, photos, memorabilia, etc. which we filmed, scanned and documented. Much of the material took on importance only after his accompanying explanations and anecdotes which brought these treasures to life.

We had explored many of the city's eateries and Dan's friend Professor John Westervelt had driven us to many of the Tarzana spots of interest in his vintage Packard -- much to the amusement of the locals. Many more Tarzan adventures are featured at our tarzana.ca site.

Sadly the next time I returned to Tarzana was to give a eulogy for Danton's Memorial service.
| | |
| --- | --- |
| Danton Memorial Plaque at Tarzana | Professor John Westervelt and Vintage Car |
.
| | |
| --- | --- |
| | I was intrigued by a brochure that we stumbled across in Dan's movie memorabilia - The Ray Corrigan Movie Ranch. This was a movie location ranch in nearby Simi Valley which was ranked among the most utilized ranches in motion picture history. So when Danton visited family in Santa Barbara on Saturday I made plans to check out Corriganville to see what remained of this famous site. An Internet search unearthed the following items from Corriganville's Camp Rotary and 2007 Rhythm and Brews Festival sites convinced me that I had chosen a great weekend to visit Simi Valley. |
..
History of Corriganville Movie Ranch

"From the Chumash Indians to the movies of the 1940s - 1960s, Corriganville is rich in history. Ray "Crash" Corrigan entered films in 1932 as a stuntman and bit player. In 1936 he began to star in serials and action pictures. After his retirement in the 1940s, and a series of Westerns, Corrigan began to build a movie ranch. The Simi Valley site filmed thousands of movies, TV programs and commercials between 1937 and 1965. Fires in 1971 and 1979 destroyed the last of the standing sets. In 1988 the Rancho Simi Recreation and Park District acquired the 206 acre park and named it Corriganville after the man who started it with his dream."

About Corriganville Park

"Located at the eastern end of Simi Valley on 206 acres, Corriganville Park is the former site of the Corriganville Movie Ranch. Thousands of movies, TV shows and commercials were filmed here between 1937 and 1965. The sets that made up the western town burned down in the '70s but their foundations can still be seen. Also still remaining is the concrete lake where diving and underwater scenes were filmed. Along with the movie industry, Chumash indian sites, the railroad, indigenous plants and animals are represented within Corriganville. There are also 5 walking/hiking trails,including an Interpretive Trail with info markers, and the Stagecoach trail, following the original roads used to enter Simi Valley." ~ Camp Rotary
...
Rhythm & Brews Festival
Corriganville Park ~ Simi Valley
Saturday, July 28, 2007 ~ 11:00 am to 6:00 pm
Featuring the Music of:
M22 ~ Love Doctor Reggae ~ brett mikels ~ Kimberly Jean
Test of Will ~ Building a Better Spaceship

Micro-Brew Tasting and Contest with Food, Vendors and Fun for Everyone!
14 Beers from around the World!
* Beach Bum Blonde * Red Hook ESB * Becks * Bass Ale * Pyramid Hefeweizen * Guinness * Strongbow Cider * Pyramide Amberweizen * Anchor Steam * Widmer Hefeweizen * Kona Pale Ale * Firestone DBA * Firestone Reserve * Firestone Pale Ale
---

Hillman Vintage Guitars
www.hillmanweb.com/guitars


18969 Ventura Boulevard
Tarzana, California 91356

This was shaping up to be an eventful weekend. Since I have a consuming interest in vintage guitars, a must stop during every California visit is Norman's Rare Guitars. . . not far from Danton's house.

Since there were to be so many rock bands at the Rhythm and Brews Festival, I stopped in to get a bit of background on the bands. . . and of course to have another look at their huge guitar inventory.

Part of my master plan was to document the weekend so I asked Norman and staff to pose for some photos. Norman generously gave me a "Rare Guitars" T-Shirt to wear to the Festival.
www.normansrareguitars.com
---
My Web search reminded me that Simi is also the site of the Ronald Reagan Library and Museum.
So I planned a morning detour to the Reagan complex.
(I later did a photo feature on this attraction)
RONALD REAGAN LIBRARY & MUSEUM
Photo mosaics by Bill Hillman
www.hillmanweb.com/reagan
---
Information Contained in the Old Corriganville Movie Ranch Brochures
---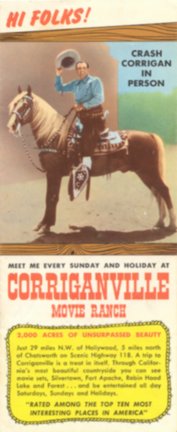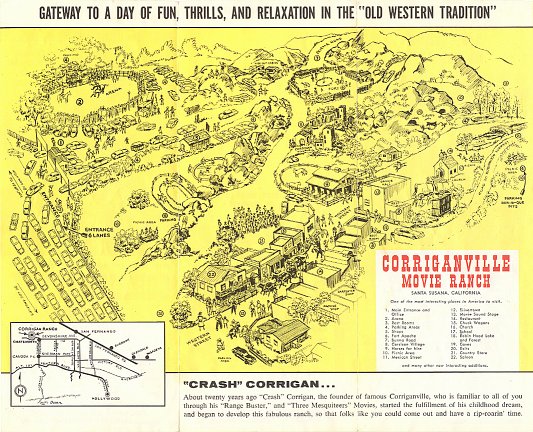 CORRIGANVILLE MOVIE RANCH
2,000 Acres of Unsurpassed Beauty ~ Just 29 miles N.W. of Hollywood, 5 miles north of Chatsworth
Through California's most beautiful countryside you can see movie sets, Silvertown, Fort Apache, Robin Hood Lake and Forest
. . . and be entertained all day Saturdays, Sundays and Holidays.
"RATED AMONG THE TOP TEN MOST INTERESTING PLACES IN AMERICA"
---
Motion Pictures and TV Series filmed here
Over 2000 films

Interesting spots to visit:
Silvertown ~ Fort Apache ~ Robin Hood Lake

Jungle Girl Series
Rin Tin Tin Series
The Juggler
Roy Rogers Series
Gene Autry Series
Cisco Kid Series
Range Buster Series
Kit Carson Series
Wyatt Earp Series
Gunsmoke Series
Have Gun Will Travel Series
Tales of Wells Fargo Series
Robin Hood Series
Death Valley Days
Circus Boy Series
Sheriff of Cochise Series
Three Mesquiteers
Perils of Nyoka
The Bandit of Sherwood Forest
Belle Starr's Daughter
Jungle Jim
The Three Musketeers
The Inspector General
The Lost Tribe
At War with the Army
Vendetta
Fort Apache
The Robe
Apache
Yankee Pasha

Arena & Corrals for Rodeos & Events
Barbecue Pits
Bridges (including one with an underwater camera housing)
Burma Road and Meadows
Carpenter Shop
Caves
Country Church / Schoolhouse
Corsican Village
Country Store
C.P. Huntington Railroad
Crash's Movie Ranch House
Dance Hall
Dugout/Relay Station
Fort Apache
Horse Barns
Stagecoach Roads
Jungle
Machine Shop
Mexican Bordertown
Mexican Street
Movie Sound Stage
Outlaw/Hide-out Cabins
Robin Hood Forest
Robin Hood Lake (and the famous stunt rock)
Saloon
Silvertown Saloon
Silvertown Street
Stables
Swordsman Manor
Trading Post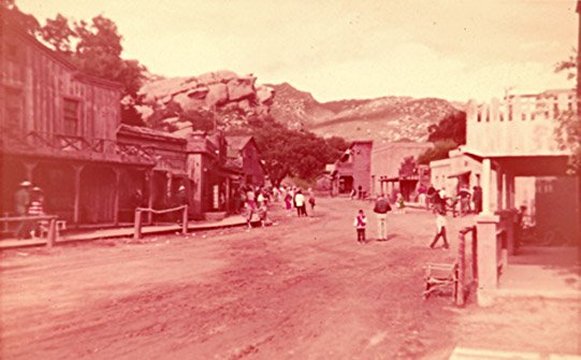 .
In its heyday Corriganville Movie Ranch was visited by thousands of families.
ERB researcher, Dr. Bob Zeuschner, has vivid memories of his visit in the early 1950s.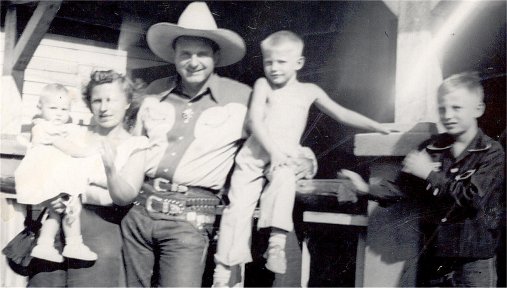 From the Robert Zeuschner Collection
From R-L: Bob Zeuschner ~ Bud Zeuschner (brother) ~ Crash ~ Ann Zeuschner (mother) ~ Candice Bor (cousin)
---
Satellite & Aerial Photos ~ Maps
.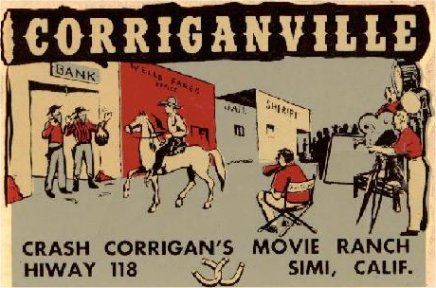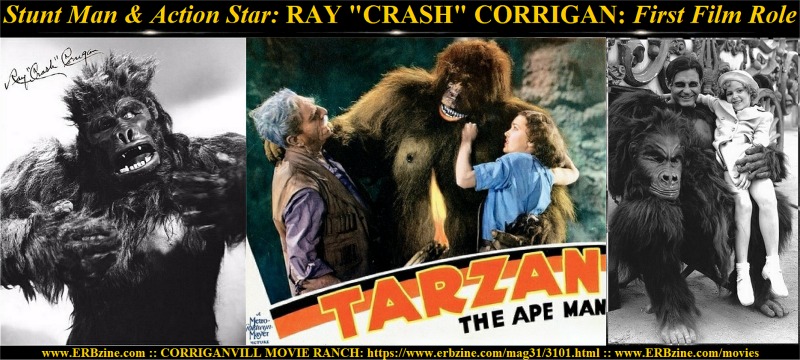 .

.

The Fantastic Worlds of Edgar Rice Burroughs
ERB Companion Sites Created by Bill Hillman
| | | | |
| --- | --- | --- | --- |
| Tarzan.com | ERBzine.com | DantonBurroughs.com | Tarzan.org |
| BurroughsBibliophiles.com | JohnColemanBurroughs.com | Tarzan.com/tarzine | JohnCarterOfMars.ca |
| ERBzine.com/edgarriceburroughs | Weekly Webzine | Weekly Webzine | Pellucidar.org |
| John Carter Film | ERB, Inc. Corporate Site | ERB Centennial | tarzana.ca |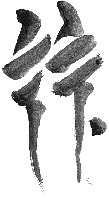 BILL HILLMAN
Visit our thousands of other sites at:
BILL and SUE-ON HILLMAN ECLECTIC STUDIO
ERB Text, ERB Images and Tarzan® are ©Edgar Rice Burroughs, Inc.- All Rights Reserved.
All Original Work ©1996-2010/2018 by Bill Hillman and/or Contributing Authors/Owners
No part of this web site may be reproduced without permission from the respective owners.