. . . Meanwhile, Back at the Old Burroughs Ranch
Star-Bulletin - Honolulu - April 3, 1984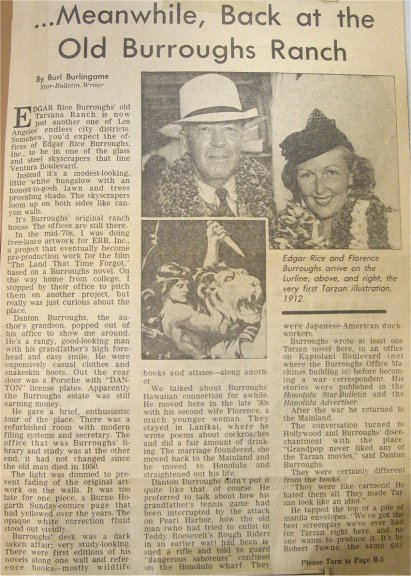 Edgar Rice Burroughs' old Tarzana Ranch is now just another one of Los Angeles' endless city districts. Somehow, you'd expect the office of Edgar Rice Burroughs, Inc. to be in one of the glass and steel skyscrapers that line Ventura Boulevard.
Instead it's a modest-looking, little white bungalow with an honest-to-gosh lawn and trees providing shade The skyscrapers loom up on both sides like canyon walls.
It's Burroughs' original ranch house (actually built in the '20s to be a working office -- a short distance from the actual ranch ~ ed.). The offices are still there.
In the mid-'70s, I was doing free-lance artwork for ERB, Inc. -- a project that eventually became pre-production work for the film "The Land that Time Forgot," based on a Burroughs novel. On the way home from college, I stopped by their office to pitch them on another project, but really was just curious about the place.
Danton Burroughs, the author's grandson, popped out of his office to show me around. He's a rangy, good-looking man with his grandfather's high forehead and easy smile. He wore expensively casual clothes and snakeskin boots. Out the rear door was a Porsche with "DANTON" license plates. Appaarently the Burroughs estate was still earning money.
He gave a brief, enthusiastic tour of the place. There was a refurbished room with modern filing systems and secretary. The office that was Burroughs' library and study was at the other end, it had not changed since the old man died in 1950.
The light was dimmed to prevent fading of the original artwork on the walls. It was too late for one piece, a Burrne Hogarth Sunday-comics page that had yellowed over the years. The opaque white correction fluid stood out vividly.
Burroughs' desk was a dark oaken affair, very study-looking. There were first editions of his novels along one wall and reference books -- mostly wildlife books and atlases -- along another.
We talked about Burroughs' Hawaiian connection for awhile. He moved here in the late '30s with his second wife Florence, a much younger woman. They stayed in Lanikai where he wrote poems about cockroaches (uh??? ~ ed.) and did a fair amount of drinking. The marriage foundered, she moved back to the Mainland and he moved to Honolulu and straightened out his life.
Danton Burroughs didn't put it quite like that, of course. He preferred to talk about how his grandfather's tennis game had been interrupted by the attack on Pearl Harbor, how the old man (who had tried to enlist in Teddy Roosevelt's Rough Riders in an earlier war) had been issued a rifle and told to guard "dangerous saboteurs" confined on the Honolulu warf. They were Japanese-American dockworkers.
Burroughs wrote at least one Tarzan novel here, in an office on Kapiolani Boulevard (not where the Burroughs Office Machines building is!) before becoming a war correspondent. His stories were published in the Honolulu Star-Bulletin and the Honolulu Advertiser.
After the war he returned to the Mainland.
The conversation turned to Hollywood and Burroughs' disenchantment with the place. "Grandpop never liked any of the Tarzan movies," said Danton Burroughs.
They were certainly different from the books.
"They were like cartoons! He hated them all. They made Tarzan look like an idiot."
He tapped the top of a pile of manila envelopes. "We've got the best screenplay we've ever had for Tarzan right here, and no one wants to produce it. It's by Robert Towne, the same guy who wrote "Chinatown." He got an Academy Award for it."
Apparently this was the same Tarzan script that became the basis for "Greystoke - The Legend of Tarzan." Eight months later it was produced, though it proved to be another example of Hollywood's shortsightedness
Danton Burroughs shrugged and we walked to the front door. He pointed out a big black-walnut tree in the front yard.
"See that tree?" he said. "Grandpop's ashes are buried by it. He never liked to get far away from nature and Tarzana."