---
PUBLISHING HISTORY (USA)
---
PULP
All Around Magazine: February 1916 ~ 61 pages ~ no illustrations
FIRST EDITION
Lloyd A. Eshbach (Fantasy Press fanzine): 1955 ~ 57 pages ~ no illustrations
Beyond Thirty and The Man-Eater: Science-Fiction & Fantasy Publications (Bradford M. Day): 1957 ~ 229 pages ~ Word count estimate: 37,000.
Gil Kane B/W dust jacket art ~ no interiors
REPRINT EDITIONS (with title change: The Lost Continent)
Ace paperback: October 1963 and later reprint~ 123 pages
Frank Frazetta cover and title page art
Ace paperback larger format: March 1973 and later reprints ~ 144 pages
Ace paperback: January 1979 ~ 141 pages
Sanjulian cover art
Ballantine - Del Rey: September 1992 ~ 131 pages
Michael Herring cover art
Bison Books (U of Nebraska Press: March 2001 ~ 123 pages
R. W. Boeche cover art
For detailed information, see Robert B. Zeuschner's
Edgar Rice Burroughs: The Bibliography (ERB, Inc., 2016).
Click on www.erbbooks.com or call 214-405-6741 to order a copy.
---
Beyond Thirty (The Lost Continent)

For two hundred years, a civilized America had cut off all contact with the war-ruined Eastern Hemisphere until such places as Europe and Great Britain had become mere legends. Then Jefferson Turck dared take his U.S. aero-sub across the 30th Longitude West on the mission of a new Columbus, and a fascinating voyage of discovery. To civilized Americans of the 22nd Century, the Eastern Hemisphere exists only as fearsome legend. This mythical Europe became a wild collection of lands degenerated into barbarism long ago in a series of terrible wars. But to Lt. Jefferson Turck of the Pan American Navy, the lost continent has always held a strange fascination .... And so, undaunted, he sets out, a new Columbus -- this time sailing East to discover a land rich in peril, where the lion is king of beasts and men, but the queen is a beautiful barbarian worth the challenge of THE LOST CONTINENT.
---
COVER GALLERY
---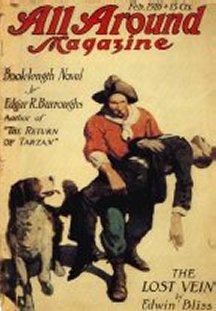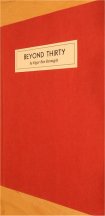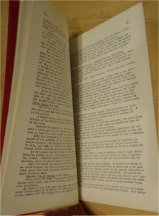 Lloyd A. Eshbach (Fantasy Press fanzine): 1955 ~ 57 pages ~ no illustrations

Art by Harry Borgman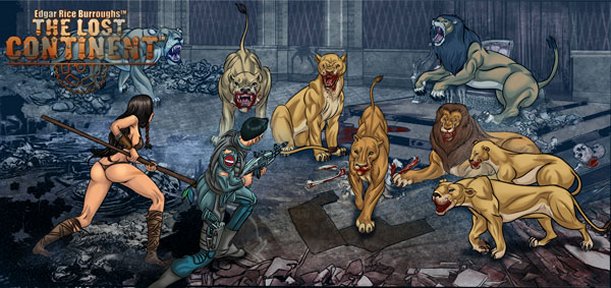 Web Comics Series from Edgar Rice Burroughs, Inc.
Adapted by Martin Powell and Art by Oscar Gonzalez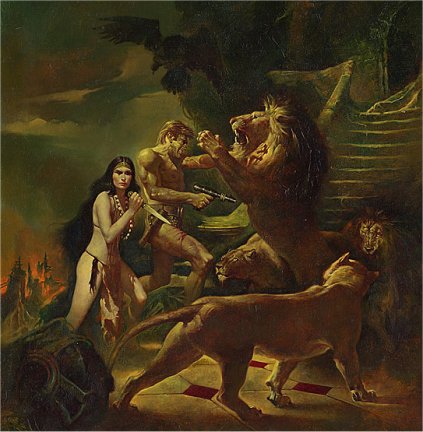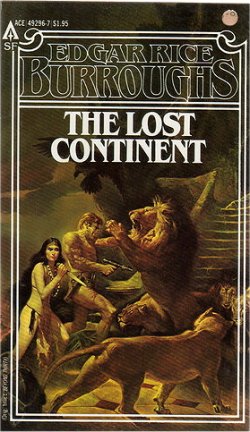 Artist: Manuel Sanjulian ~ ACE paperback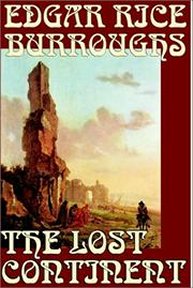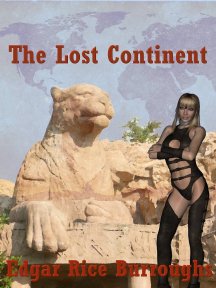 ---


Armada of ERB Web Sites
Over 15,000 Webpages
The Fantastic Worlds of Edgar Rice Burroughs
| | | | |
| --- | --- | --- | --- |
| Tarzan.com | ERBzine.com | DantonBurroughs.com | Tarzan.org |
| BurroughsBibliophiles.com | JohnColemanBurroughs.com | Tarzan.com/tarzine | JohnCarterOfMars.ca |
| erbzine.com/edgarriceburroughs | Weekly Webzine | Weekly Webzine | Pellucidar.org |
| John Carter Film News | ERB, Inc. Corporate Site | ERB Centennial | tarzana.ca |