Bill Hillman's

ERBapa No. 100 ~ Winter 2009 ~ v09 n33
ERBzine.com ~ ARCHIVE
ERBzine Volume 2752

DESCRIPTION OF HILLMAN ERBAPA ARTICLES: Nos. 68 - 100
with Cover Illos and ERBzine Web Reprint Locations
---




---
ERBapa #68 ~ Winter 2001 ~ ERBzine n01v01
Roots & Wings Introductory Biography Pt. I & Contents of first 50 Hillman ERBzine Webzines
Web Reprint: ERBzine 0573 ~ Archive ERBzine 0100
---
ERBapa #69 ~ Spring 2001 ~ ERBzine n01v02
Roots & Wings II: Introductory Bio ~ Hillman Tarzana Visit with Hulbert, Joan & Jim, Internet, ERB Conventions ~ On the Spoor~ Contents of ERBzine Online Fanzine Issues 51-100
Web Reprint: ERBzine 0574 ~ Archive ERBzine 0100
---
ERBapa #70 ~ Summer 2001 ~ ERBzine n01v03
ERB Heroines of Hearth, Stage, Screen & Radio: Chrono checklist with bios, titles, dates, times, trivia and 90 photos ~ ERBzine Index 101-150 ~ On the Spoor comments ~ 26 pages
Web Reprint: ERBzine 0607 ~ Archive ERBzine 0200
---
ERBapa #71 ~ Fall 2001 ~ ERBzine n01v04
Roots & Wings IV: Flashback Memories & Music ~ JCB Art ~ ERBzine Index 151-200 ~ On the Spoor
Web Reprint: ERBzine 0712 ~ Archive ERBzine 0200
---




---
ERBapa #72 ~ Winter 2002 ~ n02v05
Hal Foster Bio and Tarzan Summaries '31-'32 ~ Rare JCB WWII art from the Danton Burroughs family collection ~ ERBzine Index Nos. 201-250
Web Reprint: ERBzine 0802 ~ ERBzine.com/danton ~ Index Reprint: ERBzine 0300
---
ERBapa #73 ~ Spring 2002 ~ ERBzine n02v06
Tarzan the Ape Man film: Background Notes, Trivia, Credits, Chrono-Log Test, Jane Ralston Burroughs Tribute, ERBzine Index Nos. 251-300
Web Reprint: ERBzine 0642 ~ Index Reprint: ERBzine 0300
---
ERBapa #74 ~ Summer 2002 ~ ERBzine n02v07
ERBzine Mucker edition: covers ~ Out There Somewhere ~ HH Knibbs bio, bib, poetry, archive in Stanford U. ~ Oakdale Affair ~ All-Gory pulp parody on Billy Byrne and ERB characters ~ ERBzine Index Nos. 301-350
Web Reprint ERBzine 0950 ~ Archive ERBzine 0400
---
ERBapa #75 ~ Fall 2002 ~ ERBzine n02v08
Tarzana Adventures: Hillman Memories of ECOF 2002 ~ ERBzine Index Nos. 351-400
Web Reprint: ERBzine 0961 ~ Archive ERBzine 0400
---




---
ERBapa #76 ~ Winter 2003 ~ ERBzine n03v09
John Coleman Burroughs bio and links to full online Tribute, biblio and art galleries ~ ERBzine URLs Nos. 401-450
Web Reprint: ERBzine JCB ~ Archive ERBzine 0500
---
ERBapa #77 ~ Spring 2003 ~ ERBzine n03v10
Russ Manning Tribute: Bio, Biblio, Art, Photos, Links to expanded online version ~ ERBzine Index Nos. 451-500
Web Reprint: ERBzine 0830 ~ Archive ERBzine 0500
---
ERBapa #78 ~ Summer 2003 ~ ERBzine n03v11
JCB Archive ~ Japanese art in Barbarian ~ ERB correspondence hilites 1940-41 ~ ERBzine Index Nos. 501-550
Web Reprint: ERBzine 0219 ~ Archive ERBzine 0600
---
ERBapa #79 ~ Fall 2003 ~ ERBzine n03v12
Major George Tyler Burroughs, Sr. Tribute: bio & memoriam: letters, photos, link to online illustrated version & comments ~ ERBzine Index Nos. 551-600
Web Reprint: ERBzine 0942 ~ Archive ERBzine 0600
---




---
ERBapa #80 ~ Winter 2004 ~ 20th Anniversary Issue ~ ERBzine n04v13
All-Gory Pulp Parody the first 20 chapters of the Ratnaz Files by Bill Hillman (including summary of Tangor chapters) ~ "My Home" from ERB/Danton Burroughs archive ~ End of the old pop-up URLs - Conversion to ERBzine.com appears in APA 81: ERBzine Index 0651-0700
Web Reprint: ERBzine MeetRatz ~ ERBzine 0932 ~ Archive ERBzine 0700
---
ERBapa #81 ~ Spring 2004 ~ ERBzine n04v14
Excerpts from many letters from Yale 1886-87 by George and Harry Burroughs ~ Conversion to New ERBzine.com addresses ~ Archive issues 0701-0750
Web Reprint: ERBzine 1094 ~ Archive ERBzine 0800
---
ERBapa #82 Summer 2004 ~ Special Lost Lands Symposium Issue ~ ERBzine n04v15
Back to ERB's Tarzana Ranch 1921: Docu-Novelette ~ Text adaptation of the online illustrated feature ~ Preview of ERB Library Project: September 2004 Release in ERBzine (1,100 titles ~ 60 Webpages) ~ ERBzine Index Nos. 0751-0800
Web Reprint: ERBzine 1041 and ERBzine.com/dan ~ Archive ERBzine 0800
---
ERBapa #83 ~ Fall 2004 ~ ERBzine n04v16
The ERB Personal Library Project: 1875-1950 Collated by Themes ~ Part I with article excerpt by ERB ~ ERBzine Archive Nos. 0801-0850
Web Reprint: ERBzine.com/dan~ Archive ERBzine 0900
---



ERBapa #84 ~ Winter 2005~ ERBzine n05v17
ERB's Remarkable Summer of '93 (docu-fiction) Ch. 8: Ed and His Electric Flier ~ 3 illos ~ ERB Library: Themes Collation II ~ ERBzine Archive nos. 851-900 ~ Nevada News clipping 1939: "Fake Tarzans are Warned by Famed Author"
Web Reprint: ERBzine 1282 and ERBzine.com/dan ~ Archive ERBzine 0900
---
ERBapa #85 ~ Spring 2005 ~ ERBzine n05v18
ERB / Jack London Connection adapted from the ERBzine series ~ Comparative Bios, Biblios, Photos, Memorabilia, Links ~ Guide to the ERB CONNECTIONS project ~ ERBzine Archives: 0901-0918
Web Reprint: ERBzine 1271 ~ Archive ERBzine 1000
---
ERBapa #86 ~ Summer 2005 ~ ERBzine n05v19
ERB/Jack London Connection Part II ~ Guide to other ERB Connection features in ERBzine ~ ERBzine Contents Nos. 0919-0950.
Web Reprint: ERBzine 1271 ~ Archive ERBzine 1100
---
ERBapa #87 ~ Fall 2005 ~ ERBzine n05v20
ERBzine 1294-1297 - ERB / Zane Grey Connection ~ Comparative Bios, Biblios, Photos, Memorabilia, Links ~ ERBzine Archive Contents Centennium X: Volumes 0952-1000
Web Reprint: ERBzine 1294 - 1297 Archive ERBzine 1100
---



---
ERBapa #88 ~ Winter 2006~ ERBzine n06v21
ERB Bio Timeline: Pt. I: Up to 1900 (8 pages of landmark events in the life of ERB)~ Tarzana Chamber of Commerce Booklet back cover with all ERB titles and St. John's Tarzan and the Golden Lion ~ ERBzine Archive Nos. 1001-1050
Web Reprint: ERBzine.com/bio/years75 and ERBzine 1372 ~ ERBzine 1372 ~ Archive ERBzine 1100
---
ERBapa #89 ~ Spring 2006~ ERBzine n06v22
ERB Timeline Biography Part 2: 1900-1909 ~ "The Formative Years" ~ First Citizen of Tarzana illo ~ ERBzine Archive Nos. 1051-1100
Web Reprint: ERBzine Bio ~ Archive ERBzine 1100
---
ERBapa #90 ~ Summer 2006~ ERBzine n06v23
ERB Bio Timeline Part 3: 1910-1919 ~ ERBzine Archive Centennium XII - Nos. 1100-1150
Web Reprint: ERBzine Bio ~ Archive ERBzine 1200
---
ERBapa #91 Autumn 2006~ ERBzine n06v24
ERB Bio Timeline Part 4: 1920-1929 ~ 1929 letter to Ettrick in England from Danton's files ~ ERBzine Archive Contents: 1201-1250
Web Reprint: ERBzine Bio ~Archive ERBzine 1300
---




---
ERBapa 92 Winter 2007 ~ ERBzine n07v25
ERB Bio Timeline Part 5 The '30s (1st half): 1930-1934 (continued next issue)
Web Reprint: ERBzine Bio
---
ERBapa 93 ~ Spring 2007~ ERBzine n07v26
ERB Bio Timeline Part 5: 1930-1939 (conc.) ~ ERB Letters from Las Vegas & Palm Springs
Web Reprint: ERBzine Bio
---
ERBapa 94 ~ Summer 2007~ ERBzine n07v27
Edgar Rice Burroughs Bio Timeline Part 6 ~ Letters ~ 1950 Obituary ~ ERBzine Index 1151-1200
Web Reprint: ERBzine Bio ~ Archive ERBzine 1200
---
ERBapa 95 ~ Fall 2007~ ERBzine n07v28
War Years Events of ERB: Dec 1941-1945 ~ JCB painting of ERB ~ Frazetta art ~ ERBzine Archive Index 1251-1300
Web Reprint: ERBzine Bio ~Archive ERBzine 1300
---




---
ERBapa 96 ~ Winter 2008 ~ ERBzine n08v29
Gaylord DuBois Pt. 1: Memories of Grandpa Gay by Granddaughter ~ DuBois Speaks ~ Bio ~ 3 family photos ~ Lone Ranger cover art ~ ERBzine Archive XIV: Volumes 1300-1350
Web Reprint: ERBzine 2115 ~ Archive ERBzine 1400
---
ERBapa 97 ~ Spring 2008~ ERBzine n08v30
ERBzine.com ~ Archive Centennium XIV 4 pages ~ Volumes 1351-1400
Web Reprint: Archive ERBzine 1400
---
ERBapa 98 ~ Summer 2008~ ERBzine n08v31
Memorial Booklet from the Danton Burroughs Celebration of Life: Photos & Tribute by Hillman ~ Art by Thomas Yeates ~ Eulogy ~ LA Times Obituary ~ ERBzine Archive Issues 1401-1450 ~ Official Press Release Announcing Danton's Death
Web Reprint: ERBzine.com/dantonburroughs ~ Archive ERBzine 1500
---
ERBapa 99 ~ Fall 2008~ ERBzine n08v32
My Friend Dan: Danton Burroughs Tribute ~ ERBzine Archive with URLs: Volumes 1451 - 1500
Web Reprint: ERBzine.com/dantonburroughs ~ Archive ERBzine 1500
---
ERBapa 100 ~ Winter 2009~ ERBzine n09v33
Description of Hillman APA submissions Nos. 68 - 100 ~ Archive: Nos. 1501-1550

Ratnaz Files Parody continued ~ Web Reprint: ERBzine.com/apa/hillman.html ~ Archive ERBzine 1600
---

http://www.erbzine.com/mag0/meetratz.html
---
INTRODUCTION

Back in 1997, Bruce Bozarth issued a challenge on his Website. He displayed the following text:

"Famous pulp author Edgar Nyce is interrupted while writing in his study by his personal secretary Rathmind who brings news of trouble. The hero of his famous Ratnaz novels is drunk again and won't come down from the trees. This is of great concern as Rodent Pictures has a great deal invested in the Ratnaz trademark. This is the last straw for Nyce. . . ."

He invited people on the Web to finish the fragment and to participate in a round-robin writing exercise to create a parody based on the life and works of pulp author Edgar Nyce (Edgar Rice Burroughs). I finished the fragment and went on to write two opening chapters. No one else took the bait, so Bruce responded with a Foreword and Chapter 3. This was the beginning of an all-consuming "writing duel" that went on for years to come. We would alternate chapter submissions which were mirrored on both our Websites. Each submission goaded the other on to still zanier heights.

The massive book-length parody stalled at Chapter 123 when real world pressures put the project on hold. The complete text of the Ratnaz Files is featured at both the ERBzine and ERBlist Web sites. My family thought that this literary epic was worth preserving in print, so they reformatted the text and released it in a limited hardcover book release for my ERB collection. The version that follows features the only Hillman entries. Since Bruce holds the copyright on his chapters I have done brief summaries of them so as to enhance the flow of the saga and to fill in gaps to make the story a little less confusing to the reader.

READ THE APA ENTRIES HERE
http://www.erbzine.com/apa/Ratnaz_Hillman.doc


THE ONLINE VERSION OF THIS FEATURE
HAS HOT LINKS TO ALL THE UNDERLINED REFERENCES
www.erbzine.com/apa/hillman.html
Part of our ERBapa Site:
www.erbzine.com/apa



Visit the ERBzine Weekly Webzine each Friday at:
www.erbzine.com/mag


ERBzine.com ~ ARCHIVE
CENTENNIUM XVI



FROM: http://www.erbzine.com/all/archive2.html
http://www.erbzine.com/mag15/1500.html through http://www.erbzine.com/mag15/1551.html
---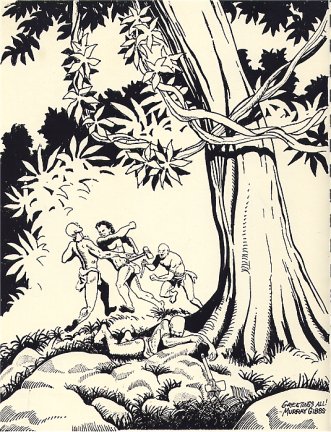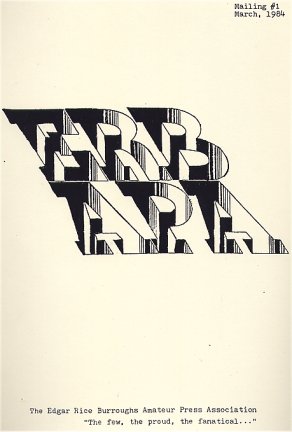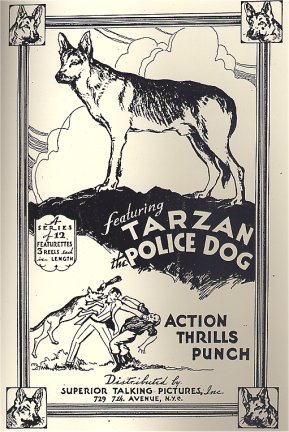 ---
ERBapa 100 ~ Winter 2009
Silver Anniversary Issue - Celebrating 25 Years of Fan Publishing: 1984-2009
---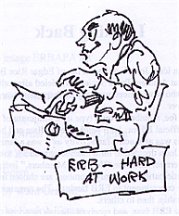 Front Cover and Frontispiece Art: Joe Ferrier
Inside Front Cover Art: Reprint of ERBapa #1 cover from March 1984 by Doug Wirth
Back Cover Art: Murray Gibbs
Inside Back Cover Art: Reprint ad for Tarzan the Police Dog serial from Film Daily - April 19, 1934
---

Dedication::
"This volume is dedicated to those former members of the Edgar Rice Burroughs Amateur Press Association who have taken their final voyage down the River Iss: John Flint Roy, Hamilton Johnson, Oswald Train, Fred Cook, Bob Hyde, Bob Cook, Darrell Richardson, Willis Potthoff, Bill Shell, and Bobbie Rucker ~ Honorary Members Vern Coriell, Jim Pierce, Frank Shonfeld, and Danton Burroughs; and guest artist Dr. Enrique Lozano, who provided several covers for the ERBapa. Their fellowship and contribution to ERB's legacy are missed. Their spirit, however, lives on in their writings and in the bonds of friendship with their fellow fans, who won't forget them."
---
Kaor! by OE: Tracy Scott Griffin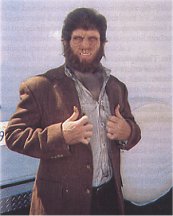 Welcome to the Silver Anniversary Issue ~ Membership Report: New members are Bob McGeeney, Rick Norwood, Joe Lukes, Heath Row ~ Welcome Guest Contributors. . . and Visitors!: former members Ward Orndoff, Bob Hunton, and Joan Bledig plus Honorary Members George McWhorter and Pete Ogden. ~ Former Member Outreach ~ Back Issues: $20 each for Nos. 87, 92, 93, 94, 95, 96, 97, 98, and 99 (see contents of each on this page). ~ Standing on the Shoulders of Giants: Acknowledgement of special contributors in this issue ~ Farewell: Bobbie Rucker, Jim Cawthorn, Forry Ackerman, and Francis Lacassin. Membership Dues: Reminder $25 ~ Early Mailer Awards ~ Tand Kreegah!: Every member contributed to this issue ~ Election Report: Tracy Griffin re-elected for another term ~ ERBapa Bible Update: Compilation of previous Kaor, Roster, Rules, and Kaorospondence. ~ Treasury Report ~ Summer Symposium: "What is your favorite piece of ERB-related art?" ERBapa History: Recap of 25 years of history. ~ Member Surveys with vintage art.
Next Issue: April 30 ~ 50 issues
---
Kaorospondence:
Congratulations from Mike Resnick, Dick Dumont, Murray Gibbs, Bob O'Malley, Kevin Toelle, Jack Daley, Walter Albert, Tom Lindgren, Mary McGeehan Wild, Phil Normand, Louis Thomas Verardo, Bob Zeuschner and a poem from Joseph Marcello (A Dream of Kings), Joe Lukes
Congratulations from Edgar Rice Burroughs, Inc.: Jim Sullos, Ron Kulek, John Burroughs, Willie Jones, Janet Mann, Cathy Wilbanks.
---
ERBapa Highlights: From issues 1-100
---
ERBapa by the Members
Roll Call: Names of all past and present members (total of 105) ~ Stint ~ Total Mailings ~ Official Editors ~ Perfect Attendance ~ Honorable Mention ~ Individual Page Counts ~ Notable Lengthy Submissions
ERBapa by the Numbers
Page Count by Issue ~ Symposiums
Rules of the Edgar Rice Burroughs Amateur Press Association
ERBapa Roster:
Name ~ Dues Date ~ Fanzine ~ Address ~ Phone Number ~ E-mail
---
ERBapa Member Surveys:
Ralph James Brown, Jr. ~ Robert Jonathan Burrows ~ Shawn Allan Cavender ~ Michael Conran ~ David Critchfield ~ Raymond Arthur Cuthbert ~ Richard Dumont ~ Laurence Geoffrey Dunn ~ Per Otto Fredrik Ekman ~ Henry G. Franke III ~ Peter Geissler ~ Scott Tracy Griffin ~ James Edward Hadac ~ Alan Hanson ~ William Gerald Hillman ~ Dorothy J. Howell ~ J.G. Huckenpohler ~ Terry Alan Klasek ~ Bruno Joseph Lukes ~ Kenneth Manson ~ John F. Martin ~ Tony Menegazzo ~ Rick Norwood ~ William H. Ross, Jr. ~ Heath Row ~ Brooks Shelhorse ~ Richard Spargur ~ James F. Thompson ~ James Van Hise ~ Kenneth Lee Webber ~ Dennis Keith Wilcutt
---
CONTRIBUTORS CONTENTS:
Ferrier, Joe: Jack the Ripper ~ 8 sketches by author
Critchfield, David: A book review of The Digging Leviathan by James P. Blaylock including the books mentions of Pellucidar ~ Publishing History & book covers ~ Books by Blaylock ~ Short Blaylock biography and letter from Blaylock with photo ~ Mailing comments on 5 contributors ~ Promo for The Gilak's Guide to Pellucidar by David Critchfield ~ Pellucidar Crossword Puzzle ~ 2 Harry Roland illos and 1 Frank Frazetta illo
Ross, Bill: 25 Years of Contributions to the ERBapa ~ Descriptions of Ross submissions and naming of OEs: Guidry, Homel, McWhorter, Martin, Hanson, Franke, Martin, Miller, Webber, Cavender, Franke, Cavender, Cuthbert, Griffin ~ 1 Cho illo ~ Original membership letter from John Guidry with Rules ~ St. John illo.
Ogden, D. Peter: Fred Leist: The First UK Tarzan Artist ~ 3 colour covers ~ Portrait of Leist by George Coates
Webber, Kenneth: Charlton Comics and The Jungle Tales of Tarzan ~ 4 colour covers ~ 5 comics panels ~ Artist Sam Glanzman photo ~ Mailing Comments
Brown, Ralph: Neverending Story: APA memories ~ Cover art: The Paintings of J. Allen St. John by Stephen Korshak ~ 9 pictures of Tarzan Toys and Products
Orndoff, Ward: A Layman's Review of The Red Swordsman of Mars
Ekman, Fredrik: John Carter and the Emperor - Carter's history before the Civil War - Descriptions and photos of 6 famous emperors and leaders ~ Cross-Index for ERB Books and ERBapa ~ Mailing Comments of APAs 1 and 99
Moody, James Michael: Greystoke Chronology ~ My First 13 Issues of the ERBapa
Hanson, Alan: The Feral Sounds of Tarzan of the Apes with 3 comics panel illos ~ My 25 Years in ERBapa
Geissler, Peter: John Carter, Carson Napier & the Rest: Non-Tarzan Books in Germany and Austria ~ Many pages of colour illos plus 5 pages of art by Williams Verlag
Norwood, Rick: Tarzan and Me - Association with Tarzan and the works of ERB including editing Comics Revue featuring Manning and Lubbers
Cuthbert, Raymond A.: Facing Front - Covering ERBapa: reflections on 25 years ~ Official Editors list with covers and info on each of the 100 ERBapa issues ~ 2 Reed Crandall illos (one original from Cuthbert collection) ~ Mailing Comments
McGeeney, Bob: The Funaddict Returns ~ Fond memories and congratulations ~ Collecting and finding new ERB items ~ "Open Road" mag with Johnny Sheffield cover
Menegazzo, Tony: 25th Celebration ~ Reflections on Tarzan & ERB ~ 3 cartoons ~ Elmo photo ~ Comments
Conran, Mike: Fall Travels: Geppi Museum, Edgar Allen Poe grave, Fort Henry, Wonder Books store, George Washington tower monument on South Mountain, Frank Frazetta Museum, John McGuigan, Bill Wagner, Panthans Meeting at Huckenpohlers, National Monuments ~ 13 photos ~ Mangani Zugor Index: Chart of 100 Conran contributions in ERBapa.
Spargur, Richard C.: "Tarzan, My Jungle King" words and music from early 1920s ~ Sheet music cover art ~ Son of Tarzan Poster ~ CD insert featuring Dick's performance of the music.
Hunton, Robert L.: Tree Adventures ~ climbing adventures with two photos and Frazetta art ~ The Prank: fan fiction ~ Congrats and ERB fandom memories
McWhorter, George T.: A Silver Anniversary Tribute: ERB connections: "The Ballad of Baby Doe" by Douglas Moore ~ "silver aria" with Beverly Sills and "The Four Faces of Siva" by Rober J. Casey ~ Heins acronyms ~ 1 Sills photo and 4 ERBapa covers
Row, Heath: Jungle Radio #1 ~ First Impressions of Tarzan of the Apes ~ Tarzan the Fearless Scene by Scene synopsis ~ Song discussion: "Me Tarzan, You Jame" by Intruders on Gamble Records ~ "John Carter on the Silver Screen" article in Scary Monsters Magazine #69 ~ Comments on ERBapa 99
Guidry, John H.: Reflections on the origin, history and longevity of ERBapa ~ Tarzan ASCII art ~ The Masses - Nov 1914 magazine cover: Apes: "Mother, Never let me hear you tell the children that these humans are descendants of ours."
Huckenpöhler, J.G.: In the Treasure Vaults of Opar Memphis: visit to the Richardson ERB collection ~ 2 photos: Cole, Kathy, Sandy and JGH ~ In Memorium: Bobbie and Forry ~ Comments on APA 99 ~ Sorak kitten photo
Denkena, Kurt: Fulwalda #90 ~ Review: Tarzans Gluck und Ende by Emil Rudolf Greulich with cover and interior illustrations by Karl Fischer.
Shelhorse, Brooks: Tarzan was a . . . Horse! ~ Discussion of Ken Maynard's horse and film Come On, Tarzan ~ Goodby, Danton
Hillman, Bill: Description of Hillman ERBapa Articles: Nos. 68-100 illustrated with APA covers ~ ERBzine Index Volumes 1500-1550 ~ Ratnaz Files Parody: Book II: Chapters 21-37, continued from ERBapa #80.
Hadac, Jim: Meeting Princess Dia: photo with Caroline Munro at the Hollywood Celebrities & Collectibles Convention in Chicago, March 15, 2008 - Bio of "Bond girl" actress who appeared in "At the Earth's Core" ~ 6 autographed publiciity photos ~ Greg Phillips art: "The Coming of the O-220" Mucker Magazine #9 cover ~ Philips photo ~ 11 Mailing Comments
Manson, Ken: Jodades ~ Review of The Paintings of J. Allen St. John by Stephen D.Korshak ~ My Favourite ERB Covers & Titles ~ Letter and Press Release from Duke University re: Matt Cohen's Brother Men ~ Flier and Letter re: James A. Bergen's A Price and Reference Guide to Books Written by ERB ~ 8 Mailing Comments
Bledig, Joan: A Photo Tour: The Land of Grand Avenoo, Part I - A mulitude of colour photos (70) and description of the Chicago area frequented by Billy Byrne in The Mucker ~ with street and Google satellite maps
Dumont, Richard: The Search for the Flying Stegosaurus (as described in Tarzan at the Earth's Core) - Illustrations: Blue Book cover and interior illo, Gold Key page by Doug Wildey ~ Jana art by Frazetta ~ Stegosaurus comparision: Upper Earth & Pellucidarian ~ Turok Dell comic cover ~ Stegosaurus art by Kathy Dumont.
Martin, John: More Postal Tributes to ERB with 16 colour illustrations of Tarzan postal covers.
Van Hise, James: Facsimile of Wendy Ackerman's manuscript of the translation of the 1925 essay: "Tarzan the German-Eater" by Stefan Sorel: A study about the incitementleading to national hatred. 3-page intro letter to Darrell Richardson ~ 30 pages of translation photocopy
Dunn, Laurence G.: John Carter of Mars - Heritage Style: 60 colour photos of Barsoom action figures issued by Heritage Models, Inc. of 30 years ago.
Thompson, James F.: In Memoriam: Bobbie M. Rucker ~ Tribute to Bobbie's contribution to ERB fandom ~ Photo: Celebration of George McWhorter's 35 years at U of Louisville
Van Hise, James: A Tribute to James Cawthorne (1929-2008) with discussion and review of his artistic achievements ~ 1978 Interview ~ Online Obituary ~ 10 Cawthorn illos
Wilcutt, Dennis: Congratulations and Memories of 1988 ~ recent reads ~ 4 large illos: Weissmuller & O'Sullivan - Jungle Girl & Elephant - Thomas Yeates art - Tarzan with Gorillas
Howell, Dorothy J.: Lord of Two Worlds: Jer'ok in Exile fiction: Synopsis and Ch. XXI: Return from Exile ~ Postscript ~ Reluctant Addendum: scathing review of Alex Vernon's On Tarzan ~ CHART: "Vernon's On Tarzan: A Fan's Report Cum Review" Chapters 1 and 2: HEADINGS: Premise ~ Representative Passages ~ Response
Burroughs, Robert J.: The Case Files of Dotar Wat fiction: Chapter 8 ~ Precambrian Winter and The Case Files of Dotar Wat Indexes ~ #99 Notes
Franke III, Henry G.: 36-page report: Future plans after retirement from military ~ Tarzana Visit: John Coleman Burroughs research at Danton's house ~ Who Was Bowen Tyler?: Early Submarines and World War I illustrated with many sub diagrams, photos and maps ~ Colour photo with Danton and Llana Jane's Jewelry Creations
Griffin, Scott Tracy: The Guy From Hollywood: A Return ~ Alone: Stranded on a Desert Island with colour map and ape illo ~ Tarzan and Olympia: More Tarzan Actor Book Reviews (3) ~ Who's That Slave Girl?: Burroughs Babe Mona Knox with 11 photos and covers (most in colour).
Klasek, Terry Alan: Tarzan of the Apes - My Oldest ERB Friend - A lifelong relationship with ERB's creation ~ Colour Illo by Kenkel: Tarzan Triumphant, Ace edition
The Last Word by OE Tracy Griffin: Comments on each of this issues submissions ~ Colour photo of OE in Hollywood costume and make-up
---
Edgar Rice Burroughs Amateur Press Association
Navigation Chart
| | | | |
| --- | --- | --- | --- |
| Tarzan.com | ERBzine.com | DantonBurroughs.com | Tarzan.org |
| BurroughsBibliophiles.com | JohnColemanBurroughs.com | Tarzan.com/tarzine | JohnCarterOfMars.ca |
| erbzine.com/edgarriceburroughs | Weekly Webzine | Weekly Webzine | Pellucidar.org |