Official Edgar Rice Burroughs Tribute and Weekly Webzine Site for Over 25 Years
Since 1996 ~ Over 15,000 Webzines and Webpages In Archive

Master of Imaginative Fantasy Adventure
Creator of Tarzan® and "Grandfather of American Science Fiction"
A NEW EDITION EVERY FRIDAY
www.ERBzine.com/mag
April 7-13, 2023
As usual we start a new year with a revamping of our Weekly Webzine
This year. . . simplified a bit with info and reference material placed in a companion page:
www.ERBzine.com/mag/info
VIEW LAST WEEK'S ISSUE AT:
www.erbzine.com/mag/ez230331.html


Feature 2: ERBzine 7537
PUSHING THE ENVELOPE XXII
View John Martin's Previous Envelope Projects. . . and Much More at:
www.ERBzine.com/martin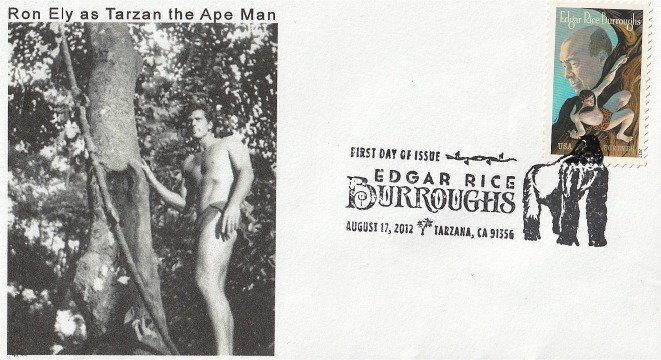 Envelope Packets 230-336
by John Martin
My "other hobby," buying, exchanging, making and mailing postal art covers,
ties in with my Edgar Rice Burroughs hobby quite a bit.
I enjoy making covers featuring Tarzan or other ERB characters,
and friends of mine have made and mailed me such covers as well.
https://www.erbzine.com/mag75/7537.html








---
MAJOR ERBzine UPDATES
LAST WEEK'S FEATURES
March 31, 2023


ECOF 2023 Featuring the unveiling of ERB'S star in Palm Springs
I. Edgar Rice Burroughs, Inc., Celebrates Its Centennial
2. Bill and Sue-On Hillman and ERBzine Celebrate THE LEGACY OF ERB, INC.
3. Tarzan TV Epic 7: REFLECTIONS IN AN EVIL EYE
4. DC Tarzan Comic #248 ~ April 1976: "THE CHAMPION" Pt. One
From the ERBzine Fanzine Archive
5. The ANOTAR Fanzine Issue 9 Spring 2015
READ ALL THE BRITISH ERB SOCIETY BACK ISSUE JOURNALS HERE
6. Hogarth Tarzan Sunday Page: VANGER'S LUCK 1939.11.05 ~ #452
ERB EVENTS UPDATES
7/8 June Week 1: Days 1-7
EVENTS Photos
9. All The Hal Foster Tarzan Sunday Page Reprints: 1931-1937
1931 and 1932 ~ 1933 and 1934 ~ 1935 and 1936 ~ 1936 to 1937
10. HOGARTH TARZAN SUNDAY REPRINT STRIPS IN ERBzine
1937 ~ 1938 ~ 1939 ~ 1947-1949 ~ 1949/1950
11. FOSTER TARZAN SUNDAY PAGE: KAMUR 1933.10.01
12. REX MAXON'S SUNDAY TARZAN STRIPS: TODAY: Page Seven ~ April 19, 1931
---
LAST WEEK'S UPDATES
---
FEATURES 13 - 25
SUE-ON'S STORY
http://www.hillmanweb.com/mystory/
MY PRINCESS by Bill Hillman
http://www.hillmanweb.com/princess.html
Sue-On's Website
http://www.hillmanweb.com/soos/
Hillman Music Odyssey
http://www.hillmanweb.com/book
Princess Dejah's Amazing Amtorian Gardens
https://www.erbzine.com/mag2/0216.html
Hillman Travel Adventures:
https://www.hillmanweb.com/book/travel
Bill and Sue-On Hillman's ERBzine
https://www.ERBzine.com
Collage: Sue-On Art by Fibiger ~ Hoffman ~ Yeates
https://www.erbzine.com/mag63/sue-onprincess.jpg
https://www.hillmanweb.com/mystory/mystory.jpg
The Johnny Weissmuller Scrapbook
http://www.erbzine.com/mag3/0394.html
Weissmuller and Friends I
http://www.erbzine.com/mag55/5580.html
Weissmuller and Friends II
http://www.erbzine.com/mag55/5581.html
Weissmuller on Location in Florida 1 & 2
http://www.erbzine.com/mag5/0501.html
Weissmuller: Twice the Hero by David Fury
http://www.erbzine.com/mag3/0393.html
All the Weissmuller Films:
http://www.ERBzine.com/movies
https://www.erbzine.com/cards/film/tarzaninfloridaall.jpg

OUR WEEKLY SUPPLEMENTARY INFORMATION FEATURE
www.erbzine.com/mag/info
ERBzine Statistics for 2021: +18,614,055 Verified World Wide Hits



WEBJED: BILL HILLMAN


Visit our thousands of other sites at:
BILL AND SUE-ON HILLMAN ECLECTIC STUDIO
ERB Text, Images and Tarzan® are Copyright ERB, Inc.- All Rights Reserved.
All Original Work ©1996-2023 by Bill Hillman and/or Contributing Authors/Owners
No part of this web site may be reproduced without permission from the respective owners.
Opinions expressed in articles on this site do not necessarily represent the opinions
of Edgar Rice Burroughs, Inc. or the editors of ERBzine.
ERBzine Weekly Webzine was endorsed by Danton Burroughs of Tarzana, California
as the Official ERB, Inc. and Tarzan®Webzine Fan Tribute Site