PALM SPRINGS ECOF 2023 ~ April 4-6
Event Host: Scott Tracy Griffin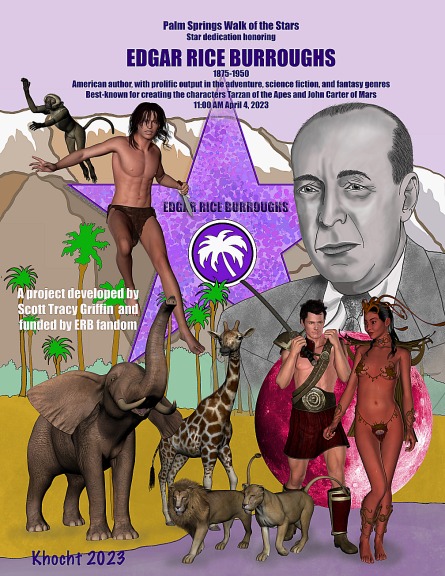 Poster by Ahmed Khocht - Click or Tap for Full-Size


The Edgar Rice Burroughs Chain of Friendship gathering
Honoring the life and works of author Edgar Rice Burroughs
(Creator of Tarzan of the Apes, John Carter of Mars, and many more)
Hosted by the Los Angeles SubERBs chapter
of the Burroughs Bibliophiles literary society
Will take place Tuesday, April 4 through Thursday, April 6, 2023,
in Palm Springs, California
Featuring the unveiling of Edgar Rice Burroughs' star on the world-famous
Palm Springs Walk of Stars on April 4, 2023, at 11 a.m.

The official convention hotel is:
Hotel Zoso ~ 150 South Indian Canyon Drive
Palm Springs, California 92262
(760) 325-9676
To obtain the discounted ECOF room rate, please call the number above or use this online
Reservation Link:
https://be.synxis.com/?Hotel=59194&Chain=8517&arrive=2023-04-03&depart=2023-04-07&adult=1&child=0&group=42030A

The ECOF convention rate is $209/night (does not include tax and incidentals), resort fees waived*,
for rooms booked Monday, April 3, Tuesday, April 4, Wednesday, April 5, Thursday, April 6.
Rate includes single king or double queen beds.
RESERVE YOUR ROOM NOW
---
DOWNLOAD REGISTRATION FORM: WORD FILE HERE
www.ERBzine.com/dumdum/2023form.docx
ALTERNATE FORM IN HTML
https://www.ERBzine.com/dumdum/2023form.html
---
The cutoff for this special rate is Friday, March 10, 2023. Do not delay!
Guests hoping to share a room with another attendee should note it on
the registration form, sent to the event organizers at
ecof2023@mail.com
* Resort fee covers the following amenities, FREE to ECOF attendees:
• High-speed wireless internet
• Overnight valet parking for one vehicle
• Airport shuttle service from the Palm Springs International Airport
• In-room coffee and bottled water
Auto-confirmation will show a resort fee and extra tax for it, but this will be waived at check in.
For more information on the property, please see:
https://www.hotelzosopalmsprings.com/


ECOF REGISTRATION AND SCHEDULE



Event registration fee is US$120 payable via check or PayPal (submit form)
Our Special Guest for this event is Tommy Cook, star of two Edgar Rice Burroughs films,
the serial Jungle Girl (1941) and Tarzan and the Leopard Woman (1946).
Tommy is one of the last living actors of the Johnny Weissmuller era, and has a lifetime of stories to tell.
Tommy will join us at the unveiling ceremony, will sit for a Q&A with us,
will be selling and signing stills of his film roles and discussing his career with fans.
Day 1, Tuesday, April 4, 2023
11:00 a.m. Edgar Rice Burroughs' star unveiling ceremony in downtown Palm Springs
12-2 p.m. Photographs and no-host lunch break
2-4 p.m. Open house and Burroughs exhibit at
Welwood Murray Memorial Library, 100 South Palm Canyon Drive
Day 2, Wednesday, April 5, 2023
9 a.m.-5 p.m. Huckster Room, Hotel Zoso Palladium Room
10 a.m. Q&A with ECOF 2023 Special Guest, Tommy Cook, star of the Edgar Rice Burroughs films
Noon-5 p.m. Programming TBA (watch ERBzine and the Gridley Wave for updates)
Day 3, Thursday, April 6, 2023
9 a.m.-5 p.m. Huckster Room, Hotel Zoso Palladium Room (programming TBA)
3-5 p.m. Auction
If you would like to be part of the programming and
for more information, please contact ecof2023@mail.com
A huge "THANK YOU!" to our GoFundMe donors for making this
honor for Edgar Rice Burroughs and his family a reality!
We could not have done it without you.
We hope to see you in Palm Springs



FOR PALM SPRINGS LOCATION AND THINGS TO DO
GO TO
https://www.ERBzine.com/dumdum/palm.html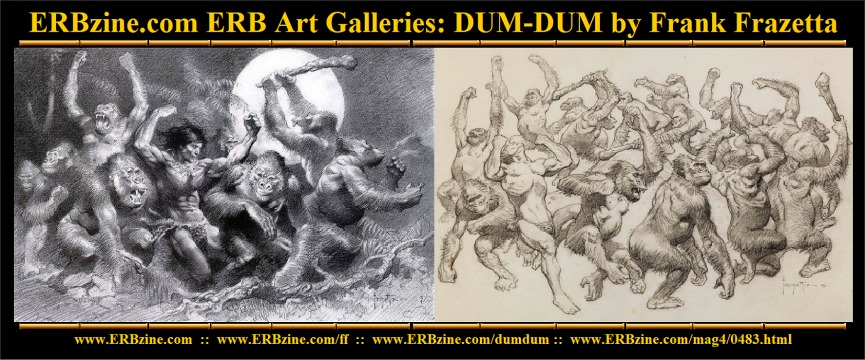 .
SAN ANTONIO 2022 DUM-DUM :: JUNE 2-4
Was a Major Success.
Congratulations to Jim Goodwin and
The Texas Chapter of the Burroughs Bibliophiles
for hosting this event.
https://www.erbzine.com/dumdum/archive.html



THANKS TO ALL WHO MADE
THE 2021 ERBFest and DUM-DUM EVENTS
SUCH A SUCCESS!
https://www.erbzine.com/dumdum/archive.html