Official Edgar Rice Burroughs Tribute and Weekly Webzine Site for Over 25 Years
Since 1996 ~ Over 15,000 Webzines and Webpages In Archive

Master of Imaginative Fantasy Adventure
Creator of Tarzan® and "Grandfather of American Science Fiction"
A NEW EDITION EVERY FRIDAY
www.ERBzine.com/mag
July 8 -14, 2022
As usual we start a new year with a revamping of our Weekly Webzine
This year. . . simplified a bit with info and reference material placed in a companion page:
www.ERBzine.com/mag/info
VIEW LAST WEEK'S ISSUE AT:
www.erbzine.com/mag/ez220701.html

Feature 1: ERBzine Zell
Through the years Oberon Zell has shared a multitude of articles
and brilliant maps of ERB's Barsoom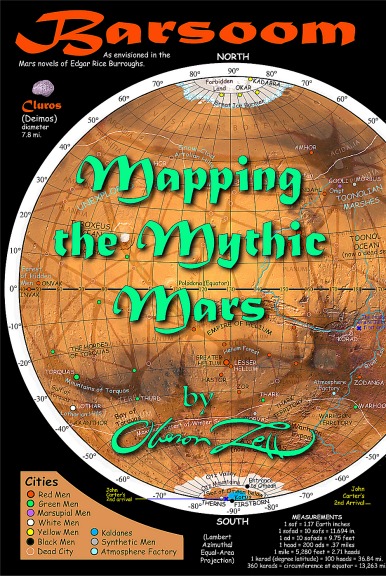 Click for full-size cover HERE
Oberon's articles and Barsoom maps. . . and more
have been published in a book now available to all ERB fans.
See a preview of its contents, many maps and links to the ERBzine articles at:
https://www.erbzine.com/zell










---
MAJOR ERBzine UPDATES
LAST WEEK'S FEATURES
July 1, 2022


ERBzine Fanzine Archive Reprints Presents
1: Burroughs Bulletin #43 Pt. 1: TANAR OF PELLUCIDAR
2. BARSOOMIAN Fanzine Issue No. 7 Presented by Paul Allen
Full Size Cover HERE
3. THE ANOTAR ISSUE 4 ~ SPRING 2013
4. ERB's ELDORADO II: Commentary by Woodrow Nichols Chapters 6-10
5. TARZAN AND THE MINIANS 11
Series INTRO and CONTENTS Here
ERB EVENTS UPDATES
6/7. September Week 3: Days 15-21 EXPANDED
EVENTS Photos
8. DC Kubert Tarzan Comic #230 ~ April 1974 ~ TARZAN: LORD OF THE JUNGLE
I: Pages 1-21 ~ II: Pages 22-43 ~ III: Pages 44-65 ~ IV: Pages 66-84
9. All The Hal Foster Tarzan Sunday Page Reprints: 1931-1937
1931 and 1932 ~ 1933 and 1934 ~ 1935 and 1936 ~ 1936 to 1937
10. HOGARTH TARZAN SUNDAY REPRINT STRIPS IN ERBzine
1937 ~ 1938 ~ 1947-1949 ~ 1949/1950
11. HOGARTH TARZAN SUNDAY: NET OF DOOM 1939.01.29 ~ #413
12. FOSTER TARZAN: DEATH TO THE OFFENDERS 1933.01.01
13. GRAY MORROW'S TARZAN SUNDAY PAGES: FOXES AND HOUNDS
163: 2878-2889 (12 Oct. 1986-28 Dec. 1986) ~ All 12 Pages
CONTENTS
---
LAST WEEK'S UPDATES
Features 14 - 24
JANE: The Woman Who Loved Tarzan By Robin Maxwell
http://www.erbzine.com/mag37/3706.html
http://www.erbzine.com/mag37/3706a.html
JANE: Reviews ~ Photos ~ Video
http://www.erbzine.com/mag39/3945.html
Tarzana 2012 Centennial: Robin Maxwell & Suzan Crowley Presentations
http://www.erbzine.com/mag35/3584.html
Robin Maxwell's High Desert Eden
http://www.erbzine.com/mag45/4529.html
Evolution of the Manchess JANE art
http://www.erbzine.com/mag37/manchessjane.jpg
Joe Kubert: Self-effacing genius
http://www.erbzine.com/mag28/2898a.html
Joe Kubert's DC Tarzan Comics
http://www.erbzine.com/mag57/5706.html
http://www.erbzine.com/mag57/5706a.html
Joe Kubert Tarzan Cover Collages
http://www.erbzine.com/cards/comics/dctarzanall.jpg
http://www.erbzine.com/cards/comics/dctarzan2all.jpg

OUR WEEKLY SUPPLEMENTARY INFORMATION FEATURE
www.erbzine.com/mag/info
ERBzine Statistics for 2021: +18,614,055 Verified World Wide Hits



WEBJED: BILL HILLMAN


Visit our thousands of other sites at:
BILL AND SUE-ON HILLMAN ECLECTIC STUDIO
ERB Text, Images and Tarzan® are Copyright ERB, Inc.- All Rights Reserved.
All Original Work ©1996-2022 by Bill Hillman and/or Contributing Authors/Owners
No part of this web site may be reproduced without permission from the respective owners.
Opinions expressed in articles on this site do not necessarily represent the opinions
of Edgar Rice Burroughs, Inc. or the editors of ERBzine.
ERBzine Weekly Webzine was endorsed by Danton Burroughs of Tarzana, California
as the Official ERB, Inc. and Tarzan®Webzine Fan Site