Official Edgar Rice Burroughs Tribute and Weekly Webzine Site
Since 1996 ~ Over 15,000 Webpages in Archive
Volume 6314

ANNIVERSARIES OF ERB'S LIFE & LEGACY
A COLLATION OF THE DAILY EVENTS IN ERB-WORLD
FROM THE PAGES OF THE HILLMANS' ERBzine
Collated by John Martin
With Web Design, Added Events, Links,
Illustrations and Photo Collages by Bill Hillman

CONTENTS
JANUARY Part IV
January 22 :: January 23 :: January 24 :: January 25 :: January 26
January 27 :: January 28 :: January 29 :: January 30 :: January 31
click for full-size images
---
JANUARY 22
---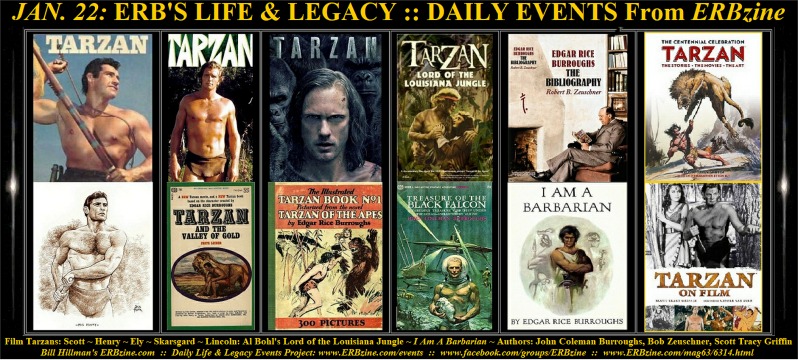 Jan. 22, 1966, probably didn't generate any ERB headlines in many newspapers, but on that date Ron Ely left the U.S. for the jungles of Brazil to begin filming the new "Tarzan" television series. The product was ready for the marketplace by Sept. 16 of that year, as ERB fans gathered around their television sets to hear that famous jungle call sounding from off the top of a waterfall and to see Tarzan swinging into action every week for two years.
Ron Ely's Tarzan TV Series:
http://www.erbzine.com/mag0/0014.html
---

It was a heady decade, those 1960s, and the momentum was still going in 1966 and 1967. The decade began with Gordon Scott's last Tarzan movie, "Tarzan the Magnificent," and within a couple of years ERB fans -- old ones and newly created ones -- were buying paperback ERB novels off the grocery store racks and those who could afford to pay just a little bit more were ordering hardbound Canaveral editions at $2.95 each.
Gordon Scott Tribute
http://www.erbzine.com/scott
Tarzan the Magnificent
http://www.erbzine.com/mag19/1958.html
---

In 1966, that magic year that Tarzan first appeared in a regular TV series, April saw the appearance of a new, authorized Tarzan novel, "Tarzan and the Valley of Gold," by Fritz Lieber, although there was criticism from some fans when Ballantine labeled it "No. 25," as if it was a part of the "canon" created by ERB himself! Although it's been published only once, in that Ballantine edition, it is a pretty good Tarzan novel and well worth having and reading. It was followed a couple of months later by the actual movie, starring Mike Henry.
Tarzan and the Valley of Gold book and movie:
http://www.erbzine.com/mag2/0210.html
Tarzan and the Great River
http://www.erbzine.com/mag19/1962.html

---

Mike Henry played Tarzan three times, including again in 1967 ("Tarzan and the Great River"). Meanwhile, there was Ely's second season on television; House of Greystoke presses rolled with a reprint of Tarzan newspaper strips in "The Illustrated Tarzan Book #1;" an ERB novel, "I Am A Barbarian," was published for the first time; and Robert Fenton's ERB biography, "The Big Swingers," and John Coleman Burroughs' "Treasure of the Black Falcon" both appeared in print.
---

Not every era can match that 60s era, but we seem to be in the midst of another such time in history. In 2012 it was the John Carter and "Lord of the Jungle" comic books, the "John Carter" movie; Al Bohl's Morgan City, Louisiana, Tarzan Festival; the new ERB stamp issued in connection with the Dum-Dum in August of 2012; and Stan Galloway's Tarzan Centennial Conference in Bridgewater, Va., in October and November.
---

Those were followed by such things as two new Tarzan history books by Scott Tracy Griffin, a new bibliography by Robert B. Zeuschner, special reprint editions of "Back to the Stone Age" and "Land of Terror" by Jim Gerlach; Michael Tierney's 100-year art chronology, and lots of new fiction telling new stories from the worlds of Edgar Rice Burroughs. These titles and more are featured at: ERB Still Lives
---

A new major motion picture, "The Legend of Tarzan," hit screens in 2016, and there's still a big Dum Dum and ECOF every year.
And this decade still has a couple of years to go, so no telling what will happen next!

The Illustrated Tarzan Book #1
http://www.erbzine.com/mag16/1602.html
I Am A Barbarian
http://www.erbzine.com/mag8/0863.html
Treasure of the Black Falcon
http://www.erbzine.com/mag9/0938.html
John Carter of Mars Movie
http://www.cartermovie.com
Al Bohl's Tarzan festival:
http://www.erbzine.com/mag35/3588.html
Notes on the start of Ely's trip to Brazil and other ERB dates as well:
http://www.erbzine.com/bio/years50.html
Recent Editions of ERB-Related Books
http://www.erbzine.com/mag62/6264.html
The Legend of Tarzan film
http://www.erbzine.com/mag58/5813.html
Annual Dum-Dum and ECOF Conventions
http://www.ERBzine.com/dum-dum

---
JANUARY 23
---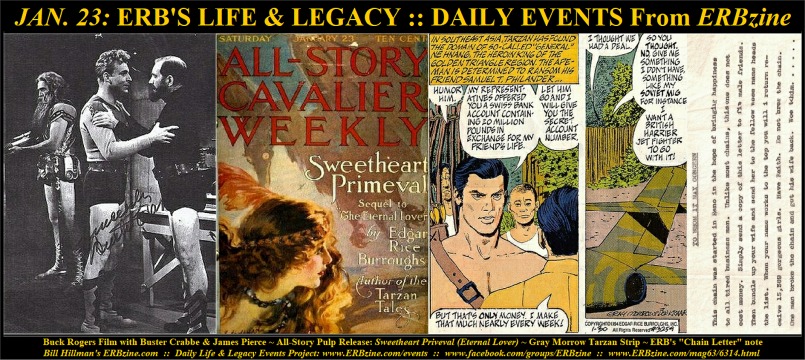 "Sweetheart Primeval," the second half of "The Eternal Lover," began as a serial this date, Jan. 23, 1915, in "All-Story Cavalier Weekly." It was the 14th ERB story to be published. Yes, once ERB broke into print in 1912, he really started churning them out!

"The Eternal Lover" also marked the fourth, though limited, appearance of Tarzan of the Apes. On another Jan. 23, in 1938, ERB was interviewed on KFWB in Hollywood and said he had originally planned to write only two Tarzan stories. That's probably why, in this book, he mentioned that Lord Greystoke had "once been" Tarzan of the Apes.

However, his third, "The Beasts of Tarzan," had already appeared in print, and the fourth full-fledged Tarzan Novel, "The Son of Tarzan," would come out later in 1915.
That first appearance of "Sweetheart Primeval" was illustrated by P.J. Monahan. The cover, and other Monahan art, is at
http://www.erbzine.com/mag16/1672.html
http://www.erbzine.com/mag16/1671.html
All the Eternal Lover covers from the pulp serial are featured at:
http://www.erbzine.com/mag2/0222.html
More details about Eternal Lover are at:
http://www.erbzine.com/mag7/0759.html

For a synopsis of the story, see:
http://www.erblist.com/erblist/esavagesum.html
Read the entire Eternal Lover in e-Text edition at ERBzine
http://www.erbzine.com/craft/o7el.html
---

Gil Gerard celebrates his 75th birthday today, Jan. 23. Sci-fi fans remember him in the role of Buck Rogers in the late 70s TV series, "Buck Rogers in the 25th Century." In one episode, "Planet of the Slave Girls" (originally broadcast Sept. 27, 1979), he encountered Tarzan actor Buster Crabbe, in the role of Brigadier Gordon. Crabbe, of course, under his alternate screen name of Larry Crabbe, also played the role of Buck Rogers, in a 1939 serial, as well as Flash Gordon. His Tarzan outing was the 1933 Universal serial, "Tarzan the Fearless," which also had a movie version.
Crabbe's Buck Rogers at:
https://en.wikipedia.org/wiki/Buck_Rogers_(serial)
Crabbe as Buck Rogers along with former Tarzan and ERB son-in-law, James Pierce (bearded)
http://www.erbzine.com/mag27/2743.html

---

ERB hated chain letters, but he once sent one, on Jan. 23, 1930, complete with a poem of apology for doing so:

"I never did this thing before ~ Nor shall I do it ever more ~ Forgive my first! ~ Of all the goddam pests there be ~ Chain letter writers seem to me ~ By far the worst ~ But when the Prince of Wales I see ~ And others of celebrity ~ I almost burst ~ With pride and with avidity ~ I seize my pen and send to thee ~ This thing accurst."
ERB's Chain Letter
http://www.erbzine.com/mag21/2173.html
Who else was on this chain? See the ERBzine Bio Timeline:
http://www.erbzine.com/bio/years30.html

---

"Deadly Gambit," by Gray Morrow and Don Kraar, began Jan. 23, 1994, and ran for 12 Sundays.
Read it at:
http://www.erbzine.com/mag35/3548.html

---
JANUARY 24
---
ERB was at his most sarcastic and indignant in an article published in the L.A. Times on Jan. 24, 1940, when he took on the L.A.P.D. for shooting down citizens.
He began his article by recounting the gist of a news story he had read: "A citizen has been arrested and booked on suspicion of manslaughter because, after hearing a noise in the kitchen of a girl friend and seeing a prowler, he shot the man after warning him three times and ordering him to come out with his hands up."
ERB then contrasted that with the fact that no police offers had been charged similarly in three separate incidents of "...innocent men being shot by plainclothesmen of the police or Sheriff's forces for running away from what each one though was a holdup, but I have not read that any of these peace officers was arrested or booked."

ERB personalized the article with: "My interest in this matter was aroused by an experience that one of my sons had with a couple of the highly intelligent, courteous and efficient bully-boys of the Los Angeles Police Department. He was accosted, insulted and manhandled on a lonely street in Bel-Air one night last year and accused of being the 'Phantom Burglar' of Bel-Air.

"His first and natural reaction when he saw two men leap from a car and come for him was to run, for he believed that he was about to be the victim of a hold-up or a kidnapping. Had he run he would have been shot."

He continued: "It seems to me that something should be done about this shooting of men simply because they run away from an imagined danger. If it is a capital crime to run, at least give us a fair trial and an opportunity to kiss our loved ones good-by. Perhaps, inasmuch as we protect sage hens and speckled trout with a closed season, we might have a closed season for runners."

ERB said he had written the police chief as well as the police commission and not received the courtesy of a reply.

"It seems to me quite bad enough to have to be in constant terror of holdup men and kidnapers without having the Police Department shooting at us every time we go out at night," he concluded.

There's a little more to the article which can be read in full by scrolling down to the article, "Shooting Citizens," at:
http://www.erbzine.com/mag14/1441.html

In some states, it is legal to shoot an intruder who is inside your home if you say you feared for your life. I don't know what the law is, at present, in California.
I wonder if ERB refers, above, to Hulbert, or John.

---

A decade earlier, in 1940, ERB had written a much different article about the police. In "The Citizen and the Police," published in 1929 in "The Police Reporter," ERB wrote, among other things: "If we were to lie awake nights for a year trying to evolve the most asinine thing that we could do, we could not achieve a more monumental asininity than that of aiding the present insidious campaign of calumny directed against the police, whereby we are undermining our personal safety and playing into the hands of our natural enemies -- the crooks, criminals and grafters who constitute the organized forces of lawlessness that are a peculiar consequence of present-day American civilization"

See that whole article at:
http://www.erbzine.com/mag2/0256.html

Obvioiusly, ERB called them as he saw them and, like the police, was a "straight-shooter," depending on the circumstances and his frame of mind at the time.

---

Novelty song-writer and singer Ray Stevens was born this day in 1939. I probably first heard of Ray Stevens back in high school when he came out with "Ahab the Arab." That was 1962.
But in 1969, Stevens had his first gold single, "Gitarzan," a song undoubtedly familiar to all ERB fans. Several versions of it can usually be found by searching Youtube.
Lyrics and Video at ERBzine's "Tarzan On Record"
http://www.erbzine.com/mag11/1164.html

---

"Jad-Bal-Ja and the Apes," by Russ Manning, began Jan. 24, 1971, and ran for four Sundays.
Read it at: http://www.erbzine.com/mag21/2126.html

---
JANUARY 25
---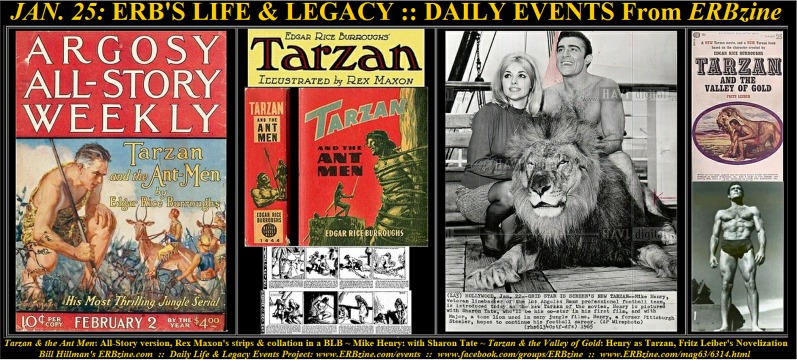 Tarzan morphed from the printed word to pictures in two different ways starting Jan. 25, 33 years apart.
In 1932, Rex Maxon's daily strip began presenting ERB's story of "Tarzan and the Ant Men," with continuity provided by R.W. Palmer, who teamed with Maxon on several strips.
See:
http://www.erbzine.com/mag32/3214.html


In 1965, filming began for "Tarzan and the Valley of Gold," featuring Mike Henry in the role of Tarzan. Many fans have said he is the actor who most closely matched their own vision of Tarzan's looks.
The plot, summed up on a Bill Hillman erbzine page: "The international criminal Vinaro enjoys sending explosive wristwatches to his enemies. Here he kidnaps ten-year-old Ramel whom he thinks can lead him to the lost city of gold. Tarzan fights the evil Mr. Train, six-foot-six bodyguard of Vinaro, and rescues Sophia (Nancy Kovack), who has been left to die with an explosive around her neck. Various animals help Tarzan locate Vinaro's tanks and helicopters, the city and the boy.

Speaking of the gear he needs: "I'll need a good rope, a hunting knife, and a soft piece of leather." I hope he meant he had to get the hunting knife of his long-dead sire out of his suitcase. Can't imagine Tarzan heading off to the Americas without one!
As for the soft piece of leather, we know what that was for: "The outfit is casual, but practical."
Photos galore here in the ERBzine Photo Gallery Pages:
http://www.erbzine.com/mag19/1973.html
http://www.erbzine.com/mag2/0210b.html
Background on the movie and book:
http://www.erbzine.com/mag2/0210.html
More facts and trivia at Internet Movie Data Base:
http://www.imdb.com/title/tt0061067/

---
JANUARY 26
---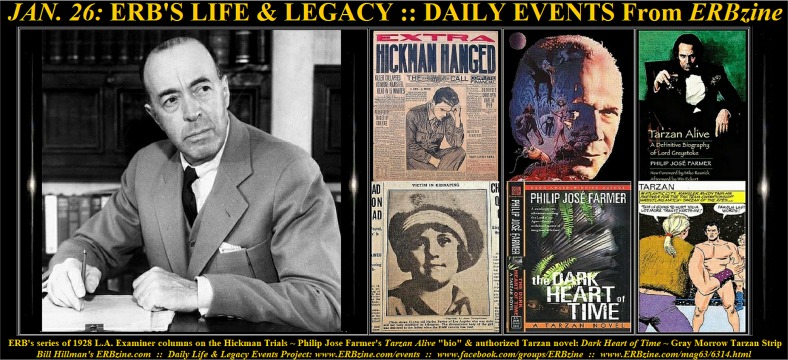 Edgar Rice Burroughs, true crime writer, went public with his first column on William Hickman printed in the "L.A. Examiner" this date, Jan. 26, 1928.
ERBzine's coverage begins with: "For a two-week period in 1928, Burroughs, on temporary assignment as a newspaper columnist covering one of Los Angeles' most sensational trials, bombarded the public with a series of explosive statements and accusations. Certainty that the trial of William Edward Hickman, charged with the kidnap-murder of little Marion Parker and the dismemberment of her body, would arouse nationwide interest led the Los Angeles Examiner to hire Burroughs to attend the sessions and write a syndicated column giving his personal reactions. The column, appearing January 26 to February 10, presented Burroughs in his most irascible and opinionated mood.

"Controversial areas he selected for particular vituperation included the question of Hickman's insanity and the alienists who proposed this theory, the court procedures and the laws, the trial atmosphere, and the heredity and the breeding of criminals. Burroughs ridiculed the assertions of defense attorney Walsh and the psychiatrists that Hickman was insane."

On January 26, at the trial opening, Burroughs wrote:
"Hickman is not normal. But abnormality does not by any means imply insanity. Hickman is a moral imbecile and moral imbecility is not insanity. The moral imbecile is as well able to differentiate between right and wrong as is any normal man — the difference between the two lies in the fact that the moral imbecile does not care what the results may be to others so long as he may gratify his abnormal egotism or his perverted inclinations."

Background of the case:
"On December 15, 1927, Marian Parker, the 12-year-old daughter of Perry Parker, a prominent banker in Los Angeles, was abducted from her school. A man had appeared at the principal's office and said that her father had been injured in a terrible accident. Letters demanding money were sent to her father for several days. All the communications, which often taunted the parents, were signed with names such as, "Fate," "Death," and "The Fox." Negotiations with the suspect continued until a price was agreed upon and a meeting was set. Mr. Parker placed the ransom money, $1,500 in cash, in a black bag and drove off to meet "The Fox." At the rendezvous, Mr. Parker handed over the money to a young man who was waiting for him in a parked car. When Mr. Parker paid the ransom, he could see his daughter, Marion, sitting in the passenger seat next to the suspect. As soon as the money was exchanged, the suspect drove off with the victim still in the car. At the end of the street, Marion's corpse was dumped onto the pavement. She was dead. Her legs had been chopped off and her eyes had been wired open to appear as if she was still alive. Her internal organs had been cut out and pieces of her body were later found strewn all over the Los Angeles area.

"A massive manhunt for her killer began that involved over 20,000 police officers and American Legion volunteers. Suspicion quickly settled upon a former employee of Mr. Parker named William Edward Hickman who had previously been arrested on a complaint by Mr. Parker regarding stolen and forged checks. Hickman had been convicted and had done prison time. Hickman was arrested a week after the murder in Echo, Oregon. Eventually, Hickman confessed to a dozen armed robberies. Though his attorneys attempted to plead insanity for Hickman, the jury wouldn't buy it. He was convicted of murder and hanged at San Quentin prison in 1928. The Marion Parker case shocked America and inflamed the public's feeling for vengeance against child abductors."

Hickman got a speedy trial and was dangling from a rope within a year of his horrendous crime. And, he got the "Edgar Rice Burroughs treatment" as well.
[Note: Usually, girls are named Marian and boys are called Marion. I have seen it on the web stories of this case spelled both ways. I used the "Marion" spelling as that is the one used most.]

ERBzine's ERB / 1928 Hickman Trial Connection covers the event in 5 illustrated pages - including ERB's columns and ERBzine correspondence with family members and family scrapbook material:
http://www.erbzine.com/mag17/1767.html
---

Another Tarzan author was born this date, Jan. 26, in 1918. Philip Jose Farmer wrote several books featuring Tarzan, thinly disguised. He chronicled many events of the English lord's life that ERB left out, including his sweeping biography, "Tarzan Alive."

After writing about Tarzan-like characters under other names, Farmer finally got permission to do a novel featuring Tarzan by name, "The Dark Heart of Time."

The Philip José Farmer / Edgar Rice Burroughs Connection:
http://www.erbzine.com/mag0/0065.html
http://www.erbzine.com/mag0/0065a.html
http://www.erbzine.com/mag0/0065b.html
http://www.erbzine.com/mag15/1501.html
http://www.erbzine.com/mag9/0981.html
Philip José Farmer Remembered and covers of his Tarzan-related books:
http://www.erbzine.com/mag23/2349.html
The official Farmer site:
http://www.pjfarmer.com/

---

"Wrestlemania," by Gray Morrow and Don Kraar, began Jan. 26, 1992, and ran for 12 Sundays. What happens when Tarzan agrees to step into the ring with professional wrestlers? But first, a nod to John Carter.
Read it at: http://www.erbzine.com/mag35/3540.html

---
JANUARY 27
---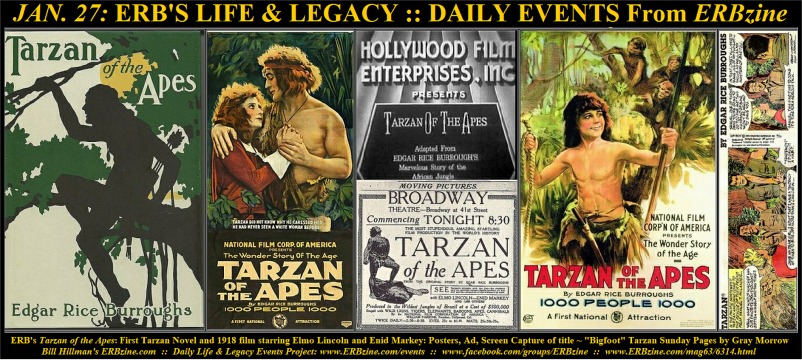 On Jan. 27, 1918, movie-goers were treated to "...a daring spectacle, educational, an unusually entertaining picture, the most thrilling picture ever shown, a production nothing short of marvelous, and the greatest film of the age."

It was, of course, the day that "Tarzan of the Apes" premiered at New York's Broadway Theatre. "The theatre lobby was done up as a jungle decorated with hanging moss, large tree boughs, and many stuffed animals, including the lion that Elmo had reportedly killed during production. Monkeys and apes swung through the faux foliage and theatre boxes while a 30-piece symphony orchestra provided a jungle-themed musical score. Similar displays were adopted by other theatres when the film opened nationwide."

Playing Tarzan was Elmo Lincoln, who literally acted with his chest. "His normal chest measurement was 48 inches, but expanded to an extraordinary 53 inches. His chest was probably responsible for much of his fame in films. He could project defiance by breathing deeply after heroic deeds, or during love scenes. Elmo could gesture and perform with his chest the way other actors used their eyes and facial expressions."

For more, see:
http://www.erbzine.com/mag5/0503.html

What were the five Tarzan movies (including serials) was Elmo Lincoln in? Count carefully at:
http://www.imdb.com/name/nm0511104/
(Or, just answer off the top of your head!)

---

"Bigfoot," by Gray Morrow and Don Kraar, began Jan. 27, 1991, and ran for 12 Sundays. Professor Samuel T. Philander is out to stop illegal loggers from razing the Pacific Northwest rain forests. Loggers are tough, but fortunately Mr. Philander has Tarzan on his side.
See: http://www.erbzine.com/mag35/3536.html

---
JANUARY 28
---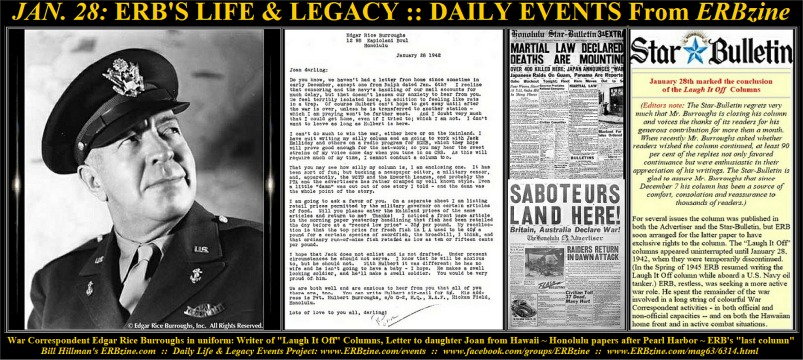 It may have been helpful, and was sometimes fun, but during the six weeks that ERB wrote his "Laugh It Off" columns for Hawaii newspaper readers, he also discovered that -- instead of having to deal with just one editor, such as Thomas Metcalf of "The All-Story"-- he had to deal with several, including military censors as well as the regular newspaper editor, and apparently with several other groups which would object to this or that item that he had written!

And so, on Jan. 28, 1942, ERB shrugged off his "Laugh It Off" column and probably breathed a sigh of relief. Not only was he out from under the obligation of having to find enough items to put together an almost-daily effort, but he was free to do some things he preferred -- such as becoming involved in a radio broadcast experiment and also having an opportunity to go closer to where the war's action was.

The column had begun Dec. 13, 1941, a few days after the attack on Pearl Harbor, and was undertaken at the suggestion of the Army, as a morale booster for readers of the "Honolulu Advertiser" and the "Star-Bulletin."
But, by Jan. 13, 1942, ERB was thinking that perhaps his endeavor had run its course, and wrote in his column: "A question to my readers: Shall I continue this series or go on to do something else? I really have plenty of other things to do, but if 'The Star-Bulletin' readers want this column to go on, I'd like to know. Write the editor of 'The Star-Bulletin'and tell him, please."

ERB was probably hoping for a lot of letters telling the editor to deep-six his column, but instead the letters of support rolled in! Nonetheless, ERB decided to end the column anyway, and did so with the last one on Jan. 28.

The last paragraph of that last column was:
"When, at the request of army authorities, I undertook to conduct this column shortly after December 7, I felt that it might aid in bolstering civilian morale. Perhaps it was helpful for a short time. I hope so. but attempting to bolster civilian morale in the islands is like taking coals to Newcastle. Our morale is tops, and it will remain tops if each of us takes it upon himself to keep his own morale high, no matter what happens - and plenty may happen before we are done with this mess. Fear is contagious. If you are ever afraid, camouflage it. In closing this column, I wish to thank all those who have aided me by their contributions and the many who have encouraged me by their kind letters. I wish to thank the Sylvias and the Muriels for the amusement they have afforded. And so, aloha!"

That's what he said publicly. Privately, in a letter to Joan written that same Jan. 28, he said: "I can't do much to win the war, either here or on the Mainland. I have quit writing my silly column and am going to work with Jack Halliday and others on a radio program for KGMB, which they hope will prove good enough for the network; so you may hear the sweet strains of my voice some day when you tune in on CBS. As this will require much of my time, I cannot conduct a column too.
"That you may see how silly my column is, I am enclosing one. It has been sort of fun; but bucking a newspaper editor, a military censor, and, apparently, the WCTU and the Epworth League, and probably the PTA and the advertisers has rather cramped my well known style. Even a little 'damn' was cut out of one story I told - and the damn was the whole point of the story."
Yes, even in trying to do his patriotic duty and shore up the public resolve, ERB had to fight with the accursed editors!
However, even ERB couldn't kill "Laugh It Off" forever. He used the same name for a column he wrote for a few issues of "Hawaii Magazine" in 1945 and 1946!
ERB's Jan. 28 letter to Joan at:
http://www.erbzine.com/mag10/1024.html

1941 columns
http://www.erbzine.com/mag11/1129.html
1942 columns
http://www.erbzine.com/mag17/1754.html
1945-46 Hawaii Magazine columns
http://www.erbzine.com/mag17/1755.html
---

Pictured is Honolulu Advertiser, Dec. 8, 1941 -- its first edition after the attack. ERB would likely have read this newspaper. Later, in December, and in January it carried his column, "Laugh It Off."
The Honolulu Advertiser was curtailed by a broken gear on its press and could not publish on Dec. 7. The Star-Bulletin allowed the Advertiser to use its presses for its Dec. 8 edition, but that did not stop the morning paper from making one of the biggest front-page errors of the war.
Acting on what former Honolulu Advertiser Editor George Chaplin said was "an unidentified Army source," the Advertiser declared, "Saboteurs Land Here!"
The erroneous report prompted the Army to call in the Advertiser editors, Chaplin wrote in his 1998 history of the Advertiser, "Presstime in Paradise." The editors were told "if there was a repetition, the paper would be closed."
With the advent of martial law on the afternoon of Dec. 7, Hawaii was placed under the heaviest press censorship ever imposed on an American territory, according to Helen Chapin, author of "Shaping History: The Role of Newspapers in Hawaii."
---

Pictured is Honolulu Star-Bulletin's third Extra on Dec. 7, 1941. ERB would have no doubt read this newspaper. It was soon to start running his "Laugh It Off" column through the end of January, 1942.

---
JANUARY 29
---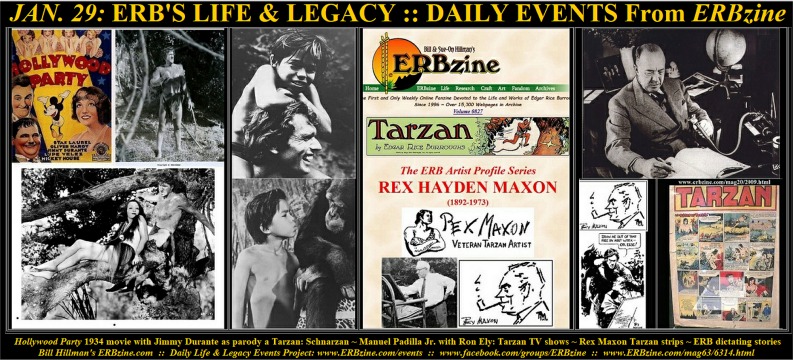 Jimmy Durante once played a character named Schnarzan. In the 1934 movie, "Hollywood Party," he is known as Schnarzan the Conqueror. But, says IMDB, the public is tiring of his fake lions. So when Baron Munchausen comes to town with real man-eating lions, Durante throws a big party so that he might use the lions in his next movie. His film rival sneaks into the party to buy the lions before Durante. The film also stars Laurel and Hardy as well as Johnny Weissmuller's real-life wife, Lupe Velez.
http://www.erbzine.com/mag58/5830.html
Durante died this date, Jan. 29, 1980.
Information and photos of this Durante spoof are included in the ERBzine coverage of Tarzan and His Mate.
http://www.erbzine.com/mag6/0615.html
Here's two different scenes on youtube where Durante gives his extremely unique Tarzan yell:
http://www.youtube.com/watch?v=K63pRxq0Go4
http://www.youtube.com/watch?v=z6x8r1WXbcM&feature=related
More about this wild and wacky comedy at:
http://www.tcm.com/…/ar…/430526%7C88201/Hollywood-Party.html

---

Manuel Padilla Jr., Jai to Ron Ely's Tarzan, passed away Jan. 29 in 2008 of unknown causes. He also played little boys named Pepe and Ramel in two of the Mike Henry Tarzan movies. He was 51 at the time of his death.
http://www.erbzine.com/gw/0803.html
http://www.imdb.com/name/nm0655693/
Ron Ely Tarzan TV Series
http://www.erbzine.com/mag0/0014.html
Mike Henry Tarzan Movies
http://www.erbzine.com/mag19/1964.html

---

ERB didn't like Rex Maxon's artwork any better than some of the fans, and told the Metropolitan Newspaper Service his opinion on Jan. 29, 1930. Didn't do him much good, though, as Maxon continued to illustrate Tarzan strips for decades.
The Maxon Tarzan strips are ALL reprinted in ERBzine
http://www.erbzine.com/mag8/0827.html
That and more notations on events in ERB's life:
http://www.erbzine.com/bio/years30.html

---
JANUARY 30
---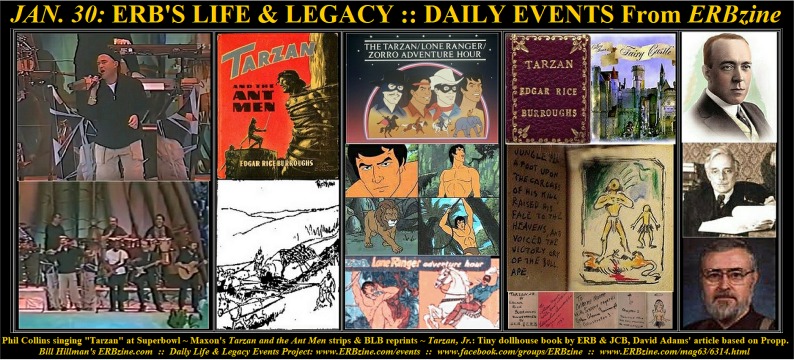 On Jan. 30, 2000, David Adams wrote an analysis of ERB's "Tarzan Jr.," using the Proppism, a way of studying folk literature devised by Vladmir Propp.
Adams said "Propp works quite well for 'Tarzan Jr.' That's because ERB always instinctively knew what he was doing when he was writing even if it was a silly little vignette like this one. The amazing thing is the fact that he plays around with psychological word games even in this trifle, but that's not really so amazing at all because his normal bean always worked this way. Burroughs was a universal natural when all the gears were spinning."
See David Adams' analysis at:
http://www.erbzine.com/mag2/0288.html
And read Tarzan Jr. at:
http://www.erbzine.com/mag0/0042.html
and
http://www.erbzine.com/mag8/0865.html
For information on Propp and his 31-step method, see:
http://en.wikipedia.org/wiki/Vladimir_Propp
Once you have mastered the Propp method, you too can write a thrilling adventure story!
Also, you can study how the Propp method plays out in a book such as the Big Little Book version of "Tarzan and the Ant Men," which was copyrighted this date, Jan. 30, in 1945.
http://www.erbzine.com/mag0/0044c.html
The BLB version was adapted from the daily Tarzan strips by Rex Maxon
http://www.erbzine.com/mag32/3214.html

---

In 1933, on Jan. 30, "The Lone Ranger" was heard on radio for the first time. A total of 2,956 episodes ran through 1955. That Lone Ranger was a busy, busy man! In 1980, The Lone Ranger was teamed up with another busy man, Tarzan, for "The Lone Ranger/Tarzan Adventure Hour" (Zorro was added later) from 1980 to 1982.
http://en.wikipedia.org/…/The_Ta…/Lone_Ranger_Adventure_Hour
Listen to a Lone Ranger radio episode in ERBzine at:
http://www.erbzine.com/otr/lr_451008.mp3
The Gaylord Dubois / Lone Ranger Connection ~ 1936
http://www.erbzine.com/mag0/0072.html
Memories of your ERBzine editor: Lone Ranger Appears on our TV show
WHO WAS THAT MASKED MAN? ~ Hi-Yo Silver ~ The Lone Ranger Is In The Studio
http://www.hillmanweb.com/book/gigs/02.html#masked

---

The Super Bowl is Feb. 4 in 2018, but it will be nothing like the 2000 Super Bowl, when Phil Collins sang a song from "Tarzan" at halftime of the Jan. 30, 2000 event.
https://www.youtube.com/watch?v=36TyiDWdQxw
This Phil Collins' Academy Award/Golden Globes-winning Tarzan song: "You'll Be In My Heart" expanded into TARZAN THE MUSICAL
Your editors attended all the opening night performances and took many photos of Collins and performers at these events:
BROADWAY - NEW YORK CITY
http://www.erbzine.com/disney
HOLLAND
http://www.erbzine.com/holland
HAMBURG
http://www.erbzine.com/germany
TUACAHN
http://www.erbzine.com/utah

---
JANUARY 31
---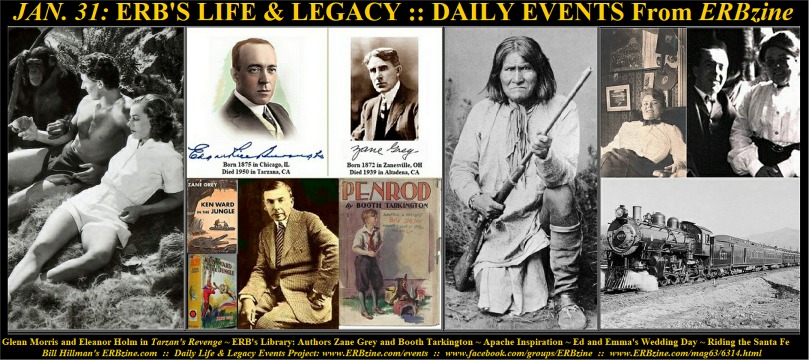 Glenn Morris and Eleanor Holm died at the box office when "Tarzan's Revenge" was released, and then went on to die on the same day of the month. Morris died on Jan. 31, 1974, at the age of 61, and Eleanor passed away Jan. 31, 2004, at the age of 90.
One of the cast members almost made it a threesome. Hedda Hopper, who played Penny in the movie, didn't quite manage to die on Jan. 31, but hung on until Feb. 1, 1966.
ERBzine feature page on the movie:
http://www.erbzine.com/mag6/0619.html

---

On a more uplifting note, some other ERB people began life this day. Phil Collins, songsman of Disney's "Tarzan," entered the world Jan. 31, 1951, and Minnie Driver, who provided the voice of Jane in the same movie, was born Jan. 31, 1971.
http://www.erbzine.com/mag0/0099.html
Special pre-release screening on the Disney Lot
http://www.erbzine.com/mag1/0181.html

In other transitions of life, ERB married Emma in Chicago on this date in 1900, and gained a salary increase to $15 a week as a wedding present.
http://www.erbzine.com/mag27/2754.html
http://www.erbzine.com/bio/years00.html
A few years later, on their wedding anniversary, Jan. 31, 1919, the ERB family left for L.A. on the Santa Fe.
A train similar to ERB's:
https://en.wikipedia.org/wiki/Santa_Fe_de_Luxe
The Super Chief:
http://www.newyorksocialdiary.com/node/1903281

---

In 1940 on Jan. 31, ERB agreed to participate in a memorial to Zane Grey, whose works he said "will live forever as authentic records of days that are fast disappearing." He also considered Booth Tarkington, author of the "Penrod" series and other books, as "our greatest novelist."
Bill Hillman's Zane Grey tribute site:
http://www.ERBzine.com/zanegrey
See the ERBzine Bibliography for all of Zane Grey's books - many with e-text links - Starting at:
http://www.erbzine.com/zanegrey/bib1.html
See the series on the ERB/ZG Connection - starting at:
http://www.erbzine.com/mag12/1294.html
http://www.erbzine.com/zanegrey/bio.html
Tarkington books in ERB's library plus an e-text link to PENROD at:
http://www.erbzine.com/dan/t1.html
http://www.erbzine.com/mag10/1028.html
Booth Tarkington:
http://en.wikipedia.org/wiki/Booth_Tarkington

---

On Jan. 31, 1876, all Native American Indians were ordered to move to reservations. Go-yat-thlay was quoted, before he died in February, 1909, as saying, "I should have never surrendered. I should have fought until I was the last man alive."
http://www.erbzine.com/mag5/0578.html
https://en.wikipedia.org/wiki/Geronimo

---

In other news from the ERBiverse
On Jan. 31, 1865, General Robert E. Lee was named general-in-chief of the Confederate armies, and we believe that Captain John Carter of Virginia was first in line to shake his hand.


JANUARY WEEK FOUR PHOTO ALBUM
http://www.ERBzine.com/mag63/6314pics.html



NEXT WE WILL FEATURE FEBRUARY
www.ERBzine.com/mag63/6315.html



BACK TO MONTHLY EVENTS CONTENTS
www.ERBzine.com/mag63/6310.html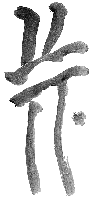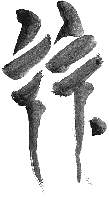 BILL HILLMAN
Visit our thousands of other sites at:
BILL AND SUE-ON HILLMAN ECLECTIC STUDIO
ERB Text, ERB Images and Tarzan® are ©Edgar Rice Burroughs, Inc.- All Rights Reserved.
All Original Work ©1996-2018 by Bill Hillman and/or Contributing Authors/Owners
No part of this web site may be reproduced without permission from the respective owners.