---
PUBLISHING HISTORY (USA)
---
PULP
"The Eternal Lover": All-Story Weekly: March 7, 1914
Modest Stein front cover ~ Fred W. Small B/W headpiece
"Sweetheart Primeval": All-Story Weekly: January 23, 30 & February 6, 13, 1915
P.J. Monahan cover art on first installment ~ no interiors
Idle Hour Magazine: November & December 1915 ~ first 6 chapters
Art by unknown artist in November issue
FIRST EDITION
McClurg: "printer's dummy" issued prior to first edition
McClurg: October 3, 1925 ~ 316 pages ~ 1st Ed. Print Run: 5,000 ~ Total: 60,000 ~ Heins word count: 68,000
J. Allen St. John dust jacket repeated as sepia frontispiece
REPRINT EDITIONS
Grosset & Dunlap: 1927 ~ 316 pages
J. Allen St. John dust jacket and frontispiece
Grosset & Dunlap: 1940
J. Allen St. John dust jacket ~ no interiors
The Eternal Savage: Ace paperback: October 1963 and reprint (cover states: Original title: The Eternal Lover) ~ 191 pages
Roy G. Kenkel cover art and title page
The Eternal Savage: Ace paperback
Frank Frazetta cover art
Ballantine paperback: November 1992 ~ 201 pages
Michael Herring cover art
Nebraska Press: Bison Books
For detailed information, see Robert B. Zeuschner's
Edgar Rice Burroughs: The Bibliography (ERB, Inc., 2016).
Click on www.erbbooks.com or call 214-405-6741 to order a copy.
---
The Eternal Lover (The Eternal Savage)

While visiting Tarzan in his African jungle home, an American girl falls into the most astonishing science-fiction adventure of all. By a quirk in Time, a white-skinned savage from the Stone Age is thrust forward to modern days long enough to meet her and bring her back to his own world of cave people, saber-tooth tigers, and prehistorical wilderness. The ETERNAL SAVAGE is the story of Nu of the Niocene and Victoria Custer of Nebraska, U.S.A. two human beings pitted against the world of primeval past. A startling natural catastrophe throws a caveman into contact with the modern African jungle a brings a Twentieth Century American girl into the dawn world of the Niocene Age. Here is Nu, son of Nu seeking to test his mettle against the terriblef angs of the ferocious saber-tooth tiger. Here is Victoria Custer, guest of Tarzan, seeking vacation and adventure and finding more than she The Eternal Savage could ever have dreamed of.
---
COVER GALLERY
---
Pulp Covers
From the Illustrated ERB Pulp Bibliography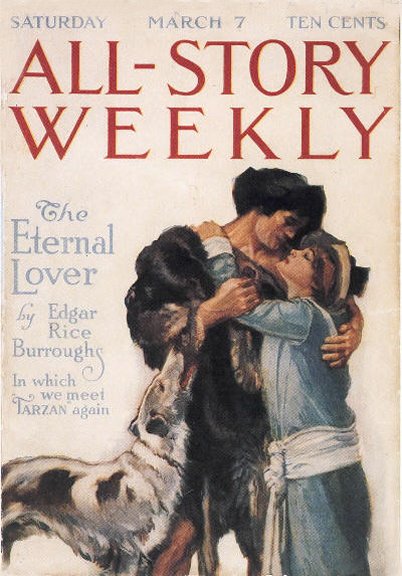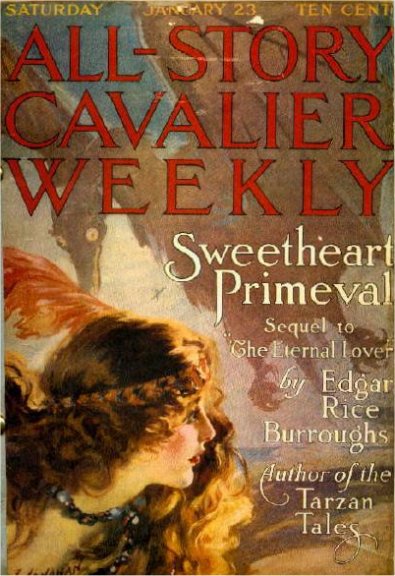 The other three Sweetheart Primeval covers are displayed in our Pulp Biblio
on the ERBzine 0222 page
Paperback Covers

---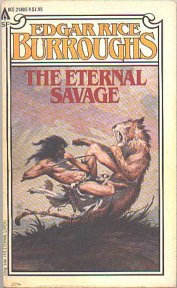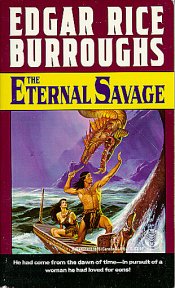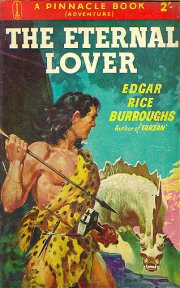 ---
ROY G. KRENKEL ACE ART GALLERY
Visit our Krenkel ACE Galleries
I. ERBzine 3330 : Earth's Core and Moon
II. ERBzine 3331 : The Planets
III. ERBzine 3332 : Savage Earth
Krenkel Tribute in ERBzine
www.ERBzine.com/krenkel
---
Click for full sizes
| | | |
| --- | --- | --- |
| ACE F-234 | 1963 | Frontispiece | Original |
.
---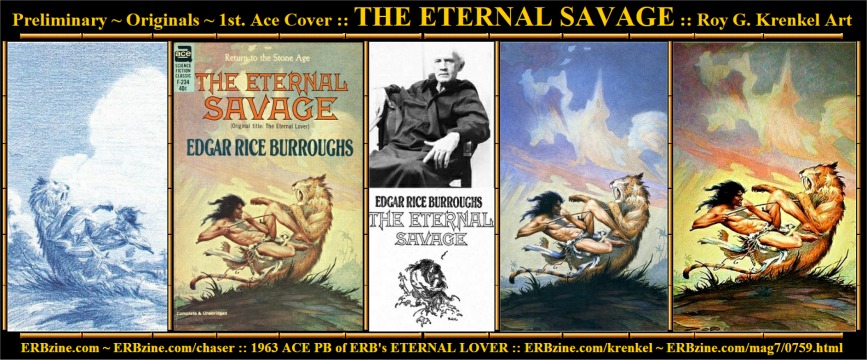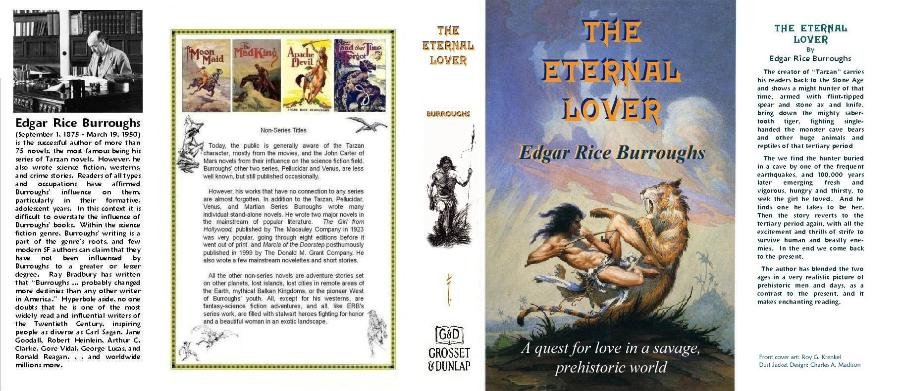 Alternate dust jacket using RGK art ~ created by Charlie Madison
---
THE ETERNAL LOVER
Review contributed by Doc Hermes ERB Reviews

This tale has Nu of the Niocene (a sanitized caveman acceptable to our sensibilities) brought alive to the early 20th Century, where he indulges in the usual Burroughs shenanigans, falls in love with a Nebraska girl named Victoria Custer, tangles with African wildlife and eventually goes back somehow to his own time. The story first appeared in ALL-STORY WEEKLY in 1914, titled "The Eternal Lover" and "Sweetheart Eternal." Whoah. I can see why the editors at Ace decided to make a title change and go for the regular Burroughs fans but I sort of wish they had played this up as a romance. Keep the original title, have a cover featuring a Fabio-type dreamboat in furs, long hair and all, with young Victoria in modern clothes staring up at him adoringly. "He was like no man she had ever known," the cover copy would declare, "but could she trust her heart to this fierce savage from the dawn of time?" Then when the sales figures came back, the editors would weep and declare never again.

A few years ago, I cheerfully worked my way through the Tarzan series and found about half of them very good, the rest repetitious filler. Before I got to the first book in the series, the reviewing frenzy left me (but then TARZAN OF THE APES has certainly been discussed enough over the last century). I didn't get to re-read this baby. Lord Greystoke does make a minor appearance here but he is very much in the John Clayton identity on his vast estate in Uziri land. So if you were looking for a typical Tarzan exploit, you'd be disappointed (although Nu certainly has his own wild, animal-slaying adventures).
Many of ERB's early stories appeared in newspaper serial form.
Appearing with most of these serializations were new illustrations.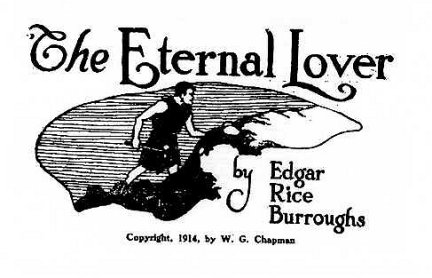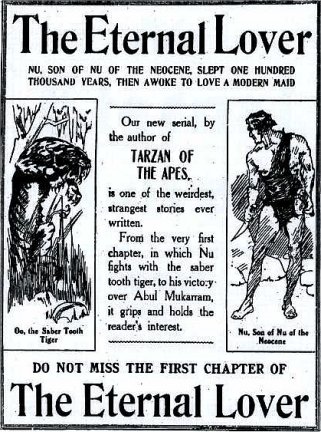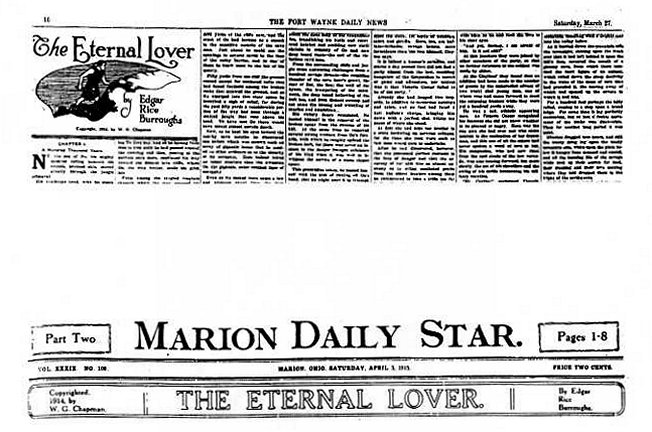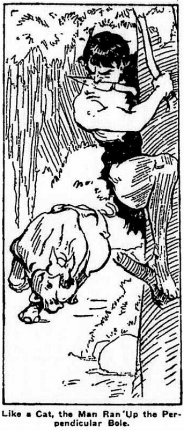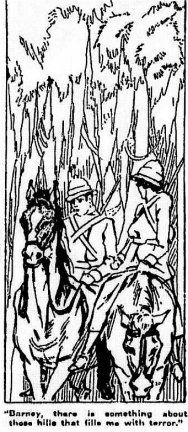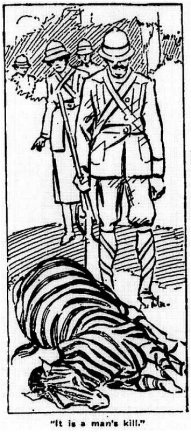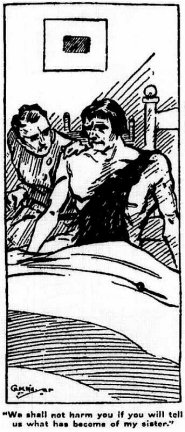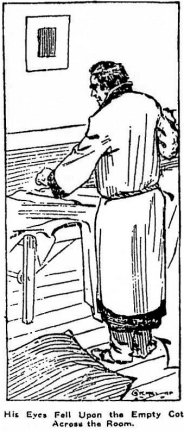 Bison Edition :: Tandem Edition 1976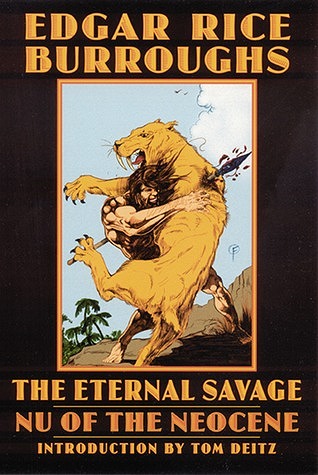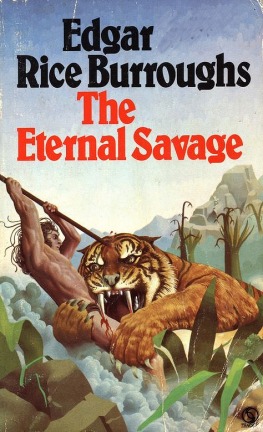 The Eternal Savage - Wildside Press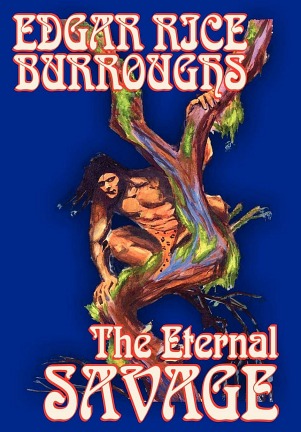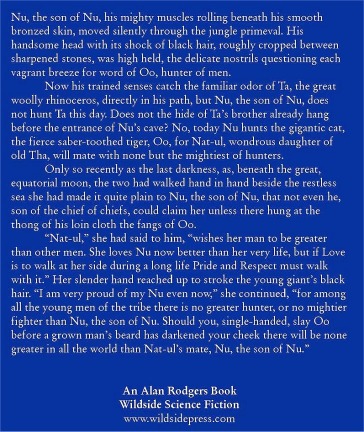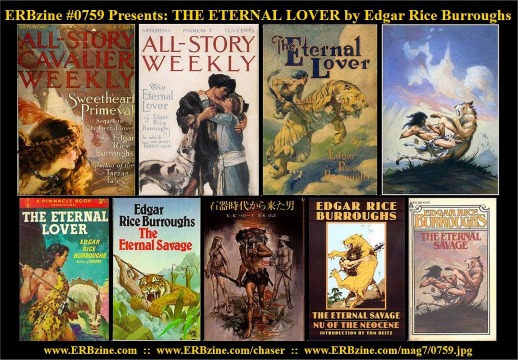 Click for full-size collage poster
---
THE ETERNAL LOVERS :: Victoria Custer from Beatrice, Nebraska (aka NAT-UL Daughter of Tha) and NU, son of Nu, from the Niocene era.
From www.edgarriceburroughs.com/comics: THE ETERNAL SAVAGE :: Martin Powell - Writer :: Steven E Gordon - Illustrations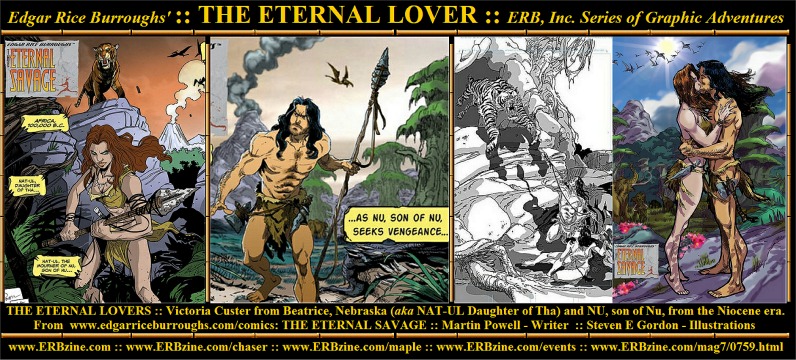 Click for full-size promo splash bar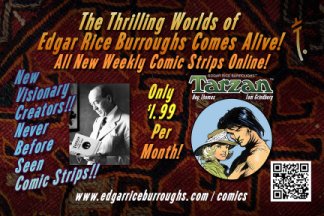 .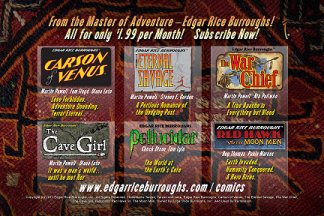 Subscribe at www.EdgarRiceBurroughs.com


Armada of ERB Web Sites
Over 15,000 Webpages
The Fantastic Worlds of Edgar Rice Burroughs
ERB Companion Sites Created by Bill Hillman
| | | | |
| --- | --- | --- | --- |
| Tarzan.com | ERBzine.com | DantonBurroughs.com | Tarzan.org |
| BurroughsBibliophiles.com | JohnColemanBurroughs.com | Tarzan.com/tarzine | JohnCarterOfMars.ca |
| www.erbzine.com/edgarriceburroughs | Weekly Webzine | Weekly Webzine | Pellucidar.org |
| John Carter Film | ERB, Inc. Corporate Site | ERB Centennial | tarzana.ca |