The First and Only Weekly Online Fanzine Devoted to the Life and Works of Edgar Rice Burroughs
Since 1996 ~ Over 15,000 Webpages and Webzines
Volume 0758
and
ERB C.H.A.S.E.R ENCYCLOPEDIA
A Collector's Hypertexted and Annotated Storehouse of Encyclopedic Resources
Present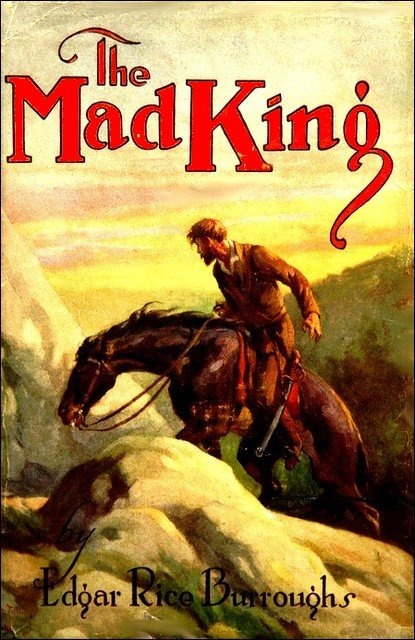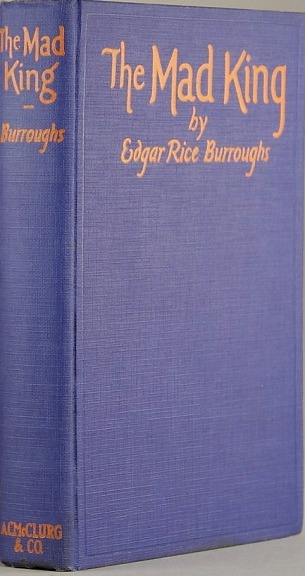 Larger DJ Image
Larger Cover Art Image
THE MAD KING
Part 1: "The Mad King" ~ working title: "The Mad King of Lutha" written October-November 1913
Part 2: "Barney Custer of Beatrice" started writing September 1914
READ THE E-TEXT EDITION
---
PUBLISHING HISTORY (USA)
---
PULP
"The Mad King": All-Story Weekly: March 21, 1914
Fred W. Small front cover ~ Modest Stein B/W headpiece
"Barney Custer of Beatrice": All-Story Weekly: August 7, 14, 21, 1915
W.C. Fairchild cover art on first installment ~ no interiors
FIRST EDITION
McClurg: September 18, 1926 with corrections made in second state edition ~ 365 pages ~ 1st Ed. Print Run: 5,000 ~ Total: 55,000 ~ Heins word count: 93,000
J. Allen St. John dust jacket and same illo for frontispiece
REPRINT EDITIONS
Grosset & Dunlap: 1927 ~ 365 pages
J. Allen St. John dust jacket and same illow for frontispiece
Grosset & Dunlap: 1940 wartime
J. Allen St. John dust jacket and no interiors
Ace paperback: April 1964 and reprint ~ 255 pages
Frank Frazetta cover and title page art
Ace paperback: third reprint, larger size ~ 252 pages
Frank Frazetta same cover and title page art
Ace paperback ~ 252 pages
Boris Vallejo cover art ~ Frank Frazetta title page art
For detailed information, see Robert B. Zeuschner's
Edgar Rice Burroughs: The Bibliography (ERB, Inc., 2016).
Click on www.erbbooks.com or call 214-405-6741 to order a copy.
---
The Mad King

Life as a gentleman-farmer in the once-wild West was hardly exciting enough for an adventurer and master swordsman like Barney Custer. So when he had the chance to make the long voyage to the land of Lutha, he took it and there encountered more adventure in a few months than most people find in a lifetime. A crumbling kingdom, a black-hearted regent and his diabolical cohorts, a beautiful princess trapped in a dark and dismal dungeon, sinister plots and harrowing escapes - this is what Barney Custer found and this is what awaits the reader when he begins this tale of romantic adventure from the pen of master storyteller Edgar Rice Burroughs -- compete with swordplay and intrigue, a beautiful princess in need of rescue, a courageous American hero, a throne in danger, evil conspirators, derring-do and narrow escapes.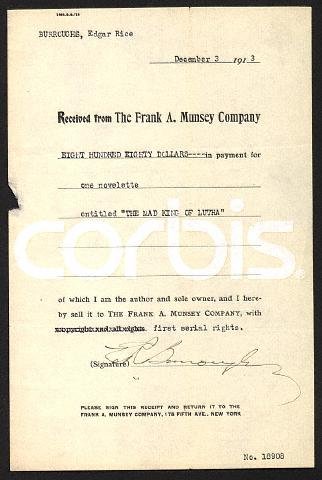 "December 3, 1913
Received from The Frank A. Munsey Company
Eight Hundred Eighty Dollars in payment for one novelette entitled
"The Mad King of Lutha" of which I am the author and sole owner
and I hereby sell it to The Frank A. Munsey Company, with first serial rights.
Edgar Rice Burroughs"

---
COVER GALLERY
---
Pulp Covers
See the ERBzine ERB Pulp Gallery
www.erbzine.com/mag2/0222.html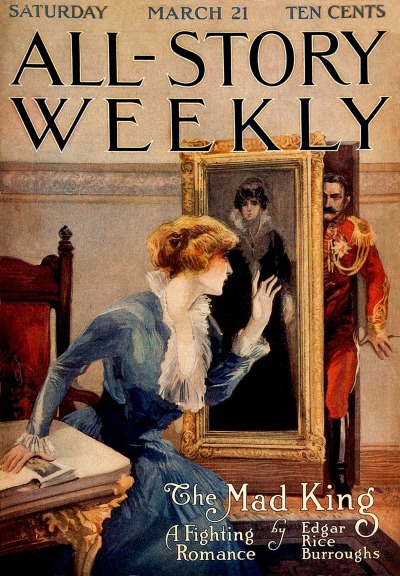 March 21 Cover from the Dennis Kesler Collection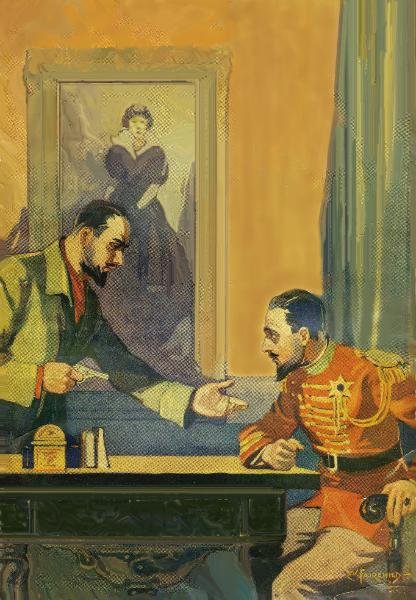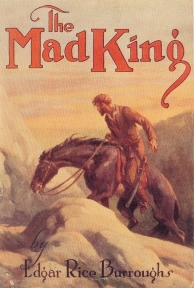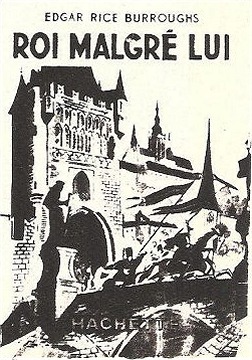 The French edition of 1937 (Paris, Hachette)
Translates: "King In Spite Of Himself"

---
Paperback Covers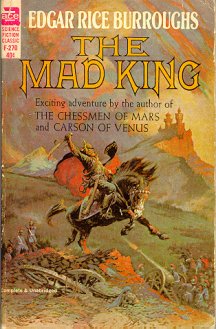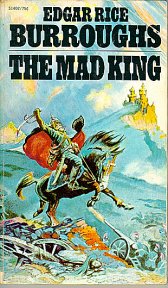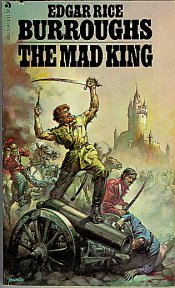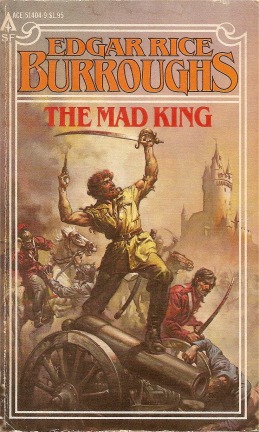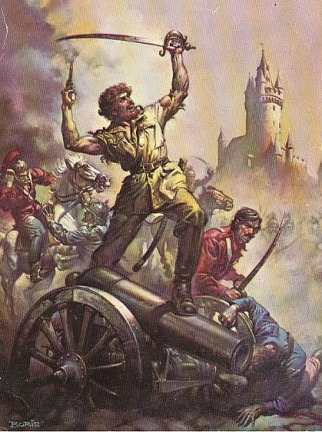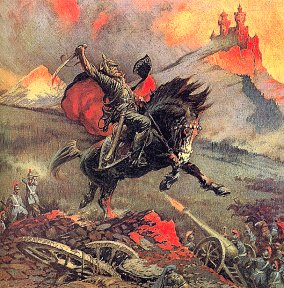 Frazetta cover painting (click)
---
An Analysis of ERB's The Mad King
by R.E. Prindle
www.erbzine.com/mag14/1454.html
Somewhere Over The Rainbow
Zenda, Graustark, Lutha, Barsoom, Jasoom And Other Improbable Places
---
The Hillmans Visit Beatrice, Nebraska
THE EDGAR RICE BURROUGHS / BERT WESTON / BEATRICE CONNECTION
www.erbzine.com/mag51/5161.html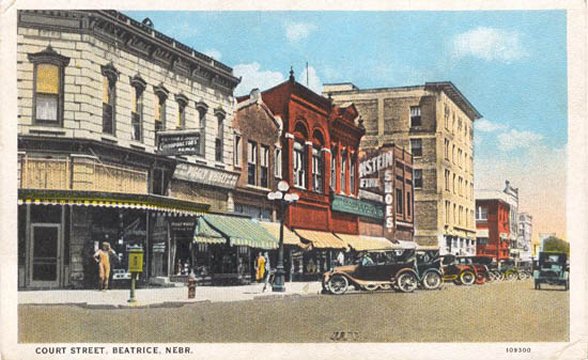 ---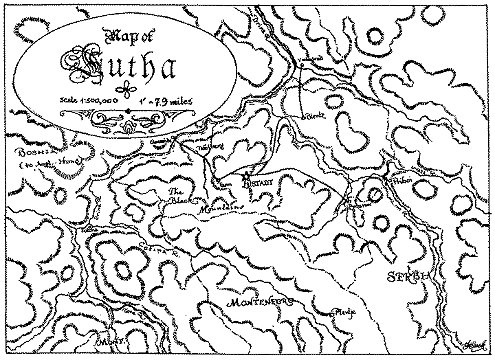 Lutha In The Time Of Barney Custer
J. G. Huckenpohler
---
AN OUTLINE OF LUTHANIAN HISTORY
by J. G. Huckenpohler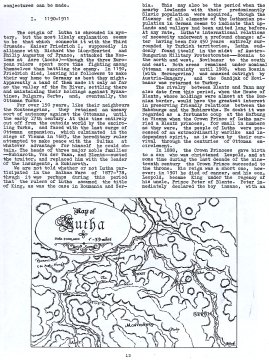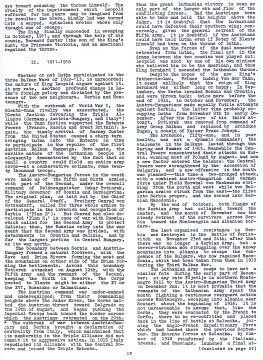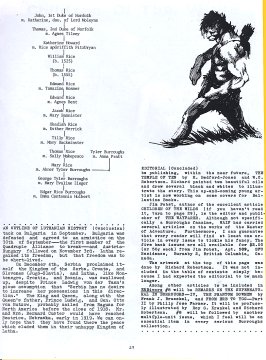 From Philip Currie's ERBivore Fanzine No. 6 ~ August 1973
http://www.erbzine.com/mag51/5107.html
---
.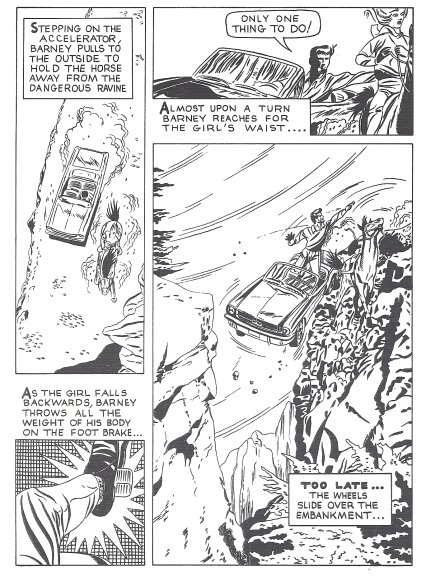 Source ERB-dom 12
Two THE MAD KING panels created for the 1963 World Science Fiction Convention Art Show.
Early art by Mike Royer before he became well known in the comics field.
This was around the time he created an illustrated WIZARD OF VENUS booklet as a Pacificon II souvenir.
---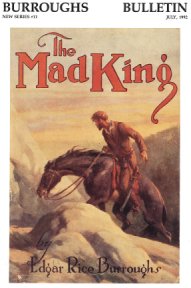 Burroughs Bulletin No. 11
The Mad King Issue
www.erbzine.com/mag52/5211.html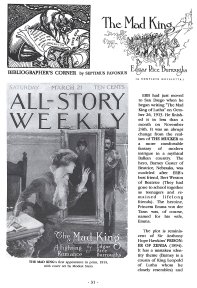 .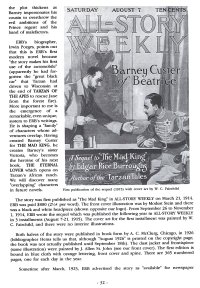 .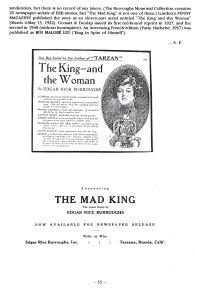 Click to read editor George McWhorter's Bibliographic Notes on the book.
---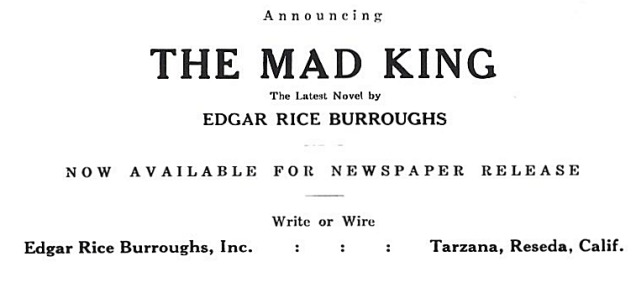 Sometime in early 1923, ERB advertised the story as "available" for newspaper syndication.
Unfortunately, there is no known record of its appearance in any newpapers.
London's PENNY MAGAZINE published the story as an eleven-part serial entitled
"The King and the Woman" (March 4-May 13, 1922)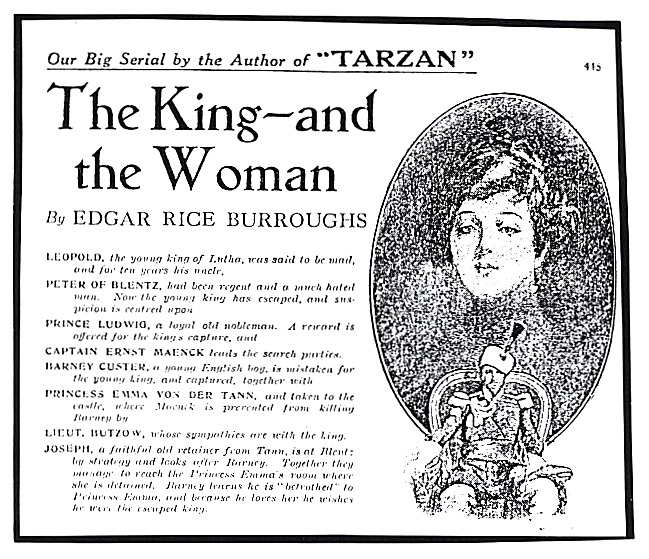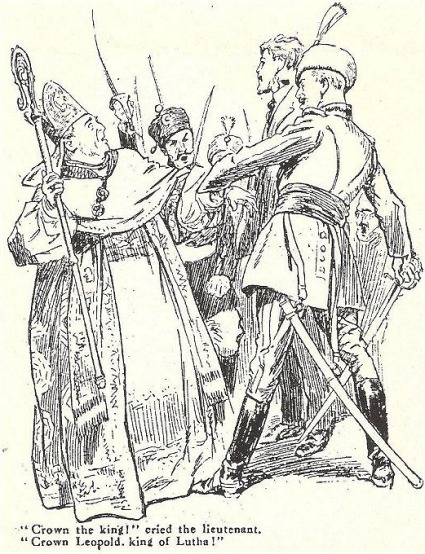 ---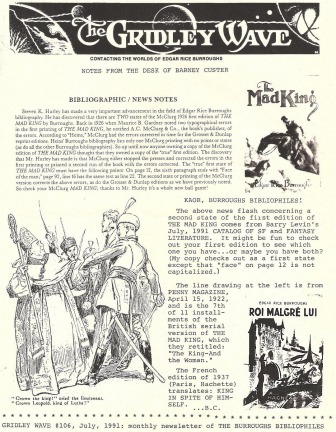 Gridley Wave #106 ~ July 1991
---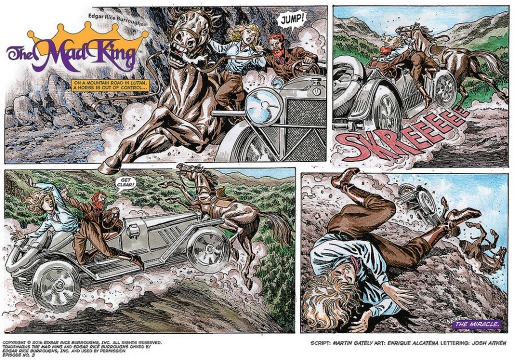 Click for full-size sample page
Just one of 20 online comics from Edgar Rice Burroughs, Inc.
Splendid serial adaptations of ERB novels adapted by top writers and artists.
Read them all every week for only $1.99 per month from:
www.edgarriceburroughs.com/comics
---
THE MAD KING SUMMARY AND COMMENTS
By John Martin
ERBzine 6787: INTRO and CONTENTS
---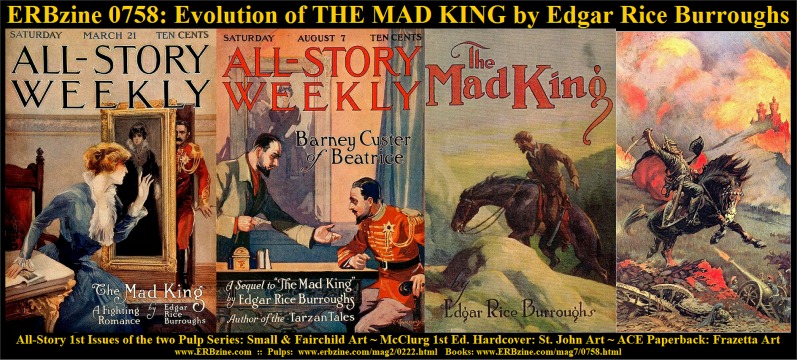 Click for full-size splash panels

---

Armada of ERB Web Sites
Over 15,000 Webpages
The Fantastic Worlds of Edgar Rice Burroughs
ERB Companion Sites Created by Bill Hillman
| | | | |
| --- | --- | --- | --- |
| Tarzan.com | ERBzine.com | DantonBurroughs.com | Tarzan.org |
| BurroughsBibliophiles.com | JohnColemanBurroughs.com | Tarzan.com/tarzine | JohnCarterOfMars.ca |
| www.erbzine.com/edgarriceburroughs | Weekly Webzine | Weekly Webzine | Pellucidar.org |
| John Carter Film | ERB, Inc. Corporate Site | ERB Centennial | tarzana.ca |