Official Edgar Rice Burroughs Tribute and Weekly Webzine Site
Since 1996 ~ Over 15,000 Webpages in Archive
Volume 6355

ERB'S LIFE & LEGACY :: DAILY EVENTS
GO TO OUR FULL YEAR'S CONTENTS
www.ERBzine.com/events
A COLLATION OF THE DAILY EVENTS IN ERB-WORLD
FROM THE PAGES OF THE HILLMANS' ERBzine
Collated by John Martin and Bill Hillman
With Web Design, Added Events, Links,
Illustrations and Photo Collages by Bill Hillman

DECEMBER CONTENTS: WEEK ONE
DEC 1 ~ DEC 2 ~ DEC 3 ~ DEC 4 ~ DEC 5 ~ DEC 6 ~ DEC 7

VISIT DECEMBER WEEK 1 PHOTO ALBUM
www.ERBzine.com/mag63/6355pics.html
BACK TO NOVEMBER WEEK 4
www.ERBzine.com/mag63/6354.html



Click for full-size images
---
DECEMBER 1
---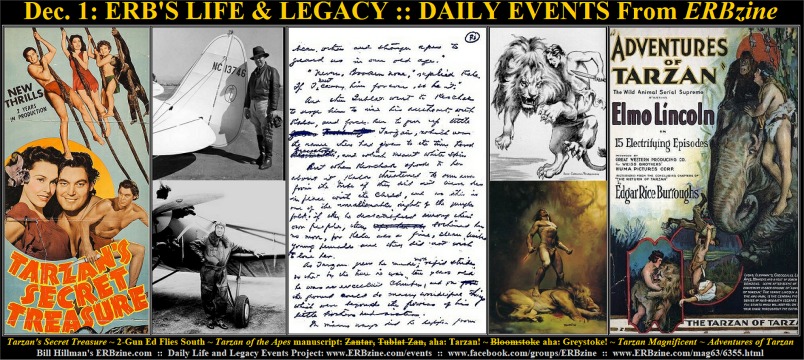 Tarzan's Secret Treasure ~ Two-Gun Ed Flies South ~ Tarzan of the Apes manuscript: Zantar,Tublat Zan,
aha: Tarzan! ~ Bloomstoke aha: Greystoke! ~ Tarzan the Magnificent: JCB and Boris Art ~ Adventures of Tarzan
---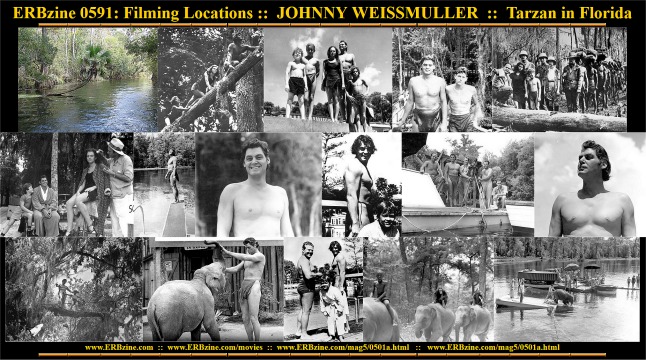 ---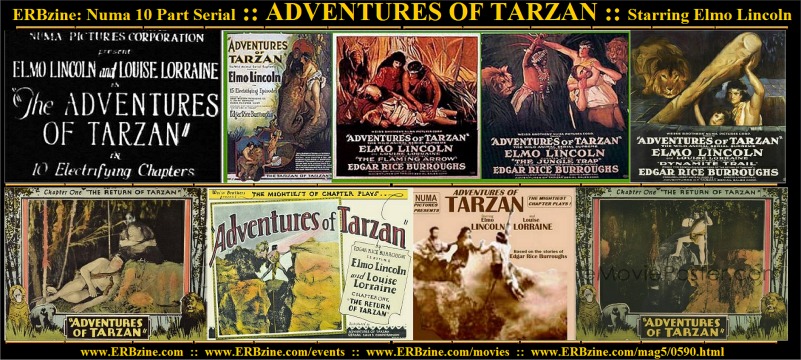 ---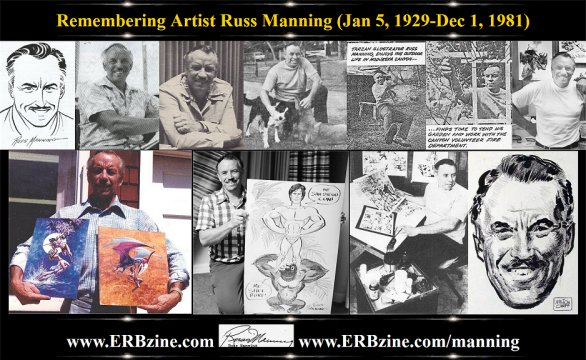 ---
*** 1911: At 8 pm, Edgar Rice Burroughs started Tarzan of the Apes in longhand. In this manuscript he had written down a number of names that he had stroked out: Zantar ~ Tublat Zan ~
Bloomstoke. He eventually decided upon "Tarzan" and "Greystoke" which turned out to be wise choices.
The story's title page shows that ERB submitted his work under the pseudonym "Normal Bean" suggesting that the author was not crazy. But when the story was printed in "The All-Story Magazine," October 1912, a transcription error transformed Burroughs' pen name into "Norman Bean." Ed was not happy -- he had always disliked his real first name. . . and liked "Norman" even less.
Tarzan of the Apes: History ~ Art ~ Reviews ~ Links
http://www.erbzine.com/mag4/0483.html
Tarzan of the Apes: e-Text Edition
http://www.erbzine.com/craft/t1ta.html
---
*** 1937: ERB wrote 'Two Gun' Doak Flies South as John Tyler McCulloch. He submitted the story to major magazines, but it was rejected.
Throughout his writing career. . . and perhaps long before . . . he was always thinking up new creative ideas. In 1938 he wrote an outline for a story in which a group of German officers secretly assassinate Adolph Hitler and replace him with a "perfect double" -- sort of a contemporary version of The Mad King. Realizing that editors cared only for his more fantastic stories he never completed the actual story. Fearing that some of his stories and ideas were being rejected because of his name -- known for fantasy fiction -- he tried a number of nom de plumes over the years.
In December 1937 he submitted a more serious story called "'Two Gun Doak' Flies South" -- a tale of mixed-up identities -- under the name John Tyler McCulloch. Having resisted a marriage arranged by their fathers, the hero and heroine fall in love anonymously while escaping from gangsters who have hijacked their transcontinental flight. During the flight ERB lampooned other passengers: Mrs. J. Witherington Snite, "the lady hippopotamus" married to a a wealthy restaurant owner -- Gladys Klump, the young wife of an aging candy manufacturer (her "sugar daddy") -- and E. Allan Smith, stuffy, hypocritical book reviewer for the New York Times, whose own fiction had been spurned by every editor in the country.
"McCulloch" submitted the story to Liberty, Cosmopolitan, and Blue Book. It was rejected by all of them and remains unpublished -- one of the rarest ERB stories.
The version found in the ERB, Inc. office safe had been adapted into play format. . . perhaps with plans to submit if for a radio show broadcast.
ERB had used this nom de plume for a few other stories including "Beware" and "Pirate Blood"
"Two Gun" Doak Flies South: Review and Full Summary
http://www.ERBzine.com/mag67/6757.html
---
*** 1941: Tarzan's secret was out as of Dec. 1, 1941. On that date, just six days before the world's attention would be focused on Pearl Harbor, the movie, "Tarzan's Secret Treasure," opened at theatres. The secret was that there was gold on the escarpment which was the domain of the movie Tarzan. A summary of the film at Wikipedia reports: "An expedition team arrives on Tarzan's escarpment. By chance, the two villainous members Medford and Vandermeer find out that there is plenty of gold on the escarpment. They kidnap Jane and Boy in order to make Tarzan show them the location of the gold. After Tarzan complies, Medford shoots him and mistakenly presumes he is dead. Soon the group is captured by natives, whereupon Tarzan, comes to their rescue."
Filming ran for two months, beginning in June 1941 and came in at just under a million dollars. MGM boasted that the film had been in production for two years. It was released in December 1941.
Filming Locations: Mostly filmed on the MGM lots and Silver Springs, Ocala, and Wakulla Springs, Florida.
Due to many budget cutbacks following the death of Irving Thalberg many stock shots from former movies were used. The crocodile fight from Tarzan amd His Mate was used for the third time.
ERB forced MGM to take out a scene where Tarzan threw back his head and laughed loud and long at the treasure hunters. Such behaviour was not in keeping with Tarzan's character as created by Burroughs.

Tarzan's Secret Treasure: Credits ~ Posters ~ Info Plus 2 Gallery Displays
http://www.erbzine.com/mag6/0621.html
Weissmuller behind the scenes - filming in Florida
http://www.erbzine.com/mag5/0501.html
http://www.erbzine.com/mag5/0501a.html
---

*** 1981: Russell (Russ) George Manning (1929.01.05-1981.12.01) died on this date. Russ was an American comic book artist who illustrated such newspaper comic strips and comic books as Tarzan and Star Wars. He created the series Magnus, Robot Fighter. Russ was inducted into the Comic Book Hall of Fame in 2006.
Manning studied at the Los Angeles County Art Institute, and later, during his US Army service in Japan, drew cartoons for his military base newspaper.
In 1953 he went to work for Western Publishing and illustrated stories for the wide variety of comics published by Western for Dell Comics, and later for Western's own Gold Key Comics line. His first notable work was on Brothers of the Spear, a backup feature, created by Gaylord Du Bois, in the Tarzan comic book. He also drew a few Tarzan stories. He created Gold Key's Magnus, Robot Fighter and The Aliens (which ran in the back of the former) in 1963 and drew the first 21 issues, through 1968.
From 1965 to 1969, Manning drew Gold Key's Tarzan series. During this time, he adapted ten of the first eleven Tarzan novels written by Edgar Rice Burroughs, from scripts written by Gaylord Du Bois. (The adaptation of the sixth, Jungle Tales of Tarzan, also scripted by Du Bois, was drawn by Alberto Giolitti rather than Manning). In 1999 the first seven of these were reprinted in three graphic novels by Dark Horse Comics as Edgar Rice Burroughs' Tarzan of the Apes (Tarzan of the Apes, Return, Beasts, and Son of Tarzan), Edgar Rice Burroughs' Tarzan — The Jewels of Opar, and Edgar Rice Burroughs' Tarzan The Untamed (Tarzan the Untamed and Tarzan the Terrible). Manning's remaining adaptations, not reprinted by Dark Horse, were "Tarzan and the Golden Lion" Tarzan and the Ant Men and Tarzan, Lord of the Jungle. He did not do the finished art on the latter, but provided lay-outs for parts of the story. Manning also drew the Korak stories in the first 11 issues of Gold Key's Korak comic (also written by Du Bois).
From 1967 to 1972 he drew the Tarzan daily newspaper comic strip and stayed on the Sunday page until 1979. He also created four original Tarzan graphic novels for European publication. Two of them were reprinted by Dark Horse Comics in a single trade paperback collection (Tarzan in The Land That Time Forgot and The Pool of Time) (ISBN 1-56971-151-8). During that same period he used assistants, among them William Stout, Rick Hoberg, Mike Royer, and Dave Stevens.
The Russ Manning Most Promising Newcomer Award, which is presented annually at Comic-Con International during the Eisner Awards, is named after him.
Russ Manning died of cancer on December 1, 1981 while still living in California where he was born. He was 52.
Read the ERBzine Tribute to Russ with full bio, sample art and links to the reprints of all his daily and Sunday strips in ERBzine.
Russ Manning Tribute and Guide to his Tarzan strips
http://www.ERBzine.com/manning
Russ Manning Biography
http://www.erbzine.com/mag8/0830.html
---

*** 1921: "The Adventures of Tarzan," a 15-chapter serial starring Elmo Lincoln, opened the first day of December in 1921. ERBzine reports the film "was based on two Burroughs works, "The Return of Tarzan" and "Tarzan and the Jewels of Opar." A new Jane, 16-year-old Louise Lorraine, was hired. She would eventually go on to become the 'Queen of the Serials.' The seductress priestess La of the Atlantean city of Opar was played by Lillian Worth."
The jungle was recreated entirely on a studio set with desert scenes shot on location in Arizona. Lincoln was expected to perform most of his own stunts but, to his displeasure, the film's bonding company refused to allow the star to place himself at risk. Stunt double Frank Merrill also played the role of an Arab guard, experiences that would would serve him well in a few years when he would take over in the starring role of Tarzan the Mighty and Tarzan the Tiger.
Critics and audiences alike were thrilled to see Lincoln return to the role and the film became the fourth biggest money-earner in 1921 -- outearning even Valentino's The Sheik and D.W. Griffith's Dream Street. Even the animal stars Tantor the elephant and Numa the lion became household names. Lincoln's success in the role of Tarzan was a mixed blessing, however, since it typecast him as a wild jungle man and action hero.
Long before Bo made an appearance in a 1981 Tarzan film, a monkey named Bo-Bo (no relation) showed up at a theatre in Washington D.C. to shake the hands of newspaper carrier boys who had been treated to the thrilling Tarzan movie by their publisher, who was grateful for their hard work delivering The Washington Post. Read a tiny bit more about Bo-Bo plus read lots more about many at ERBzine 0590.
Adventures of Tarzan: Credits ~ Photos ~ Info
http://www.erbzine.com/mag5/0590.html
http://www.ERBzine.com/cards/film4/adventuresoftarzanall.jpg
https://www.erbzine.com/cards/film6/louiselorraineadventurestarzanall.jpg

Off-Site Reference
Adventures at IMDB
---
*** 1936: ERB Started Tarzan and the Elephant Men (sequel to Tarzan and the Magic Men). It would be rejected by Argosy. It is eventually published in January 1938 in Blue Book. Eventually the two stories were released in hardcover on September 25, 1939 under the title, Tarzan the Magnificent.
Tarzan the Magnificent: History ~ Art ~ Review
http://www.erbzine.com/mag7/0728.html
Tarzan the Magnificent: eText Edition
http://www.erbzine.com/craft/tarzmagn.html
Elephant Men is featured in 114 daily Maxon strips
http://www.erbzine.com/mag40/4085.html
Tarzan the Magnificent: 96 strips by William Juhre and Don Garden
http://www.erbzine.com/mag40/4047.html
---
*** Off-Site References
The public was urged to "Take a Kid to Barsoom" on Dec. 1, 2012. The occasion was a special screening of "John Carter," the movie based to some degree on ERB's first novel, "A Princess of Mars."
The event was to benefit Childhelp.org, with 25-50 Foster Care Teens in attendance via The Children's Bureau. The event was also "to stimulate reading interest and get new fans for Edgar Rice Burroughs."
---
A binder full of information covering the period of Dec. 1, 1945, to Jan. 29, 1946, tells of Edgar Rice Burroughs's worsening health, and the effects on him from World War II. This binder, along with 30 other binders covering his life from 1893 (about age 18) to 1950, is in the OAC (Online Archive of California), accessible through UCLA's office of Special Collections. The binders are full of correspondence and other papers by or pertaining to ERB. The binders are in several boxes among a total of 16 boxes which contain much other material about him, such as photographs of Edgar Rice Burroughs and his family, promotional materials (photographs, lobby cards, etc.) for the Tarzan films, video recordings of the Burroughs family in America and Hawaii 1939-1940, and audio recordings of the Tarzan radio program, 1951-1952. To learn more about what is contained in these archives, visit the OAC Website. Obviously, these items are a resource for anyone desiring to research and/or write about Edgar Rice Burroughs.
---
*** In a letter home to Joan, Ed reported that he had quit smoking and drinking and is down to 183 pounds. He is preparing three Christmas packages for the kids. He's forwarding another letter from Sgt Shonfeld for ERB, Inc. files . . . sick of receiving them.
ERB's Letter to Joan
http://www.erbzine.com/mag10/1022.html
---
*** 1926: "An Interview With Edgar Rice Burroughs in Which He Frankly Discusses His Methods and Gives Sound Advice" by Glenn B. Gravatt ~ The Writers' Monthly December, 1926: "If you've written a good story, " said Edgar Rice Burroughs, "don't lose faith in it if it does not sell -- but first be positive that it really is a good story. 'Tarzan of the Apes' was turned down by nearly every reputable publisher in the United States as a book manuscript, and refused by thirteen publishers in England, although I had no trouble selling it to a magazine. Now the Tarzan books have sold over a million copies." . . . . As I took leave of him, his parting words were characteristically encouraging: "All great writers were once where you are now. Perhaps some day you'll be where they now are."
Writer's Monthly Interview with ERB
http://www.erbzine.com/mag0/0059.html

---
DECEMBER 2
---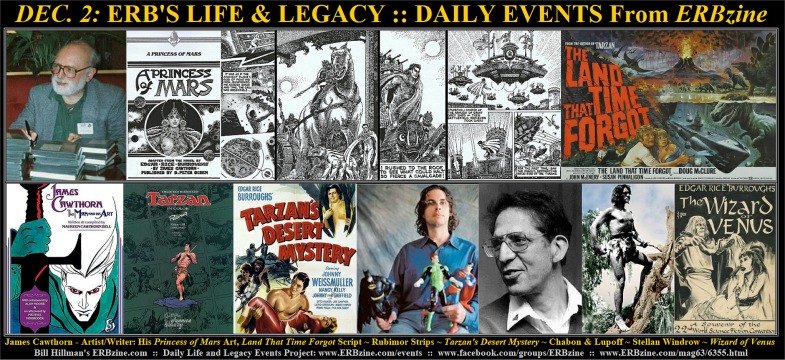 James Cawthorn - Artist/Writer: His Princess of Mars Art, Land That Time Forgot Script
Rubimor Strips ~ Tarzan's Desert Mystery ~ Chabon and Lupoff ~ Stellan Windrow ~ Wizard of Venus
---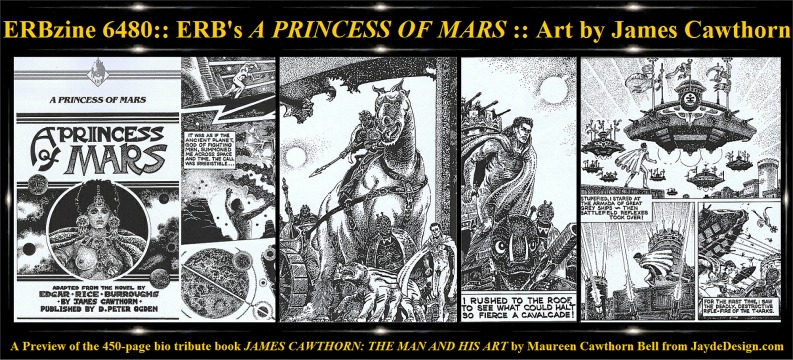 ---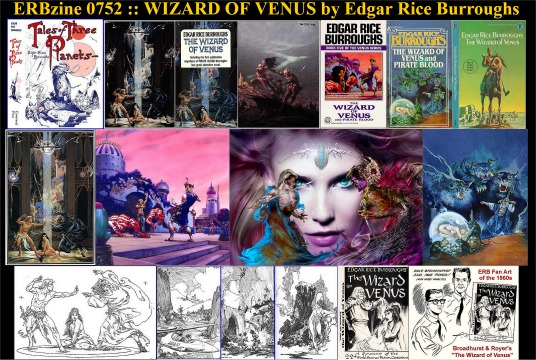 ---
---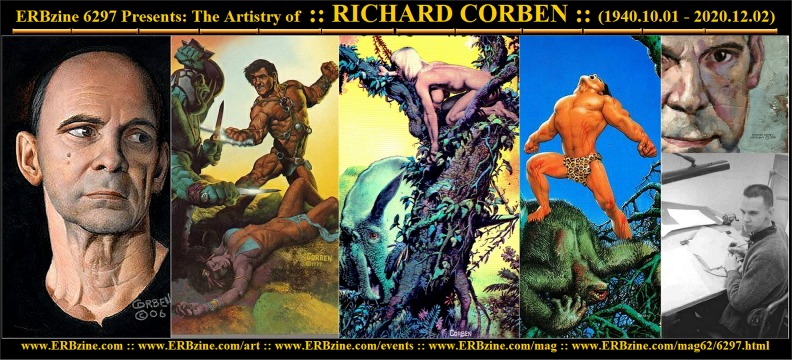 ---
*** James Cawthorn passed away Dec.2 in 2008.
Burne Hogarth admired the work of Cawthorn. He said he had a quality "most compelling and fascinating. He has an authentic talent."
Cawthorn did many illustrations for the British fanzine Burroughsiana and the U.S. fanzine ERBania and also the British Tarzan Adventures.
He was also active in other areas of science fiction and fantasy, including co-authoring, with Michael Moorcock, the screenplay for "The Land That Time Forgot," which was released in the mid-'70s.
"This Amicus film starred Doug McClure, making his first appearance in a British film under the auspices of American International Pictures, Inc.," according to The Gridley Wave. "Cawthorn is reported to have been dissatisfied with the changes made to their screenplay which was written and signed on October, 1973, and which was filmed a year later. Besides changing names, characters and situations, they blew up Caprona which did not sit well with most American fans."
Cawthorn was certainly a great contributor to ERB fandom. The Gridley Wave that announced his death is featured in ERBzine:
Gridley Wave #317: February 2009
http://www.erbzine.com/gw/0902.html
http://www.erbzine.com/gw/GridleyWave317.pdf
Cawthorn Bio and Art in ERBzine and ERBANIA
http://www.erbzine.com/mag64/6479.html
http://www.erbzine.com/mag1/0119.html
The Land That Time Forgot: Credits ~ Posters ~ Info
http://www.erbzine.com/mag21/2117.html
---
*** The 2018 released book, "James Cawthorn: The Man and His Art" was originally intended to be a modest memorial by Maureen Cawthorn Bell for her artist brother following his death in 2008, but the book grew into a heavyweight volume of 448 pages containing over 800 individual pieces of art: book covers, illustrations for magazines and fanzines, private pieces for friends and relatives, and many sketches or preliminary works, most of which have never seen print before."
*** The Cawthorn Family and the publisher of the book sent a pre-release copy to me in Canada. I then shared previews across my FB pages and ERBzine group, as well as three features for it in ERBzine Weekly. Two of the features include the Princess of Marsgraphic adaptation that James hadn't finished before his passing. (BH)
James Cawthorn: The Man and His Art in ERBzine
http://www.erbzine.com/mag64/6479.html
A Princess of Mars I: Illustrated by Cawthorn
http://www.erbzine.com/mag64/6480.html
A Princess of Mars II: Illustrated by Cawthorn
http://www.erbzine.com/mag64/6481.html
A Princess of Mars: Cawthorn Splash Bars
http://www.erbzine.com/cards/art2/cawthorn1princess.jpg
http://www.erbzine.com/cards/art2/cawthorn2princess.jpg

Off-Site Reference:
budsartbooks
---
*** 1941: ERB's Unfinished Venus Story: "Burroughs had begun a new Carson of Venus story on December 2, 1941, but the bombing of Pearl Harbor five days later, and the United States' entry into the war, caused him to abandon fiction writing for two years. The Venus story, which was meant to be a sequel to Wizard of Venus, was only an opening of a little more than two pages completed. It described Carson and Ero Shan, in their anotar, flying "into the unknown," their destination the city of Sanara, where Carson has left his beloved Duare. The brief section is mainly expository, referring to their adventures with the "mad Wizard of Venus," his death and the dissolving of his "malign hypnotic powers," with the final freeing of all his subjects.
The two men pass over the vast, uncharted regions of Venus. Among the series of adventures and mishaps, there is a hint of danger in the sight of "Gargantuan beasts." The story breaks off with the men excitedly discovering a ship moving on an unknown ocean beneath them: ". . . the first work of man that we had seen since taking off from Gavo."
Wizard of Venus was published by Canaveral Press in April 27, 1964 in Tales of Three Planets. It appeared along with "Beyond the Farthest Star," "Resurrection of Jimber Jaw," amd "Tangor Returns"
Wizard of Venus: Credits ~ Art ~ Info
http://www.erbzine.com/mag7/0752.html
Wizard Illustrated by Royer and Broadhurst
http://www.erbzine.com/mag45/4565.html
---
*** One of the mysteries associated with "Tarzan's Desert Mystery" is when the film was released. It was apparently released on different dates on various parts of the globe. Scott Tracy Griffin's "Tarzan on Film" says it was Dec. 2, 1943. ERBzine.com says it was Dec. 8. IMDB.com says it was Dec. 26.
Tarzan's Desert Mystery: Credits ~ Posters ~ Info
http://www.erbzine.com/mag6/0624.html
---
*** 1945 Rubimor took over the Sunday Tarzan strip.
Tarzan in Color Reprints
http://www.erbzine.com/mag45/4564.html
---
*** 1979: Gil Kane's "The Maneater" Sunday Page Series concluded
The Man Eater conclusion by Gil Kane
http://www.erbzine.com/mag34/165071.gif
http://www.erbzine.com/mag34/3494a.html
---
*** 2009: Michael Chabon discussed the John Carter Film Project in a Newsarama Interview
Chabon News Release
http://www.erbzine.com/mag28/2898.html
Chabon Interview Conducted by Richard Lupoff for ERBzine in 2010
http://www.erbzine.com/mag30/3047.html
---
*** 1924: Jack Davis (1924.12.02-2016.07.27) was born on this date. Jack was an American cartoonist and illustrator, known for his advertising art, magazine covers, film posters, record album art and numerous comic book stories. He was one of the founding cartoonists for Mad in 1952. His cartoon characters are characterized by extremely distorted anatomy, including big heads, skinny legs and large feet. I've been a longtime fan of his work as I've indicated in my Jack Davis Tribute Page
Jack Davis Tribute Site
http://www.erbzine.com/mag58/5817.html
---
*** 2020: Richard Corben died on this date following heart surgery. Richard was born on a farm in Missouri on October 1, 1940, and grew up in Sunflower, Kansas. He went on to get a Bachelor of Fine Arts degree from the Kansas City Art Institute, in 1965. Richard's wife is named Madonna "Dona" (née Marchant); he met her working as the special-effects/animation technician on her prize-winning film entry Siegfried Saves Metropolis in a contest sponsored by Famous Monsters of Filmland magazine in 1964. They've been married since 1965.
Richard has been drawing comics all of his life -- his Website is www.corbencomicart.com An early effort was a series of comics about the adventures of TRAIL, the family dog. Later he moved to imitations of Tarzan and Brothers of the Spear. Corben also showed a keen interest in animation by turning many pads of paper into animated flip books. In art college he concentrated on basic drawing and painting. After school he wanted to go to New York to launch a career in comics or animation. After nearly ten years at the film company, Corben felt frustrated that he really hadn't given his art career a chance. He started drawing so called "underground" comix and fanzines. About this time Warren Publishing Company began publishing a series of black and white horror comics, CREEPY, EERIE, and VAMPIRELLA. This was a perfect match for Corben's interests and he drew several stories for Warren. The underground comix surge spread to Europe and requests to reprint Corben underground features and his art in HEAVY METAL began to appear. The Corbens started FANTAGOR and he also began drawing for American comics, D.C., MARVEL, DARK HORSE, and others.
Richard is the winner of the 2009 Spectrum Grand Master Award. In 2012 he was elected to the Will Eisner Award Hall of Fame.
Richard has created many pieces of ERB-related art through his long career -- much of which is featured in our ERBzine pages. This includes the Doubleday Book of the Month Cover and interiors for their Llana of Gathol and John Carter of Mars edition.
Richard Corben ERB Art and Bios
https://www.erbzine.com/mag62/6297.html
Corben Art Collages in ERBzine:
https://www.erbzine.com/mag62/corb19.jpg
https://www.erbzine.com/cards/art/corbentarzan.jpg
https://www.erbzine.com/cards/art2/corbentharks.jpg
https://www.erbzine.com/cards/art5/corbenbioall.jpg
---

*** More ERB Log Notes:
http://www.ERBzine.com/bio
1896: Ed wrote Colonel J. Sumner Rogers at MMA - possibly obtain help in getting a discharge or transfer, or to set up a return to the Academy, or perhaps just to offer an apology for his past behaviour.
1917: On December 2, dissatisfied with the motion picture industry and the progress made on adapting his writings, Edgar Rice Burroughs dumped his shares of capital stock in National Film. January 16, 1919, the Company invited Burroughs to the January 27 premiere of Tarzan of the Apes, but ERB declined. Stellan Windrow, however, attended the Broadway opening, sitting in William Parsons' box.
The eight-reel movie became one of the first movies to gross over one million dollars.
1941: ERB forwarded more letters for Ralph to file from Sgt. Shonfeld. With Hully's encouragement Ed stopped drinking and smoking and his weight was down to 183 -- he expressed irritability since he'd smoked for 50 years. Christmas presents were sent home to the Pierce grandchildren but Ed couldn't get into the Christmas spirit. Honolulu was a poor place to shop.
War Years Log Notes
http://www.erbzine.com/mag10/1029.html

---
DECEMBER 3
---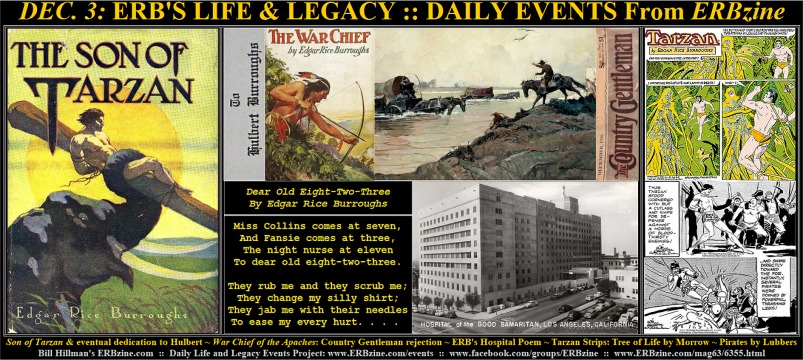 Son of Tarzan and eventual dedication to Hulbert ~ War Chief of the Apaches: Country Gentleman rejection
ERB's Hospital Poem ~ Tarzan Strips: Tree of Life by Gray Morrow ~ Pirates by Bob Lubbers
---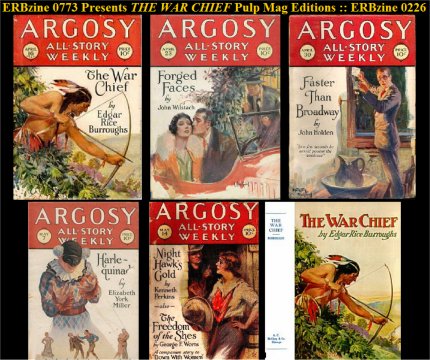 ---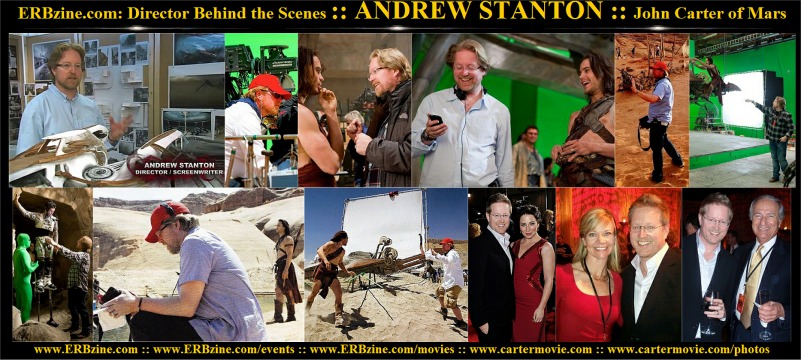 ---
1926: War Chief of the Apaches was rejected by Country Gentleman magazine. It was eventually published the following year by All-Story and A.C. McClurg with cover for both by Paul Stahr. ERB thought his well-researched Apache novel would be a good choice for their magazine since they had featured many wild west stories and art -- the current December issue even featured a large western scene by Frank E. Schoonover who had done art for his Tarzan of the Apes and A Princess of Mars.
Danton Burroughs found the following note with the manuscript for The War Chief:
Edgar Rice Burroughs Comments On The War Chief
"I have gone over the 'copy' carefully and have indicated a number of phrases, sentences and paragraphs deleted by them, which I wish to have retained.
The preparation of the manuscript required considerable research work and as it is necessary for the reader to be able to understand the viewpoint of the Indian, if he is to be in sympathy with the principal character, it is essential that much of the matter deleted should remain even though it draws comparisons that may be odious to some people of our own race and sometimes shocking to people whose religious convictions are particularly strong.
I should also call your attention to an Indian name and an Indian word concerning which the magazine editor and I seem not to agree.
The name is that of a famous Apache Chief, Mangas Colorado, variously spelled Mangus and Magnus. From a very old book I obtained the suggestion of the derivation of this name, which in Spanish means colored sleeves. The author supposed that the name may have been given to him by the Mexicans, either because of the garment he wore with colored sleeves or from the fact that his sleeves or arms were stained with the blood of his victims.
The other word to which I refer is Izzo-Kolth, which the magazine editor insisted on changing to Izze-Colth. My authority for this spelling is an article by John G. Bourke, THE MEDICINE MAN OF THE APACHES, which appeared in the annual report of the Bureau of Ethnology for 1887 and 1888.
The magazine editor deleted what evidently appeared to him tiresome descriptions of Indian customs, such as burial ceremonies and the decoration of the bodies of medicine men, but as there is not a great of this and I believe that it is all based on good authority, it should be permitted to remain."
War Chief: History ~ Art ~ Apache References
http://www.erbzine.com/mag7/0773.html
War Chief: Read the e-Text Edition
http://www.erbzine.com/craft/warchief.html
Frank E. Schoonover Gallery
http://www.erbzine.com/mag4/0422.html
ERBzine links for Wild West References that we have created over the last 20 years.
http://www.erbzine.com/mag11/1153.html
http://www.erbzine.com/mag11/1154.html
http://www.erbzine.com/mag34/3483.html
http://www.erbzine.com/mag34/3482.html
http://www.ERBzine.com/wildwest
Our many pages devoted to ERB's mentor: Charles King
. . . including texts of many of his books about the West
http://www.ERBzine.com/king
Plus the huge collection of books in ERB's personal library
http://www.ERBzine.com/dan
Find whatever you seek by using ERBzine's internal Google search
Insert keywords in the box at the bottom of the main ERBzine page
and top of all the Archives pages (link in every ERBzine logo)
http://www.ERBzine.com
---
***On Dec. 3, 1935, John B. Downs lay in a hospital bed in Room 823 of Good Samaritan Hospital, composing verses. John was being treated for a chronic bladder infection but was still able to smile at his own troubles. While the hospital records showed him as "Mr. Downs," in real life he was the famous Edgar Rice Burroughs and the alias kept nosey newspaper reporters from discovering he was there and pestering him with interview requests.
It was a busy year for ERB. His marriage to Florence Gilbert was in its first year and her children "had already become very attached to Ed ('Ebby'). Ed, suddenly a father again to two lively youngsters, pleased the children by telling them the same cliffhanger stories he once had told to Joan, Hulbert and Jack."
When he got out of the hospital in late December, he may also have quoted them his poem, named after his hospital room number: "Dear Old Eight-Two-Three." Find the story about halfway down this link on Florence Gilbert Burroughs' life (and, at the same time, find out who was giving swimming lessons to Florence's kids):
*** In the poem's five quatrains Burroughs also describes himself gazing wistfully out the windows where the mountains are "smiling and beckoning" to him. The first two stanzas were shared by Porges and collected in ERBzine's Poetry of ERB -- one of the first ERBzine pages I created back in 1996.
The Poetry of Edgar Rice Burroughs
http://www.erbzine.com/mag0/0003.html
"Dear Old Eight-Two-Three" Poem
http://www.erbzine.com/mag0/0003.html#20
Florence Tribute and ERB's Hospital Poem
http://www.erbzine.com/mag8/0890.html
---
*** 1916: Ed directed McClurg publishers to dedicate the forthcoming The Son of Tarzan first edition to his seven-year-old son Hulbert. He was peeved when the McClurgs forgot to include the dedication in the first edition, first state. The error was corrected in all the following releases.
The Son of Tarzan:
http://www.erbzine.com/mag4/0487.html
The Son of Tarzan: e-Text Edition
http://www.erbzine.com/craft/t4st.html
Son of Tarzan: 96 Daily Strips by Rex Maxon
http://www.erbzine.com/mag20/2041.html
---
*** Johnny Depp has played just about every other character, but could he play Tarzan? Well, that idea may not have been in the heads of these movie men, but Depp's Pirate epics were definitely being considered as a type of movie that might be a good vehicle for the apeman, according to a story from Entertainment Weekly, published Dec. 3, 2008:
Tarzan preps big-screen return, 'Pirates of the Caribbean' style
"Tarzan is getting another makeover. The action-adventure icon will trash his loincloth and throw on a pair of khakis for the next big screen take on Edgar Rice Burroughs' classic character, who first appeared way back in the Stone Age -- er, 1912. Director Stephen Sommers (The Mummy) and screenwriter Stuart Beattie (Australia) are ditching the boy-raised-by-apes origin story for a 1930's-set romp with a hefty helping of romance: Think Pirates of the Caribbean with buffed-and-tanned actors flying through the jungle and sprinting up trees, parkour-style. In recent years, the lord of the jungle has been reincarnated as a Broadway headliner, an animated Disney hero, and even a prime-time TV star -- in 2003 the WB produced a modern-day take starring Calvin Klein model (and first-time actor) Travis Fimmel that flopped. This version seems like a safer bet, especially considering Beattie penned one of the earliest drafts of Pirates, which became a worldwide blockbuster."
Tarzan preps "Pirates": Entertainment Weekly
http://www.erbzine.com/news/news26.html
---
*** What-might-have-been Pirate Quiz:
Would Tarzan's dialogue have included, "Avast ye limb lubbers"? ~ Would Tarzan have disposed of his enemies by making them "Walk the branch?" ~ Would Tarzan have eschewed a simian companion in favor of a parrot?. . . Looks as if the only thing that survived from this never-realized concept was the khaki shorts which Alexander Skarsgard wore in "The Legend of Tarzan."
Tarzan, meanwhile, has fought Pirates time and again...in the comics. One example is Tarzan and the Pirates: 58 daily strips by Bob Lubbers/Dick Van Buren from 1951.
Tarzan and the Pirates: 58 strips by Bob Lubbers
http://www.erbzine.com/mag48/4888.html

Off-Site Reference:
Comics OTR Blog Summary
---
*** Tarzan may not have gone to Mars, but Mars went to Tarzan. The Tree of Life origin story from Barsoom came to life in the Sunday newspapers when Gray Morrow and Allan Gross meshed their talents with an adventure that began Dec. 3, 2000, and ran through mid-March, and featured Barsoomian creatures challenging the ape man in his own jungle.
Tree of Life: 16 Tarzan Sundays by Gray Morrow
http://www.erbzine.com/mag34/3488.html
Gray Morrow Sunday Pages: Contents
http://www.erbzine.com/mag35/3501.html
---
1965: Andrew Stanton was born on this day in Boston, Massachusetts. He is an Oscar-winning filmmaker educated at The California Institute of the Arts (or "CalArts") in Los Angeles, where he studied character animation. Stanton went on to help establish Pixar as one of the world's leading animation studios. He is best known by Burroughs fans for his 250-million-dollar, live-action John Carter 2012 film (director/writer)
Stanton/John Carter Trivia from IMDB
* While filming at Big Water in Utah, the crew accidentally discovered a 60 foot long sauropod dinosaur skeleton. The state's land management bureau took over.
* Financially, the film was considered one of the largest box office losses in Disney history. Even though the film performed stronger than expected outside the US, it contributed to Disney's Studio Entertainment division reporting an $84 million loss in the first quarter of 2012. Such a large loss was attributed to issues with marketing, management changes at the studio, and a lack of merchandising normally associated with such a large budget film. As a result, any plans for the two sequels that were already in development prior to the film's release were scrapped.
* The film probably holds the record for the longest time in "development hell": 79 years. Preproduction first started in 1931, when Robert Clampett, director of 'Looney Tunes', approached author Edgar Rice Burroughs to make an animated feature out of the first book in the series, "A Princess of Mars." Had plans gone through, 'John Carter' could have become America's first animated feature, beating Walt Disney's Snow White and the Seven Dwarfs (1937). It finally left development hell in January 2010, when filming officially started in London.
* Andrew Stanton has already confessed that he isn't too satisfied with how the movie turned out. He confessed that part of the problems came from a first-time live action director being "drunk with power" after receiving too much money and creative control.
* For each of the super jumps that Taylor Kitsch performed, he was attached to a harness that allowed him to free-fall at a speed of 80 mph. Kitsch apparently found it unpleasant.
* Willem Dafoe accepted the role of Tars Tarkas because he thought it was interesting for him to act while wearing pajamas and walking on stilts.
* Robert Zemeckis turned down the chance to direct, quipping "George already pillaged all of that" with the "Star Wars" films. In other words, most of the best elements of Edgar Rice Burroughs' Mars fantasies had already been "borrowed" for George Lucas' space operas.
* The film was originally titled and marketed as "John Carter of Mars", but director Andrew Stanton removed "of Mars" from the opening credits and promotional material to make it more appealing to a broader audience, stating that the film is an "origin story... It's about a guy becoming John Carter of Mars." The entire title "John Carter of Mars" is displayed during the end credits.
* With altered trailers, the film ultimately fared much better overseas, and enjoyed major successes in Russia and Asia.
* About 1,800 costumes were designed--383 yards of cloth material were used to design the Thern costumes, while Dejah's wedding dress, cuffs and crown had 120,000 Swarovski crystals attached by hand.
* Upon getting the director's position, Andrew Stanton told Disney, "I'm not gonna get it right the first time, I'll tell you that right now."
* Disney was sceptical about Andrew Stanton directing. He had never directed a live-action film before, and wanted to make the film without any major stars whose names could guarantee an audience, at least on opening weekend. The screenplay was seen as confusing and difficult to follow. But since Stanton had overcome similar preproduction doubts to make Finding Nemo (2003) and WALL·E (2008) into hits, the studio approved him as director.
* Andrew Stanton lobbied the Walt Disney Studios to reacquire the rights from Burroughs' estate. "Since I'd read the books as a kid, I wanted to see somebody put it on the screen," he explained. He then lobbied Disney heavily for the chance to direct the film, pitching it as "Indiana Jones on Mars."
* Andrew Stanton often sought advice from people he had worked with at Pixar on animated films (known as the Braintrust) instead of those with live-action experience working with him. also was quoted as saying, "I said to my producers, 'Is it just me, or do we actually know how to do this better than live-action crews do?'"
* Andrew Stanton denied assertions that he had gone over budget and stated that he had been allowed a longer re-shoot because he had stayed on budget and on time. However, he did admit to re-shooting much of the movie, far more of it than is common in live action film making. He attributed that to his animation background.
* Producer Jim Morris noted that although he had less time for pre-production than for any of his usual animated projects, the task was nevertheless relatively easy since he had read Burroughs' novels as a child and had already visualized many of their scenes.
* Following the completion of WALL·E (2008), Andrew Stanton visited the archives of Edgar Rice Burroughs, Inc., in Tarzana, California, as part of his research.
John Carter of Mars
http://www.cartermovie.com
John Carter Photo Galleries: 100s of Photos
Screen Captures ~ Posters ~ Stills ~ Pre-Production Art ~ Ads
http://www.cartermovie.com/photos/
https://www.erbzine.com/cards/film4/andrewstantonjohncarter.jpg
Interview with John Carter Screenwriter Michael Chabon in ERBzine
https://www.erbzine.com/mag30/3047.html
---
*** December 3: Ed attended the U.S.C.-Washington football game. Star Morley Drury led USC to an easy victory.
ERB Bio Timeline and Journals
http://www.ERBzine.com/bio

---
DECEMBER 4
---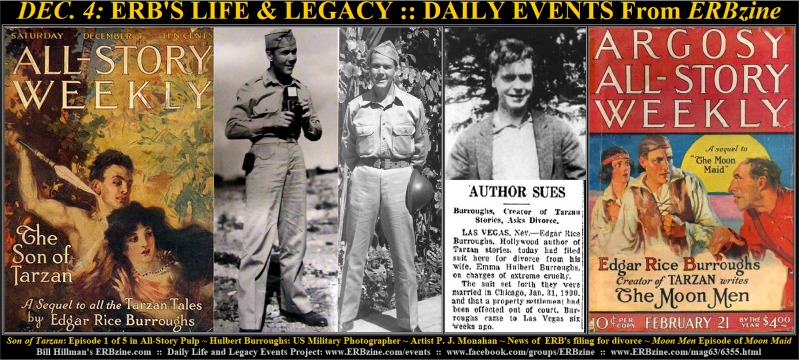 Son of Tarzan: Episode 1 of 5 in All-Story Pulp ~ Hulbert Burroughs: US Military Photographer
Artist P. J. Monahan ~ News of ERB's filing for divorce ~ Moon Men Episode of Moon Maid
---

---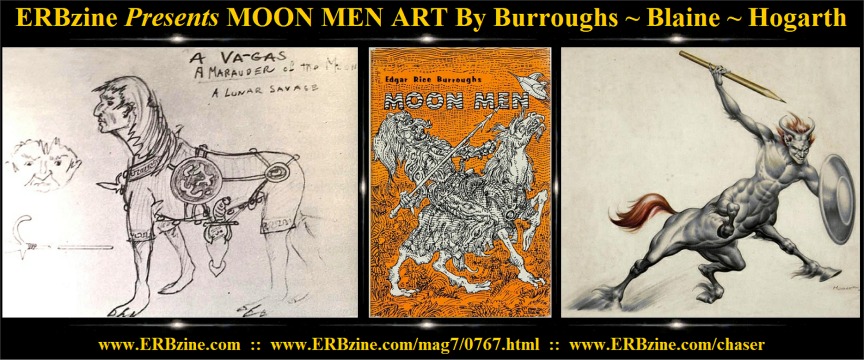 ---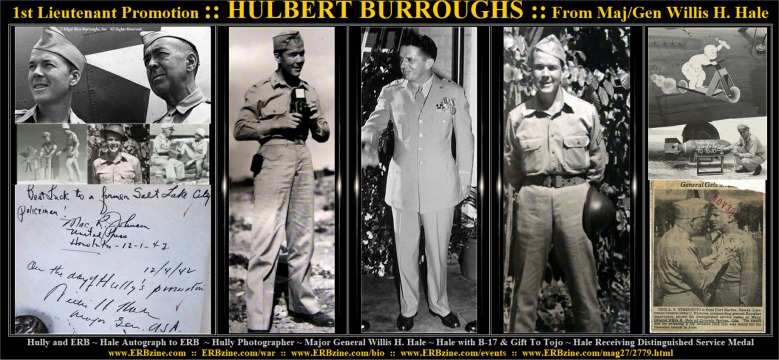 ---
*** 1915: In "Tarzan of the Apes," the son of noble English parents was raised in the jungle by an ape but grew up to excel in the world of civilized man.
In "The Son of Tarzan," the son of noble English parents started life in a civilized setting and ran away to Africa with an ape, where he learned to excel in the savagery of the law of the jungle.
ERB proved that either of these opposite scenarios could be made believable, thanks to his skill as a writer.
On Dec. 4, 1915, the latter story began a six-week run in All-Story Weekly, telling the tale of Tarzan's son, Jack, who became Korak the Killer.
The story won the cover illustration for the first installment, with a brown-dominant P.J. Monahan painting showing Korak, armed with a spear, preparing to defend a cringing Meriem.
According to Robert B. Zeuschner, "There were chapter titles in the serial which were not used in the hardback publication." So, if you want to know the titles of the chapters, you'll just have to look in the pulps! Publishing history of "The Son of Tarzan." appears in ERBzine 0487. Be sure to click on the "next" links at the bottoms of the pages to see more illustrations from the book:
The Son of Tarzan: History ~ Art ~ Info
http://www.erbzine.com/mag4/0487.html
Son of Tarzan: eText Edition
http://www.erbzine.com/craft/t4st.html
Son of Tarzan: Pulp Biblio Covers
http://www.erbzine.com/mag2/0223.html
P. J. Monahan: Artist
http://www.erbzine.com/mag16/1671.html

Off-Site Reference
Son Summary
---
*** 1942: December 4: ERB began the first in a series of war diaries in which he described the WWII happenings in New Caledonia and Australia.
Ed, at the request of son Hully, typed out these diary notes to share with the family. He entitled this document:
The Wartime Journals of Correspondent Edgar Rice Burroughs :: December 1942-April 1943 ~ THE DIARY OF A CONFUSED OLD MAN or Buck Burroughs Rides Again.
Grandson Danton shared this document with me before his death. I summarized and illustrated the contents which I shared in ERBzine at that time.
A few years later I expanded the project by typing out its 50 pages. I then spent a great deal of time going through my collection of ERB's wartime photos plus researching and finding photos which illustrated the events in Mr. Burroughs' text. I created a Webpage featuring each of ERB's 50 journal pages. I then shared these pages in a series of features in ERBzine Weekly Webzine which are all well displayed in our archive.
The 1942/1943 Wartime Journals of Correspondent ERB
Introduction to the 50 typed pages with illustrations added by Bill Hillman
http://www.erbzine.com/mag68/6800.html
ERB Leaving Hawaii for New Caledonia
http://www.erbzine.com/mag68/6801.html
ERB War Journals Summaries
http://www.erbzine.com/mag10/1020.html
http://www.erbzine.com/mag10/1021.html
---
*** On this day in 1918, ERB wrote a letter to the Department of Justice, asking for background material so he could write a fictional story warning people of the dangers of Bolshevikism. He later got a letter back from a bureaucrat named Clabaugh, who said, basically, "I'm from the government and I'm not here to help you."
Clabaugh didn't think much of ERB's idea. However, ERB recalled that this was a free country and that Clabaugh's opinion didn't rule, so he wrote the story anyway, eventually deciding to make the fictional setting take the form of an invasion of moon men, who would display all the proclivities of the Bolsheviks. That necessitated the writing of "The Moon Maid," to set up "The Moon Men" invasion of Earth, and "The Red Hawk," to kick them off this planet again. So take that, Mr. Clabaugh of the Department of Justice!
The Moon Maid: History ~ Art ~ Info
http://www.erbzine.com/mag7/0767.html
1. MOON MAID: e-Text Edition
http://www.erbzine.com/craft/moonmaid.html
2. MOON MEN: e-Text Edition
http://www.erbzine.com/craft/moonmen.html
3. RED HAWK: e-Text Edition
http://www.erbzine.com/craft/redhawk.html
ERB And The Revolt Against Civilization
http://www.erbzine.com/mag39/3958.html
---
***1934: Ed filed for divorce at the end of his six-week residency. Emma had decided not to offer objections. (Reported in the New York Times)
Emma Burroughs Tribute
http://www.ERBzine.com/mag67/6750.html
---
*** 1942: Journal Entry: Hulbert is promoted to 1st Lieutenant. While visiting Ed for the night they were invited to a party at the Niumalu. One of the guests was "Major General Willis H. Hale (commander of the 7th Air Force), Hully's Big Boss - a very swell person. He touched Hully's gold bars, and said, 'You can take those off. I promoted you this morning.' So we all drank high-balls to the event, and General Hale wrote in my autograph book, 'On the day of Hully's promotion.'"
From ERB's 1942.10.31 Letters to Daughter Joan . . . and Caryl Lee:
Did you read about Hulbert in the paper? He was in a bomber that bombed the airfield at Buke and Jap shipping in Shortland Harbor. They flew through anti-aircraft fire over Buke, and thirty-eight warships fired anti-aircraft at them over Shortland. They were attacked twice by Zeros, twenty-five in all and the plane was hit many times by machine gun fire and once by a shell that failed to explode and remained in the ship.
After they got back to Guadalcanal, they were bombed from the air, and shelled by a Jap land battery and Jap warships all the rest of the day and night. Hulbert says that the shelling was terrifying. They spent most of the time in slit trenches, or any other place they could find a little cover. He and another man dove into an old shell hole that our bombers had made when we were attacking the airfield. It was very dark, but they soon discovered that the Marines had been using the hole as a garbage dump. Nevertheless, they dug their faces into the garbage and tin cans when they heard the whine of an approaching shell. The next morning they took off while the Japs were shelling the airfield.
A Few Hully 1942 Military Entries in the ERB Bio Timeline
* January 18: Hully enlisted in the Army Air Corps at Hickam Field and served as a military photographer.
* January 27: A Pathe Newsreel man working with Hulbert on a motion picture of army life told Ed that Hully was considered the top photographer of AAF.
* April 15: Ed and Hully took photos of each other in uniform.
* June 12: Hully received a commission -- 2nd Lieutenant -- and was sent to the Solomon Islands, Guadalcanal, etc. as a documentary and combat photographer.
* August 5: Ed reported that Hully was in town and that they had played poker and tennis followed by a night at the movies: The Man Who Came to Dinner. Hulbert had been recommended for a first lieutenancy.
* December 4: Hulbert promoted to 1st Lieutenant.
Hully took some excellent wartime photos. Danton shared much of his video footage and photos that his uncle had taken in his role as a military photographer. When we met Hully during our first Tarzan visit he mentioned that he dabbled in photography and one of his favourite subjects at that time was cactus plants. He made no mention of his WWII accomplishments. In my descriptions of that meeting I described how I had dumped gravel all over ERB's famous office desk while showing off my new Pentax :) See the link below:
Journal/Autograph Book
http://www.erbzine.com/mag27/2779.html
ERB's 1942.10.31 Letters to Daughter Joan . . . and Caryl Lee:
https://www.erbzine.com/mag10/1024.html
ERB's WWII Journals ~ Written at Hully's Request
DIARY OF A CONFUSED OLD MAN
https://www.erbzine.com/mag68/6800.html
Hulbert Burroughs
http://www.erbzine.com/mag19/1985.html
Read more about the Burroughs' WWII experiences: Journals, Letters, Photos, etc.
https://www.ERBzine.com/war
Hillmans Meet Hulbert in Tarzana
http://www.erbzine.com/mag1/0192.html
https://www.erbzine.com/cards/erb/tarzanavisitall.jpg
http://www.ERBzine.com/cards/erb3/hullymedalfromhale.jpg
Off-Site Reference
Willis H. Hale

---
DECEMBER 5
---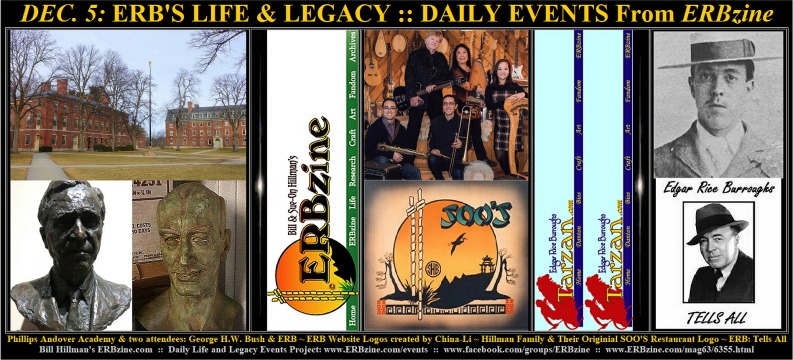 Phillips Andover Academy and two attendees: George H.W. Bush and ERB ~ ERB Website Logos
Created by China-Li ~ Hillman Family and Their Original SOO'S Restaurant Logo ~ ERB: Tells All
---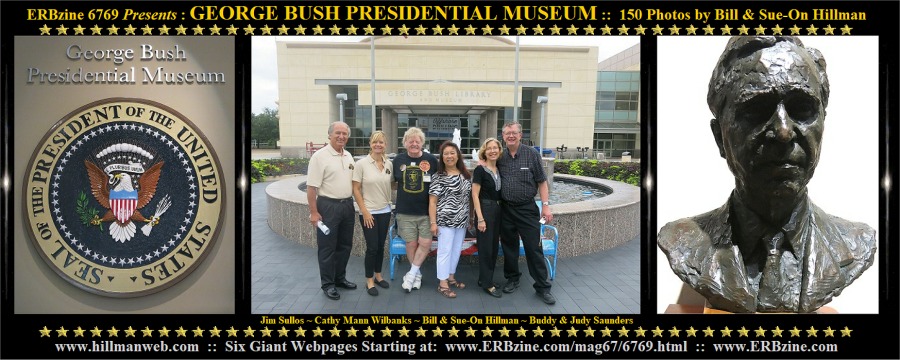 ---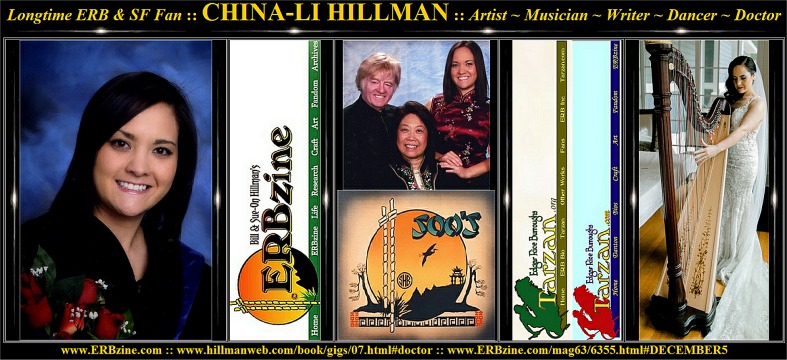 ---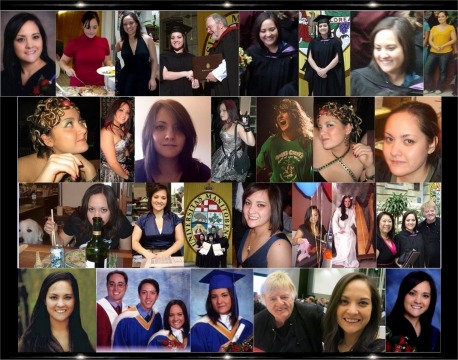 ---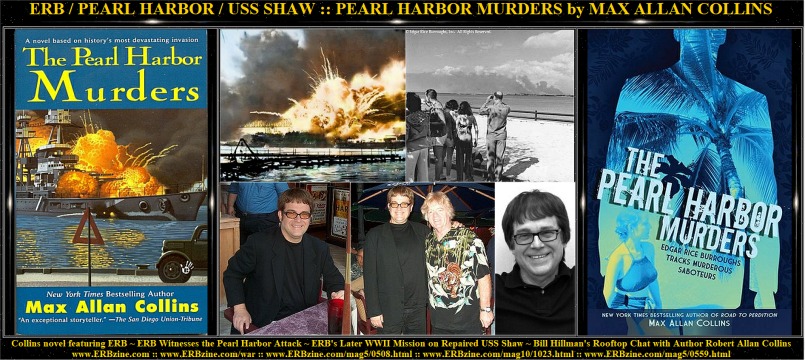 ---

---
2018: The Funeral and National Day of Mourning for US President 41, George H. W. Bush brings to mind the Bush/ERB connection. This is via Phillips Andover Academy - the oldest incorporated academy in the United States. The Academy was attended by Edgar Rice Burroughs who later transferred to Michigan Military Academy in 1893. President Bush graduated from there in 1942.
In his teen years, Burroughs was having a gorgeous time on his brothers' ranch in Idaho among cowpunchers, murderers, horse thieves, and bad men. His father, George, decided it was time to introduce the lad into a more orthodox education and shipped him east to Phillips Academy at Andover in the fall of 1891. Sixteen-year-old Ed Burroughs enrolled as a junior middler (sophomore) in the class of '94.
On January 20, 1892 the school paper announced the election of Ed Burroughs as class president. Burroughs later wrote: "I was elected President of my class, and because I owned a guitar I was elected to the glee club. They must have been embarrassed when they discovered I could not play my guitar. Anyhow, my engagement with the glee club was brief. 'Banty' was running Andover at the time and I guess I did not make much of a hit with him. He removed me at the beginning of the second semester. "When I got home from Andover my father felt that a military school might be a good place for me, and he took me to Orchard Lake, where the old Michigan Military Academy was located, and where I spent the next five years."
During the Dum-Dum 2014 in Bryan, TX we joined Jim Sullos and Cathy Mann Wilbanks of ERB, Inc. along with Buddy and Judy Saunders in an afternoon visit of the George Bush Museum at College Station. Through the years we've enjoyed visits to the Libraries of numerous American presidents (Bush, Jr., Reagan, and Clinton) . . . they've all been beautifully done. We shared some of the highlights of these visits on our Website.
An 1894 Article by ERB
http://www.erbzine.com/mag56/5654.html
http://www.erbzine.com/mag0/0055.html
George H. W. Bush Museum ~ College Station, TX
150 Photos Across 6 Giant Webpages
http://www.erbzine.com/mag67/6769.html

Off-Site Reference
Andover Phillips Academy
---
*** 1985/2020-2022: Today is the Birth and Wedding date of the creator of our ERBzine.com, Tarzan.com, and Tarzan.org logos. . . our daughter China-Li. Her first name is obviously a nod to her mother and heritage (Cheena-Lee) , while one of her middle names -- Ma-Ri -- refers to the crater seas of Luna and Mars. She's a writer, muscian, dancer, artist, doctor (Thoracic Radiologist) and longtime fan of SF/Adventure.
As a 13-year-old she travelled with us to the Tarzana 1999 Dum-Dum where we were invited to a pre-release showing of the Tarzan animated film on the Disney lot and she was enthralled by Forry Ackerman's tall tales during our visit to Ackermansion. She even joined us on our trip to Hawaii where we visited all of ERB's wartime haunts.
She, her two brothers and her mom, all share unique knowledge of computer technologies and have been invaluable in my creation of ERBzine and other computer projects. When I needed logos for my various ERB sites, she drew upon a previous design I had made for our SOO'S restaurant and created them all, complete with embedded hot links. Based upon the ERB doo-dad, the four vertical bamboo poles represent Sue-On and myself and our two boys. The large "C" dot to side represents China-Li. This logo is featured at the top of every one of our +15,000 ERBzine Webpages. The logos feature hot links that will lead our visitors to the Website Introduction, Weekly Webzine, Life Stories of the Burroughs Family, Research, our Bibliography of All the ERB books, Fan Fiction, and our Main Archive which contains an Internal Google Search Feature for the entire site.
After attending a medieval jousting event China-Li was determined to become a knight and started to hone her skills in archery, fencing, bagpipes, harp, and knife-making. We persuaded her to become a "night-knight" instead and to pursue her education in medicine. She went on to complete 13 years of medical training (Winnipeg HSC, Yale Fellowship, medical exchange in China, etc.) and is now a Doctor of Thoracic Radiology serving three city hospitals. Happy birthday kid.
ERBzine Logo
https://www.ERBzine.com/cards/art9/chinalihillmanerbzinelogosall.jpg
https://www.erbzine.com/erbzinelogoh4.jpg
Dr. China-Li Jade Ma-Ri Hillman (Photos of earlier degree presentations)
https://www.hillmanweb.com/grad10/grad1.html
China-Li: Doctor Music
https://www.hillmanweb.com/book/gigs/07.html#doctor
China-Li Photo Collage
https://www.hillmanweb.com/cards/family/china4all.jpg
---
*** Edgar Rice Burroughs enjoyed putting his tongue in cheek at the same time that he put himself into some of his stories, and so -- like Alfred Hitchcock and Stan Lee and some other movie-makers doing cameo appearances in their own films -- ERB made literary cameos in some of his books as one who got the "true" story directly from his heroes' lips, or from their electronic transmissions, or from their ghostly images, as the case might be. He also wrote "Edgar Rice Burroughs Tells All,". This article, along with two other far-fetched ERB autobiographies are featured in ERBzine 6706. In that "autobiography" ERB reveals his own life to be as exciting as that of many of his characters, as he escaped from Pedro, the king of the gypsies; survived the Battle of Little Big Horn, and was not eaten by cannibals because his "long, golden hair and my flowing mustache and beard of the same hue filled them with such awe...." ERB further noted that he had been able to provide financial assistance to Stanley in his expedition to find Dr. Livingstone. This biography also contains the amazing story of how ERB learned the language of the Great Apes.
*** ERB wasn't the only one to write of the fictional Edgar Rice Burroughs. It was also done by Max Allan Collins, who wrote a more modern mystery book titled "The Pearl Harbor Murders." ERB became an investigator in that story. In The Gridley Wave #225 and ERBzine 0559, George T. McWhorter reviewed the book and wrote: "On December 5, 1941, most Americans living on the islands knew that war with Japan was imminent, but they felt that Hawaii was safe from external attack. Collins has done an excellent job of researching ERB's life and affairs...."
One error that Collins made (and acknowledged at his appearance in Oak Park, Illinois, in 2005) was that he described the visiting Hulbert Burroughs, who witnessed the Pearl Harbor attacks with his father on Dec. 7, 1941, and is a secondary character in the book, as ERB's younger son. John Coleman Burroughs was actually the younger of ERB's two sons. And it was to come to pass that, exactly one year later, on Dec. 5, 1942, the real ERB departed in the morning as a war correspondent, and was flown to Canton Island and then New Caledonia to write about American combat activities in the Pacific Theater.
"The Pearl Harbor Murders" Review
http://www.erbzine.com/mag5/0559.html
ERB Witnesses the Pearl Harbor Attack
https://www.erbzine.com/mag10/1023.html
"Edgar Rice Burroughs Tells All"
3 Fictional "Autobiographies" collated in ERBzine
http://www.erbzine.com/mag67/6706.html
WWII Journals of ERB:
50 transcribed pages by Bill Hillman plus added illustrations
https://www.erbzine.com/mag68/6800.html
http://www.ERBzine.com/cards/erb3/erb1942wartimeflight.jpg
https://www.erbzine.com/mag68/waryearsbar.jpg
https://www.erbzine.com/cards/writers4/erbpearlharborconnectioncollins.jpg

---
1921: The list of coming attractions at the Tarzana Ballroom Theatre: Moonlight Follies ~ On Account ~ Wood Simps ~ Man Trackers ~ Pals ~ Action with Hoot Gibson ~ Smart Alec
ERB Bio Timeline Journal
http://www.ERBzine.com/bio
---
*** 1941: In his letter home to Joan, Ed wrote: Cold weather. He was interested in Jim's proposed Aviation business: "I may take it up again myself - if I get rich." . . . "Hulbert joins me in love to you all, and a VERY MERRY CHRISTMAS!"
ERB's Letter to Joan
http://www.erbzine.com/mag10/1022.html
---
*** 1912: Ed submitted a more detailed outline of the Tarzan sequel: The Return of Tarzan
1915: H. R. H. the Rider was completed
1929:4: Ed shared his criticisms over the Tarzan strips with nephew Studley Burroughs. Studley later forwards detailed criticisms to the Metropolitan Syndicate
1942: Ed was flown to Canton Island and on to New Caledonia where he met naval lieutenant Hal Thompson - Rochelle Hudson's husband.
ERB's 1942 Flight to New Caledonia - Crossing the Equator
http://www.erbzine.com/mag68/6802.html
ERB Bio Timeline
http://www.ERBzine.com/bio

---
DECEMBER 6
---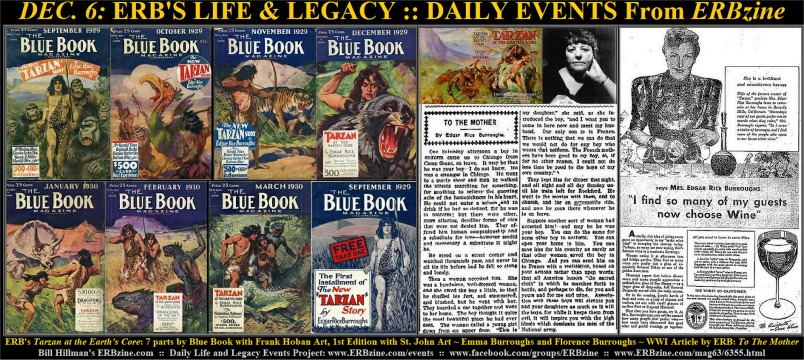 ERB's Tarzan at the Earth's Core: 7 parts by Blue Book with Frank Hoban Art, 1st Edition with
St. John Art ~ Wives Emma Burroughs and Florence Burroughs ~ WWI Article by ERB: To The Mother
---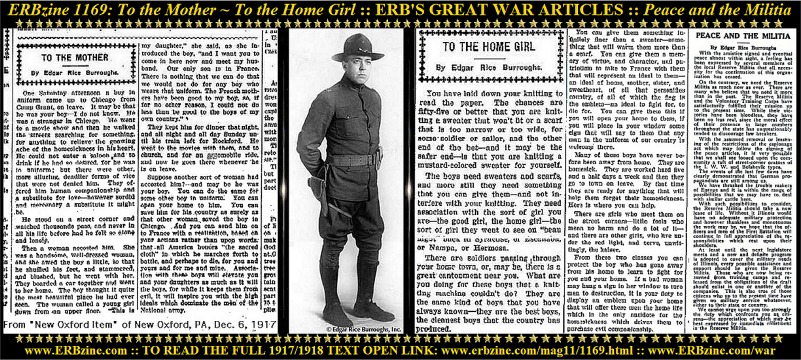 ---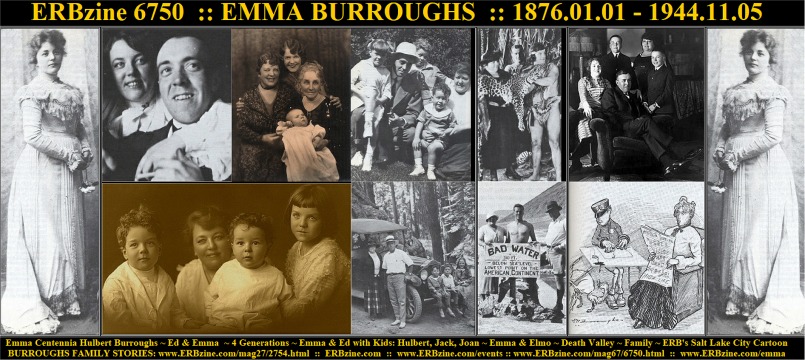 ---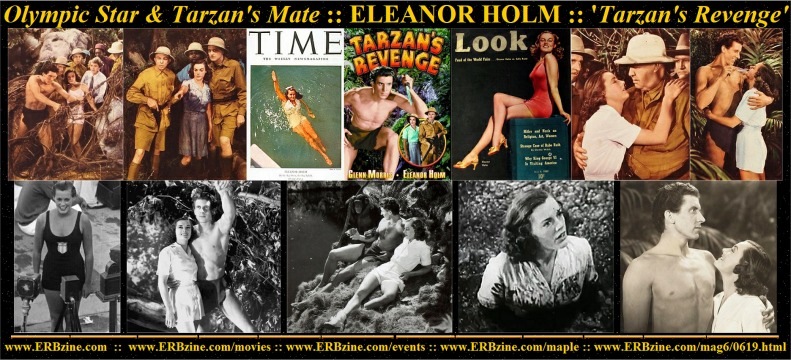 ---
*** 1928: ERB started to write "Tarzan and Pellucidar" (79,446 words). Some or all of the book was dictated to Ediphone cylinders. It was actually written as a sequel to the last Pellucidar volume ERB had just completed: Tanar of Pellucidar. It was first published in seven parts by Blue Book with art for all the covers and 53 interiors by Frank Hoban (1870-1943). Interestingly the number on the airship that transported Tarzn to the earth's core was O-220 -- taken from ERB's home phone number Owensmouth 220. When published, the working title was changed to Tarzan at the Earth's Core. The first hard cover edition came from Metropolitan Books on November 28, 1930 with wrap-around cover art by J. Allen St. John.
Tarzan at the Earth's Core: Biblio: History ~ Art ~ Info
http://www.erbzine.com/mag7/0721.html
Tarzan/Earth's Core Blue Book Cover Collage
http://www.erbzine.com/cards/pulps/tzcoreall.jpg
Tarzan at the Earth's Core: 96 Maxon Strips
http://www.erbzine.com/mag30/3084.html
---
*** 1917: ERB fan and former fanzine publisher Dale Broadhurst was looking through the Dec. 6, 1917, edition of the New Oxford Item of New Oxford, N.J., when he made a discovery. There, before his eyes, was a brief little article titled "To The Mother" and it was written by Edgar Rice Burroughs. This article should not be confused with an ERB short story, "For the Fool's Mother," which has been published in the ERBzine 5359.
It is known that, during the closing years of The Great War, 1917 and 1918, ERB had written various little articles and mailed them to newspapers around the U.S. The 400-word article that greeted Broadhurst's eyes was a suggestion by ERB, made primarily to those with a mother's heart, that they consider opening the hospitality of their homes to lonely soldiers. He told the story of one mother who did so, literally plucking a wandering soldier off the street. Her family welcomed him and he enjoyed their hospitality before shipping out. Over the years, he made several return visits. By opening her home, the mother may have kept the soldier from becoming involved in other pursuits that may have resulted in physical or moral harm. ERB had written: "He could not enter a saloon and to drink if he had so desired, for he was in uniform; but there were other, more alluring deadlier forms of vice that were not denied him."
"To The Mother" and more Great War Articles by ERB are featured in ERBzine 1169
To The Mother and More Great War Articles by ERB
https://www.erbzine.com/mag11/1169.html
https://www.ERBzine.com/cards/erb6/erbgreatwararticlesall.jpg
---
*** 1934 Another old newspaper, The Chicago Tribune of Dec. 6, 1939, had an advertising spread on Florence, Mrs. Edgar Rice Burroughs, and the type of wine she preferred to serve. If you want to check your copy of the Tribune for that date, it's on page 20 but you'll probably find it easier to find in ERBzine 0890 This was exactly five years after ERB's divorce from his first wife, Emma, became final on Dec. 6,1934.
Florence Burroughs Wine Ad
http://www.erbzine.com/mag8/0890.html
Larger Image of the Wine Ad
http://www.erbzine.com/mag8/fload.jpg
---
*** 1934: Ed was granted a "quickie" divorce on the grounds of his wife's "extreme cruelty" and "incompatibility of temperament." Emma received a generous settlement. Ed was quick to point out that Florence's marriage came to an end as a result of Ashton's interest in Ula Holt. Both in distress, Ed and Florence were drawn together as sufferers in common. Ed felt deep guilt over the burden and upset that the breakup had put on his sons. The marriage breakup shattered the Burroughs family. The children and many of Ed's closest friends shared Emma's heartbreak and were greatly troubled by the turn of events. As part of the divorce settlement, Emma stayed on the ERB, Inc. payroll as a proofreader but she was totally shattered and grief stricken at the loss of the lifelong partner with whom she had shared so many highs and lows during a long marriage. Although Ed maintained a close relationship with Joan, Hully and Jack, he effectively broke off all contact with Emma.
ERB's Divorce From Emma
http://www.ERBzine.com/mag67/6750.html
The Burroughs Story
http://www.erbzine.com/mag13/1372.html

---
*** 1913: Eleanor Holm (1913.12.06-2004.01.31) was born on December 6, 1913 in New York City, New York, USA as Eleanor Gertrude Holm. Eleanor won the 1932 Olympic gold medal in swimming, 100-metre backstroke. She was set to repeat in the Berlin Olympic Games of 1936, but she ran afoul of officials because of her behavior on the boat trip to Germany. Apparently, women athletes weren't allowed to drink, shoot craps, or sing in cabarets. Ms. Holm paid for the double standard and was kicked off the team.She was an actress, known for Tarzan's Revenge (1938), Medicus Film of New York World's Fair (1940) and Hollywood on Parade No. A-9 (1933). She was married to Thomas Joseph Whalen, Billy Rose and Arthur Jarrett. She died on January 31, 2004 in Miami, Florida, USA.
Tarzan's Revenge
https://www.erbzine.com/mag6/0619.html
Lobby Display
https://www.erbzine.com/mag6/0619a.html
https://www.erbzine.com/cards/film6/eleanorholmtarzansrevengeall.jpg

---
DECEMBER 7
---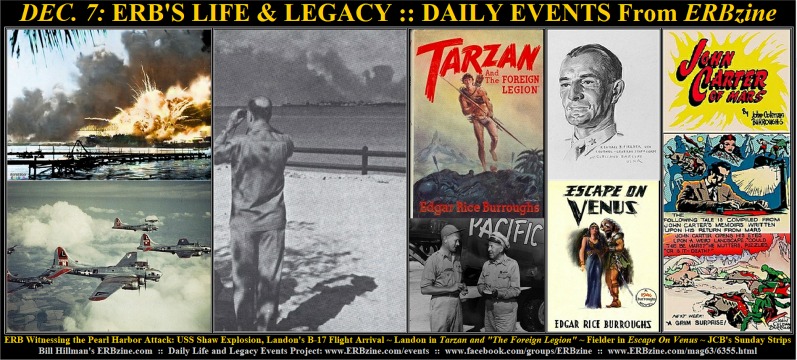 ERB Witnessing the Pearl Harbor Attack: USS Shaw Explosion, Landon's B-17 Flight Arrival
Landon in Tarzan and "The Foreign Legion" ~ Fielder in Escape On Venus ~ JCB's Sunday Strips
---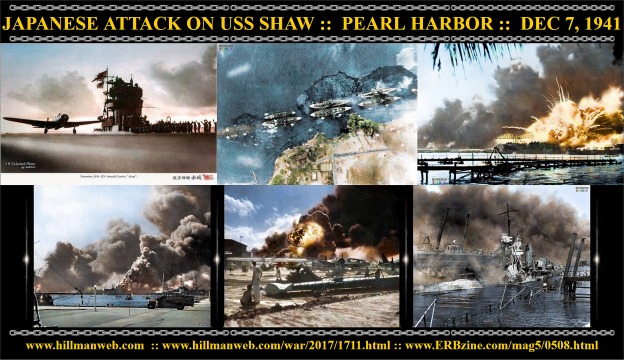 ---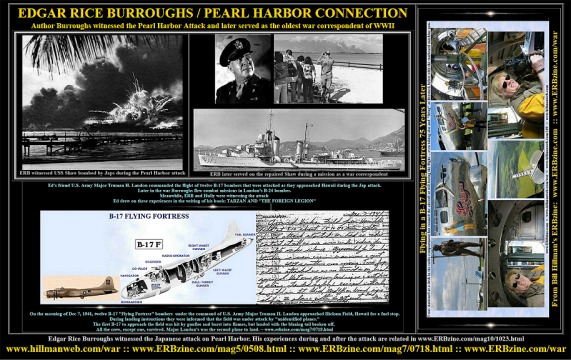 ---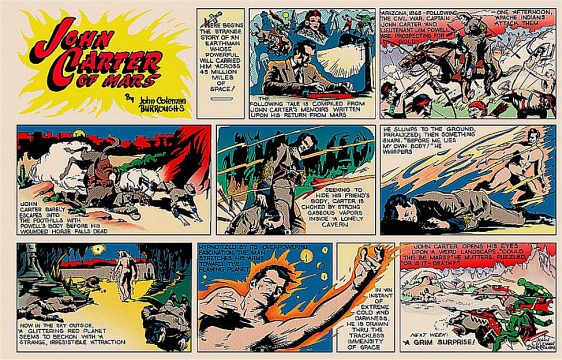 ---
---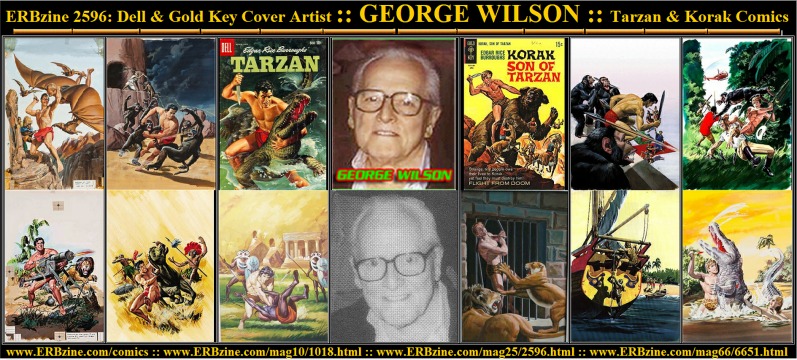 ---
*** 1941: December 7 - 7:55 a.m.: Eye Witness Account of.the Japanese attack Pearl Harbor. The old military man was finally in the right place at the right time. Ed and Hulbert watched the attack from their hotel tennis court, at first thinking it a military practice exercise. When they saw the red sun symbol on the low-flying aircraft they realized it was the real thing.
Two famous incidents from that attack were the flight of incoming bombers that came under attack and the spectacular explosion of the USS Shaw. Twelve B-17 "Flying Fortress" bombers under the command of U.S. Army Major Truman H. Landon came under attack as they approached Hickam Field on Oahu Island. The commander of that bomber flight, Truman Landon, later became a good friend of ERB and Burroughs flew with him on missions against the Japs over the Pacific. The USS Shaw destroyer was repaired and put back into action. ERB in his role as the oldest journalist in WWII sailed on the ship from New Caledonia back to Pearl Harbor. (See ERB's 1943 Wartime Journals: 6800)
Following the attack, Ed, Hulbert, and friend Anton Rost, volunteered for sentry duty with Patrol 2, Company A, 1st Battalion, stationed on the wharf warehouse at Honolulu Tuna Packers Ltd. Later Ed was assigned to guard and then to escort "enemy aliens" (Japanese) to the Immigration Station. The march almost killed him. At the recommendation of friend Col. Kendall J. Fielder was hired to write a series of wartime "Laugh It Off" columns and became quite involved in the forming of and instructing the BMTC a businessman's home guard. All of these activities led to his becoming an accredited journalist -- the oldest war correspondent in the Pacific Theatre -- a role that took him on far-off missions over, around, and on Pacific islands. All of these events are expanded upon, complete with illustrations, in my ERBzine links featured below.
---
*** Advancing age didn't stop Edgar Rice Burroughs from continuing to add to each of his major series in his twilight years.
In 1944 he had published "Land of Terror" in the Pellucidar series; in 1946 came "Escape on Venus," followed in 1947 by "Tarzan and 'The Foreign Legion.'" Then it was the tenth book of the Mars series, "Llana of Gathol," in 1948. And he had left a pile of manuscripts -- some complete but some only partial -- that were not published in hardbound book form until several years after his death.
One of those incomplete manuscripts is so brief that it is referred to as a fragment -- the "Venus fragment." Carson Napier and Ero Shan had just wound up their adventure in the novelette, 'The Wizard of Venus,' and were in the Anotar II heading for who-knows-what when ERB stopped writing the manuscript -- due to something he deemed far more important -- helping his country in World War II.
When the Japanese bombed Pearl Harbor 70 years ago today -- Dec. 7, 1941 -- ERB was too old to join and fight in the service, but nonetheless volunteered to help in whatever way he could.. The Army thought it would be a good idea for a newspaper column to help boost civilian morale, and Col. Kendall J. Fielder, a friend of ERB, suggested to him that he write such a column, so the first "Laugh it Off" article appeared in the Honolulu Star-Bulletin a few days later. ERB also joined the BMTC -- the Business Men's Training Corps -- a Hawaii civilian force that might be needed to help repel a Japanese landing on Hawaii, which was a great, and logical, fear at the time. Eventually, he would "go to war" in the only way that a man of his age could -- as a war correspondent.
The name of Fielder is familiar to ERB fans as the author dedicated "Escape on Venus" to him. Two other ERB military friends were also so-honored, with Brigadier Gen. Truman H. Landon the dedicatee in "Tarzan and 'The Foreign Legion'" and a Ft. Shafter public relations officer, John Philip Bird, so honored in "Llana of Gathol."
All three men are represented in that Tarzan volume. In addition to the dedication to Landon, the book contains an acknowledgements notice at the front thanking Bird for his assistance in research, and, through one of his characters, ERB pulls Fielder's leg on page 258-9 (chapter 25). During a discussion of magic, the character Jerry Lucas says, "I had a friend in Honolulu when I was stationed at Hickam, who was as good as any professional I have ever seen. Paint Colonel Kendall J. Fielder black, dress him up in a breechclout and a feather headdress, give him some odds and ends of bones and pieces of wood and a zebra's tail, and turn him loose in Africa; and he'd have all the other witch doctors green with envy."
ERB continues with his good-natured jesting at Fielder's expense with a paragraph about Fielder's card-playing skills.

PEARL HARBOR COVERAGE FROM ERB: THE WAR YEARS
ERB's Eye Witness Account of the Pearl Harbor Attack
http://www.erbzine.com/mag10/1023.html
ERB / USS Shaw Connection
http://www.erbzine.com/mag5/0508.html
Reports from the USS Cahaba
http://www.erbzine.com/mag33/3369.html
ERB / Landon WWII Connection
http://www.erbzine.com/mag7/0718.html
ERB / General Fielder Connection
http://www.ERBzine.com/mag64/6458.html
ERB's "Laugh It Off" Columns: 1941
http://www.erbzine.com/mag11/1129.html
ERB's "Laugh It Off" Columns: 1942
http://www.erbzine.com/mag17/1754.html
ERB / Pearl Harbor Collage
http://www.erbzine.com/cards/erb/erbpearlall.jpg
ERB and Pearl Harbor by Bob Hyde
http://www.erbzine.com/mag7/0703.html
The Pearl Harbor Murders by Max Allan Collins
http://www.erbzine.com/mag5/0559.html
Hillman B-17 Adventure
http://www.hillmanweb.com/war/2015/1505.html
http://www.hillmanweb.com/war/2015/1506.html
---
*** 1941: John Carter of Mars, adapted/written and illustrated by John Coleman Burroughs, appeared as a Sunday feature for United Feature Syndicate. Wartime paper shortage forced its demise after 73 weeks in the spring of 1943.
All 73 JCB Sunday Pages, Summaries and Novelization
http://www.erbzine.com/mag22/2288.html
---
MORE ERB TIMELINE NOTES
*** 1918: December 7: In response to Ed's plans to get into farming, Ed's friend, Weston, said he was toying with the idea of starting a farming enterprise in Canada but feared that the Saskatchewan prairies are the "doggonedest place in the western hemisphere to live.". He gave Ed the following advice on farming: "I look upon a farm as a factory. If I go farming, I'll run the damnedthing not with any idea of getting back to nature, but from the point of view of making it produce so much stuff for a 5 year average.
---
*** 1918: December 7: Ed and Weston were staunch Republicans. Weston wrote that a returning army major friend of his said that not a single officer would ever vote the Democratic ticket again. To Weston's knowledge no Democrat went into the army at all -- except by the draft route. Weston and son Collins admitted to detesting Jane Porter, "Tarzan was mightily stung when he married her."
---
*** 1920: Munsey Co. informed Ed that Davis had left to form an agency for authors
ERB Bio Timeline and Journals
http://www.ERBzine.com/bio
---
*** 1921: The Amarillo Globe, of Amarillo, Texas, reported on this date that it would be running the Maxon/Palmer strip version of ERB's Tarzan the Untamed.
As mentioned earlier, "Untamed" in the newspaper strip was markedly different from ERB's original book version, which he began writing in 1918 during World War I, primarily because the enemies in the original story were Germans whereas the enemies in the comic strip were "the Reds." Negative feedback toward ERB and Tarzan from Germany made some radical changes necessary. The comic strip version also contained additional back story about the spy, who was named Bertha Kircher in the book but had the name Olga Boresch in the strip!
When the Texas newspaper announced its plans to run the strip, it gave credit for the change in story line to Edgar Rice Burroughs himself. However, the strip at that time was being written by R.W. Palmer and drawn by Rex Maxon.
The main headline for the article was "Tarzan Fights Reds in Africa" and the subhead was: "Sensational New Picture-Serial to Start Here Monday."
The story, as it appeared in The Globe:
The new Tarzan picture-story, "Tarzan the Untamed," which begins next Monday in The Globe, is the first Edgar Rice Burroughs story of the ape-man here to deal with modern warfare. It is an imaginary war this time between a Russian expeditionary force dispatched to British East Africa and the British army stationed there.
The previous Tarzan picture-stories have been taken direct from Mr. Burroughs' books. "Tarzan the Untamed" has been rewritten and packed with new episodes and new thrills.
....Blood Lust Aroused
Tarzan, returning from the jungle in his vast estate, finds the buildings of his farm in ruins, his brave Waziri killed, and, in his wife's room there is a charred body, identified as Lady Jane by the rings she wears. Thus Tarzan learns that war has come to Africa.
The ape-man's wild, primitive blood-lust is aroused as he vows vengeance. In blind fury he goes forth to find the perpetrators of the crime. So he becomes embroiled in action.
"Tarzan the Untamed" is one of the most sensationally absorbing narratives in the whole Tarzan saga. In it, Edgar Rice Burroughs, who was born and trained in the American army, and who served in the American army, gives free expression in the romance of the martial spirit.
That Mr. Burroughs is not today an Army officer instead of the most widely read writer living is due to mathematics. His father was a regular Army cavalry officer and as a boy Edgar Rice Burroughs grew up intending to follow in his father's footsteps. He had the army in his blood and he had also ingrained in him from childhood exciting stories of his father's adventures in the Civil War and as an Indian fighter.
... Stopped by Math
Preparatory to entering West Point, Edgar Rice Burroughs studied at Culver Military Academy, where a good part of the training consists in cavalry drill. But when the time came for West Point, the future officer was stopped by the mathematics examination. Failing to qualify as a student officer, he enlisted as a private in the regular army cavalry and he served his hitch primarily in Arizona.
When he wrote "Tarzan the Untamed" as a book, he built the story around the campaigns of the Germans and British armies in Africa. But now he has completely revised the story so that when it appears as a picture story it will be virtually a new tale. Instead of the German army, an imaginary Red army swings into action and there is a new and fascinating heroine, the beautiful English girl who grew up to become a Russian spy.
Tarzan the Untamed: Daily strip by Rex Maxon
http://www.erbzine.com/mag32/3229.html
Read all the Maxon Tarzan Strips: Colour and B/W
http://www.ERBzine.com/maxon
---
*** 1915: Popular author, Leigh Brackett, (1915.12.07-1978.03.18) was born on this day. Leigh was one of the more talented and influential writers in the field of science fiction. In addition to the genre, she wrote mystery novels, and was a notable screenwriter -- among her scripts are The Big Sleep, Rio Bravo, The Long Good-bye and remarkably, The Empire Strikes Back. Her body of SF work consisted of some sixty short stories and a dozen novels between 1940 and 1978, including collaborations with Ray Bradbury and with her husband, Edmund Hamilton.
And Bracket wrote Mars. Her first story published, in 1940, was Martian Quest. She would follow that up with ten stories and four novels set principally on her Mars, and another half dozen set on or around other planets of the solar system which touched on Mars, as well as over a dozen more set on Venus, Mercury, the Jovian moons or other regions, all of which constituted a kind of interlocking solar system.
Though the influence of Edgar Rice Burroughs is apparent in Brackett's Mars stories, her Mars is set firmly in a world of interplanetary commerce and competition. A prominent theme of her stories is the clash of planetary civilizations; the stories illustrate and criticize the effects of colonialism on civilizations that are either older or younger than those of the colonizers. Burroughs' heroes set out to remake entire worlds according to their own codes; Brackett's heroes (often antiheroes) are at the mercy of trends and movements far bigger than they are.
Leigh Brackett, a loyal Burroughs Bibliophile, was the Guest of Honour at the 1977 Dum-Dum held at the Fontainebleau Hotel, Miami Beach, FL. At that Dum-Dum she was awarded the Golden Lion Award.
In 1946, Brackett married fellow science fiction author Edmond Hamilton (fellow SF writer Ray Bradbury served as best man). She died of cancer in 1978 in Lancaster, California.
Leigh Brackett: ERBzine Articles by Den Valdron
http://www.erbzine.com/mag17/1783.html
http://www.erbzine.com/mag17/1783a.html
Leigh Brackett's Empire Strikes Back script
http://www.erbzine.com/mag17/1783c.html
---
*** 1999: George Wilson, who painted many a Tarzan and Korak comic book cover, passed away Dec. 7, 1999.
George Wilson Entry in ERB Artist Encyclopedia
http://www.erbzine.com/mag10/1018.html
George Wilson Cover Art in the Dell and Gold Key Tarzan and Korak Comics
http://www.erbzine.com/mag23/2395.html
http://www.ERBzine.com/mag25/2596.html
http://www.ERBzine.com/mag66/6651.html

Off-Site References
Wilson in comicvine
Wilson: Lambiek

VISIT DECEMBER WEEK 1 PHOTO ALBUM
www.ERBzine.com/mag63/6355pics.html

BACK TO NOVEMBER WEEK 4
www.ERBzine.com/mag63/6354.html

BACK TO DAILY EVENTS INTRO and CONTENTS
www.ERBzine.com/events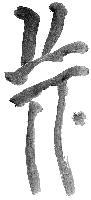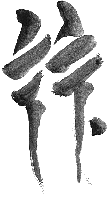 BILL HILLMAN
Visit our thousands of other sites at:
BILL AND SUE-ON HILLMAN ECLECTIC STUDIO
ERB Text, ERB Images and Tarzan® are ©Edgar Rice Burroughs, Inc.- All Rights Reserved.
All Original Work ©1996-2018/2019 by Bill Hillman and/or Contributing Authors/Owners
No part of this web site may be reproduced without permission from the respective owners.