Official Edgar Rice Burroughs Tribute and Weekly Webzine Site
Since 1996 ~ Over 15,000 Webpages in Archive
Volume 6316

ERB'S LIFE and LEGACY :: DAILY EVENTS
A COLLATION OF THE DAILY EVENTS IN ERB-WORLD
FROM THE PAGES OF ERBzine CREATED BY BILL HILLMAN
Collated by John Martin and Bill Hillman
With Web Design, Added Events, Links,
Illustrations and Photo Collages by Bill Hillman
DAILY EVENTS CONTENTS

FEBRUARY CONTENTS: WEEK 2
Feb 8 ~ Feb 9 ~ Feb 10 ~ Feb 11 ~ Feb 12 ~ Feb 13 ~ Feb 14

BACK TO FEBRUARY WEEK I
https://www.ERBzine.com/mag63/6315.html
FEBRUARY WEEK TWO PHOTO ALBUM
https://www.ERBzine.com/mag63/6316pics.html

Click for full-size images
---
FEBRUARY 8
---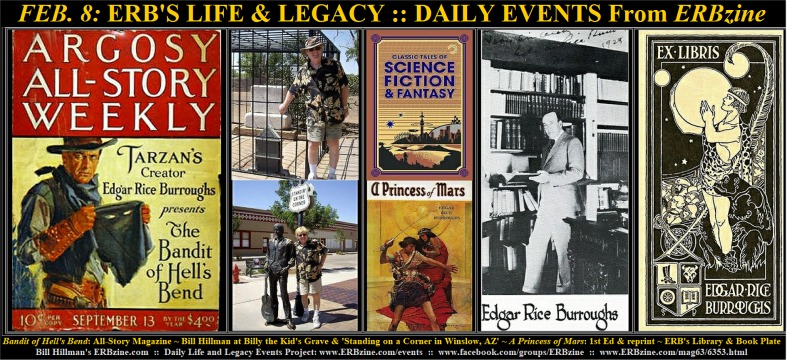 Bandit of Hell's Bend: All-Story Pulp Magazine ~ Bill Hillman at Billy the Kid's Grave and
'Standing on a Corner in Winslow, AZ ~ A Princess of Mars: 1st Ed and reprint ~ ERB's Library and Book Plate
---
*** 1828: Jules Verne was born on this date -- Feb. 8, 1828. Before some of us discovered ERB during the publishing surge of the 60s, Verne was the go-to guy for fantastic adventures. Most of us probably first heard of him through the movies "Twenty Thousand Leagues Under the Sea" (1954) or "Journey to the Center of the Earth" (1959). Either that, or we'd bought the Classics Illustrated comic books of his tales and if we got the comics first we were soon watching the movies, or vice versa. And if we had discovered Verne, we had also discovered H.G. Wells.
Then came ERB.
Edgar Rice Burroughs, too, was a Verne fan and had several Verne books on his shelf: "The Castaways of the Flag," "Doctor Ox and Other Stories," "English at the North Pole," "Journey to the Center of the Earth," "Tour of the World in 80 Days" and "20,000 Leagues Under the Sea."
To see the images of the Verne books on ERB's shelf, go to the ERBzine ERB Personal Library Project. There's a link at the bottom to take you back to the Contents page if you want to see what other authors were represented on ERB's bookshelf.
---
*** My ERB Personal Library Project is ongoing. Every year or so since 2004, I scour the Web to find more covers, bios and e-texts to illustrate the work of authors cited in the titles of ERB's library. The project involved countless hours on the phone with Dan in Tarzana. He wasn't too comfortable using computer for communication so I took copious handwritten notes during these calls. Some of the info he had the girls in the office send via mail and e-mail. During the years this took to compile I made numerous visits to Danton's Tarzana office and home where I took many photos and of course made more notes via pen and video camera. I typed out this information across many Webpages, compiling author names in alphabetical "shelves" A-1, A-2, etc. The next task was to illustrate the titles and authors - some with photos of the actual books which survived in Dan's library - but most cover images, author photos and bios, and even actual e-texts for the books I've found through Web searches.
A major frustration is the unreliable nature of some of the off-site links for bios and text that I've included. Since I began ERBzine back in 1996 I've often referenced my research with off-site links and sadly many of these sources are short lived and unreliable. It involves countless hours to weed out dying links and to find alternatives. For this reason I've cut back a bit on quoting outside sources and rely more on pages I've created and are all readily available in my archives . . and are all searchable through my internal Google search feature found at the top of all my archive pages. (BH)
ERBzine ERB Personal Library Project:
https://www.ERBzine.com/dan
Jules Verne books in ERB's Library
https://www.erbzine.com/dan/uv1.html
Master List in eText
https://www.erbzine.com/mag12/1264.html
---
*** ERB, Verne and Wells all have stories in at least one omnibus volume together. "Classic Tales of Science Fiction & Fantasy" contains Verne's "Journey to the Center of the Earth," ERB's "A Princess of Mars," and "The War of the Worlds" by H.G. Wells. Others represented are Doyle, Nowlan, O'Brien, Bellamy, London, Gilman and Lovecraft. With all that, it's a book with more than 1,000 pages. The volume might be easily located at Barnes & Noble or ordered off amazon or other places on the web. The "Classic Tales" foreword to "A Princess of Mars" has some complimentary things to say about ERB:
"Without Edgar Rice Burroughs there may very well have been no Star Wars. There are essentially two great styles in science fiction: the philosophical science fiction descended from H.G. Wells, and the pure adventure science fiction descended from Burroughs's John Carter books. When he was writing the screenplays for Star Wars, it was to John Carter that George Lucas turned for inspiraion. The desert planet, the hero's extraordinary abilities, the strange beasts and aliens, the evil cult, the speeders, and the sword fights all find their antecedents in John Carter's Barsoom....

"Tarzan was even more influential from a business standpoint, in that it laid the groundwork for the merchandising that made Lucas and Disney so wealthy. Seeing the incredible popularity of the ape man, Burroughs wanted to exploit him in every medium that he could -- books, comic strips, film, toys, etc. Others advised against it, but Burroughs went ahead and created a multiplatform business that became the formula for Disney's and, later, Lucas's success.
"But it was the popularizing of science fiction as pure adventure, putting it in the same category as pirate stories, westerns, and chivalric romances, where Burroughs made his biggest impact. Astronomers, writers, filmmakers, and astronauts have all listed the John Carter stories as the inspiration for their careers. Ray Bradbury, author of 'The Martian Chronicles' and 'Fahrenheit 451,' called Burroughs the most influential writer in history."
A Princess of Mars in ERB C.H.A.S.E.R
http://www.erbzine.com/mag4/0421.html
A Princess of Mars e-Text edition
http://www.erbzine.com/craft/m1pm.html
---

1981: In 1950, the tombstone marking the grave of Billy the Kid was stolen and remained missing for 26 years. After it was found, it was stolen again on Feb. 8, 1981, but recovered four days later in Huntington Beach, Calif.
ERB wrote about "The Bandit of Hell's Bend," not Billy the Kid, but we have transported this into our "ERB Life and Legacy Project" anyway because of information that Sue-On and I picked up on one of our return trips from Tarzana. We made many photo stops along Route 66 from our "High Desert Eden Adventure" visit with Robin Maxwell, the author of "Jane: The Woman Who Loved Tarzan," One of our stops was at the site of Billy the Kid's grave in Fort Sumter, N.M. The tombstone is now surrounded by high iron bars so that no one can take the Kid's gravestone again.
And yes, while down that way, I was immortalized standing on the corner in Winslow, Arizona.
Interestingly, young Billy the Kid spent his early years working near Fort Grant -- the fort where ERB served his time with the US Cavalry. It was here that "The Kid" shot his first man.
See:
Billy The Kid / Fort Grant / ERB Connection
https://www.erbzine.com/mag70/7073.html
Billy the Kid's Grave
https://www.erbzine.com/mag45/4537.html
High Desert Eden Adventure
https://www.erbzine.com/mag45/4529.html
The Bandit of Hell's Bend
https://www.erbzine.com/mag7/0771.html
Robin Maxwell's "Jane: The Woman Who Loved Tarzan"
https://www.erbzine.com/mag37/3706.html
https://www.hillmanweb.com/cards/travel/billythekid.jpg
https://www.hillmanweb.com/cards/gigs/winslowall.jpg





---
FEBRUARY 9
---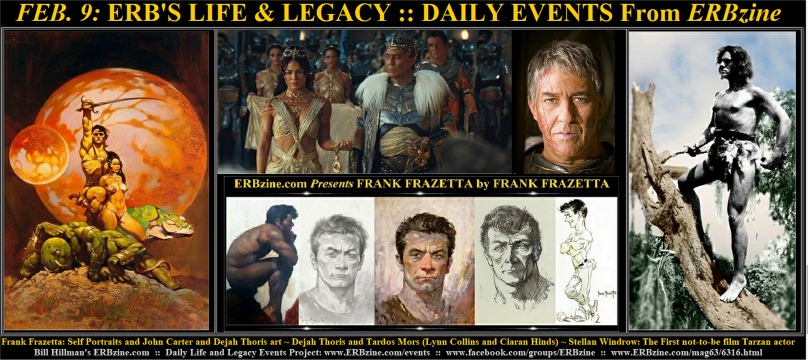 Frank Frazetta: Self Portraits and John Carter and Dejah Thoris art ~ Dejah Thoris and Tardos Mors
(Lynn Collins and Ciaran Hinds) ~ Stellan Windrow: The First not-to-be film Tarzan actor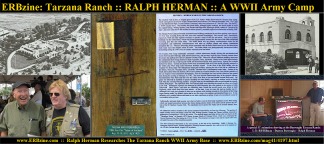 .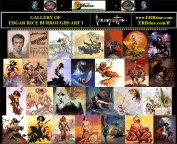 .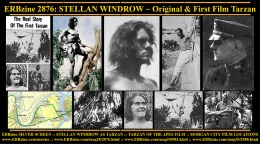 ---
*** 1942-1944: Tarzana Army Camp. I spent interesting times with Danton's friend Ralph Herman who had taken possession of Tarzana Ranch many years ago. Riding in a golf car, we explored much of the ranch area that now belongs to the Caballero Country Club. Ralph also guided me all around ERB's former Tarzana mansion site and through the remaining buildings. He is the leading authority on the history of Tarzana and shared many enthralling stories of the Ranch before, during and after ERB's time.
One of the little-known pieces of history is the role than Tarzana Ranch played during WWII -- the years that ERB was far away in the Pacific Theatre serving as the war's oldest war correspondent.
The Tarzana Army Camp was located in its entirety on the Tarzana Ranch from February 1942 through November 1944. The Camp was the little-known Coastal Defense Command Headquarters, which was maintained on "The Hill" (aka "The Knoll"), at 18500 Tarzana Drive. The building that stands today, although highly modified, has buried within its walls the original Garage,Theatre, Ballroom and Writing Quarters that Edgar Rice Burroughs personally supervised construction of during 1920.
The Tarzana Army Camp additionally contained many buildings constructed in part from packing crate material -- the first mass recycling during the War years . Thes buldings on the Tarzana Ranch grounds contained Search lights, Anti-Aircraft Guns, Ammunition, Equipment, Food and other supplies necessary to operate a camp of this size and nature. One of the primary buildings was the Radio Shack, which was located approximately seventy-five feet east of the ERB-constructed swimming pool that also exists today.
The Radio Shack was the primary communication centre for the Headquarters, and maintained communications with units on offshore islands and military installations throughout the U.S. There are interesting stories associated with the Radio Shack. Ralph Herman who took over ownership of the Tarzana Ranch created a memorial plaque made of wood from the Shack along with attached artifacts from other Tarzana buildings. A photo of the plaque with its accompanying text description is featured in ERBzine 4197.
Ralph Herman's History of Tarzana Ranch in WWII
http://www.erbzine.com/mag41/4197.html
ERB: The War Years
http://www.ERBzine.com/war
---
*** 1928: The great Frank Frazetta (February 9, 1928 - May 10, 2010) was born on this date in Brooklyn, New York. At the age of eight, at the insistence of his school teachers, Frazetta's parents enrolled him in the Brooklyn Academy of Fine Arts. He attended the academy for eight years under the tutelage of Michele Falanga, an award-winning Italian fine artist. At 16, Frazetta started drawing for comic books that varied in themes: westerns, fantasy, mysteries, histories and other contemporary themes -- often signing his work as "Fritz". Much of this work was done in collaboration with friends Al Williamson and Roy Krenkel.
In the '50s Frank worked for nine years with Al Capp on his Li'l Abner comic strip until 1961. During this time he was also producing his own strip, Johnny Comet, as well as assisting Dan Barry on the Flash Gordon daily strip. Eventually he helped Harvey Kurtzman on the parody strip Little Annie Fanny in Playboy magazine. He went on to do a series of high paying magazine ads and film posters.
This led to major work on paperback covers and interiors which coincided with the Burroughs boom and the great popularity of Conan and other SF/Fantasy books and magazines. Countless fans of the fantasy worlds of Tarzan, Barsoom, etc. were first drawn to these titles by Frazetta's spectacular cover art. Frazetta's primary commercial works were in oil, but he also worked with watercolor, ink and pencil alone.
Today, Frazetta's work is so highly regarded that even incomplete sketches of his sell for thousands of dollars. Frank was plagued by health problems in his later years. A series of strokes forced him to switch to drawing and painting with his left hand. Frank Frazetta died of a stroke on May 10, 2010, in a hospital near his residence in Florida.
Through the years I have compiled a multitude of ERBzine pages featuring his life and work.
Portal to the Frank Frazetta Tribute
http://www.erbzine.com/ff/
Gallery of FF Collages and Art Links
http://www.ERBzine.com/ff2/

Off-Site References
Frazetta site
---
*** 1953: Ciaran Hinds got to hold the hand of Dejah Thoris in Disney's "John Carter." Hinds played the part of Tardos Mors and he holds Dejah's hand when he leads her down the aisle toward an overgroomed groom, who she ends up not marrying after all because she quickly was reunited with someone she liked better.
Hinds was born this date, Feb. 9, 1953, in Belfast, Northern Ireland.
Disney's John Carter (of Mars) film
http://www.cartermovie.comOff-Site References:
Scenes of Hinds in John Carter
Hinds in Wikipedia
Hinds in IMDB
---
*** 1893 Stellan Windrow (1893.02.09-1959.11.25), who beat Elmo Lincoln into the treetops as Tarzan of the Apes was born on this date in Chicago, IL, although that birth date is in dispute -- some sources claim it was September 2.
It is not generally known that the man first contracted to play the movie role of Tarzan, and the first to actually be filmed in the part, was Stellan Sven Windrow of Chicago. He was born to Swedish parents - both physicians. Stellan attended the University of Chicago, receiving the Associate in Philosophy in 1915. While there he excelled in athletics, winning events in swimming and track and field. When Stellan Windrow met producer "Smiling Bill" Parsons, his six-foot, four-inch, 200-pound frame led Parsons to exclaim "If we had met you three months ago we could have saved some money searching for the right man [to play Tarzan]." He was signed, and filming was paused until his graduation. In August 1917 Windrow was aboard a special five-car train that hauled Company executives, cast, crew and equipment on the four days' journey to Tarzan's "jungle" near Morgan City, Louisiana. During the filming in intense heat, Stellan used a ground level trampoline to make fourteen foot leaps into the trees, there to execute death-defying swings in the tree tops over sharp boulders on slippery hemp hawsers constructed to resemble natural vines.
After five weeks of shooting, the treetop work nearly completed, his country called Stellan Windrow to World War I, in which he served as an ensign in the Navy. National Film paid him $1000 for his film rights, meaning he would not be credited in the film. A frantic search began for his replacement, ending a few weeks later when D.W. Griffith discovery Elmo Lincoln arrived from Los Angeles. The final movie shows two Tarzans — the limber, athletic Stellan-Tarzan flying through the jungle canopy, and barrel-chested Elmo-Tarzan fighting lions and other hostiles on the ground.
After the war he worked for the Swedish division of Paramount Pictures. Near the end of the 1930s Stellan, his wife and two daughters moved New York where he worked as a free-lance newspaper/magazine photographer. He served in the American Red Cross during World War II, in North Africa. Stellan Windrow died of "hardening of the arteries" November 25, 1959 in New York.
Stellan Windrow Feature Page
http://www.erbzine.com/mag28/2876.html
Off-Site Reference:
Windrow in IMDB
---
In the world of ERB comics:
*** Feb. 9, 1931, "Tarzan, Lord of the Jungle" began and ran for 96 days. It was illustrated by Rex Maxon, with continuity by R.W. Palmer.
Tarzan, Lord of the Jungle: All 96 Maxon Strips
http://www.erbzine.com/mag30/3072.html
---
*** Feb. 9, 1945, "Bogdu the Ape" began and ran for 56 days. Maxon did both the art and the continuity.
Bogdu the Ape: 56 Tarzan strips by Maxon
http://www.erbzine.com/mag54/5468.html
---
*** Links to all the ERBzine Maxon reprints - titles and dates
http://www.ERBzine.com/maxon

---
FEBRUARY 10
---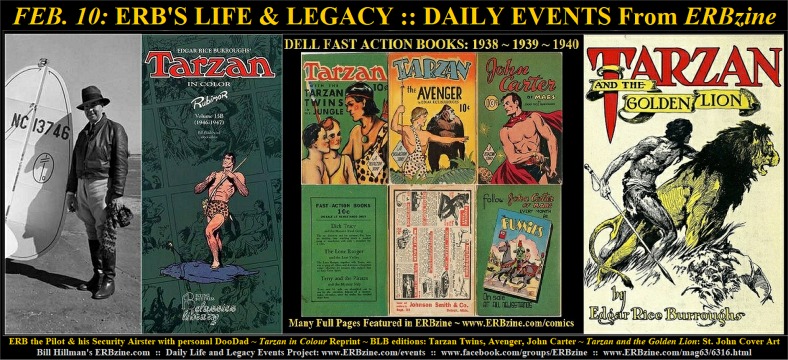 ERB the Pilot and his Security Airster with personal DooDad ~ Tarzan in Colour Reprint
BLB editions: Tarzan Twins, Avenger, John Carter ~ Tarzan and the Golden Lion: St. John Cover Art
---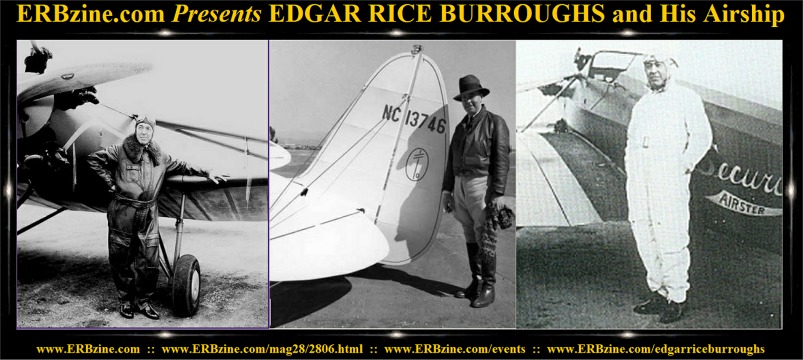 ---
---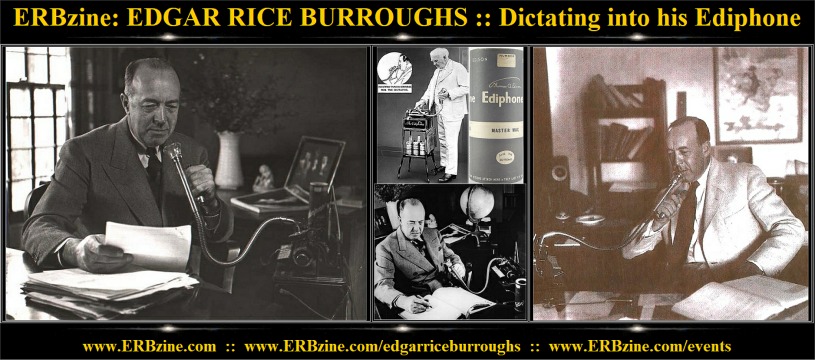 ---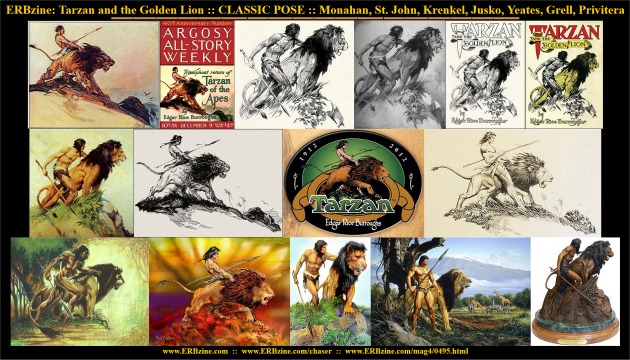 ---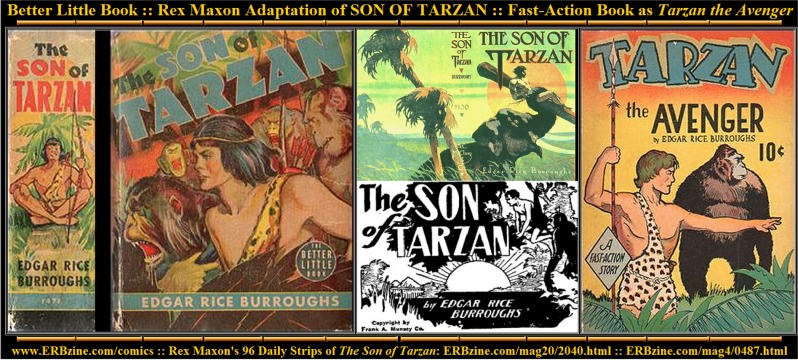 ---
*** 1934: Collectors of ERB doodads would probably love to have at least the tail section of ERB's airplane. It is the ultimate ERB "doodad," since that's what he named the Security Airster airplane he took possession of on Feb. 10, 1934. ERB soloed two days later. The famous ERB doodad, which appears on the spine of his self-published books, is on the aircraft's tail.
Son Hulbert was given a solo dinner on February 15 at the Hollywood Athletic Club Special aviation dishes were devised for the menu: Aquaplane cocktail, Happy Landing Dressing, Soup de Empennage de Boeuf, Fuselage de Bossy, Broiled, Maitre D'Hotel, New Peas en Tailspin, Potatoes au Ground Loop. Clover Field Salad, Parfait de Solo.
The day after his Solo Dinner Hulbert experienced a major accident in ERB's brand new Airster. While attempting a landing at Clover Field in Santa Monica, he was hit by a cross wind and gunned the engine. He lost control of the plane and crashed into the trees of the nearby golf course. Luckily he suffered only minor injuries but the plane was a total wreck.
---

Hulbert described the origin of the doodad hieroglyph which came about during a 1924 fishing excursion in California's High Sierras: "One afternoon while resting on the bank of Mono Creek, Dad and my brother Jack were doodling in the sand with sticks. It was on this occasion that Dad devised the curious symbol that became his personal mark. He called it the Doodad. It was later used as the now-familiar colophon on the spines of the books his company started publishing in 1930. He frequently signed personal notes and memos with it."
Ed and his sons also used the symbol as a sign or signature for messages. This was especially useful while horseback riding across Tarzana Ranch. With the "doodad" each member of the family could indicate which direction he had ridden so that the others could then follow. The location of the small circle established the individual's identity; a circle on the lower right side was Ed's signature, on the left was Jack's, and below, Hulbert's.
Inspired by Ed's doodad I created a variation of his logo in 1996, the parts of which represent Sue-On and I and our three kids. It is featured in our ERBzine logo at the top of every ERBzine page. I've added two variations -- Sue-On's and Mine -- at the bottom of many of the ERBzine pages.
For more information and a photo of ERB standing next to the doodad, see:
Joan Burroughs Bio III: ERB and Aircraft Photos
http://www.erbzine.com/mag11/1104.html
---
*** 1922: Bill Hillman's ERB Odyssey Calendar notes that on this date ERB began dictating "Tarzan and the Golden Lion" on his new Ediphone. That may have been "the problem" as seen by David Adams, who wrote that use of the recording device was "...probably not the best way to come up with a solid plot no matter how much story-telling talent you possess. Burroughs himself judged this effort to be 'rotten,' and confessed that he felt himself 'written-out' with his Tarzan.' "
The comment appeared in an essay written by Adams, telling why he didn't think much of "Golden Lion." He wrote: "I can't think of another novel even by ERB in which a writer has been able to write two opening chapters with such promise only to throw his entire premise away to a botched patchwork of messy meandering. Tarzan of the Apes has a reputation as a heroic figure, but this novel does nothing to enhance his stature, nor does this novel raise the confidence of the readers of his tales that Burroughs could tell a decent story."
You may or may not agree with Adams. To see what else he had to say about the novel, see:
Convolutions of Tarzan and the Golden Lion by David Adams
https://www.erbzine.com/mag7/0794.html
Bill Hillman's ERB Annotated Illustrated Calendar:
https://www.erbzine.com/mag5/0562.html
Tarzan and the Golden Lion: History ~Art ~ Review
https://www.erbzine.com/mag4/0495.html
GOLDEN LION CLASSIC POSES PAGE
https://www.erbzine.com/mag4/0495a.html
https://www.erbzine.com/cards/art/goldenlionall.jpg
https://www.erbzine.com/cards/erb2/erbediphone.jpg
Tarzan and the Golden Lion: Read the eText Edition (currently on-hold by request)
http://www.erbzine.com/craft/t9gl.html
---
*** 1939: "Tarzan the Avenger" was a Dell Fast-Action Book which was copyrighted on this date. It was the story of "The Son of Tarzan" all over again, using 95 Rex Maxon interiors from his 1929-1930 "Son of Tarzan" strip. However, some editorial changes were made in the copy, mostly in the area of names, with the name of Korak changed to Tarzan!
Meanwhile, "The Son of Tarzan" was published as a separate Better Little Book in 1939. Thus, fans could read the story twice -- once with the protagonist as Tarzan and once with him as Korak!
Dick Moores did the cover for this book, showing a brown-haired Tarzan in an over-the-shoulder loin cloth pointing out something to a very interested great ape. That's probably the same Dick Moores who eventually took over the "Gasoline Alley" strip.
"The Son of Tarzan" strips by Rex Maxon
http://www.erbzine.com/mag20/2040.html
The Son of Tarzan in ERB C.H.A.S.E.R. Bibliography
http://www.erbzine.com/mag4/0487.html
"Tarzan the Avenger"
http://www.erbzine.com/mag0/0044c.html
https://www.ERBzine.com/cards/comics3/maxonsonoftarzanblb.jpg
---
*** On Feb. 10, 1946, "Tarzan and the Vampire Queen" began in the Sunday Comics and ran for 17 weeks. It has been reprinted in black and white in Tarzan in Color Volume 15B. Art is by Ruben Moreira and story by Don Garden.
Tarzan in Colour: Reprints in Hard Cover
http://www.erbzine.com/mag45/4564.html
Huck's list of comic start and stop dates at:
http://www.erbzine.com/mag22/2293/html
and
http://www.erbzine.com/mag22/2292.html

---
FEBRUARY 11
---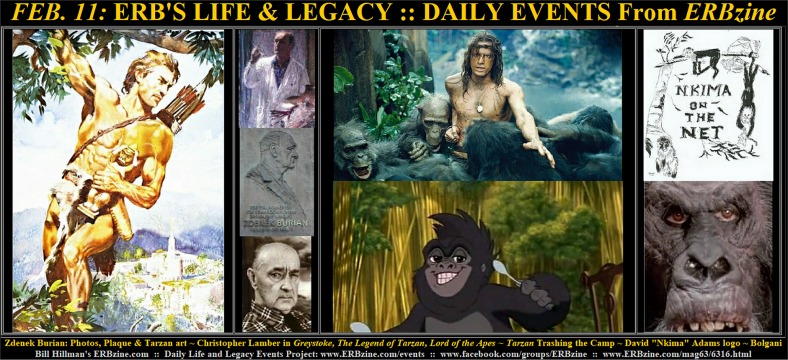 Zdenek Burian: Photos, Plaque and Tarzan art ~ Christopher Lamber in Greystoke, The Legend of Tarzan,
Lord of the Apes ~ Tarzan Trashing the Camp ~ David "Nkima" Adams logo ~ Bolgani
---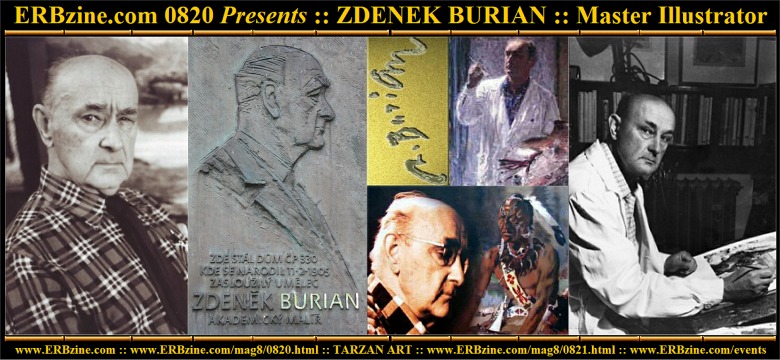 ---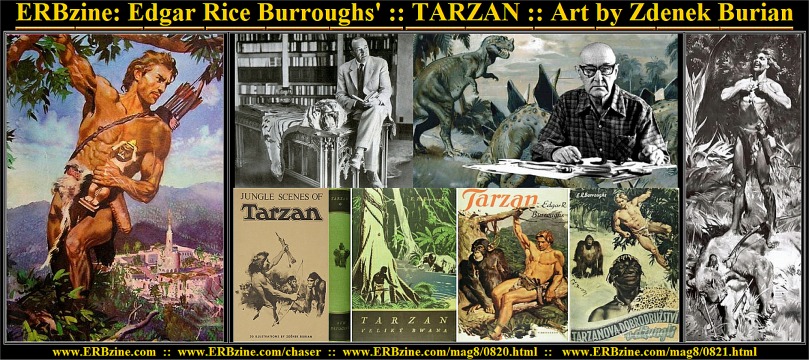 ---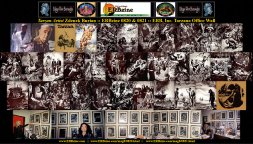 .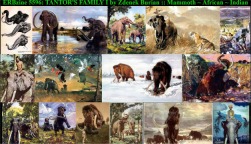 ---
*** 1905: Zdenek Burian, ERB artist, was born this date in Noravia. His art was introduced to American ERB fans by Camille (Caz) Cazedessus back in the '60s. Much of the Burian Tarzan art is now showcased in the front office of ERB, Inc., Tarzana
By age 16 his adventure illustrations were already being published. When he enrolled in an Art curriculum at the Academy of Prague in the early '20s he was already a published illustrator. Later, he lived off the land in more remote areas of the country. During this time experimented with different art techniques -- gradually developing his own style. His time in the "wilds" influenced his work for the rest of his life, giving his art a an authenticity and reality reflecting his kinship with nature. In 1927 he began a twenty-year-long association with the publisher Vilimek, illustrating magazines for boys: World of Adventure and Young Readers. He went on to illustrate countless books by both Czech, English and American authors, mainly adventure books by writers such as: Edmondo de Amicis, Karel May, James Oliver Curwood, Zane Grey, Kipling, Verne, Dumas, London.
In 1935, Burian completed his first fossil restoration, and over the next 46 years, Burian would complete nearly 500 prehistoric animal restorations and landscapes. He is perhaps best known for his illustrations of prehistoric man and flora and fauna. Burian was an extremely prolific and versatile artist, possibly creating up to 20,000 pieces of art in his lifetime. He is highly regarded in the Czech Republic where his paintings are considered national treasures.
See his Tarzan work in ERBzine:
Zdenek Burian: Tarzan Art Folio
www.erbzine.com/mag8/0820.html
www.erbzine.com/mag8/0821.html
Burian: Tantor's Family I
http://www.erbzine.com/mag55/5596.html
Burian: Tantor's Family II
http://www.erbzine.com/mag55/5597.html
https://www.ERBzine.com/cards/art9/buriantarzanartall.jpg
---

*** On Feb. 11, 1977, Valley News in Van Nuys, Calif., reported on the latest news coming out of Edgar Rice Burroughs, Inc. Danton Burroughs in an interview said, "...very soon Warner Brothers will begin the most spectacular of all Tarzan movies, a brand new film of Tarzan of the Apes.
"The new movie is going to be a million dollar production that is written by Robert Towne (who won an Oscar for Chinatown), that will star an Oscar-winning actor (whose name will soon be revealed), and that will be produced on location in an actual tropical rain forest.... The most important thing about the movie, however will be that all the action will be real. You'll see a real Tarzan as a brilliant orphaned son of Lord and Lady Greystoke, instead of the inarticulate oaf previously pictured by Hollywood (to the disgust of my grandfather). You'll see a scientifically researched dramatization of the relationship between infant Lord Greystoke and the tribe of apes that raised him as one of their own and gave him the name Tarzan, meaning white skin. In other words, the new movie will show the authenic story of Tarzan's origin."
It took a few years, seven to be exact, but that movie finally made it to the big screen as "Greystoke, The Legend of Tarzan, Lord of the Apes."
Towne did do the script, at least part of it, but it was revised to the point where he hated the ultimate script so much that he substituted his dog's name for his on the film's credits.
And the "Oscar-winning actor" who played Tarzan was Christopher Lambert, who had not actually won an Oscar and did not win one for "Greystoke," either. However, he did win one a year later for the movie, "Subway," so Danton's remarks about an Oscar-winning actor proved to be prophetic.
See the article, headlined "Tarzan," among those at ERBzine 1196
ERB Film News Clippings
http://www.erbzine.com/mag11/1196.html
Greystoke: The Legend of Tarzan
http://www.erbzine.com/mag21/2152.html

Off-Site Reference
Greystoke Inside Story
---
*** David "Nkima" Adams, sitting safely on Tarzan's shoulder, tells why he likes the "Trashin' the Camp" segment of Disney's "Tarzan," and shares other thoughts as well, in a column he wrote on Feb. 11, 2000.
Chattering from the Shoulder by Nkima
http://www.erbzine.com/mag2/0294.html
---
This date in the comics:
*** 1955: "Tarzan and the Ugambis" started, running for 56 days. John Celardo was the artist and Dick Van Buren the writer.
Tarzan and the Ugambis: 56 Tarzan strips by Celardo
http://www.erbzine.com/mag38/3842.html
---
*** 1963: "Tarzan Tells His Story," Part 2, 52 days, written and illustrated by John Celardo.
Tarzan Tells His Story: 52 strips by John Celardo
http://www.erbzine.com/mag44/4465.html
---
*** 1990: "In Forests Dark" 12 Sundays, illustrated by Gray Morrow with text by Don Kraar.
In Forests Dark: 12 Tarzan Sunday Pages by Gray Morrow
http://www.erbzine.com/mag35/3532.html

---
FEBRUARY 12
---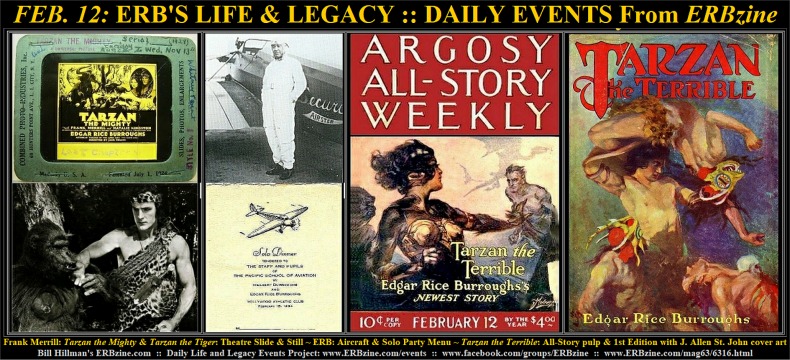 Frank Merrill: Tarzan the Mighty and Tarzan the Tiger: Theatre Slide and Still ~ ERB: Aircraft and
Solo Party Menu ~ Tarzan the Terrible: All-Story pulp & 1st Edition with J. Allen St. John cover art
---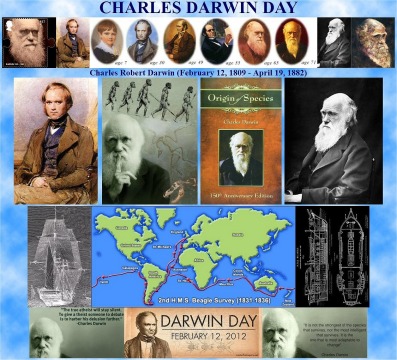 ---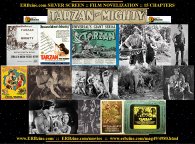 .

.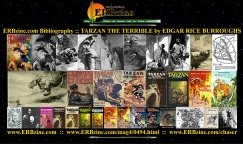 .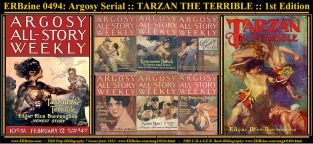 ---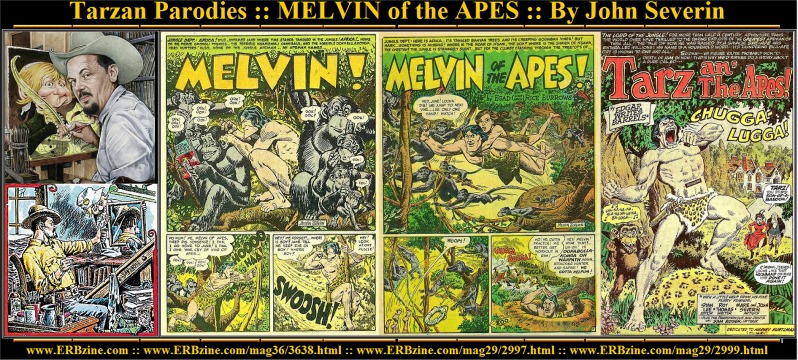 ---
*** 1809: Darwin Day is a celebration to commemorate the birthday of Charles Darwin on 12 February 1809. The day is used to highlight Darwin's contributions to science and to promote science in general. Darwin Day is celebrated around the world.
DARWIN / ERB CONNECTION: A major influence upon ERB's artistic vision was Charles Darwin and the Theory of Evolution.
In 1895 ERB returned to Michigan Military Academy as an Assistant Commandant. This appointment included the duties of cavalry and gatling gun instructor, tactical officer, Foot-Ball/Baseball manager and professor of geology. In his role as instructor of geology he studied and taught Charles Darwin's groundbreaking Theory of Evolution in his courses. Knowledge picked up while teaching this course served him well in his future stories about prehistoric men and monsters. Years later he incorporated variations of this revolutionary scientific concept in numerous novels such as TARZAN OF THE APES and THE LAND THAT TIME FORGOT.
DARWIN BOOKS IN ERB'S LIBRARY: One of the many books in ERB's personal library was Darwin's "Descent of Man" ~ Ed's notation: "E. R. Burroughs Jan '99" appears on the flyleaf.
Inscription: "To Hully from mom and pop 1929" ~ Beneath the notation is a pencil drawling by Ed of a large monkey or ape in a typical position, somewhat crouching, knuckles resting on the ground. On the right of the drawing he had written "Grandpa."
CELEBRATING DARWIN DAY
http://www.hillmanweb.com/reason
DARWIN / ERB CONNECTION
https://www.erbzine.com/mag14/1434.html
DARWIN'S "DESCENT OF MAN" in ERB's LIBRARY
https://www.erbzine.com/dan/d1.html
ERB / MICHIGAN MILITARY ACADEMY
https://www.erbzine.com/mag70/7052.html
https://www.erbzine.com/mag70/7053.html
https://www.erbzine.com/mag11/1170.html
https://www.erbzine.com/mag11/1171.html
https://www.erbzine.com/mag9/0949.html

---
*** 1966: Frank Merrill passed away this date at the age of 72 in Los Angeles. Merrill was a stunt double for Elmo Lincoln, the ape-man in the first Tarzan movie, before taking on the role himself a few years later, starring in "Tarzan the Mighty" and "Tarzan the Tiger."
Frank Merrill won 58 National, Southern California and Los Angeles championships in gymnastics (Roman rings, high bars and rope climbing). He was national gymnastics champion from 1916 to 1918. Prior to his roles as the fifth Tarzan, he worked as a stuntman, doubling for Elmo Lincoln in the 1921 "Adventures of Tarzan". His first starring role was in "Perils of the Jungle" for Weiss Brother Artclass Productions. The director of that movie offered him the job of Tarzan when the man who already had the job (Joe Bonono, already billed as "the greatest of all Tarzans") fractured his leg and broke his contract. Merrill invented the vine-swinging techniques used in later Tarzan films and the Tarzan yell, played on a record accompanying a "semi-sound" version of this second Tarzan movie. His voice was thought unsuitable for talkies, so he retired from movies to work with children, as Park Commissioner and recreation director for the city of Los Angeles. On retirement in 1963, following a serious operation, he donated his services to the YMCA as a gym instructor.
Read more about Frank Merrill in this ERBzine feature, reprinting a three-part 1973 Jasoomian article, "The Hercules of the Screen."
Frank Merrill Remembered I in ERBzine
http://www.erbzine.com/mag28/2870.html
Frank Merrill Remembered II in ERBzine
http://www.erbzine.com/mag28/2871.html
Frank Merrill Remembered III in ERBzine
http://www.erbzine.com/mag28/2872.html
"Tarzan the Mighty" Film Coverage and Many Photos
http://www.erbzine.com/mag5/0592.html
Read the Novelization in ERBzine Starting At:
http://www.erbzine.com/mag49/4980.html
"Tarzan the Tiger."
http://www.erbzine.com/mag5/0593.html


Off-site IMDB page:
http://www.imdb.com/name/nm0581280/

Off-site Reference
Tarzan the Tiger Youtube Video
---
*** On this date in 1934, ERB took the Doodad for his first solo flight. He had received delivery of the airplane two days earlier, after first taking flying lessons. That solo flight went well, which is why we look back and see that ERB died in 1950 while reading the Sunday funnies in bed, instead of being killed in an airplane crash. Had he been, there would have been fewer ERB stories and fewer "surprises in the safe.His diary entry for his solo flight that day is published in ERBzine
"Soloed Perfect. Got My Wings. Great Thrill." ERB
http://www.erbzine.com/mag11/1104.html
Entry in ERBzine's ERB Bio Timeline at:
http://www.erbzine.com/bio/years30.html
---

*** The "Argosy All-Story Weekly" on this date in 1921 published the first of a seven-part installment of ERB's latest story, "Tarzan the Terrible." The story became a great favorite with ERB fans, taking Tarzan to Pal-ul-don, a new, unexplored land in Africa, where great prehistoric beasts roamed and where people had tails. "Terrible," in the language of the people of Pal-ul-don, was "guru." So, the ape-man was "Tarzan-jad-guru" to the people of Pal-ul-don. ERB included a lengthy Pal-ul-don glossary in the back of the book.
In this book the Apeman actually is Tarzan the Terrible in deed. Not only is he capable of rampaging through a mob of armed opponents, throwing them in all directions, leaping over low walls so quickly that no one is sure what happened to him, killing lions with a knife and so forth, but he`s remarkably callous. Twice, when he needs to inflitrate, he thinks nothing of killing a Ho-Don priest (who has done him no harm), cutting off the man`s tail and fastening it to his loincloth to pose as a Ho-Don. He also lops off the head of a slain warrior, taking it with him as a sort of trophy. He encounters a false religion which he manipulates to his own ends, and the situation is handled much more deftly than in later books.
There is a mention here of Tarzan supplementing his diet with fruit and berries, a detail neglected in the later books which seemed to have him thriving exclusively on raw meat.
Tarzan the Terrible: All-Story pulp covers
http://www.erbzine.com/mag2/0224.html
Tarzan the Terrible: Publishing history, art, summary/review,
link to the Maxon strips, comics, titles, articles, and other features:
http://www.erbzine.com/mag4/0494.html
ERBzine Glossary comparing Pal-ul-don and Mangani languages
http://www.erbzine.com/mag1/0109.html

Off-site Reference
Terrible Summary
---
*** 2012: John Powers Severin (1921,12.26-2012.02.12) who died on this date was born in Jersey City, New Jersey. After attending the High School of Music and Art he enlisted in the United States Army where he served in the Pacific Theater during World War II. He moved to Denver, Colorado in 1970. As a freelance comic illustrator and cartoonist, thousands of Severin's illustrations have been published and admired by fans worldwide. John's work appeared regularly in humour magazines such as CRACKED, ECCH, MAD, etc. and comics such as EC. Marvel, Dark Horse, etc. His Tarzan parodies are featured in ERBzine (See the links below)
Throughout his life, Severin received many, many honourrs, recognitions, and awards for his illustrations and contribution to the comic book industry. In 2003 he was inducted into the Eisner Comic Industry Awards – Hall of Fame
John Severin is survived by his wife of 60 years, Michelina, 6 children, 13 grandchildren, 8 great grandchildren, a step great granddaughter and Severin's sister, Marie Severin, who is also a comic illustrator and cartoonist.
MELVIN!
https://www.ERBzine.com/mag36/3638.html
MELVIN OF THE APES!
https://www.ERBzine.com/mag29/2997.html
TARZ an' the APES!
https://www.ERBzine.com/mag29/2999.html

---
FEBRUARY 13
---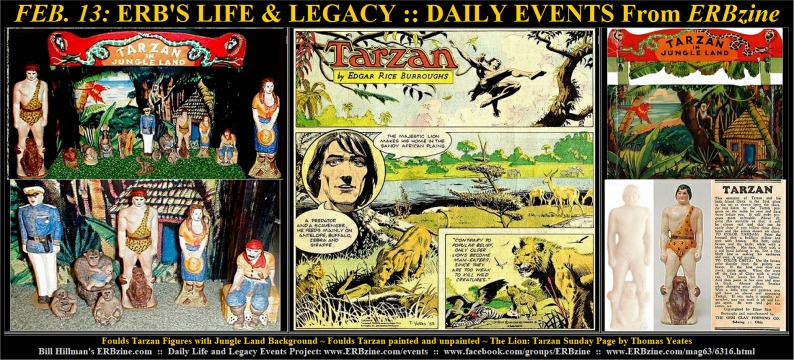 Foulds Tarzan Figures with Jungle Land Background ~ Foulds Tarzan
painted and unpainted ~ The Lion: Tarzan Sunday Page by Thomas Yeates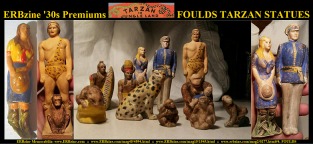 ---
*** 1933: The set of Tarzan figures commissioned by the Foulds Macaroni Company was copyrighted on this date.
The figures were given away by the company as a promotion. They came unpainted, but you could get the paints and color them as you liked. Thus, today, the figures are found in all manner of colors.
For the completists of the day, there was a standup background that proclaimed "Tarzan in Jungle Land." The Tarzan figures came in two varieties: They were nearly identical except that one had Tarzan and the chimp standing on a base with the word "Tarzan" on it. Hake's once sold a set of the two figures, unpainted, along with an original packaging insert sheet, for $555.62.
The 1932 Foulds basic set of statues is a highly-prized collectible and includes: Tarzan with Cheeta, Kala holding baby Tarzan, Jane Porter, Numa the Lion, Sheeta the Panther, Witch Doctor, Pirate with treasure chest, Lt. D'Arnot, Cannibal Warrior and monkey trio. The statues measure between 1" and 4.5" tall. They were made by GEM Clay Forming Company for distribution by sponsors of the 1932 Tarzan radio show which starred ERB's daughter Joan and her husband James Pierce. The statue sets were offered as a premium by Foulds, Heinz and others.
Also popular is the Foulds "Tarzan In Jungle Land" stage and statue set. The statues were issued unpainted, but the Tarzan statue came with a cardboard paint palette with six small paint discs attached and a paint brush. This palette was intended for use in painting all statues in set. Some of the statues displayed here have been painted. The stage is 12.75" x19.5" ith a die-cut marquee sign and attached accent tree leaf section. It is illustrated with a jungle scene which shows a tropical bird, monkey and hut which has a door that opens.
To see the figures and brief descriptions, check out the ERBzine links:
Tarzan in Jungle Land with figures and collectibles
http://www.erbzine.com/mag45/4594.html
http://www.erbzine.com/mag15/1545.html
http://www.erbzine.com/mag2/0277.html#4. FOULDS

Off-Site Reference:
Figures at Hakes
---
*** 1983: In a Sunday comic reminiscent of Mark Trail, Thomas Yeates did a Tarzan one-shot on Feb. 13, 1983, titled "The Lion"
The Lion: Tarzan Sunday Page by Thomas Yeates
http://www.erbzine.com/mag29/tz2687.jpg
http://www.erbzine.com/mag29/2975.html
The Thomas Yeates website:
http://www.tarzan.org/yeates
Off-Site Reference:
Thomas Yeates Site

---
FEBRUARY 14
---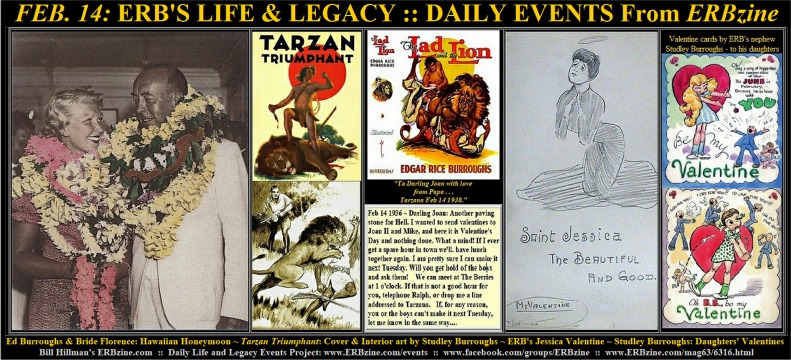 Ed Burroughs and Bride Florence on Hawaiian Honeymoon ~ Tarzan Triumphant: Cover and Interior art
by Studley Burroughs ~ ERB's Valentine to Sister-In-Law Jessica ~ Studley Burroughs: Daughters' Valentines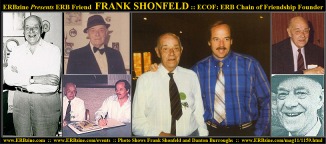 .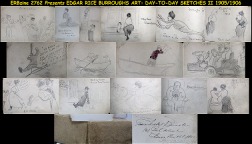 .

---
*** 1947: Ed continued correspondence with long-time English fan, Frank Shonfeld. They had corresponded since the '20s.
Frank Arthur Edward "Paul" Shonfeld was born in West Croyden, Surrey, south of London. He discovered the writings of ERB in 1921 by way of The Son of Tarzan that was serialized in the weekly "Boy's Cinema" magazine. Finding Burroughs' Tarzana address that accompanied the story, he wrote the first of what would be many decades of fan letters. Burroughs answered all the letters but unfortunately the early letters and most of Frank's ERB collection were later lost when his flat was firebombed during a WWII German air raid.
Frank's corresondence with ERB continued occasionally even through the war during which they shared stories and observations from their respective theaters of war -- a morale boosting activity for both men. Especially welcome were the numerous first editions that Frank received from Tarzana through the years. During the difficult postwar years Burroughs directed ERB, Inc. secretary Ralph Rothmund to send over boxfulls of foodstuffs, which were very difficult to find in war-torn England.
After ERB's death in 1950, Frank carried on correspondence with the office staff and the two Burroughs boys -- John Coleman and Hulbert -- and even Jim Pierce. Later, when John was too ill to write, his son Danton took over the correspondence -- Frank even helped in the naming of Danton's daughters: Dejah Ralston and Llana Jane.
Frank exhibited his dedication to Edgar Rice Burroughs by forming one of the first major International fan clubs devoted to his life and works: ECOF: "ERB Chain Of Friendship." The legacy of this club carries on today in the form of the annual ECOF convention and Jim Thompson's Internet ListServ ERBCOFList.
Frank Shonfeld died in 1990. His lifetime devotion to all things Burroughs has earned him the right to be revered as one of the first all-time great fans of Edgar Rice Burroughs.
Frank Shonfeld Biblio-Pro-Phile
http://www.erbzine.com/mag11/1159.html
Shonfeld and the History of ECOF by Jim Thompson
http://www.erbzine.com/dumdum/shonfeld.jpg
---
*** Feb. 14 is Valentine's Day in ERB History.
On this day in 1905, ERB drew a cartoon Valentine honoring Saint Jessica the Good. You can see it, and other witty ERB illustrations, in the ERBzine collection of ERB's cartoon art. Jessie was one of the Hulbert girls -- ERB's sister-in-law. There are more valentines from the Burroughs family. Ed's nephew, artist Studley Oldham Burroughs drew Valentine cards for his two daughters.
ERB's "tongue-in-cheek" Valentine sketch for sister-in-law Jessie
http://www.erbzine.com/mag27/2762.html
Studley Oldham Burroughs' Valentines for daughters
http://www.erbzine.com/mag19/1977.html
---
*** In 1927 on this day, Ashton and Florence Dearholt visited ERB to discuss adapting his books into movies. Could the first spark of ERB and Florence's future romance have been struck that Valentine's day? In February 1934 Ed left Emma and moved into residence at the Garden of Allah in LA. In 1935 Ed and Flo were married in Las Vegas and honeymooned at the Royal Hawaiian Hotel in Honolulu
Florence Gilbert Burroughs Tributes
http://www.erbzine.com/mag8/0890.html
---
*** In 1929, Tommy guns roared in Chicago and seven dropped dead in the St. Valentine's Massacre. According to ERB, one of the gunmen was Danny "Gunner" Patrick, who eventually wound up in "Tarzan's Jungle" and fell in love with the exotic Jezebel in "Tarzan Triumphant." I have an essay about St. Valentine's Massacre gunman, Danny Patrick by ERBzine contributor RE Prindle at ERBzine 1703b.
Tarzan Triumphant: Two Peas and the Pod by R.E. Prindle
http://www.erbzine.com/mag17/1703b.html
Tarzan Triumphant Biblio with art by Studley Burroughs
http://www.erbzine.com/mag7/0723.html
---
*** An apology was in order on Valentine's Day in 1936, when ERB addressed a letter to daughter Joan, saying: "Darling Joan: Another paving stone for Hell. I wanted to send valentines to Joan II and Mike, and here it is Valentine's Day and nothing done." (We can probably all relate to that!)
ERB's Valentine letter and more about Joan:
http://www.erbzine.com/mag11/1104.html
---
*** 1938 was better between ERB and Joan, though. On that date, "Papa" autographed a copy of "The Lad and the Lion" to her, writing "with love...." What lady would not appreciate such a gift?
ERB's Valentine Day Inscription to Joan
http://www.erbzine.com/mag9/0980.html#with
The Lad and the Lion: History ~ Art ~ e-Text
http://www.erbzine.com/mag7/0760.html

---
*** In 1948 on Valentine's Day, ERB loved himself enough to quit taking his medicine and switch to bourbon instead. Those last two years were, thus, very happy ones.
ERB's Bio Timeline: Feb 14, 1948
http://www.erbzine.com/bio/years40.html
---
*** 1919: David A. Kyle (1919.02.14-2016.09.18) was an American science fiction writer and a prominent member of science fiction fandom. He wrote two pictorial histories of science fiction (A Pictorial History of Science Fiction and The Illustrated Book of Science Fiction Ideas and Dreams ~ and three licensed novels set in the Lensman universe (The Dragon Lensman, Lensman from Rigel and Z-Lensman). With Martin Greenberg, Kyle founded Gnome Press in 1948. He appeared with Paul Levinson, Greg Bear and many others on the History Channel's 2002 documentary, Fantastic Voyage: Evolution of Science Fiction. Kyle, was an active fan since the earliest days of organized science fiction fandom and was an original member of New York's Futurians. In 1936, published The Fantasy World, possibly the first comics fanzine. Through his lifetime he wrote hundreds of articles for various fanzines including articles for ERBzine.
David Kyle was a popular and respected guest panelist at the Clinton, CT 2015 Dum-Dum. The panel topic was ERB's Influence On Modern Sci-Fi with Moderater: Scott Tracy Griffin from ERB, Inc. and Panelists: David Kyle ~ Jake (Buddy) Saunders ~ Diana Leto and Thomas Yeates. The audience was enthralled by David's vast knowlege of Science Fiction and its authors.
ERB: THE FATHER OF SCIENTIFICTION by David Kyle
http://www.erbzine.com/mag3/0399.html#kyle
Dum-Dum 2015 Panel with David Kyle
http://www.ERBzine.com/mag56/5689.html


BACK TO FEBRUARY WEEK I
www.ERBzine.com/mag63/6315.html
NEXT: FEBRUARY WEEK III
http://www.ERBzine.com/mag63/6317.html



FEBRUARY WEEK TWO PHOTO ALBUM
https://www.ERBzine.com/mag63/6316pics.html



BACK TO DAILY EVENTS CONTENTS
www.ERBzine.com/events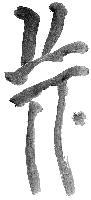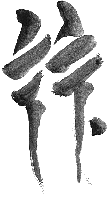 BILL HILLMAN
Visit our thousands of other sites at:
BILL AND SUE-ON HILLMAN ECLECTIC STUDIO
ERB Text, ERB Images and Tarzan® are ©Edgar Rice Burroughs, Inc.- All Rights Reserved.
All Original Work ©1996-2018/2023 by Bill Hillman and/or Contributing Authors/Owners
No part of this web site may be reproduced without permission from the respective owners.