Official Edgar Rice Burroughs Tribute and Weekly Webzine Site
Since 1996 ~ Over 10,000 Web Pages in Archive
Presents
Volume 4537
HILLMAN WILD WEST ADVENTURE SERIES
Photos by Bill and Sue-On ~ Captions by Sue-On

LEAVING HIGH DESERT COUNTRY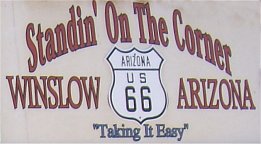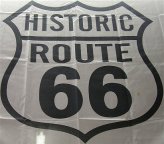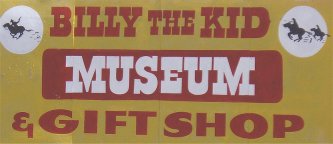 Winslow, Arizona and
Billy the Kid's Grave at Fort Sumner

.
Our first stop along US Route 66
Winslow, Arizona

"Standing on the corner of Winslow Arizona..."
There's another Eagle up in the window!
..
"Such a fine sight to see..."
There really isn't much in the town.
The Eagles' "Take It Easy" made it famous,
so they built this "corner".

"It's a girl, my lord, (nearly) on a flatbed Ford,
slowing down to take a look at me."
Met lots of people here from all over doing the same as we -
paying homage to the Eagles:-)
.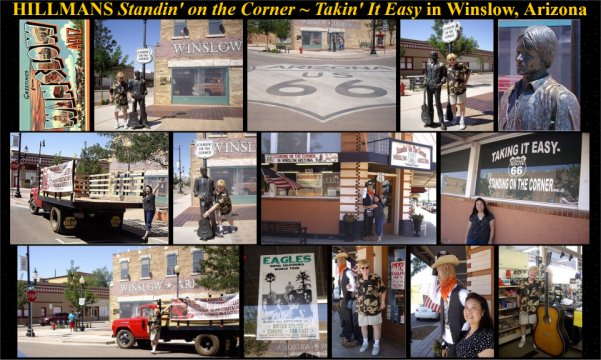 One more time:
We may lose and we may win
Though we will never be here again
So open up, I'm climbin' in
And take it easy.

Eagles poster.
The souvenir shop played Eagles 24/7.
I wonder if they ever get tired of the music?
Here's one they would be tired of : )
"Take It Easy" cover recorded in England by the Hillmans
.
| | |
| --- | --- |
| | |
| Mighty big sound from this guitar! | Hmmm...not much response from this cowboy... |
.
| | |
| --- | --- |
| | |
| One last attempt... | Bill didn't get a response from "cowboy" either... |
.
"Come on, baby
Don't say maybe
I gotta know if your sweet love
Is gonna save me."

Comparing the flatbed Ford and
our Honda Civic bearing license plate "Jeddak"...
We decide to take the truck.
Onward to Norman Petty Recording Studio - Clovis, NM
and then on to the Buddy Holly Centre in Lubbock, TX
.
MANUELITO AREA
This area contained many Indian pueblos dating
from about A.D. 500 to 1325, when it was abandoned.
Navajos settled here by 1800.
This was the home of Manuelito,
one of the last of the chiefs to surrender for confinement
at the Bosque Redondo Reservation near Fort Sumner.
The Navajos returned here in 1868.

Billy the Kid Museum
and
Old Fort Sumner Museum
Contains Historical Documents of
Billy the Kid and Pat Garrett
.
Fort Sumner
Post Cemetery

Fort Sumner State Monument
Bosque Redondo Memorial
1/4 Mile

Old Fort Sumner Museum
Contains Historical Documents of
Billy the Kid and Pat Garrett

BILLY THE KID'S ELUSIVE TOMBSTONE
Billy the Kid's Tombstone was stolen in 1950.
For 26 years it remained a mystery until 1976,
when it was recovered in Granbury, Texas by Joe Bowlin.
Stolen again on Feb. 8, 1981.
Recovered Feb. 12 in Huntington Beach, CA
Gov. Bruce King arranged for De Baca County
Sheriff "Big John" MacBride to fly to Los Angeles, CA.
via Texas International Airlines to return the marker.
Chamber officials with Jarvis P. Garrett officially
reset the marker in iron shackles May 30, 1981.
.
In order to protect the headstones from thieves,
n iron cage was placed over the grave.
It's very unlikely that these headstones were placed
on the exact location of the Kid's original grave,
so they're more like a memorial monument
than the actually last resting place of Billy the Kid

Truth and History.
21 Men.
William H. Bonney
BILLY THE KID
"The Boy Bandit King
He Died As He Lived."
Born Nov. 23, 1860
Killed July 1881
.
Billy the Kid's grave was left unmarked for some time,
so in 1932, friends purchased a headstone
with the inscription of William H. Bonney
alias Billy the Kid, Tom O'Folliard, and
Charlie Bowdre, along with the word "Pals."

Shortly after, another much smaller headstone
was placed for Billy the Kid in the same spot,
and that one has been stolen twice
and fortunately recovered.
.
Sue-On swears she saw Billy hiding in the bush.

We crossed over to the
Billy the Kid Museum and Store
.
BILLY THE KID
Age, 18. Height 5 feet, 3 inches.
Weight, 125 lbs. Light hair,
Blue eyes and even features.
He is the leader of the worst band of desperados
the Territory has ever had to deal with.
The above reward will be paid for
his capture or positive proof of his death.
PAT GARRETT, Sheriff

REWARD
($5,000.00)
Reward for the capture, dead or alive,
of one Wm. Bonney, better known as
"BILLY THE KID"
Dead or Alive!
.
.


Hillmans' High Desert Eden Adventure

INTRODUCTION
ERBzine 4529 or HillmanWeb
.



.
NEXT
Clovis, NM: Norman Petty Studio and Museum
Lubbock, TX: Buddy Holly Centre and Walk of Fame
PART OF THE HILLMAN MUSIC BIO



Bill and Sue-On Hillman: A 50-Year Musical Odyssey
www.hillmanweb.com/book :: Rock Roots and Influences


REMEMBERING BUDDY HOLLY
.
THE NORMAN PETTY ROCK 'N' ROLL MUSEUM :: CLOVIS, NM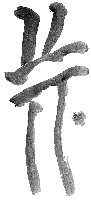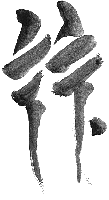 BILL HILLMAN
Visit our thousands of other sites at:
BILL and SUE-ON HILLMAN ECLECTIC STUDIO
ERB Text, ERB Images and Tarzan® are ©Edgar Rice Burroughs, Inc.- All Rights Reserved.
All Original Work ©1996-2012/2015 by Bill Hillman and/or Contributing Authors/Owners
No part of this web site may be reproduced without permission from the respective owners.