---
PUBLISHING HISTORY (USA)
---
PULP
Argosy All-Story Weekly ~ September 13, 20, 27 & October 4, 11, 18, 1924
Modest Stein cover art on first issue ~ Roger B. Morrison did one B/W interior headpiece per issue
FIRST EDITION
A.C. McClurg ~ June 4, 1925 ~ Modest Stein colour DJ with same illustration as sepia FP ~ 316 pages ~ 1st Ed. Print Run: 5,000 ~ Total: 108,000 ~ Word count estimate: 81,000
REPRINT EDITIONS
Grosset & Dunlap ~ 1926 ~ 316 pages
Modest Stein art from McClurg
Grosset & Dunlap ~ 1940 ~ No frontispiece
Ace Books paperback ~ January 1977 ~ 280 pages
Boris Vallejo cover
Gregg ~ 1979 ~ hardcover ~ 316 pages
Stein cover and fp art duplicated from the McClurg
Charter paperback ~ 1979 ~ 280 pages
Boris Vallejo Ace cover reduced and with aqua border
For detailed information, see Robert B. Zeuschner's
Edgar Rice Burroughs: The Bibliography (ERB, Inc., 2016).
Click on www.erbbooks.com or call 214-405-6741 to order a copy.
---
Western Series

The Bandit of Hell's Bend (1925) was Edgar Rice Burroughs' first novel about the West. It is an authentic picture of Arizona ranch life in the 1880's, including a full gallery of colorful and often comic characters. The story centers around a young, attractive, intelligent orphan, Diana Henders.

A Group of swindlers, led by her new foreman, Hal Colby, plot to steal her Bar-Y ranch and gold mine and defraud her out of her rightful inheritance. They are also out to prove that her longtime friend and associate, bull is the stage robbing and murdering bandit of Hell's Bend. Diana is brave and independent, but she relies on Bull and he helps her survive a series of perils that leave the most stalwart reader breathless: Apache raids, stagecoach hold-ups, shoot-outs and even an abduction! But the identity of the mysterious villain remains unknown...

A good deal of the novel's authority and amiability consists in its accurate and pervasive use of frontier humor. The Bandit Of Hell's Bend is full of fun, adventure, and suspense from start to finish.
---
The Deputy Sheriff of Comanche County: Who killed Ole Gunderstorm? The evidence seemed to point to Buck Mason. And when Buck went into hiding soon after, there was no doubt in anyone's mind. But Buck knew he was innocent- now he was going to have to prove it. Gunderstrom lay asleep on a cot against one of the cabin walls. A man was crossing the room stealthily with a long-barreled Colt in his hands. The intruder could see the cot and the outlines of the blur that was the sleeper upon it: but he did not see the boot in his path, and half stumbled as he stepped on it. Gunderstrom awoke and sat up. "'Buck Mason! " he exclaimed. A t the same time he reached for the gun beside him. There was a flash in the dark; the silence was split by the report 9fa pistol and Ole Gunderstrom slumped back upon his blanket. The Deputy Sheriff Of Comanche County was published serially under the title 'The Terrible Tenderfoot'.
TEXAS PETE
Poem put to music by Dick Spargur and Charly Kagay
http://dngspargur.com/Texas%20Petes%20Song.html
From Dick Spargur's early ERB Fanzine:
The Long Sword

". . . Charly (Kagay) and I wrote a song to accompany the lyrics found in The Bandit of Hell's Bend and sung throughout the book by the character Texas Pete. We decided to print the song, arranged and harmonized by my dad, in this issue and wanted to include the lyrics themselves. To that end I wrote to Hulbert Burroughs requesting permission which he gladly gave as long as it was copyrighted.

"That was fine with us and so we became holders of a copyright that we shared with Edgar Rice Burroughs. It's real too; I found it in Lexis-Nexis copyright files and elsewhere and was renewed by ERB, Inc. in the early 90s—just in case Nashville became interested, I suppose… It appeared in issue #3 with the copyright notation under the title of "Texas Pete's Song". Talk about busting your buttons! I was on cloud nine for days, weeks afterwards.

"The song's music appeared in the summer of 1966 in the third issue of our fanzine, The Long Sword. For lack of a better name, we called it "Texas Pete's Song". Later we learned that it was really a poem, written by Edgar Rice Burroughs for his novel, called "The Passing of My Pal Bill".
---
Diana Henders:
Frontier Fluff or Stouthearted Heroine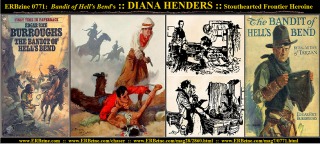 An Essay by Alan Hanson
www.ERBzine.com/mag66/6619.html
---
COVER GALLERY
---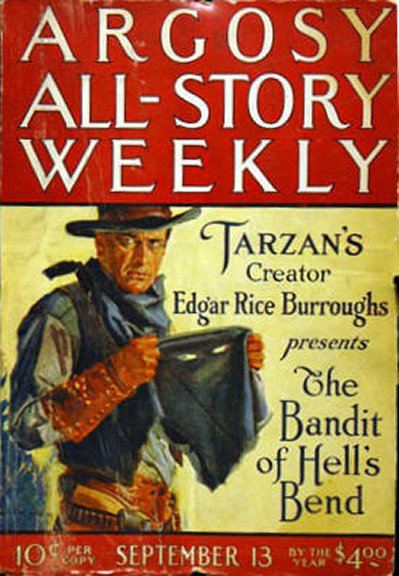 First Pulp Appearance :: For more see our ERB Pulp Biblio 1920s Pt. 2
http://www.erbzine.com/mag2/0225.html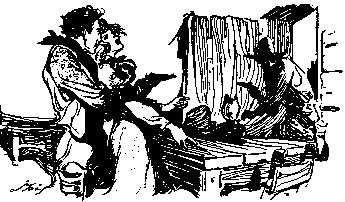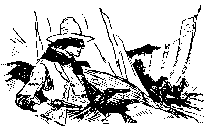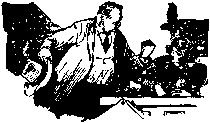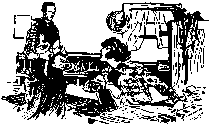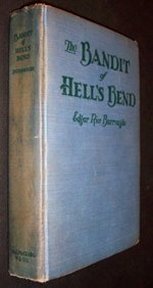 A. C. McClurg: Chicago - 1925 - 1st Edition - 5,000 copies published
---
RARE COPIES FROM THE EDDIE GILBERT COLLECTION
From ERBzine 0782
Personal Inscription by ERB to Wife Forence's Grandmother

---

Presentation copy inscribed by Burroughs to his wife's grandmother on the front free endpaper:

"To Ella Kern, Wishing you many happy returns of the day, Edgar Rice Burroughs, September 16, 1935."

Laid in is a get-well card with an inscription by Florence Gilbert Burroughs, grandaughter of Ella Kerns:

"Wish we were nearer so we could come and see you often. Love, Florence and Eddie."

Florence's mother Maude has signed her name in pencil to the top of the front pastedown, and on the free endpaper, bracketing the inscription, there are two penciled addresses, noted as "the two addresses...where Ed and Florence lived."

---


First Edition Copy inscribed to Flo's brother Eddie Gilbert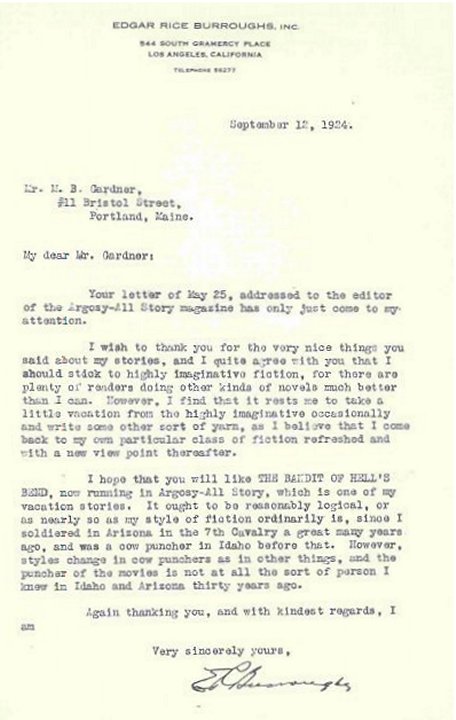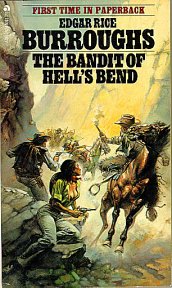 Click to see the Boris art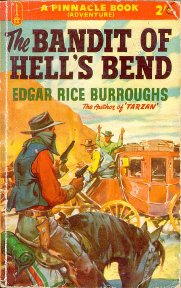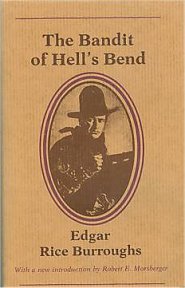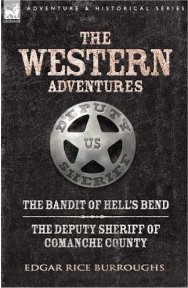 ---
.


Art restored by Charles Madison
Frank Wright illustration for Methuen Books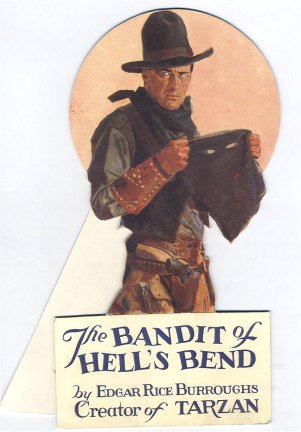 Bandit Counter Display
A treasured gift from Danton Burroughs
---
Some Collectibles from The Hell's Benders
Hosts of the 2017 ECOF in Irving, Texas ~ June 8-11, 2017
https://www.erbzine.com/mag60/6032.html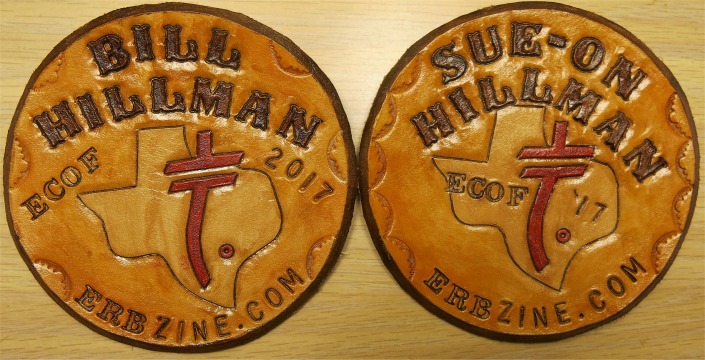 Leather Name Badges Handcrafted by Bob Hibbard
---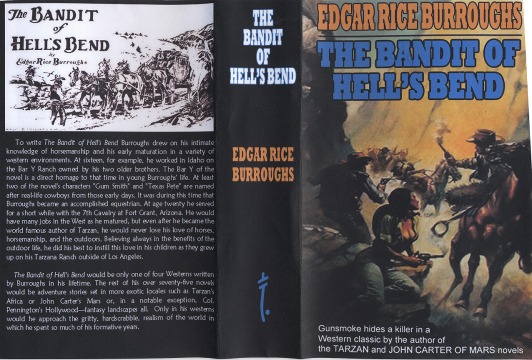 A new dust jacket created by Charlie Madison
The front cover illustration is by Boris Vallejo from an ACE edition.
The illustration on the back is from a Jasoomian serialization by Al Martin Napoletano
Featured in ERBzine at
www.erbzine.com/mag28/2860.html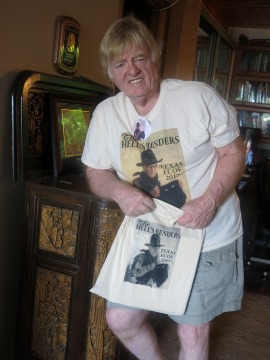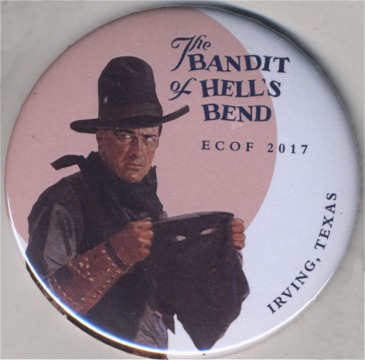 Bandit of Hell's Bend Carrying Bag, T-Shirt and Button



Illustrated by Al Martin Napoletano
Copyright Edgar Rice Burroughs, Inc.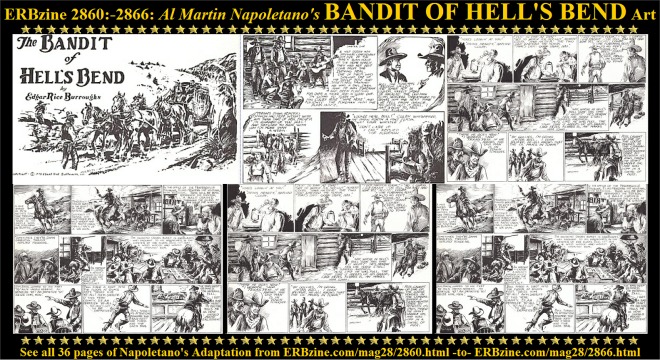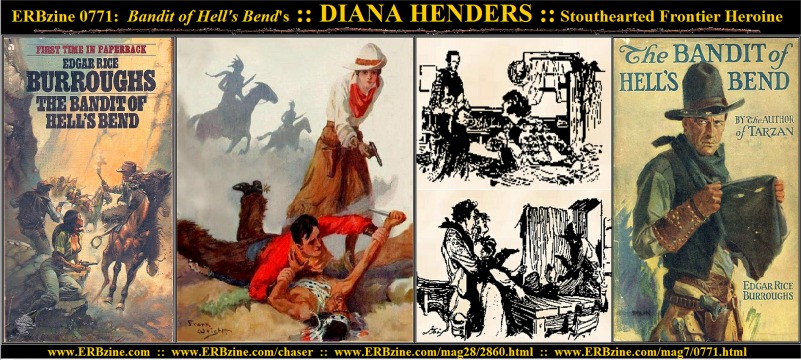 Click for full-size promo collage

---

Armada of ERB Web Sites
Over 15,000 Webpages
The Fantastic Worlds of Edgar Rice Burroughs
ERB Companion Sites Created by Bill Hillman and ERBinc.
| | | | |
| --- | --- | --- | --- |
| DantonBurroughs.com | ERBzine.com | Weekly Webzine | JohnColemanBurroughs.com |
| BurroughsBibliophiles.com | Pellucidar.org | John Carter Film | JohnCarterOfMars.ca |
| EdgarRiceBurroughs | tarzana.ca | Tarzan.com | Tarzan.org |