Official Edgar Rice Burroughs Tribute Weekly Webzine Site
Since 1996 ~ 15,000 Web Pages In Archive
ERBzine Volume 6032

2017 ECOF INTRO and CONTENTS
Irving, Texas ~ June 8-11, 2017
Hosted by the HELL'S BENDERS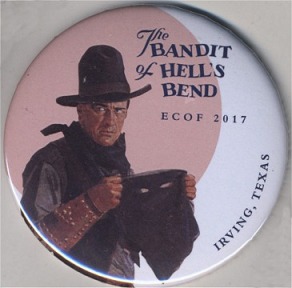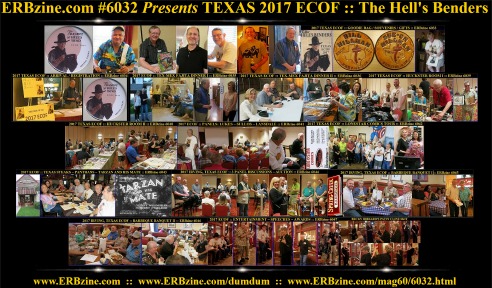 2017 TEXAS ECOF: 400 PHOTOS and NOTES
INTRO and CONTENTS: ERBzine 6032


Click on each of the following logos to enter the Web pages


.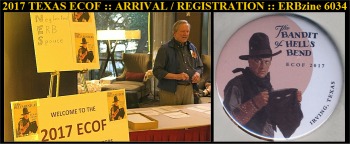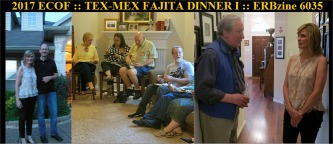 .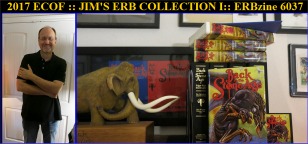 .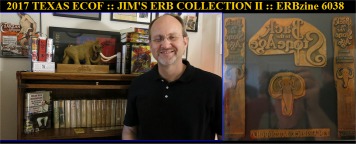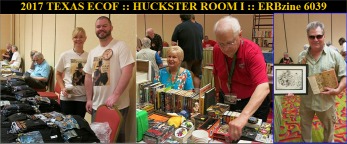 .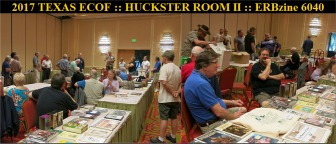 .

.


.


.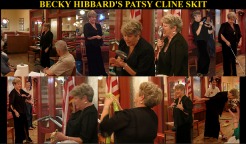 For past and future Dum-Dum and ECOF Celebrations visit
ERBzine Dum-Dum Dossier
www.ERBzine.com/dumdum


Steering Committee



Jim Goodwin (Chairman), Buddy Saunders, Jim Gerlach, Bob Hibbard, Frank Grainger, Rick Barry


The Latest word from Jim Goodwin:
Buddy Saunders will be premiering his new book, "Tarzan and the Cannibal King"
Bob Zeuschner will be there with his new Bibliography
Joe Lukes will be premiering his new bibliography:
"The Descriptive Bibliography of the Grosset and Dunlap Reprints."
This book is revised and enlarged to include all variants of the G&Ds.
Friday and Saturday will feature panel discussions with guests
The Saturday night banquet will be (what else) Barbeque.
Guest of Honour will be Joe Lansdale
There will be more than three books premiered at the ECOF Huckster Room.
All registrants will receive a leather name badge.
Contact Jim Goodwin by phone at:
940-704-6499
HOTEL INFORMATION
ECOF - 2017 will be held at the DFW (Dallas-Fort Worth) Airport North Marriott,
8440 Freeport Pkwy, Irving, Texas 75038. 972-929-8800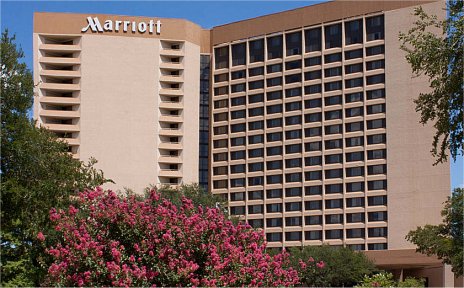 We have reserved almost 3000 sf of meeting space and
have negotiated a rate of $89/night for ECOF attenders.
The hotel is located 5 miles northeast of the DFW Airport
and provides a complimentary 24-hour shuttle to and from DFW Airport which is three miles away.
The hotel is providing our group complimentary WiFi and parking and
the hotel amenities include 2 urban restaurant/bars serving American cuisine,
a fitness center, a business center, a hot tub, and both an indoor and an outdoor pool.

---

2017 ECOF SCHEDULE OF EVENTS
View in Larger PDF Format HERE
Steering Committee: Jim Goodwin (Chairman), BuddySaunders, Jim Gerlach, Bob Hibbard, Frank Grainger, Rick Barry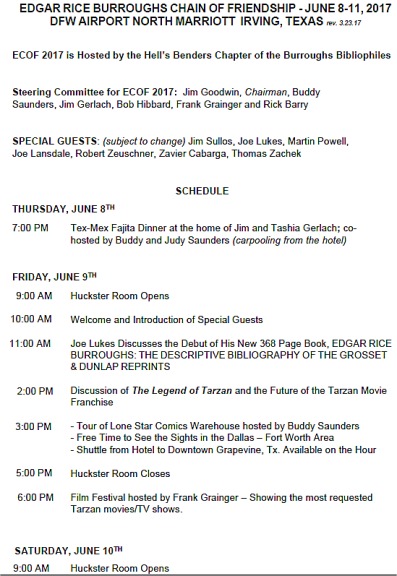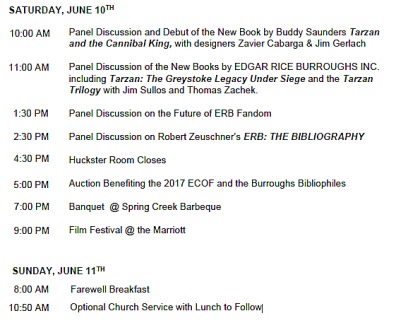 .
Full Registration Information:
2017 ECOF REGISTRATION FORM IN PDF

TEXAS ECOF 2017 REGISTRANTS
To ID the fans match their leather name tags with the names below

Rick Barry ~ Kay Barry ~ Rick Beaulieu ~ Joan Bledig ~ Gary Buckingham ~ Larry Burrows ~ Brandon Burrows ~ Bill Briggs ~ Mickey Burwell ~ Shirley Burwell ~ Zavier Cabarga ~ Christopher Carey ~ Jeff Carter ~ Sheila Carter ~ Caz Cazedessus ~ Maynard Cliff ~ Taylor Cliff ~ Mike Conran ~ Win Scott Eckert ~ Chris Foss ~ Henry Franke ~ Jim Gerlach ~ Jim Goodwin ~ David Gorecki ~ Frank D. Grainger ~ Jim Hadac ~ James Hall ~ Susan Hall ~ Jason Hardy ~ Bob Hibbard ~ Bill Hillman ~ Sue-On Hillman ~ James Huckenpohler ~ Ann Johnson ~ Dave Karlan ~ Joe Lansdale ~ Dale LaFleur ~ Ray LeBeau ~ Chuck Loridans ~ Fred Lukas ~ Joe Lukes ~ Charlie Madison ~ Jim Malachowski ~ Doro Malachowski ~ Ken Manson ~ Bill Morse ~ Chris Olson ~ Pat Olson ~ Robert Panzarella ~ Frank Puncer ~ Bill Ross ~ Buddy Saunders ~ Judy Saunders ~ Jim Savage ~ Kurt Shoemaker ~ Valerie Shoemaker ~ Rudy Sigmund ~ John Small ~ Melissa Small ~ Joshua Small ~ Dick Spargur ~ Lee Strong ~ Jim Sullos ~ Harry Swaun ~ Jess Terrell ~ Jim Thompson ~ John Tompson ~ John Tyner II ~ Brad Vinson ~ Pat Vinson ~ Brent Vinson ~ Bill Wagner ~ Cathy Wilbanks ~ Tyler Wilbanks ~ Tom Zachek ~ Amy-Gavin Zachek ~ Bob Zeuschner


2017 TEXAS ECOF: PHOTOS and NOTES
INTRO and CONTENTS: ERBzine 6032

.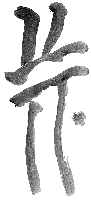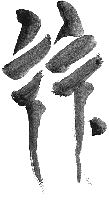 BILL HILLMAN
Visit our thousands of other sites at:
BILL AND SUE-ON HILLMAN ECLECTIC STUDIO
ERB Text, ERB Images and Tarzan® are ©Edgar Rice Burroughs, Inc.- All Rights Reserved.
All Original Work ©1996-2017 by Bill Hillman and/or Contributing Authors/Owners
No part of this web site may be reproduced without permission from the respective owners.