Official Edgar Rice Burroughs Tribute and Weekly Webzine Site
Since 1996 ~ Over 15,000 Web Pages in Archive

ERB FANZINES: Pt. I
Featured In ERBzine

ERBzine Fanzines
A fanzine is a publication produced by enthusiasts of a particular cultural phenomenon (such as a literary or musical genre) for the pleasure of others who share their interest. The term was coined in an October 1940 science fiction fanzine Detours by Russ Chauvenet and first popularized within science fiction fandom.

Typically, publishers, editors, writers and other contributors of articles or illustrations to fanzines are not paid. Fanzines are traditionally circulated free of charge, or for a nominal cost to defray postage or production expenses. Some fanzines are typed and photocopied by amateurs using standard home office equipment. A few fanzines have developed into professional publications and many professional writers were first published in fanzines.

With the increasing availability of the Internet the traditional paper zine has begun to give way to the webzine (or "e-zine") that is easier to produce and uses the potential of the Internet to reach an ever-larger, and in the case of our ERBzine Webzine, a global, audience. The host server for our ERBzine site for years now has tallied over 20 million annual international visits to our ERBzine.com site where our Webzine has been published every Friday since 1996 and where all back issues are available in our Googliable archive.

Since we founded ERBzine in 1996 we have taken pride in promoting the many print fanzines devoted to ERB SF and Fantasy Fiction. We have given new life and a worldwide audience to many of these zines by indexing them and in many cases reprinting entire issues. Many of the surviving issues that have been buried away in the files of a few dedicated collectors are now available for a multitude of readers.

I've compiled a list and links for many of the fanzines that are featured in ERBzine.
EDGAR RICE BURROUGHS FANZINES
FEATURED IN ERBzine
Science-Fiction newsletters and fan magazines began to proliferate in the late 1930s and early 1940s, most of them amateur publications mimeographed in purple and seeking to share enthusiasms for the emerging genre. Most of these publications were distributed gratis or with nominal fees, to cover mailing costs. These works frequently referred to Burroughs as "the Grandfather of American Science Fiction," but the first magazine devoted exclusively to the author and his work was the Burroughs Bulletin, founded and edited by Vernell Coriell, a circus performer and acrobat who produced his first issue in July 1947 with the blessing of Burroughs, then in retirement at Encino, California, after having served as the oldest war correspondent in World War II.

VERN CORIELL'S BURROUGHS BULLETINS: ORIGINAL SERIES INDEX Part I
Volumes 1 - 25 ~ With links to those that are reprinted in ERBzine
https://www.erbzine.com/mag15/1530.html
VERN CORIELL'S BURROUGHS BULLETINS: ORIGINAL SERIES INDEX Part II
Volumes 29 - 68
https://www.erbzine.com/mag15/1531.html


2. THE GRIDLEY WAVE



A Newsletter Devoted to the Worlds of ERB
Editors: Vern Coriell (1st Issue December 1959)
and George T. McWhorter (1st Issue #88: January 1990)
Links to 339 Reprinted Issues in ERBzine
https://www.erbzine.com/mag34/3450.html





3. Peter Ogden's ERBANIA



Established April 1956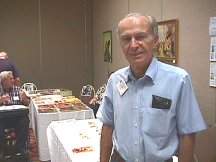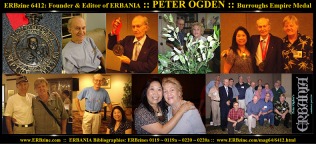 D. Peter Ogden Click for full-size collage
In 1956 on April 3, Peter Ogden published his first issue of "ERBANIA," in England. Later, Peter moved to Canada and then to Florida, where he continued to publish ERBANIA through issue 103 -- 60 years later.

When I was a kid back in the '50s it was very difficult finding ERB books and information. My search led me to book dealers in England where I discovered a magazine published by an English fan that was devoted to Burroughs -- Peter Ogden's ERBANIA! I bought them all. I've been a fan and in awe of Pete's treasure trove of ERB knowledge ever since.

It was a thrill to finally meet and visit with Pete and Joan at numerous ERB conventions. I've tried to convey my appreciation of Pete's contribution to ERB fans by compiling a lengthy illustrated bibliography featured in the links below, starting at ERBzine 0119. We miss you Pete. Peter passed on October 22, 2017.
Pete Ogden's ERBANIA Navigation Map
.


Camille (Caz) Cazedessus began his award winning ERB-dom in 1960.
This ERB Fanzine continued for 100 issues until 1996 when it evolved into Pulpdom
Winner of the 1965 Hugo Award for best amateur magazine
"ERB-dom stands out as valuable even for readers who do not adulate the writer.
It gives many background and bibliographical details of Burroughs' work
as it has appeared in magazines, books, comic strips and movies."
---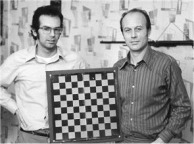 . Rod Jackson and Frank Westwood
Editors Paul Norman, Frank Westwood and Rod Jackson of the British Edgar Rice Burroughs Society first published their fanzine: THE FANTASTIC WORLDS OF EDGAR RICE BURROUGHS in the Summer of 1976 (their debut issue: BURROUGHSIANA, before the name change, came out in Spring 1975).

In 2012, Rod Jackson started providing thousands of scans of these fanzine pages for which he gave me permission to reproduce in ERBzine. Eventually, this project resulted in our reprinting 53 complete issues of FANTASTIC WORLDS -- an amazing 2,000-page resource for ERB fans and scholars.

Links to these issues are all featured at ERBzine.com/westwood

The current fanzine from the BRITISH ERB SOCIETY is ANOTAR, published by Rod Jackson at Admiralrogvoz@yahoo.co.uk
Links to the FANTASTIC WORLDS issues are all featured at
www.ERBzine.com/westwood
Subscription information the current ANOTAR Fanzine is available from Rod at
Admiralrogvoz@yahoo.co.uk
https://www.erbzine.com/cards/fans/anotar20all.jpg


JASOOMIAN COVERS Front and Back plus Interior Art
The Entire Run: Issues 1-14
Debuted in 1970
The work that Bill did on these early '70s fanzines is appreciated by all ERB fans.
The covers, art and history of JASOOMIAN are featured at ERBzine 2774
The covers, art and history of JASOOMIAN
https://www.erbzine.com/mag27/2774.html
Interior Art
https://www.erbzine.com/mag27/2774a.html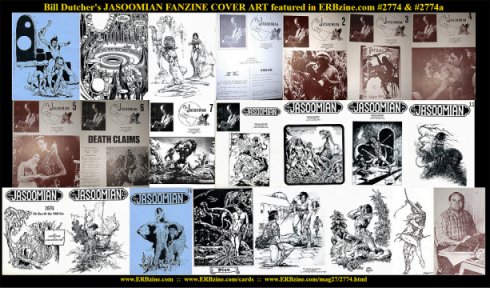 Click for full-size collage of all 14 Jasoomian Covers





7. THE BURROUGHS BULLETIN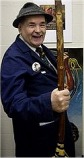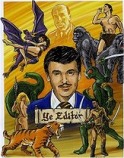 George T. McWhorter ~ Editor of the Second Series
The official publication of the Burroughs Bibliophiles organization is The Burroughs Bulletin - a glossy magazine.
Dedicated Burroughs fan, George T. McWhorter carried on as editor of
a new Bulletin series in January 1990 after original editor Vern Coriell died
George maintained a schedule of quarterly publications
until his retirement from the University of Louisville 25 years later.
At that time the BB editorship was taken over by Henry Franke who is the present editor.
Henry's 3rd BB Series will be featured in Fanzines Part II
BURROUGHS BULLETIN REPRINT ARCHIVE
38 Complete Reprints Endorsed by George T. McWhorter (Editor and Publisher)
https://www.erbzine.com/mag52/5200.html
BULLETIN COVER GALLERIES
ERBapa (The Edgar Rice Burroughs Amateur Press Association) was founded in 1984 by ERB fan, John Guidry.
He modeled the society after other typical amateur press societies, seeing the organization
as one which would allow ERB fans to share their "comments, musings, rantings and ravings, fond memories, whatever...."
John decided to limit membership to 36 -- to commemorate the age at which ERB began writing.
Members would pay a nominal membership fee and would then, four times a year,
type up a minimum of two pages of material and send 50 copies to John.
He would then collate and bind the material, and return a copy to each member.
Six slots were set aside for "Honourary Members" (chosen by member vote)
which were honoured for their lifetime commitment to ERB fandom.
Our ERBzine APA site has been created to give Burroughs fans
a better idea of this very special organization for ERB fans and scholars.
We have included all the APA cover art from issue #1, membership information, APA news,
searchable contents lists from the later editions, membership lists -- past and present --
and links to scores of articles by ERBapa members
that have been reprinted in our weekly online fanzine -- ERBzine.
Edgar Rice Burroughs Amateur Press Association
Navigation Chart
ERBzine Has Been The Official Edgar Rice Burroughs Tribute and Weekly Fanzine Site for Over 25 Years
Since 1996 ~ Over 15,000 Webzines and Webpages are in Archive

Our weekly Webzine publication serves as a regular voice to inform readers of some of the features added to the main ERBzine site over the last week. We have a huge international following, The Server Company to which we upload our files document over 20 million visits to the site each year.

ERBzine Weekly Fanzine has been published to the same Web address EVERY Friday for 25 years . . .
I've managed to keep to this schedule by uploading from a wide variety of locations: Via Satellite in Canada's Far North ~ by laptop from hospital rooms ~ while on tour across Canada and the US ~ using the WiFi facilities in Europe, UK, Mexico, China, India, Vietnam, Indonesia, SE Asia, Japan, Korea, etc.

Reminders of each week's release are usually posted on Twitter, e-Mail, and Facebook . . . in parts of the world where these brands of social media are allowed. WiFi service to my Website on the Internet, however, I've found to be very accessible worldwide.
An Open Invitation to All ERB Fans
ERBzine is YOUR showcase
Please share your:
ERB News and Views ~ Reviews and Synopses ~
~ Essays ~ Personal Anecdotes ~
~ Public Domain and Original Art - Stories - Articles ~
~ Ideas - Suggestions - Letters ~ etc.
And remember... ERBzine Webzine is a "fanzine" with a difference:
It is weekly ... and free... in colour.. . downloadable for printouts
...the back issues are all archived for reference
ERBzine Weekly Fanzine Site
www.erbzine.com/mag
Fanzine Archive
www.erbzine.com/all/refmap.html

10. FANZINES TO BE FEATURED IN PART II
Part II will feature many more popular Fanzines that dedicated fans have produced through the years
and are featured in ERBzine.
Some of the zines include:
Henry Franke's BURROUGHS BULLETIN - 3rd Series
Dr. Philip J. Currie's ERBivore and FANTASTIC WORLDS (Reprints)
Mike Conran's ERB NEWS DATELINE
Bill Ross' ERB COLLECTOR
Bill Ross' TARZINE
French fanzine PORTI
NATIONAL CAPITAL PANTHANS JOURNAL
CHICAGO MUCKERS MAGAZINE
James van Hise's BURROUGHS NEWSBEAT
BARSOOMIAN
. . . and more
Plus "One-Shots"
Plus reprints of very collectible ERB pastiches
FANZINES PAST AND PRESENT GALLERY
https://www.erbzine.com/mag4/0481.html
BILL HILLMAN
Visit our thousands of other sites at:
BILL and SUE-ON HILLMAN ECLECTIC STUDIO
ERB Text, ERB Images and Tarzan® are ©Edgar Rice Burroughs, Inc.- All Rights Reserved.
All Original Work ©1996-2021 by Bill Hillman and/or Contributing Authors/Owners9
No part of this web site may be reproduced without permission from the respective owners.