Official Edgar Rice Burroughs Tribute and Weekly Webzine Site
Since 1996 ~ Over 15,000 Webpages in Archive
Volume 6319

ANNIVERSARIES OF ERB'S LIFE & LEGACY
A COLLATION OF THE DAILY EVENTS IN ERB-WORLD
FROM THE PAGES OF THE HILLMANS' ERBzine
Collated by John Martin
With Web Design, Added Events, Links,
Illustrations and Photo Collages by Bill Hillman

MARCH CONTENTS
WEEK 1
MAR 1a ~ MAR 1 ~ MAR 2 ~ MAR 2a ~ MAR 3
MAR 4 ~ MAR 5 ~ MAR 6 ~ MAR 7

BACK TO MONTHLY EVENTS CONTENTS
Click for full-size images
---
MARCH 1a
---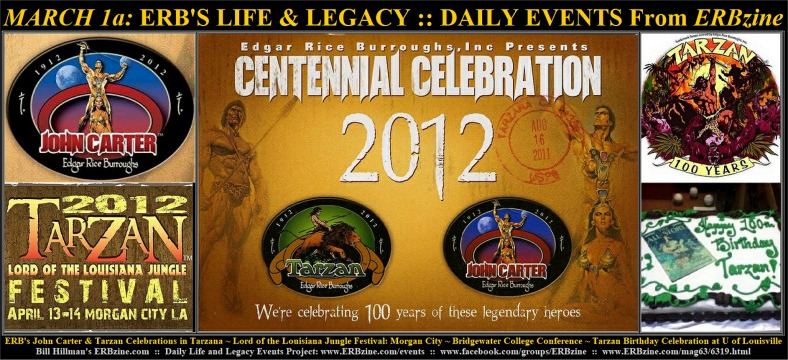 The era of ERB can be said to have had many starting points, but a major and essential one was the publication of his very first story, "Under the Moons of Mars," in "The All Story" magazine, serialized from February to July of 2012.
One hundred years later, as might be expected, there were a lot of events that took place to celebrate a century of ERB.
The years of celebrations can be said to have begun with the ECOF on Thursday, March 1, 2012, when fans toured the office of Edgar Rice Burroughs, Inc., and then gathered at the home of the Danton Burroughs family in Tarzana, Calif., for an evening of friendship and fellowship.
Then, it was on with Friday and Saturday events at the Warner Marriott Hotel in nearby Woodland Hills, Calif., and the very special Saturday night advance fans-only showing of Disney's "John Carter" at the studio's theater.
There are too many highlights of the weekend to list here, but they included a Friday showing of the videotaped ERB play, "You Lucky Girl!," a presentation by author Robin Maxwell on her soon-to-be-published "Jane, the Woman Who Loved Tarzan," and appearances by Tarzan actors Ron Ely and Casper Van Dien and Jane, Lydie Denier.
And all of that was only the beginning.
2012 TARZANA ECOF: ERB CENTENNIAL CELEBRATION
http://www.erbzine.com/mag35/3572.html
---

Next, on April 13-14, many fans were able to gather in Morgan City, Louisiana, for the "Tarzan Festival," a special event designed to premiere the documentary, "Tarzan, Lord of the Louisiana Jungle," by Al Bohl and daughter Allison Bohl, as well as showcase a newly restored presentation of the original ape-man film, "Tarzan of the Apes."
TARZAN: LORD OF THE LOUISIANA JUNGLE FESTIVAL 2012
http://www.erbzine.com/mag35/3588.html
---

After that, it was a four-month wait for the next big event, the Dum Dum, Aug. 15-18, once again in Woodland Hills. The highlight here was unquestionably the issuance of a commemorative postage stamp honoring Edgar Rice Burroughs and featuring an image of Tarzan himself beneath the face of his creator. Three Tarzan actors were present for the ceremony, Van Dien, Ely and Denny Miller, the latter being the one who had made the suggestion for the stamp directly into the ears of the then chairman of the Citizens Stamp Advisory Committee five years before.
Robin Maxwell's "Jane" still had not been officially published, but fans present were given a copy of the pre-publication edition, along with a cassette tape of the book, items which they were sure to treasure as much as the finalized book itself when it came out shortly thereafter.
Jane Goodall, who drew inspiration from Tarzan for her studies of primates in Africa, was guest of honor at the Dum Dum.
2012 TARZANA DUM-DUM
http://www.erbzine.com/mag41/4101.html
---

But the year wasn't over yet, and on October 28, 2012, there was a Happy Birthday Tarzan party at the Edgar Rice Burroughs Memorial Collection, Ekstrom Library, University of Louisville, attended by Miller, Maxwell, Scott Tracy Griffin, John Burroughs,ERB Inc. President Jim Sullos, and ERB collection patriarch George McWhorter among many others.
TARZAN BIRTHDAY PARTY: ERB MEMORIAL COLLECTION, U of LOUISVILLE
http://www.erbzine.com/mag38/3899.html
---

Finally, at Bridgewater College in Bridgewater, Va., ERB fan Dr. Stan Galloway hosted the Tarzan Centennial Conference, which once again put the spotlight on a century of Edgar Rice Burroughs
TARZAN CENTENNIAL CONFERENCE at BRIDGEWATER COLLEGE
http://www.erbzine.com/mag39/3939.html
---
2012 ERB CELEBRATIONS AND EVENTS
http://www.erbzine.com/mag39/3939.html

---
MARCH 1
---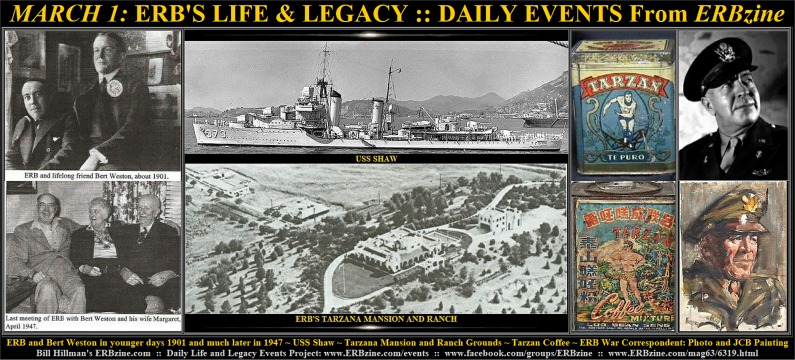 Winter had its trials and tribulations but warmer weather brought about the hope of healing.
In the winter of 1943, ERB was serving as a war correspondent and had boarded the USS Shaw, a Mahan Class Destroyer. While ERB was aboard, it chased an enemy submarine and had about as much luck finding it as ERB had chasing apaches in the 7th Cavalry in Arizona years before.
ERB may have made a big mistake aboard the Navy ship, though: He may have washed his coffee cup too many times! Navy coffee is legendary and ERB had been drinking it 'round the clock. As a result, he was having trouble sleeping. Not only that, but his hands were starting to shake. Finally, on March 1, 1943, when ERB was back at Pearl Harbor, he cured the shakes by simply giving up coffee.
Perhaps if he hadn't washed his cup, though, he may have been okay, at least according to this article which claims that the best -- if not the only way -- to enjoy good health while drinking Navy coffee is: Never wash your cup! ~ Tarzan's Coffee Cup
Another cure for those blahs might have been if ERB had been drinking Tarzan-brand coffee. He probably could have picked some up at a store in some of the exotic Asian ports he visited. Of course, he would then have needed to file lawsuits because of the likelihood that the name of "Tarzan" was being used without permission!
The USS Shaw / Edgar Rice Burroughs Connection
http://www.erbzine.com/mag5/0508.html
ERB's World War II timeline:
http://www.erbzine.com/mag10/1021.html

---

It wasn't the first time ERB would try to cure his ills on March 1. Back on that date in 1918 he was visiting Coldwater, Michigan. He had been enduring a seven-year battle with neuritis, a condition that causes pain and loss of function.
He wrote to his friend Bert Weston, in Nebraska, saying, "This dope which I obtained is put up by a druggist in Coldwater from a prescription given to one of the Coldwater plutes (plutocrats) by a traveling salesman -- but where the traveling salesman got the prescription, deponent sayeth not. Anyhow, it cost one and one half bucks per bottle and is absolutely guaranteed to be harmless. Dr. Earle pooh-poohs the idea that it helped me and so do I; however it was a remarkable coincidence that immediately after commencing to take it the pain left me for the first time in years and I have been steadily improving since. To show what a narrow minded chump a man can be, I quit taking it because they doubled the price."
ERB/Weston Connection: Hillmans visit Beatrice, NB
http://www.erbzine.com/mag51/5161.html
Ed's Letter to old friend Bert Weston
http://www.erbzine.com/bio/years10.html

---

The seed for Tarzana was sown on March 1, 1919. On that date, ERB purchased Mil Flores, the 540-acre estate of the late L.A. Times founder, Harrison Gray Otis. ERB renamed the ranch Tarzana...and the rest is history.
Tarzana Memories
http://www.erbzine.com/mag13/1354.html
The ERBzine Tarzana Site
http://www.tarzana.ca
Exploring ERB's Tarzana
http://www.erbzine.com/tarzana/
Tarzana: Then and Now
http://www.erbzine.com/mag11/1161.html
---
MARCH 2
---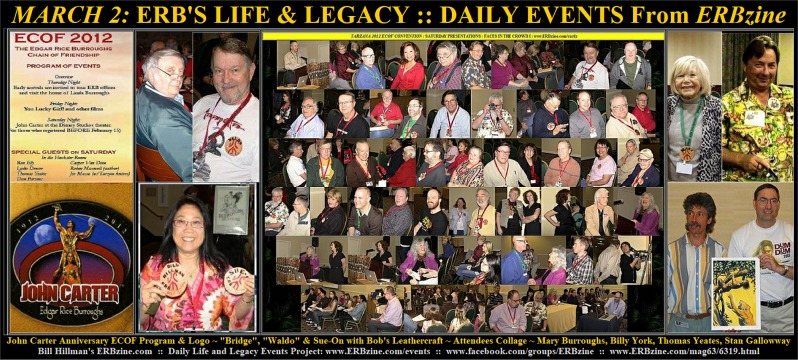 (Burroughs, Badges, Bridgewater, Bledig)
Six years ago, Friday, March 2, 2012, was the first full day of activities at the 2012 ECOF, an event which would feature the Saturday night advance showing of Disney's "John Carter" and an event which would also kick off a year of ERB celebrations on the 100th anniversary of publication of ERB's first Mars and Tarzan novels.
Nels Myrhoj and John Martin, who had traveled to the ECOF together on Amtrak, joined Brad Vinson for breakfast and then checked in to get ERB golf shirts with the names of Tarzan and John Carter emblazoned on them instead of an alligator. The packets included 25 large art prints of the Mars stories from pulps to present. Bob Zeuschner wrote a guide to the artwork explaining where each piece was originally used and naming those responsible for making the art available for the ECOF packets. ERB Inc. supplied many of the goodies, including John Carter-Tarzan 100th anniversary coffee mugs.
Billy and Bonnie York along with Tim Clark were handling the check-in area at the Hidden Harbor Room of the Warner Center Marriott hotel, site of this and several other ERB gatherings over the years.
The 2012 Annual ECOF: March 2nd and 3rd, Tarzana, California
Celebrating the Opening of the Disney John Carter Film
http://www.erbzine.com/mag35/3572.html
John Carter (of Mars) Film
http://www.cartermovie.com/
Bob Zeuschner's Barsoom Art Prints
http://www.erbzine.com/mag41/4190.html
ECOF Presenters and Attendees
http://www.erbzine.com/mag35/3584a.html
http://www.erbzine.com/mag35/3582.html
http://www.erbzine.com/mag35/3583.html
http://www.erbzine.com/mag35/3584.html
---

Mary and Stacy Burroughs had the huckster room table next to John's and were selling packets of note cards featuring art by Mary's late husband, John Coleman Burroughs. Bob and Lindy Zeuschner were just behind them and there were around 20 tables on the main floor of the room with several more on a platform up a few steps. Those included an ERB Inc. table and one for Cryptozoic trading cards, plus some for use by illustrator Thomas Yeates and former Tarzans Ron Ely and Casper Van Dien and former Jane Lydie Denier.
Shortly after the huckster room opened, Bob "Waldo" Hibbard came in with the leather name badges he had made in advance for everyone who had requested one. The badges were about four inches in diameter, the size depending on how much room Bob needed for our names. The background was the initials JCM in the style used by Disney for John Carter (of Mars).

---

But Bob had a secret. He had made one badge a lot larger than the rest, about the size of a pie tin. During one of the discussion sessions in the Pearls Room, he advanced to the podium and called Bob Zeuschner up front to present him with the extra-large badge. I can't remember what it said, but it had a bunch of titles on it. "Waldo," as Hibbard is sometimes known, said he made it because he heard that Zeuschner "liked long titles." That was a humorous commentary on the title of Zeuschner's earlier bibliography,"Edgar Rice Burroughs: The Exhaustive Scholar's and Collector's Descripitive Bibliography." When the book was reprinted in paperback, the title became even longer: "Edgar Rice Burroughs: The Exhaustive Scholar's and Collector's Descriptive Bibliography of American Periodical, Hardcover, Paperback and Reprint Editions."
Zeuschner, of course, had wanted a shorter title, but the publishers had overruled him! Since then, he has come out with a newer edition of his book with a much shorter title, "Edgar Rice Burroughs, The Bibliography," by Robert B. Zeuschner.
Tarzan's father-in-law, Professor A.Q. Porter himself, showed up in the Pearls Room to give a dime lecture on "Percival Lowell's Influence on Princess of Mars." For the lecture, Prof. Porter used notes compiled by well-known ERB fan J.G. "Huck" Huckenpohler.

---

Friday afternoon, Stanley "Woola" Galloway of Bridgewater College, Virginia, delivered his paper on comparisons and contrasts between the characters of Tarzan and John Carter. Afterward, some of those in attendance chimed in with observations of their own.
Stan wrote "The Teenage Tarzan," which explores the teen years of the ape man, as chronicled in ERB's "Jungle Tales of Tarzan." Stan and his interest in ERB was also featured in a recent edition of the Bridgewater College magazine. He brought a few copies to the ECOF and, after his presentation, made them available to those in attendance.
Next came a panel discussion by contributors to the forthcoming book, an annotated "A Princess of Mars," which featured ERB's story plus several short stories by Michael Kogge, Chuck Rosenthal, Dan Moran and others. Dan Parsons, artist on the publication, was there as well.
Kogge had the idea for his Martian anthology a year ago, but publishers told him there wasn't enough time to do it by the time he wanted. So, in the spirit of American entrepreneurism, he decided to do it himself to get it out earlier in both print and electronic form.

---

Later it was time for a presentation of Joan Bledig's videotape of "You Lucky Girl!" in three acts, ERB's only play. ERB Inc. and the play personnel had approved her request to tape it, and she attended the first two performances at the Palmdale, Calif., Playhouse in April of 1997 and edited the two tapes together to get the best overall presentation of the play.
It was during the play that it occurred to John that we were actually watching a film production of something that was virtually exactly as ERB wrote it (the director was present and later told us that the only changes they made were in a couple of places where non-contractions were changed into contractions for the easier presentation of the actors and the listening of the hearers).
The first and third acts were in daytime and the middle act was at night, helping to show the passage of time. The original audience present could be heard laughing and applauding several times, demonstrating that the ERB style and wit worked fine in a format with which he really did not have much experience.

---

In comments after the play, the director said they wanted to stick as close as possible to ERB's original script because it is important to stick very close in the first presentation of a play, which this was. ERB wrote "You Lucky Girl!" in 1927 and its first presentation before an audience was 70 years later! The director noted that, unlike many playwrights, ERB never had a chance to see his play performed, even in a rehearsal, and thus he had no opportunity to see how well everything would work on stage. Apparently, those who write plays sometimes revise parts of them when they see how the dialogue and actions actually work out with real actors, as opposed to what the author envisions when he puts those words and instructions on paper.
For more information about the play, see:
You Lucky Girl!
http://www.erbzine.com/mag7/0774.html
You Lucky Girl! Review by Bob Zeuschner
http://www.erbzine.com/mag0/0084.html
Meet Joan Bledig:
http://www.erbzine.com/mag15/1534.html
Stanley Galloway and The Teenage Tarzan:
http://www.erbzine.com/mag29/2990.html
J.G. "Huck" Huckenpohler's Lowell Presentation
http://www.erbzine.com/mag35/3582.html
Mary and Stacy Burroughs
http://www.erbzine.com/mag35/rm05.jpg
ECOF Souvenirs
http://www.erbzine.com/mag35/3577.html
Bob Hibbard: Master Leatherworker
http://www.erbzine.com/mag58/5831.html

Off-Site Reference
Galloway Article in Bridgewater Mag
---

For Friday night dinner, Nels and John joined a group that eventually totaled nine and went across the street to the China Bistro, where we were seated at a large round table near tables full of other ERB fans. The place was noisy, and unless you were a lip reader it was hard to understand what someone across the table from you was saying. But that made for the opportunity to get to better know those sitting next to you. To John's left was John Pappas and his wife Paula. They talked for most of the meal and shared quite a few things in common besides ERB, including the fact that he occasionally comes up John's way to visit his son, who, at the time, was maintenance chief for the old steam engines run by the Mount Rainier Railroad, which operates a tourist excursion line along the edge of the county in which John lives. "I have since enjoyed visiting with John and Paula at other ERB gatherings as well as in my home of Centralia when they have stopped in on the way to visit their son. Back at the hotel, there were more informal discussion groups in the lobby. I asked Joan Bledig about the exploration she and John Tyner did of Edgar Rice Burroughs country in Southern Idaho, in preparation for the 2011 Dum Dum in Pocatello."
They made many exciting ERB-related discoveries and Joan has written an account of them which appeared in "The Burroughs Bulletin."
Photos of most of the ECOFers dining at P.F. Chang's China Bistro
http://www.erbzine.com/mag35/3586.html
John Martin with John and Paula Pappas
http://www.erbzine.com/mag35/dn06.jpg
2011 Pocatello Dum-Dum
http://www.erbzine.com/mag36/3660.html

---
MARCH 2a
---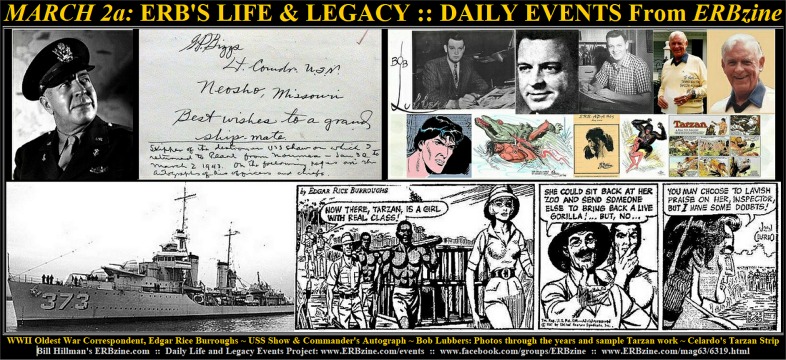 (Burroughs, Biggs, Bird, Bob)
The USS Shaw, with ERB aboard, ended a month-long cruise March 2, 1943, pulling into Pearl Harbor. The captain of the Shaw, Lt. Cmdr. G.P. Biggs, signed ERB's autograph book with these words: "Best wishes to a grand shipmate." Over the course of the patrol, others on the ship also signed his book, which he purchased in Sydney, Australia.
Capt. Phil Bird wrote in the book, "And when he said Sydney, Australia, he should of said "Whoopee!!!!"
To see what his other shipmates wrote in his autograph book, see:
ERB's WWII Autograph Books:
February 1943 (On the USS Shaw)
http://www.erbzine.com/mag27/2782.html
ERB's WWII Autograph Books Project
Photographed from Danton's personal collection and
Transcribed by ERBzine where legible ;)
http://www.erbzine.com/mag27/2776.html

---

"Tarzan and the Incas" by Bob Lubbers and Dick Van Buren, began in Sunday newspapers on March 2, 1952.
"Tarzan and the False Legionnaire" by Lubbers and Van Buren began a 70-strip daily run March 2, 1952.

Feature on Bob Lubbers:
http://www.erbzine.com/mag48/4855.html
"Tarzan and the Diamond Smugglers" by John Celardo, started March 2, 1967, and ran for 53 days.
http://www.erbzine.com/mag46/4680.html

---
MARCH 3
---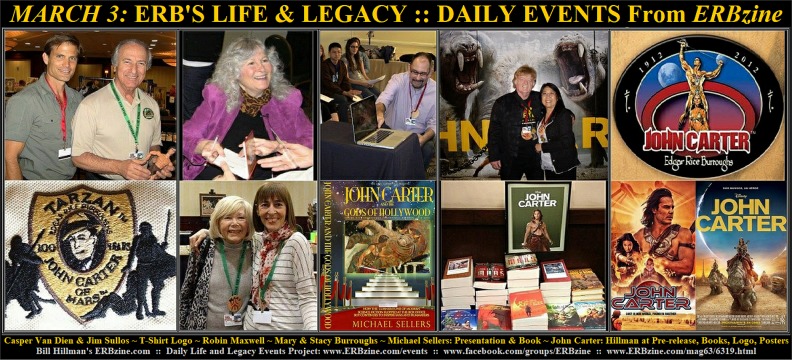 On March 3, 1866, Capt. James K. Powell said farewell to fellow prospector John Carter and started out for civilization to purchase more mining tools. As we know from "A Princess of Mars," he never made it.
On Saturday evening, March 3, 2012, ERB fans said farewell, temporarily. to the Warner Center Marriott and started out for the Disney Studio to watch a movie about the further adventures of Powell's gold-mining partner, John Carter.
Saturday morning at that Woodland Hills/Tarzana ECOF John Maratin came downstairs to the hotel gift shop and bought a copy of the Saturday edition of the "Sunday" L.A. Times, which was wrapped in "John Carter orange," a large-size movie poster covering the front of the newspaper.
The day was filled with more huckstering in the huckster room and several special presentations. They include meetings led by Jim Sullos, Robin Maxwell and Michael Sellers:
Jim Sullos, president of ERB Inc., gave fans a preview of previewed coming events, mentioning that Warner Bros. had optioned a new Tarzan movie (that turned out to be "The Legend of Tarzan,"), Constantin Films of Germany had plans for a motion-capture Tarzan movie, and Al Bohl's was finishing his documentary, "Tarzan, Lord of the Louisiana Jungle."
In the merchandising department, he mentioned Tarzan slot machines in Vegas and the upcoming release of the Cryptozoic trading cards.
In books, he mentioned special edition Disney books was publishing that would feature both a novelization of the "John Carter" movie as well as ERB's original story.
A change in attitude at ERB Inc. resulted in the allowance of books by other authors, he said, noting the authorization of books by Andy Briggs, aimed at juveniles, as well as Robin Maxwell's forthcoming "Jane: The Woman Who Loved Tarzan."
"When Edgar Rice Burroughs died," said Mr. Sullos, his family was running the business and at first they wanted to leave the canon alone. "But that attitude has changed." The corporation has made the decision to allow others to take up the keyboard to write stories about ERB characters.
Introduction to ERBzine's coverage of the 2012 Centennial ECOF
http://www.erbzine.com/mag35/3572.html
Jim Sullos ~ President of ERB, Inc.
http://www.erbzine.com/mag35/3557.html
Meet Robin Maxwell
http://www.erbzine.com/mag37/3706.html
JANE: The Woman Who Loved Tarzan By Robin Maxwell
http://www.erbzine.com/mag39/3945.html
ECOF PRESENTERS: JIM SULLOS ~ ROBIN MAXWELL ~ MICHAEL SELLERS
http://www.erbzine.com/mag35/3584.html
Casper Van Dien in Tarzan and the Lost City
http://www.erbzine.com/mag0/0038.html
A Conversation with Mary Burroughs
http://www.erbzine.com/mag3/0336.html
Special Edition Disney books related to the John Carter release
http://www.cartermovie.com/books/

---

Robin Maxwell said, "Tarzan was my first heart throb."
She explained how she had gotten the idea for telling the story of Tarzan's early life in the jungle from Jane's point of view, and of her meeting with Jim sullos to win approval for the idea. She also did a lot of research on Africa (among her discoveres was the fact that tigers do not live there.)
Her Jane will be a modern, forward-thinking woman, someone that modern readers can relate to, she told everyone. And at that point, the ERB fans became rather alarmed. That was because a beep was sounding from the hotel's fire alarm. Everyone obediently left the room but it soon became apparent it was a false alarm so we all went back and Robin continued her talk, outlining differences between her approach to Tarzan and Jane's story and ERB's.
Robin Maxwell's Presentation
http://www.erbzine.com/mag35/3584.html

---

Everyone wants kids to be interested in ERB. Michael Sellers, who would later write a book titled "John Carter and the Gods of Hollywood," had set up "The John Carter Reading Project" in some area schools. Becky Garland, along with some of her elementary school students who had read "A Princess of Mars," put on one of the programs.
Garland shared the results of a survey she had given the students. One question was whether they thought the story was too old-fashioned, noting ERB's use of words such as "vouchsafe." In response, none of the young people thought it was old-fashioned and all said they would recommend it to a friend.
One said that, because the book was written 100 years ago, he thought it might not be interesting. "But you could understand personally," he said. "I read it and was thoroughly shocked. I thought: This book interersts me...and it's old!"
The group of nine, including boys and girls from Caucasian, Black, Asian, Middle East and Hispanic cultures. Among the reasons they liked reading about John Carter on Mars was that ERB spent more time talking about the makeup of his Martian world and its culture, than talking about technological things.
The young people each shared some positive thoughts on the book and then several of them answered questions from the older ERB fans.
After the session, the young people went shopping in the huckster room and, later that evening, accompanied the group to the Disney Studio theatre for the preview showing of "John Carter."
Michael Sellers' John Carter Reading Project
http://www.erbzine.com/mag36/3684.html

---

The big moment of the ECOF came Saturday night, with everyone piling onto buses and braving a ride through heavy traffic instead of through hostile Apaches.
As we walked to the theater entrance, young Disney employees gave us lanyards with a "John Carter" placard to wear, and checked in any cameras or cell phones that people had. Inside the small lobby, we were given 3-D glasses, a plastic bucket filled with popcorn, and our choice of bottled water or soft drinks.
The last number I heard on theater attendance was 227, but it could have ended up being more. They showed a short introductory film that had been prepared for Disney employees to help give them director Andrew Stanton's vision for the film.
After the movie, I saw a couple of the young people who had read "A Princess of Mars," so I asked them how they liked the movie and they were quite thrilled with it.
Outside, Disney people were handing out free John Carter posters in tubes, suitable for mailing home, and smaller collectibles. One was a pack of John Carter trading cards and the other was a fold-out cardboard promo with movie scenes.
On my first viewing, I did not like the movie. Too many unnecessarily different things from the way ERB wrote "Princess."
However, it has grown on me since then and I like it better now. I can appreciate it for what it is -- a well-done action movie based on one of ERB's worlds. It can be said to have been based on an ERB story, and brings to life many of the fantastic things of which ERB wrote, and has many moments that bring ERB scenes to life. But it also has its own brand of baggage.
ERBzine's coverage of the 2012 ECOF starts at:
http://www.erbzine.com/mag35/3572.html
Disney's John Carter of Mars film: Full report in ERBzine
http://www.cartermovie.com

---

In the world of newspaper comics, on March 3, 1963, "Tarzan and the Poachers," written and illustrated by John Celardo, began in Sunday newspapers and ran for 10 weeks.
On March 3, 1985, "The Price of Honor," by Gray Morrow and Don Kraar, began in Sunday newspapers and ran for 12 weeks.
The Price of Honor
http://www.erbzine.com/mag35/3511.html

---

As reported by Scott Tracy Griffin, Edgar Rice Burroughs is included in an exhibit which opens today, March 3, 2018, at the Pasadena, Calif., Museum of History. The exhibition is "Dreaming the Universe: The Intersection of Science, Fiction, & Southern California," which ventures into the world of sci-fi that was created in the surrounding areas of Southern California.

Off-site references:
Pasadena History
Pasadena Star News

---
MARCH 4
---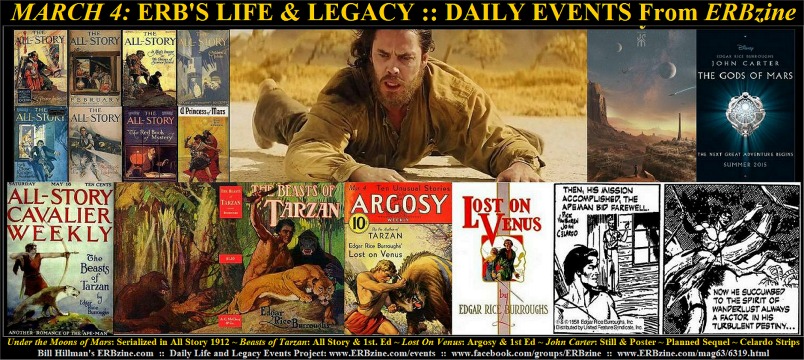 John Carter's gold-prospecting days were ended on March 4, 1866, when he was astrally projected -- in a brand new body -- from an Arizona cave to the surface of the planet Mars, where he then took up residence for the rest of his very long life, a life which continues at this very moment.
This story was first told by Norman Bean (later proved to be a nom de plume for Edgar Rice Burroughs) in "The All-Story" in a serial beginning in February of 1912. The account, under the title of "Under the Moons of Mars," appeared each month in the magazine through July.
The story has been retold many times in various book publications and was told again in 2012, this time in a major motion picture.
Through the magic of computer-generated special effects, the movie showed John Carter arriving on Mars wearing the same dirty and wrinkled clothing he wore while prospecting. The original story had stated that his clothing had been left back with his dead body in the Arizona cave.
Thus, John Carter originally arrived on Mars just 146 years and five days before he arrived in theaters. He hardly noticed the passing of the time.
A Princess of Mars
http://www.erbzine.com/mag4/0421.html
The All-Story Pulp Magazine Covers for "Under the Moons of Mars"
http://www.erbzine.com/mag2/0221.html
Film version of A Princess of Mars: John Carter
http://www.cartermovie.com

---

The A.C. McClurg & Co. first edition of "The Beasts of Tarzan" was published March 4, 1916, exactly 50 years after John Carter arrived on Mars. The story had appeared earlier in "All-Story Cavalier Weekly" in 1914 and McClurg had also published sample editions for reviewers and salesmen, but this was the public's first opportunity to buy the book off the store shelves.
The Beasts of Tarzan
http://www.erbzine.com/mag4/0485.html
All-Story Cavalier pulp serialization of The Beasts of Tarzan
http://www.erbzine.com/mag2/0222.html

---

Seventeen years after "The Beasts of Tarzan" was published, Burroughs fans could find an ERB other-worldly story, "Lost on Venus," in "Argosy All-Story Weekly." The date on the magazine was March 4, 1933. However, magazines usually are on the stands a few days earlier than the actual date shown on the cover. So, no doubt some fans were enjoying this story -- a sequel to "Pirates of Venus" -- even before March 4 of that year.
Lost On Venus
http://www.erbzine.com/mag7/0749.html
Argosy pulp serialization of Lost On Venus
http://www.erbzine.com/mag2/0228.html

---

"Tarzan and the Strandlopers," by John Celardo and Dick Van Buren, began March 4, 1958, and ran for 60 days in newspapers.
Tarzan and the Strandlopers
http://www.erbzine.com/mag43/4323.html
---
MARCH 5
A quick paste-up while storm-stayed at Winnipeg Airport . . . waiting for our flight to Japan
---

NOTE:
MANY OF OUR EVENTS POSTS
FOR THE REMAINDER OF MARCH 2018
WILL BE SPORADIC AND TEMPORARY
WE ARE ON TOUR ACROSS 4 ASIAN COUNTRIES
---
FULL EXPANSION OF JOHN'S COLLATIONS
WILL BE DONE UPON OUR RETURN
~ Bill and Sue-On~~
B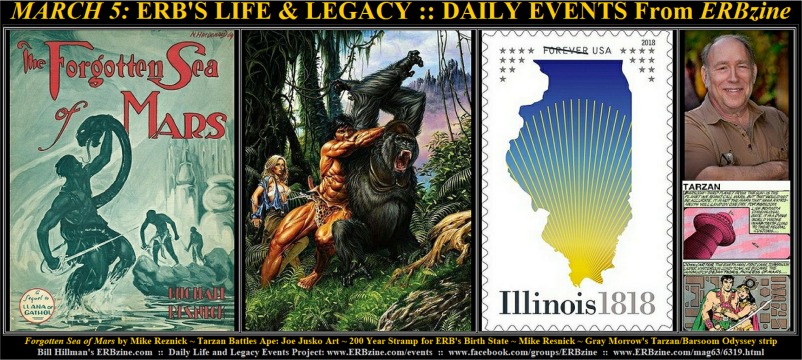 Terkoz breathed his last this day in 1901 when Tarzan trailed him and then killed him after the ape had abducted Jane Porter, the young lady the ape-man was destined to marry.
The "jungle idyll" episode.
A CHRONOLOGY OF LORD GREYSTOKE Adapted from Tarzan Alive by Philip Jose Farmer
http://www.erbzine.com/mag15/1501.html
Read the episode in Chapter 19: The Call of the Primitive
http://www.erbzine.com/craft/t1ta.html

Or, it could have been March 5, 1893, according to Greystoke Chronologist James Michael Moody:
Off-Site page:
Greystoke Chronologist
---

Mike Resnick, author of "The Forgotten Sea of Mars," sequel to "Llana of Gathol," was born March 5, 1942, in Chicago, which was also the birthplace of Edgar Rice Burroughs 67 years earlier. Resnick was born eight years before Burroughs passed away.
Resnick's "Forgotten Sea" was originally published in a fanzine-size magazine with color front and back cover, as a supplement to ERBdom 12. It was authorized by Edgar Rice Burroughs, Inc., and is one of the best pastiches ever written, reading almost as if ERB himself had written it (so say I).
It was included in the 2013 anthology, "Worlds of Edgar Rice Burroughs," edited by Resnick and Robert T. Garcia
The Forgotten Sea of Mars
http://www.erbzine.com/mag19/1931.html
Worlds of Edgar Rice Burroughs
http://www.erbzine.com/mag49/4996.html
Forgotten Sea of Mars Reviewed
http://www.erbzine.com/mag19/1931.html

---

Speaking of Chicago, the U.S. Postal Service today issues a Forever stamp honoring the 200th anniversary of the state of Illinois.
Off-Site Reference
Virtual Stamp Club

---

"Tarzan and the Cattle Rustlers," by John Celardo, began in newspapers March 5, 19 67, and ran for 12 Sundays.
In 1995 on March 5, "Odyssey Part II," by Gray Morrow and Don Kraar, began and ran for 12 Sundays.
Odyssey Part II: (Barsoom) ~ Pt. 1
http://www.erbzine.com/mag48/4805.html

---
MARCH 6
---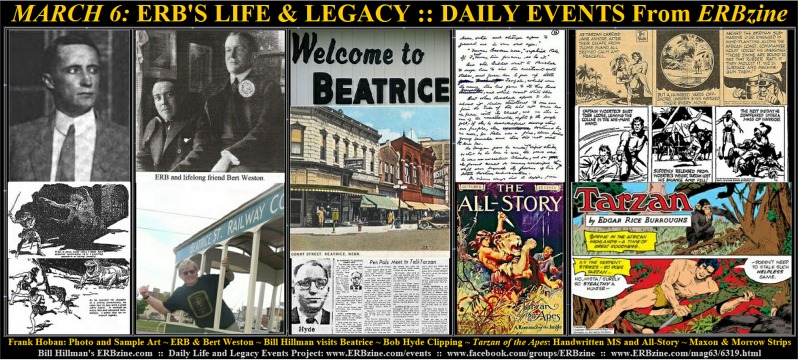 Frank Hoban, who illustrated ERB stories for "Blue Book Magazine," was born March 6, 1870. According to Robert R. Barrett, "The June 1926 issue of Blue Book was the first to place spot illustrations throughout a story. Prior to that the magazine had used only illustrated headings, which was the custom with most pulps. The July 1926 issue was the first to feature the drawings of Frank Hoban, who illustrated "Mountain Mail" by Reginald Barker. Throughout the remaining months of 1926 Hoban illustrated one story per issue. By the last months of 1927 he was illustrating two, three, and occasionally four stories per issue."
Frank Hoban in the ERBzine Art Enclopedia plus Blue Book Covers
http://www.erbzine.com/mag10/1009.html
Frank Hoban illustrations for "A Fighting Man of Mars":
http://www.erbzine.com/mag8/0860.html
http://www.erbzine.com/mag8/0861.html
A Fighting Man of Mars in the ERBzine C.H.A.S.E.R. Bibliography
http://www.erbzine.com/mag7/0735.html

Off-Site:
Pulp Artists

---

From the middle of the Pacific Ocean, ERB touched Beatrice, Nebraska, in a rather roundabout way, he reported in a dispatch which was published this date, March 6, 1945, in "The Vidette Messenger."
ERB the war correspondent, on "an island base in the Pacific," wrote an article on the type of treatment wounded warriors were receiving in Medical Corps hospitals. His aim was to reassure mothers that their offspring were getting the best of care. In addition to the Vidette, the article was released to other newspapers in the U.S.
ERB noted that on his tour of the hospital he was taken by the hand and led around by Josephine Jack who, while not named Beatrice, was from Beatrice, Nebraska. Therefore, ERB reasoned, she was also a link to his dear friend, Bert Weston, who lived in Beatrice, which provided a setting for part of his story, "The Mad King."
See the newspaper article at:
http://www.erbzine.com/mag17/1757.html
The Mad King entry in ERB C.H.A.S.E.R. Bibliography
http://www.erbzine.com/mag7/0758.html
The Hillmans Visit Bert Weston's Hometown of Beatrice, Nebraska
http://www.erbzine.com/mag51/5161.html

---

"Pen Pals Meet to Talk Tarzan" was the headline over an article which appeared March 6 in 1959 in the "Minneapolis Morning Tribune." Longtime fan and ERB expert Bob Hyde had been interviewed for the article, while visiting a collector friend. After the article appeared, Hyde realized that one is never safe in the hands of a newspaper reporter. Any ERB fan can spot at least a couple of errors in the article and know that Bob Hyde never gave out that misinformation. Read the article and judge for yourself:
Bob Hyde article
http://www.erbzine.com/mag6/0693.html

---

Perhaps ERB's first description of his "Tarzan of the Apes" story in progress was written March 6, 1912, when he wrote to Thomas Metcalf about his current project. He assured Metcalf, editor of "The All Story," that he planned to write a sequel to "Under the Moons of Mars," which at that time was being serialized monthly in the magazine, but said he had another story he was going to finish first:
"The story I am now on is of the scion of a noble English house -- of the present time -- who was born in tropical Africa where his parents died when he was about a year old. The infant was found and adopted by a huge she-ape, and was brought up among a band of fierce anthropoids. . . . I am especially adapted to the building of the 'damphool' species of narrative."
Letter to Metcalf re: new story about man and apes
http://www.erbzine.com/mag28/2833.html
http://www.erbzine.com/bio/years10.html

---

"The Yellow Triangle," by Rex Maxon, began March 6, 1944, and continued for 24 days.
The Yellow Triangle: 24 Maxon strips
http://www.erbzine.com/mag54/5442.html

"The Most Dangerous Prey," by Gray Morrow, began March 6, 1983, and ran for eight Sundays.
The Most Dangerous Prey: 8 Sundays by Gray Morrow
http://www.erbzine.com/mag35/3502.html

---
MARCH 7
---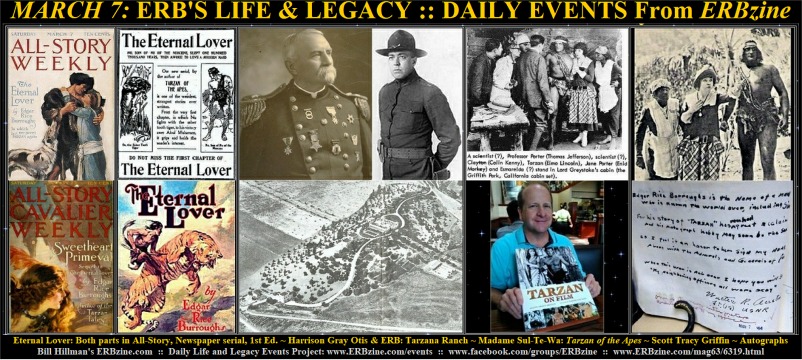 The March 7, 1914, edition of "All-Story Weekly" is collectible for more than one reason. First, it has ERB's entire novelette, "The Eternal Lover," inside. Later, that story was combined with another an ERB pulp sequel, "Sweetheart Primeval," and published in hardback with the title of the first story.
The pulp featured a Modest Stein cover and told readers that they would meet Tarzan again in its pages, since Tarzan makes an appearance in this story.
However, the magazine is also collectible and sought-after because of a letter to the editor, which many believe was written by H.P. Lovecraft.
Read the letter and other reasons why the issue is collectible at:
http://www.erbzine.com/mag11/1137.html
Publication info is at:
http://www.erbzine.com/mag7/0759.html
A larger and more defined picture of the cover is at:
http://www.erbzine.com/mag2/0222.html
The Eternal Lover: ERB C.H.A.S.E.R. Biblio Entry
http://www.erbzine.com/mag7/0759.html

---

On March 7, 1919, The Van Nuys News ran a feature story on the fact that ERB had purchased the estate of Los Angeles Times founder Harrison Gray Otis. The article told of ERB's plans to rename the spread Tarzana Ranch. See:
News article on ERB and Tarzana purchase
http://www.erbzine.com/mag13/1354.html

---

Thanks to Scott Tracy Griffin, we know that Madame Sul-Te-Wan played Esmeralda in 1918's "Tarzan of the Apes" movie. Oddly, neither her present-day IMDB page or wikipedia page acknowledges her role, but Tracy dug up the fact while researching his book, "Tarzan on Film." As a result, she receives credit on Bill Hillman's erbzine page about the movie. Interestingly, she was to play years later in another Tarzan film, "Tarzan and the Trappers," with Gordon Scott.
She was born March 7, 1873, in Louisville, where photos of her no doubt reside now in the Edgar Rice Burroughs collection at the University of Louisville. "Jet" magazine reported on Sept. 10, 1953, that plans were set to "Honor Hollywood's Oldest Negro Actresss" The story said "Madame Sul-te-wan, oldest Negro actress in Hollywood, will be honored at a special program Sept. 12 which will commemorate her 40th year in motion pictures, her 70th year in show business and her 80th birthday. During the program, slated for the Hollywood Playground Auditorium, a showing will be made of the actress' first role in the movies, a part in 'In Old Chicago.' Madame Sul-te-wan, a native of Louisille, Ky., signed her first movie contract in 1913. A character actress, she has played in such movies as Tarzan of the Apes and Mighty Joe Young."
Madame Sul-Te-Wan info
http://www.erbzine.com/mag63/6303.html
http://www.erbzine.com/mag5/0503.html
http://www.erbzine.com/mag45/4507.html
http://www.erbzine.com/mag19/1956.html

Off-Site Refs:
Internet Movie Data Base
Wikipedia Entry

---

ERB's autograph books include more than one poem and one of those was written on March 7, 1944, by Navy Lt. Walter R. Alleton, one of the interpreters quartered next to his office. ERB seems to bring out the poetic muse in some people, and Alleton was so affected and wrote:

Edgar Rice Burroughs is the name of a man
Who is known the world over, including Siam
For his story of "Tarzan" has reached great acclaim
And his autograph hobby may soon be the same
So I feel it an honor to have signed my name
Along with the Admirals and Generals of fame.
When this war is all over I hope you will say
"My neighboring officers all were okay."
See that and other autographs from ERB's WWII Autograph Book:
http://www.erbzine.com/mag27/2789.html
---

NEXT: MARCH WEEK II
http://www.ERBzine.com/mag63/6320.html

MARCH WEEK ONE PHOTO ALBUM
http://www.ERBzine.com/mag63/6319pics.html

BACK TO MONTHLY EVENTS CONTENTS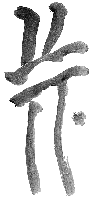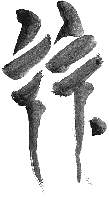 BILL HILLMAN
Visit our thousands of other sites at:
BILL AND SUE-ON HILLMAN ECLECTIC STUDIO
ERB Text, ERB Images and Tarzan® are ©Edgar Rice Burroughs, Inc.- All Rights Reserved.
All Original Work ©1996-2018 by Bill Hillman and/or Contributing Authors/Owners
No part of this web site may be reproduced without permission from the respective owners.