Official Edgar Rice Burroughs Tribute and Weekly Webzine Site
Since 1996 ~ Over 15,000 Webpages in Archive
Volume 6339

ERB'S LIFE and LEGACY :: DAILY EVENTS
A COLLATION OF THE DAILY EVENTS IN ERB-WORLD
FROM THE PAGES OF ERBzine CREATED BY BILL HILLMAN
Collated by John Martin and Bill Hillman
With Web Design, Added Events, Links,
Illustrations and Photo Collages by Bill Hillman
FULL YEAR'S CONTENTS

AUGUST CONTENTS: WEEK ONE
AUG 1 ~ AUG 2 ~ AUG 3 ~ AUG 4
AUG 5 ~ AUG 6 ~ AUG 7

VISIT THE AUGUST WEEK I PHOTO ALBUM
www.ERBzine.com/mag63/6339pics.html
BACK TO JULY WEEK 4
www.ERBzine.com/mag63/6338.html

Click for full-size images
---
AUGUST 1
---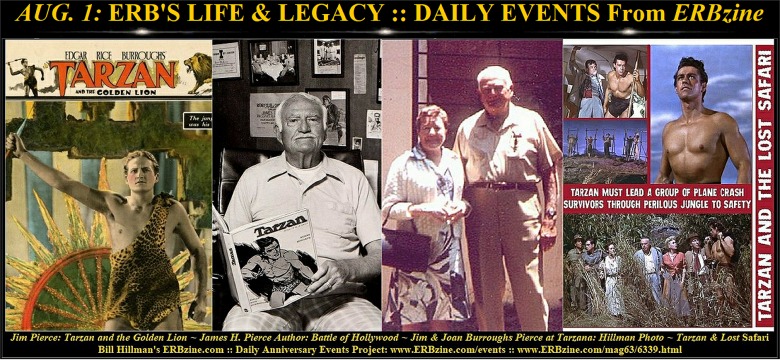 Jim Pierce: Tarzan and the Golden Lion ~ James H. Pierce Author: Battle of Hollywood
Jim and Joan Burroughs Pierce at Tarzana: Hillman Photo ~ Tarzan and the Lost Safari
---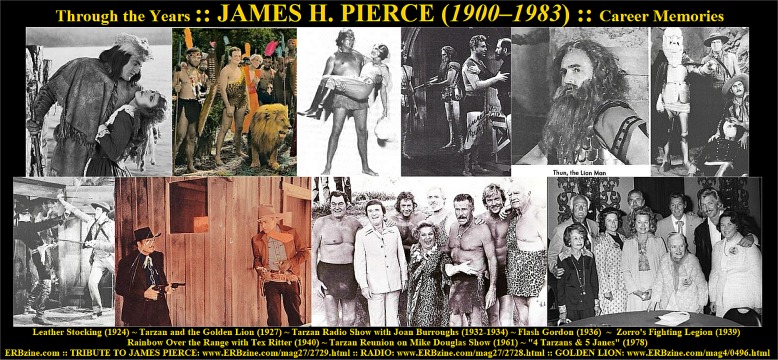 ---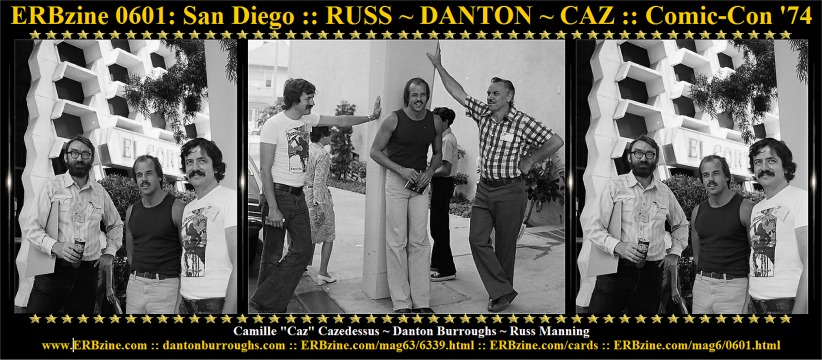 ---
*** 1971/2013: James Pierce (1900–1983)was the first film Tarzan I met. Sue-On and I made our first visit to Tarzana during a road trip to California in 1971. Hulbert Burroughs gave us a full tour of the ERB, Inc. offices and the usually very private warehouse full of ERB treasures. Much of the warehouse still showed evidence of the fire started by combustible nitrate film stock back in the '50s. After examining the huge trove of 16" ET master discs of the 1932 Tarzan radio show in the warehouse he even suggested that he would have a job for me if I could stay and catalogue the shows. This was after I told him I had a huge old time radio show collection and even had tapes of the series that Jim Pierce and Joan Burroughs had acted in. I had to decline since I had to resume teaching duties in a few weeks back in Canada. He then suggested I stay over for a day and meet Jim and Joan who were coming in from Apple Valley for an ERB, Inc. board meeting the next day. This we did and spent great afternoon visiting with them all.
Twenty years later I visited the warehouse again. . . this time with ERB's grandson Danton. We spent many hours taking exclusive photos and scanning rare documents . . . most of which I have never released.
Still later Sue-On and I visited the gravesites of James and Joan Burroughs Pierce in Shelbyville, Indiana. A very memorable visit for which we shared photos on the Web.
*** 1927: Jim Pierce played an important part in my life . . . he introduced me to Tarzan of the Apes. Because the very first Tarzan film I ever saw was the last few reels of 'Tarzan and the Golden Lion' in 1927. In those few moments, Tarzan reached out and took hold of me, and through him, I discovered the marvelous magic of the world's greatest myth-maker, Edgar Rice Burroughs. I was never ever to escape the steely grip of Tarzan or the wondrous worlds of Burroughs. Who wants to?" Those words were in the foreword of a book which was published in 1978. The foreword was dated Aug. 1 of that year. See it in ERBzine and while you're at it, maybe read the rest of the introduction and go on to the book itself! The text of the book can be followed by clicking the "Next" button at the bottom of each page.~ John Martin
Hillmans Visit Jim and Joan Burroughs Pierce in Tarzana
http://www.erbzine.com/mag1/0192.html
http://www.erbzine.com/mag1/0193.html
Jim Pierce: Book ~ Bio ~ Radio ~ Films ~ Photos ~ Letters
http://www.erbzine.com/mag27/2729.html
Tarzan and the Golden Lion: ERBzine Silver Screen
http://www.erbzine.com/mag5/0591.html
Jim and Joan Burroughs Pierce Gravesite
Forest Hills Cemetery ~ Shelbyville, Indiana
https://www.erbzine.com/mag13/1385.html
Second Visit
http://www.erbzine.com/mag28/2879.html
---
*** 1974: Danton Burroughs attended the San Diego Comic-Con (July 31-Aug 4) held at the El Cortez Hotel on this weekend. Other well-known personalities who attended included Majel Barrett, Milton Caniff, Frank Capra, Chuck Jones, Walter Koenig, Russ Manning, Russell Myers, Charles M. Schulz, Forry Ackerman, Kirk Alyn, Bob Clampett, Camille "Caz" Cazedessus, etc. This Con set a trend for all the following events as featured the first Masquerade, emceed by June Foray, which evolved into a major Cosplay attraction.
Official Danton Burroughs Site
http://www.dantonburroughs.com
Danton Photo with Comic-Con Attendees
Camille "Caz" Cazedessus and Russ Manning
ERBzine Eclectica 2010.05
http://www.erbzine.com/mag6/0601.html
https://www.erbzine.com/cards/cons/dantoncomiccon74all.jpg
---
*** 1983: Peter Arne landed "regular" roles for awhile but in the latter part of his career was mostly cast as heavies or other sinister characters.
In "Tarzan and the Lost Safari," 1957, he played Dick Penrod, who flew the airplane that had engine trouble and crashed in Tarzan's jungle. He, his wife, and a couple of other characters were then taken under the wing of the ape-man until captured by men of Opar, a city full of inhabitants who were more like the Oparians in 2016's "The Legend of Tarzan" than they were to ERB's original dwellers of the lost city.
Arne's life came to a sudden and unanticipated end on Aug. 1, 1983, when he was bludgeoned to death in his apartment in Knightsbirdge, London. The man identified as the perp, a former school teacher from Verona, Italy, was found drowned a few days later in the Thames. Arne's acting career got off to a realistic start when he and another man met novelist Mary Renault and acted like her friends, coaxing her into investing some funds with them. But they squandered the money on riotous living until they were caught, and made to stop.
Tarzan and the Lost Safari: ERBzine Silver Screen
http://www.erbzine.com/mag19/1954.html

Off-site References:
Arne in Wikipedia
Lost Safari in Wikipedia

---
AUGUST 2
---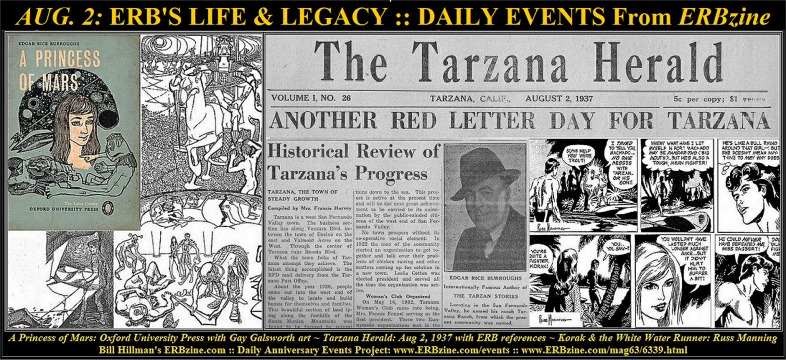 A Princess of Mars: Oxford University Press with Gay Galsworth art ~ Tarzana Herald:
Aug 2, 1937 with ERB references ~ Korak and the White Water Runner: Russ Manning
---
*** 1962: Oxford University Press published "A Princess of Mars" on this date
In "A Golden Anniversary Bibliography of Edgar Rice Burroughs," Henry Hardy Heins wrote that the book was published "...as a schoolbook by the venerable Oxford University Press. it contains six pages of 'Exercises' in the back of the book.... It is issued as part of Oxford's educational series of 'Stories Told and Retold,' which comprises children's classics by what seem to be an otherwise all-British group of authors.
"This is a somewhat condensed version of Princess, 'retold' by A.M. Hadfield. She loses a bit of the original Burroughs flavor in the process. But this loss is counterbalanced by the illustrations of Gay Galsworth -- a series of 19 sketches which seem crude at first glance, but which in their detail are marvelously faithful to the text." [Note: Maybe I am unclear on the concept of an "Oxford classic," but if "Princess" is a classic, then I don't understand why Oxford would find it necessary or even proper to revise the work of a "classic author." It seems to me that they should have reprinted "Princess" as ERB wrote it.]
The Art of Oxford's Princess of Mars:
http://www.erbzine.com/mag6/0649.html
A Princess of Mars: ERBzine Bibliography
http://www.erbzine.com/mag4/0421.html
---
*** 1937: The Tarzana Herald was a weekly newspaper founded in February of 1937, with an office at 18509 Ventura Boulevard, about three blocks from ERB's office. On Aug. 2 of that year it featured ERB himself in a big spread, reviewing the history of the town ERB founded and citing the community's growth from a postal point of view.
News of Tarzana and ERB in the Tarzana Herald
http://www.erbzine.com/mag20/2089.html
Tarzana Herald page: : Aug 2, 1937
http://www.dantonburroughs.com/pics/tarz13.jpg

Off-Site Reference:
Tarzana Property Owners Site
---
*** 1971: "Korak and the White Water Runner," by Russ Manning, began Aug. 2, 1971, and ran for 96 days. Read it in less than one day in ERBzine:
Korak and the White Water Runner: All 96 Manning Strips
http://www.erbzine.com/mag29/2930.html

---
AUGUST 3
---
Celebrating the Birth Date of GORDON SCOTT ~ Some of our many Dell Comics Covers
Tribute Portraits by Dave Hoover and Paul Privitera ~ DVD Film Poster by Dave Hoover
---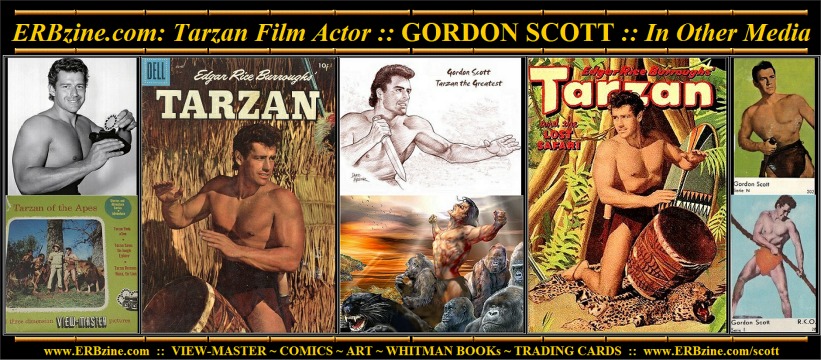 ---
*** 1926: Gordon Werschkul was born this date, Aug. 3,in 1926 in Portland, Oregon. As Gordon Scott, he starred as Tarzan, Zorro, Goliath, Julius Caesar and as Hercules, to name a few. Any ERB fan who attended conventions a few years ago probably met him in person.
"He was an absolutely wonderful Tarzan who played the character as an intelligent and nice man who carried himself well, much as my grandfather had originally written it," ~ Danton Burroughs
"I am positive were Burroughs alive today, he would fully agree that the Tarzan films are getting better and that Gordon Scott makes a truly magnificent Apeman." ~ Maurice B. Gardner - Film Critic
Read details on Scott's life and career, as well as more quotes and reviews in our ERBzine Tribute Pages.
Gordon Scott tributes in ERBzine
http://www.erbzine.com/scott/
Gordon Scott, filmography, bibliography
http://www.erbzine.com/mag17/1793.html
The Dell Tarzan Gordon Scott gallery:
http://www.erbzine.com/mag17/1794.html
...and many more sites as well!

Off-Site Reference
Scott in IMDB
---
*** 1885: A disastrous fire destroyed the Burroughs Phoenix Distillery. George turned to a new business, the American Battery Co.
1896: Ed, disillusioned with the life of an enlisted man at Fort Grant, started sending letters imploring his father to help him buy his way out of the service. Worried about the hardships he was going through, his mother secretly sent him food and money.
ERB Bio Timeline and Journals
http://www.erbzine.com/bio/years75.html

---
AUGUST 4
---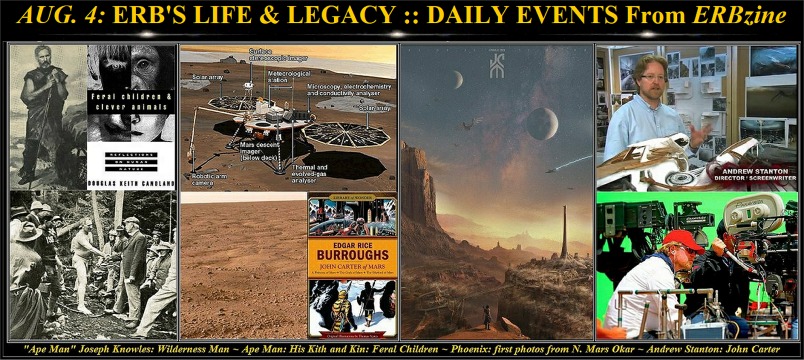 "Ape Man" Joseph Knowles: Wilderness Man ~ Ape Man: His Kith and Kin: Feral Children
Phoenix carries ERB to Mars and sends first photos from N. Mars Okar ~ Andrew Stanton: John Carter
---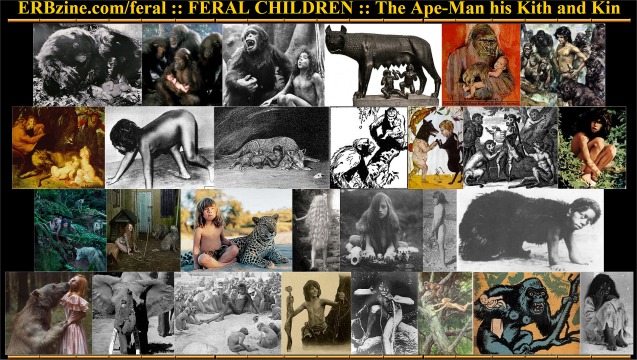 ---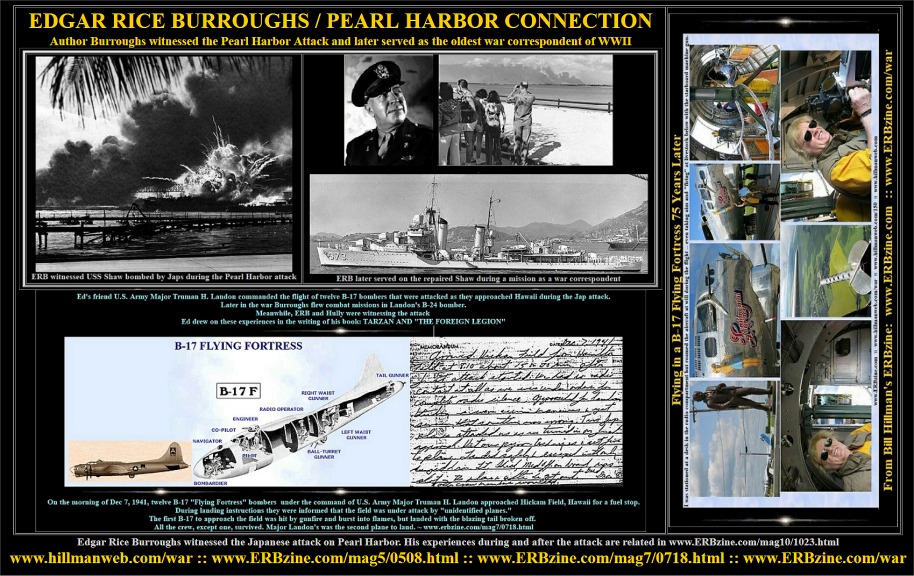 ---
*** 1913: John Carter went to Mars and Joseph Knowles went to the Maine woods. On Aug. 4, 1913, Knowles headed into the woods wearing nothing but a jock strap, to prove someone could survive just as Tarzan (who had been introduced to the world a year earlier) was able to do. Scott Tracy Griffin tells the story of Knowles on page 176 of "Tarzan: The Centennial Celebration," in a chapter titled "Tarzan Dopplegangers." He mentions ERB-created Tarzan lookalikes such as Esteban Miranda and Brian Gregory, but also highlights the real-life Tarzan imitator. Tracy noted that Knowles had partnered with the Boston Post for the publicity stunt in which he was allegedly surviving in the woods for two months, coming out clad in a bearskin which he claimed to have acquired after defeating a bruin with a club. Knowles left weekly dispatches, written on bark with charcoal sticks, for the newspaper to publish. Afterward, he went on a publicity tour and wrote a book, "Alone in the Wilderness."
Newsstories and books relating similar tales of human adaptation and survival in the wild abound. In fact, one of my roles as professor at Brandon University was to work with Professor Georges Dodds of McGill University in Montreal in featuring such stories -- well over 100 books with full text and illustrations as part of his project: The Ape-Man his Kith and Kin ~ A collection of texts which prepared the advent of Tarzan of the Apes by Edgar Rice Burroughs
Tarzan and his Fellows: "Fact, Fiction, Legend?"
http://www.erbzine.com/mag18/1899.html
The Ape Man: His Kith and Kin
http://www.erbzine.com/feral/

Off-Site References:
Knowles in Boston Magazine
---
*** 2007: John Carter is on Mars. Dejah Thoris is on Mars. So is everyone else in the 11 Barsoom books. And, the author, Edgar Rice Burroughs, is on Mars as well.
They went there on this date, Aug. 4 in 2007, aboard the spacecraft Phoenix. They are among works of literature about Mars, encoded on an archival silica-glass DVD designed by The Planetary Society and sent along on the spacecraft in case an alien with a DVD player shows up there in the next thousand years or so. The story, over a pink tint block next to the cover of A Princess of Mars", can be found by scrolling about halfway down at:
Phoenix Carries Visions of Mars ~ First Okar photos
http://www.erbzine.com/news/news25.html
Hothouse Cities of Okar on Barsoom
http://www.erbzine.com/mag33/3306.html
---
*** 2011: Maybe someday someone will send another DVD to Mars, with Andrew Stanton's "John Carter" on it. On Aug. 4, 2011, a Stanton interview was published about the forthcoming John Carter movie. He was still feverishly working to edit the movie into something cohesive at that time, but took the time for an interview and had a lot of interesting things to say. Lots of other good stuff on this page, including DeWet du Toit as Tarzan and ERB artist, the late Dave Hoover.
Andrew Stanton Interview on John Carter
http://www.erbzine.com/mag36/3670.html
Stanton Discusses the Making of "John Carter"
http://www.cartermovie.com/news/stanton.html
Another Stanton Interview
ERBzine's www.Carter Movie.com

---
BURROUGHS ANNOTATED CALENDAR and BIO TIMELINE
*** 1927: ERB Started Apache Devil
*** 1942: Ed gave an afternoon talk to officers of an Anti Aircraft artillery regiment relative to possible co-ordination of BMTC and AA units in event of an emergency. "Met two negro AA majors. I saw no distinction shown between white and black. White officers told me that these men were tops."
*** 1943: ERB's stepdaughter Caryl wrote that she was attending the private Marlborough School for Girls. She persisted in using the last name Burroughs - against her mother's wishes. She fought the adoption by Flo's new husband, Dr. Chase
*** 1947: General Landon thanked ED for the dedication in Tarzan and "The Forbidden Legion" ERB had a long association with General Landon during the war years in the Pacific. ERB flew to Tarawa, Eniwetok, and Kwajalein, and shared living quarters on Tarawa with General Landon. He flew with Landon on a B-24 Liberator bomber on two bombing raids over the occupied island of Jaliut and he later flew with General Landon to Eniwetok. ERB returned to Honolulu where he drew on some of these wartime experiences to write Tarzan and "The Foreign Legion," from June to September, 1944.
Annotated Perpetual Calendar for August
http://www.erbzine.com/mag5/0568.html
ERB / Truman Landon Connection Pt. 1
https://www.erbzine.com/mag7/0718.html
ERB At Pearl Harbor
https://www.erbzine.com/mag10/1023.html
Tarzan and "The Foreign Legion"
https://www.erbzine.com/mag7/0732.html
https://www.erbzine.com/cards/erb/erbpearlall.jpg

---
AUGUST 5
---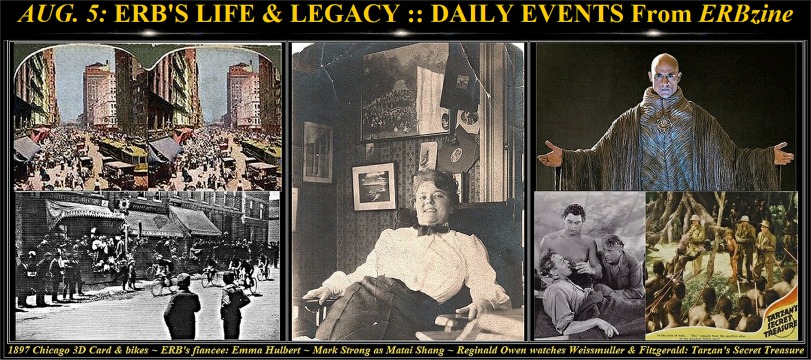 1897 Chicago: 3D Card & bikes ~ ERB's fiancee: Emma Hulbert ~ Mark Strong as Matai Shang
Reginald Owen watches Johnny Weissmuller treat Barry Fitzgerald in Tarzan's Secret Treasure
---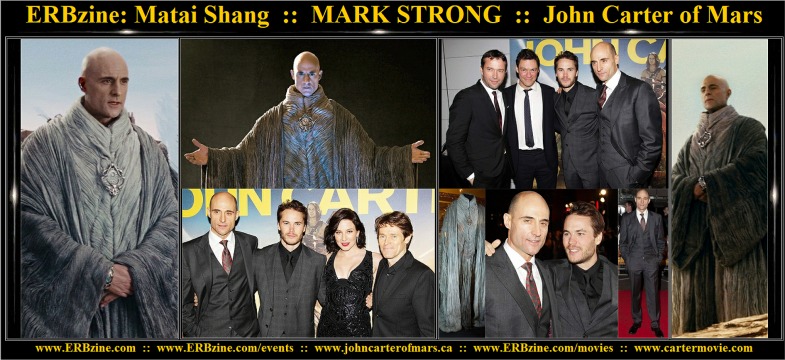 ---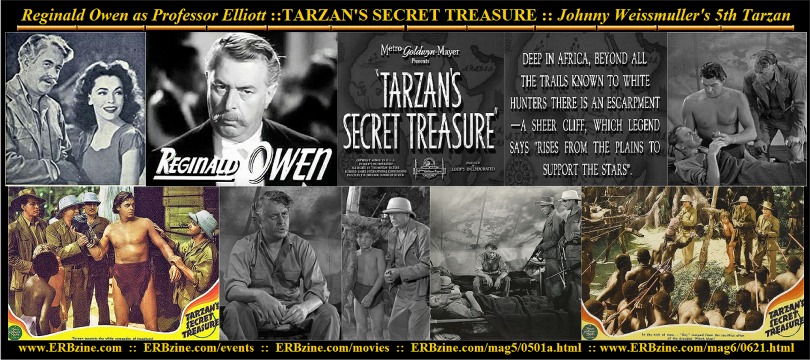 ---
*** 1833: The village of Chicago, population 250, was incorporated on this date, Aug. 5, in 1833, and quickly grew large enough to be re-incorporated as a city (1837). Sixty years after that, by Aug. 5, 1897, the city had developed enough of a bureaucracy that it required pedalers to have bicycle licenses. On that Aug. 5 date, one of its residents, Edgar Rice Burroughs, was issued a license in order to legally power his diamond-framed Reliance about the city, which then had a population of well over one million. The Burroughs family address was 646 Washington St
ERB needed the bicycle to ride to work. His father gave him a job at the American Battery Company where he started at the bench for $15 a week and learned the business from the ground up. Eventually he earned a position of company accountant and was well enough off to enable him to resume his courtship of Emma. Her father, Alvin Hulbert, was manager of several major city hotels, including the Tremont House. ERB enrolled for a brief stint at the Chicago Art Institute on Michigan Boulevard. According to family members, he wanted to draw horses only.
Gleanings from ERB timeline bio at:
http://www.erbzine.com/mag/ez040813.html
ERB at Chicago 1897 Exposition
http://www.ERBzine.com/expo

Off-Site Reference
A Chicago street scene during a bicycle race in 1897
---
*** 1963: Mark Strong of John Carter of Mars was born on this date. When he's not stirring up trouble on Barsoom or other planets, Matai Shang has been scouting Jasoom under the identity of Mark Strong. Should there be inquiries into his place of origin, he can point to birth records on file at Islington, London.
In the guise of Mark Strong, he has acted as an actor for his career cover story. In a remarkable coincidence, he was cast in the role of himself in the 2012 Disney epic, "John Carter," a movie about an earthman who was transported to Mars, where he encountered Matai Shang.One clue to his dual identity is that both his Barsoom persona and earthly identity bear the same initials.
Strong discusses the John Carter filming: On Stanton: "He's a genius. He's such a good storyteller. When I met him and he showed me the storyboards, the ideas for the sets and the designs for the characters, it's just absolutely mind-blowing. I can't wait to get involved with it. I said to him, how do you feel about live action? And he said it's going to be easy. As an animator, you literally have to invent everything. The color of the background, the size of people's noses. Whereas in live action, half the stuff is given, and you can embellish the rest with CGI."
On his part: "There's some filming in Utah, but most of it is in a studio outside of London. My character doesn't actually get involved in any of the motion-capture stuff. All the stuff is live action. Although I can shift my shape (to other human beings mainly), so I have to be photographed by a 360-degree camera. I can adapt into anything. That's going to be my particular talent."
Mark Strong Discusses John Carter
http://www.erbzine.com/news/news28.html
John Carter of Mars 2012 Film Site
http://www.cartermovie.com
https://www.erbzine.com/cards/film3/markstrongall.jpg
Off-Site Reference
Mark Strong in IMDB
---
*** 1887: Reginald Owen, who played Professor Elliott in "Tarzan's Secret Treasure," was born this date, Aug. 5, in 1887 at Wheathampstead, Hertfordshire, England. He died in 1972 in Boise, Idaho."He was probably Hollywood's busiest character actor - making more than 80 films. He was educated in England at Sir Herbert Tree's Academy of Dramatic Arts. Owen excelled and made his professional debut also in England at the age of 18. He came to New York in the early 1920s and started working on Broadway by 1924. He left New York in 1928 and moved to Hollywood, hoping to make it in films. In 1929, he landed his first role in "The Letter." In 1932 he played Dr. Watson in a Sherlock Holmes movie. Although, he didn't get many leading roles, he did get to work with some of Hollywood's most beautiful leading ladies like, Jean Harlow, Joan Crawford, Jeanette MacDonald (Owen's personal favorite), Barbara Stanwyck and Elizabeth Taylor. Owen continued to work into his 70s and 80s, making family classics."
Of interest to ERB fans is Owen's appearance as Professor Elliott in TARZAN'S SECRET TREASURE in which he played the leader of a scientific expedition. Owen and Tarzan rescue Boy from the Ubardi tribe, which is about to sacrifice the child. Learning that there is gold on Tarzan's land, two greedy members of the safari let the professor die from a fever and then kidnap Boy and Jane to force the two to lead them to Tarzan's gold. Tarzan uses elephants and crocodiles to help him rescue his family.
Tarzan's Secret Treasure: ERBzine Silver Screen
https://www.erbzine.com/mag6/0621.html
Location shots in Florida
https://www.erbzine.com/mag6/0621b.html
https://www.erbzine.com/mag5/0501.html
https://www.erbzine.com/mag5/0501a.html

---
*** 1942: ERB wrote a lengthy letter to Joan from Hawaii: "Sunday, I was guest speaker at a dinner given by the Schofield Barracks Quarterbacks Club at the Chun Hoon residence." Ed reads in the Honolulu Advertiser that Florence is to remarry. Ed has been invited by a Lt. Col. to spend Saturday with his tank group and another Col. has invited him out to an AA target practice. Hulbert recently came over and they played tennis and saw The Man Who Came to Dinner."
Wartime Letter to Joan
http://www.erbzine.com/mag2/0214.html

---
AUGUST 6
---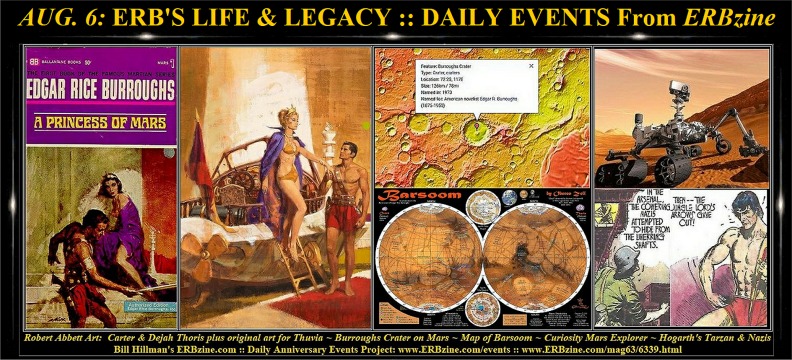 Robert Abbett Art: John Carter & Dejah Thoris plus original art for Thuvia ~ Burroughs Crater on Mars
Map of Barsoom ~ Curiosity Mars Explorer 2012 ~ Hogarth's Tarzan Against The Nazis
---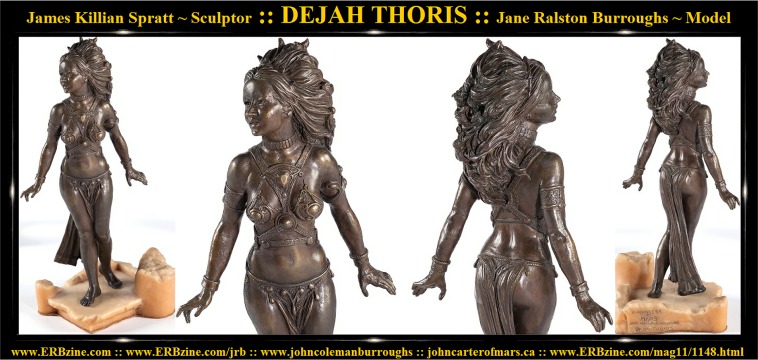 ---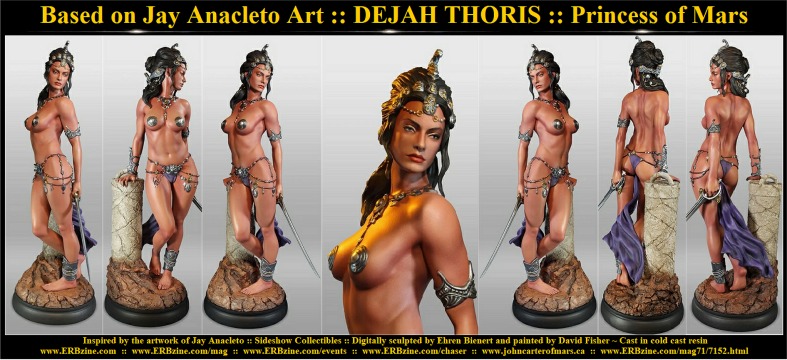 ---
*** 1911: Kill off Dejah Thoris? That was the idea proposed by Thomas Metcalf, editor of The All-Story, in a letter he wrote to ERB. He was responding to a missive from ERB on Aug. 6, 1911, in which ERB said that his reasons for writing "Under the Moons of Mars" were purely mercenary and "not from motives of sentiment." ERB said he was open to suggestions for how his stories should go. Metcalf made a suggestion. But, ERB found it too hard to kill off the incomparable Dejah Thoris. Of course, a few years later, he would attempt to kill off Jane. But that's another story!
Robert Abbett's painting for the first Ballantine paperback edition of "A Princess of Mars" showed the deathless Virginian John Carter fending off those who would harm his love, the incomparable Dejah Thoris.
The Metcalf / ERB Correspondence
http://www.erbzine.com/mag28/2834.html
"The Glory that was once Zodanga":
http://www.erbzine.com/mag36/3679.html
The Abbett Mars Art for Ballantine
http://www.erbzine.com/mag3/0301.html
DYNAMITE DEJAH THORIS ART by JOE JUSKO
https://www.erbzine.com/mag62/6292.html
https://www.erbzine.com/cards/art5/sprattdejahthoris.jpg
https://www.erbzine.com/cards/art5/jayanacletodejahall.jpg

---
*** 2012: John Carter first went to Mars in the month of March but NASA prefers to start a lot of its Red Planet forays in August.Curiosity, a car-sized rover designed to explore Gale Crater on Mars as part of NASA's Mars Science Laboratory mission, landed on Aeolis Palus in Gale Crater on Mars on Aug. 6, 2012.
Two days ago, it was reported in this space that the spacecraft Phoenix touched down on Mars on Aug. 4, 2007, bearing a CD with all 11 of ERB's Mars books on it.
Mariner 7, a U.S. space probe, passed by Mars on Aug. 5, 1969. Photographs and scientific data were sent back to Earth.
NASA announced, on Aug. 5, 2011, that its Mars Reconnaissance Orbiter had captured photographic evidence of possible liquid water on Mars during warm seasons.
ERB didn't leave Jupiter out of his Mars series, so we won't either: On Aug. 5, 2011, the spacecraft Juno was launched from Cape Canaveral Air Force Station on a mission to the Solar System's largest planet. It was the first solar-powered probe.
Edgar Rice Burroughs Mars Crater
http://www.erbzine.com/mag2/0246.html
Map of Barsoom from the ERBzine ERB Atlas
http://www.erbzine.com/mag39/ozmarsmap16.jpg

Off-Site Reference
NASA Mars Probes
---
*** 1944: "Tarzan Against the Nazis," by Burne Hogarth, began Aug. 6, 1944, and ran for 32 Sundays. It was reprinted in "Tarzan in Color," Vols. 13 and 14, and in the Titan Books Vol. 3, "Tarzan Versus the Nazis," which also contained "Tarzan Versus Kandullah and the Nazis," along with other stories.
Tarzan Versus the Nazis by Burne Hogarth
Hogarth Bio and Directory for his Tarzan Sundays
http://www.erbzine.com/mag2/0298.html
---
*** 1932: ERB wrote Lost On Venus at his beach home at 90 Malibu La Costa
Lost On Venus: ERBzine C.H.A.S.E.R.
http://www.erbzine.com/mag7/0749.html
Lost On Venus: Read the eText Edition
http://www.erbzine.com/craft/v2lv.html

---
AUGUST 7
---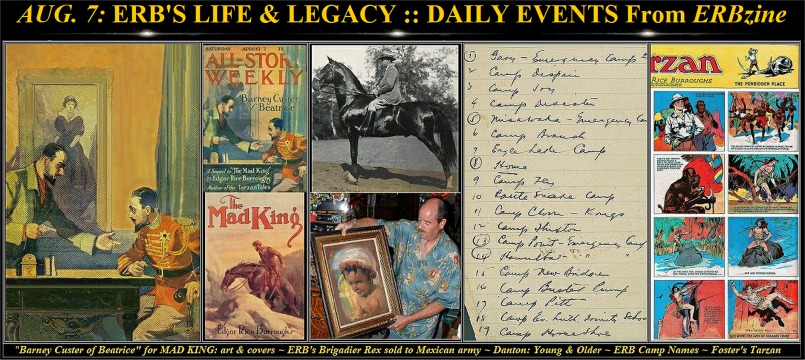 "Barney Custer of Beatrice" for MAD KING: Fairchild art & covers ~ ERB's Brigadier Rex sold to Mexican army
Danton: Young (JCB art) & Older ~ ERB Cross-Country Camp Names ~ Foster's Tarzan: Forbidden Place
---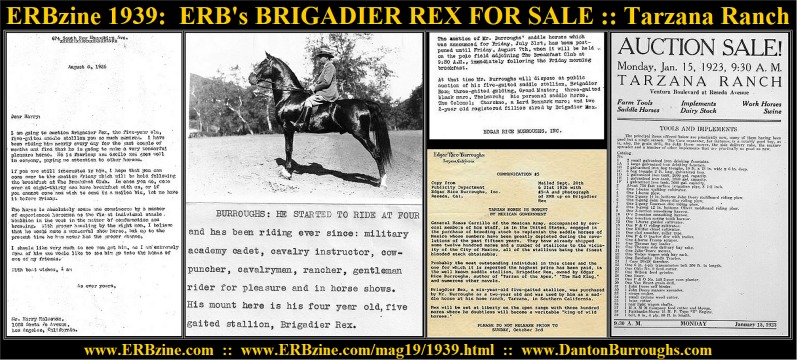 ---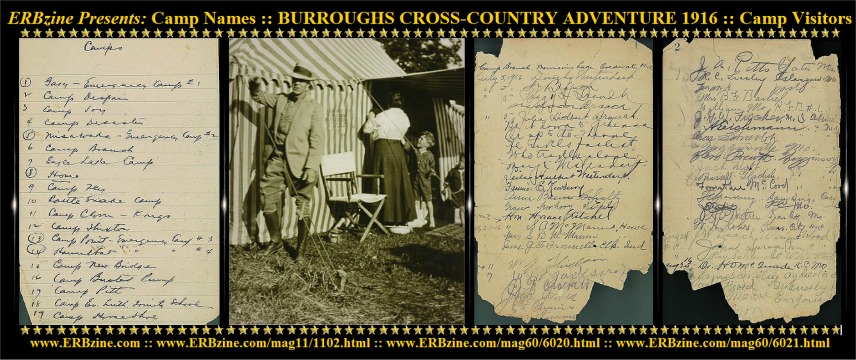 ---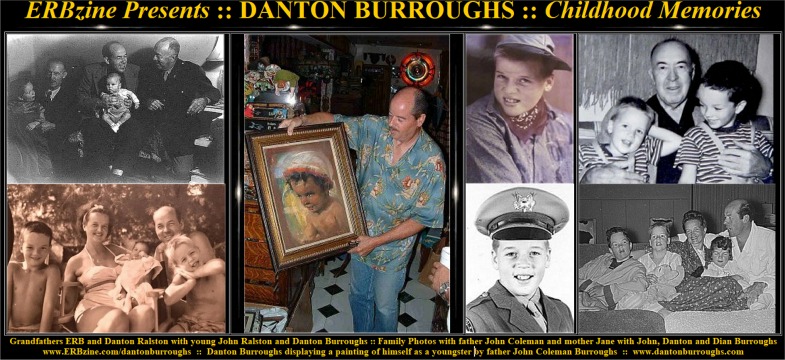 ---
*** 1915: "Barney Custer of Beatrice," a three-part serial, began in All-Story Weekly on this date. The first issue had a cover illustration by W. Fairchild. The story was a sequel to "The Mad King," published in the same magazine about a year and a half earlier. In 1926, both parts were combined into a single book with "The Mad King" as the title.
Mad King: ERBzine C.H.A.S.E.R. Bibliography
http://www.erbzine.com/mag7/0758.html
Mad King: Read entire book in e-Text
http://www.erbzine.com/craft/o5mk.html

Off-Site Reference
Mad King Summary
---
*** 1932: "Von Harben and the Elephants' Graveyard," by Hal Foster and George Carlin, began Aug. 7, 1932, and ran for eight Sundays.
Forbidden Place (Elephants' Graveyard): Foster's first of 8
http://www.erbzine.com/mag55/5547.html
Von Harben Sumary
http://www.erbzine.com/mag8/0807.html
---
*** 1964: Tarzan and the 'Queen of Diamonds' by John Celardo, started Aug. 7 in 1964 and ran for 82 days.
Tarzan and the 'Queen of Diamonds': All 82 Celardo Strips
http://www.erbzine.com/mag46/4611.html
---
*** 1996: Mars and the United States have had an exchange program going for several decades. Earth has sent John Carter, Ulysses Paxton, Robinson Crusoe and Santa Claus to Mars, followed by a number of contraptions. Mars, in return, has sent a slough of various invaders to Earth, along with a rock with a dead thing in it.
That was on Aug. 7, 1996. On that date, NASA announced the discovery of evidence of primitive life on Mars. The evidence came in the form of a meteorite that was found in Antarctica. The meteorite was believed to have come from Mars and contained a fossil. Scientists believe the rock was broken loose by a shot from a Thark rifle and ricocheted through the thin Martian air to start it on its journey toward Earth.
Although the world recoiled in terror from the thought that there might be life on Mars, people were even more horrified on this date in 1959 on Aug. 7 when Explorer 6 sent back a picture of a planet even scarier than Mars -- Earth.
Off-Site Reference
Mars in CNN
---
*** 1916: Start of the Burroughs Family California trek locations: Oak Park, Ottawa, Camp Point, Hannibal, Emporia, Newton, Larned, Dodge City, Ute Pass, Santa Fe Trail, Pikes Peak, Arizona,
CAMPS: 9. Camp Fly ~ 10. Rattle Snake Camp ~ 11. Camp Clover-Kings? ~ 12. Camp Thixton ~ 13. Camp Point?: Emergency Camp #3 ~ 14. Hannibal: Emergency Camp #4 ~ 15. Camp New Bridge ~ 16. Camp Busted Pump ~ 17. Camp Pitt ~ 18. Camp Ev. Luth Trinity School ~ 19. Camp Horseshoe ~ 20. Camp Winwood? ~ 21. Camp Big Wind ~ 22. Camp Raggedy Man ~ 23. Camp Moon New Mexico, Mojave Desert, San Bernardino, LA
The Burroughs Family road trip to California really started off on June 14, 1916 as a trip from Oak Park to Maine via Michigan. By the time they reached Coldwater, Michigan, they had made the impulsive decision to cancel the trip to Maine and head to California instead. The Caravan returned to Oak Park from where they left for California on August 7. They named each evening's campsite throughout this summer overland adventure and the names they chose give a pretty fair idea as to the route hazards they encountered. Ed's handwritten journal listed the campsites, as well the signatures of people who visited the camps along the way. Danton shared these rare journal entries with us at ERBzine from his Burroughs Family Tarzana Archive.
Burroughs Family California trek locations
http://www.erbzine.com/mag11/camp1v10.html
BURROUGHS FAMILY AUTO CARAVAN TRIP ACROSS AMERICA
https://www.erbzine.com/mag60/6020.html
https://www.erbzine.com/mag60/6021.html
FAMILY TREK ADVENTURE REMEMBERED IN OUR JOAN BURROUGHS BIO
https://www.erbzine.com/mag11/1102.html
ERB'S AUTO-BIOGRAPHY OF THE TRIP
https://www.erbzine.com/mag0/0030.html
https://www.erbzine.com/cards/erb5/erbcrosscountrycampsall.jpg
---
*** 1944: LETTER ~ ALTERNATE letter home to daughter-in-law, Jane Ralston Burroughs wondering about the origin of baby Danton's name.
Mother Jane Ralston Burroughs' surname was acknowledged in the naming of both her sons. Her father's name was Danton Ralston which explains the choice of names for her and husband JCB's first born: John Ralston Burroughs and their second born, Danton Burroughs. Of course the name John was a favourite of ERB's that he used for many of his fictional heroes. And the name chosen for their daughter was another popular name in ERB's fiction: Dian. Dian the Beautiful is the beloved of David Innes in Burroughs' Pellucidar series.
Danton and Linda carried on these traditions in the naming of their two daughters: Llana Jane and Dejah Ralston Burroughs.
ERB Letter to Jane discussing Danton's Name
http://www.erbzine.com/mag10/1026.html#August 7,
Danton Portrait by his father JCB
http://www.erbzine.com/mag7/0716.html
https://www.erbzine.com/cards/erb6/dantonchildhoodmemoriesall.jpg
---
*** 1925: General Carrillo of the Mexican Army paid $1,000 for Ed's horse Brigadier Rex in a public auction at the Breakfast Club polo field.
Brigadier Rex Sale at Tarzana
http://www.erbzine.com/mag19/1939.html
---
MORE ERBzine Bio Timeline Entries
*** 1930: Emma discovered that some of Hully's golf trophies appear to have been stolen.
*** 1939: August first week: Ed and friends spent time sailing in Balboa at friends' club. Ed tired of the experience except for when he was piloting the ship himself.
ERBzine ERB Bio Timeline
http://www.erbzine.com/bio
---


VISIT AUGUST WEEK 1 PHOTO ALBUM
www.ERBzine.com/mag63/6339pics.html



BACK TO JULY WEEK IV
www.ERBzine.com/mag63/6338.html



BACK TO DAILY EVENTS INTRO and CONTENTS
www.ERBzine.com/events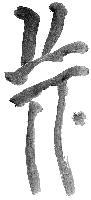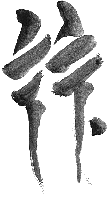 BILL HILLMAN
Visit our thousands of other sites at:
BILL AND SUE-ON HILLMAN ECLECTIC STUDIO
ERB Text, ERB Images and Tarzan® are ©Edgar Rice Burroughs, Inc.- All Rights Reserved.
All Original Work ©1996-2018/2022 by Bill Hillman and/or Contributing Authors/Owners
No part of this web site may be reproduced without permission from the respective owners.