First and Only Weekly Webzine Devoted to the Life and Works of Edgar Rice Burroughs
Since 1996 ~ Over 15,000 Webpages and Webzines in Archive

Issue 0621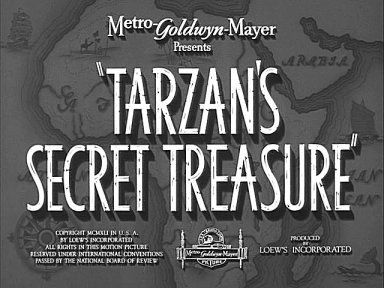 TARZAN'S SECRET TREASURE
Released December 1941
Taglines: New Thrills ~ 2 Years In Production
Starring Johnny Weissmuller ~ No. 5
MGM 1941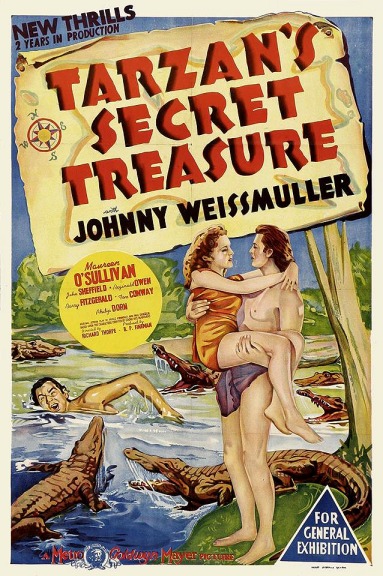 http://www.erbzine.com/mag6/TarzansSecretTreasureScript.pdf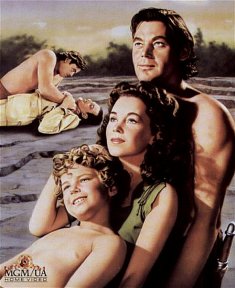 http://www.erbzine.com/mag6/TarzansSecretTreasureScript.pdf

Tarzan's adopted son, Boy (Johnny Sheffield), finds gold while swimming in a river and when Jane (Maureen O'Sullivan) tells him of all the things this could buy him in civilization, he goes off exploring the world. He is captured by the Ubardis after rescuing a child belonging to their tribe. The natives are about to sacrifice Boy to ward off a plague, when he is rescued by a scientific safari led by Professor Elliot (Reginald Owen) and Tarzan (Johnny Weissmuller). Greedy safari members, Medford (Tom Conway) and Vandemeer (Philip Dorn) learn from Boy that there is gold on Tarzan's escarpment. They allow the good Professor Elliot to die from fever and then kidnap Jane and Boy to force them to lead them to the gold. On their way to the "mountain of gold" they are captured by the Joconis who torture the porters to death and take the whites along the river to their village. Tarzan who has been aided by the safari's good cameraman, O'Doul (Barry Fitzgerald), follows then down the river and enlists the aid of elephants and cooperative crododiles in capsizing the native canoes. Jane and Boy are rescued, Medford and Vandermeer are killed, and O'Doul is rewarded with a melon-full of gold nuggets.

CREDITS (IMDB)

Director: Richard Thorpe
Producer: B.P. Fineman
Writers: Edgar Rice Burroughs (characters) ~
Myles Connolly & Paul Gangelin (screenplay)

CAST
Johnny Weissmuller: Tarzan
Maureen O'Sullivan: Jane
Johnny Sheffield: Boy (as John Sheffield)
Reginald Owen: Professor Elliott
Barry Fitzgerald: O'Doul
Tom Conway: Medford
Philip Dorn: Vandermeer
Cordell Hickman: Tumbo
Johnny Eck: Bird
Martin Wilkins: M'Hona

Original Music by David Snell
Non-Original Music by William Axt ~ Sol Levy
Cinematography by Clyde De Vinna

Special Effects by Warren Newcombe
Black and White (Sepiatone - blue tone) ~ 81m ~ 8 reels ~
35mm negative and print ~ Spherical ~ Aspect Ratio 1.37 : 1
Film Editing by Gene Ruggiero
Art Direction by Cedric Gibbons ~ Howard Campbell (associate art director)
Set Decoration by Edwin B. Willis
Production Management: Art Smith
Assistant Director: Gilbert Kurland
Joseph M. Newman: second unit director
Recording Director: Douglas Shearer
Photographic Effects by Lloyd Knechtel
Florida Director of Photography: Lloyd Knechtel
Florida Camera Operator: Al Lane
Production Companies: Loew's Inc. ~ Metro-Goldwyn-Mayer (MGM)
Distributors: Loew's Inc. ~ Metro-Goldwyn-Mayer (MGM)
Production Dates: 10 July 1941 - 16 August 1941;
additional scenes September 1941 and 22 September 1941 - 8 October 1941
Release Dates: USA December 1, 1941 ~ New York City December 24, 1941 ~ Canada (Toronto) June 30, 1942
Copyright Holder Loew's, Inc.; 12 November 1941; LP10872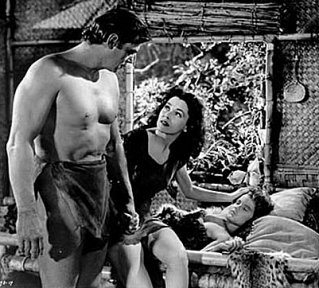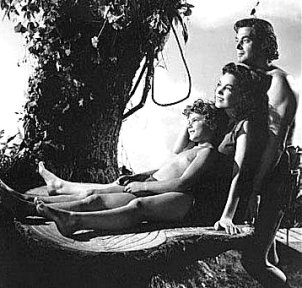 TRIVIA
Filming ran for two months, beginning in June 1941 and came in at just under a million dollars. MGM boasted that the film had been in production for two years. It was released in December 1941.
Filming Locations: Mostly filmed on the MGM lots, Lake Sherwood and Iverson Ranch in California ~ Silver Springs, Ocala, and Wakulla Springs, Florida.
Due to many budget cutbacks following the death of Irving Thalberg many stock shots from former movies were used. The crocodile fight from Tarzan amd His Mate was used for the third time.
Screenwriter Cyril Hume presented a screenplay that included a reworking of the rejected ending that had killed off Jane in Tarzan Finds A Son! He was replaced by Myles Connolly.
The villainous Joconi tribe was named after production manager Joe Cohn.
Tom Conway, who played the villain, Medford, was brother of actor George Sanders. Sanders, was at one time married to Benia Hume (Tarzan Escapes). After the peak of his long career he committed suicide.
ERB forced MGM to take out a scene where Tarzan threw back his head and laughed loud and long at the treasure hunters. Such behaviour was not in keeping with Tarzan's character as created by Burroughs.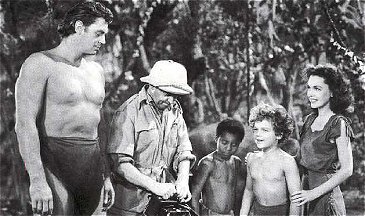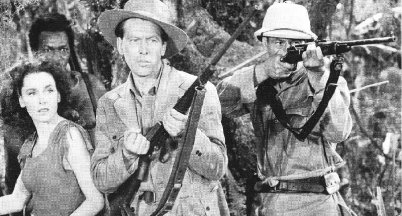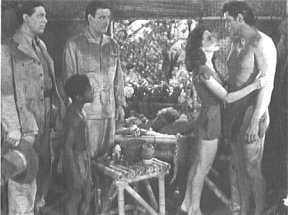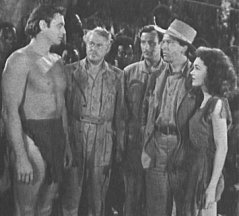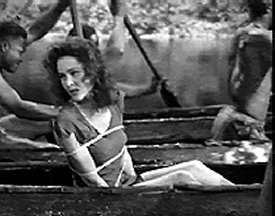 CAST MINI-BIOS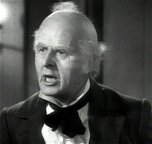 Reginald Owen: Born August 5, 1887 at Wheathampstead, Hertfordshire, England and died of a heart attack on November 5, 1972 in Boise, Idaho. He was probably Hollywood's busiest character actor - making more than 80 films. He was educated in England at Sir Herbert Tree's Academy of Dramatic Arts. Owen excelled and made his professional debut also in England at the age of 18. He came to New York in the early 1920s and started working on Broadway by 1924. He left New York in 1928 and moved to Hollywood, hoping to make it in films. In 1929, he landed his first role in The Letter. In 1932 he played Dr. Watson in Sherlock Holmes.
Although, he didn't get many leading roles, he did get to work with some of Hollywood's most beautiful leading ladies like, Jean Harlow, Joan Crawford, Jeanette MacDonald (Owen's personal favorite), Barbara Stanwyck and Elizabeth Taylor. Owen continued to work into his 70s and 80s making family classics.
Parial Filmography: Robbers' Roost (1932) ~ Sherlock Holmes (1932) ~ Study in Scarlet (1933) ~ Of Human Bondage (1934) ~ Anna Karenina (1935) ~ Call of the Wild (1935) ~ Great Ziegfeld (1936) ~ Rose-Marie (1936) ~ A Tale of Two Cities (1935) ~ A Christmas Carol (1938) ~ Charley's Aunt (1941) ~ A Yank in the RAF (1941) ~ Mrs. Miniver (1942) ~.Woman of the Year (1942) ~ Random Harvest (1942) ~ White Cargo (1942) ~ Madame Curie (1943) ~ National Velvet (1944) ~ Canterville Ghost (1944) ~ Kitty (1945) ~ Imperfect Lady (1947) ~ Three Musketeers (1948) ~ Kim (1950) ~ Tammy and the Doctor (1963) .... Jason Tripp ~ Five Weeks in a Balloon (1962) ~ Mary Poppins (1969)~ Bedknobs and Broomsticks (1971)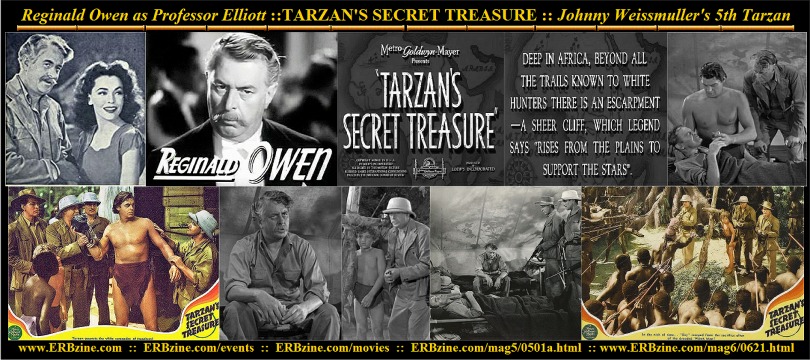 Click for full size
ERBzine EVENTS REFERENCE:
https://www.erbzine.com/mag63/6339.html#AUGUST5
---

Barry Fitzgerald: Born William Joseph Shields on March 10, 1888 in Dublin Ireland and died of a heart attack on January 14, 1961 in Dublin, Ireland. He was educated to enter the banking business but was bitten by the acting bug in the 1920s and joined Dublin's world famous Abbey Players and went on to star in the Abbey Theatre Production of Sean O'Casey's Juno And The Paycock - a role that he re-created in his film debut for director Alfred Hitchcock in 1930. Known for his connections to famous Irish authors, Fitzgerald was brought by John Ford to Hollywood to reprise in film a role he had played on stage in Ireland, The Plough and the Stars (1936), written by Sean O'Casey, a onetime roommate.

He took up residence in Hollywood and went on to give outstanding performances in major films He won the Academy Award For Best Supporting Actor in 1944 for his portrayal of gruff, aging Father Fitzgibbon in Going My Way. In an Academy first, he was also nominated for the Best Actor Award for the same role, the only actor to ever be so honored.

Filmography Highlights: Bringing Up Baby (1938) ~ Dawn Patrol (1938) ~ The Long Voyage Home (1940) ~ How Green Was My Valley (1941) ~ None But The Lonely Heart (1944) ~ Going My Way (1944) ~ Duffy's Tavern (1945) ~ And Then There Were None (1945) ~ Two Years Before The Mast (1946) ~ The Quiet Man (1952).
---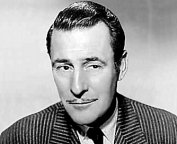 Tom Conway: Born Thomas Charles Sanders on September 15, 1904 in St. Petersburg, Russia and died of a liver ailment on April 22, 1967 in Culver City, Los Angeles, California. Tom Conway and brother George Sanders were born to a wealthy family in pre-Bolshevik Revolution Russia, He might have followed his father's occuaption as a rope manufacturer and inherited several estates but for the Revolution. Tom (age 13) and George (age 11), together with their parents and sister Margaret (age 5) emigrated to England, leaving most of their wealth in the hands of the Bolsheviks. The brothers attended Dunhurst and Bedales, public schools, and eventually Brighton College. After college, Tom went to Northern Rhodesia where he worked in gold, copper and asbestos mines and even attempted ranching. Frustrated by his lack of success he borrowed passage home. In England, Conway worked as an engineer in a carburator company and later sold safety glass. He was discovered by a representative from a little theatre group who persuaded him to join them. Conway eventually worked for the Manchester Repertory Company and toured with them in twenty-five or thirty plays. He also appeared in BBC radio broadcasts. Brother George persuaded him to go to Hollywood. To prevent confusion on the part of the public, they tossed a coin to see who would have to change his name. Conway began work for MGM, eventually appearing as a contract player in twelve films there, including a bit part in "Mrs. Minniver".

Brother George, tiring of RKO's Falcon series, offered Tom his first big break as his replacement in "The Falcon's Brother" (1942), he first of ten films he did in the series. He had a multitude of other roles (comedy, adventure, mysteries, horror, musicals, two Tarzan films, SF) but with the collapse of the studio system the calibre and number of film roles started to shrink in the '50s. He turned to television and had many guest roles in shows such as Detective Mark Saber, Rawhide, Adventures in Paradise, Perry Mason, Alfred Hitchcock Presents, the Betty Hutton Show, etc. Failing eyesight and prolonged bouts with alcohol took their toll on Tom Conway in his last years. His second wife, Queenie Leonard divorced him in 1963 and his brother broke off all contact with him over his drinking. In 1965 he was discovered living in a $2-a-day flophouse in a Venice. Conway stood tall, trim, and white haired to the end. His last years were marked with many hospital visits including an operation for caaracts. Former sister-in-law Zsa Zsa Gabor visited his hospital room one day and gave him $200. He died the next day. (Ref. IMDB)

Filmography Highlights: Lady Be Good (1941) ~ People vs. Dr. Kildare (1941) ~ Falcon's Brother (first of many in the series) (1942) ~ Mrs. Miniver (1942) ~ Rio Rita (1942) ~ Mr. and Mrs. North (1942) ~ The Challenge (Bulldog Drummond) (1948) ~ Tarzan and the She-Devil (1953)
---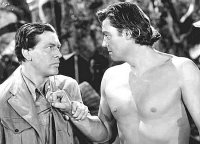 Philip Dorn: Born September 30, 1901 in Scheveningen, Zuid-Holland, Netherlands and died May 9, 1975 in Los Angeles, California. He was a matinee idol in Holland and Germany but fled to the US to escape Nazi oppression and helped produce anti-Nazi propaganda films. against the Nazi regime. He was forced to retire after suffering an injury while on stage in Holland 1955, he lived out the rest of his life in relative seclusion, experiencing numerous health problems.

Filmography Highlights in Hollywood: Enemy Agent (1940) ~ Ziegfeld Girl (1941) ~ Random Harvest (1942) ~ Calling Dr. Gillespie (1942) ~ Passage to Marseille (1944) ~ I've Always Loved You (1946) in which a future Jane, Vanessa Brown, appeared. ~ I Remember Mama (1948).~ Fighting Kentuckian (1949) ~ Sealed Cargo (1951)
---

Cordell Hickman (Tumbo):
Born on November 13, 1932 in Oklahoma and died August 30, 1996 in Los Angeles, California.
Filmography (many uncredited): The Biscuit Eater (1940) ~ West of Cimarron (1941) ~ Tales of Manhattan (1942) ~ Arabian Nights (1942) ~ Mokey (1942) ~ Hit Parade of 1943 (1943) ~ Buffalo Bill (1944) ~ Tale of a Dog (1944) ~ The Big Bonanza (1944) ~ Tarzan and the Slave Girl (1950)

---
Martin Wilkins Appeared in numerous jungle films, including the Bomba and Jungle Jim series,
Filmography Highlights: Real Glory (1939) ~ Congo Maisie (1940) ~ Law of the Jungle (1942) ~ White Cargo (1942) ~ Bomba, the Jungle Boy (1949) ~ Africa Screams (comical cannibal chief) (1949) ~ Bomba and the Jungle Girl (1952) ~ Lydia Bailey (1952) ~ Voodoo Woman (1957)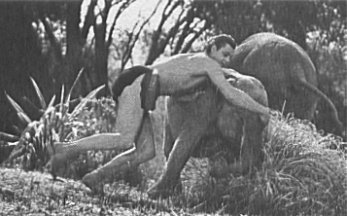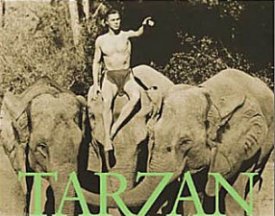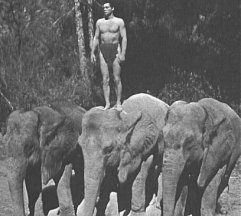 Reviews
Motion Picture Herald
Again he swings through the trees with the greatest of ease does Tarzan and this time his son does likewise, but with even more ease and abandon do the writers of this stanza swing through the stratosphere of imagination accompanied by a technical crew which makes a multitude of impossibilities seem plausible enough for the juvenile trade of all ages... Produced by B. P. Fineman with no sparing of the budget and directed by Richard Thorpe, the film stacks up as about the best of the Tarzans.

Variety
Latest adventures of Edgar Rice Burroughs's superman of the African jungle are detailed in tune with the wild imaginings of the author to catch attention of the juvenile trade and still provide opportunity for adults to laugh at the fantastic antics of the Tarzan family without restraint. Picture is a par entry in the series, which Metro spaces judiciously to overcome objections to the cinematic flights of fancy. Early section of the yarn displays the usual animal stuff, with comedy antics of the pet simian, Cheta, providing elemental laughs. There are several underwater swimming episodes to display the aquatic prowess of Johnny Weissmuller, also there's the usual jungle family life of the Tarzans. The secret treasure turns out to be gold, which is plentiful among the rocks of the high escarpment on which the Tarzan group lives. After Tarzan saves a band of explorers and scientists from the nearby savage tribe, the expedition is guided up the escarpment on a short cut across country. Greedy members of the band figure to move in on the golden hill, but are routed by Tarzan and a savage tribe that captures the expedition with aid from a herd of elephants and peace again comes to the Tarzan hideout. Picture swings into straight meller for the second half, with several sequences devoted to miraculous escapes by Tarzan from death. Latter events are to be expected from the jungle miracle man, to pass muster with audiences who have become familiar with the Tarzan character in print and film. Weissmuller adequately handles the Tarzan role in his usual style, with Maureen O'Sullivan as his jungle mate and John Sheffield their offspring. Miss O'Sullivan carries quite an English accent into the jungle, which is apparently throughout. Barry Fitzgerald, member of the expedition, carries the comedy assignment in the latter portion to good advantage. Others in support include Reginald Owen, Tom Conway, Philip Dorn and Cordell Hickman. Direction by Richard Thorpe injects a good pace to the script, turned out by Myles Connolly and Paul Gangelin. Jungle setting is familiar background for previous Tarzan adventures, while camera work by Clyde de Vinna and process special effects by Warren Newcombe are good contributions.

The New York Times
God Rest ye, merry gentlemen, let nothing you dismay and especially the current offering at the Capitol, which is just another Tarzan film, that's all, and not an anthropologist's nightmare, as a serious person might suspect. Metro calls it "Tarzan's Secret Treasure," and that's as good a title as any, for it tells in truly comic-strip hyperbole of a shockingly outrageous attempt by a couple of greedy scientists to ravish the ape-man's paradise of its gold. And it concludes in the customary fashion with Tarzan conscripting his faithful friends, the beasts, to put the outsiders in their places and to save his African solitude for himself, his mate and his youngster, who has grown to be quite a lad. Don't let it throw you, Christmas revelers. It is all in the spirit of fun. And although there is nothing about it which would distinguish it from other Tarzan films and save the introduction of Barry Fitzgerald as a kindred soul in the wilds and the fact that Johnny Weissmuller has added a few words and his vocabulary to the animal scenes, especially those which star a chimpanzee, and the fanciful concept of the whole thing is, as usual, pleasantly lacking in guile. Obviously, the Capitol is playing to juveniles this week. - Bosley Crowthers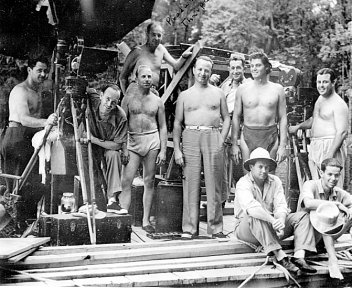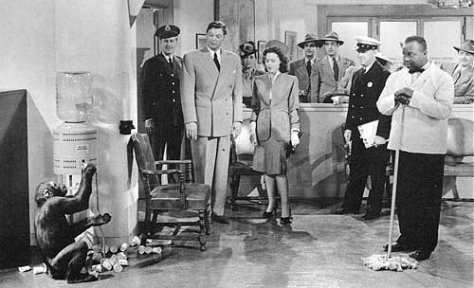 Johnny Weismuller and the film crew at Wakulla Springs, 1941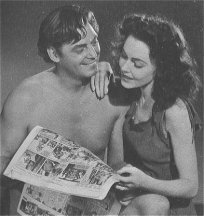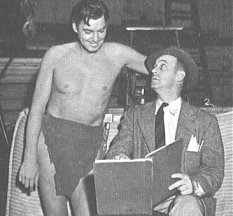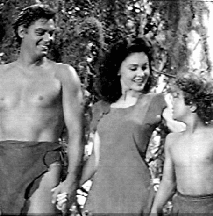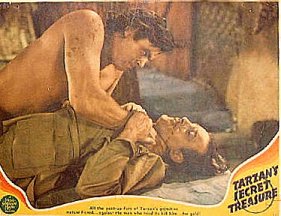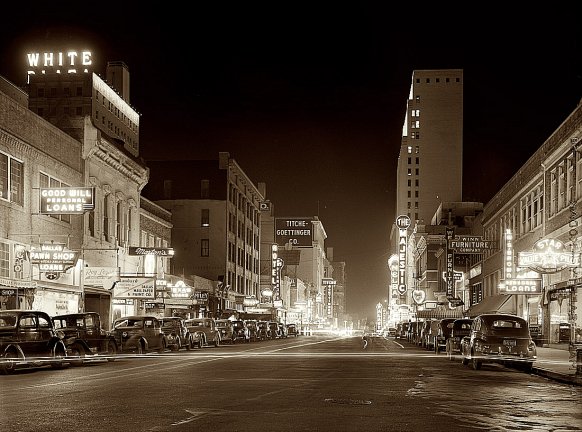 January 1942. Elm Street. Theater Row in Dallas
Tarzan's Secret Treasure is playing at the Majestic.


INTERESTING SUPPLEMENTARY PAGES
LOBBY CARD DISPLAY I
Colour Images from Tarzan's Secret Treasure
LOBBY CARD DISPLAY II
Behind the Scenes with Johnny Photos



Click for full sizes
Weissmuller Behind the Scenes - Filming in Florida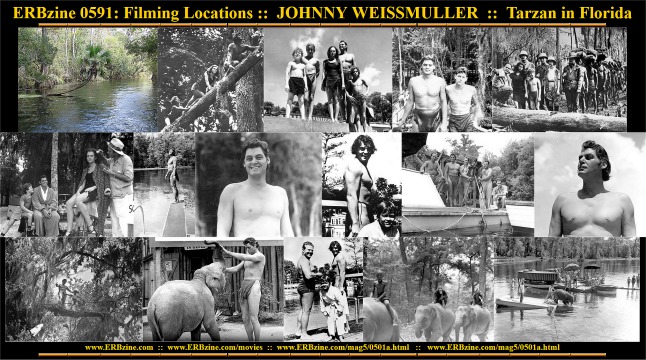 www.erbzine.com/mag5/0501.html
www.erbzine.com/mag5/0501a.html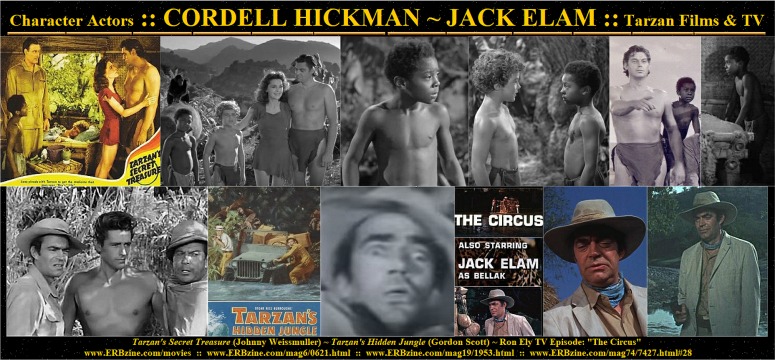 ERBzine Silver Screen Series: An Online Resource Guide to the Movies of Edgar Rice Burroughs
ERB and the Silver Screen Volume I - The Silent Years by Jerry Schneider
Jerry Schneider's Movie Making Locations
ERB On The Silver Screen
Florida Film Legacy
Tarzan Movie Posters
http://www.mergetel.com/~geostan/treasure.html
http://www.mergetel.com/~geostan/films.html
RKO Films
My Mother's Tarzan
Merlads:Johnny Sheffield in Tarzan's Secret Treasure



Volume 0621



BILL HILLMAN
Visit our thousands of other sites at:
BILL and SUE-ON HILLMAN ECLECTIC STUDIO
ERB Text, ERB Images and Tarzan® are ©Edgar Rice Burroughs, Inc.- All Rights Reserved.
All Original Work ©1996-2006/2021 by Bill Hillman and/or Contributing Authors/Owners
No part of this web site may be reproduced without permission from the respective owners.