Official Edgar Rice Burroughs Tribute and Weekly Webzine Site
Since 1996 ~ Over 15,000 Webpages in Archive
Volume 6317

ERB'S LIFE and LEGACY :: DAILY EVENTS
A COLLATION OF THE DAILY EVENTS IN ERB-WORLD
FROM THE PAGES OF ERBzine CREATED BY BILL HILLMAN
Collated by John Martin and Bill Hillman
With Web Design, Added Events, Links,
Illustrations and Photo Collages by Bill Hillman
BACK TO DAILY EVENTS CONTENTS

FEBRUARY CONTENTS
WEEK 3
FEB 15 ~ FEB 16 ~ FEB 17 ~ FEB 18 ~ FEB 19 ~ FEB 20 ~ FEB 21

BACK TO FEBRUARY WEEK II
http://www.ERBzine.com/mag63/6316.html

FEBRUARY WEEK THREE PHOTO ALBUM
http://www.ERBzine.com/mag63/6317pics.html

Click for full-size images
---
FEBRUARY 15
---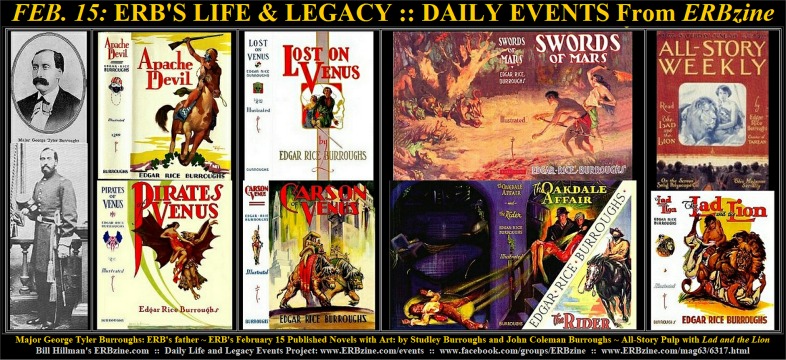 Major George Tyler Burroughs: ERB's father ~ ERB's February 15 Published Novels with Art:
by Studley Burroughs and John Coleman Burroughs ~ All-Story Pulp with Lad and the Lion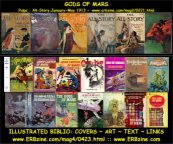 .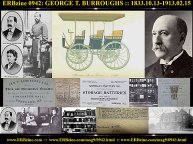 ---
*** Major George Tyler Burroughs saw his son, Edgar, grow up to drift through a variety of occupations and may have wondered if his boy was ever going to find a niche. But when 1912 rolled around, his son was suddenly a published author, with "Under the Moons of Mars" and "Tarzan of the Apes" both showing up in pulp magazines of the day. In January of 1913, a third story, "The Gods of Mars," began serialization in "The All Story," which was published monthly at that time. The serial ran through May but the senior Burroughs did not live to see the finish of the tale, passing away this date -- Feb. 15 -- in 1913.
Had the publication of three novel-length stories by his son in the cheap pulp magazines of the day been enough to assure Major Burroughs that his son had, at last, landed on a successful career path? We don't know his thinking, of course, but we do know he at least had the satisfaction of knowing his son had found a way of supporting his young family. Had he lived, the elder Burroughs would no doubt have been proud of his son's success, popularity and business acumen.
George was very much the patriarch and the autocratic ruler of the Burroughs household on Washington Boulevard, a main thoroughfare with tree-shaded sidewalks and marble-fronted townhouses. The hub of the neighbourhood was Union Park with its sculpted lagoons, Gothic gazebos, caged animals, and sprawling greenspace. One of the functions of the park was to serve as a grazing area for the neighborhood cows brought there each day by the herdsmen. The Burroughs family was among those who kept a cow to supply fresh milk.
They lived in upper-class comfort in a large house with servants and a carriage with a fine team of horses and coachman. The home was three-story townhouse with the dining room upstairs, a dumbwaiter, kitchen off the first floor, and a basement. There was an outside long flight of stairs, and underneath were doors going into a vestibule. The major's strict control over the household was always tempered by Mary's maternal common sense and moderation. Day-to-day operation of the Burroughs house was guided efficiently by Mary with the help of a cook and two Irish maids -- sisters Katie and Lizzie Sheridan.. She was a petite lady who exhibited great warmth and humour. George on the other hand was a staid, conservative disciplinarian. Read much more about ERB's father in ERBzine 0942 and 0943
Remembering GEORGE TYLER BURROUGHS
From the Burroughs Family Stories Series in ERBzine.com
http://www.erbzine.com/mag9/0942.html
http://www.erbzine.com/mag9/0943.html
The Gods of Mars: Info ~ Art ~ Pulps ~ e-Text
http://www.erbzine.com/mag4/0423.html
---
*** At least seven of ERB's non-Tarzan novels were published on the same date, Feb. 15, for a period of seven years,. They were "Apache Devil," 1933; "Pirates of Venus," 1934; "Lost on Venus," 1935; "Swords of Mars," 1936; "The Oakdale Affair and The Rider," 1937, "The Lad and the Lion," 1938, and "Carson of Venus," 1939.
Apparently, after polishing off a non-Tarzan book, ERB would then get back to the ape man. By September, they were ready to go. Four of them -- "Triumphant," "City of Gold," "Lion Man" and "Quest," came out in different years on his birthday, Sept. 1 -- and several other Tarzan books, including some published by prior publishers, came out on other dates in September.
For more on the Feb. 15 seven, see:
Seven non-Tarzan Novels Published on Feb. 15
Apache Devil:
http://www.erbzine.com/mag7/0775.html
Pirates of Venus
http://www.erbzine.com/mag7/0748.html
Lost on Venus
http://erbzine.com/mag7/0749.html
Swords of Mars
http://www.erbzine.com/mag7/0736.html
Oakdale Affair and The Rider
http://www.erbzine.com/mag7/0765.html
Lad and the Lion
http://www.erbzine.com/mag7/0760.html
Carson of Venus
http://www.erbzine.com/mag7/0750.html

---
FEBRUARY 16
---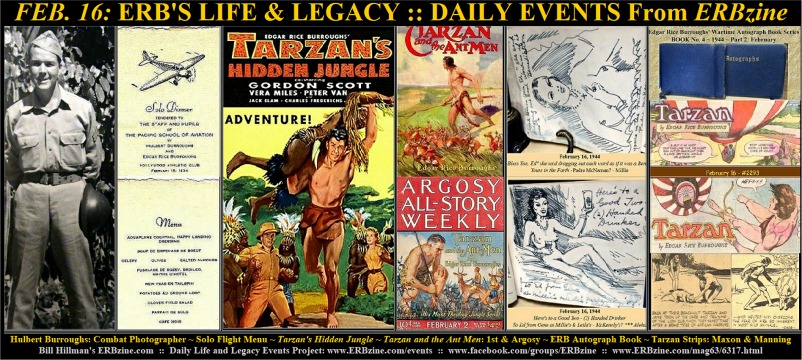 Hulbert Burroughs: Combat Photographer ~ Solo Flight Banquet Celebration Menu ~ Tarzan's Hidden Jungle
Tarzan and the Ant Men: 1st and Argosy pulp editions ~ ERB Autograph Book ~ Tarzan Strips: Maxon and Manning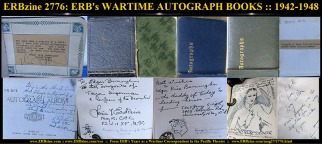 .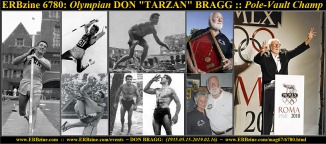 ---
*** Just a few days after delivery of his new Security Airster plane, ERB's son, Hulbert, crashed it. On Feb. 16, 1934, Hulbert was attempting to land amidst a strong crosswind.
Bob Hyde recorded in his Odyssey of a Tarzan Fanatic how he once had a chance to ask Hulbert in person about the crash. He quotes him as saying, "I crashed the Security Airster that Dad owned. I took my first solo flight on Feb. 15, 1934, and crashed on February 16, just six days after Dad had acquired the plane. I did fly again for a short time after that, after I recovered from the crash, when Dad bought another Airster from Kinner."
Ten years earlier, ERB had unwittingly prophesied such an event, only the roles of father and son were reversed. Korak had acquired an airplane and let his dad, Tarzan, fly it. Tarzan crashed on his maiden flight and had the adventure related in "Tarzan and the Ant Men." Coincidentally, part three of the story's seven-part serialization in "Argosy All-Story Weekly" had run in the Feb. 16 issue 10 years before.
See the Hyde Odyssey, Chapter XXVII:
http://www.erbzine.com/mag6/0696.html
Danton's Hully page (mirrored from ERBzine 1985)
http://www.dantonburroughs.com/dan19/1985.html
Tarzan and the Ant Men
http://www.erbzine.com/mag4/0497.html
Argosy All-Story Weekly
http://www.erbzine.com/mag2/0225.html
---
*** "Tarzan's Hidden Jungle," starring Gordon Scott in his first role as the ape-man, opposite Vera Miles, whom he wound up marrying off-screen, premiered this date, Feb. 16, in 1955.
Read all about the movie in the ERBzine Silver Screen series
Tarzan's Hidden Jungle
http://www.erbzine.com/mag19/1953.html

Off-Site Reference
Hidden Jungle in IMDB
---
*** In 1943, ERB went for awhile without writing any more books. Instead, he let other people write his books for him -- his autograph books, that is. On Feb. 16, 1944, ERB noted that his pride and joy was his autograph books in which he had obtained signatures of almost 600 signatures and, very often, brief messages in the autograph books he carried with him during his time as a war correspondent in World War II, Pacific Theater.
Ed Burroughs' desire for an active role in the war zone led him to a new goal; after resigning from his duties with BMTC - the civilian corps - he sought to be a war correspondent for the United Press. On October 23, 1942 with the approval still not received, Ed wrote in his diary, "Am now all ready to go ó almost. I know that, at my age, it is probably a fool thing to do. My decision, then, is not based on faulty judgement. I want the experience. If I don't come back, I am at least definitely expendable. So it won't make any difference. . . ."
The United Press credentials arrived and on November 2 Ed sent a thank-you letter to old friend George Carlin, of the United Feature Syndicate, who had been a great help in Ed's quest for accreditation.
Carlin responded, "Your example in always seeking fresh adventure at an age when most of your contemporaries are content to give up and just stay waiting is an inspiration to me and gives me a goal at which to aim."
Now an accredited war correspondent at the age of sixty-seven, Burroughs waited for his army approval and assignment to a plane. On November 6 he started his autograph album which he planned to carry with him. Fittingly, the first entries were by longtime friend, Captain Phil Bird and fellow United Press correspondent, William Tyree. Ed confessed that one of the real reasons for this project was that he had difficulty remembering names. The books helped him considerably in the writing of his war journals and the stories he submitted as a correspondent.
On the opening page of the first book he wrote:

For more than a quarter of a century, I have been giving autographs.
Thousands of them. And I have never asked for one.
The worm has turned. He wants your autograph. Thanks!
Edgar Rice Burroughs
United Press, Honolulu

*** I scanned these pages from Danton Burroughs' personal Tarzana Archive during one of the visits that Sue-On and I made to Tarzana.
ERB's WWII Autograph Book - Feb 16 page:
http://www.erbzine.com/mag27/2788.html
The ERBzine ERB Autograph Project
http://www.erbzine.com/mag27/2776.html
One autograph he didn't have in the book
is that of Ernest Hemingway :)
http://www.erbzine.com/mag10/1029.html
---
*** 2019: Don Bragg, 1960 Olympic pole-vaulting champion who almost fulfilled his lifetime ambition of being Tarzan on the silver screen, passed away on this date at his home in Northern Calfornia. He was 83. From the time he saw his first Tarzan movie, Don dreamed of becoming the ape man. To that end, he built a series of tree houses in his backyard to practice vine-swinging.
Police actually tore down his tree-house complex twice, due to complaints of neighbors, so Don finally rebuilt it in a nearby swamp where he pursued his hobby of travelling a 200 metre. Kenneth, "His haven was not molested again, and Don was able to pursue his hobby of traveling a 200-metre vine-trail to develop strength and skill.
Don Bragg's Gold Medal victory in the Olympics brought him to the attention of Sy Weintraub, producer of Tarzan films, who called him for a screen test after Gordon Scott quit the role. Tragically, Don had cut his foot and it required several months of healing and Weintraub couldn't wait. The role for the next two Tarzan films went to Jock Mahoney instead.
From Wikipedia: "Nicknamed Tarzan because of his size and strength, Bragg's goal was to play that role in the movies. Few have so actively pursued a role. He toured Europe and Africa for the U.S. State Department as a goodwill ambassador, climbing trees and swinging from vines. He met Johnny Weissmüller, who agreed that Bragg would be perfect as Tarzan. When he won the gold at the 1960 Olympics he did the infamous Tarzan yell from the podium, shocking the crowd."
In August 2010, Bragg made a speech in Rome at a ceremony commemorating the fiftieth anniversary of the 1960 Summer Olympics. He concluded this speech with his Tarzan yell.
Don Bragg Remembered in ERBzine
http://www.ERBzine.com/mag67/6780.html
Don Bragg references at ERBzine:
http://www.erbzine.com/mag21/2101.html
http://www.erbzine.com/mag5/0534.html

Off-Site References
Don Bragg is Dead at 83
Olympic Winner Who Didn't Get To Be Tarzan
Don Bragg in Wikipedia
Don Bragg's Autobiography:
Also see Ken Webber's writeup in ERBdom No. 8.
---
*** "Tarzan and the Lion Cub," written and illustrated by Rex Maxon, began Feb. 16, 1946, and ran for 36 days.
Tarzan and the Lion Club: 36 daily strips by Rex Maxon
http://www.erbzine.com/mag54/5496.html
---
*** "Korak and the Amazons of the Mammoth/Elephants' Graveyard," written and illustrated by Russ Manning, began Feb. 16, 1975, and ran for 26 Sundays.
Korak and Elephant's Graveyard: 26 Sunday strips by Manning
http://www.erbzine.com/mag21/2132.html

---
FEBRUARY 17
---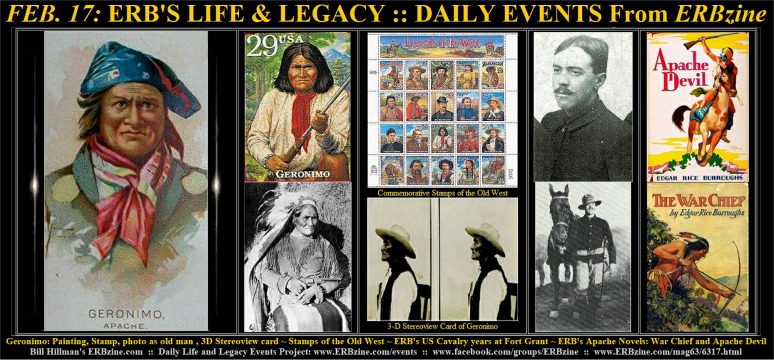 Geronimo: Painting, Stamp, Photo as an old man, 3D Stereoview card ~ Stamps of the Old West
ERB's US Cavalry years at Fort Grant ~ ERB's Apache Novels: War Chief and Apache Devil

.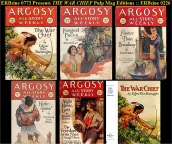 .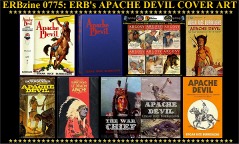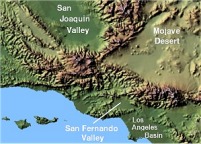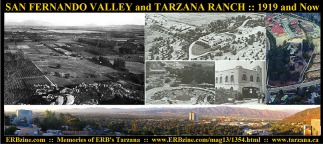 .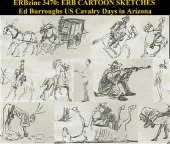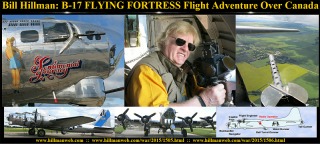 ---
*** The first ERB character to be honored on a U.S. postage stamp was Geronimo, also known by his given name of Go-Yat-Thlay. Geronimo, died at Fort Sill in Oklahoma Territory Feb. 17, 1909.
ERB documents some of Geronimo's adventures in "The War Chief" and "Apache Devil" as seen through the eyes of Shoz-Dijiji, the Black Bear.
*** ERB wrote two Apache novels drawn from his experiences in the US Cavalry station at Fort Grant, AZ ~ I've featured ERB's Cavalry Days: Memories, Photos, ERB's sketches, 3D cards, etc. in my 10 ERBzine pages starting at ERBzine 3482 and 3469. Before writing these books Ed did extensive research and some of his resource materials are shared at ERBzine 1153.
Apache influences on ERB: Texts, Sketches, Old Photos
http://www.erbzine.com/mag34/3482.html
ERB Cavalry Days: Memories, Photos, ERB's sketches, etc.
http://www.erbzine.com/mag34/3469.html
References used by ERB for his Apache Novels
http://www.erbzine.com/mag11/1153.html
The War Chief
http://www.erbzine.com/mag7/0773.html
Apache Devil
http://www.erbzine.com/mag7/0775.html

Off-Site Reference
More Geronimo Info
---
*** 1928: ERB was always good for some great quotes and interesting insight, local newspaper reporters learned. In one article for which he was interviewed, headlined "Edgar Rice Burroughs Sees Valley As World Mecca For Men At Play," he gave some opinions about the San Fernando Valley. The article appeared in the Van Nuys News Feb. 17, 1928.
Among other things, ERB said: "With our freedom from persistent fog, with ten months without high winds, with our ideal winter climate, the only danger that I can see menacing lies in the possibility, which is by no means a remote one, that San Fernando Valley may eventually become as over-populated as are many of the districts that were formerly the playgrounds of Los Angeles."
"For ten years I have roamed these hills with my family, both afoot and on horseback. I have watched my children grow to a sturdier health, achieving cleaner minds and morals because of their close companionship with nature, and when, one after another, the country clubs and golf courses sprang into existence upon our side of the mountains, until now they stretch almost uninterruptedly for nearly fifteen miles along Ventura boulevard, I was more than delighted for I felt that this meant that the San Fernando Valley was going to be dedicated for all time to the pursuits of play and peace and happiness."
Van Nuys News ~ 1919: The selection of the Van Nuys country for a home by Mr. Burroughs is another tribute to the attractiveness of this locality, for this noted author had all of Southern California to select from after a thorough search for a location. . . . Van Nuys welcomes Mr. Burroughs to our valley and trusts he may find here true enjoyment of California country life and a profitable field for his farming operations.
I have to agree with ERB's assessment of the San Fernando. We love our Manitoba summers but the weather in the valley is sure a nice break from our long Canadian winters. We have great memories of the many visits we've made to the Tarzana area. Danton Burroughs and his friends Ralph Herman, Prof. John Westervelt, and the ERB, Inc. staff have been great hosts and promoters of the area. We've explored most of valley, but have concentrated on ERB's Tarzana Ranch area and other Burroughs properties, which we've explored by foot and golf car and antique vintage cars. These adventures have been shared all across our ERBzine.com site and easily found by using our internal Google search feature at the top of every Archive Page; www.ERBzine.com/all
ERB Article in Van Nuys News Feb. 17, 1928
http://www.erbzine.com/mag17/1789.html#3
Memories of ERB's Tarzana
http://www.erbzine.com/mag13/1354.html
Tarzana in the San Fernando Valley
http://www.tarzana.ca
Gateway to the ERBzine Archive
http://www.ERBzine.com/all
---
*** 1942: In a later Star-Bulletin article ERB described a B-17 Flying Fortress bomber ride he had taken on this date: Tarzan Creator Thrilled By Ride In U.S. Bomber by ERB -- a few excerpts from ERBzine 0213:
"I flew in a flying fortress the other day. Six of the great capital ships of the sky flew in formation. I was in the sixth with Jack Rice, cameraman for the Associated Press. We flew above, below and around the formation that Rice might shoot from various angles. And what shots! I do not know at what altitude we flew; as I stood between two open gun ports, holding to both because of the roughness of the air. . . . It is difficult to conceive, viewing them from the ground, the stately majesty of these great ships moving steadily through the air against a backdrop of blue sky flecked with little bomb bursts of soft, white cloud - moving in faultless formation, guided by a single mind as though by a single hand, bound together by the thousands of hours of intensive training and flying behind the six young pilots who flew them."
After reading ERB's wartime article many years back I was very envious of his experience in the B-17. Three of my uncles had been Lancaster bomber pilots in WWII -- all three had lost their lives over Europe. In my eight years as a Royal Canadian Air Cadet I had flown in many types of aircraft, but never in a large bomber. So it was a thrill when I was offered a ride from Winnipeg to Brandon in a B-17 -- one of the perks of being the Webmaster for the British Commonwealth Air Training Plan Museum.
I stood at the same gun ports and had a view of the distant ground below -- much as Ed had done so many years before. The big difference was that I was viewing Manitoba prairie farm and town landscapes rather than the islands and Pacific around Hawaii -- and there was no threat of enemy attack.
Tarzan Creator Thrilled By Ride In U.S. Bomber
http://www.erbzine.com/mag2/0213.html#1
ERBzine Creator Thrilled by Ride in B-17 Bomber
http://www.hillmanweb.com/war/2015/1505.html
http://www.hillmanweb.com/war/2015/1506.html

---
FEBRUARY 18
---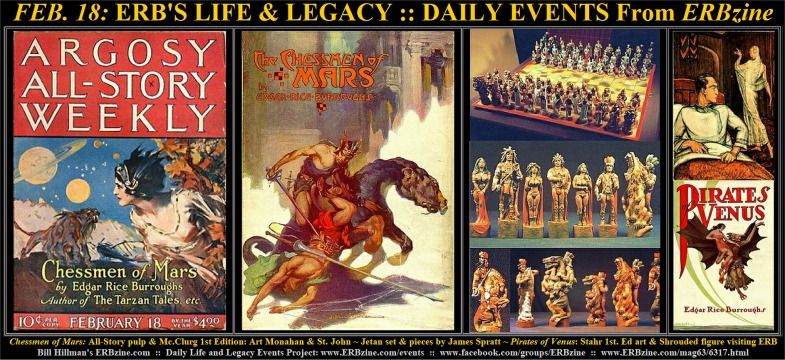 Chessmen of Mars: All-Story pulp and Mc.Clurg 1st Edition: Art Monahan and St. John
Jetan set and pieces by James Spratt ~ Pirates of Venus: Stahr 1st. Ed art and Shrouded figure visiting ERB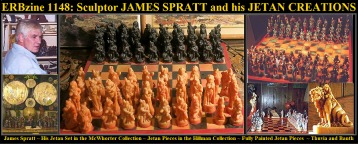 .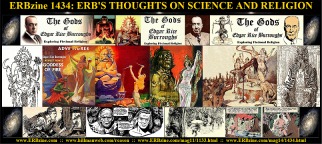 ---
*** 1922 "The Chessmen of Mars" is a favorite of many ERB fans because of ERB's use of it to invent the game of Martian chess. Jetan, as it is known on Barsoom, can be played with a pocket-size board like the one John Carter always carries on his person, all the way up to a giant, stadium-size playing field with live players battling one another to the death for possession of squares.
The game is a major feature of the novel, and ERB even includes the rules in the back of the book, inspiring many ERB fans to create their own 100-square boards and appropriately configured pieces.
The magazine appearance of "Chessman of Mars" (without the "The") was first published on Feb. 18, 1922, as a seven-part serial in "Argosy All-Story Weekly." The first issue had a P.J. Monahan cover and each installment had black and white art on the lead page. The first edition hardback cover art was by J. Allen St. John and showed the Jetan combatants.
*** I worked closely with scuptor/artist/writer James Spratt for many years up until his death. He created marvelous Jetan pieces and even expanded the game into a variant that he invented and called Jetan-Sarang. One of his Jetan sets and board were a major feature in George McWhorter's ERB Memorial Collection at in Ekstrom Rare Books Library at the University of Louisville. My Hillman ERB Library in Brandon also proudly displays the Jetan set that James presented to me. James also did a graphic version of A Princess of Mars with his own unique artwork. The highlights of his ERB-related work grace many Webpages across the ERBzine Web jungle.
Some Jetan websites:
Chessmen in ERBzine C.H.A.S.E.R.:
the publishing history including the text, art and game rules
http://www.erbzine.com/mag4/0426.html
James Spratt: Sculptor of Jetan-variant pieces and rules
http://www.erbzine.com/mag11/1147.html
http://www.erbzine.com/mag11/1148.html
http://www.erbzine.com/mag11/1149.html
6-Part Review of Chessmen and Jetan starting at:
http://www.erbzine.com/mag23/2315.html
The Seven Wonder of Barsoom: The Field of Jetan at Manator
http://www.erbzine.com/mag33/3303.html
"Chessmen," the magazine covers:
http://www.erbzine.com/mag2/0224.html
Exploring Jetan by Fredrik Ekman
https://www.erbzine.com/mag70/7030.html

ERBzine's Tribute Pages to Artist P.J. Monahan
http://www.erbzine.com/mag16/1671.html
http://www.erbzine.com/mag16/1672.html

Off-site references
Jetan-Sarang site using the ERBzine info
Chess Variants: Intro and Jetan Rules
Paul Burgess
A Portable Jetan Set
---
*** In 1932, Pirates of Venus first appeared as a pulp serial, and readers read that lead-in about a figure in a white shroud entering ERB's bedroom at night. Three years earlier, on Feb. 18, 1929, ERB had written a letter to The Boston Society of Psychic Research, telling of his first-hand experience with such events.
ERB didn't really believe in psychic phenomenon, and he had a logical explanation for the strange occurrences in the middle of the night. The shrouded figures he saw were definitely not shrouded in mystery, as far as he was concerned. However, he didn't seem to have much of an explanation for the case of the relocated key, which formed the major part of his letter.
*** By all reports from family members, Edgar Rice Burroughs was a Free Thinker and most believe he was an atheist. He had little patience with organized religions and was not a church goer, although as evidenced in his writings he was a "Cultural Christian." More on ERB's thoughts on religion may be found in our feature at ERBzine 1434.
The second Barsoom book I read as a young one on the Canadian prairies back in the mid-'50s was The Gods of Mars -- it jibed nicely with the views that I and my family held toward religion - I was forever hooked.
ERB's own "locked room" - Pirates of Venus mystery:
http://www.erbzine.com/mag16/1683.html#psychicresearch
Pirates of Venus: History ~ Covers ~ Art ~ e-Text
http://www.erbzine.com/mag7/0748.html
Burroughs' Thoughts on Science and Religion
http://www.erbzine.com/mag14/1434.html
Religions of Barsoom by Den Valdron
http://www.erbzine.com/mag14/1416.html
The Gods of ERB by Dale Broadhurst
http://www.erbzine.com/mag11/1133.html
http://www.erbzine.com/mag11/1134.html
http://www.erbzine.com/mag11/1135.html

---
FEBRUARY 19
---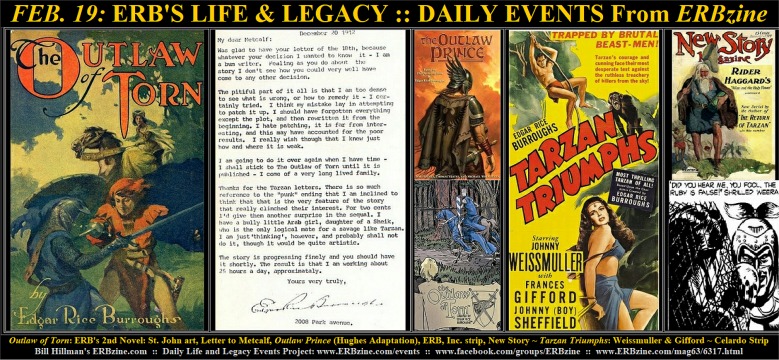 Outlaw of Torn: ERB's 2nd Novel: St. John art, Letter to Metcalf, Outlaw Prince (Hughes Adaptation),
ERB, Inc. strip, New Story ~ Tarzan Triumphs: Weissmuller and Gifford ~ Celardo Tarzan Strip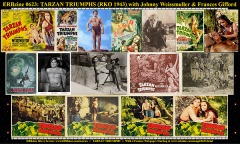 .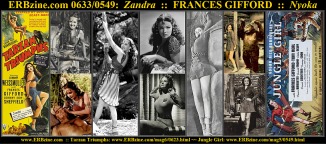 ---
*** Edgar Rice Burroughs thought, at the time, that "The Outlaw of Torn" was the best story he had ever written. However, trying to get others to agree proved frustrating. The story didn't charm Thomas Metcalf, editor of "The All-Story," so finally ERB gave up trying. He found the editors of "New Story" magazine more agreeable, and it ran there as a five-part serial in 1914.
But taking the next step proved nearly as difficult. No one wanted to publish the story between hard covers. So after some frustrating attempts, ERB had to set the book aside and wait a few years. During those years, he wrote the highly successful "Tarzan of the Apes," and added sequels to his first story, "Under the Moons of Mars," as well as to Tarzan.
Finally, 13 years later, on Feb. 19, 1927, A.C. McClurg was happy to add "The Outlaw of Torn" to its stable of other ERB titles, because his rising fame had ensured that his name on a book spine would bring big sales. Probably out of gratitute, ERB dedicated the book "To my friend Joseph E. Bray," who was one of the editors of McClurg at that time.

*** The Outlaw of Torn was very difficult to find during my first collecting years back in the '50s. I roamed through all our local bookstores in Manitoba and wrote to sellers across Canada and England. I finally tracked down a 1953 UK Pinnacle paperback edition in 1961. It wasn't in great shape, but it is one of the treasured volumes in my collection. In fact, that edition and the ACE paperback are still the only versions of this title I have today.
It was a treat when Rob Hughes sent me his graphic version of the story that he titled The Outlaw Prince. Rob's adaptation was lavishly illustrated by Thomas Yeates and Michael Kaluta and belongs in every ERB fan's collection.
ERB's The Outlaw of Torn
Publishing history:
http://www.erbzine.com/mag7/0754.html
Read the entire book in e-Text in ERBzine
http://www.erbzine.com/craft/o4ot.html
The Outlaw Prince Graphic Novel: Hughes ~ Kaluta ~ Yeates
http://www.erbzine.com/mag36/3601.html
Outlaw of Torn Illustrated Series in ERB, Inc. Comics
http://www.edgarriceburroughs.com/comics
ERB Correspondence with Thomas Metcalf of "The All-Story" pulp
http://www.erbzine.com/mag28/2836.html
Outlaw Prince: Rob Hughes Adaptation - Yeates and Kaluta Art
Our 10-page Coverage: Project Evolution ~ Interviews ~ Art
https://www.erbzine.com/mag36/3601.html

Off-Site Reference: Plot summary
http://www.erblist.com/erblist/ootornsum.html

---

*** 1943: RKO had taken over the Tarzan movie franchise and Maureen O'Sullivan was under exclusive contract to MGM and reportedly tired of playing Jane anyway, so Johnny Weissmuller and Johnny Sheffield went their way without her in the wartime film, "Tarzan Triumphs," which premiered this date, Feb. 19, in 1943. Jane's absence in this movie was explained away as her visiting friends in London. Pulchritude was provided by Frances Gifford (1920.12.07-1994.01.15), who played Zandra, princess of a lost civilization who sought Tarzan's help against the Nazis.
TRIVIA:
The body count in Tarzan Triumphs is 14. This has to be the most violent of all the Tarzan films.
Filming Locations: Sherwood Forest, California, USA
Made during wartime, the film contained much anti-Nazi propaganda and emphasized Tarzan as a symbol of freedom and spokesman for democracy and the American way of life while presenting the Nazis as being vicious and sub-human.
Tarzan's famous line, "Now Tarzan make war!" was a real crowd pleaser -- a great wartime morale booster
This wartime film was Lesser's biggest money earner and brought ERB, Inc. more than a quarter of a million dollars in royalties.
Female star, Frances Gifford, had previously starred in the popular Republic serial, Edgar Rice Burroughs' Jungle Girl
Carroll Young, who wrote the storyline for Tarzan Triumphs, also wrote Tarzanís Desert Mystery, Tarzan and the Leopard Woman, and Tarzan and the Mermaids. He also wrote many of the Weissmuller Jungle Jim films and Bomba and the Hidden City.
In the final battle, Cheta kills Bausch with a sub-machine gun, and Boy shoots a Nazi private who has Tarzan in his rifle sights.
The film ends with a Hitler joke. Cheeta reaches Berlin on the shortwave radio. The Nazi brass, after hearing the chimp's jabbering, determine that they are talking to the Führer.

*** Francis Gifford played Nyoka, the heroine in the very first ERB film I saw as a kid back around 1950. The film was an episode from the serial Jungle Girl. Even though it featured the name "Edgar Rice Burroughs" above the title I was to learn many years later that the serial, although it used the title of a Burroughs book, had very little to do with ERB's story. Our local theatre had started running serials from a few years back in its line-up of pre-feature shorts. I was thrilled by this jungle adventure with its brave jungle girl and of course the cliffhangers at the end of each episode had me looking forward to next week's installment. It also started me on a lifelong love of movie serials. This particular night at the movies was even more memorable since the main feature introduced me to Tarzan movies. The actor was Lex Barker and the film was probably Tarzan's Magic Fountain. Barker remains one of my all-time favourite film Tarzans.
"Tarzan Triumphs" in the ERBzine Silver Screen Series
http://www.erbzine.com/mag6/0623.html
Triumph Photo Gallery 1
http://www.erbzine.com/mag6/0623a.html
Triumph Photo Gallery 2
http://www.erbzine.com/mag6/0623b.html
Triumph Photo Gallery 3
http://www.erbzine.com/mag6/0623c.html
Triumph Movie Trailer
http://www.erbzine.com/mag6/triumphs.flv

Off-Site Reference:
http://www.imdb.com/title/tt0036414/

---
*** On Feb. 19, 1954, "Tarzan and the Blood Ruby" started and ran for 64 days, featuring the artistry of John Celardo and the scripting of Dick Van Buren.
"Tarzan and the Blood Ruby": All 64 daily strips reprinted in ERBzine: Nos 4535-4598
http://www.erbzine.com/mag38/3807.html
Portal to the thousands of ERBzine ERB Comics Reprints
www.ERBzine.com/comics

---
FEBRUARY 20
---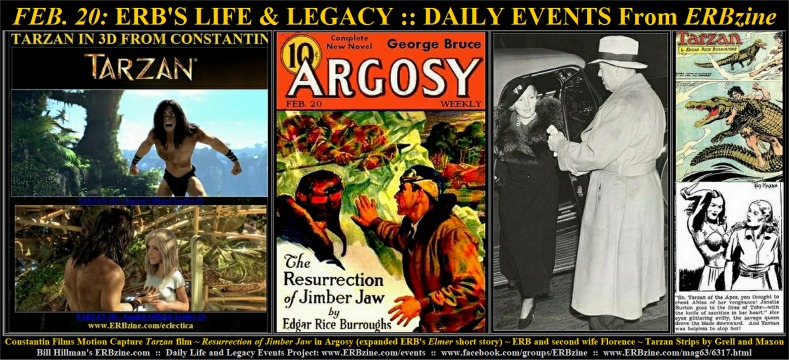 Constantin Films Motion Capture Tarzan film ~ Resurrection of Jimber Jaw in Argosy
(expanded ERB's Elmer short story) ~ ERB and second wife Florence ~ Tarzan Strips by Grell and Maxon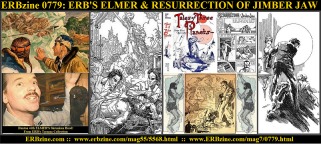 .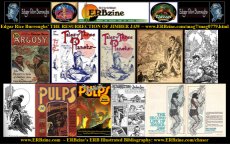 .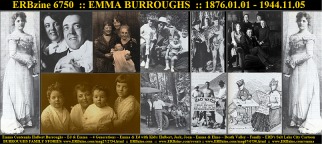 .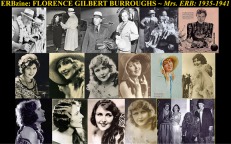 ---
*** 1937: ERB's boys had a human skull in their den and it had a name -- Elmer. This shrunken head had been give to Hully and Jack by Ed's physician, Dr. Elmer Belt. When ERB wrote a novelette about a stone-age man released by thawing of glacial ice, his working title for the story was "Elmer" in honor of the boys' bonehead. However, when it was first published in "Argosy" on Feb. 20, 1937, it was a revised version that bore the title of "The Resurrection of Jimber-Jaw."
When notified of Argosy publisher Byrne's intention to change the story title to "The Resurrection of Jimber-Jaw," Ed wrote, " `Elmer' may not have been so hot, but I think that `Jimber Jaw' is a hell of a name." Byrne later responded: "So 'Jimber Jaw' is a hell of a name? Well, maybe it is -- but it certainly fitted the cover of that recent issue much better than 'Elmer' would have done. I don't want to outrage your sensibilities, but doggone it, we've got to sell magazines."
As a novelette, it never rated a hardback volume all its own, but its first appearance between hard covers was in "Tales of Three Planets," which contains "Jimber-Jaw," who hails from one of those planets, Earth, along with two other novelettes, "Beyond the Farthest Star" and "The Wizard of Venus."
ERB's original version, "Elmer," can be read in ERBzine 5568 and a comparison of the original and the revised version makes for an interesting study. Elmer, the shrunken head, lived on and Danton often took pride in shocking visitors to his Tarzana home by showing it off.
"Jimber-Jaw" ~ ERBzine C.H.A.S.E.R.: Publishing History ~ Art ~ Text ~ Links
http://www.erbzine.com/mag7/0779.html
Jimber Jaw: Read the e-Text Edition in ERBzine
http://www.ERBzine.com/craft/jimberjaw.html
Elmer - ERB's Original Version
http://www.erbzine.com/mag55/5568.html

Off-Site Reference
Summary of the story
---
*** 2013: "Tarzan," the motion-capture effort by Constantin Films, was released Feb. 20, 2013, in Germany.
The computer images of Tarzan and Jane were created from action recorded from the body-suits worn by Kellan Lutz and Spencer Locke, who also voiced the characters.
Tarzan by Constantin Films
http://www.erbzine.com/mag36/3609.html
http://www.erbzine.com/mag45/4523.html
Off-Site References
Constantin Tarzan in IMDB
---
*** 1904: ERB's second wife, Florence Gilbert Burroughs, was born this day in Chicago, near where ERB himself grew up.
Florence was the wife of ERB's business partner, film producer Ashton Dearholt with whom he had formed Burroughs-Tarzan Enterprises to produce Tarzan pictures. Ed and Flo came together when both their marriages were failing. Ed welcomed the Ashton children, Lee and Caryl Lee as his own.
At age 14 she moved to Hollywood in 1918 at the encouragement of Mary Pickford, "America's Sweetheart.". Realizing her strong resemblance of her petite, 5' "2 daughter to Mary Pickford, her mother, Maude, had sent Florence's photos to the movie star. Pickford wrote back, encouraging her to bring her daughter to Hollywood. Before long Florence, as well as sister Mae and brother Eddie were all working working as Hollywood extras for $2 a day and lunch. This launched her on a fairly successful Hollywood film career which I've described in more detail in Tribute pages starting at ERBzine 0890
Florence Gilbert Burroughs Tribute
http://www.erbzine.com/mag8/0890.html
---

*** 1934: On this date, Ed left wife Emma Centennia Burroughs to live at The Garden of Allah, Villa 23, a residential hotel in Hollywood owned by silent movie star Nazimova. His diary entry is in capital letters: "LEFT HOME AT DINNER TIME." Most of his time was now spent with Florence and a few days later the couple took a trip to Palm Springs. Ed's children's efforts to persuade him to try a reconciliation were unsuccessful and he encouraged them to help Emma draw up divorce papers. All through the spring Ed and Florence, Ashton and actress Ula Holt were inseparable. Ed was a regular dinner guest at the Dearholts, they dined out together, went out to parties together, and even visited Gay's Lion's Farm together. Ashton had brought Ula back from the Guatemala shoot with the idea of having her move into the Dearholt household. Florence wanted no part of this arrangement and their marriage started to dissolve. A divorce decree was granted to the Dearholts on March 29 but nothing seemed to change socially or business-wise between Ed and Dearholt. Meanwhile, Emma, Ed's wife of 34 years, was taking the separation very hard. She was despondent and kept hoping that Ed would come to his senses and return to her -- she even started taking flying lessons thinking that Ed might be impressed. Sadly, the marriage was over. More about Emma Burroughs in the Tribute pages starting at: 6750
Emma Centennia Burroughs
http://www.ERBzine.com/mag67/6750.html
---
*** "Tarzan and the Fires of Tohr," by Rex Maxon and Don Garden, began Feb. 20, 1939, and ran for 162 days.
"Tarzan and the Fires of Tohr: All 162 Maxon strips
http://www.erbzine.com/mag47/4712.html
---
*** "Tarzan and the Crocodile," by Mike Grell, began Feb. 20, 1983, and ran for two Sundays. (Yeates' Lion Sunday strip also shares this page)
Tarzan and the Crocodile: Two Grell Sunday Pages
http://www.erbzine.com/mag29/2975.html

---
FEBRUARY 21
---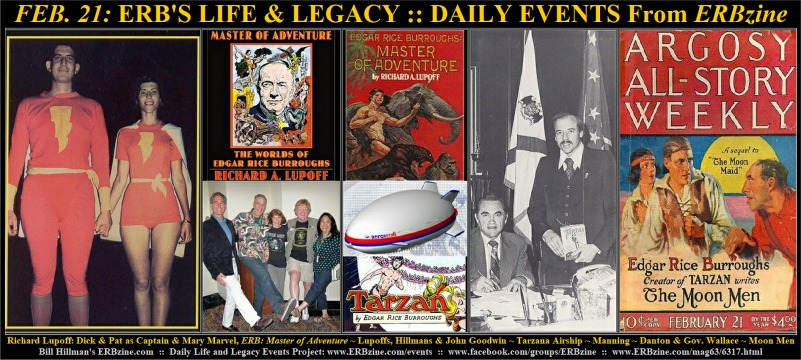 Richard Lupoff: Dick and Pat as Captain and Mary Marvel, ERB: Master of Adventure
Lupoffs, Hillmans and John Goodwin ~ Tarzana Airship ~ Manning ~ Danton and Gov. Wallace ~ Moon Men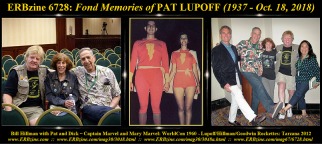 .

*** Richard Lupoff (1935.02.21 - 2020.10.22) who was born on this date was the man at the helm back in the '60s when Canaveral brought back hardback editions of Edgar Rice Burroughs books and also published some new ones for the first time. Lupoff also wrote a book of his own, "Edgar Rice Burroughs: Master of Adventure," which remains a fan favorite.
"The Worlds of Edgar Rice Burroughs" is also the title of an anthology of new, authorized fiction on the worlds of ERB, put together by Mike Resnick and Robert T. Garcia. Lupoff contributed to that with a short story, "Scorpion Men of Venus," which takes Carson and Duare to adventure unlike any before! In fact, after I read Mr. Lupoff's story in that anthology back in 2013, I emailed him with a question or two and he was gracious enough to respond:
"In actuality," he said, "I think that Edgar Rice Burroughs had his tongue slightly in his cheek when he wrote the Amtor books. After all, he'd been in the interplanetary romance business for a long time, and he may have been getting a little bit tired of it. Having Carson Napier set out for Barsoom by spaceship and forget that there was a little thing called the moon in the way, I think that rated a chuckle and I think ERB thought so too. I tried to capture his style and his mood in my story."
In commenting specifically on one of the elements of his Venus story, Lupoff added, "I grew up on comic books and while I'm not really 'au courant' with the present comic book scene, I do retain a strong nostalgic fondness for the superheroes I followed in my childhood, and for their adventures. Of all these. My favorite was Captain Marvel. His arch-enemy, the self-proclaimed 'Rightful Ruler of the Universe,' was the classic mad scientist, Dr. Sivana.
"In the earliest Captain Marvel stories, which I read at the age of five, we learned that the villain's full name was Thaddeus Bodog Sivana. He was a little, scrawny guy who wore glittering eyeglasses and always dressed in a white laboratory outfit. He had two children, the gorgeous Beautia (pronounced Byoo-tee-uh, not Byoo-sha, BTW), and the handsome, muscular Magnificus.
"They lived on the planet Venus. As far as I know, how they got there was never explained. (In later stories, Beautia and Magnificus seemed to disappear from the story line, to be replaced by Georgia Sivana and Sivana Junior -- but these two never really sparked my imagination as did Beautia and Magnificus.) Beautia, incidentally, looked exactly like a movie star of that era, Alice Faye. I don't recall any specific model for Magnificus.
"Anyway, I think that will tell you a little more about the background of 'Scorpion Men of Venus.'"
He went on to discuss the amazing surprise ending of "Scorpion Men," something I won't reveal here for the benefit of those who have yet to read his story. But he did say that the ending was his idea of a "springboard to a novel," although he doubted that he would be writing such a novel. Mr. Lupoff is a gentleman and always happy to sit down and talk ERB with someone.

*** During our promotion of the 2012 film, John Carter of Mars film, I worked with Richard on an interview with the film's screenwriter, Michael Chabon. Dick interviewed the writer in a California restaurant and sent me a cassette of the interview. I then laboriously keyed the text onto my ERBzine Webpages which I illustrated with photos of the two famous authors.
Added to this were short bios and an illustrated list of their books. Sue-On and I have had some great visits with Dick and his wife Pat during California conventions - fun times as indicated in one of the accompanying photos and Webpages. Sadly, Richard's beloved partner and wife Pat, passed away in 2018.
The Canaveral Press Story - Editor: Richard Lupoff
http://www.erbzine.com/mag28/2805.html
More on Richard Lupoff at:
http://www.erbzine.com/mag30/3048.html
Richard and Pat Lupoff as Captain and Mary Marvel
http://www.erbzine.com/mag30/3048a.html
The Canaveral Press Story - Editor: Richard Lupoff
http://www.erbzine.com/mag28/2805.html
MICHAEL CHABON INTERVIEW (Writer of the screenplay for John Carter of Mars)
Conducted by Richard Lupoff for ERBzine in 2010
http://www.erbzine.com/mag30/3047.html
The Lupoffs at the 2012 Tarzana Dum-Dum
On stage with the always entertaining Hillman/Goodwin Rockettes :)
http://www.erbzine.com/mag41/4109.html
Lupoff's "Scorpion Men of Venus" in the Resnick Worlds of ERB Anthology
http://www.erbzine.com/mag45/4509.html
Pat Lupoff Remembered
http://www.erbzine.com/mag67/6728.html
Richard Lupoff Remembered
https://www.erbzine.com/mag63/6350.html#OCTOBER22
https://www.erbzine.com/cards/writers3/richardlupofferbmaster.jpg

Off-Site References:
Master of Adventure in Wikipedia
"Scorpion Men of Venus"
"ERB's Worlds of Adventure"
Lupoff in Wikipedia
---
*** 1925: Stockton Mulford sounds like the name of a guy who ought to be illustrating Hopalong Cassidy stories, but instead he illustrated the cover for ERB's "The Moon Men" when it began as a four-part serial Feb. 21, 1925, in "Argosy All-Story Weekly." It was the story of Julian 9th who -- uncharacteristically of ERB heroes -- doesn't live forever. The story formed the middle part of ERB's trilogy, titled
"The Moon Maid"
*** Stockton Mulford (1886.06.21-1960.09.20): was born in Sharon Hill, Pennsylvania but his early days were spent on the West coast. In 1893 Stockton was pushed into a metal hinge and was blinded in the right eye. After recovery he was fitted with a glass eye. His love of drawing began while still a small child. He graduated high school in 1905 but could not afford to enroll in art school full-time, so he began to work as a bank clerk and to attend only weekend art classes. By 1913 he had begun to sell an increasing number of freelance illustrations which led to sales to The Christian Herald, The New York Herald Tribune, People's Home Journal, and Every Week. He soon was illustrating books and painting book covers for Harpers & Brothers and Houghton Mifflin Company. By 1920 he had an art studio was at 364 West 23rd Street, in the Chelsea district of Manhattan, from which he created freelance art for all the pulp magazines of the day Munsey's, Argosy, Amazing, etc. and eventually for the "slicks": Liberty, McCall's, Saturday Evening Post, etc. Some of his art appeared under the penname of Ray Dean. By 1945, after their children had grown, he and wife Mina left NYC and permanently moved to Sandy Hook, CT. He retired from painting and instead concentrated on restoring his antique home. He became an expert cabinet maker specializing in rare antique replicas.
"The Moon Maid": History, Art, Info
http://www.erbzine.com/mag7/0767.html
Moon Pulp art/cover gallery:
http://www.erbzine.com/mag2/0241.html
---
*** In honor of the 100th anniversary of the year in which ERB was born, Alabama Gov. George Wallace proclaimed the week of March 7-13, 1975,
to be Edgar Rice Burroughs Week in that state. Danton Burroughs was there to witness the signing and acceptance of the document.
*** In 2012, Sue-On and I were thrilled to witness the passing of a similar proclamation at the Louisiana State Capitol, House of Representatives. Governor Bobby Jindal proclaimed April 13, 2012 as Tarzan Day in Louisiana and presented the Official Proclamation Documents to filmmakers Al Bohl and daughter Allison, Edgar Rice Burroughs, Inc. and the Burroughs Family. This was in conjunction with Al Bohl's Celebration of the 100th anniversary of the filming of Tarzan of the Apes in the Morgan City, Louisiana area.
Edgar Rice Burroughs Week in Alabama
http://www.erbzine.com/mag19/1928.html
Tarzan Day Declared by the Louisian House of Representatives
http://www.erbzine.com/mag35/3590.html
---
*** The aircraft is ready; now we just need some volunteers to pony up the cash to buy the fuel, food and other supplies for a trip through the North Pole opening to Pellucidar. From a news release of Feb. 21, 2006. During a visit to Tarzana, Bill Hillman visited and toured the Tarzana Aeroscraft Airship Company Factory, but there were restrictions against my taking photos. I was surprised to learn that the company had Canadian roots. The operation was an exciting venture but short lived.
Tarzana Aeroscraft Airship Company
http://www.erbzine.com/mag19/1980.html
http://www.erbzine.com/news/news22.html
Off-Site Reference
ABC Technology News
---
*** "Tarzan and the Egyptians," by John Celardo and Dick Van Buren, began Feb. 21, 1954, and ran for four Sunday.
"Jane in Pal-ul-don," by Russ Manning, began Feb. 21, 1971, and ran for 59 Sundays.
Jane in Pal-ul-don: 59 Tarzan Sunday Pages by Manning
http://www.erbzine.com/mag17/1792.html


BACK TO FEBRUARY WEEK I
http://www.ERBzine.com/mag63/6315.html
BACK TO FEBRUARY WEEK II
http://www.ERBzine.com/mag63/6316.html
NEXT: FEBRUARY WEEK IV
www.ERBzine.com/mag63/6318.html



FEBRUARY WEEK THREE PHOTO ALBUM
http://www.ERBzine.com/mag63/6317pics.html



BACK TO DAILY EVENTS CONTENTS
www.ERBzine.com/events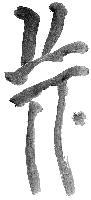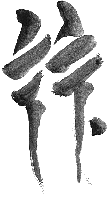 BILL HILLMAN
Visit our thousands of other sites at:
BILL AND SUE-ON HILLMAN ECLECTIC STUDIO
ERB Text, ERB Images and Tarzan® are ©Edgar Rice Burroughs, Inc.- All Rights Reserved.
All Original Work ©1996-2018/2021 by Bill Hillman and/or Contributing Authors/Owners
No part of this web site may be reproduced without permission from the respective owners.