---
PUBLISHING HISTORY (USA)
---
PULP
Blue Book Magazine: 1934 November, December ~ 1935: January-April
Joseph Chenoweth: December cover ~ Ondrek Zaula or Henry Soulen: January cover ~ Robert Fink: six interiors
FIRST EDITION
ERB, Inc. Tarzana: February 15, 1936 ~ 315 pages ~ Print Run: 4,000 ~ Heins word count: 78,000
J. Allen St. John: wraparound DJ and five interior plates
REPRINT EDITIONS
Grosset & Dunlap: 1937
Grosset & Dunlap: 1938 ~ St. John DJ and only two interiors
ERB, Inc. Tarzana: 1940 ~ St. John DJ and only one interior
ERB, Inc. Tarzana: March 26, 1948
Ballantine paperback: May 1963 ~ 191 pages
Robert Abbett cover
Ballantine paperback: October 1973
Gino D'Achille cover
Doubleday Science-Fiction Book Club: January 1975 ~ with Synthetic Men of Mars ~ 345 pages
Frank Frazetta: DJ and six interiors
Ballantine - Del Rey paperback: April 1979
Michael Whelan cover
For detailed information, see Robert B. Zeuschner's
Edgar Rice Burroughs: The Bibliography (ERB, Inc., 2016).
Click on www.erbbooks.com or call 214-405-6741 to order a copy.
---
Swords of Mars

Disguised as a mercenary warrior, John Carter sought to break the power of the Assassins of Zodanga. Spying on their councils, the Warlord discovered a plot to kidnap his beloved Dejah Thoris. But it was to late to save her. She was already in space, on the way to Thuria, Barsoom's nearer moon!

There was no reply to my call of "Koar! " Yet, though all was silent, and there were no faces at the many windows of the strange castle on Thuria, I could have sworn that eyes were all around, watching us. We had crossed half the distance from the spaceship to the castle door when the silence was shattered by a terror-ridden scream. "Escape from this horror place while you may!" It was the voice of Dejah Thoris. I halted, stunned-and then invisible hands seized Swords of Mars us, tearing our weapons from our grasp.
PULP COVER GALLERY
Ref: ERBzine 0228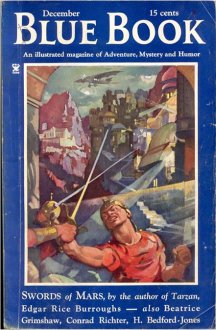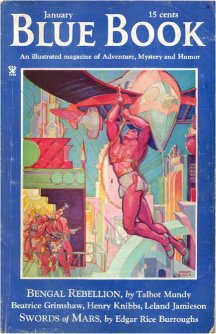 PULP ART GALLERY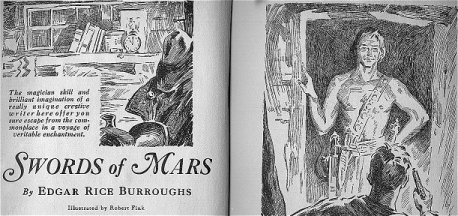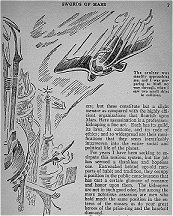 J. ALLEN ST. JOHN ART GALLERY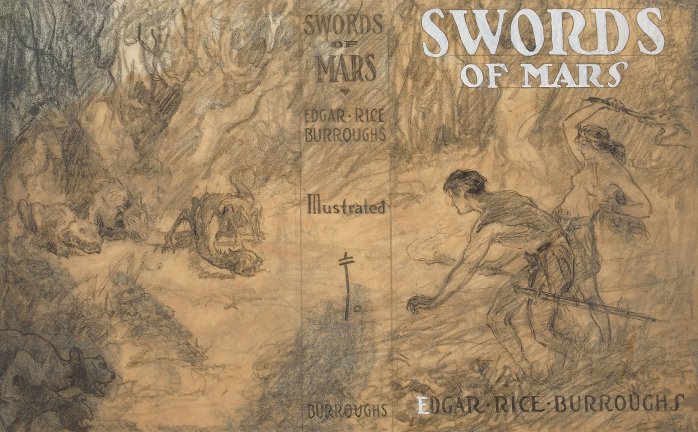 Swords of Mars preliminary book cover. Charcoal on paper. 13 x 20.5 in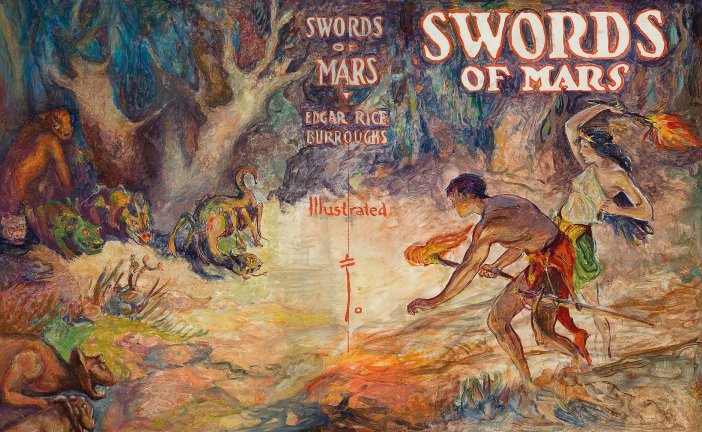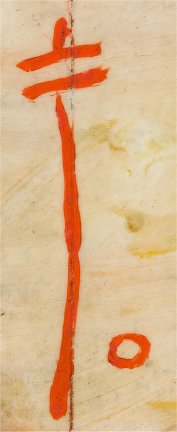 Swords of Mars, preliminary book cover art and ERB DooDad by J. Allen St. John
Mixed media on board ~ 11.75 x 19 in.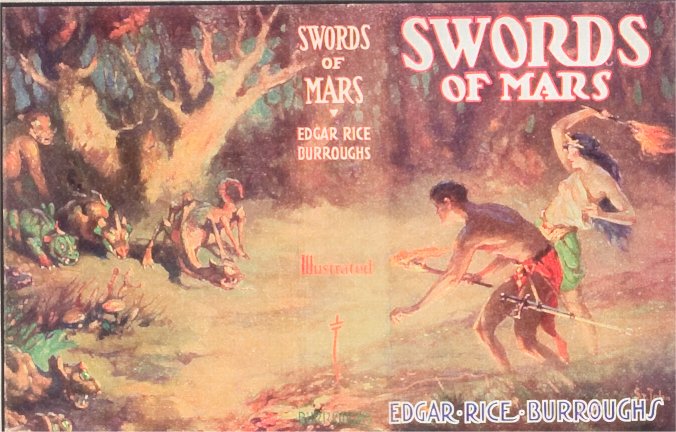 Finished dust jacket
---
FRANK FRAZETTA GALLERY: Doubleday Edition Art
---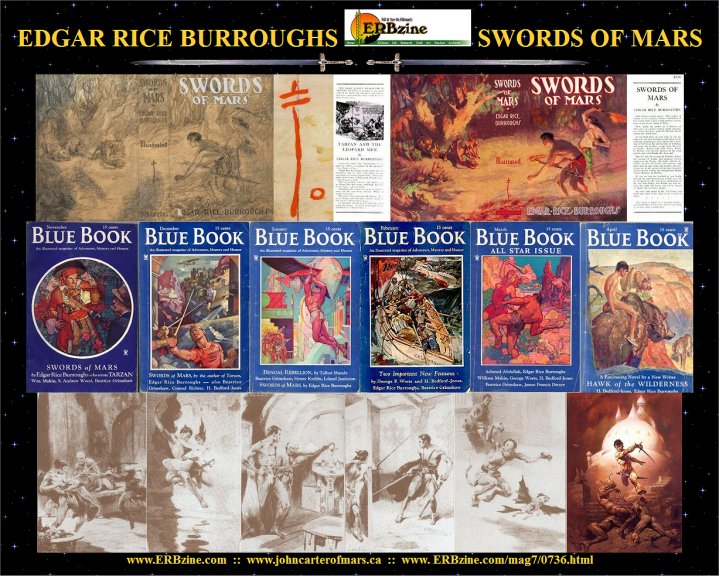 ---
GALLERY OF COVER ART
In preparation: Frazetta interiors and Whelan cover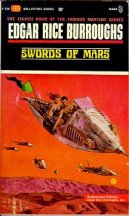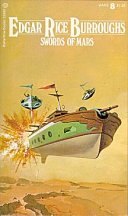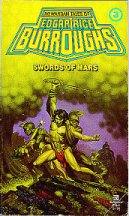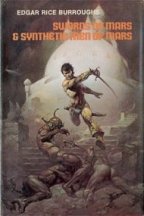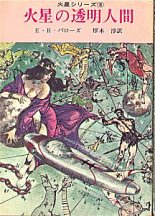 ---
JAPANESE EDITION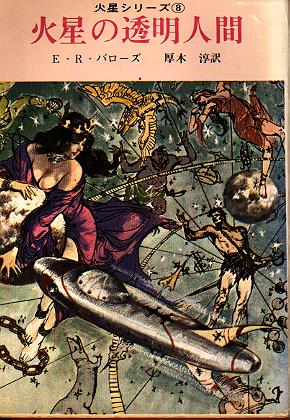 Art by by Motoichiro Takebe
---
.

Armada of ERB Web Sites
Over 10,000 Webpages


The Fantastic Worlds of Edgar Rice Burroughs
| | | | |
| --- | --- | --- | --- |
| Tarzan.com | ERBzine.com | DantonBurroughs.com | Tarzan.org |
| BurroughsBibliophiles.com | JohnColemanBurroughs.com | Tarzan.com/tarzine | JohnCarterOfMars.ca |
| ERBzine.com/edgarriceburroughs | Weekly Webzine | Weekly Webzine | Pellucidar.org |
| John Carter Film News | ERB, Inc. Corporate Site | ERB Centennial | tarzana.ca |