.

Only long ages of refinement and culture can accomplish their release from the bondage of ignorance. -- ERB The Chessmen of Mars (1922)

Official Edgar Rice Burroughs Tribute & Weekly Webzine Site
Since 1996 ~ Over 5,000 Webzines and Webpages In Archive

Master of Imaginative Fantasy Adventure
Creator of Tarzan® and "Grandfather of American Science Fiction"
A NEW EDITION EVERY FRIDAY
December 28 - January 3, 2007
Thousands of Back Issue Features in Archive: HERE

The Worlds of Edgar Rice Burroughs


.
---

---
---
FEATURE 6: ERBzine 1442
ERB and the Press: LA Times 1931-1950
Buys Malibu Beach Home ~ Tarzan The Ape Man Ad ~
Tarzan's Dad Takes To The Air ~ Son of Tarzan Sculptor ~ Man-Eaters ~
Author and Wife Go To Sea ~ ERB Faces Divorce Suit ~
Son and Dad Meet At Overseas Base in the Marshalls ~
Burroughs, Creator of Tarzan, Dies
http://www.erbzine.com/mag14/1442.html
.

---
FEATURE 7: Archive ERBzine 1165
ERB's Views on Books and Book Collection
A rare find by Danton Burroughs.
Among the Burroughs Archive he has retrieved
correspondence between his grandfather and
Herbert Hungerford of "The American News Trade Journal."
http://www.erbzine.com/mag11/1165.html
---
---
---
.

LAST WEEK
(if you missed it go to Archive)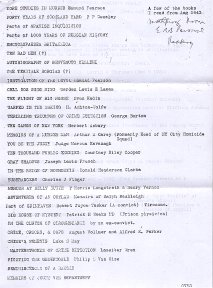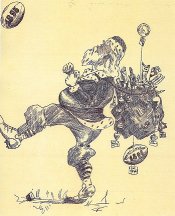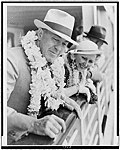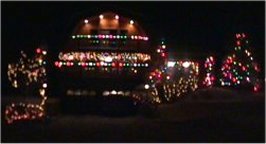 How Paul D'Arnot Met Tarzan (complete) 1970/71 Story and Art by Russ Manning
Christmas Greetings from Danton and ERB, Inc. in Tarzana, CA
BOOKS READ BY ERB FROM 1943: Pt. II
An Addendum to the ERB Library Project
Found by George McWhorter among the Porges Papers during his inventory of the collection.
JCB/Danton Burroughs/ERB, Inc. present ERB's Tarzan® Meets John Carter ~ January 1995
BURROUGHS BULLETIN #73, Winter, 2008 added to the BB Index
ERB and the Press: LA Times: The Roaring Twenties I
The Synthetic Men Of Mars - A Love Story by R.E. Prindle
BOMBA THE JUNGLE BOY: An Analysis Noting Similarities of Bomba to Tarzan
Gods of ERB: Exploring Fictional Religion A 3-Part Series by Dale R. Broadhurst
http://www.erbzine.com/mag11/1133.html
http://www.erbzine.com/mag11/1134.html
http://www.erbzine.com/mag11/1135.html
THE RELIGIONS OF BARSOOM Cult of Tur ~ Cult of Iss by Den Valdron

AWARDS

Three Awards
Tarzan.com
March 9, 2005
ERBzine:
July 11, 2002
ERBzine.com/mag:
January 12, 2005

Lifetime Achievement Award
Louisville Dum-Dum 2003


Bill & Sue-On Hillman
Entertainers of the Year Award
For stage/TV/recording performances
in USA, England and Canada
.
NEXT WEEK:
Sunday Pages: Tarzan Meets John Carter continued
ERB and the Press
New Danton Burroughs Weekly Webzine Features
ERB's Library after 1943

COMING SOON ~ IN THE WINGS
More on Dum-Dum 2007
Lost Words of ERB
Russ Manning Sunday Pages
ERB/Press Connection: Chicago Tribune Articles
ERB/Press Connection: ERB in the LA Times
Hal Foster: Mysterious Maiden II Comics Summary
Motes & Quotes Newzine
Articles by R.E. Prindle
Articles by Den Valdron
A Princess of Mars: A Graphic Novel Adapted and Illustrated by James Spratt
ERB Letters
.
Our FanFare section is always open as a showcase for ERB fan comments and creative work...
Send your submissions to Bill Hillman
Tarzan@westman.wave.ca



!!! READERS PLEASE NOTE !!!
Tarzan® is the property of Edgar Rice Burroughs, Inc., Tarzana CA

These e-Fanzines have been posted as a non-profit bibliographic and biographic reference for ERB scholars, fans and collectors. Material not created by myself has been collated largely from other sites on the web -- and I believe it to be in Public Domain or to fall under the category of "product promotion" or "fair use". Everything has been collated into this on-line repository to promote interest in the works of Mr. Burroughs. If there is any objection to the way in which any of this material has been displayed, or if I have infringed unlawfully on any copyright, I will implement its immediate removal. Bill Hillman

---

WEBJED: BILL HILLMAN


Visit our thousands of other sites at:
BILL & SUE-ON HILLMAN ECLECTIC STUDIO
ERB Text, Images and Tarzan® are Copyright ERB, Inc.- All Rights Reserved.
All Original Work ©1996-2008 by Bill Hillman and/or Contributing Authors/Owners
No part of this web site may be reproduced without permission from the respective owners.
Opinions expressed in articles on this site do not necessarily represent the opinions
of Edgar Rice Burroughs, Inc. or the editors of ERBzine.
ERBzine Weekly Webzine is endorsed by Danton Burroughs of Tarzana, California
as the Official ERB, Inc. and Tarzan®Webzine Site