Official Edgar Rice Burroughs Tribute and Weekly Webzine Site
Since 1996 ~ Over 15,000 Webpages in Archive
Volume 6324

JOHN MARTIN'S
ANNIVERSARIES OF ERB'S LIFE & LEGACY
A COLLATION OF THE DAILY EVENTS IN ERB-WORLD
FROM THE PAGES OF THE HILLMANS' ERBzine
Web Design with added links, illustrations and photo collages by Bill Hillman

APRIL CONTENTS
WEEK 2
APR 8 ~ APR 9 ~ APR 10 ~ APR 11 ~ APR 12 ~ APR 13 ~ APR 14

GO TO WEEK 2 PHOTO ALBUM
www.ERBzine.com/mag63/6324pics.html
BACK TO APRIL WEEK I
http://www.ERBzine.com/mag63/6323.html
Click for full-size images
---
APRIL 8
---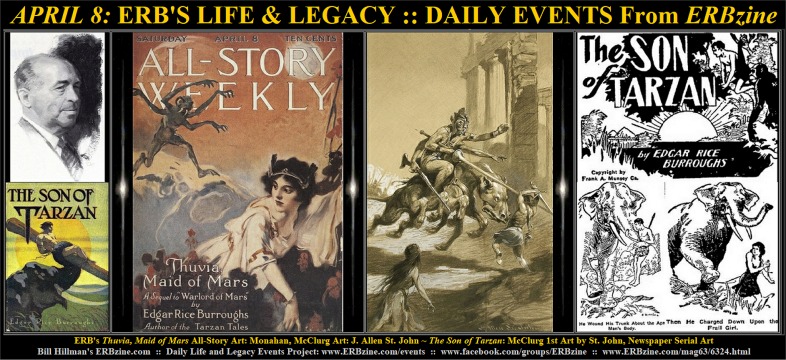 Having polished off the opening John Carter-Dejah Thoris saga in three volumes, ERB turned his attention to their son, Carthoris, with his fourth Mars book, although it was named after his lady love rather than him. "Thuvia, Maid of Mars," began appearing in All-Story Weekly on this date, April 8, 1916, and was complete in three issues total.
Both Thuvia and Carthoris had been active participants in the series starting in the second Mars book, "The Gods of Mars."
Thuvia, Maid of Mars: Publishing History ~ Art ~ St. John Interiors, Links, etc.
http://www.erbzine.com/mag4/0425.html
Thuvia Pulp Magazine Covers in ERBzine Pulp Biblio
http://www.erbzine.com/mag2/0223.html
Thuvia, Maid of Mars: Read the e-Text edition
http://www.erbzine.com/craft/m4tmm.html
The Gods of Mars: C.H.A.S.E.R. Biblio entry
http://www.erbzine.com/mag4/0423.html

---

ERB liked to start a series with one character and then branch out to another. In the Pellucidar series, the third book was about Tanar, son of David Innes's colleague and friend, Ghak, the Hairy One. In "The Land That Time Forgot," it was Tom Billings, Bowen Tyler's friend, and in the Tarzan series, it was the apeman's son, Korak.
That story, "The Son of Tarzan," was also serialized beginning on an April 8, in 1920. The serial appeared over several weeks in the Indiana Weekly Messenger. Links above each piece of artwork at the following ERBzine webpage will show full-page scans of the installments of the series:
The Son of Tarzan: Newspaper Serial Art
http://www.erbzine.com/mag17/1752.html
The Son of Tarzan: ERBzine C.H.A.S.E.R. entry
http://www.erbzine.com/mag4/0487.html

---

"Diary entries indicate that Ed has fallen into deep depression & complete withdrawal," according to the April 8, 1941, ERB Odyssey Calendar compiled by Bill Hillman.
ERB Odyssey Calendar: April
http://www.erbzine.com/mag5/0564.html
A look at another ERBzine page, the ERB Bio Timeline from 1940 to 1950, adds this for April 8: In letters to the family around this time he begs that they never doubt his love for his children nor believe that he ever doubted their devotion for him. He feels he may have been a lousy father. He never really liked kids until he had his own... he found them interesting from a scientific point of view. He jokingly notes that his hopes raised for the future of the children when he saw them chase each other around with heavy furniture and even start to steal nickels. He thought they just might have a future as gangsters.
ERB Bio Timeline 1940-1950
http://www.erbzine.com/bio/years40.html

---

About 80 years later, it's hard to know for how long he was feeling glum. But a further look at the ERB Bio Timeline from 1940 to 1950, suggests it may not have been for very long. Six days earlier, ERB had been thinking of others, suggesting to son Jack and business manager Ralph Rothmund that they send something to Frank Shonfeld of the British Army who had written them numerous times, "something to give him a thrill." Frank became quite a well-known fan of ERB and, in fact, started the Edgar Rice Burroughs Chain of Friendship, the ECOF, which holds the 2018 annual gathering May 18-20 in Folsom, Calif.
ERBzine's Dum-Dum Dossier:
http://www.ERBzine.com/dumdum

---

Ed had death on his mind April 17 and April 19. On the first date, he wrote to daughter Joan, saying, "I am reminded of a scene of ruin painted on the curtain of the old Hooley's Theater in Chicago, beneath which appeared: 'So fleet the works of men, back to their earth again ancient and holy things fade like a dream'." Much of the world is at war: ". . .contemplate the horrors of war, but not fearfully, as I realize that some two hundred thousand armed men, the United States fleet, and a swell air corps are gathered all about to protect me."
Two days later, ERB sent Rothmund instructions to be followed after his death.
But he may have nailed down the cause of any depression by May 3 of that year, when the Bio Timeline states: "Ed decides to swear off drinking. He has lost 11 pounds in the last month."
Then, on May 5, ERB wrote a scathing letter which appeared in the Honolulu Star-Bulletin that date. In it, "he blasts the Hawaii Legislature. In a follow up letter he outlines a plan in which an intelligence test could be administered to potential leaders to better help the voters choose the best people for the job of governing."
Ah, a "scathing letter." Sounds as if ERB was out of his depression and back to more of his old self, trying to make the world a better place!
ERB Bio Timeline
http://www.erbzine.com/bio/years40.html

---
APRIL 9
---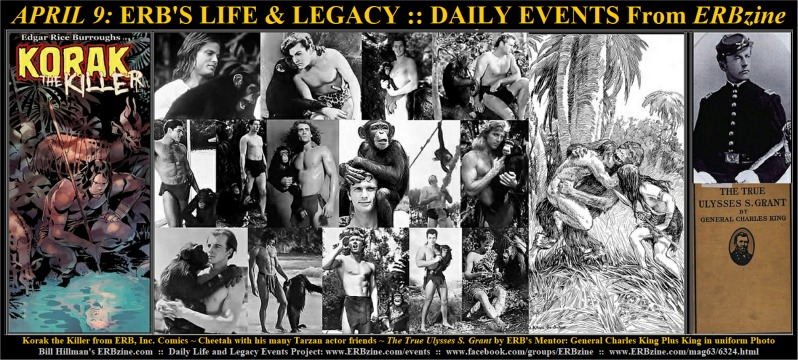 *** Korak the Killer, the son of Tarzan, made his online comics debut April 9, 2015, at the Edgar Rice Burroughs, Inc., website, written by Ron Marz and illustrated by Rick Leonardi. This site also has 23 English language comics adventures along with eight Espanol:
The ERB, Inc. ERB Sunday Page Comics Site
https://www.edgarriceburroughs.com/?p=1172
http://www.edgarriceburroughs.com/comics/
Korak: The Son of Tarzan: C.H.A.S.E.R. Biblio entry
http://www.erbzine.com/mag4/0487.html
Korak Strips by Russ Manning
http://www.ERBzine.com/manning
Korak Comic Books
http://www.erbzine.com/comics/korakgk1.html
http://www.erbzine.com/comics/korakdc1.html

---

*** "The Sunday Times Magazine" of Great Britain published an edition with an Africa flavor on April 9, 1972. One article in the issue was "African Elephant" and another was "Tarzan and Edgar Rice Burroughs" by Robert Lacey.
ERBzine ERB Eclectica: 2018.03
http://www.erbzine.com/mag62/6262.html

Off-Site Reference
Article in auction at eBay

---

Cheeta, the chimp of Tarzan of the movies, probably has as many birth dates as there are ways of spelling his name.
However, April 9 has often been celebrated as Cheeta's birthday, not because he was born that date, but that was the date when he was smuggled into the U.S. Even that may not be quite true. To read the details, go to the Cheetah Scrapbook in ERBzine ...and then scroll down...way, way down...to the article headlined: "Mystery surrounds Cheeta, purportedly the world's oldest chimpanzee."
You can have a grand celebration of the event today by eating Cheerios with sliced bananas for breakfast, banana bread sandwiches for lunch, and banana cream pie for dessert tonight.
Cheetah Scrapbook
http://www.erbzine.com/mag16/1697.html

Off-Site Reference
"Yes, We Have No Bananas!" on YouTube

---

April 9 was also the day in 1865 that Robert E. Lee surrendered his Confederate Army to Union Gen. Ulysses S. Grant. This released Capt. John Carter from his service to the First Virginia Cavalry regiment. Then, using his worthless Confederate money as campfire tinder, he began making his way to the West and the Arizona Territory, enroute to Barsoom.
Ulysses S. Grant by Charles King: King Bibliography
http://www.erbzine.com/mag12/1269.html
Meet Captain John Carter: On The Arizona Hills
http://www.erbzine.com/craft/m1pm.html#Chapter I

---
APRIL 10
---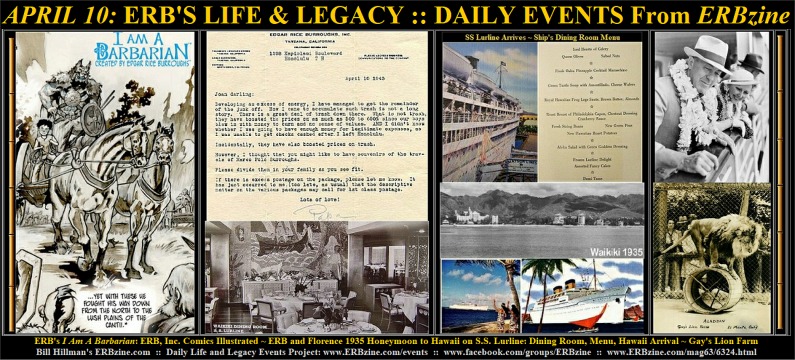 *** The first hotel opened in Hawaii on April 10, 1825. A few more were built after that, and 110 years later, Edgar Rice Burroughs and his new bride, Florence, came to Oahu and stayed in the Royal Hawaiian, for their honeymoon at Waikiki Beach. The Honolulu Star-Bulletin ran a story, on April 10, 1935, saying that the couple would arrive the following day, a Thursday.
The article also noted that ERB was one of the most popular authors of the day.
ERB Article in Honolulu Star-Bulletin
http://www.erbzine.com/mag11/1127.html

---

*** 1935: During their 40-day Hawaiian honeymoon, Ed and Florence sailed on the S.S. Lurline, a Matson Line ship. During the voyage they dined at the Captain's table with Jeanette McDonald and her mother. Ed also found time during the voyage to write a letter to Joan, Hulbert and Jack (started on the 7th, finished on the 10th) in which he described their adventure aboard ship. They played deck tennis in the morning and contact in the afternoon. There were horse races every morning at 11, movies at 8:30 pm and dancing afterward.
ERB's Bio Timeline
http://www.erbzine.com/bio/years30.html
Ed's letter to the Kids written during the S.S. Lurline voyage
http://www.erbzine.com/mag10/1049.html#Sunday,%20April%207,
---

*** A few years earlier, on April 10, 1912, the Titanic sailed from Southampton, England. Fortunately, ERB was not aboard, and there were no books by him in the ship's library since none of them had been published at that time. AbeBooks has an article speculating that there might have been a copy of "Under the Moons of Mars" aboard but perhaps the author of that article, who said he sought authenticity, should have dug a bit deeper. It's conceivable that a couple of copies of The All-Story might have started out on the ill-fated voyage, but since the complete story was serialized in that magazine from February to July of 1912...no way that the whole thing was there!

Off-Site Reference
Books thought to have been in the Titanic's library

---
*** 1934: Ed and Jack visited Gay's Lion Farm. Ed talks while Jack takes photos of lions. In the evening Ed and Hully went to the evening fights at Olympic Stadium.
1943: Ed writes in a letter to Joan that he is sending the kids a huge parcel of souvenirs of his travels in the Pacific area.
ERB's Bio Timeline: 1930s
http://www.ERBzine.com/bio
ERB's Letter to Joan
http://www.erbzine.com/mag4/0440.html

---

*** It was April 10, 2015, when Edgar Rice Burroughs, Inc., announced ERB's "I Am A Barbarian" as the newest comic to start serialization on its web page.
ERB, Inc. announces debut of the "I Am A Barbarian" strip
https://www.edgarriceburroughs.com/?cat=3&paged=7
http://www.edgarriceburroughs.com/comics
I Am A Barbarian: ERB C.H.A.S.E.R. coverage of the original book
http://www.erbzine.com/mag8/0863.html
---
APRIL 11
---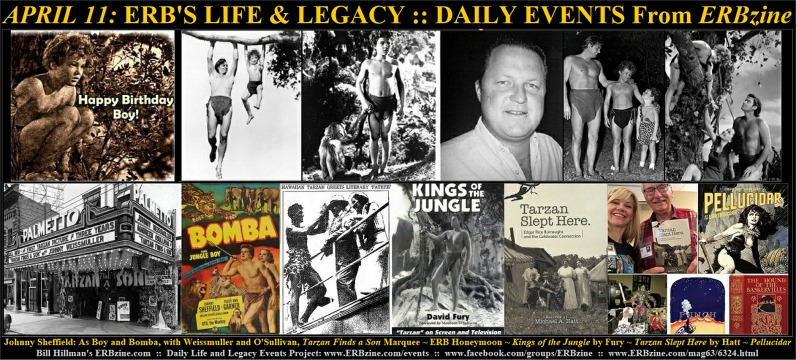 John Sheffield was born this date, April 11 , in 1931 in Pasadena, Calif. Eight years later, he got a starring role in his first full-length movie, "Tarzan Finds a Son," playing the part of Boy, a child who was adopted by Tarzan and Jane after his parents died in a jungle plane crash.
John was billed as "John Sheffield" in his first three Tarzan movies, before being listed as "Johnny" Sheffield in others. He also starred in a series of film as "Bomba the Jungle Boy."
Johnny passed away in Chula Vista at the age of 79, dying of a heart attack four hours after he fell off of a ladder on Oct. 15, 2010.
More on Johnny Sheffield and, of course, many Tarzan and Janes, is in David Fury's "Kings of the Jungle," which was published by McFarland & Co. on April 11, 2001.
Goodbye, Johnny:
http://www.erbzine.com/mag31/3198.html
Tarzan Finds a Son
http://www.ERBzine.com/mag6/0620.html
Bomba
http://www.ERBzine.com/mag8/0897.html

Off-Site Reference:
Johnny's films in IMDB
Kings of the Jungle on Amazon

---

The Honolulu Star-Bulletin on April 11, 1935, featured a large picture of ERB and his new wife at the top of the front page. It reported that one of the world's great adventure writers was met aboard ship by a living image of his creation -- Tarzan. The "ape man" who greeted ERB at the dock was a husky, dark-skinned Hawaiian youth who looked every bit a "Tarzan." In the article ERB is quoted as saying, "My first Tarzan story was just a vagrant idea...a new type of story and not more unusual than a new type of stove." He mentioned how he had sent it in on the backs of old discarded letter paper with little hope of it being accepted and was "completely surprised" it sold. The rather lengthy article goes on to tell that ERB had never swung from a tree and had never been to Africa. At the time of this article, ERB had 43 books published and the filming of the 12th Tarzan movie had just been completed in Guatemala.
ERB and Florence stayed at a cottage owned by friend, actress Janet Gaynor. ERB and his bride swam, surfed (ERB took surfing lessons) and relaxed on their honeymoon in Hawaii.
ERB in the Hawaiian news:
http://www.erbzine.com/mag11/1127.html#2

---

RELATED OFF-SITE REVIEWS
~ "Pellucidar: At the Earth's Core," an illustrated version of ERB's stories by Dennis O'Neill and Len Wein, features a cover by Mark Schultz and interior art by Mike Kaluta. It collects the DC Comics versions and was published April 11, 2017, by Dark Horse. The volume takes readers along for the journey as explorers descend to the land of Pellucidar, located at the center of the earth. The explorers find a land inhabited by prehistoric reptiles, strange creatures, and beings enacting dark rituals. But most importantly, they discover the beautiful Dian, who captures their hearts and leads them on a wild adventure to aid her and win her trust.
~ A totally unrelated line from a Sherlock Holmes novel came to the mind of Michael Dirda when he wrote a review of John Taliaferro's "Tarzan Forever." The review was published April 11, 1999, in The Washington Post. To read both lines that Dirda is talking about, as well as the whole review:
~ Ryan Harvey is one of many who has stepped across the threshhold of Edgar Rice Burroughs, Inc. He tells of his visit in a Black Gate blog article posted April 11, 2013:
~ On April 11, 1956, the British humor magazine Punch published a full-page "Map of Mars." It wasn't specifically an ERB map. However, most of the locales shown on it were places from ERB's stories. After all, ERB is the king of Mars!
~ Michael Hatt's account of ERB's Michigan vacations, "Tarzan Slept Here," was reviewed by Chuck Carlson in the Battle Creek Enquierer April 11, 2014.
Tarzan Slept Here: Author Meet Michael Hatt in ERBzine
Michael Hatt's 2017 Coldwater Dum-Dum: ERBzine
ERBzine's Maps of Barsoom
Off-Site Links
Pellucidar: At the Earth's Core on Amazon
Dirda Review of Taliaferro's Tarzan Forever
Ryan Harvey's visit to ERB, Inc.
Michael Hatt recounts Tarzan creator's affection for Coldwater
Michael Hatt's "Tarzan Slept Here" facebook page

---
APRIL 12
---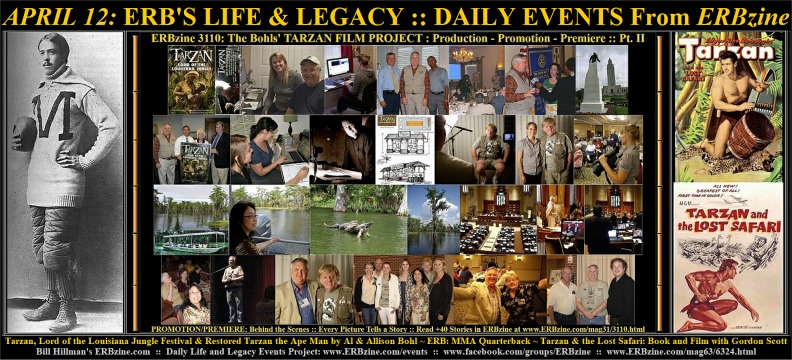 *** The Louisiana State Museum in Patterson opened a special Tarzan exhibit on April 12, 2012, to celebrate the legacy of the ape-man, who first appeared on the silver screen in a movie filmed in the wilds of Morgan City. The Museum's exhibit was opened in connection a Tarzan Festival, which took place in Morgan City starting the very next day for a two-day run.
The festival was set up by Al Bohl who, with his daughter, Allison, filmed a documentary, "Tarzan, Lord of the Louisiana Jungle," which told the story of the production of the first Tarzan movie. The Bohls treated Festival attendees with a screening of the documentary and their restored version of "Tarzan the Ape Man" -- complete with live music. Elmo Lincoln had played the adult ape man in this classic silent.
"Tarzan, Lord of the Louisiana Jungle" project
http://www.erbzine.com/mag31/3110.html
http://www.erbzine.com/mag35/3565.html
Film Centennial Celebration
http://www.erbzine.com/mag63/6389.html
Al Bohl Tarzan Festival in Morgan City, Louisiana
http://www.erbzine.com/mag35/3588.html
Photo Collages:
http://www.erbzine.com/cards/film/bohl1tarzanfilmall.jpg
http://www.erbzine.com/cards/film/bohl2tarzanfilmall.jpg

---

*** Seven years after the death of Edgar Rice Burroughs, Tarzan fans may have been surprised to spot a new Tarzan book on the shelves of their variety stores -- it was "Tarzan and the Lost Safari," featuring a color photo of Gordon Scott beating a drum. Although authorized by ERB Inc., the book was not actually written by ERB, but reportedly by a fellow named Frank Castle, who was not credited as the author. The book was a novelization of the first Tarzan movie to be shot in color. The film was also released in 1957.
Whitman, the publisher, later came out with a second edition of the book, featuring an illustrated cover instead of a photo cover. The illustrated cover showed Tarzan looking toward a crashed airplane, from which he rescued the "lost safari" members whom he would lead out of the perils of the jungle during the rest of the film.
There is next to nothing on the internet about Frank Castle as far as who he was. There was more than one writer named Frank Castle so I'm not even sure if the one who wrote several westerns is even the same one who wrote the Tarzan book.
One important difference between the book and the movie is that the movie has star Gordon Scott speaking in Tarzan's broken English, but the book shows Tarzan speaking in the normal way that Tarzan speaks in the ERB books.
ERBzine on the book and movie: Tarzan and the Lost Safari
http://www.erbzine.com/mag19/1954.html
Gordon Scott Memorial
http://www.erbzine.com/scott/

Off-Site References:
Lost Safari in IMDB
Lost Safari in Wikipedia
Frank Castle in Goodreads

---

*** Ed Burroughs' rank was reduced from second lieutenant to "cadet" on April 12, 1894, as punishment for alleged gross neglect of duty while pulling duty as officer of the day at the Michigan Military Academy. ERB managed to take it all in stride.
ERB's Early Military Timeline
http://www.erbzine.com/mag1/0130.html

---
APRIL 13
---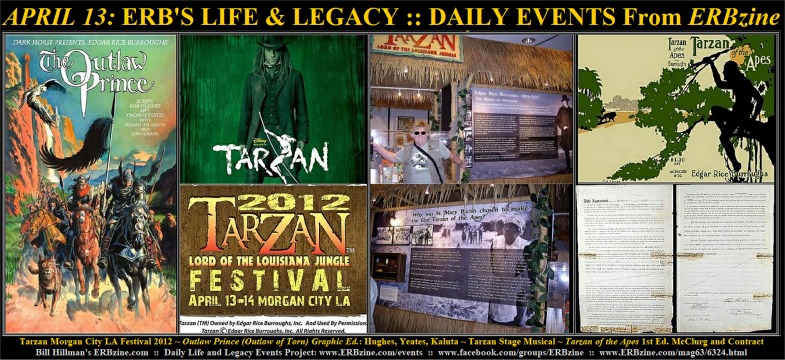 *** It was official: There would be a book publication of ERB's pulp story, "Tarzan of the Apes." It was official because on April 13, 1914, ERB and A.C. McClurg & Co. finalized a contract for the terms of the publication.
Read more about the contract, which eventually found its way into the collection of ERB's brother-in-law, Eddie Gilbert in ERBzine.
McClurg Contract for Tarzan of the Apes
http://www.erbzine.com/mag7/0783.html
Tarzan of the Apes: ERB C.H.A.S.E.R. entry
http://www.erbzine.com/mag4/0483.html

---

*** The Tarzan Festival in Morgan City, Louisiana, got under way in earnest this date, after the opening of an exhibit at the Louisiana State Museum the day before. The Festival was April 13-14, 2012, and was arranged by Al Bohl to present his new documentary, "Tarzan, Lord of the Louisiana Jungle," filmed and edited by his daughter Allison, an expert in such things.
If you're enjoying a quiet day at home, sifting through your ERB-related email, you're missing all the fun! Down in Morgan City, Louisiana, they're having a wild time at the Tarzan Festival in honor of Tarzan, Lord of the Louisiana Jungle. The first-ever such festival (may it not be the last) is taking place this weekend, April 13-14, thanks to mover and shaker and documentary maker Al Bohl!
Read all about it here. Opening page with links to other pages:
Al Bohl's 2012 Tarzan Festival in Morgan City, Louisiana
Full 13-Webpage Coverage
http://www.erbzine.com/mag35/3588.html

---

*** On April 13, 2011, Dark Horse released its paperback and hardback editions of "The Outlaw Prince," its beautifully illustrated version of ERB's "The Outlaw of Torn."
The Outlaw Prince a graphic version of ERB's The Outlaw of Torn in Dark Horse
Adapted by Rob Hughes and Illustrated by Thomas Yeates and Michael Kaluta
http://www.erbzine.com/mag36/3601.html
http://www.erbzine.com/mag33/3392.html

---

*** Hey, tonight's the night! If you're anywhere near Florence, Oregon, "Disney's Tarzan," the stage play, opens there this evening, April 13, with more performances Saturday, April 14, and Sunday, April 15.
Tarzan the Musical Premiere Performances
Reviews ~ Backgrounds ~ Photos
Broadway
http://www.erbzine.com/disney/
Holland
http://www.erbzine.com/holland/
Hamburg
http://www.erbzine.com/germany/

Off-Site References
Disney's Tarzan Musical: 2018 Performances I
Disney's Tarzan Musical: 2018 Performances II

---

*** "Tarzan on the Isle of Ka-Gor" debuted in Sunday newspapers April 13, in 1947. For 17 Sundays, it was drawn by Ruben Moreira and written by Don Garden; for the next five Sundays after that, Burne Hogarth took over the artwork. At the end of that run, Hogarth assumed the writing chores as well and took another 13 weeks to finish the story.
Checklist of Hundreds of Tarzan Sunday Comics
with links to their reprints in ERBzine
http://www.erbzine.com/mag22/2292.html

---
APRIL 14
---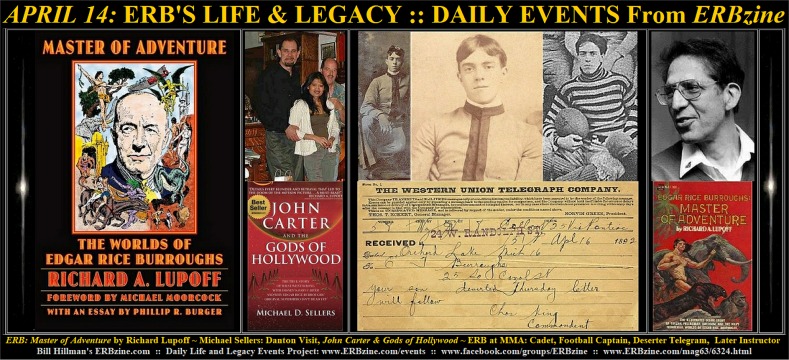 *** Michael Sellers is author of "John Carter and the Gods of Hollywood" and a man who has been involved in other aspects of ERB fandom. For instance, he organized the John Carter Reading Project, which resulted in many elementary school students reading "A Princess of Mars" (some attended the 2012 ECOF); made fan-produced trailers for "John Carter," and operates the web fan page, The John Carter Files.
On April 14, 2012, Sellers posted on one of his web pages an article titled, "An Evening with Danton Burroughs, Keeper of the Flame for Edgar Rice Burroughs." The article told of an evening Sellers and his wife, Lorena, spent visiting with Danton Burroughs at Edgar Rice Burroughs, Inc., several years earlier. The article was originally published at ERBzine, along with a biography of Sellers.
Later, the article was also published on Sellers' web page along with a new introduction by Sellers of how his love for ERB was stoked while he was in Germany.
Michael Sellers' Evening With Danton Burroughs
http://www.erbzine.com/mag10/1059.html

Off-Site Reference
Sellers Danton Visit Reprint

---

*** There's nothing quite so thrilling as making a successful escape. ERB's characters would make many of them over the years. When he wrote about escapes, he wrote from experience.
At Michigan Military Academy, ERB was under discipline (and not for the first time) on April 13 in 1894, and made an unsuccessful escape attempt. He was caught while trying to climb out a window. Undaunted, he made a new attempt the next day, learning from his mistakes, and this time -- on April 14 -- he was successful. Free at last, ERB hightailed it for Chicago and home, utilizing a railroad pass.
However, his father, Major Burroughs, received a telegram from Capt. Charles King, Academy commandant, which read: "Your son deserted Thursday. Letter will follow."
ERB said, "I think it was the word 'deserted' in the telegram that got me, and the next day I was back at Orchard Lake walking punishment. But walking punishment has its compensations, one of which was that the old boys could not subject us to any of the refined and unrefined torture of hazing, which was carried on to an exaggerated extent at Orchard Lake at that time."
Ed redeemed himself well, later serving in the 7th Cavalry in Arizona and, much later, serving in uniform as a war correspondent. He also was a major in the BMTC -- Business Mens Training Corps -- in Hawaii, when civilian men were training in weapons and military discipline just in case the Japanese invaded the islands as a followup to their sneak attack on Pearl Harbor. As a major, ERB was a public relations director and a drill instructor. He also returned to MMA to serve a stint as an instructor.
ERB at Michigan Military Academy
http://www.erbzine.com/mag11/1170.html
ERB's military experiences and other life events
http://www.erbzine.com/mag1/0130.html

---

*** Richard A. Lupoff's "Edgar Rice Burroughs: Master of Adventure" was first published by Canaveral Books in 1965 and featured a plain green dust jacket. Three years later, Ace Books published it in paperback, with a cover featuring the classic Frazetta illustration originally used for the Ace edition of "The Beasts of Tarzan."
In Lupoff's "Introduction to Second Edition," he noted:
"The present Ace edition is not a simple reprint of the hardbound Canaveral edition. Considerable new material is included in the text. A number of errors which had crept into the first edition despite all efforts at accuracy have been weeded out and correct information supplied. Certain new information, both of historic and current matters, has been added. Finally, a number of points which were made in the first edition have been somewhat clarified and expanded." Richard A. Lupoff, April 14, 1968
Richard Lupoff's ERB: Master of Adventure
http://www.erbzine.com/mag30/3048.html
Richard Lupoff: The Canaveral Press ERB Editions
http://www.erbzine.com/mag28/2805.html

Off-Site Reference:
Various editions of Lupoff's Master of Adventure: Wikipedia


BACK TO APRIL WEEK I
http://www.ERBzine.com/mag63/6323.html


BACK TO MONTHLY EVENTS INRO and CONTENTS
www.ERBzine.com/mag63/6310.html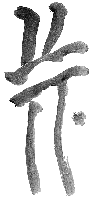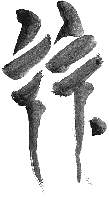 BILL HILLMAN
Visit our thousands of other sites at:
BILL AND SUE-ON HILLMAN ECLECTIC STUDIO
ERB Text, ERB Images and Tarzan® are ©Edgar Rice Burroughs, Inc.- All Rights Reserved.
All Original Work ©1996-2018 by Bill Hillman and/or Contributing Authors/Owners
No part of this web site may be reproduced without permission from the respective owners.