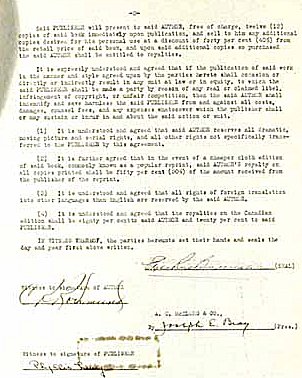 Contract for The Monster Men
Jan. 29, 1929
Original typed agreement between Edgar Rice Burroughs, Inc., and A.C. McClurg & Co. for the book publication of The Monster Men, signed by Burroughs, Joseph E. Bray (President of A.C. McClurg & Co., and two witnesses. On the rectos of two sheets of legal-size paper, 13x8½).
Typed contract, signed by Burroughs, for the last of his non-series titles published by McClurg. Burroughs, now incorporated, was to receive royalties of 15% for the first 10,000 copies, and 20% therafter. As it turned out, only about 5,000 copies were issued by McClurg. Burroughs made sure that he retained all dramatic, motion picture and serial rights, that he would receive 50% royalties on cheaper cloth editions of said book, all rights of "foreign translation into other languages than English," and 80% of the royalties on any Canadian edition. At the top of the first page is written in ink, "OP Cancelled and signed (?) to Edgar Rice Burroughs Inc. August 11, 1939 - 50.00." Apparently Burroughs bought back the copyright in 1939 for a bargain price of $50, but it was not republished until the 1962 Canaveral Press edition.
Light wear, each sheet with McClurg's "Received" rubberstamp dated 1929 on the reverse, discoloration (from a previously affixed label?) to the signature of one of the witnesses, else very good.