Official Edgar Rice Burroughs Tribute and Weekly Webzine Site
Since 1996 ~ Over 15,000 Webpages in Archive
Volume 6325

ERB'S LIFE and LEGACY :: DAILY EVENTS
A COLLATION OF THE DAILY EVENTS IN ERB-WORLD
FROM THE PAGES OF ERBzine CREATED BY BILL HILLMAN
Collated by John Martin and Bill Hillman
With Web Design, Added Events, Links,
Illustrations and Photo Collages by Bill Hillman
DAILY EVENTS INRO and CONTENTS

APRIL CONTENTS :: WEEK 3
Apr 15 ~ Apr 16 ~ Apr 17 ~ Apr 18
Apr 19 ~ Apr 20 ~ Apr 21

VISIT APRIL WEEK 3 PHOTO ALBUM
www.ERBzine.com/mag63/6325pics.html
BACK TO APRIL WEEK II
www.ERBzine.com/mag63/6324.html

Click for full-size images
---
APRIL 15
---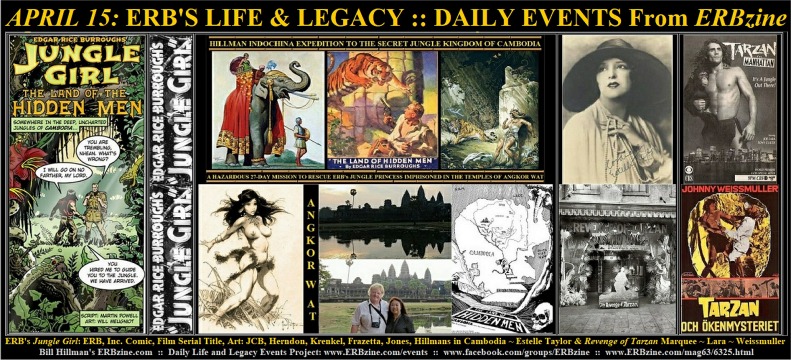 ERB's Jungle Girl: ERB, Inc. Comic, Film Serial Title, Art: Studley Burroughs, Herndon, Krenkel, Frazetta, Jones,
The Hillmans in Cambodia ~ Estelle Taylor and Revenge of Tarzan Marquee ~ Joe Lara ~ Weissmuller
---
Cover Art by Studley Oldham Burroughs ~ Laurence Herndon ~ Roy G. Krenkel
---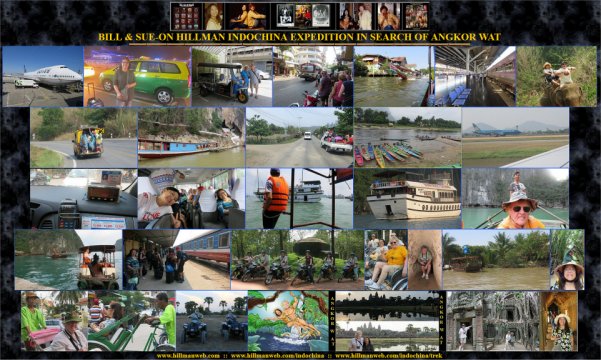 27 unique modes of travel across the 2700 Kilometres we took to get to our Angkor Wat destination
---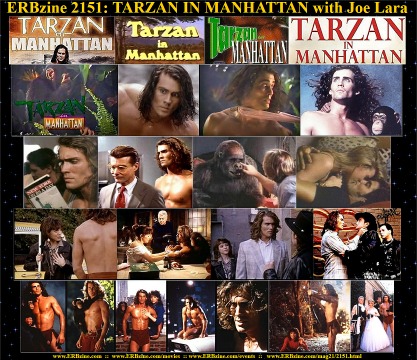 ---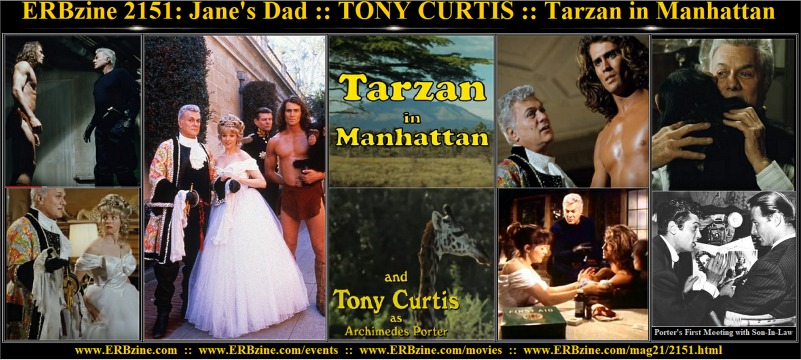 ---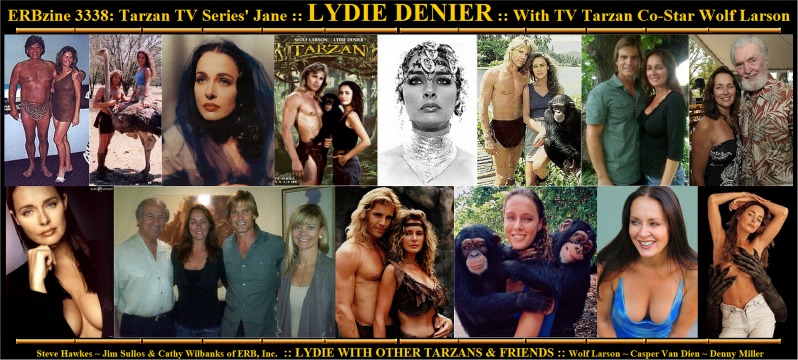 ---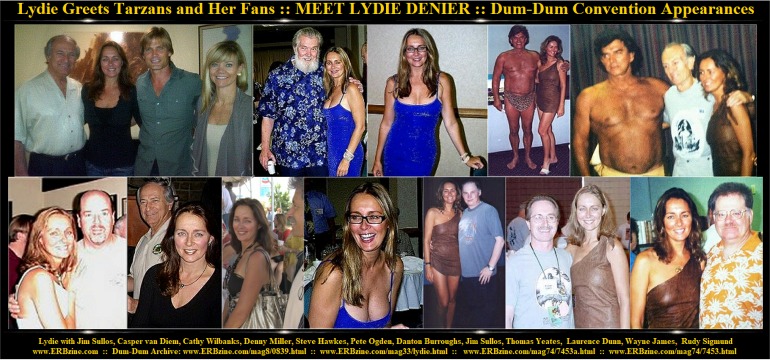 ---
*** 1932: The first edition of "Jungle Girl" was published by ERB inc. on this date with cover art by Studley Burroughs illustration of Fou-tan riding a decorated elephant. Six interior b/w plates by Studley were also featured. The pulp version was published by Blue Book magazine with a cover by Herndon and had been titled "The Land of Hidden Men." That title was used for the Ace paperback edition published in 1963 with an excellent Krenel cover. ERB's original title for the work, however, was "The Dancing Girl of the Leper King," and some regret the fact that title has never been used!
We've spent decades visiting many of the places - real and "fictional" - described in ERB's books. A few years back we spent a month in SE Asia: Thailand, Lao, Vietnam. . . and Cambodia -- the home of the Jungle Girl. We've shared many hundreds of photos and memories of that SE Asia visit, including the 27 unique modes of travel across the 2700 Kilometres we took to get to our Angkor Wat destination.
The restored ruins of Angkor Wat and the many temples were extraordinary. A sample of some of the photos from this adventure is featured at ERBzine 5699. Countless others are found in the TRAVEL section of our online book: Bill and Sue-On: A +50-year Musical Odyssey over on our personal Website.
Jungle Girl: C.H.A.S.E.R. Online Bibliography
Covers, Interior art, Pulps, Publishing history, Comics, Features, Links
http://www.erbzine.com/mag7/0776.html
Jungle Girl: Read the full book in eText
http://www.erbzine.com/craft/jg.html
Jungle Girl: Maxon's art in newspaper serializations
http://www.erbzine.com/mag37/3728.html
Hillmans in search of Angkor Wat and Jungle Girl
https://www.ERBzine.com/mag56/5699.html
Related Collage of the Journey
http://www.hillmanweb.com/indochina/trek/trekall.jpg
Jungle Girl: ERB, Inc. comic version by Powell, Meugniot and Poliwko
http://www.edgarriceburroughs.com/comics
Jungle Girl: Film Serial in 15 Chapters
http://www.erbzine.com/mag5/0549.html
Bill and Sue-On: A +50-year Musical Odyssey
http://www.hillmanweb.com/book

Off-Site References:
Jungle Girl summary
Madison Jungle Girl variant DJ
---
*** 1989: Tarzan in Manhattan: TV Guide announced the showing of this TV Movie with Joe Lara and Kim Crosby on this date: The TV Guide descriptive paragraph said, "Johnny Weissmuller enjoyed 'Tarzan's New York Adventure' (1942), and now Joe Lara is 'Tarzan in Manhattan,' where the Lord of the Jungle uncovers a plot to monkey with simian intelligence."
PLOT: Tarzan uncovers an insidious plot by a covetous scientist to enhance the natural IQ of African monkeys. To prevent his beloved Cheetah from falling into the hands of vivisectionists, the Jungle Lord heads for New York, where he meets his Jane (Kim Crosby) -- a wisecracking cabbie. Tony Curtis plays Janes father, an ex-cop private eye, barely justifying his "special guest star" credit. Interestingly, Warren Zevon's "Leave My Monkey Alone" is in the soundtrack. Tarzan in Manhattan was the pilot for a TV series.
TRIVIA:
~ Joe Lara would later audition as a TV Tarzan in Tarzan (1991) which he lost to Wolf Larson, but star as Tarzan in the unrelated series Tarzan: The Epic Adventures (1996).
~ Jan-Michael Vincent also played a Tarzan-type character named Nanu in the Disney movie The World's Greatest Athlete (1973).
~ Tony Curtis makes his role amusingly funny by constantly over acting. He plays Archimedes Porter, the ex-cop-father of Jane, who occasionally masquerades as a main part, and adds a touch of (intended) humour to the film.
Tarzan in Manhattan
https://www.erbzine.com/mag21/2151.html
Tarzan's New York Adventure
http://www.erbzine.com/mag6/0622.html
ERB On the Silver Screen
http://www.ERBzine.com/movies
https://www.erbzine.com/cards/film3/tonycurtisinmanhattan.jpg
https://www.erbzine.com/cards/film2/tarzanmanhattan.jpg
Off-Site References:
IMDB
Short TV Promo on Youtube
---
*** 1944: The Swedish debut of "Tarzan's Desert Mystery" was on this date, about three and a half months after it had been released in the U.S.
Tarzan's Desert Mystery: ERBzine coverage:
http://www.erbzine.com/mag6/0624.html
Off-Site Reference
IMDB
---
*** 1958: Estelle Taylor died on this date. She had been Olga de Coude in "The Revenge of Tarzan."
The Revenge of Tarzan
http://www.erbzine.com/mag5/0588.html
Off-Site Reference
Estelle Taylor films: IMDB
---
*** 1964: Lydie Denier was born on April 15 in Saint-Nazaire, Loire-Atlantique, France. Lydie was raised in Martinique and attended school at the Lycee Shoelcher in Fort de France, Martinique. She became a model at 14 years old. Her big break through as an actress was when she played the role of Jane in the TV series Tarzán (1991) from 1991 till 1993. Her TV debut was on General Hospital (1963) back in 1989 playing the role of Yasmine Bernoudi.
In Worldvision Enterprises' Tarzan a weekly, half-hour, action series for syndication, Lydie assumed the central role of Jane Porter. She sees her Jane as "a modern woman who brings the positive aspects of civilization to the Jungle to conduct research on endangered species. But she also has come to find herself. Jane is independent and intelligent. She has no fear and will do anything". Tarzan, the series, was sold in 87 countries around the world.
When the producers of Tarzan were searching for an actress to play the role of Jane, the well-educated, contemporary and passionate scientist, they needed only to meet with Lydie to find exactly who they were looking for.
Lydie is also an accomplished artist. She paints acrylic on canvas and her work has been sold both in Europe and America. She is also a writer and a producer. Her film company is Pathway Pictures in Los Angeles. In 2010 she published the book: "Me Jane... Not You!"
TRIVIA:
* Won a "Miss Legs International" pageant in 1984.
* Lydie Denier is the 15th screen Jane in Tarzan written by Edgar Rice Burroughs.
* Lydie Denier is the first actress to portray the role of Jane in Tarzan on television.
* Lydie has worked with 4 actors who have portrayed the role of Tarzan: Wolf Larson, Ron Ely, Joe Lara and Miles O'Keefe.
* In 1995, Lydie Denier was engaged to Chris Stevens, the ambassador to Libya killed in Benghazi on September 11, 2012.
* Lydie played two different characters on two different Tarzan shows.
* Lydie has been a favourite guest at numerous ERB conventions
* Lydie is also an American citizen.
Lydie Denier Bio and Photos
https://www.erbzine.com/mag33/3338.html
Lydie's Book: Me Jane. . . Not You!
https://www.erbzine.com/mag33/lydie.html
ERBzine REVIEWS of the Tarzan Shows that Lydie appeared in:
TARZAN TV SERIES ~ 1991-1994: Wolf Larson & Lydie Denier - 75 Episodes
https://www.erbzine.com/mag74/7453.html
Meet Lydie and Wolf
https://www.erbzine.com/mag74/7453a.html
Tarzan the TV Epic Adventures: Lydie in Parts 1 & 2 of a 2-hour movie
https://www.erbzine.com/mag76/7671.html
https://www.erbzine.com/cards/film4/lydiedenierall.jpg
https://www.ERBzine.com/cards/film8/lydiedenierandfansall.jpg




---
APRIL 16
---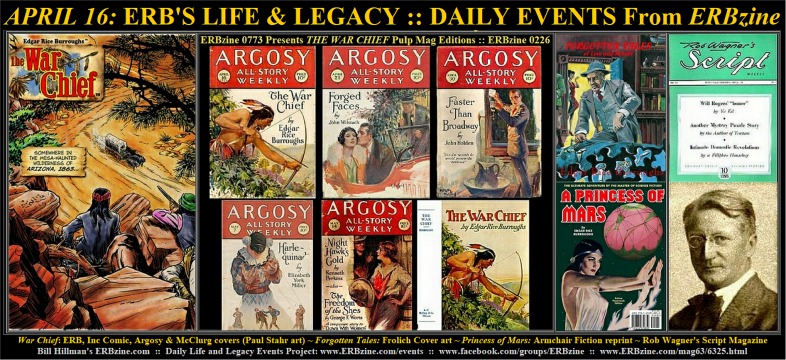 War Chief: ERB, Inc Comic, Argosy & McClurg covers (Paul Stahr art) ~ Forgotten Tales:
Frolich Cover art ~ Princess of Mars: Armchair Fiction reprint ~ Rob Wagner's Script Magazine
---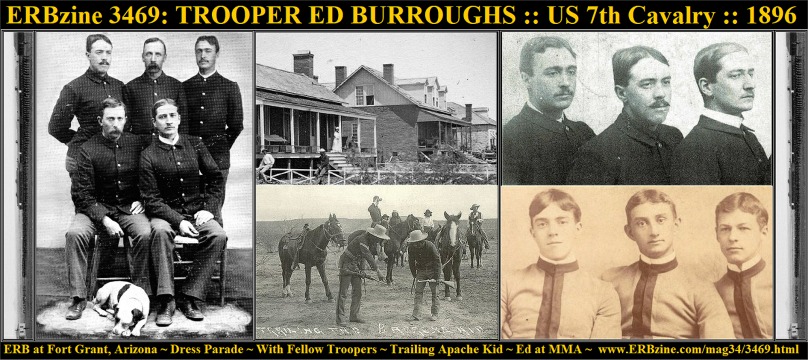 ---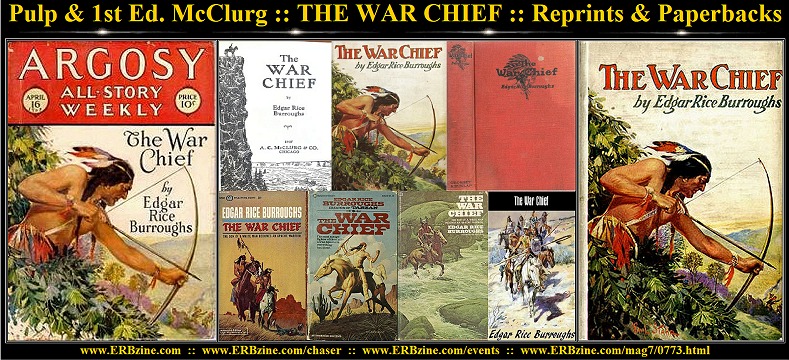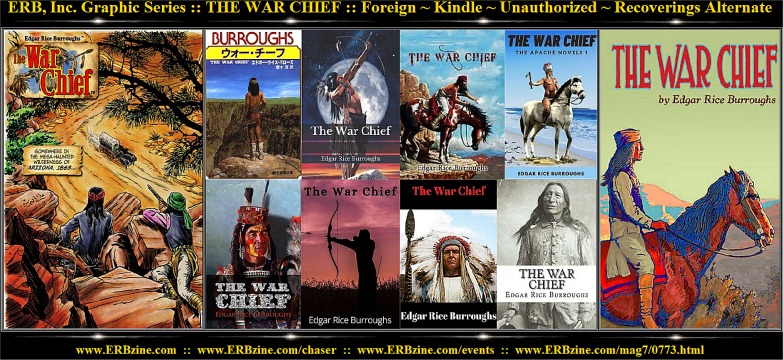 ---

Click for full-size

*** 1927: "The War Chief" rode out of the imagination and the experience of ERB in the April 16, 1927, edition of Argosy All-Story Weekly when the magazine with the first installment hit the newsstands. The cover art for the first part was by Paul Stahr, and the same cover art appeared later on the dust jacket of the hardback book. Each of the five serial installments had a black and white illustration by Roger Morrison. ERB began work on this in August 1926 with a working title: The War Chief of the Apaches
ERB's time in the 7th Cavalry in Arizona put him in the very spot where the Apaches roamed and provided him with a familiarity with the region that enabled him to write descriptively of it in the story took place. We've documented his Arizona experiences in ERBzine.com/arizona . . . We also tracked many of the places he visited during his time in the Cavalry while we attended the 2019 Dum-Dum in Willcox, Arizona.
* Edgar Rice Burroughs Comments On The War Chief: Danton Burroughs found the following note with the manuscript for The War Chief:
"I have gone over the 'copy' carefully and have indicated a number of phrases, sentences and paragraphs deleted by them, which I wish to have retained.
"The preparation of the manuscript required considerable research work and as it is necessary for the reader to be able to understand the viewpoint of the Indian, if he is to be in sympathy with the principal character, it is essential that much of the matter deleted should remain even though it draws comparisons that may be odious to some people of our own race and sometimes shocking to people whose religious convictions are particularly strong.
"I should also call your attention to an Indian name and an Indian word concerning which the magazine editor and I seem not to agree.
"The name is that of a famous Apache Chief, Mangas Colorado, variously spelled Mangus and Magnus. From a very old book I obtained the suggestion of the derivation of this name, which in Spanish means colored sleeves. The author supposed that the name may have been given to him by the Mexicans, either because of the garment he wore with colored sleeves or from the fact that his sleeves or arms were stained with the blood of his victims.
"The other word to which I refer is Izzo-Kolth, which the magazine editor insisted on changing to Izze-Colth. My authority for this spelling is an article by John G. Bourke, THE MEDICINE MAN OF THE APACHES, which appeared in the annual report of the Bureau of Ethnology for 1887 and 1888.
"The magazine editor deleted what evidently appeared to him tiresome descriptions of Indian customs, such as burial ceremonies and the decoration of the bodies of medicine men, but as there is not a great deal of this and I believe that it is all based on good authority, it should be permitted to remain." ~ ERB.
Learn more about ERB's influences and references across our ERBzine site using our Internal Google Search feature, some of the links below plus Apache Devil in C.H.A.S.E.R. and ERB's Personal Library Project:
The War Chief: Covers, Pulps, Background, Publishing History
http://www.erbzine.com/mag7/0773.html
The War Chief: Read the complete e-Text edition
http://www.erbzine.com/craft/warchief.html
The War Chief: ERB, Inc. Comics: Martin Powell and Nik Poliwko
http://www.edgarriceburroughs.com/comics
The War Chief: ERB / US Cavalry / Apaches Connection
http://www.erbzine.com/mag34/3469.html
ERB's Personal Library Project
https://www.erbzine.com/dan/
https://www.erbzine.com/cards/biblio6/warchiefpulp1streprintsall.jpg
https://www.erbzine.com/cards/biblio6/warchieferbincforeignunauithorizedalternateall.jpg

---

*** On April 16, 2012, Armchair Fiction & Music published an extra large edition of a stories about a couple of sirens of our solar system. The first story was "Captive of the Centaurianess" by Poul Anderson and the companion story was "A Princess of Mars" by Edgar Rice Burroughs. The "Princess" cover is pictured. This cover, as well as many other PM reprint covers are featured on our C.H.A.S.E.R. Bibliography series.
A Princess of Mars: History ~ Art ~ Info
http://www.erbzine.com/mag4/0421.html
---
*** 1932: One of ERB's short reader-challenging mystery stories -- "Who Murdered Mr. Thomas?" -- appeared in the edition of "Rob Wagner's Script" dated April 16, 1932. Use the directory link below to navigate to other stories in the series:
ERB's Note to Rob Wagner, Editor of SCRIPT magazine Re: "Mystery Puzzle from Tarzana
Dear Rob:
You have a right to boast of the high order of intelligence of your readers.
Let's see how high it is. The enclosed murder mystery may be solved logically from the clues given in the story.
There is no "catch" to it. Ask your readers to time themselves and then tell you how long it took them
to reach the correct solution logically. Also ask them not to lie.
Who Murdered Mr. Thomas? mystery The Script
http://www.erbzine.com/mag0/0047.html
ERB's Script Mysteries were also reprinted in
Forgotten Tales of Love and Murder
http://www.erbzine.com/mag7/0734.html
ERBzine Directory to All Our ERB Mystery Puzzle Reprints
https://www.erbzine.com/mag64/6409.html

Off-Site Reference:
Rob Wagner in Wikipedia

---
APRIL 17
---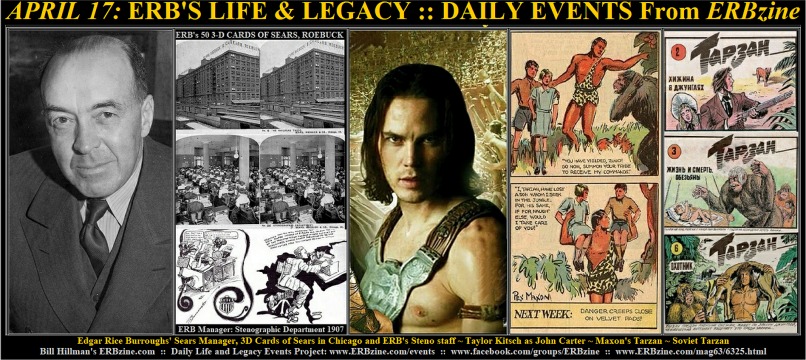 Edgar Rice Burroughs' Sears Manager, 3D Stereoview2 Cards of Sears in Chicago and ERB's Steno staff
Taylor Kitsch as John Carter ~ Rex Maxon's Tarzan ~ Soviet Tarzan
---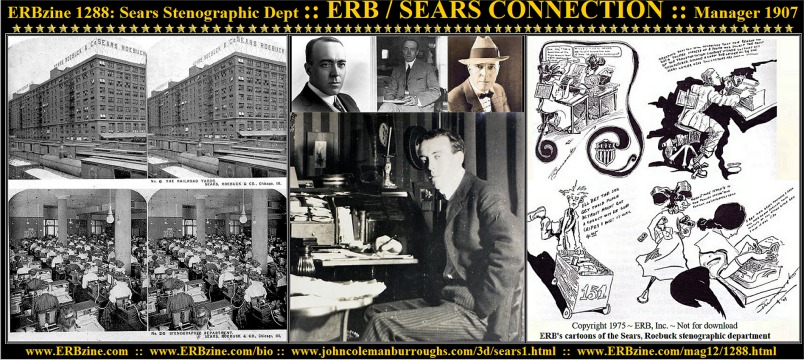 ---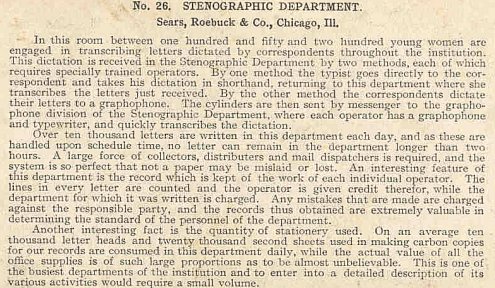 ---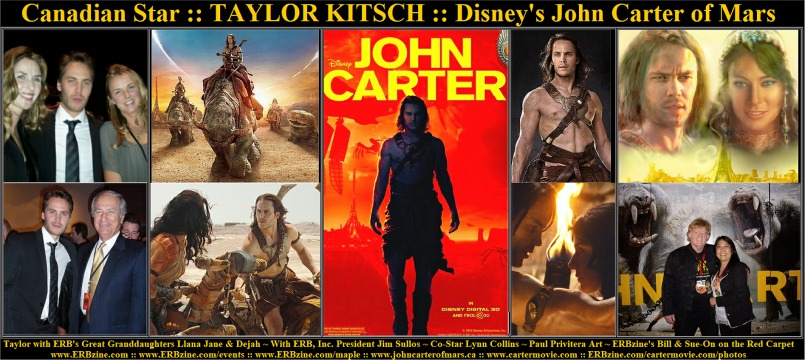 ---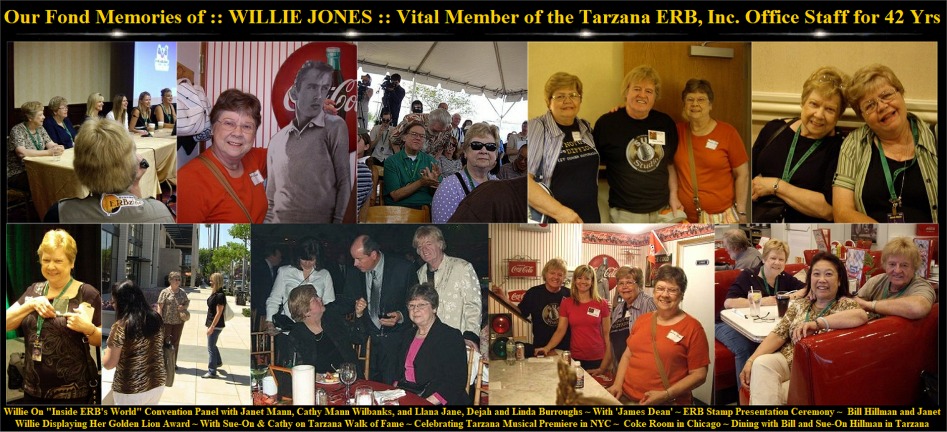 ---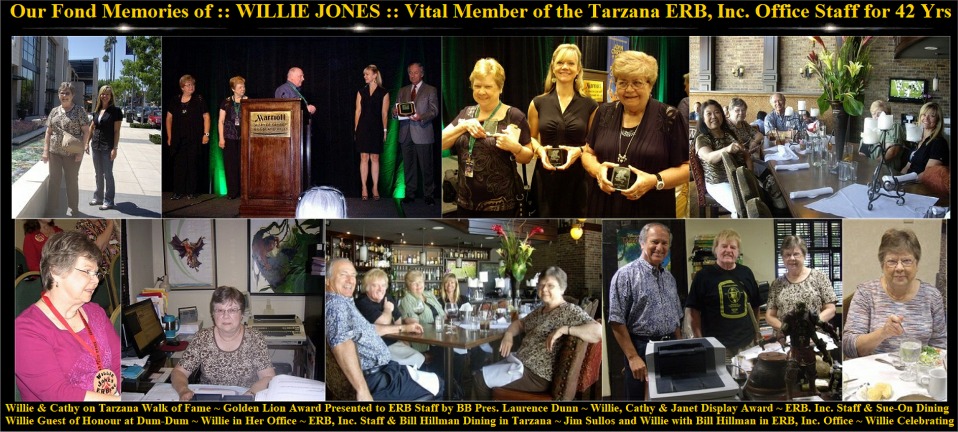 ---
*** 1907: It's common to hear how ERB failed at "everything" until he started writing. ERB himself made jokes about his previous endeavors that have helped to create that impression. And, it's true that not everything he did worked out, but that is probably typical of many in the work force.
However, he also had his pre-author successes. On April 17, 1907, ERB was promoted to manager of the Stenographic Department at Sears, where he excelled! Read that tidbit and other key events in ERBzine.
"So many people have written that I was a failure in business before I began writing that most people take for granted the statement's true. Contrary to that belief I never was fired from a job. If Sears, Roebuck & Co. records go back far enough, I'll bet they show I was a good departmental manager for them." ~ Edgar Rice Burroughs ~ Chicago Daily Times Interview 1939
Seeing a great future in the mail order business, 32-year-old Ed Burroughs applied for a position at the Sears, Roebuck and Company in early 1907. Sears was one of the fastest growing companies in American and its thousand-page mail order catalogue was a cherished item in homes across the country -- especially in rural areas. He was given a position in the correspondence department, but was soon promoted to Manager of the Stenographic Department.
This department consisted of 150 stenographers, dictaphone operators, multigraph operators and typists, and as such, was a kind of showroom that attracted regular visits and inspections by company executives and visiting VIPs. Ed's business sense, efficiency and managerial skills were soon noticed by company executives and his supervisors wrote glowing reports on his work.
Throughout his almost-two-year stint at Sears there were many instances where Ed improved the efficiency of the department and developed procedures that saved the company considerable sums of money. He carried out his managerial duties with great attention to detail, imagination and a sense of humour, as is shown in the creative bits of writing and cartoons that he created and are featured on the ERBzine page below.
Danton Burroughs shared a complete set of 50 3-D Stereoview Cards from his family archive. These were issued by Sears, Roebuck & Co. at this time. I have uploaded images of all 50 of these cards which may be viewed in 3D. These are posted on my John Coleman Burroughs Companion site. See the opening link below.
The ERB / Sears Connection
http://www.erbzine.com/mag12/1288.html
ERB's life in the Sears era
http://www.erbzine.com/bio/years00.html
50 Stereoview 3D Cards from Sear, Roebuck & Co. - starting at:
http://www.johncolemanburroughs.com/3d/sears1.html
---
*** Speaking of books about ERB, John Taliaferro's "Tarzan Forever" quoted an April 17, 1924, New York Times article by correspondent Walter Duranty who, in turn, quoted a Moscow newspaper that Russians preferred reading Edgar Rice Burroughs over Karl Marx. Find out what authors besides ERB that the Russians liked. If you don't have the book itself, read that page of Taliaferro's book
ERB's Words: "Having been pirated in Soviet Russia, he gained such popularity among the proletariat that the Soviet government was forced to take official cognizance of him. Whether they murdered him in a cellar or knouted him to Siberia, I do not know; but they got all het up because groups of illiterate peasants gathered in the streets while a more educated fellow, oftentimes a soldier, read Tarzan out loud to them instead of Soviet propaganda or the intriguing dream books of Mr. Marx."
Collier's 1953: "The Reds got their Tarzan pictures in 1945, when the Russians stormed into Berlin and grabbed some German-dubbed versions. Since Tarzan was raised in the jungle by apes uncontaminated by the democracies, the Russians took the pictures back to Moscow and released them in the Soviet Union. Fragmentary reports indicate the movies are extremely successful there, too."
In Paul Mandel's Life Magazine article, "Tarzan of the Paperbacks," the Russians were also mentioned: the "Soviets felt that although Tarzan was a peer, he had been brought up by proletarian apes so it was all right for young Communists to like him."
ERB speaks of Tarzan in Russia in "Story of Tarzan"
http://www.erbzine.com/mag15/1599.html
Tarzan in Russia: The Burroughs Boom
http://www.erbzine.com/mag14/1433.html
He Tarzan - You Fan: Collier's 1953
http://www.erbzine.com/mag16/1656.html

Off-Site Reference
Taliaferro Page
Russian Tarzan Comics
---
*** 1931: On this date ERB advised George Carlin of United Features against the use of children in the Sunday color page. He wished to impress upon people that his stories were primarily for adults. ERB's secretary, Ralph Rothmund, later met with Carlin in New York to emphasize these concerns. Nonetheless, the syndicate didn't get rid of the kids in the Maxon-Carlin strip until Hal Foster took over.
Maxon's Tarzan Sunday Pages featuring children
http://www.erbzine.com/mag17/1758.html
ERB Comments on the Maxon strip
http://www.erbzine.com/mag1/0140.html
---
*** 2011: Though he was playing John Carter on Mars, Taylor Kitsch was actually "over the moon" with excitement about the coming film. What were they saying a year before the premiere of Disney's "John Carter." Read some of Kitsch's comments from April 17, 2011, as well as several other articles from that time period: Kitsch is in great company and he knows it. "I wake up, I'm working with [Willem] Dafoe, [Mark] Strong, I've got Lynn Collins as Dejah Thoris." Before wrapping up, Kitsch humbly added, "I'm a lucky man to go to work with these guys. It's awesome."
* BACK IN TIME. . . TO WHERE THE JOHN CARTER PROJECT STARTED . . . From the ERBzine.com/news Archive - October 2007
"John Carter" Team Visits Tarzana ~ Pre-production for the Disney"John Carter of Mars" film is gathering steam
The Pixar creative team spent Tuesday morning exploring the massive Edgar Rice Burroughs archives in the ERB, Inc. offices on Ventura Blvd. Pixar's Jim Morris (vp), Andrew Stanton (director), Mark Andrews (script) discussed the "John Carter of Mars" film project with Burroughs representatives, Danton Burroughs, Sandra Galfas and Jim Sullos.
All six members at the meeting expressed a deep commitment to the project, acknowledging that they had been inspired by Burroughs' creations from a very early age. This is evidenced in the excitement held for the John Carter property and the plans for a film trilogy faithful to the Burroughs books. Projected release date is sometime before 2012.
Danton Burroughs presented the creative team with a wealth of resources, including art samples and books by ERB scholars such as Irwin Porges and John F. Roy. They noted that their major resource to date had been the thousands of official ERB, Inc. Webpages and Webzines.
Taylor Kitsch John Carter Comments
http://www.erbzine.com/news/news31.html
Interviews/Trailers with Taylor Kitsch, et al
http://www.cartermovie.com/
John Carter Film Reviews in the Press
(Note: In the years since these links were collected, a number of them have expired)
http://www.cartermovie.com/reviews/
JOHN CARTER PHOTO GALLERIES
https://erbzine.com/cartermovie.com/photos/
http://www.ERBzine.com/cards/film5/taylorkitschjohncarterall.jpg
Off-Site References
Unexplained Mysteries

---
2022: Willie Jones passed away on this date - April 17. Willie was a vital part of the Tarzana ERB, Inc. Office Staff for 42 Years.
Willie was hired as a secretary under Marion Burroughs in 1977. She went on to become an integral part of the ERB, Inc., team, being promoted to Assistant Secretary and working closely with the executive staff on matters related to the company's intellectual property, until she retired in 2019. She is survived by her son, Robert Jones.
Willie loved dogs and country music. She was known to fans from her attendance at some of the Burroughs Bibliophiles Dum-Dum conventions over the years, and even travelled to New York City to see Disney's Tarzan on Broadway theatrical premiere.
Sue-On and I always looked forward to meeting her in the Tarzana offices and chatting with her on the phone. We have shared many photos of Willie across our ERBzine pages, some of which are displayed in the tribute collages featured on this page: appearances and guest at ERB Dum-Dum and ECOF conventions ~ exploring the Tarzana Safari Walk ~ the night the ERB, Inc. office staff were presented with the BB Golden Lion Award ~ her participation in the "Inside ERB's World" Panel for ERB fans and scholars with Janet, Cathy and Danton's wife and daughters, the pub crawl across the Chicago Blues bars ~ visit to the Chicago ERB and Coke collection of Jerry Spaanraft ~ the after-premier party for Tarzan the Musical in New York's Marriott ballroom full of Broadway celebrities ~ gala celebration of the US Postal Service release of the Commemorative Edgar Rice Burroughs stamp ~ dining in Louisville, Chicago, Tarzana, etc. ~ and always back to her busy office desk in Tarzana.
Willie's hard work was invaluable in protecting the legacy of Edgar Rice Burroughs for more than four decades. We will all miss her deeply.
Willie Jones Photo Collages
https://www.ERBzine.com/cards/writers5/williejonesremembered1all.jpg
https://www.ERBzine.com/cards/writers5/williejonesremembered2all.jpg

---
APRIL 18
---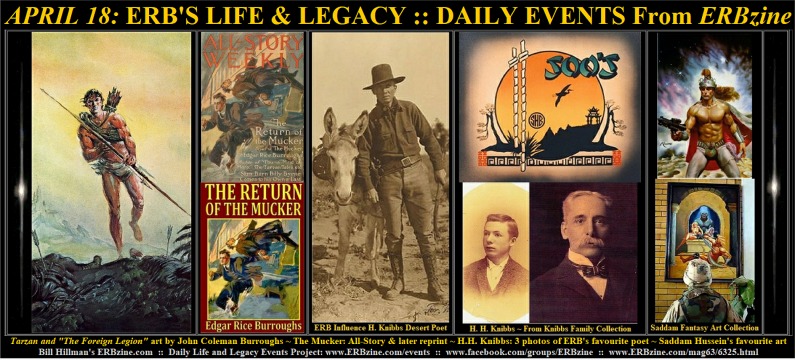 Tarzan and "The Foreign Legion" art by John Coleman Burroughs ~ The Mucker: All-Story and later reprint
H.H. Knibbs: Three photos of ERB's favourite poet ~ Saddam Hussein's favourite art
---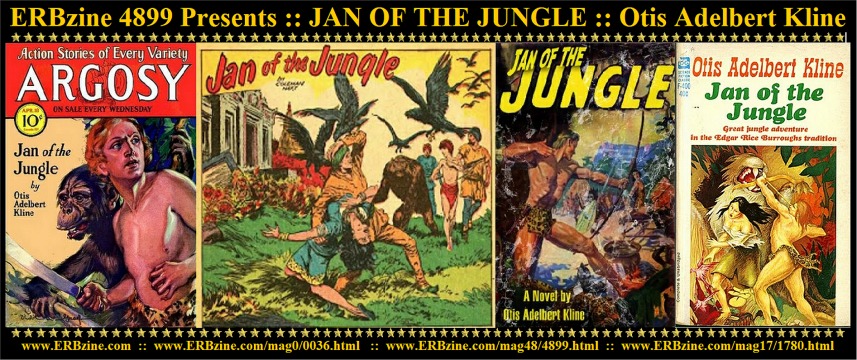 ---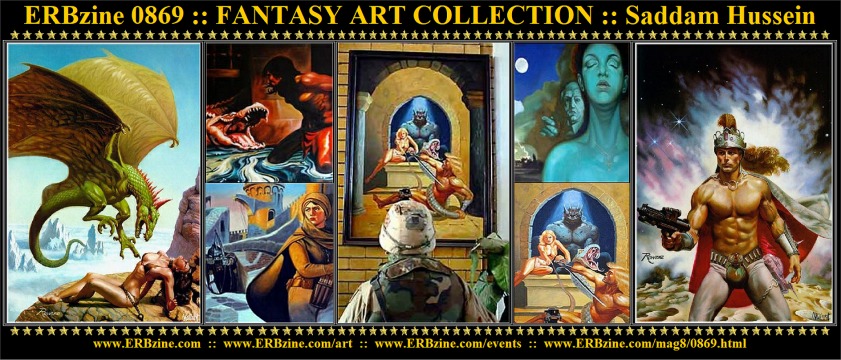 ---
April 18 is a day for some rather strange ERB connections.
*** 1931: First, Otis Adelbert Kline's "Jan of the Jungle" began as a serial in Argosy All-Story Weekly on this date. It is a rousing jungle adventure of revenge, lost worlds, wars and romance. Raised in a lab (alongside a chimp) by a brilliant, but misguided scientist, a young boy is trained to be a killing machine. But the young boy, Jan, is clever enough to escape from the lab and make it out into the surrounding swamp with his chimp mentor at his side. The swamplands offer Jan his first taste of freedom. He grows up fast, and has several run-ins with the wildlife of the swamps -- crocodiles, snakes, bears, etc.. He soon discovers a lost world, a Lemurian princess and adventure beyond his wildest dreams.
I first noted the appearance of OAK's young jungle boy in one of my first ERBzine Webpages in 1996 . . . this was one of the first times I had used my new ERBzine logo created by our daughter China and adapted from out SOO'S Restaurant logo.
Jan of the Jungle by Otis Adelbert Kline: Read It HERE
https://www.erbzine.com/mag48/4899.html
http://www.erbzine.com/craft/oakjan.html
Adventures of Jan by Den Valdron - Pt. 1
https://www.erbzine.com/mag17/1780.html
Jan adapted for the film CALL OF THE SAVAGE
https://www.erbzine.com/mag4/0442.html
Reference in one of the first ERBzine pages created in 1996
https://www.erbzine.com/bib/stuff.html
Otis Adelbert Kline Tribute Pages in ERBzine -- 12 Pages Start Here:
https://www.erbzine.com/mag0/0036.html

---
*** 2003: Saddam Hussein Fantasy Art Collection: Saddam apparently loved the same type of art as many of us ERB fans do! On April 18, 2003, an article, "Rogue's Gallery of Blonde Bombshells," reports on some of the Iraqi dictators specialized taste. Also, see another article, "Don't laugh at Saddam's art collection," by Franklin Harris on this page. It comes to the defense of the ERB fans' taste in art.
At least two of the original fantasy paintings that U.S. Marines found in Saddam's "love nest" were painted by Rowena Morrill. One of these paintings had been produced as the cover for the fantasy novel King Dragon by Andrew J. Offutt. This painting was based on one of 50 illustrations drawn by Esteban Moroto for a proposed Ace Books illustrated edition of ERB's At the Earth's Core. When the Ace project fell through the publishers commissioned Offutt to write a novel around the illustrations. The result was the novel King Dragon with a cover painted by Rowena based upon one of Moroto's Pellucidar drawings of the sacrifice of a girl to a mahar.
Read about the type of art Hussein collected for his hideaway:
The ERB / Saddam Connection: Personal Fantasy Art
http://www.erbzine.com/mag8/0869.html
---
*** 1775: Paul Revere made his famous ride this date, as immortalized by William Wadsworth Longfellow when he wrote:
Listen my children and you shall hear ~ Of the midnight ride of Paul Revere, ~ On the eighteenth of April, in Seventy-five; ~ Hardly a man is now alive ~ Who remembers that famous day and year.
What was the ERB-Longfellow connection? Pretty darn wispy, apparently. We could say that H.H. Knibbs was encouraged, as a youth, to read the works of Longfellow and others, and he grew up to write his own poems, including "Out There Somewhere," which served as a literary device in the second half of ERB's "The Mucker." Or, we could say that ERB is said to have been influenced by Longfellow's "The Wreck of the Hesperus."
Or, we could mention that ERB placed the poet's name as an Easter egg into "Tarzan and 'The Foreign Legion' " when he wrote:
"Well, so long, fellow." "So long, Bum." A couple of soldiers entered the room. They cut away the bonds, and dragged the two men to their feet....
Henry Herbert Knibbs Tributes in ERBzine:
http://www.erbzine.com/mag9/0950.html
http://www.erbzine.com/mag9/0951.html
Knibbs' Poem that inspired The Mucker
http://www.erbzine.com/mag9/0950.html#THE POEM THAT INSPIRED THE
Knibbs' Out There Somewhere
http://www.erbzine.com/mag9/0950.html#OUT THERE SOMEWHERE
Knibbs and a little Longfellow in ERB's Library
http://www.erbzine.com/dan/k2.html
Longfellow's Hesperus mentioned in Prindle's Article:
http://www.erbzine.com/mag13/1340.html
Tarzan and 'The Foreign Legion': ERBzine ERB Bibliography
http://www.erbzine.com/mag7/0732.html
The Return of the Mucker
http://www.erbzine.com/mag7/0757.html

---
APRIL 19
---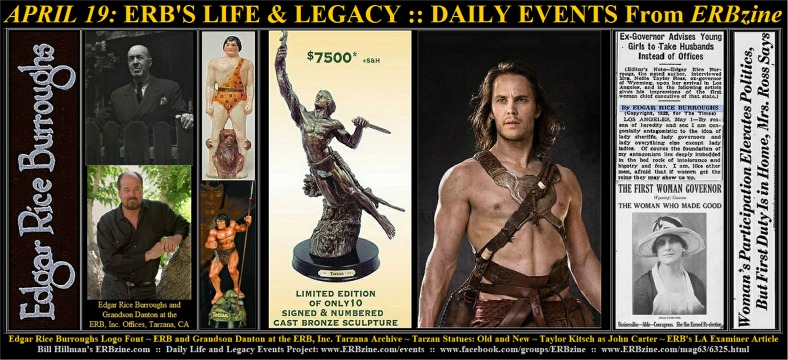 Edgar Rice Burroughs Logo Font ~ ERB and Grandson Danton at the ERB, Inc. Tarzana Archive
Tarzan Statues: Old and New ~ Taylor Kitsch as John Carter ~ ERB's LA Examiner Article
---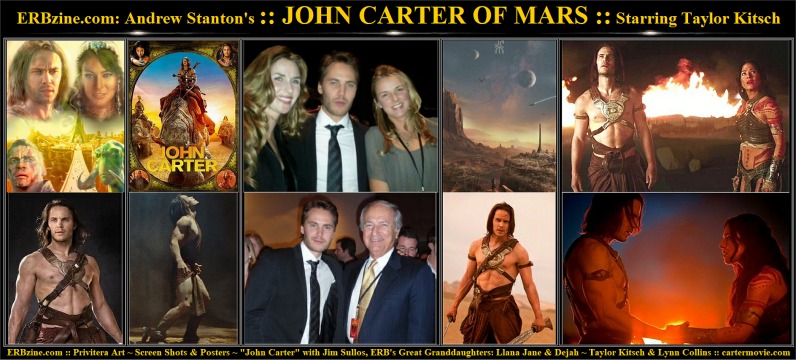 ---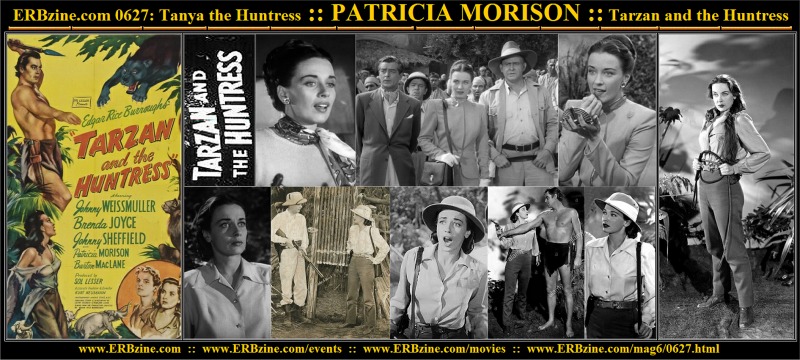 ---
*** 1990/2012: Patrice Apodaca of the L.A. Times had an article about ERB's foresight in incorporating himself on this 1990 date. Burroughs was the first American author to have incorporated, she wrote. "All his works are property of the corporation." The article quoted Don Mastrangelo, an independent agent for ERB Inc. at the time. He noted that "...the Burroughs corporation wields veto power over how the character will be used." One company, for instance, wanted to make a plastic Tarzan figurine, said Mastrangelo. "He was squatty, the arms were out of proportion and the face was wrong," he said. "So we just walked away."
Danton Burroughs was quoted in the article as saying he also has high hopes for a motion picture then in development at Disney that was to be based on his grandfather's first adventure novel, "Princess of Mars." Variety reported that Disney hoped to land Mel Gibson, Tom Selleck or Kevin Costner for the lead. Disney, however, wouldn't confirm or deny that the project was in the works.
It's interesting to look back and see that this Disney project would not come to pass until 22 years after this article appeared, when the three stars suggested were getting a bit long in the tooth. And when the article appeared in print, up in Canada in Kelowna, BC a boy named Taylor Kitsch had just celebrated his ninth birthday a few days earlier, on April 8, 1981. Taylor was raised in Vancouver where he started started playing hockey when I was 3 or 4 years old on a backyard pond. He went on to play in the Canadian BCHL for the Langley Hornets before a career-ending knee injury in 2002. Taylor moved to New York where he studied acting for two years after which he appeared in a number of television and movie roles, was a successful model and became very involved in work with world charity organizations. All this led to his being chosen to play the lead role in Disney's John Carter of Mars. John Carter recalled no childhood, but Taylor Kitsch did. His life goal was to be an actor and he made it to the big screen, playing ERB's interstellar traveller, Captain Carter, CSA, among other roles.
On filming John Carter Taylor said:"You can name any part on my body and at one point I'm sure it was swollen or hurt or pulled or yanked or something. You're just in insane shape that you gotta keep up. It's excessively tough, man. I passed out from exhaustion on 'Carter'. There's nothing more I could have given to that project."
On if the "bad press" over "John Carter" was hard for him: "I mean, look man, it wasn't an uplifting experience. My biggest regret would have been if I didn't do enough personally. If I didn't give it everything I had. If I hadn't prepped enough. I don't have that regret, so that allows me to let go. I still talk to Lynn Collins almost daily. Those relationships that were born won't be broken by people we never met."
On if he wishes there had been a sequel to "John Carter": "I miss the family. I miss Andrew Stanton. I know the second script was fucking awesome. We had to plant a grounding, so we could really take off in the second one. The second one was even more emotionally taxing, which was awesome."
Taylor Kitsch Interviews and Bio in our JC Film Site
https://erbzine.com/cartermovie.com/news/taylor.html
Our massive John Carter Film site with hundreds of photos, reviews, interviews, etc.
http://www.cartermovie.com
Our Danton Burroughs Tribute Site
http://www.dantonburroughs.com
ERB Incorporates Himself: ERB, Inc.
http://www.tarzan.org/about_erb_inc.html

Off-Site References
Taylor Kitsch's biography and filmography
LA Times: ERB, Inc.
---
*** 1928: When William Bradford Ross, governor of Wyoming in 1922, passed away, his loyal supporters did not tell his wife, "Whoa, Nellie!" To the contrary, they hitched their hopes to Nellie Ross and urged her to run for governor in the special election to fill the sudden vacancy. Nellie obliged, but did not campaign. Nonetheless, she won easily, thus demonstrating that most people appreciate it when politicians keep their mouths shut! Nellie eventually paid a visit to Los Angeles and there she encountered ERB, who interviewed her for an April 19, 1928, article in the L.A. Examiner. The Examiner also syndicated the article to other newspapers and so it also appeared April 19 in The Cincinati Enquirer. A couple of weeks later, on May 1, it showed up in the St. Petersburg Times, and the Florida newspaper's display of the article can be enjoyed in ERBzine.
With his tongue, typically, in cheek, ERB wrote: "By reason of heredity and sex I am congenially antagonistic to the idea of lady sheriffs, lady governors and lady everything else except lady ladies. Of course the foundation of my antagonism lies deeply imbedded in the bed rock of intolerance and bigotry and fear. I am, like other men, afraid that if women get the reins they may show us up."
Check the link above to find out what else ERB had to say about ladies in politics and this lady in particular.
ERB and the Press: '20s/'30s Decades: Nellie Ross Interview
http://www.erbzine.com/mag17/1788.html#rossinterview
Off-Site References
St. Petersburg Times
Nellie's Bio in Wikipedia
More history on Nellie

---
APRIL 20
---
Tarzan and His Mate 1934 film: Johnny Weissmuller and Maureen O'Sullivan ~ Tarzan and the Jewels of Opar:
All-Story and McClurg Editions ~ J. Allen St. John DJ and Interior Art
---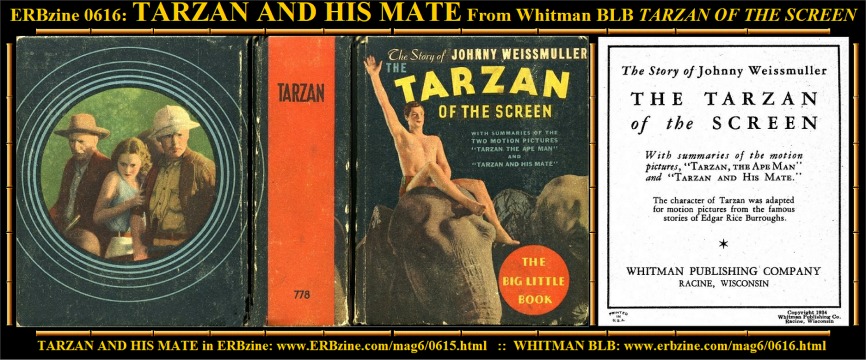 ---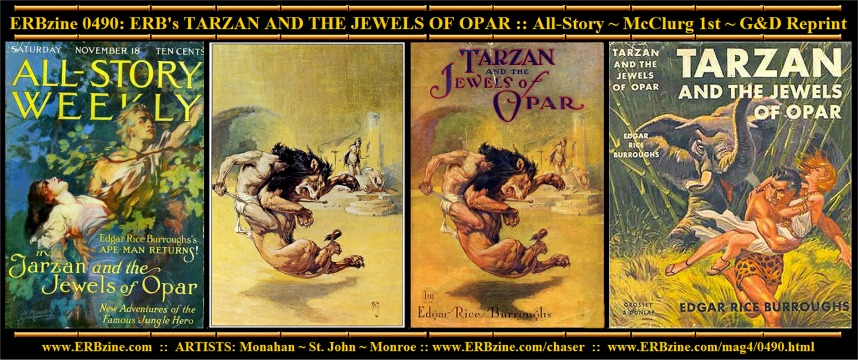 ---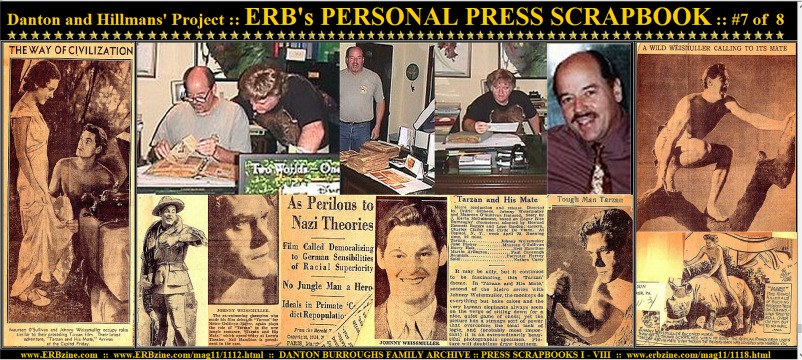 ---

Click for full-size image bars

*** "Tarzan and His Mate" was released this date -- April 20 -- in 1934. Jane's nude swimming scene stayed on the cutting room floor for several decades before being picked up, dusted off and spliced back in. But while movie-goers were denied a view of that, watchers from every era have always been treated to another scene which gets the adrenalin going: The climactic convergence of beasts and men when a few dozen lions, summoned by fierce natives, ganged up on the safari to kill and eat as many people as they could cram into their cavernous maws.
Fortunately, Tarzan and the elephants showed up in time to rescue Jane and they lived happily ever after, including long enough to go broke so that Tarzan would have to make a trip to a lost African city to restock his safe. That account was actually delivered to the public some years earlier, also on April 20, in 1918, when that adventure was published in book form under the title of "Tarzan and the Jewels of Opar."
Tarzan and His Mate: Full Coverage in ERBzine Silver Screen
http://www.erbzine.com/mag6/0615.html
Tarzan and His Mate: Lobby Displays starting at:
http://www.erbzine.com/mag6/0615a.html
Tarzan and His Mate: Big Little Book Adaptation
Summary and Stills :: Weissmuller Story

Off-Site References
Tarzan and His Mate in IMDB
Jewels of Opar Summary

---
*** 1918: "Tarzan and the Jewels of Opar" was published on this date by A.C. McClurg with cover and eight interior coated halftone sepia plate illustrations by J. Allen St. John.
Publishing Info: 350 pages ~ 1st Ed. Print Run: 50,000 ~ Total 426,500 ~ Heins word count: 60,000
The book doesn`t have a linear plot as much as a tangle of threads weaving in and out (Burroughs basically sets a dozen characters loose in the jungle and has them bounce off each other for a hundred and fifty pages), but the writing itself has much more energy and enthusiasm than the latter half of the series showed. There is more description and detail, and plenty of vivid incidents which may not be plausible but are still dramatic (a rhino in a trench fighting seven lions may be something that wouldn`t happen in real life, but it`s a wild image.) And the final paragraph is in effect a wonderful punchline that leaves the reader knowing something which the puzzled characters will never learn.
An interesting aspect of Tarzan is his duality. He`s unique in the world, the only one of his kind. He can enjoy an art gallery in London with Jane, while not being really happy in the constricting clothing and stuffy interiors. Yet back among the great apes or his Waziri, he`s also somehow not fully at home either. Tarzan is the classic misfit and outsider, living in two worlds but not wholly of either. This is something that was lost after the tenth book or so, where the Apeman apparently abandoned his family and went back to a simplistic jungle life. In JEWELS OF OPAR, he comes back on horseback "from a tour of inspection of his vast African estate" and then spends "the afternoon in his study, reading and answering letters". Yet the very next night, he`s droppng naked out of a tree onto a deer because he just HAS to kill something himself and devour some blody flesh. Tarzan is actually more savage than his tribe of Waziri, since they will not eat some of the odd items he enjoys and they prefer their meat cooked. The Apeman enjoys fresh meat, uncooked and unspoiled.
Opar itself is one of the great lost civilizations in pulp fiction. Crumbling and nearly ruined, the last surviving outpost of one of Atlantis` colonies, Opar has a population of males who sound a lot like stereotyped Neanderthals. Short, stocky, with long powerful arms and bent legs, the Oparians also have interbred with the apes. In fact, they speak Mangani and have some of the apes living with them.
You have to like La, she`s got such a hopeless life. Incredibly beautiful but condemned to eventually have to choose a mate from the Opar galoots, she has spent her life sacrificing people in cold blood on the altars of the Flaming God. As soon as she sees Tarzan, she`s smitten with lust and becomes a "pulsing, throbbing volcano of desire"! But of course, Tarzan isn`t interested in her in the least and she decides to torture him to death.
Tarzan and the Jewels of Opar: ERBzine Biblio: Art, History, Links
http://www.erbzine.com/mag4/0490.html
Tarzan and the Jewels of Opar: Complete e-Text Edition
http://www.erbzine.com/mag4/0490.html
Tarzan and the Jewels of Opar: Part II plus St. John Art
Page II :: St. John Art Collage
---
1894: Homesick Ed indignantly explained his side of his MMA offense in a letter to his father. He later climbed back up through the ranks to Captain.
ERB Bio Timeline
http://www.erbzine.com/bio
---
1925: The Red Hawk the last of the Moon Maid trilogy was published on this date.
ERB C.H.A.S.E.R. Online Illustrated Bibliography
http://www.ERBzine.com/chaser
---
1934: On this day the Montreal Star published a report that Nazi Germany had banned the American Film, Tarzan of the Apes. The article is not entirely accurate. The films in the early 1930s were 1932's Tarzan the Ape Man, starring Weissmuller, 1933's Tarzan the Fearless, with Buster Crabbe, and 1934's Tarzan and His Mate with Weissmuller and Maureen O'Sullivan. Which film was actually banned? It was Tarzan and His Mate, banned in Germany by the National Socialist Party on the grounds that it showed a Nordic man in brutal surroundings.
2004: Sue-On and I worked with Danton for an afternoon in the ERB, Inc. Tarzana Offices to scan clippings from ERB's personal scrapbook of news clippings related to his work. I've shared these clipping in ERBzine and even typed out much of the text for an easier read. The text from the Montreal Star text is as follows:
"Surely nothing but a grossly exaggerated view of Nazi Germany could ever have prompted the Berlin Film Board to ban the American-made picture, "Tarzan of the Apes," a film version of one of Edgar Rice Burrough's [sic] weird romances of the West African jungle. The reason given in the board's decision is that the picture in question is "dangerous to Nazi principles of race-conciousness, offensive to ideals of matrimony and womanly dignity," and "dangerous" because "the German nation's sensibilities have been sharpened as regards questions of hereditary biology." This sort of thing would move to laughter but for the fact that it is obviously intended as no jest but in deadly earnest. When will Hitler's Nazis learn to develop a sense of humor?"
ERB scrapbook clippings, including the one from the Montreal Star ~ April 20, 1934
https://www.erbzine.com/mag11/1118.html
9-ERBzine Project: ERB's Press Clipping Scrapbooks: Start at:
https://www.erbzine.com/mag11/1112.html

---
APRIL 21
---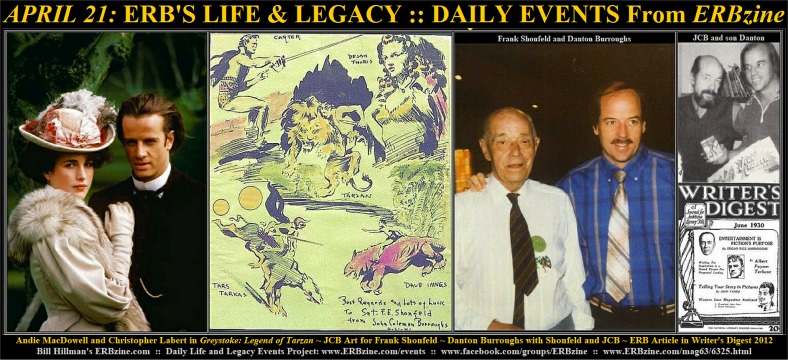 Andie MacDowell and Christopher Labert in Greystoke: Legend of Tarzan ~ JCB Art for Frank Shonfeld
Danton Burroughs with Shonfeld and John Coleman Burroughs ~ ERB Article in Writer's Digest 2012
---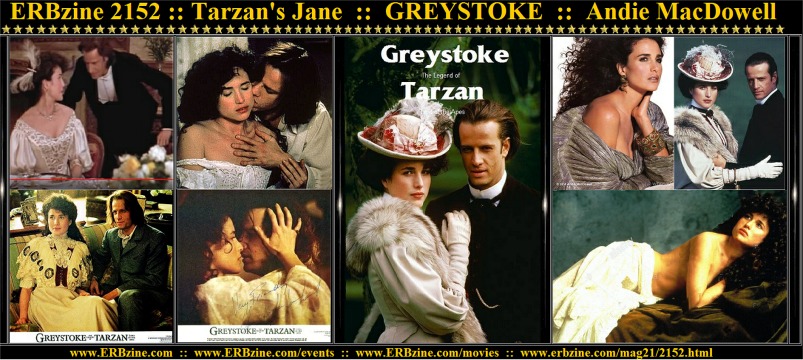 ---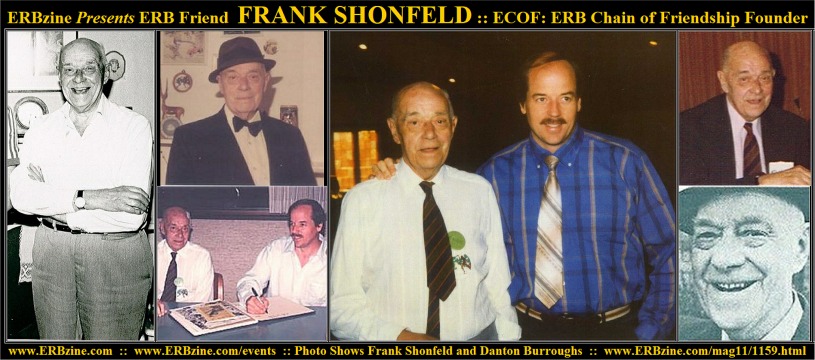 ---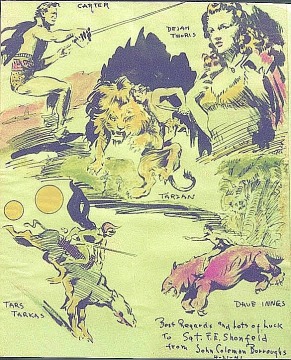 ---
Rosalie MacDowell was born this date,
April 21 in 1958,
And one fine evening at Greystoke Estate,
She chose Mr. Clayton to be her mate.

Rosalie's middle name was Anderson,
Shortened to Andie for her movie run;
It may be true that blondes have more fun,
But Greystoke thought she was No. 1.
.

Yes Andie was born, a' way back when,
Down in the state of the Carolina wren,
When she said "can" it came out "ken,"
So all of her lines were dubbed by Glenn.

Yes, Andie played Jane and she did just fine,
Even though Close spoke her every line.
But voice lessons soon made her speech divine,
And she snagged a role in "Jane by Design!"

~ John "Bridge" Martin
*** 1958: Rosalie Anderson "Andie" MacDowell is an American actress and fashion model born on this date. She made her film debut in 1984's Greystoke: The Legend of Tarzan, Lord of the Apes. Her lines were dubbed by Glenn Close because her Southern accent was too pronounced for her to play the role of an Englishwoman. This was ironical as the Jane Porter in ERB's books was from Baltimore, Maryland, USA. Andie went on to a full award-winning career in film, television and music. She currently resides in Marina del Rey, California.
TRIVIA:
Trademarks: Curly ringlet-filled black hair ~ Southern-inflected accent ~ Characters who smile and laugh a great deal
She has English, French, Irish, Scottish, and Welsh ancestry.
Former cosmetics model who had worked at McDonald's and Pizza Hut as a teenager and prior to acting used to be a door to door saleswoman.
Chosen by People magazine as one of the 50 Most Beautiful People in the World in 1991 and 2000.
Maryam d'Abo was considered for the role of Miss Jane Porter. When she met with director Hugh Hudson, she felt that he had already cast someone else in his mind. In the end, the part was cast with Andie MacDowell. Hudson and d'Abo met again at a dinner party in 1999, became involved, and married in 2003. Brigitte Nielsen was also briefly considered for the role of Jane.
Andie MacDowell's voice was dubbed by Glenn Close. Close also voiced Kala, Tarzan's adoptive mother, fifteen years later in Disney's Tarzan (1999).
Quote: (1996, on having her voice dubbed by Glenn Close for Greystoke (1984)): When I heard the news, I was in my hotel room, alone. At the time of Greystoke, I was not even in a good relationship, so I had no one to share it with. I didn't deceive myself for one minute about what the media was going to do with it or what people in the business were going to think. I said to myself, "Either I jump out that window out of humiliation and embarrassment or I fight." The choice was there: die or fight. It was set up so perfectly for people to think that I had no capabilities, whatsoever. So, I decided to go to class, to evolve. Until Sex, Lies, and Videotape (1989), I was untouchable. My manager was fighting for me with people who would not even see me. It certainly hasn't been easy, but I'm proud of my achievements.
In an alternate ending, Jane ran off into the jungle with Tarzan. It was cut during editing, and no one knows if it still exists.
Greystoke: The Legend of Tarzan: ERBzine Silver Screen
https://www.erbzine.com/mag21/2152.html
Andie MacDowell: Then and Now
https://www.erbzine.com/mag49/4977.html
https://www.ERBzine.com/cards/film4/andiemacdowellgreystoke.jpg
Off-Site Reference:
Andie MacDowell: IMDB
http://www.imdb.com/name/nm0000510/
---
*** On April 21, 1930, at the request of Writer's Digest, ERB sent the magazine an article titled "Entertainment is Fiction's Purpose." The article was published in the June issue and can be read here:
ERB's "Entertainment is Fiction's Purpose"
http://www.erbzine.com/mag0/0057.html
---
*** John Coleman Burroughs created a special piece of art and sent it to longtime ERB fan Sgt. Frank E. Shonfeld of the British Army on April 21, 1941. This was done at the request of ERB, then living in Hawaii, to show his appreciation for Shonfeld's support over the years. The artwork features some of the major ERB characters that John Coleman Burroughs had illustrated: Tarzan, John Carter, Dejah Thoris, Tars Tarkas and David Innes.
The dedication on the artwork reads: "Best Regards and Lots of Luck"
JCB's Art created for Sgt. Frank E. Shonfeld
https://www.erbzine.com/mag11/1159.html
https://www.johncolemanburroughs.com/mag/collagv8.jpg
https://www.erbzine.com/cards/bb/frankshonfeld.jpg
Our JCB Tribute Site
http://www.johncolemanburroughs.com
---
*** On April 21, 1998, astronomers announced in Washington that they had discovered possible signs of a new family of planets orbiting a star 220 light-years away. It's not quite beyond the farthest star (which would be in a galaxy at least 13.3 billion light years from Earth), but it's a good start.
---
*** "The Life and Times of Edgar Rice Burroughs," a 28-page tome written by who-knows and bearing the imprint of Golgotha Press, was published April 21, 2012.
Edgar Rice Burroughs in ERBzine
http://www.ERBzine.com/edgarriceburroughs

Off-Site Reference:
Life and Times: Amazon.ca


BACK TO APRIL WEEK II
http://www.ERBzine.com/mag63/6324.html



VISIT APRIL WEEK 3 PHOTO ALBUM
www.ERBzine.com/mag63/6325pics.html
BACK TO DAILY EVENTS INRO and CONTENTS
www.ERBzine.com/events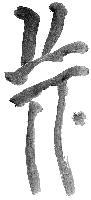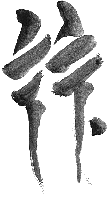 BILL HILLMAN
Visit our thousands of other sites at:
BILL AND SUE-ON HILLMAN ECLECTIC STUDIO
ERB Text, ERB Images and Tarzan® are ©Edgar Rice Burroughs, Inc.- All Rights Reserved.
All Original Work ©1996-2018/2023 by Bill Hillman and/or Contributing Authors/Owners
No part of this web site may be reproduced without permission from the respective owners.