Hosts: Scott Tracy Griffin
The Los Angeles SubERBs
(A Branch of the Burroughs Bibliophiles)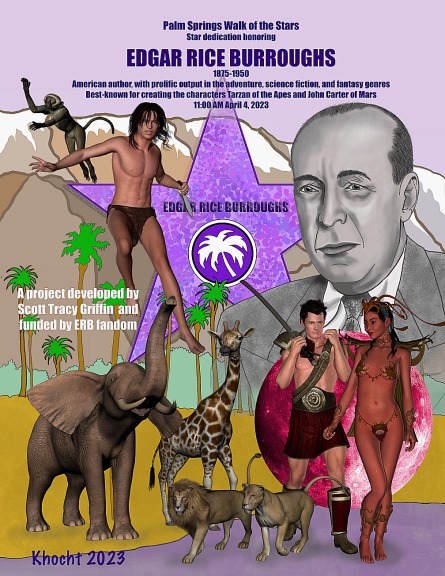 Poster by Ahmed Khocht - Click or Tap for Full-Size
1) ECOF 2023 and ERB Star Planning Committee, February 10, 2023.
2) ECOF 2023 and ERB Star Planning Committee, October 21, 2022.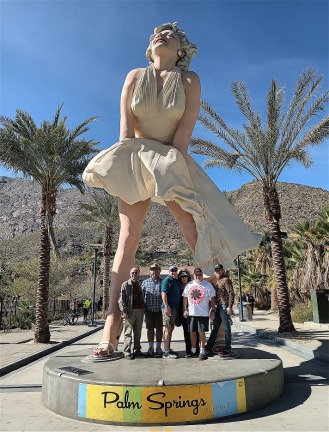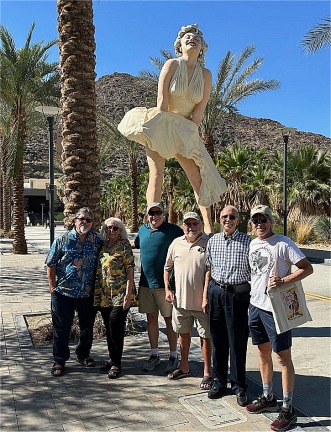 SPECIAL GUEST IS ACTOR TOMMY COOK:
CO-STAR IN TWO WEISSMULLER TARZAN FILMS
Rhe serial Jungle Girl (1941) and Tarzan and the Leopard Woman (1946).
www.erbzine.com/mag76/7683.html
www.erbzine.com/mag76/7669.html




The Edgar Rice Burroughs Chain of Friendship gathering
Honoring the life and works of author Edgar Rice Burroughs
(Creator of Tarzan of the Apes, John Carter of Mars, and many more)
Hosted by the Los Angeles SubERBs chapter
of the Burroughs Bibliophiles literary society
Tuesday, April 4 through Thursday, April 6, 2023,
in Palm Springs, California
Featuring the unveiling of Edgar Rice Burroughs' star on the world-famous
Palm Springs Walk of Stars on April 4, 2023, at 11 a.m.
The official convention hotel is:
Hotel Zoso ~ 150 South Indian Canyon Drive
Palm Springs, California 92262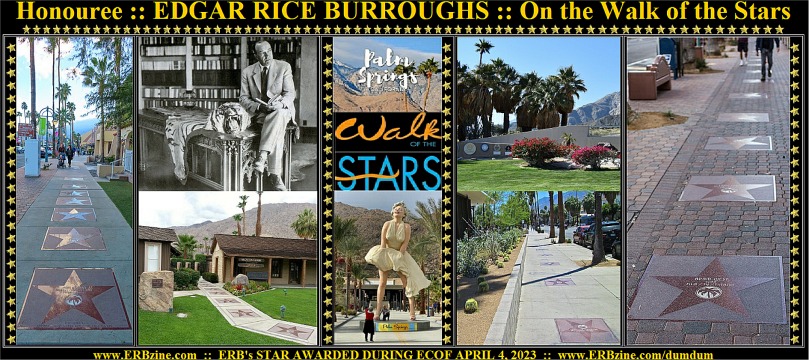 Click or Tap for full-size Promo Splash Bar


SCHEDULE



Tommy Cook is one of the last living actors of the Johnny Weissmuller era, and has a lifetime of stories to tell.
Tommy joined us at the unveiling ceremony, sat for a Q&A,
sold and signed stills of his film roles and discussed his career with fans.
Arrival and Mingling Day: Monday, April 3, 2023
www.erbzine.com/mag77/7720.html
Day 1: Tuesday, April 4, 2023
www.erbzine.com/mag77/7721.html
11:00 a.m. Edgar Rice Burroughs' star unveiling ceremony in downtown Palm Springs
www.erbzine.com/mag77/7722.html
12-2 p.m. Photographs and Lunch break
2-4 p.m. Open house and Burroughs exhibit at
Welwood Murray Memorial Library
Day 2: Wednesday, April 5, 2023
9 a.m.-5 p.m. Huckster Room, Hotel Zoso Palladium Room
Q&A with ECOF 2023 Special Guest, Tommy Cook, star of the Edgar Rice Burroughs films
Plus Talks with Burroughs family member Lee Chase and ERB Historian Demos Sachlas
www.erbzine.com/mag77/7723.html
Day 3: Thursday, April 6, 2023
9 a.m.-5 p.m. Huckster Room, Hotel Zoso Palladium Room
www.erbzine.com/mag77/7724.html
3-5 p.m. Auction
A huge "THANK YOU!" to our GoFundMe donors for making this
honor for Edgar Rice Burroughs and his family a reality!
We could not have done it without you.
We hope to see you in Palm Springs


PALM SPRINGS ECOF 2023 & ERB STAR DEDICATION
April 4-6 ~ Tuesday-Thursday



ERB STAR CELEBRATION