Official Edgar Rice Burroughs Tribute and Weekly Webzine Site
Since 1996 ~ Over 15,000 Webpages in Archive
Issue 0626
Presents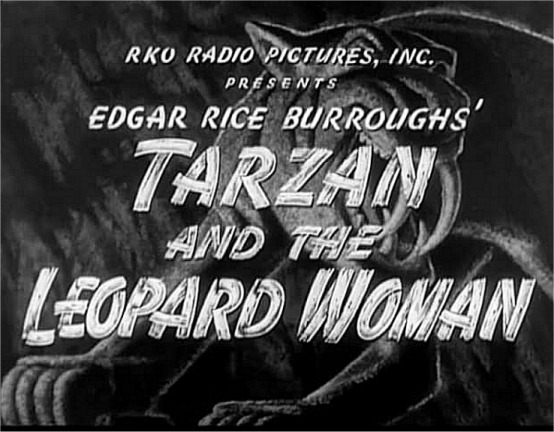 TARZAN AND THE LEOPARD WOMAN
Original title: Tarzan and the Leopard Men
Starring Johnny Weissmuller ~ No. 10
RKO 1946 ~ 72 Minutes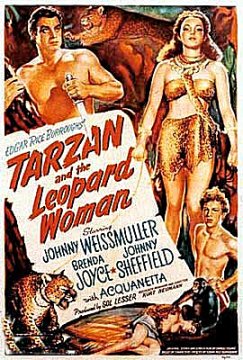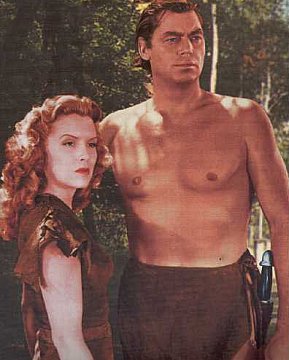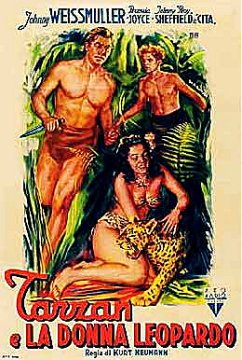 THE STORY

A deadly cult of leopard worshippers unleashes a reign of terror in the jungles surrounding the town of Zambezi and wipes out many caravans. The commissioner is convinced it's wild leopards, so it's up to Tarzan to stop them. Tarzan (Johnny Weissmuller), however, has suspicions about the leopard killings and the appearance and furtive behavior of a young native boy he and Jane (Brenda Joyce) have taken in after he claims he was lost in the jungle. The boy is actually Kimba (Tommy Cook), the younger brother of the leopard sect goddess, sent to spy on Tarzan. His aim is to get Jane's heart, a deed that would make him a warrior in the eyes of the cult. The goddess is the beautiful but deadly Queen Lea, (Acquanetta). She is aided by her lover Ameer Lazar (Edgar Barrier). Tarzan comes to the rescue of four Zambezi maidens but the leopard-men don't give up easily and they capture Tarzan, Jane and Boy (Johnny Sheffield) and bring them back to the leopard den for torture and sacrifice. Tarzan manages to topple the temple pillars, bringing the building down on the members of the leopard cult. As usual, Cheetah saves the day and steals the film with his monkeyshines.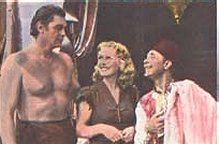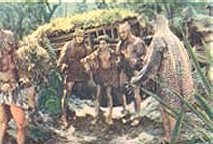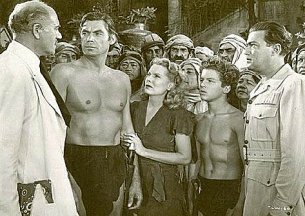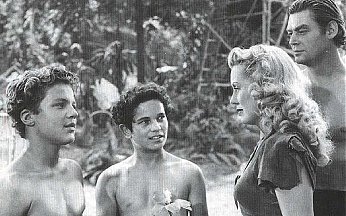 CREDITS

CAST

Johnny Weissmuller: Tarzan
Brenda Joyce: Jane
Johnny Sheffield: Boy
Acquanetta: Lea, the High Priestess
Edgar Barrier: Dr. Ameer Lazar
Dennis Hoey: Commissioner
Tommy Cook: Kimba
Anthony Caruso: Mongo
Robert Barron: Caravaneer
Ray Dolciame: Leopard Boy
Iris Flores: Zambesi Maiden
Bobby Frasco: Leopard Boy
Helen Gerald: Zambesi Maiden
'King Kong' Kashey: Tongolo the Terrible
George J. Lewis: Corporal
Doris Lloyd: Miss Wetherby, School Superintendent
Louis Mercier: Snake Charmer
Lillian Molieri: Zambesi Maiden
Charles Regan: Leopard Man
Georges Renavent: Ivory Merchant
John Roth: Leopard Man
Bobby Samrich: Leopard Boy
Cy Schindell: Leopard Man
John Shay: Soldier
Kay Solinas: Zambesi Maiden
Robert Strong: Leopard Man
Ken Terrell: Leopard Man
Marek Windheim: Silk Merchant

PRODUCTION CREDITS

Director: Kurt Neumann
Producer: Sol Lesser
Sol Lesser Productions
RKO Radio Pictures Inc.
Writers: Edgar Rice Burroughs (characters)
Writer: Carroll Young (Story and Screenplay)



Associate Producer: Kurt Neumann
Original Music by Paul Sawtell
Cinematography by Karl Struss
Film Editing by Robert O. Crandall
Production Design by Phil Paradise
Art Direction by Lewis H. Creber
Makeup Department: Irving Berns
Production Management: Clem Beauchamp
Assistant Director: Scott R. Beal
Sound Department: John R. Carter
Stunts: Paul Stader
Dance Director: Lester Horton
Wardrobe: Robert Martien
Leopard Trainer: Olga Celeste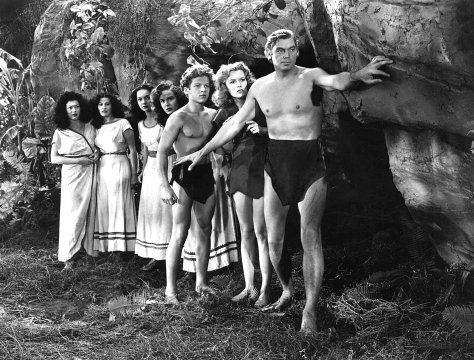 click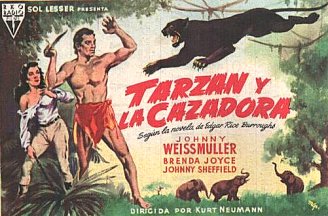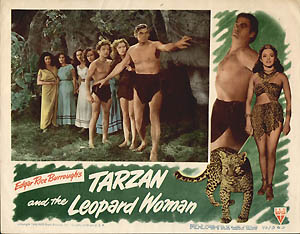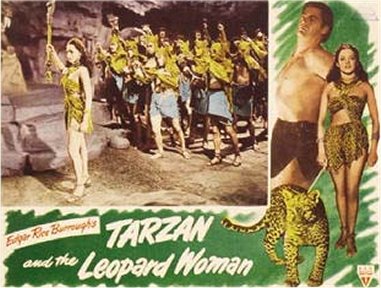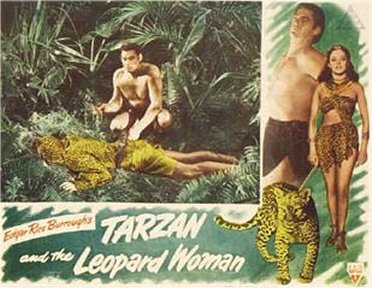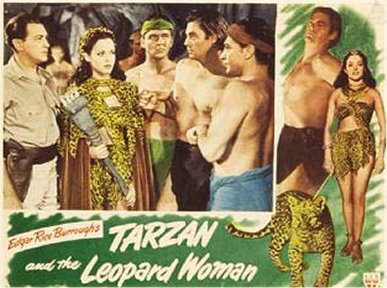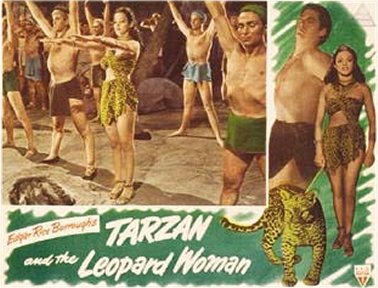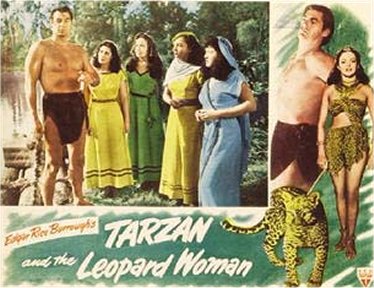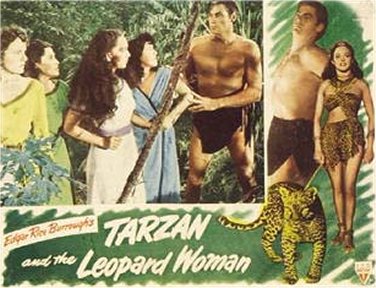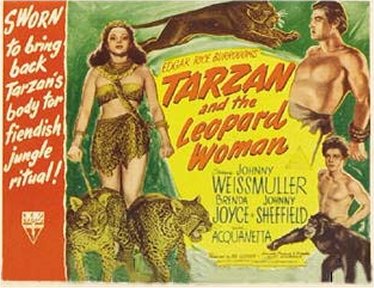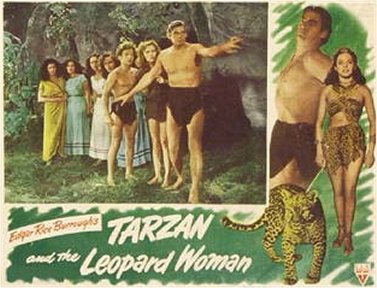 TRIVIA
On January 4, 1945, Sol Lesser announced that he had secured the rights to film Tarzan for the next twenty years.
Production of Leopard Woman began on July 26, 1945 with a budget of $7500,000. Filming took 51 days.
Filming Locations: Los Angeles County Arboretum & Botanic Garden - 301 N. Baldwin Ave., Arcadia, California and RKO's jungle and sound stages.
Weissmuller had done serious workouts at the Hollywood Athletic Club to get in shape for the production.
The film opened with a massive publicity campaign with ads purchased in every major magazine.
A number of well-known athletes were hired to work in the film: Johnny's brother Peter, Miola Kalili, Paul Stader, Bill Lewis -- all swimming and diving champs -- as well as footballers, Charlie McBride and Don Malmberg.
Syrian-born wrestler King Kong Kashay (1903-1965) played Tongolo the Terrible, a Zambesi wrestler who fought Tarzan.
Acquanetta claimed that her great-grandfather was the illegitimate son of the King of England
Acquanetta reportedly had turned down a role in Weissmuller's Jungle Jim series.
---
SUPPORTING CAST MINI-BIOS
---

Brenda Joyce: Born Betty Leabo on February 25, 1917 in Kansas City, Missouri. She started her career as a model and was signed by Fox in 1939 and later moved to RKO. She was one of the few blondes to play Jane, whom she played in Weissmuller's last three Tarzans and in Lex Barker's Tarzan's Magic Fountain.

Filmography Highlights: The Rains Came (1939) ~ Tarzan and the Amazons (1945) ~ The Enchanted Forest (1945) ~ Tarzan and the Leopard Woman (1946) ~ Little Giant (1946) ~ Tarzan and the Huntress (1947) ~ Tarzan and the Mermaids (1948) ~ Shaggy (1948) ~ Tarzan's Magic Fountain (1949)
---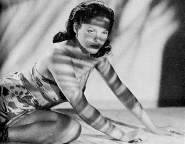 Acquanetta: Born Mildred Davenport on July 17, 1921 in Cheyenne, Wyoming. She was part Arapaho Indian and part British nobility (her great-grandfather ws an illegitimate son of the King of England). She grew up in Norristown, Pennsylvania, and began her professional career as a top- salaried Manhattan model before signing with Universal in 1942. She was on her way to Brazil, via Los Angeles, where she was spotted by Universal, who were impressed with her exotic looks..As Acquanetta (or Burnu Acquanetta, meaning "Burning Fire"), the darkly handsome starlet did a number of exotic films for Universal. She was asked by President Roosevelt to be a goodwill ambassador to Mexico. While there, she met her first husband.and they had a son who died of cancer before he was five. Later she married Jack Ross and had four sons with him.

After leaving Universal she appeared in Tarzan and the Leopard Woman. Her film career tapered off in the late '40s. She later hosted a local television show in Arizona, authored a book on her personal philosophy, and returned to acting in the straight-to-video Grizzly Adams
Filmography Highlights: Arabian Nights (1942) ~ Rhythm of the Islands (1943) ~ Captive Wild Woman (1943) ~ Jungle Woman (1944) ~ Tarzan and the Leopard Woman (1946) ~ The Sword of Monte Cristo (1951) ~ Lost Continent (1951) ~ Callaway Went Thataway (1951)
---

Edgar Barrier: Born on March 4, 1907, New York, NY and died June 20, 1964 of a heart attack. He worked on over 50 films as well as on stage and radio.

Known for his distinctive voice, he had worked with Orson Welles' Mercury Theatre Players. He worked in many of the popular televsion series of the '50s: Broken Arrow, Zorro, The Rebel, Hawaiian Eye, 77 Sunset Strip, Richard Diamond, and Ramar of the Jungle.

Filmography Highlights: Too Much Johnson (1938) ~ Eagle Squadron (1942) ~ Pride of the Yankees (1942) ~ Phantom of the Opera (1943) ~ Flesh and Fantasy (1943) ~ Macbeth (1948) ~ Cyrano de Bergerac (1950) ~ Hurricane Island (1951) ~ The War of the Worlds (1953) ~ Juke Box Rhythm (1959) ~ Snow White and the Three Stooges (1961) ~ On the Double (1961) ~ Irma la Douce (1963)


---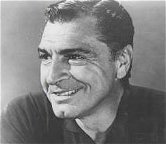 Anthony Caruso: Anthony Caruso was born on April 7, 1916 in Frankfort, Indiana and died April 4, 2003 in Brentwood, California. He began as a singer and trained at the Pasadena Playhouse where he befriended actor Alan Ladd, who got him work in 12 of his film features.

He worked in scores of films, mainly as a character actor as his tough Italianate featureswere perfect for playing ethnic heavies (Mexican, Slavic, Greek). He also had a role in Lex Barker's Tarzan and the Slave Girl. He also had scores of televsion roles from the '50s through the '80s, including an appearance in the original Star Trek series.

Filmography Highlights: Johnny Apollo (1940) ~ Lucky Jordan (1942) ~ Objective, Burma! (1945) ~ Tarzan and the Leopard Woman (1946) ~ Song of India (1949) ~ Tarzan and the Slave Girl (1950) ~ Blackbeard, the Pirate (1952) ~ The Boy from Oklahoma (1954) ~ Saskatchewan (1954) ~ The Oklahoman, (1957) ~ Baby Face Nelson (1957) ~ Badlanders (1958) ~ "Daniel Boone" (1960) (mini) TV Series ~ Zebra Force (1976) ~ Legend of Grizzly Adams, The (1990)

---

Tommy Cook: Born on July 5, 1930 in Duluth, Minnesota
He started as a child actor and played many ethnic and juvenile delinquent roles on film.

He portrayed Little Beaver on film and on Mutual Radio's "The Adventures of Red Ryder" (1942-1945). He also had a role in ERB's Jungle Girl. He turned to promoting and producing in his adult years and did many voice roles in animated TV and feature film productions.

Filmography Highlights: Adventures of Red Ryder (1940) ~ Jungle Girl (1941) ~ Tuttles of Tahiti, (1942) ~ Tarzan and the Leopard Woman (1946) ~ Humoresque (1946) ~ Song of Arizona (1946) ~ Bad Boy (1949) ~ American Guerrilla in the Philippines (1950) ~ Battle Cry (1955) ~ Mohawk (1956) ~ Night Passage (1957) ~ Missile to the Moon (1958) ~ "Superman/Aquaman Hour of Adventure, The" (1967) TV Series (voice) ~ "Fred Flintstone and Friends" (1977) TV Series (voice)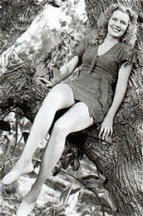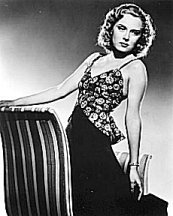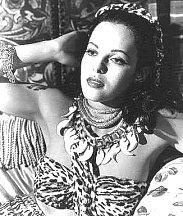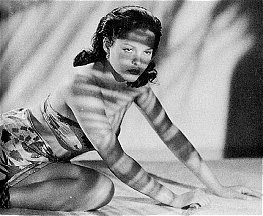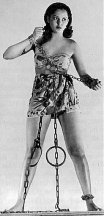 REVIEWS
Variety

There isn't a dull moment in "Tarzan and the Leopard Woman." This latest one of the hardy perennial series follows the regular plot and action formula frankly and expertly. Script is tightly plotted, tells the story convincingly and keeps the exploits of Tarzan and his pals vivid but plausible. Production values are tops. Picture is sure-fire box office with Tarzan fans of all ages and could be one of the top grossers of the series to date. Introduction of a femme menace into the yarn in the person of Acquanetta as high priestess of Leopard Men cult is all to the good. She displays plenty of what it takes to stir male interest and handles her acting chores adequately. Johnny Weissmuller in the title role and Brenda Joyce playing opposite him carry on the Tarzan tradition with dramatic effectiveness. Johnny Sheffield repeats previous good performances as "Boy," and being now 14 years old, and five feet, six inches tall, makes no mean figure alongside Tarzan. He gets a fight scene of his own in the pic with Tommy Cook, who also puts on a creditable performance as a boy heavy. Entire supporting cast is excellent with special mention going to Edgar Barrier as the male menace and Dennis Hoey as the British commissioner.

The Toronto Star

The ape man has lost none of his rugged charm for the youngsters as was vociferously demonstrated at the showing of Tarzan and the Leopard Woman which this column caught. In this latest attack on credibility, Edgar Rice Burroughs' hero is just as exciting a personage as he was a quarter of a century ago when Elmo Lincoln swung through the studio trees as the screen's first Tarzan. This time the ape man, his wife, Jane, and Boy are all tangled up with a strange African tribe which speaks excellent English, but runs around, nonetheless in leopard skins and long claws, waylaying pretty maidens and generally wreaking havoc. The head push of this outfit is a vicious lady named Acquanetta in private life, who is a high priestess, natch with a rather obnoxious young brother. Johnny Weissmuller, who seems to have removed a few inches of girth for this production is again Tarzan, and Brenda Joyce turns up as Jane, Johnny Sheffield, growing rapidly, is still Boy. Cheta the chimp is of course present and one of the tricks he has learned since the last time round is to play a flute rhythmically and rhapsodically, with a few hot licks thrown in now and again for good measure.

THE NEW YORK TIMES

Johnny Weissmuller's ninth Tarzan film is based on an interesting script by Carroll Young. Tarzan, Jane (Brenda Joyce), their son Boy (Johnny Sheffield), and faithful sidekick Cheta the Chimp stumble upon an entire village in which a peaceful tribe has been wiped out by what looks like murderous leopards. Investigating further, Tarzan confronts Lea (Acquanetta), the queen of a ruthless secret cult of cat people who wear iron claws. It is she who was responsible for the murders, and her followers capture Tarzan, Jane and Boy, and prepare to offer them as sacrifices to their feline dieties. Cheta is their only hope for escape.

FAN REVIEWS

TARZAN AND THE LEOPARD WOMAN

This is the second movie on the second disc of the Weissmuller Tarzan Collection Vol. 2, and has interesting elements that are recollective of Burroughs' novel Tarzan and the Leopard Men, published in the early thirties. Both stories feature Tarzan dealing with a terrorist leopard cult, but otherwise they are two separate adventures. The main difference is that in the book the leopard cult is more realistically based upon an authentic cult of blacks in the Congo region, but in the film the leopard cult is composed of some kind of semi-tropical Aryan tribe.

It was probably easy for the viewers of this film to assume that the east coast of Africa, on the Indian Ocean, doubtless had some small countries comprised of Indians. In trying to pin down where these mysterious countries of Zambesi and Bagandi might be located, it turns out that there are not that many small countries along the eastern Africa coastline.

In Burroughs' Tarzan novels, Africa is often given the illusion of being about the size of Texas -- Tarzan is able to negotiate widely separated areas with relative ease, giving the impression of a greatly miniaturized continent, Minunian style. And this in spite of the fact that Burroughs peppers the African wilderness with unheard of lost civilizations. One becomes amazed at how well the average African tribesman in a Burroughs novel is able to squelch his curiosity about what lies over the next mountain ridge, and mind his own business.

But in the movies, this tendency is even more remarkable -- for the Tarzan movies, Africa seems to be only about the size of Southern California. Tarzan and Jane go into town to do some Saturday shopping, and behold! Somewhere within walking range of the Great Escarpment is a small nation of people descended from colonists who appear to be from India. I have checked my map, and even if Tarzan and Jane walked all the way to the coast, they would still have had to walk a great distance north somewhere beyond Somalia. Perhaps between the gigantic nations of Ethiopia and Sudan or someplace there is a small kingdom of Asians lurking about, trying to keep from getting overwhelmed by militia from the larger neighbors. Perhaps they still existed in the 1940s, but have since faced extinction like so many of Burroughs' lost cities.

In any case, the movie starts off with any number of politically incorrect quotes from the characters, which is designed to establish some obvious motivations for the reactionary leopard cult (although it does not justify their actions.) Jane and Boy are main characters in the movie, unlike in a typical Tarzan book in which a romance occurs between two supporting characters. Here Jane is still the major love interest. Boy, too, has a much greater on-going role in the Tarzan films than Korak has in the Tarzan books. Basically Boy is a kind of Robin to Tarzan's Batman.


Just a few brief comments about the story: in one scene Boy wears a leopard skin to run through the woods with the intent to fool Tarzan and Jane that he is a leopard, which is a scene stolen from Burroughs' books about the young Tarzan playing pranks on the apes; and a ten-year-old boy is depicted as being first crushed by a boulder and then shot by the bad guy, something you don't see on the Silver Screen everyday. But this particular kid is so rotten that I would imagine few in the audience minded. Finally, it is Cheeta who saves the day -- when all three of his masters have been captured together. Again, like Jane and Boy, Cheeta has far more of a role in the movies than Nkima the monkey has in the books, though by a slimmer margin.

~ Steve Allsup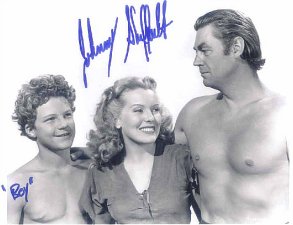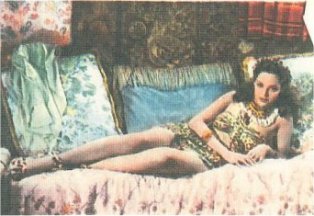 Loop Theatre, Detroit. ~ from Motion Picture Herald, 1946 and FB TheFlickers
Olga Celeste (Born 1887: Sweden - Died August 31, 1969: Burbank, CA) was a leopard trainer who had an early career in vaudeville, and went on to performing daily at the Luna Park Zoo in Los Angeles from 1925-1931.

She specialized in leopards, leaving other big cats to others. When the movies needed a leopard, she was the go-to gal. She did the chores on Tarzan and the Leopard Woman, but has a much earlier ERB connection having worked on The Lad and the Lion in 1917. Although she worked in a long line of Hollywood films, Olga's leopards are probably best remembered from the film Bringing Up Baby. (More photos in our Gallery Display I)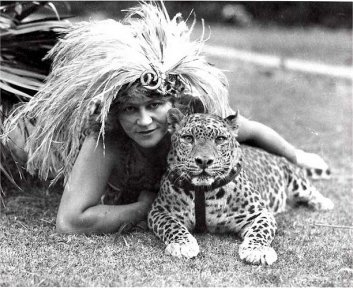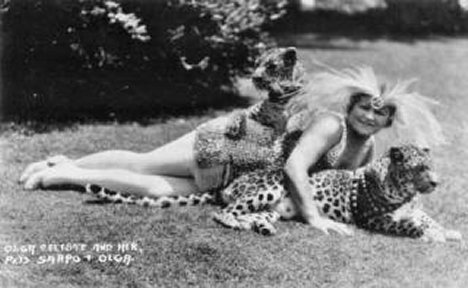 Blog Ref
Blog Reference for purchase of photos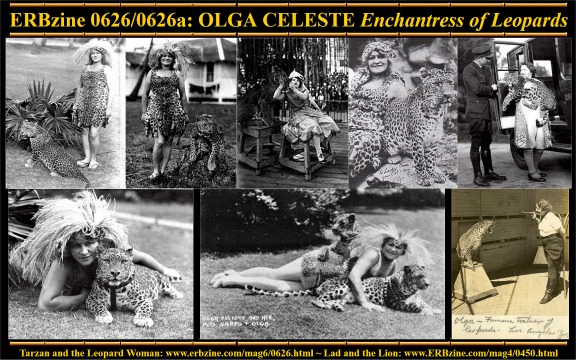 Cllick for full-size promo collage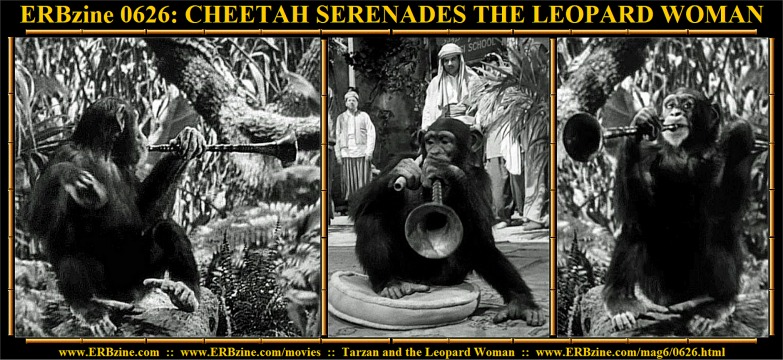 Click for full-size splash panels


ENTER THE TARZAN AND THE LEOPARD WOMAN
GALLERY DISPLAY I
http://www.erbzine.com/mag6/0626a.html
Posters ~ Lobby Cards ~ Stills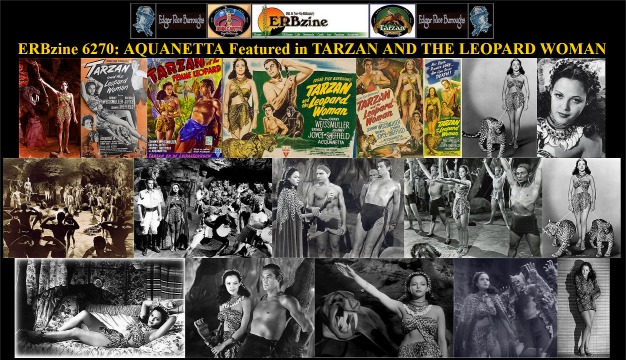 Click for full-size promo collage poster


VISIT OUR AQUANETTA FEATURE PAGE AT
www.erbzine.com/mag62/6270.html

Colour Adaptations of the MGM Tarzan Films
INTERESTING SITES ON THE WEB
ERBzine Silver Screen Movie Illustrated Reference Guide
ERBzine Colour Stills
Internet Movie Data Base
Tarzan of the Movies
Filmsite Moments and Scenes from Great Movies
shill pages
Matt's Tarzan Movie Guide
ERB of the Silver Screen - Volume I - The Silent Years by Jerry Schneider
Jerry Schneider's Movie Making Locations
Tarzan? Jane? How the cinematic tarzans relate to the wold newton universe: Parts 1-4
by Dennis Power and Mark Brown
Tarzan Cinematic Timeline
The Grinning Elmo Awards
Filmographie
Leopard Woman Reviews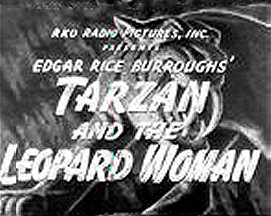 Volume 0626



BILL HILLMAN
Visit our thousands of other sites at:
BILL and SUE-ON HILLMAN ECLECTIC STUDIO
ERB Text, ERB Images and Tarzan® are ©Edgar Rice Burroughs, Inc.- All Rights Reserved.
All Original Work ©1996-2004/2022 by Bill Hillman and/or Contributing Authors/Owners
No part of this web site may be reproduced without permission from the respective owners.