Official Edgar Rice Burroughs Tribute and Weekly Webzine Site
Since 1996 ~ Over 15,000 Webpages in Archive
Volume 6334

ERB'S LIFE and LEGACY :: DAILY EVENTS
A COLLATION OF THE DAILY EVENTS IN ERB-WORLD
FROM THE PAGES OF ERBzine CREATED BY BILL HILLMAN
Collated by John Martin and Bill Hillman
With Web Design, Added Events, Links,
Illustrations and Photo Collages by Bill Hillman
BACK TO DAILY EVENTS

JUNE CONTENTS: WEEK FOUR
JUNE 22 ~ JUNE 23 ~ JUNE 24 ~ JUNE 25
JUNE 26 ~ JUNE 27 ~ JUNE 28 ~ JUNE 29 ~ JUNE 30

VISIT THE JUNE WEEK IV PHOTO ALBUM
www.ERBzine.com/mag63/6334pics.html
BACK TO JUNE WEEK 3
www.ERBzine.com/mag63/6333.html

Click for full-size images
---
JUNE 22
---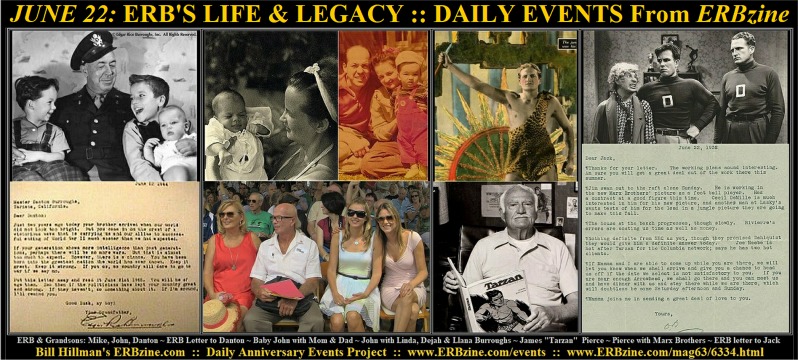 ERB and Grandsons: Mike, John, Danton ~ ERB Letter to Danton ~ Baby John Ralston with Mom and and Dad John Coleman
John with Linda, Dejah & Llana Burroughs ~ James "Tarzan" Pierce ~ Pierce with Marx Brothers ~ ERB letter to Jack
---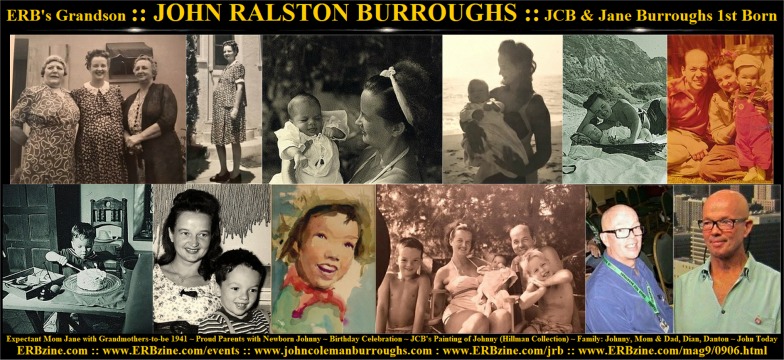 ---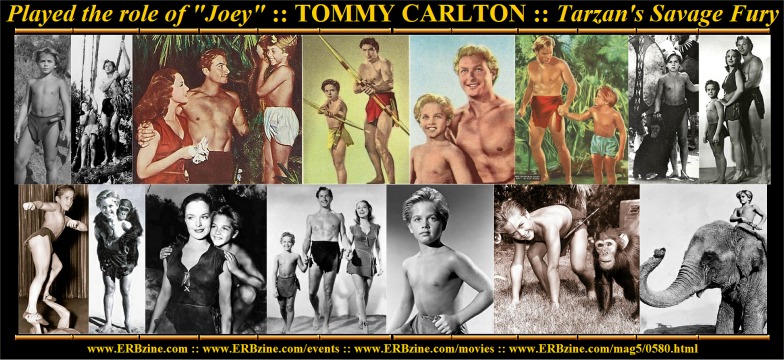 ---
*** 1942: Jack (John Coleman) and Jane's first son, John, was born on this date. Ed shared a "military secret" in a letter to Jack. He wrote how pleased he was that his grandson has been named John as it is his favorite "he-name." He explains, for the first time, his fascination with the name John. A 12-year-old tough guy used to bully the younger Eddie during his walks to Brown School in Chicago. Eddie was scared stiff and wanted to grow up to be just as tough and to be named John... rather than Edgar. ". . . at the age of eight or nine, I used to meet a tough guy by the name of John on my way to Brown school. He was about twelve, and I was scared as hell of him. Up to now it has been a military secret."
Back in Centennial Year 2012, The Times of India interviewed me for an article in their newspaper/magazine in India: I spoke up for ERB and his works in the interview for their article. During the interview I put their correspondent Atul Sethi in touch with JCBs eldest son John Burroughs (Danton's brother) so he also interviewed John, grandson of ERB, in a follow-up interview. The highlights of the interviews are featured in ERBzine 3913.
India Times Interview Highlights with John:
What are your earliest memories of your grandfather?
"My earliest memories are of an old man partially crippled by strokes and Parkinson's. He was much like Andy Rooney who would wheel himself about in a custom built wheel chair. My little brother and I (Danton Burroughs) were deposited with him while my parents ran errands or vacationed. He would always arrange a surprise for his two grandsons and seemed genuinely happy to see us even after we ran about his place as small boys do. Then he would bring out a giant pirate's chest with an ornate key. Upon opening, we found it full of nickels (valuable in 1949). Then as if from nowhere, he produced a full sized slot machine and told us boys we could play as long as we wished, and keep anything we won. But no cheating by pocketing the nickels from his pirate's chest. He was until the end a great practical joker and knowing my mother had tried in vain to stop my brother from sucking his thumb, concocted an elaborate ruse that sent me into near hysteria.

"It came about when we were dropped off for a visit and my little brother Danny ran ahead of me up the pathway into the house. Meanwhile I was throwing rocks at the fish in his ponds, when out of the house ran my brother Danny holding his bloody hand in a towel screaming, "Poppy cut my thumb off"...close behind came grandpa waving a pair of seemingly bloody pruning shears, shouting ,'you still have one left' Needless to say when the smoke cleared and Danny began to laugh at my distress, I found the blood was ketchup and the shears were a prop for effect."

How do you think he would have reacted to Tarzan completing 100 years?
"I think he knew that his first character John Carter of Mars would be a lasting legacy. Frankly, in 1912 he was surprised when the book publishers were bidding against each other for the rights of his then serial stories Tarzan of the Apes. In fact, as years went by he had plans of killing off this original eco-warrior because he wanted to write historical novels and westerns."

Many heroes and superheroes constantly reinvent themselves over the years but Tarzan has remained more or less unchanged. Why is this so?
"The evolution of the character is timeless, actually. The situations that Tarzan encountered are the same today but on a grander scale -- specifically his triumphs over the protection of his forests and animal population. Here at ERB, Inc we have licensed the Tarzan name to Andy Briggs and Robin Maxwell (two best-selling authors) to bring the Tarzan character into modern times.

How is the Tarzan centenary being celebrated across the world and particularly, in Tarzana, the community that your grandfather founded? Is there a new Tarzan film also in the pipeline?
The United States Postal Service has issued a centennial commemorative stamp in honor of Edgar Rice Burroughs and Tarzan. I received it on behalf of ERB, Inc this August. Constantin Films has the Tarzan animation rights and plan to release their 3D film using performance capture (similar to Avatar) in 2012. Warner Bros also has the live action rights with a script written and director selected for release either in 2014-2015.
Baby John Burroughs and Family
http://www.erbzine.com/mag9/0906.html
TIMES of INDIA Interview with John Burroughs and Bill Hillman October 15, 2012
https://www.erbzine.com/mag39/3913.html
ERB Bio Timeline
http://www.erbzine.com/bio
---
*** ERB was the type of person who saved things and kept track of things, and he raised a family who pretty much did the same.
For instance, ERB had reason to be optimistic about the future of the world when his grandson Danton was born, and he stated his reasons for that belief in a letter to his new grandson, which he suggested be saved for Danton to read when he was fully grown. And saved it was. At his luncheon on the day he wrote the letter to Danton, Ed dined with a French colonel (the Governor of Tahiti), Colonel Frank Capra, Captain Phil Bird, and Captain Lawrence. They all drank a toast to Ed's new grandson, Danton. In the evening at Fort Shafter, a colonel, a lieutenant colonel, two majors, and four wahinis stand and toast the newborn. Ed admits to constantly bragging about his grandchildren.
The letter, written June 22, 1944, a day after Danton was born, has even been saved in cyberspace on Bill Hillman's ERBzine:
ERB's Letter to Baby Grandson Danton
http://www.erbzine.com/mag10/1026.html#June22
http://www.erbzine.com/danton

---

*** In an age without email and other forms of instant-messaging, mail was the most effective way to communicate. On June 22, 1932, ERB wrote to his son, John, and mentioned a couple of things of interest:
First, he updated John on the latest from his son-in-law, James H. Pierce, who had played the ape man in 1927's "Tarzan and the Golden Lion" and who would soon be playing him again, on radio, that fall. In the letter, ERB noted, "He is working in the new Marx Brothers' picture as a foot ball player. Has a contract at a good figure this time. Cecil DeMille is much interested in him for his new picture, and another man at Lasky's wants tests of him for the lead in a jungle picture they are going to make this fall."
The Marx Brothers film was "Horsefeathers," released that August, and Pierce was well cast since he had played college football in Indiana. The IMDB plot summary notes that Groucho, president of Huxley University, hires bumblers Baravelli (Chico) and Pinky (Harpo) to help his school win the big football again against rival Darwin U. Pierce had an uncredited role as Mullen, a Darwin player.
Another reference in the letter is to the pending Tarzan radio program and other broadcast opportunities as well. ERB noted in passing: "Nothing definite from NBC as yet, though they promised Dahlquist they would give him a definite answer today, Joe Neebe is hot after Tarzan for the Columbia network; says he has two hot clients."
Frederick C. Dahlquist, producer for American Gold Seal Productions, was successful in getting the Tarzan radio program going in September of 1932, although it was syndicated rather than being a network program of NBC or CBS. In addition to Pierce, his wife Joan was cast as Jane.
ERB Letter to John re: Pierce
http://www.erbzine.com/mag62/erblet08.jpg
James Pierce Autobiography and Photo Album
http://www.erbzine.com/mag27/2729.html

Off-Site Reference
Horse Feathers in IMDB
---
*** Tommy Carlton (1941.06.22-2009.01.01) was born on this date. He was featured in Tarzan's Savage Fury with Lex Barker and Dorothy Hart . The series introduced a sort of Tarzan Jr, in the person of young Joey (Tommy Carlton), a jungle boy taken in by Tarzan and Jane. Carlton was introduced while being used as crocodile bait by some native hunters. The kid's muscular physique fitted in with the demands of the series. He tagged along when the jungle lord leds a party into dangerous Wazuri country on a diamond hunt.
The filmmakers apparently gave some thought to giving Tarzan and Jane a new "boy," played by Tommy Carlton, who in 1952 was two years older than Johnny Sheffield was when he apeared in the role in "Tarzan Finds A Son!" (1939). Though Tarzan calls the kid "boy" a few times, this time the orphan had a real name, Joey. Tarzan, upon hearing the kid speak English, presumed that Joey is English, and comically insisted that the boy is English even after Joey claimed to be an American. Carlton gave a good performance in scenes where Tarzan had to talk him into facing his fears, and even helped Tarzan out in a climactic scene, but Joey made no more appearances (and neither did Carlton as an actor).
Tarzan's Savage Fury: Film and 3D Trading Cards
https://www.erbzine.com/mag5/0580.html
https://www.erbzine.com/mag5/0580a.html
https://www.erbzine.com/mag5/0580b.html
https://www.erbzine.com/mag5/0581.html
https://www.erbzine.com/mag5/0582.html
https://www.erbzine.com/mag5/0583.html
Swedish Filmisar Trading Cards
https://www.erbzine.com/mag49/4997.html
---
*** "Tarzan and the Mayan Goddess," by William Juhre and Don Garden, started June 22, 1936, and ran for 150 days.
Tarzan and the Mayan Goddess: Read all 150 strips
http://www.erbzine.com/mag40/4018.html
---
*** "The Sad Gorilla," written and illustrated by Rex Maxon, started June 22, 1945, and ran for 56 days.
The Sad Gorilla: Read all 56 Tarzan strips
http://www.erbzine.com/mag54/5478.html
---
NOTES FROM OUR ERB BIO TIMELINE:
1865: Major George Burroughs was discharged from the Union Army. George & Mary Evaline settled in Portland, Maine, where George went into the furniture business with two partners
1918: Ed and Family were having trouble with Tarzan the dog and have to muzzle and chain him while he is out. They are reluctant to do away with him as the animal is loved by the kids and provides security for Emma while Ed is away at nights.
1947: Rothmund expressed doubts to Western Printing that ERB was ready to write the planned 25-cent pocket book, My Life with Tarzan.
1989 First day of the ECOF in Tarzana, CA ~ hosted by Mike Shaw and Ralph Brown ~ Guests: Irwin Porges ~ Eve Brent ~ Danton Burroughs ~ Gordon Scott ~ Denny Miller ~ Gabe Essoe ~ Burne Hogarth ~ Jack Iverson ~ Forrest J. Ackerman
ERB Bio Timeline
http://www.ERBzine.com/bio

---
JUNE 23
---
Memoirs of a War Bride by Mary Evaline Burroughs (ERB's Mother) ~ Nephew Studley Burroughs
ERB's First Typewriter ~ Maureen O'Sullivan ~ Lex Barker Leaving for Africa ~ Denny Miller
---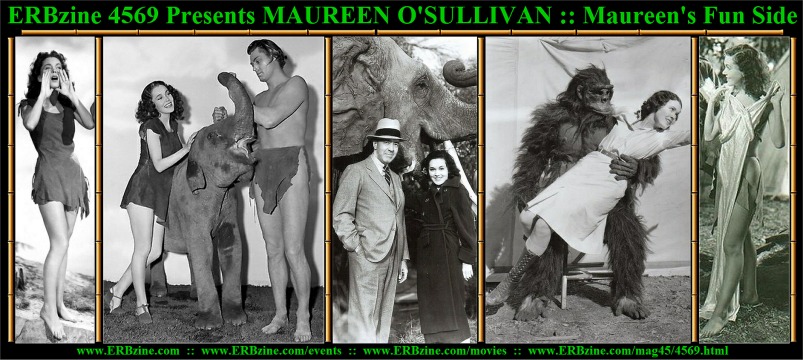 ---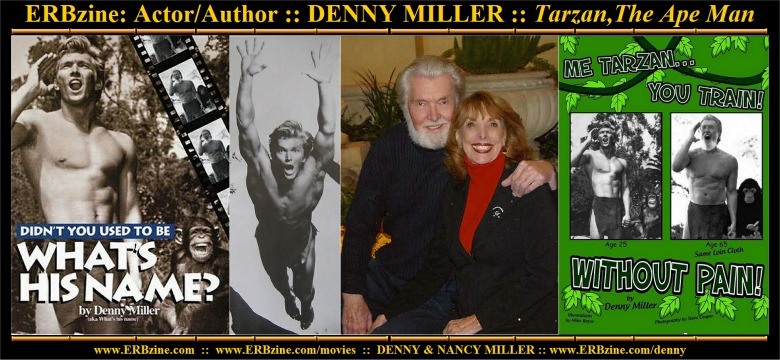 ---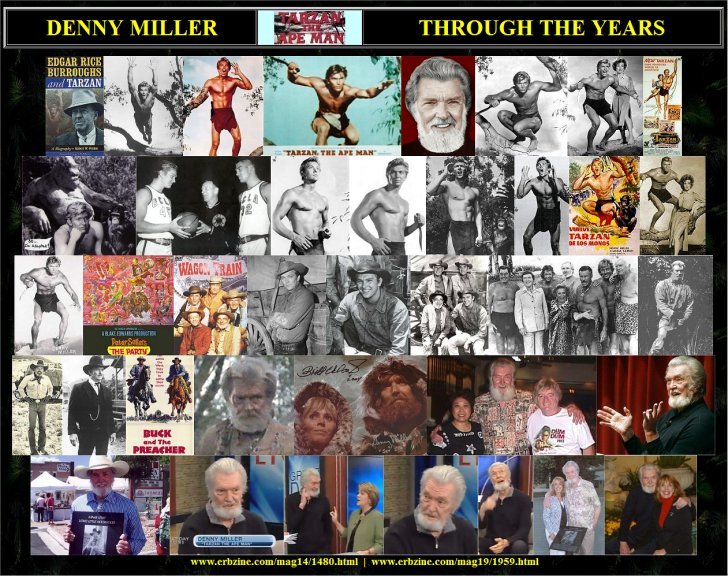 ---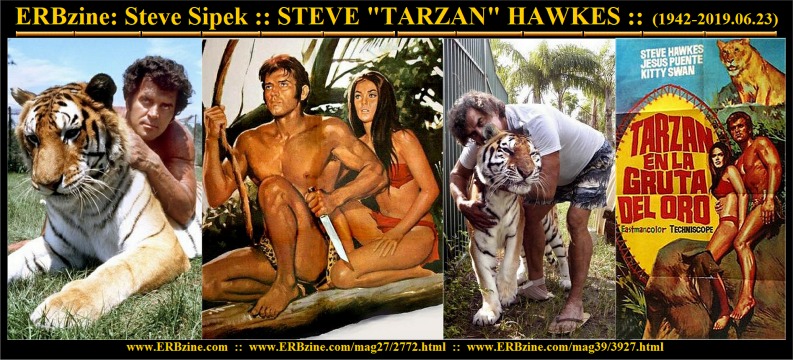 ---
*** 1914: June 23: Mary Evaline Burroughs addressed her "Memoirs of a War Bride" to "My dear son Edgar" but this dedication in a few of the books was scratched out and replaced with "My dear sons" in someone else's handwriting since others in the family later became involved in its production. At the encouragement of sons Edgar, George, Henry (Harry), and Frank, she wrote and distributed her memoirs to all members of the Burroughs family in 1914. Ed and his brothers collaborated in preparing the book for the printer and in assembling the genealogical sections. The original handwritten manuscript is still preserved at the ERB, Inc. office in Tarzana, California. It is dated Chicago, June 23, 1914 and addressed to "My dear son Edgar."
* Ed writes the foreword, "To Posterity" for his mother's reminiscences.
* Ed's nephew Studley Burroughs did the Memoirs title page illustration.
* The manuscript possibly went to press at the end of the year at The Alderbrink Press, Chicago, in a possible run of 50 copies at a cost of $225.00.
*** ERB's Comments: To us who have heard these memoirs and anecdotes more than once from the lips of our father and mother, they might be, if to anyone, "old stories;" yet to them still clings, for us, all the zest and freshness and infinite interest of a first telling, and so I believe that generations yet but dreamed of who may trace their origin to this strong man and his sweetly noble mate, will find an equal, possibly a greater interest in them; and that they will be thankful for even this brief withdrawal of the impenetrable curtain of time which shall hide from them forever the greater portion of the lives and loves and interests of their forebears.
To those who come after -- a long time after -- this volume will tend to make George and Mary Burroughs more than merely a rather vague conception of two names. It will bring you in whose veins flows the red blood of the Puritan and the Pioneer, bequeathed to you, uncontaminated, by these two, a livlier sense of reality of these ancestors of yours. It will depict them as living, breathing people, who lived and loved as you, let us hope, shall live and love, through fifty years of prosperity and adversity; a personification of what might justly be emblazoned upon the arms of the Burroughs -- Loyalty and Constancy. ~ Edgar Rice Burroughs -- Oak Park, Illinois -- December, 1914
Memoirs of a War Bride: All pages reprinted in ERBzine
http://www.erbzine.com/mag9/0920.html
---

*** 1911: Maureen O'Sullivan (1911.05.17-1998.06.23) died on this date. As a child, O'Sullivan attended the Convent of the Sacred Heart at Roehampton, in London, where future screen legend Vivien Leigh was a classmate. At age 18, O'Sullivan was discovered at a horse show in Dublin by Hollywood director Frank Borzage. She moved to Hollywood and started her film career dubiously with the 1930 musical flop Song O' My Heart co-starring John McCormack. Her first real success came in 1931 with Will Rogers in A Connecticut Yankee.
Legendary producer Irving Thalberg tapped her for what became her most famous role, as Jane in the Tarzan series, opposite Olympic swimmer-turned-actor Johnny Weissmuller. This proved to be a brilliant piece of casting as the fair, dark-haired, curvaceous beauty was as feminine as Weissmuller was masculine. ERB noted that she added quite a bit to the picture and that she was far more attractive off the screen than on, "which is unusual for motion picture actresses." Maureen was the No. 1 movie Jane and even did the female version of the famous Tarzan yell.
After 12 years in the movies, O'Sullivan took a break to raise her seven children, Michael, Patrick, Maria (Mia), John, Prudence, Theresa (Tisa), and Stephanie, whom she had with her husband, Australian writer and director John Farrow. She returned to the big screen in 1948, with The Big Clock, directed by her husband.
Her career, spanning 64 years and over 60 films, included Francis Ford Coppola's Peggy Sue Got Married (1986) and Hannah and Her Sisters (1986) with her daughter Mia, and directed by Mia's then-boyfriend Woody Allen. O'Sullivan was frequently seen at Mia's side during her bitter custody battle with Allen.
John Farrow died in 1963. O'Sullivan re-married in 1983, to businessman James Cushing. Her oldest son, Michael, died in a plane crash in 1958 while taking flying lessons. O'Sullivan died in 1998 at the age of 87.
Maureen O'Sullivan 10-page Tribute in ERBzine:
http://www.erbzine.com/mag45/4569.html

Off-Site Reference
Farrow-O'Sullivan Site
O'Sullivan in IMDB
---
*** When Denny Miller (1934.04.25-2014.09.09) wrote his biography -- "Didn't You Used to Be What's His Name?" -- he went on a tour to promote the book. One of his stops was on June 23, 2005, in Louisville, Kentucky, at Carmichael's Bookstore. The Courier-Journal, in an article earlier in the day, recalled his role in 1959's Tarzan the Ape-Man and also wrote: "Miller, who portrayed Duke Shannon on the TV series Wagon Train, will sign copies of his book at 7 tonight at Carmichael's Bookstore, 2720 Frankfort Ave. Miller, by the way, played basketball at UCLA under coach John Wooden. One of his teammates and a lifelong friend just happens to be Denny Crum. His book features anecdotes about his work with such actors as Katharine Hepburn, Bette Davis, Peter Sellers, Charles Bronson, Bob Hope, Sidney Poitier and Lucille Ball."
From George McWhorter's Tribute to Denny: "We knew Denny as "Tarzan the Ape Man" in 1959, along his roles in 19 other films, over 200 guest appearances on TV, and 37 commercials, including "Bounty" and "Gorton's Fisherman." But mostly we knew Denny for his great sense of humor. Good examples of his humor fill his book "Didn't you used to be…What's His Name?" published ten years before his death. Denny read books constantly and, whenever he found something funny, would dash to his computer and send it to his many friends. Denny was proud of and loyal to his many friends in the Burroughs Bibliophiles, and was a guest at many Dum-Dums and annual conventions over the years, so we were glad to have him on our side. But he is now on another side, leaving us a flood of memories behind. . . . A great soul walked among us for 80 years until he died of Lou Gehrig's disease. His beloved wife Nancy, also friend to all of us, never left his side." ~ George T. McWhorter, Curator Emeritus for the ERB Memorial Collection ~ University of Louisville.
Denny Miller Career Flashback Anecdotes
http://www.erbzine.com/mag45/4550.html
Denny Miller Tribute Site
http://www.ERBzine.com/denny
---
"Tarzan's Peril" was released in 1951, but the work began before that. On June 23, 1950, Lex Barker and movie crews boarded planes to fly to Africa to put movie scenes before the cameras.
Tarzan's Peril: ERBzine Silver Screen
http://www.erbzine.com/mag19/1951.html
Off-Site Reference
Barker/Peril in CBS News
---
*** 2018: Disney's "Tarzan" came to Netflix on this date.
"Tarzan and Jane," the sequel, was a direct-to-video release the same date, in 2002, three years after June 18, 1999, when the first Disney effort made its theaterical debut.
Tarzan Log of TV Episodes
http://www.erbzine.com/mag0/0014.html
Off-Site Reference:
Tarzan on Netflix
Tarzan and Jane in Wikipedia
---

*** 1869 It wasn't easy to invent the first typewriter, and it went through many models and concepts. But one version was patented June 23, 1869, which proved to be the forerunner of the modern typewriter...or should we say the modern "keyboard?" Christopher Latham Sholes was one of the inventors who shared in that first patent, but he went on, in 1873, to develop a new key arrangement known as the QWERTY keyboard. It proved so practical that that it has survived the age of typewriters and is what we find on our computer keyboards. We have more books available to us -- as well as all those ERB books -- thanks in large part to the development of that keyboard.
ERB first book manuscripts back in 1912 were handwritten but he soon graduated to a typewriter. During WWII he carried a portable typewriter all over the Pacific Theatre on which he wrote news columns and reports, letters home, and the occasional piece of fiction. Through his heavy output years he experimented with an Ediphone dictation machine and also dictated stories to personal personal secretaries.
ERB's Original Typewriter
http://www.erbzine.com/mag5/ld8905h4.jpg

Off-Site Reference
Sholes in Wikipedia
---
*** "Tarzan and the Return of Dagga Ramba," by Russ Manning, began June 23, 1968, and ran for 29 Sundays. It can be read at:
Tarzan and the Return of Dagga Ramba: All 29 Sunday Pages
http://www.erbzine.com/mag17/1761.html
---
"Tarzan and the Panther-Man," by John Celardo and Dick Van Buren, began June 23, 1957, and ran for 11 Sundays.
Tarzan and the Panther-Man
http://www.ERBzine.com/comics
---
*** 1944: Ed met with Robert H. Davis (his editor after Thomas Metcalfe) of Munsey's in New York. He quoted him as saying: "For God's sake send The World another picture of yourself -- that thing they are running makes you look like ____."
1944: LETTER home to Joan. He described the souvenirs he had sent previouslly to Joan and Jane's kids. "The Jap bill and photo were for Mike. The soldier who found them in a Jap barracks bag when we took Kwajalein gave them to me." The cowrie shell necklace was given him by the soldier who made it on Kwajalein. "I tried to get the silver or gold chains that the boys use in stringing these, but there were none left in Honolulu. Our servicemen had bought them all. The loose shells I got on Apamama. . . . Tell Mike that the knife was given me by a 7th AAF Bomber Command Flight Surgeon on Kwajalein."
1945: LETTER home to Joan ~ "At anchor in a harbor in the East China Sea" while aboard the USS Cahaba.
ERB Bio Timeline
http://www.ERBzine.com/bio
---
*** 2019: Steve Sipek / Steve Hawkes (1942-2019.06.23) died on this date. Sipek was born in what is now Croatia and relocated to Canada in 1959. He subsequently acted in B-movies as Steve Hawkes. He played Tarzan in the 1969 Spanish-made film Tarzán en la gruta del oro / King of the Jungle / Tarzan in the Golden Grotto alongside Kitty Swan, filmed in Suriname, Florida, Africa, Spain and Italy where the producers ran out of money and had to begin filming again. Sipek, working under the name Steve Hawkes, claimed the film company couldn't pay the huge licensing fees from Edgar Rice Burroughs' estate and settled for the name "Zan" for the character.
A 1972 sequel Tarzan and the Brown Prince followed with sequences filmed in Rainbow Springs, Florida, where both Sipek and Swan were burned in a fire that got out of control. When the two actors were tied down in a scene, some spilled fuel began a blaze that panicked the film crew. The lion in the film who had been trained to remove Hawkes' bonds freed him. though he suffered 90% burns to his body. Sipek vowed he would pay the lion back by looking after big cats.
Sipek also wrote, directed and starred in other films such as Blood Freak and Stevie, Samson and Delilah. The film was based around his love of his immediate family and how they integrated with his beloved pets.
An animal lover, Sipek later relocated to Loxahatchee, Florida where he started an animal sanctuary that attracted attention when a Bengal tiger escaped and was killed. Sipek was arrested at his Florida home and his animals confiscated on February 27, 2012 for non regulatory compliance in regards to animal permits. A grief stricken Sipek never recovered from the loss of his beloved cats.
ERBzine Tribute to Steve Sipek / Steve Hawkes
http://www.erbzine.com/mag27/2772.html
Steve "Tarzan" Hawkes Film Posters and Stills
http://www.erbzine.com/mag39/3927.html

---
JUNE 24
---
Lillian "Kithnoue" Worth as Queen La in Tarzan the Tiger ~ Hillmans visit the UFO Aliens in Roswell
Two Tarzan Sundays: Gray Morrow and Russ Manning's last strip (with Mike Royer)
---
---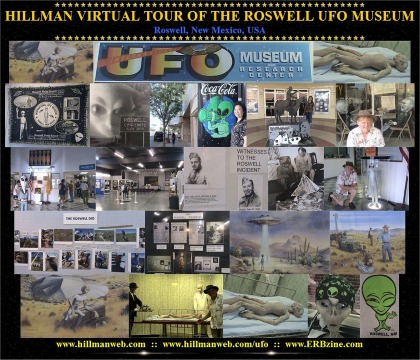 ---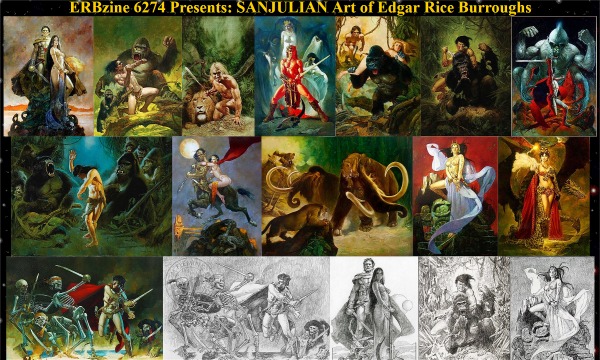 ---
*** Lillian Worth (1884.06.24-1952.02.23) was born as Lillian Murphy in Brooklyn, NY on this date. In two of her film roles she menaced two different Tarzans. In 1921's "The Adventures of Tarzan" she used her feminine wiles against Elmo Lincoln to no avail and in 1929's "Tarzan the Tiger" she tried similar tactics against Frank Merrill, again without success. In the first film, she was cast under her own name. In the second, she was identified in some credits as Madamoiselle Kithnoue. There was some controversy surrounding her as a few sources claimed that Kithnou (aka Mlle. Kithnou) was actually a Hindu actress, and not Lillian Worth.
Robert F. Hill - Director of The Adventures of Tarzan -- credited author Edgar Rice Burroughs for much of the success of the film: ""... this serial embodies all of the mystery, the charm of action for which Mr. Burroughs' novels are noted. The author has been of invaluable assistance to me throughout the entire production in securing the proper jungle atmosphere, garbing the various characters correctly and in injecting the proper suspense. Mr. Burroughs spent many days on location and in the studios with us in this work. His expression of keen approval during a recent screening of "Adventures of Tarzan" has well repaid the expenditure of time and effort."
Tarzan the Tiger was released in both silent and "sound" versions. The sound consisted of a crude musical score, sound effects and a few lip-synched lines on a record. The record contains the very first Tarzan yell, invented by Frank Merrill.
Tarzan the Tiger with a La Gallery
http://www.erbzine.com/mag5/0593.html
Adventures of Tarzan with Lillian Worth as La
http://www.erbzine.com/mag5/0590.html
ERB Heroines of Hearth ~ Stage ~ Screen
http://www.erbzine.com/mag6/0607.html
https://www.ERBzine.com/cards/film5/lillianworthaslaall.jpg

Off-Site Reference:
Worth in IMDB
Worth in Wikipedia
---
*** 1947: Sci-fi buffs got a shot in the arm this date, June 24, in 1947, when Ken Arnold, a pilot from Chehalis, Washington, was flying around Mount Rainier and reported seeing a bunch of flying objects that resembled saucers. The name stuck. Sci-fi buffs got a shot in the butt this date, June 24, 50 years later, when the U.S. Air Force released a report suggesting that the alien bodies that witnesses reported seeing in 1947 in Roswell, N.M., were actually life-sized dummies. (We all know, of course, that the USAF was just engaging in a coverup!!!)
*** During one of our motor trips to Tarzana Sue-On and I made a detour and visited the UFO Museum in Roswell. It was full of interesting displays and documents -- and of course had a gift shop. At that time they were planning to move from their old movie theatre location to a new building. We had chats with the curator et al who seemed very interested in our ERB connection. They discussed some of the popular conspiracy theories including the transfer of the alien bodies to Wright Paterson base and showed us documents that certainly threw doubt on the official explanation of the events. I had fun posing with the alien mannequins and entering the life-size diorama of doctors performing an autopsy on an alien. Later we made an attempt to find the 1947 UFO crash site in an empty field. No remains were found.
Hillmans Visit the UFO Museum in Roswell
http://www.hillmanweb.com/ufo
http://www.hillmanweb.com/ufo/ufoall.jpg
Off-Site Reference
UFO in Wikipedia.
Roswell History
---
*** 1984: Fingerprints prove something to Greystoke: See "A Matter of Fate," by Gray Morrow and Don Kraar, which began June 24 in George Orwell's signature year and ran for 12 Sundays. Through the years I've shared all the Morrow Sunday strips in ERBzine, including this run of 12 Strips.
A Matter of Fate: Read all 12 Tarzan Sunday Strips
http://www.erbzine.com/mag35/3508.html
---
*** 1914: Ed received a letter from General Charles King at his 6415 Augusta Street, Oak Park, address: "I have always kept in touch with him, and as I love him just as I did as a kid. I sent him a copy of Tarzan." Since the time that King was commandant during ERB's stint at Michigan Military Academy, Ed was a devoted fan and supporter of King who was involved in multiple US wars. and who wrote many books about the Civil War, Wild West, Indian Wars. As I've displayed in my Personal Library of ERB Project, King's books were well represented in ERB's book collection.
General Charles King Tribute
http://www.ERBzine.com/king
King Books in ERB Library: K1 Shelf
http://www.erbzine.com/dan/k1.html
---
*** 1942: ERB sent a letter home to Jack and Jane. He liked the name John Ralston they had chosen for their new baby. Ed had read a recent article that attributed ERB's success to his name - a number of ERB heroes bore the name "John". Young eight-year-old Eddie Burroughs had been tramatized by a big Irish kid while growing up in Chicago. This bullying seemed to have left a mark - he spoke of it often in later years . . . the bully's name was John.
ERB tried to attend first morning showing of the new Tarzan picture "Tarzan Find a Treasure or somein" but the lines were too long.
ERB Letter to Jack and Jane
http://www.erbzine.com/mag9/0914.html
---
*** 1941: Popular ERB artist, Sanjulián (Manuel Pérez Clemente) was born in Barcelona on this date. He studied art in Belles Arts of Sant Jordi one of the most prestigious art schools in Spain. In 1961, while only 20 years old, Sanjulian began to work with Selecciones Illustradas, a prominent European art agency. His technical abilities and artistic vision made him an instant success in European editorial markets. In 1970, he began working for American clients. Sanjulian has worked for the most important publishing houses, advertising agencies and movie studios in the US, and has won many awards and citations. His fantasy covers for Warren magazines now sell for tens of thousands of dollars. He has had several shows at The Society of Illustrators in New York. Sanjulian has always devoted part of his time to painting fine art and is noted for his realistic subject matter and his deep, rich palette. His paintings have often been compared to Velazquez in terms of palette and technical ability. We've long been a fan of his spectacular ERB art.
The ERB Art of Sanjulian
http://www.erbzine.com/mag62/6274.html
https://www.erbzine.com/cards/art/sanjulianall.jpg
---
*** 1979: The last Russ Manning Tarzan Sunday page Tarzan and the Games of Ibizzia ran Feb. 04, 1979 - June 24, 1979 ~ Story and Art by Russ Manning ~ Inks by Mike Royer.
Tarzan and the Games of Ibizzia: Manning's Last Tarzan Sunday
http://www.erbzine.com/mag21/2139.html

---
JUNE 25
---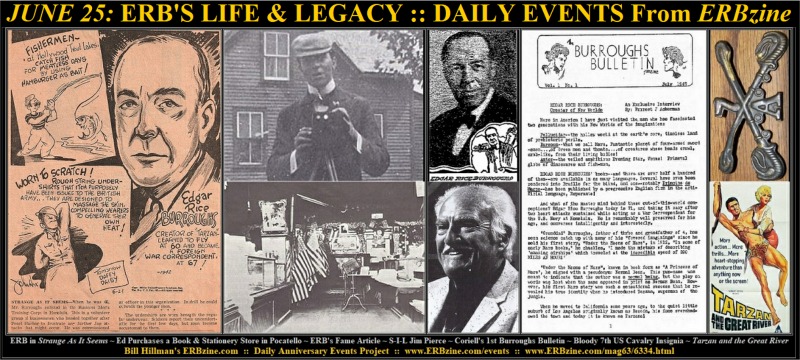 ERB in "Strange As It Seems" ~ ERB's Pocatello Book, Stationery & Photo store ~ ERB's Fame Article
Son-in-Law Jim Pierce ~ Coriell's #1 Burroughs Bulletin ~ Bloody 7th US Cavalry Insignia ~ Tarzan and the Great River
---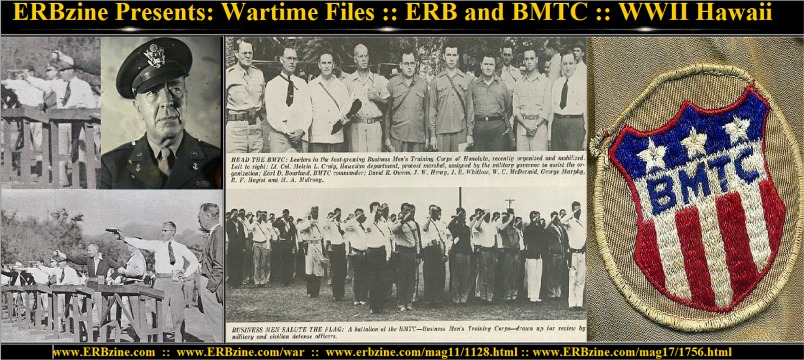 ---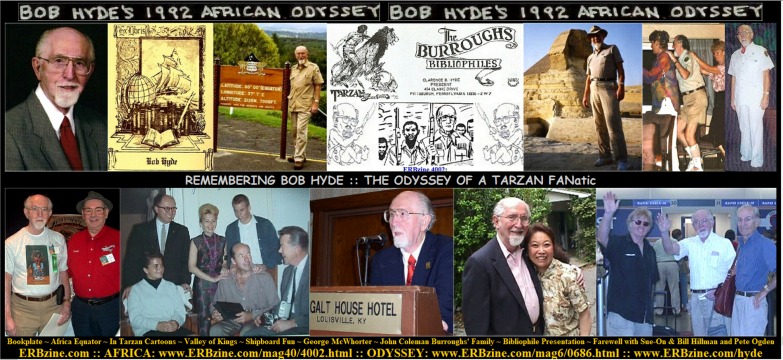 ---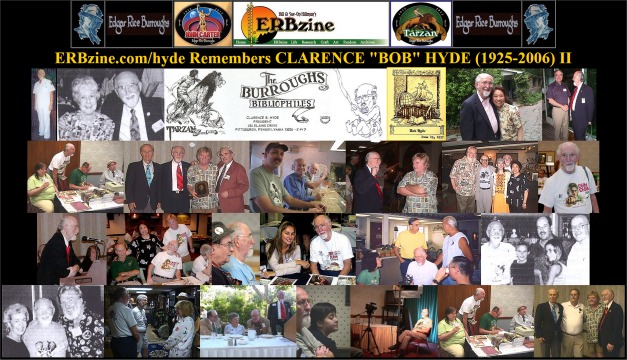 ---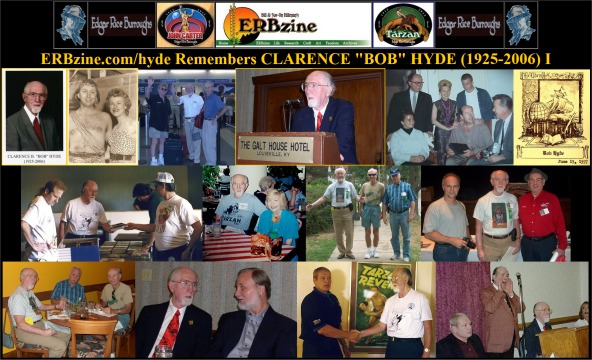 ---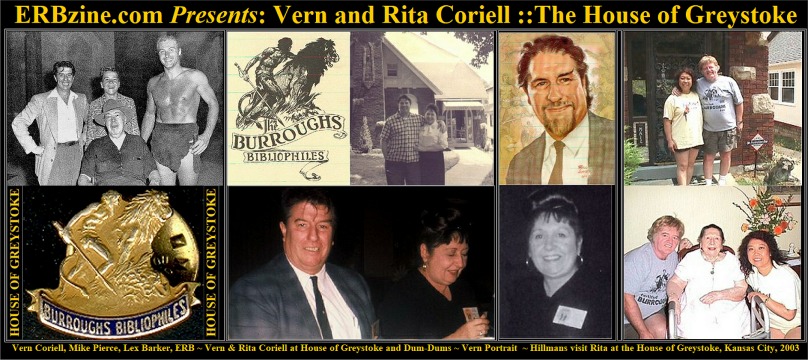 ---
*** 1955: Edgar Rice Burroughs was featured in a newspaper cartoon similar in format to Ripley's Believe It Or Not, on June 25, 1955. The caption below his picture celebrated his active participation in U.S. World War II efforts, despite his older age. In addition, a copy block beneath the cartoon added some details. It reads:
"STRANGE AS IT SEEMS--When he was 66, Mr. Burroughs enlisted in the Business Men's Training Corps in Honolulu. This is a volunteer group of businessmen who banded together after Pearl Harbor to frustrate any further Jap attacks that might occur. He was commissioned an officer in this organization. In drill he could outwalk the younger men."
And for those concerned about the British forcing soldiers to wear itchy shirts, the copy block added: "The undershirts are worn beneath the regular underwear. Soldiers report them uncomfortable for the first few days, but soon become accustomed to them."
ERB in Strange As It Seems
The Image:
https://www.dantonburroughs.com/pics/dbeb04.jpg
https://www.erbzine.com/cards/erb3/erbbmtcall.jpg
ERB and the BMTC
https://www.erbzine.com/mag17/1756.html
https://www.erbzine.com/mag11/1128.html
An ERBzine Page of ERB Memorabilia
https://www.erbzine.com/mag19/1944.html
ERB: The War Years
https://www.ERBzine.com/war
---

*** ERB's move to Hawaii and subsequent service with the press corps put him in a position to get to know many important people, one of whom was H.H. (Hap) Arnold.
In 1938, when Arnold became chief of the U.S. Air Corps, his command consisted of 22,000 men. At the end of World War II, his force had grown to 2.5 million men. The German Luftwaffe no longer existed, and with the help of the U.S. Naval Air Arm, there was no Japanese air power. In 1943, Arnold was promoted to five-star general, the first in the Air Force.
ERB's son-in-law, Tarzan actor James Pierce, wrote: "When I was trying to become a flying instructor in 1941 Mr. Burroughs wrote me. saying, 'I am on good terms with Hap Arnold, top general in the Army Air Force. I think Arnold can help you if your age is held against you.' "
Arnold, who was born June 25, 1886, had another thing in common with ERB besides being on good terms during the war effort: Both would eventually be featured on U.S. postage stamps. Arnold's came first, a 65-cent stamp issued Nov. 5, 1988, as part of the Great Americans Series, which featured stamps in varous denominations designed to meet existing postal rates for items that required more postage than the current first-class rate. Such stamps are known as definitives, as distinguished from commemoratives, which are usually the stamps issued for first-class letters. ERB's stamp was a commemorative, issued Aug. 17, 2017, in Tarzana, Calif., and was also rated as a Forever stamp, meaning it will always be good for a first-class letter no matter what the current first-class rate happens to be.
Pierce's reminiscenes about his "Famous Father-In-Law"
http://www.erbzine.com/mag9/0940.html

Off-Site Reference:
Hap Arnold's inWikipedia
---
*** If you buy some old glassware that is wrapped in the Los Angeles Times, check to see if it's the June 25, 1922 edition, before throwing it away. That issue has a story about ERB and a lot of photos of the Tarzana ranch. The article was headlined: "Just Made a Living in Business; Now He's Rich -- Creator of Tarzan Describes His Amazing Rise to Fame and Fortunes as Author."
But in the event you don't run across the old newspaper, you can read it and other old news stories here:
ERB Describes His Rise to Fame Article
http://www.erbzine.com/mag13/1358.html
---
*** When ERB was almost one year old, Lt. Col. George Armstrong Custer and 210 men of the 7th Cavalry were killed by Sioux and Cheyenne Indians at Little Big Horn. That was June 25, 1876. About twenty years later, ERB began his own stint with the "Bloody Seventh." And Ft. Grant, of course, was where the movie John Carter ran from after the Civil War on his way to Barsoom by way of an Arizona cave.
ERB in the Bloody 7th US Cavalry
http://www.erbzine.com/mag34/3469.html
Custer's Last Battle by Captain Charles King
http://www.erbzine.com/craft/king1.html
---
*** And some of you may not have thought about ERB at all on June 25, 1966, when Dark Shadows premiered on ABC television. Those fans who missed the premiere had to wait several years for the invention of video players. One of the guest stars who showed up on Dark Shadows was Diana Millay, who played sinister Laura Collins. Her first appearance in Dark Shadows was on Dec. 14, 1966, and she was in 62 of the soap opera's 1,225 episodes. A year later, she was on the big screen as Dr. Ann Philips, one who was more interested in the good health of people, in 1967's "Tarzan and the Great River" opposite Mike Henry.
Tarzan and the Great River with Diana Millay
http://www.erbzine.com/mag19/1962.html
Off-Site Reference
Millay in IMDB
---
*** 1925: Clarence B. Hyde (1925.06.25-2006.04.07) was born to Mr. and Mrs. Ed Hyde of Warren, Ohio on this date. Bob became one of ERB's greatest fans and was a staunch supporter of all things Burroughs. President and Co-Founder of the Burroughs Bibliophiles. While Bob was writing his ERB-years autobiography, ODYSSEY OF A TARZAN FANatic, he faithfully sent his handwritten manuscript pages to me as he finished them. I typed them out, added some of his photos along with others from my collection and featured these pages in ERBzine. My typed text was later used when Bob's book was released in book form.
Shortly after Bob's death, George McWhorter sent the journal that Bob had created describing his 1992 Africa Safari. This was part of the Hyde collection that had been donated to the ERB Memorial Collection at the U of Louisville. I typed out the text and scanned the photos and shared the results across many ERBzine pages.
We enjoyed visiting with Bob during many ERB conventions including Clarksville, Louisville, Tarzana and Chicago. He was a wonderful conversationalist and was a bottomless source of information on everything Burroughs. We felt honoured to have taken the last photo of Bob before he died. After an Oak Park Dum-Dum we had escorted Bob and Pete Ogden on the Chicago El to the airport. During our goodbyes, after we had deposited their luggage at reception, Sue-On snapped a photograph of Bob, Pete and myself as we waved a farewell. Sadly both Bob and Pete have passed on. Bob died on April 7, 2006 and Pete passed away in 2017.
The Bob Hyde Tribute Site:
http://www.ERBzine.com/hyde
Bob Hyde's ODYSSEY OF A TARZAN FANatic
http://www.erbzine.com/mag6/0686.html
Bob Hyde's African Safari Journals
http://www.erbzine.com/mag40/4002.html
Bob Hyde Photo Collage I
http://www.erbzine.com/cards/writers/hyde1all.jpg
Bob Hyde Photo Collage II
http://www.erbzine.com/cards/writers/hyde2all.jpg
Bob Hyde Remembered:
https://www.ERBzine.com/cards/writers4/bobhyde1all.jpg
---

*** 1898: Pocatello Tribune: "Local Brevities" column reported: "-- Mr. V.C. Roeder has sold his book and stationery store to Mr. E.R. Burroughs who is now in charge. Mr. Roeder has not yet decided upon what he will do, but if he does not go to war with the volunteer engineers now being recruited by Mr. F.F.J. Mills at Salt Lake, will probably locate some place in California. Mr. Roeder's departure from Pocatello is a matter of genuine regret to all. He is one of the old timers in Pocatello and will be missed by everybody. Mr. Roeder's successor, Mr. Burroughs, is a recent arrival in Pocatello but a young gentleman of due x abilities, and we have no doubt "Roeder's", as it has always been known, will continue as popular as ever under his management."
ERB in Pocatello
http://www.erbzine.com/mag16/1647.html
---
*** 1947: Vernell Coriell produced the first Burroughs fan publication: The Burroughs Bulletin -- to be released with a July cover date. Vern went on to published 68 issues - intermittently - from 1947 to 1968. Along the way he also published many special edition publications. Vern had received permission personally from Edgar Rice Burroughs with the understanding that he wouldn't charge for the BB fanzine. He kept his promise but formed the Burroughs Bibliophiles for which there was a membership free with promise of free Bulletins. George McWhorter resurrected the Bibliophiles in the '80s and resumed publishing the Bulletin as a series 2. Both the Bibliophiles and Bulletins survive today.
Sue-On and I spent a special afternoon visiting Rita Coriell at the House of Greystoke in Kansas City. She was in poor health but was very warm and eager to share some of her wonderful memories of her major involvement with the research, publishing and mailing of the Burroughs Bulletin (1st series). I still have some of her letters of greeting from when I joined the Bibliophiles back in the '60s. She remembered helping Vern send me a huge box of House of Greystoke publications as a way of thanking me for the reel-to-reel tapes of 72 Tarzan radio shows from the early '30s. that I had sent them. Sadly, no evidence of any Burroughs memorabilia left in the house. Rita owned the house but years back Vern had loaded all things Burroughs into a truck and had driven away to start another life's chapter. She was alone.
Burroughs Bulletins (Old Series) Nos. 1-25
http://www.erbzine.com/mag15/1530.html
Burroughs Bulletins (Old Series) Nos. 26-68
http://www.erbzine.com/mag15/1531.html
The Hillmans Visit Rita Coriell at the House of Greystoke
http://www.erbzine.com/dumdum/1rita.html
Remembering Vern Coriell (2 Parts)
http://www.erbzine.com/mag6/0655.html
Coriell's Burroughs Bulletins: A Checklist
http://www.erbzine.com/mag1/0195.html
House of Greystoke Publications
http://www.erbzine.com/mag1/0196.html
Vern Coriell's Collection A-Z
http://www.erbzine.com/mag16/1685.html
Rita Coriell Tribute
http://www.erbzine.com/mag15/1543.html
The Burroughs Bibliophiles
http:www.burroughsbibliophiles.com
---
*** 1940: ERB Wrote Bert Weston that Florence was discouraged with cost-saving measures and condition of the house in Hawaii -- rats and scorpions.
1940: Ed relayed a chain letter with list of famous names: Sen. Heflin, Bernard Shaw, Henry Ford, Col. Lindberg, Dorothy Dix, John Barrymore
ERB Bio Timeline
http://www.ERBzine.com/bio

---
JUNE 26
---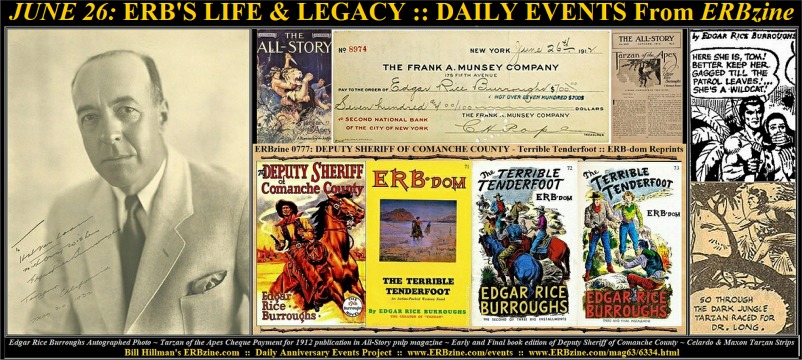 ERB's Autographed Photo ~ Tarzan of the Apes Cheque Payment for 1912 publication in All-Story pulp magazine
Early Pulp Reprints and Final book edition of Deputy Sheriff of Comanche County ~ Celardo and Maxon Tarzan Strips
---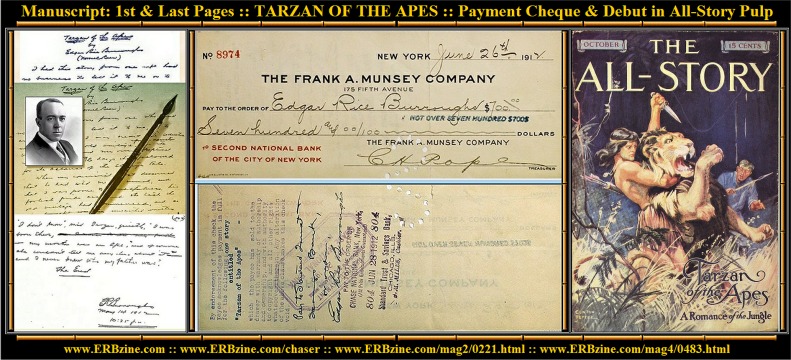 ---
*** 1930: On this date ERB wrote a letter to Blue Book, telling them: "I am writing a Western which is in an entirely different vein from anything that I have done before. ... I am trying to make it more lady-like in the hope of getting it into some hermaphrodite publication like Red Book...."
The story ERB was writing at the time eventually became a book titled "The Deputy Sheriff of Comanche County." But at the time he was writing it he was toying with titles like "That Damn Dude" and "The Brass Heart." When the yarn first saw print it was as "The Terrible Tenderfoot," and it first appeared not in Red Book but in Thrilling Adventures. The pulp version -- which was also reprinted as a three-parter in ERBdom numbers 71, 72 and 73 -- contains more words than the book version.
The Deputy Sheriff of Comanche County
http://www.erbzine.com/mag7/0777.html
ERB's quote recorded in ERB Bio Timeline:
http://www.erbzine.com/bio/years30.html
Deputy Sheriff of Comanche County: eText
http://www.erbzine.com/craft/deputy.html
---
*** 1912: The Frank A. Munsey Company on June 26, 1912, cut a $700 cheque made out to Edgar Rice Burroughs in payment for first publication rights to "Tarzan of the Apes." ERB, who had received $400 for "Under the Moons of Mars," the first story he had sold to The All Story, now knew for sure what he would be doing the rest of his life. ERB, after such a long line of careers, finally had found his niche.
ERB's handwritten title page shows that he had submitted his work under the pseudonym "Normal Bean." But when the story was printed in "The All-Story Magazine," October 1912, a transcription error transformed Burroughs' pen name into "Norman Bean." On the last page of his hand-written manuscript Burroughs signs his name at the bottom along with the time and date of completion: May 14, 1912 ~ 10:25 P.M.
ERB's Tarzan of the Apes cheque
http://www.erbzine.com/mag41/4168.html
Tarzan of the Apes: C.H.A.S.E.R. Biblio
http://www.erbzine.com/mag4/0483.html
---
*** 1944: "The End of the Sorcerer," written and illustrated by Rex Maxon, started June 26, 1944, and ran for 24 days.
End of the Sorcerer: All 24 of them in ERBzine
http://www.erbzine.com/mag54/5451.html
Rex Maxon, Intro, Bio and Guide to all his strips
http://www.ERBzine.com/maxon
---
*** 1967: "Boss Lady," written and illustrated by John Celardo, began June 26, 1967, and ran for 73 days. All of Celardo's hundreds of Tarzan strips are reprinted in ERBzine.
Boss Lady: all 73 Celardo Tarzan Strips
http://www.erbzine.com/mag46/4688.html
---
More ERB Bio Timeline Entries
*** 1939: ERB Authorized a Canadian branch of the Tarzan Clan in Toronto
*** 1928: Ed ordered a home movie camera and projector ($287.00 less a 30% discount through Owl Pharmacy) from Bert Weston (a few months later Weston gave a similar deal to Ed's friends the Rosenbergers). He wanted it in time to experiment with it so he could get some good pictures of Joan's outdoor wedding on August 8. They planned to use the area between the chicken yard and the corral for the ceremony. He built a cabinet similar to a small smoking stand that held everything pertaining to the photo outfit. He made good use of the camera - many of these films -- including family members starring in some of the playes that ERB had written -- still survive in Danton's Burroughs Family Collection.
*** 1992 June 26-28: ECOF at Denver, CO ~ Life Achievement Award was presented to Bob Hyde ~ Guest: Danton Burroughs,
Bob Hyde Tribute in ERBzine
http://www.ERBzine.com/hyde
Danton Burroughs Website
http://www.dantonburroughs.com
ERB Bio Timeline
http://www.ERBzine.com/bio

---
JUNE 27
---
Black Pirates of Barsoom in Amazing ~ Tarzan of the Air Radio Shows ~ Lamont Johnson: Radio Tarzan 1952
Tarzan's Father Article ~ ERB's Brother-In-Law Eddie Gilbert ~ Elmo Lincoln ~ 1997 Greystoke Castle / London Dum-Dum
---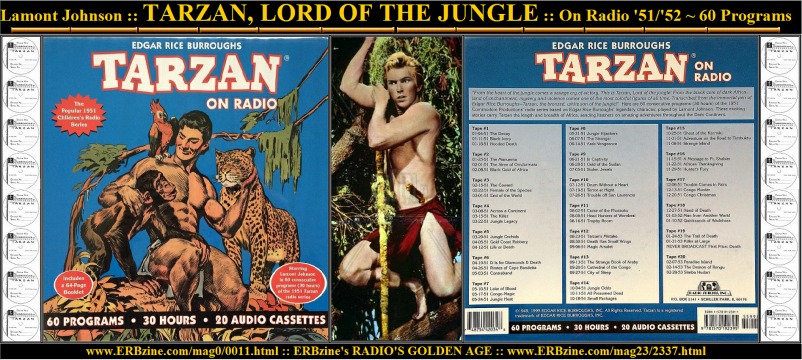 ---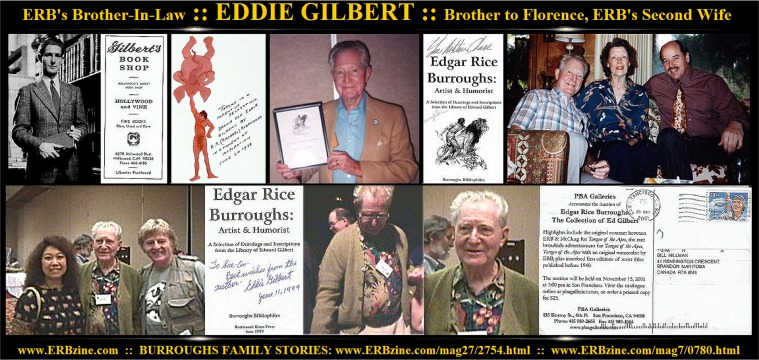 ---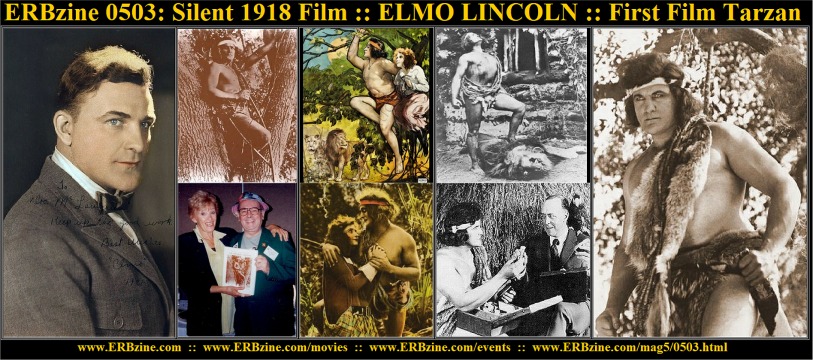 ---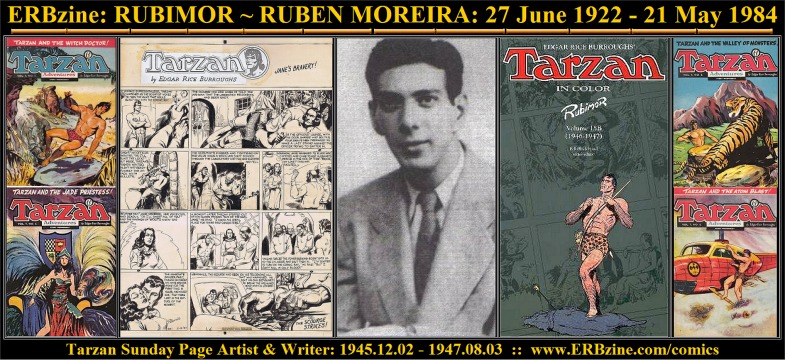 ---
*** 1937: "I don't think it's 'literature'," he admits without shame. "I'm not fooling myself about that. I don't care whether it's filled full of dangling participles or not... or split infinitives or anything else. It sells. That's the first consideration. It amuses. That's the second. There are no more as far as I'm concerned."
"You see, Tarzan has sort of got me into a rut. I'd like to write heavier stuff... just to satisfy myself. However, why should a man do that when he appears to be satisfying a world of other people?"
""I write when I want to," he'll insist. "Nobody can call me a liar for anything I say about Tarzan. Always the tales are laid in some fantastic setting and I can do with my hero exactly as I please. There's no worry about locale. There's no struggle for accuracy. There's just plot. . . and fantasy."
The quotes above are from an article in the Los Angeles Times June 27, 1937, titled "Tarzan's Father." For more of ERB's thoughts on his major creation, read:
Tarzan's Father: LA Times Article 1937
http://www.erbzine.com/mag11/1106.html
---
*** 1932/1953: It's well known that ERB' son-in-law, James Pierce, and his daughter, Joan, played Tarzan and Jane in the Tarzan radio series of the 1930s. But there was another radio Tarzan, this one played by Lamont Johnson, in the early '50s. The Commodore radio series, "Tarzan, Lord of the Jungle," began in 1951 and ended June 27 in 1953. Read more about it and listen to shows in ERBzine.
The 1952 Tarzan radio series was one of the many things that got me hooked on ERB back in the early '50s. I recall how thrilled I was to hear the introduction ". . . and now in the very words of Mr. Burroughs." Then another voice, supposedly that of Edgar Rice Burroughs, carried on with the introduction. It years later that I learned that Mr. Burroughs had died a few years before -- Imposter! :)
This farm kid on the Canadian prairies was a faithful listener to the series, while reading Toronto Star Weekly Tarzan Sunday pages, Tarzan and John Carter Dell comics, Tarzan and John Carter Big Little Books, View-Masters, etc. . . . and saving my week's allowance for admission to the latest Lex Barker film at the Strathclair Bend Theatre.
Tarzan, Lord of the Jungle Radio Series
http://www.erbzine.com/mag23/2337.html
Lamont Johnson: Radio Tarzan
http://www.erbzine.com/mag58/5866.html
Tarzan On Radio: Radio's Golden Age
http://www.erbzine.com/mag0/0011.html

Off-Site References
Adkins about the Radio Series
Johnson in Radio Spirits
---
*** 1952/2000: Two people well known to ERB fans died this date. Elmo Lincoln, the first Tarzan, passed away in 1952, and Eddie Gilbert, ERB's brother-in-law, died in 2000 at age 83.
I never met Elmo but had an enjoyable meeting with his daughter, Marcia in Tarzana. It was at this meeting that she gave me the biography she had written on her father. I featured the book on an ERBzine page: ERBzine 0283.
*** 1952: Elmo Lincoln (born Otto Elmo Linkenhelt) (February 6, 1889 – June 27, 1952) was an American film actor died on this date. Lincoln is best known in his silent movie role as the first Tarzan in 1918's Tarzan of the Apes as an adult (Gordon Griffith played him as a child in the same movie). He portrayed the character twice more—in The Romance of Tarzan (also 1918) and in the 1921 serial The Adventures of Tarzan. Following the end of the silent movie era, Elmo left Hollywood and tried his hand at mining. In the late 1930s, he returned to the film industry, most often employed as an extra. He appeared, uncredited, in two Tarzan films in the 1940s—as a circus roustabout in Tarzan's New York Adventure (1942), and as a fisherman repairing his net in Tarzan's Magic Fountain (1949).
His final work saw him also playing a brief, uncredited role in the 1952 film Carrie, starring Laurence Olivier. Lincoln died of a heart attack on June 27, 1952 at age 63. He is interred in a niche at Hollywood Forever Cemetery. For his contribution to the motion picture industry, he has a star on the Hollywood Walk of Fame at 7042 Hollywood Boulevard. In 2001, his daughter Marci'a Lincoln Rudolph told his story in her book, My Father, Elmo Lincoln: The Original Tarzan
*** 2000: Sue-On and I did meet Eddie Gilbert. We spent time with him at the 1999 Tarzana Dum-Dum and had some good chats about his famous brother-in-law. Eddie had been a Guest of Honour seated at the head table for the event's banquet ceremony and everyone was shocked when he moved his chair too far back and fell backwards off the riser behind the table. We were relieved when he appeared to be unhurt and carried on with the proceedings along with the other guest, Forry Ackerman (we later spent an afternoon with Forry exploring and marvelling at the wealth of collectibles in his home).
When we had chatted previously in the Dealers Room we learned that I had probably been in his Hollywood Blvd bookstore a few decades back. He had a display of ERB Bio books all signed by author Porges. I had already bought a copy by mail back home in Canada. Money was tight. I didn't need two of them :(
My Father, Elmo Lincoln
http://www.erbzine.com/mag2/0283.html
Start of the ERBzine tributes to Eddie Gilbert (11 pages):
http://www.erbzine.com/mag7/0780.html
Off-Site Reference:
Elmo in IMDB
---
*** 1997 The British ERB Society hosted a London Greystoke ERB convention ~ Guests were: Marcia Lincoln and Burne Hogarth (In Memorium). Our English friend Laurence Dunn shared photos and information on this event which I've shared at ERBzine 1689.
We've had some great meetings with Laurence through the years. He has faithfully flown over for countless ERB Conventions in North America. It was during Laurence's stint as President of the Burroughs Bibliophiles that he was a major force for my election into the BB Board of Directors. Interestingly, Sue-On and I spent a great time with him in Holland where we were invited to attend the 2007 premiere of Tarzan the Stage musical -- a resounding success.
Greystoke 97 Dum-Dum
http://www.erbzine.com/mag16/1689.html
Tarzan the Stage Musical in Holland: 2007
http://www.erbzine.com/mag17/1775.html
---
*** 1941: Black Pirates of Barsoom and article: An Autobiographical Sketch appeared in Amazing Stories
Black Pirates of Barsoom: Segment of Llana of Gathol
http://www.erbzine.com/mag7/0738.html
---
*** 1946: In a LETTER to Thelma Terry ERB commented on the ongoing shortages of food and building supplies and how ironic it was that America feeds the world but cannot supply its own needs. He was proud of his garden: blackberries, Golden Bantam corn, cucumbers, peaches, pears, figs, grapes, oranges, and lemons. Much of his produce he planned to freeze in his new deep-freeze unit. Ed mentioned that he had never met Clark Gable, but admired the man and his work. He also liked Greer Garson. Ed was saddened by the suicide of actor friend, Charlie Butterworth. "He was unquestionably soused when he ran his car into a light pole, for he was usually soused. It was too bad, for he gave so much pleasure to so many people." Ed's marriage advice to Thelma was "I certainly hope that you marry a Yank. I think we make pretty good husbands - we are such suckers."
ERB's Letter to Thelma Terry in the UK
http://www.erbzine.com/mag15/1524.html
---
*** 1922: Tarzan Sunday Pages artist: Ruben Moreira (Rubimor) (1922.06.27- 1984.04.21 Puerto Rico) was born on this date. He took over the Tarzan Sunday page from Burne Hogarth in December 2, 1945. He was the sole artist and writer of it until August 3, 1947, using the pen name "Rubimor." His style was less spectaculair than Hogarth's, yet his storytelling had a resemblance to the writing of Edgar Rice Burroughs.
Rubimor: Tarzan Artist
http://www.ERBzine.com/cards/comics/rubimortarzan.jpg

---
JUNE 28
---
Tarzan Dell Four-Colour Comic #161 - 1947 :: ERB Visits Mark Twain Home & Tom Sawyer Cave and
Later Accepted into the Mark Twain Society :: Robert M. Thorson :: Mike Royer & Dale Broadhurst :: Wizard of Venus
---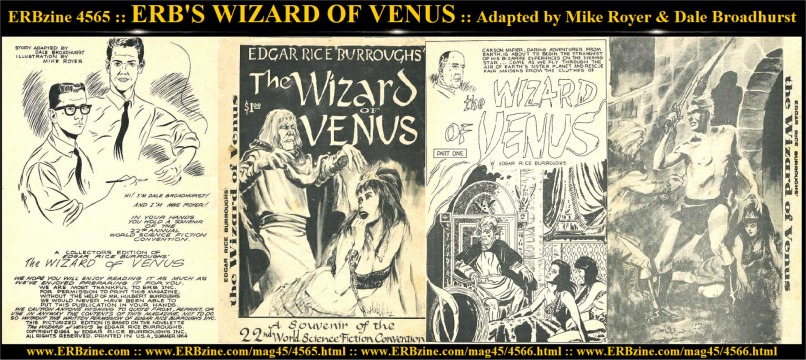 ---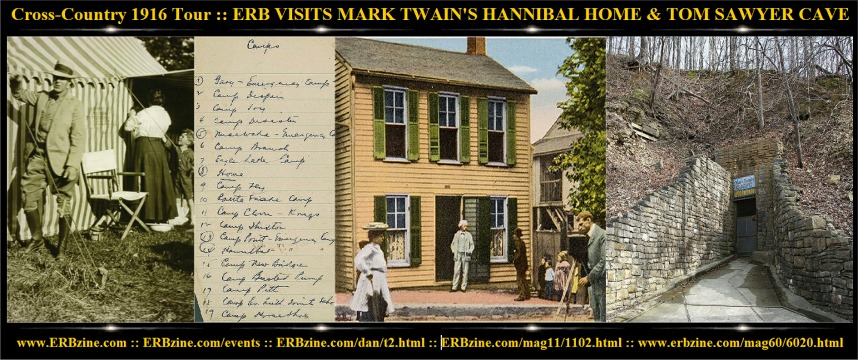 ---
*** 1941: Mike Royer, who was featured at the 2018 ECOF in Folsom, California, was born on this date in Lebanon, Oregon.
When Mike was young, he teamed up with writer Dale Broadhurst to put together a comic book version of ERB's "The Wizard of Venus." Since then, he has worked with some of the greats while becoming great himself with work at Disney and on comics such as Superman's Pal Jimmy Olsen, Kamandi, and others. He has worked with Russ Manning on Tarzan comics.
Mike lettered and inked the last six months of Russ Manning's Tarzan Sunday-newspaper comic strip and, in the late 1970s, the first four months of Manning's daily and Sunday Star Wars comic strips. Follow the Mike's work on the Tarzan Sunday and daily Strips via the Manning link below.
Mike Royer has had an amazingly long and acclaimed career as an artist for comics publications including work for DC, Gold Key, Marvel, Pacific, Topps, Warren, etc.
Royer and Broadhurst's Wizard of Venus:
http://www.erbzine.com/mag45/4565.html
http://www.erbzine.com/mag45/4566.html
http://www.erbzine.com/mag45/4567.html
Russ Manning Bio and Guide to His Tarzan Strips
http://www.ERBzine.com/manning

Off-Site Reference:
Royer in Wikipedia
Mike Royer Work in the Comics
---
*** 1947: ERB received reports that Dell's new 52-page Tarzan comic was a great success: Fires of Tohr ~ Art: cover and interior by Jesse Marsh ~ Writer: Robert P. Thompson for the feature story.
Tarzan Dell 4-Colour Comic #161
http://www.erbzine.com/mag23/2398.html
---
*** 2007: Tarzan was recommended reading in an article published this date, June 28, in 2007 in The Hartford Courant.
The article "Tarzan, A Great Jumping Off Point" stated: "I recommend the pulp fiction Tarzan books by Edgar Rice Burroughs for reading across the curriculum in middle and high schools. These juicy adventure novels would agitate bored students to learn more about human evolution, colonial racism, gender relations, plot technique, and body movement than their dumbed-down, politically correct, spiritually bland and dated textbooks.
"Sadly, textbooks designed for public schools are the result of a mass-market economy where publishing corporations defer to cautious administrators, who defer to school boards, who defer to the voters. Anything remotely provocative will send the buyer elsewhere. Texts are to publishers as fast food is to franchises. With a guaranteed market, the goal is the delivery of palatable nutrition or information to the broadest possible audience, not a memorable meal or learning experience, respectively.
"To see how vetted and dated texts are, I ask you to monitor how long (if ever) it will take for the publishers to respond to a great idea that Tarzan, a.k.a. Lord Greystoke, would have loved. In this month's Science, three British authors combined field observations about orangutans with vertebrate anatomy, paleontology and paleoecology to re-interpret the conventional wisdom about human walking...."
Who said all this? The answer is Robert M. Thorson, a columnist at the Courant who is also a Professor of Geology at the University of Connecticut and does a lot of other things as well, such as juggling. He'd been writing his column for 14 years.
ERBzine News 21: Tarzan, A Great Jumping Off Point
http://www.erbzine.com/news/news21.html
---

*** 1933: ERB was accepted into the International Mark Twain Society, Webster Groves, Missouri. ERB was a fan of Mark Twain and had many of his books in his personal library.
*** 1916: During Burroughs Family cross-country automobile trek they had "Emergency Camps #3 & #4" stays in Hannibal, Missouri, while the vehicles were being repaired after hitting the ditch in a rain storm. Ed and the family even visited Twain's boyhood home in Hannibal. Later Joan and Hully went with their dad on a tour of Tom Sawyer's cave.
Twain books on ERB's T2 Library Shelf
https://www.erbzine.com/dan/t2.html
Auto Trek in Joan's Tribute
https://www.erbzine.com/mag11/1102.html
https://www.ERBzine.com/cards/erb6/erbmarktwainconnectionall.jpg

---
ERB Bio Timeline Notes
*** 1985 ECOF was held at the University of Louisville, hosted by George McWhorter. Burne Hogarth and Danton Burroughs were Guests of Honour.
*** 1991 The ECOF at Williamston, Michigan was hosted by Mike Conran
George McWhorter Tribute Site
http://www.ERBzine.com/mcwhorter
Mike Conran
http://www.erbzine.com/mag5/0577.html
ERB Bio Timeline
http://www.ERBzine.com/bio

---
JUNE 29
---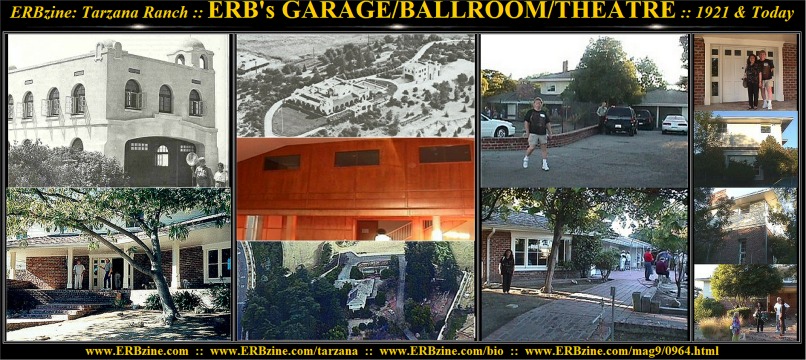 ---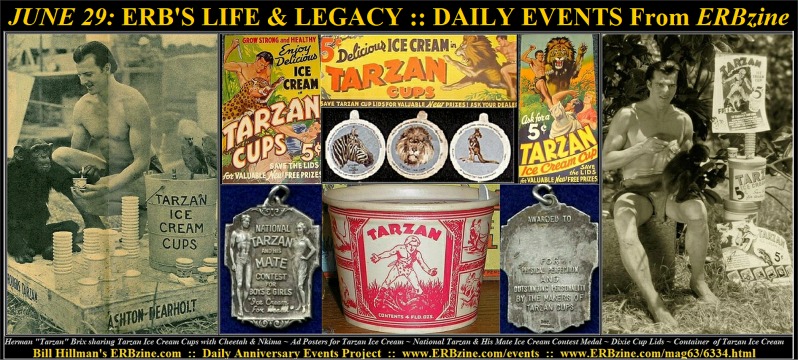 Herman "Tarzan" Brix sharing Tarzan Ice Cream Cups with Cheetah and Nkima ~ Ad Posters for Tarzan Ice Cream
National Tarzan and His Mate Ice Cream Contest Medal ~ Dixie Cup Lids ~ Container of Tarzan Ice Cream
---
---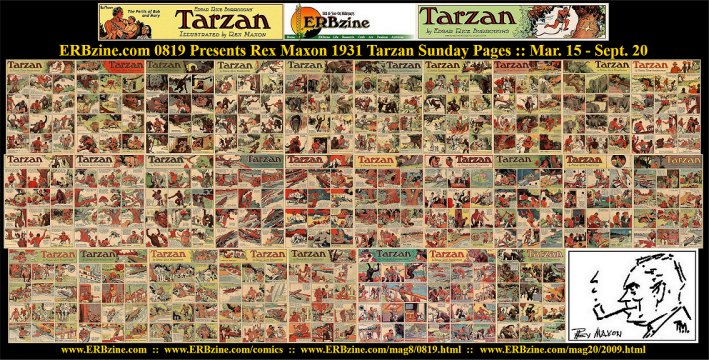 ---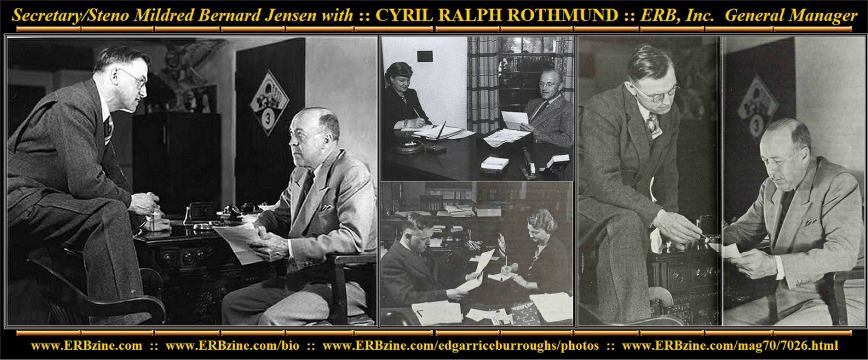 ---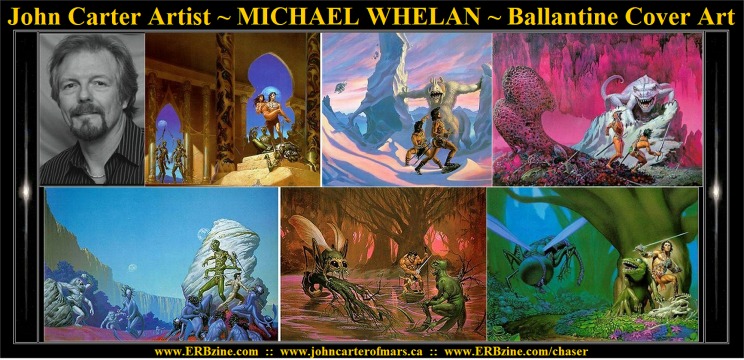 ---
*** 1921: Showtime at Tarzana Ranch: Edgar Rice Burroughs entertained the family and folks from the valley by showing films in his projection theatre in the new Garage/Theatre that he had built near his main Tarzana mansion. The Burroughs kids set up the chairs for the viewings and ERB manned the projector in the upper room that he also used for his film editing.
On June 29, ERB wrote to Mr. Bosley of Universal Film Distributing requesting that at the end of the The Moon Riders serial that serials be replaced with two reel Century Comedies starting July 12. Films shown up to this time accompanying the serial included Reputation with Priscilla Dean ~ The Gilded Dream starring Carmel Myers ~ Rich Girl, Poor Girl ~ A Shocking Night ~ Under Northern Lights? ~ The Secret Gift ~ Frank Mayo films ~ Two Kinds of Love ~ White Youth ~ Fixed By George ~ Puppy Love? ~
One of the most ambitious projects that Ed undertook after moving into Tarzana Ranch was to construct this building about 30 metres west of the main house. This building featured a three-car garage on the ground level and a second story containing rooms for two servants, a photographic darkroom, a workshop, and a study which later was used as a schoolroom where the children were tutored. Later, Ed used it for his writing. The lowest level of this three-storied building was a combination ballroom and movie theatre with a small balcony at one end that served as a projection booth. Because of the prohibitive distance to the nearest movie theatre, Ed brought the movies to his own little theatre.
Every Friday evening Burroughs and his Tarzana Ranch theatre played friendly host not only to his own family and friends but also to neighbors of the area. Burroughs was both host and projectionist, screening the popular comedies and features of the day. He particularly enjoyed Charlie Chaplin, Buster Keaton, and Douglas Fairbanks. Following the production of The Son of Tarzan as a serial, he personally edited and cut the 15 episodes to a feature length picture in this ballroom-theatre. Jack Burroughs recalled the many lines of string in the tiny projection room on which Ed hung the labeled film clips ready for splicing. (Ironically, it was this very Tarzan film, printed on hazardous nitrate base, that spontaneously ignited many years later and nearly destroyed the Burroughs office warehouse and building down on Ventura.)
*** Back in 2002, after ERB, Inc. had regained possession of the old Tarzana ranch site, Sue-On and I visited the property. Danton led us on a tour of what remained of the Tarzana mansion grounds, buildings and exotic trees. Sadly, the original main mansion is long gone and only photos and memories of that building remain. What remains is what was once the garage/ballroom building that had also served as a classroom for ERB's three kids: Joan, Hully and Jack. Ed also had installed film projection equipment in the main room of this building and had entertained family and friends with regular showings of Tarzan films, the latest Hollywood epics, and home movies. Picking up on this, Danton used the more modern technology of video tape and large screen television to share highlights of the Burroughs home movies -- a unique experience. What was evident in the films was the grandeur of the original Tarzana mansion, the exhuberance and excitement shown by Burroughs family as they frolicked across the estate grounds with its fascinating buildings, pool, menagerie, and the many other touches that showed that Burroughs' imagination and zest for life was not limited to the printed word. Dan's friend and local historian, Ralph Herman, joined us to share much of the history of the Tarzana area and the Burroughs holdings.
Ralph had renovated the Tarzana Ranch building before selling it to ERB, Inc. and let us examine a metal plaque that he had found in one of the building walls. He led us on a full tour of the building: to the second floor with its incredible view of the valley and surrounding mountains and over to the ballroom section with its upper storey projection room overlooking the high ceilinged ballroom. Amazingly, this building that ERB had built, survived a succession of owners, the ravages of time, major earthquakes, developers, vandals, taxes, and decades of bureaucratic hassles to rise up again under the Burroughs name.
Sadly, a few years after this visit, fate stepped in and ERB, Inc. lost ownership of the property.
Tarzana Ranch Then and Now
http://www.erbzine.com/mag11/1161.html
Hillman Memories of Tarzana Ranch
https://www.erbzine.com/mag9/0964.html
BACK TO ERB'S TARZANA RANCH 1921
A time-shift docu-novel adventure by Bill Hillman in 6 Webpages
https://www.erbzine.com/mag10/1041.html
ERB Bio Timeline
http://www.ERBzine.com/bio
---
*** 1935: Tarzan, or at least someone with that name, made an appearance in the June 29, 1935, issue of The New Yorker, in Harold Ross's The Talk of the Town column. He wrote:
"The Lily tulip-Corporation's latest product is the Tarzan Ice Cream Cup (for serving ice cream to kiddies). In order to popularize the product, a Mr. Bergman, planned to rig up a Tarzan Ice Cream Truck, full of animals, with a real Tarzan in leopard skin to tour the country and make speeches about Tarzan cups. It was quite a problem to locate a real Tarzan, Mr. Bergman found one by getting a sturdy giant six feet four, and weighed two hundred-and thirty-five pounds. Everything was set for the tour when Tarzan called Mr. Bergman and told him it was all off. 'Mother won't let me go,' he said."
ERBzine Eclectica: 2019.07
http://www.ERBzine.com/mag64/6432.html
Tarzan Like Ice Cream (and Other Treats)
http://www.erbzine.com/mag60/6097.html

Off-Site Reference:
Grandoldtoys
---
*** 1940: John Carter and the Giant of Mars by ERB's son John Coleman Burroughs was sent to Ziff-Davis (Amazing). In the story, John Carter, Warlord of Barsoom, is lured to a deserted city to rescue his beloved Dejah Thoris who has been captured by power-mad Pew Mogel. Instead of his wife, Carter finds a synthetic giant, one hundred and thirty- five feet tall, and hordes of great, white apes into each of which the brains of a man has been grafted! It takes all the skill of Carter's famous fighting arm and extraordinary agility just to preserve his life-and meanwhile, the sands of time are running out for Dejah Thoris!
Although published under ERB's name, most devoted fans were leery of the authorship through the years. The story, originally written and illustrated by JCB for a Big Little Book contains many inconsistencies that set it apart from the Barsoom actually created by ERB. Ed supposedly had helped in expanding the BLB text for pulp release. The story was combined with an authentic one from ERB -- Skeleton Men of Jupiter -- in a first edition Canaveral release in 1964 -- released under the title John Carter of Mars.
John Carter and the Giant of Mars: History ~ Art ~ Info
http://www.erbzine.com/mag7/0740.html
Giant of Mars: Better Little Book
http://www.erbzine.com/mag28/2841.html
Giant of Mars: Dell Fast Action Book
http://www.erbzine.com/mag28/2848.html
---
*** 1931: Ralph Rothmund, ERB, Inc. secretary, wrote to United Features again attacking the childish atmosphere of the Sunday pages. Rex Maxon was the artist working on the project. Maxon's series ran from March 15, 1931 through September 20, 1931. At the end of Maxon's run Harold Foster, who had produced a series of daily strips in 1929, was hired to do the Sundays and did an amazing job until May 1937. Maxon carried on with the daily Tarzan strips until August 1947.
In June of 1927 Cyril Ralph Rothmund, an astute and taciturn Scotsman, had assumed the position of Burroughs secretary and eventually general manager for ERB, Inc. In answering the ad for a secretary, Rothmund believed the organization was the Burroughs Adding Machine Company. In the coming years Ed's dependence upon Rothmund in business matters and in family affairs steadily increased.
Expanding activities at the Tarzana offices and the increasing complexity of business dealings led to the delegating of increasingly more responsibility to secretary Rothmund.
By 1933 these duties had grown too heavy for Rothmund alone, and on August 13th of that year a new assistant, Mildred Bernard Jensen, was hired. The presence of these two signaled the end of the old Burroughs tendency to use temporary help and brought in many years of permanence and reliability. Mrs. Jensen worked as stenographer and secretary for ERB for many years. She even transcribed many of ERB's stories from the wax cylinders of his ediphone and dictaphone.
ERB had even included Ralph in one of his novels. Burroughs, himself appears in the opening chapter of the first book of his Venus/Amtor series. Carson Napier visits him and secretary Ralph Rothmund in the ERB, Inc. offices in Tarzana. Napier presented his original plan to travel to John Carter's Mars in a rocket ship.
Interestingly ERB even used the name of an old US Cavalry buddy in the book. A member of the club that Ed had created while in on duty in Arizona was named Napier, who previously had been an officer in the English army.
Rex Maxon Sunday Pages
http://www.ERBzine.com/mag8/0819.html
Guide to all the Maxon Tarzan Strips
http://www.ERBzine.com/maxon
Guide to all the Hal Foster Tarzan Strips
http://www.ERBzine.com/foster
Ralph Rothmund
https://www.ERBzine.com/mag70/7026.html
ERB Bio Timeline
https://www.ERBzine.com/bio
---
*** 1950: Michael Whelan was born on this date in Culver City, California. He is one of the world's premier painters of imaginative realism. For 40 years he has created book and album covers for authors and musicians like Edgar Rice Burroughs, Isaac Asimov, Stephen King, Ray Bradbury, Brandon Sanderson, the Jacksons and MeatLoaf. His clients have included every major U.S. book publisher, the National Geographic Society, CBS Records, and the Franklin Mint.
A graduate of San Jose State University with a BA in Painting and a President's Scholar, Michael went on to attend the Art Center College of Design also in California, but he dropped out to accept his first book cover assignment. He soon became known for his dedication to bringing an author's words to life and Whelan covers dominated the science fiction and fantasy field throughout the 1980's and 90's. He was largely responsible for the realistic style of genre covers of that era, and his stunning color and composition have influenced many artists to this day. He continues to do cover art for bestselling authors, but since 1995 he has also pursued a fine art career. His non-commissioned works are in established collections throughout the world.
Michael Whelan has published 4 art books as well as numerous limited edition prints, posters, calendars, and licensed products such as greeting cards, T-shirts and sculptures.
Michael Whelan Barsoom Cover Art
https://www.erbzine.com/mag70/7027.html
ERBzine's ERB C.H.A.S.E.R. Bibliography
http://www.ERBzine.com/chaser
Our John Carter of Mars Site
http://www.johncarterofmars.ca
---
*** 1952: "Tarzan and the Ghost Lion," by Bob Lubbers and Dick Van Buren, began June 29, 1952, in the comics section and ran for 12 Sundays.
Directory to Lubber Sunday and Daily Strips
http://www.erbzine.com/mag48/4855.html
Featured at the ERBzine Comics Section
http://www.ERBzine.com/comics
---
NOTES FROM ERB's BIO TIMELINE and JOURNALS
---
*** 1928: June 29 (circa): Ed, the boys and Mr. Rosenberger went on a camping trip into Shasta County taking two roadsters and a trailer. They travelled up the west side of the Sierras, crossed over to Reno and came down on the east side. They were impressed by the scenery and Mt. Shasta, Mt. Whitney and the recently-active volcano Mt. Lassen.
---
*** 1990 June 29 - July 1: ECOF at Binghamton, NY ~ Henry H. Heins (absent) and Bill Ross
ERB Bio Timeline
http://www.ERBzine.com/bio

---
JUNE 30
---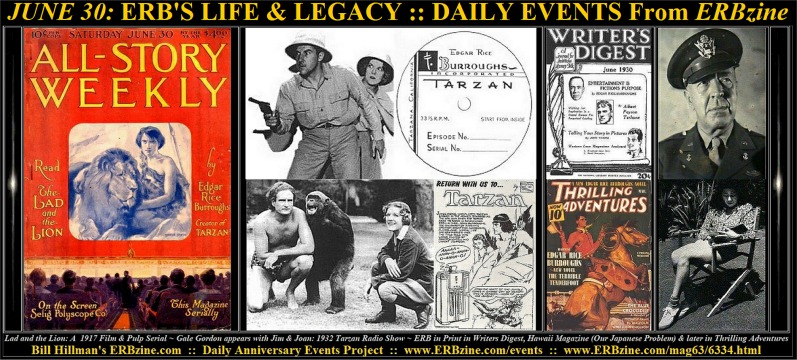 The Lad and the Lion: A 1917 Film and Pulp Serial ~ Gale Gordon appears with Jim and Joan: 1932 Tarzan Radio Show
ERB in Print in Writers Digest, Hawaii Magazine (Our Japanese Problem) and later in Thrilling Adventures.
---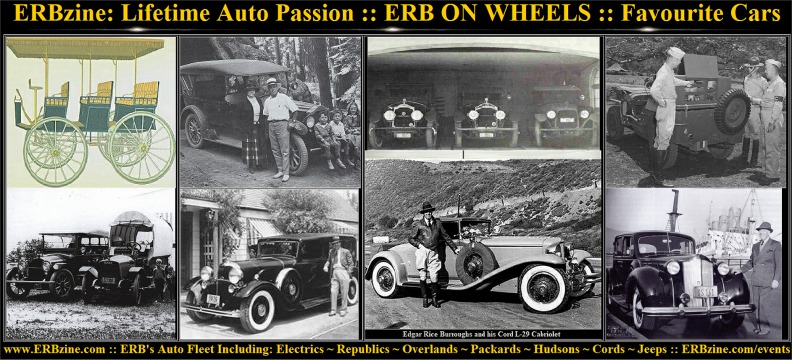 ---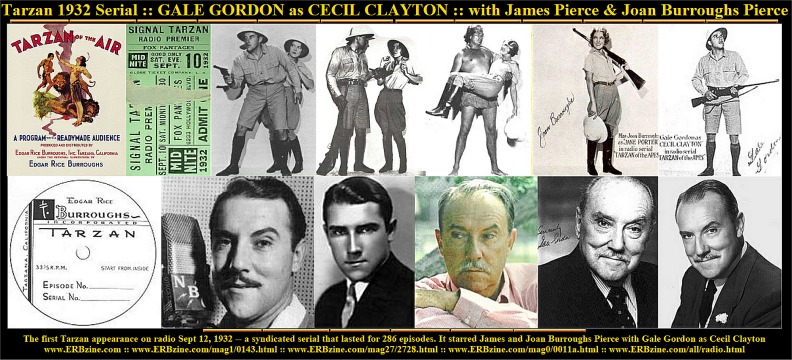 ---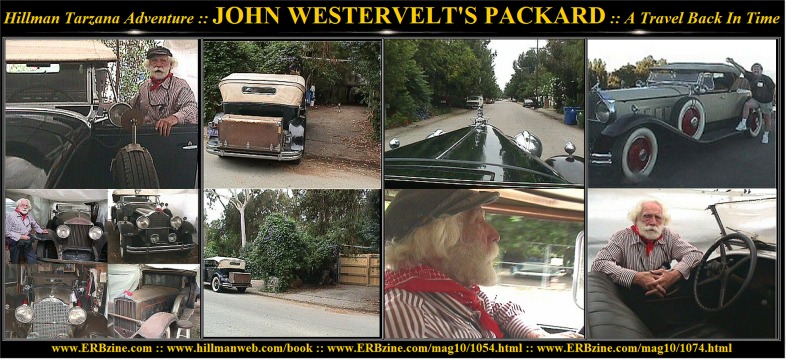 ---
*** 1917: On this date All-Story Weekly readers began following the story of "The Lad and the Lion." It was originally of novelette-length and was serialized over three weekly issues. "Men and Beasts" was ERB's original working title for the story which he wrote in 1914 in three weeks time: February 12-March 4. The serial appeared in connection with the release of the Selig Polyscope movie of that title, and Modest Stein's cover for the pulp showed the lad and lion on the screen above a theater audience painted by someone else. If a reader missed the story in 1917, they would have had to wait until 1938 for the first hardback. Readers who did not miss the 1917 serial would still have had to read the 1938 book, because, as Robert B. Zeuschner reports in "Edgar Rice Burroughs: The Bibliography," ERB revised the text and added 21,000 words to the story in the process!
The words he added had mostly to do with a European intrigue thread and increased the number of chapters from 12 to 24. Zeuschner notes that "The end of chapter 12 of the magazine version is the same as the end of chapter 24 in the book." However, for the book, ERB added a very brief 25th chapter.
The Lad and the Lion
http://www.erbzine.com/mag7/0760.html
The Lad and the Lion: Read the e-Text
http://www.erbzine.com/craft/ladlion.html
The Lad and the Lion: ERB's First Film - 1917
http://www.erbzine.com/mag4/0450.html
---
*** 1930: ERB continued to write other types of articles for various magazines over the years. The June, 1930, edition of Writer's Digest featured: Entertainment is Fiction's Purpose. I've typed it out for an easier read in ERBzine 0057.
Entertainment is Fiction's Purpose
http://www.erbzine.com/mag0/0057.html
---
*** 1995 Actor Gale Gordon passed away June 30, 1995. He played Cecil Clayton in the "Tarzan of the Apes" radio serial and was one of two actors who voiced the character of O'Rourke in "Tarzan and the Fire of Tohr." He went on to have a career as a character actor in numerous radio and television shows, mostly comedies such as "Our Miss Brooks," where he played school principal Osgood Conklin, and some of the many incarnations of Lucille Ball comedies.
On radio, he was the first to voice Flash Gordon. Gale Gordon appears often in my Hillman Library of OT Radio Shows. Interestingly, some of the first shows obtained in that library back in the '60s were of the Tarzan series that I used to parlay via trading into a collection of about 30,000 shows on tape, ETs, disc and computer hard drive. I had also sent the series to the stars Joan and Jim Pierce after meeting them in Tarzana. In appreciation they sent me a huge box of ERB, Inc. editions and extra dust jackets from the Tarzana office.
Tarzan of the Apes 1932 Radio Show: 77 episodes
https://www.erbzine.com/mag27/2728.html
https://www.ERBzine.com/mag1/0143.html
https://www.ERBzine.com/mag0/0011a.html
https://www.ERBzine.com/all/radio.html
Tarzan and the Fires of Tohr: All 39 Radio Episodes
https://www.erbzine.com/mag31/3141.html
https://www.ERBzine.com/cards/eclectica2/galegordontarzanradioserialall.jpg

Off-Site Reference:
Gale Gordon in IMDB
Gale Gordon in OTRcat
---
*** 1919: ERB's Passion for Cars: Ed, owner of Packard Touring Car 1-35 #80524, became a member of the Auto Club on this date. ERB had a long love affair with autos from driving Chicago's first electric horseless carriage in the 1893 Columbian Exposition as a teenager until well into his 70s. His long line of cars included makes such as Velie, Republic, Overland, Packard, Hudson, Cord, Jeep, and his final fav, a Buick Roadmaster.
Years later it was sort of a vicarious experience for me to explore the streets of Tarzana as Danton's friend, Professor John Westervelt drove us around in his vintage 1930s Packard - a model similar to one which ERB owned and drove around the valley.
This first ride with John was unforgettable. Inside the large entrance gates to his compound was an amazing assortment of deluxe vintage autos -- all in running condition. We shunted cars to clear an exit path for the huge deluxe '30s Packard Touring Car. John's dog Daisy jumped onto the leather seats of the rear cockpit and we were off. This was not an easy car to drive: great bulk, overlong, limited visibility, few mirrors, no power steering or brakes, difficult gear shifting. . . but John expertly chauffeured us through the busy streets of Tarzana and Ventura. ERB at one time had a fleet of similar Packards and during his regular jaunts around Tarzana he must have attracted horn toots and fascinating stares of many a passer-by -- as did we.
Regretfully, Sue-On couldn't be with us for this particular Tarzana adventure. I was on a research break between University classes, but she was on a different teaching schedule and was in the middle of BU summer courses.
John Westervelt's Classic Tarzana Cars
http://www.erbzine.com/mag10/1074.html
Hillman Tarzana Adventure I
http://www.erbzine.com/mag10/1054.html
---
*** 1944: ERB gave his thoughts on what should happen, or not happen, to Japanese living under the jurisdiction of the United States after the war. The article, "Our Japanese Problem," in which ERB took a look at both sides of the issue, appeared in Hawaii Magazine. ERB offered an opinion on both sides of the post-war issue of what, if anything, to do with the Japanese residents of Hawaii and elsewhere. He was quite sympathetic to the Japanese loyalty to the IslandsERB was certain enough of the loyalty of the Japanese Americans to employ a Japanese woman as a housekeeper. In the article, ERB twice mentions "the Tule Lake affair." No more information is given about what exactly he was referring to, but it is assumed it was something ERB thought would be familiar to his readers on Hawaii. Tule Lake was a Northern California internment came for Japanese Americans during World War II. John Martin wrote an article on Tule Lake's connection to Lewis County, Washington, close to where he lives.
There was a WWII Japanese Internment camp near Minidoka - a name well-known by ERB fans. I incorporated this information in my Book XI of an ERB-related parody: Ratnaz - a 122-chapter parody that Tangor and I carried on via the Internet for many months.
Our Japanese Problem article by ERB
http://www.erbzine.com/mag9/0941.html
Ratnaz Parody: Megadoka: Book XI by Bill Hillman
http://www.erbzine.com/mag0/0028.html
Off-Site References:
Tule Lake in Wikipedia
John Martin article on Tule Lake
---
*** 1930: Correspondence to sell That Damned Dude includes this anecdote found in a letter to Collier's Weekly: "Your telegram of (January 9, 1930) has been lying in the mountains near Cedar City, Utah, for over five months, in the wrecked mail plane of Captain Maurice Graham, who was lost in a heavy blizzard on January 10th. His plane was found a few days ago, but no trace of Graham has been discovered. I have kept the envelope to add to a number of mementos that I have preserved of Captain Graham, with whom I flew to Salt Lake City in February, 1927. It is rather a coincidence that I was about to write you relative to a story on which I am now working. It is a modern Western, located on a dude ranch in Arizona. While it will be finished in a few weeks, it will not be required for book publication necessarily for some time, as I am two years or more ahead of my book publishers. . . . There are a couple of reasons why this story may have value in addition to whatever entertainment qualities are inherent in it. In the first place, my early experience and inclinations were such that I should have written Westerns exclusively. For some time during my youth I worked as a cow puncher; afterward I soldiered in the 7th United States Cavalry in Arizona, and later still I ran a store in a cattle country in Idaho. Further, just at present, my stories and my name are receivng unusually wide publication through the Tarzan illustrated strips that are running in some hundred and ten newspapers in all of the larger cities of the United States; nor ever since I started to write have my books enjoyed a greater sale, which seems to be increasing rather than diminishing." Collier's rejected the story. The story was also rejected by Saturday Evening Post, Liberty, Ladies Home Journal, Blue Book, Argosy (twice), College Humor, Short Stories. Five years later he re-submitted the manuscript to Liberty under the title "The Brass Heart" using the pseudonym John Mann. Liberty rejected it again. The story eventually saw print in Thrilling Adventures in 1940.
Deputy Sheriff of Commanche County (Terrible Tenderfoot)
http://www.erbzine.com/mag7/0777.html
---
*** 1930: Jack enrolled in Pomona College in Claremont.
Notes From ERB's Bio Timeline
http://www.erbzine.com/bio


VISIT JUNE WEEK 4 PHOTO ALBUM
www.ERBzine.com/mag63/6334pics.html



BACK TO JUNE WEEK III
www.ERBzine.com/mag63/6333.html



BACK TO DAILY EVENTS INTRO and CONTENTS
www.ERBzine.com/events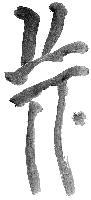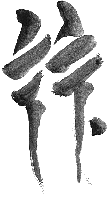 BILL HILLMAN
Visit our thousands of other sites at:
BILL AND SUE-ON HILLMAN ECLECTIC STUDIO
ERB Text, ERB Images and Tarzan® are ©Edgar Rice Burroughs, Inc.- All Rights Reserved.
All Original Work ©1996-2018/2021 by Bill Hillman and/or Contributing Authors/Owners
No part of this web site may be reproduced without permission from the respective owners.