Official Edgar Rice Burroughs Tribute and Weekly Webzine Site
Since 1996 ~ Over 10,000 Web Pages in Archive
Presents
Volume 3899

MORE TARZAN CENTENNIAL CELEBRATIONS

Louisville Exhibit Celebrates a Century of Tarzan ~ WHAS-TV
WHAS ~ October 29, 2012 ~ LOUISVILLE, Ky. (WHAS11)
Television Interviews
The University of Louisville is celebrating Tarzan's 100th birthday with a brand new exhibit.
It's the world's largest collection with nearly 200,000 items on display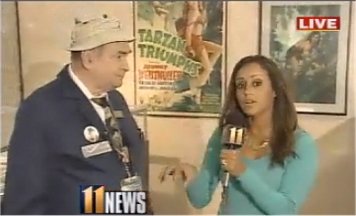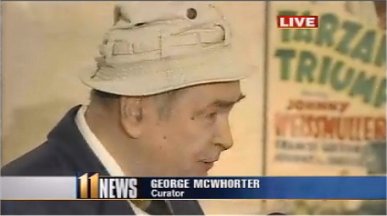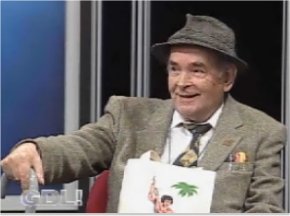 George McWhorter ~ Curator ~ "Edgar Rice Burroughs Memorial Collection"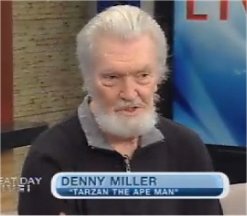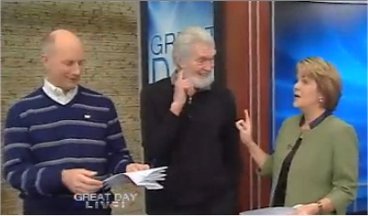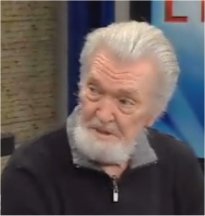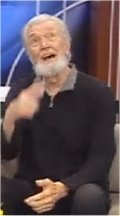 Denny Miller ~ Actor - Writer - Fitness Guru ~ "Tarzan the Ape Man"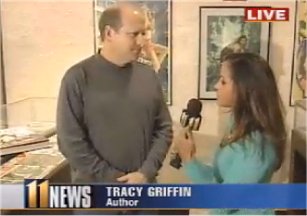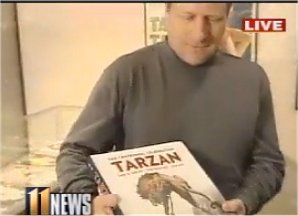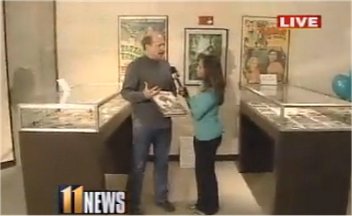 Scott Tracy Griffin ~ Actor - Author ~ "Tarzan: The Centennial Celebration"




University of Louisville Special Collections Department
Honours Tarzan's Centennial
Sunday, October 28, 2012 ~ Eckstrom Library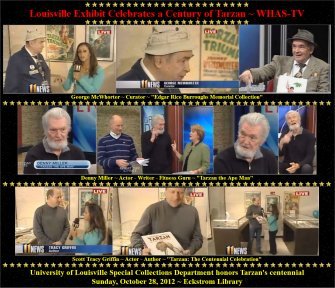 Poster Mosaic Version
View the WHAS-TV Interviews
News Video with Scott Tracy Griffin and George T. McWhorter
News Video featuring "Tarzan the Ape Man'" actor Denny Miller

100 Years of "Tarzan" Gives U of L Cause for Celebration
Rick Howlett covers U of L's "birthday" celebration of Tarzan.
WFPL News ~ November 2, 2012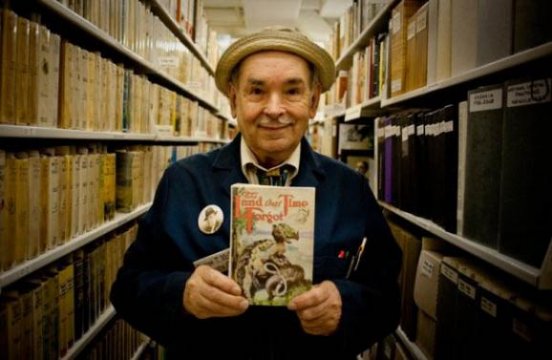 George McWhorter lost in his ERB Memorial Collection
Tarzan the Ape Man 1959 - Denny Miller
In October of 1912, a pulp magazine called The All Story published a story called "Tarzan of the Apes, a Romance of the Jungle." The tale of an orphaned child of British aristocracy who was raised by apes in the African jungle was the first of many adventures of the hero created by Edgar Rice Burroughs.

A hundred years later, the University of Louisville has taken a prominent role in the centennial celebration and the preservation of Tarzan's legacy. Why? When he was five years old, George McWhorter's mother decided that she would teach him how to read so he would be able to keep pace with other schoolchildren. "She first stared with Charles Dickens, and I was totally disinterested and yawned in her face. But when she pulled out a Tarzan book, I was all eyes and all ears," McWhorter said. And thus began McWhorter's lifelong Tarzan fascination. In 1936, he starting amassing a collection of first edition books and other memorabilia that has swelled to 200,000 items.

In 1976, McWhorter donated his collection, in his mother's honor, to the University of Louisville, where he's a longtime curator of rare books. U of L says it's the largest institutional collection of Tarzan materials in the world. Now 82, McWhorter hosted a Tarzan 100th anniversary party at U of L last month. The guests included Edgar Rice Burroughs' grandson, John, who also learned to read on the Tarzan books, spending many days at Tarzana, Burroughs' ranch in southern California. And I asked him, I says, 'Grandpa, how come you always leave the end of a book not completely finished?' And he said 'I always want the people that read my stuff and like it to want more.'"

Millions have also come to know Tarzan at the movies, most notably the films of the 1930s and '40s starring Johnny Weissmuller. John Burroughs says his grandfather didn't care for most of the Tarzan film adaptations, which took some liberties with the character and the love of his life, Jane. "(Tarzan) was a literate, English lord. Tarzan never said, 'me Tarzan, you Jane,' that was a creation of MGM."

One thing did Burroughs did write about was the Tarzan yell, immortalized by Johnny Weissmuller. "The yell was an animal, like the apes that had just made a kill or just finished a battle," Burroughs said. "They would pound their chest in exultation, like, 'I'm the head of the pack, I'm the king.'"

Some two dozen actors have played Tarzan in films and television. Denny Miller was known as the first blond Tarzan and is the oldest of the surviving actors. He played the lord of the jungle in 1959's "Tarzan, the Ape Man." "They had the rights to do two more, and I never heard from them since," Miller said. "I only did one, and it sure was fun." While the film was not a big commercial success, Miller was able to parlay the experience into some similar work in TV and commercials, and these days he's taking an active part in the Tarzan centennial. He calls Edgar Rice Burroughs one of the world's great storytellers.

With his own version of the Tarzan yell, George McWhorter set the mood for a U of L panel discussion of Edgar Rice Burroughs and Tarzan, a franchise that continues to thrive in new ways. There's a novel by Robin Maxwell called "Jane: The Woman Who Loved Tarzan," the first version of the Tarzan story written by a woman. Work is also underway on new animated and live action Tarzan films.

Burroughs says he's glad to see Tarzan cast these days as an eco-warrior, defending the jungle from elephant poachers and protecting its trees, a trait his grandfather would embrace. But to him there's a simpler reason the character has endured for a century. "He takes a person out of their humdrum normal life and brings them into a completely different, believable world, where good triumphs over evil, where the strong survive," Burroughs said. "And if something terrible and awful happened to you, you don't lie down and pray or feel sad for yourself, you try again, and make it work."

Some of the items from the University of Louisville's Tarzan collection are on display through Dec. 15 at U of L's Rare Books Department in the east wing of the Ekstrom Library. Hours are 9 a.m.-5 p.m. Monday through Friday. It's free and open to the public.
| | |
| --- | --- |
| Denny Miller and George McWhorter | ERB's Grandson, John R. Burroughs |

Tarzan is alive and well as he celebrates his 100th birthday
Louisville.com ~ October 31, 2012 by Devon Hill



University of Louisville Library: Special Collections did a fantastic job getting a wonderful panel together for the Tarzan Centennial celebration. They had Jim Sullos, CEO of Edgar Rice Burroughs Incorporate; John Burroughs, Edgar Rice Burroughs' grandson; Denny Miller, the star of the 1959 film Tarzan the Ape Man, and Scott Tracy Griffin, a Tarzan historian. The talks were informal and enlightening. We learned that Tarzan is still alive and well. There are two feature film versions of Tarzan in the works – a live action by Warner Brothers and a CG by a German studio, in addition to a host of other mediums.

After the panel discussion, everyone gathered in the lobby for hors d'oeuvres and birthday cake. Also in the lobby was a display of Tarzan memorabilia and books for purchase related to Tarzan, including some by the panelists.

My daughter loved going to the birthday party. In fact, the first thing she said to her teacher at school Monday morning was, "Tarzan's 100 and I went to his birthday, and I met the real Tarzan from the movie." She is hooked on Tarzan from now – insisting we listen to the music from the Broadway musical, watch the Disney version, and check out books from the library. It was a great way to introduce her to classic literature! Thank you, U of L for putting on this event.

PHOTOS FROM THE EVENT

The panel and slide presentation at the University of Louisville Tarzan celebration
On Screen: Tarzan Centennial Logo and cover art for Scott Tracy Griffin's Tarzan, The Centenial Celebration
.
A FEW OF THE TARZAN ITEMS ON DISPLAY

| | |
| --- | --- |
| Denny Miller's Me Tarzan. . . You Train! | Robin Maxwell's Jane: The Woman Who Loved Tarzan |

.




| | |
| --- | --- |
| Tarzan actor and writer, Denny Miller | Tarzan Memorabilia |

.

The book in the middle is a copy of the first Tarzan book written by ERB 100 years ago
The article on the right is from the UK magazine SFX: ERBzine 2177
It is by Sean Egan with thanks to Bill Hillman and Danton Burroughs (Danton's last interview in 2008)



ERBzine reference links have been added to expand on the article
since the links in the original article were mostly directed to commercial sites.
Books, conferences and a hot new Jane mark 100th anniversary of Tarzan
Washington Post ~ By Neely Tucker, October 26, 2012
South Coast Today ~ October 28, 2012


When historical novelist Robin Maxwell was looking for a book idea a couple of years ago, her husband asked who her new "literary lovers" would be. " 'Tarzan and Jane!' just blurted out of my mouth," she says, laughing at how forcefully the idea seized her. "It was like lava from a dormant volcano." And so, 100 years after the Lord of the Apes first swung into the world's pop culture window, there is Jane: The Woman Who Loved Tarzan, a lush, romantic take on the English lord raised by primates — told from Jane's point of view. "We're calling it '50 Shades of Green,' " Maxwell says.

This is just one leaf on the vine, however. A century after his birth, Tarzan is affixed as one of literature's most enduring creations. Edgar Rice Burroughs's archetype of primordial man in an atavistic jungle, more trusting of nature than mankind, struck a chord that still resonates. He is free of religion, politics, nationality and any of the oppressive rules, regulations, oversights, traffic cameras, parking tickets and other indignities imposed on modern man.

"Tarzan of the Apes," an 80,000-word adventure about an orphaned boy in the jungle, was a wild sensation when it debuted in the October 1912 edition of The All-Story Magazine. Published in book form in 1914, it spawned a series of 24 novels (and two for teens), selling an estimated 100 million copies in at least 35 languages. It is recognized by the Library of Congress as one of the "Books That Shaped America." It has been turned into 52 authorized films, a radio show, a comic strip, a Broadway musical, merchandising without end, and even Tarzana, a city in California centered around Burroughs's property.

To mark the anniversary this year, there's even more: "Tarzan: the Centennial Celebration," a hefty coffee-table book covering art, movies and stories; numerous conferences, including the "Tarzan Centennial Conference," Nov. 1-4 at Bridgewater College in Bridgewater, Va.; a documentary about the first Tarzan film ("Tarzan of the Louisiana Jungle"); a German stop-motion animated feature. Warner Brothers has picked up the option for another Tarzan flick, according to the Burroughs estate, 80 years after Olympic swimming gold medalist Johnny Weissmuller portrayed him.

Globally, there are new editions of Burroughs novels ("The Return of Tarzan," "The Beasts of Tarzan," "The Son of Tarzan," etc.) coming out in at least a dozen countries. This isn't new. Post-Czarist Russia printed so many pirated copies that a Moscow publisher told the New York Times in 1924: "They read it in offices, read it in street cars, read it in trains, read it in factories. Go to the villages and you find the educated young soldier reading 'Tarzan' to a circle of peasants with mouths agape."

Gore Vidal, in 1963, on the prevalence of Tarzan in this country: "There is hardly an American male of my generation who has not at one time or another tried to master the victory cry of the great ape as it issued from the androgynous chest of Johnny Weissmuller."

Take your pick of what the ape man represents: Unfettered freedom? Domain over one's environment? Raw male sexuality? The original Warrior in a State of Nature?

It doesn't matter. As Maxwell put it in a recent essay, Tarzan never dies. "I would say it's because he's selfless," says Jim Sullos, president of Edgar Rice Burroughs Inc., the family-run business that manages the late author's estate, when asked to explain the enduring appeal. "Tarzan is not greedy. He doesn't want anything from anybody, he doesn't need anything from anybody. He's not trying to be in charge, but people want him to be. He lives without rules or restrictions but does so in an honorable way. He represents a freedom we just don't have anymore."

In the world of fiction, Tarzan sprang to life more than a century after Robinson Crusoe was shipwrecked, about 20 years after Mowgli was raised by wolves in "The Jungle Book," and about a dozen years after Joseph's Conrad's "Heart of Darkness" immortalized the cruelties and mysteries of Central Africa. Superheroes would not exist for two more decades.

In the less attractive real world, Tarzan came to be in the Age of Adventure. The European powers had, a few decades earlier, swarmed over Africa in a colonial rush. H.M. Stanley's expeditions and David Livingstone's African adventures were regarded as heroism defined. Robert Falcon Scott searched for the South Pole to disastrous ends. T.E. Lawrence was exploring architecture in the Middle East but was not yet Lawrence of Arabia. Howard Carter was in Egypt but had yet to find the tomb of King Tut.

In this era, when vast parts of the globe were unknown to Western readers, Eddie Burroughs spent a lot of time thinking about the worlds he hadn't seen. Born in 1875 to a well-to-do Chicago businessman, he was expelled from prep school and graduated from a military academy but didn't qualify for West Point. He joined Custer's old unit in the U.S. Army but lasted less than a year. Teddy Roosevelt rejected him as a recruit for the Rough Riders.

He kicked around out west, where a gold-mining operation went bust. Running a stationery store in Idaho didn't last, and neither did a stint as a railroad cop in Utah. Back in Chicago, he tried selling patent medicine and managing stenographers at Sears, Roebuck and Co.

A few years later, Burroughs was suddenly in his mid-30s and pawning his wife's jewelry for cash. And then — there's always a "and then" in these kinds of stories — he was reading a pulp magazine, checking to see whether his company's ads were correctly placed. He thought the magazine's stories were so lousy that even he could write better.

So he sat down and wrote a science-fiction piece, "Under the Moons of Mars," and sold it to All-Story. (Today, you know this tale as "John Carter," the Disney film from earlier this year.) He sold it for $400, roughly the modern equivalent of $9,300. This got his attention. "I was not writing because of any urge to write nor for any particular love of writing. I was writing because I had a wife and two babies," he later told an interviewer. "I loathed poverty and I would have liked to put my hands on the party who said that poverty is an honorable estate."

Intrigued by his dabblings in science and by Darwin's theory on evolution, Burroughs wrote another story for the magazine: A yarn about a British couple, Lord Greystoke and Lady Alice, on an ill-fated sailing trip to Africa. They perish, leaving behind a son, John Clayton, who is taken in by a tribe of apes, the Mangani. These apes, it turns out, are something like Darwin's missing link — they have a language and a structured society.

John Clayton becomes Tarzan, and Tarzan becomes the tribe's head honcho, by dint of his courage, honesty, strength and bravery. Later on, he encounters Jane — there's always a "Jane" in these kinds of stories — and what do you know, she's from Baltimore! The book ends (spoiler alert) with her going back to the family summer home in Wisconsin. Tarzan follows her, there's a house fire, he goes leaping through the trees in Wisconsin (don't get picky) to save her and then nobly decides to leave her and her fiance to their happiness.

Readers went wild. "It was a huge hit, right from the beginning," says Scott Tracy Griffin, author of "Tarzan: The Centennial Celebration." Burroughs recognized a cash cow when he saw one, churning out one Tarzan book after another. He incorporated himself as a writer and trademarked Tarzan, the character. The latter was a particularly brilliant move because copyrights expire, but trademarks do not. "He was always thinking of how to capitalize on [Tarzan] in every new medium that developed," Griffin says. "When radio came, Tarzan became one of the first prerecorded radio shows. Then it was the first big Sunday adventure comic strip, and that helped launch the comic strip industry. And then there were the movies."

(Trivia: In the early books, Tarzan does not swing from vines. He leaps from tree to tree. Also in the books, he quickly became a sophisticated polyglot; the movies simplified his linguistic skills to nouns and verbs. Hence, "Me Tarzan, you Jane.")

But the movies were kind to the Tarzan legend. The swimming scene in "Tarzan and his Mate" featured a nude body double for Maureen O'Sullivan, which was considered so shocking that it helped lead to ratings for films. And the movies made stars out of Weissmuller and other men who portrayed Tarzan. Ron Ely, who portrayed him on television for two years in the 1960s, did his own stunts, was often injured and, for a new generation of fans, was Tarzan personified. "I was so stamped with the character, that's the way people saw me, with the parenthetical name — Ron 'Tarzan' Ely," he says now, semi-retired in California, with his third child just graduating from college. "It was certainly limiting. I moved my career to Europe for a while to try to escape it."

He says that Tarzan, though, is of a particular time and place, and that the efforts to put him in any other period simply don't work. The Central African jungle took weeks, if not months, to reach in the early 20th century. It was without electricity, a viper-ridden place of peril to outsiders. All of that made Tarzan both more plausible and more intimidating.

"He's just not a character of this time and age," Ely says. "He's a character of 1912. The past 100 years helps us look back to see what things were like then. He's a snapshot of an era in time."He's a snapshot of an era in time."

(ERBzine Note: Also missing from the article was mention of the year's two largest Centennial Celebrations at Tarzana, California. The ECOF John Carter Celebration and Disney Film pre-showing in March and the Dum-Dum Tarzan Celebration in August)





The official logo for the Tarzan Centennial Conference.

Tarzan Centennial Conference
at Bridgewater College
Newsleader.com ~ November 1, 2012 by Rebekah Carter

• what: Tarzan Centennial Conference at Bridgewater College
• when: Today through Sunday
• where: Bridgewater College, Bridgewater
• cost: Conference fee is $90, and
includes three lunches, the Saturday night banquet, and
one admission to Burroughs' play "You Lucky Girl!".
The lecture events are open to the public without cost.
• info: For more information and conference schedule, visit http://people.bridgewater.edu/~sgallowa/TCC2012.htm
English professor Stanley Galloway, Ph.D., has put together a unique event to commemorate the 100th anniversary of Tarzan's appearance in print this weekend at Bridgewater College titled: The Tarzan Centennial Conference. his four-day academic conference examines the impact of the life and writings of Edgar Rice Burroughs. Galloway, a published expert in Edgar Rice Burroughs and conference coordinator, said his initial impulse was to provide an academic forum for discussion of the writing of Burroughs.

"His first two novels ran serially in 1912, but Burroughs spills over any academic boundaries into a number of areas in popular culture, beginning with the first Tarzan movie in 1918," Galloway said. The film, which was based on another of his books, "The Lad and the Lion," was produced in 1917. He adds that the conference attempts to raise awareness of Burroughs work beyond academia as he impacts popular culture.

Special features of the conference include: "You Lucky Girl," the only play ever written by Edgar Rice Burroughs, which received only one performance on the West Coast in 1997, produced by Bridgewater's theater department; A showing of the 1918 silent film "Tarzan of the Apes," with live musical accompaniment by the head of the Bridgewater music department, and starring Elmo Lincoln, the first movie Tarzan; A Tarzan flea market titled, "Burroughs Bazaar," where people can bring items related to Burroughs to sell or display; and a special banquet speaker: John Ralston Burroughs, grandson of Edgar Rice Burroughs. Guest speakers include: Denny Miller, the oldest living Tarzan actor; Jim Sullos, president of Edgar Rice Burroughs Inc.; Scott Tracy Griffin, author of Tarzan: The Centennial Celebration and artist-in-residence; and "Raz" [Kevin Rasel], artist of Savage Planet.

Larry Taylor, associate professor of music and the chair of the music department at Bridgewater College, said he's excited to be participating in the conference. Taylor, who's an organist, will provide the music for a showing of the classic silent film "Tarzan of the Apes" from 1918. "Tarzan has captivated people's imaginations since his creation one-hundred years ago and his character is often cited as the first super hero and an important influence on the super heroes such as Superman that were to come in the 1930s and '40s," Taylor said. He adds that he feels this conference is especially interesting because of the variety of activities — academic papers about Edgar Rice Burroughs, a staging of a rarely-seen play by Burroughs, a lecture by Denny Miller and a chance to see one of the great action movies of the silent era with live music accompaniment.
.


DENNY MILLER
Sandy halts Tarzan actor's cross-country swing in Charleston
Charleston Gazette ~ October 30, 2012 ~ By Rick Steelhammer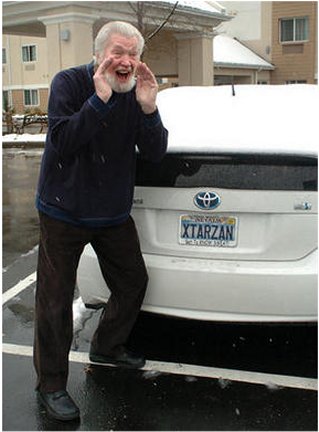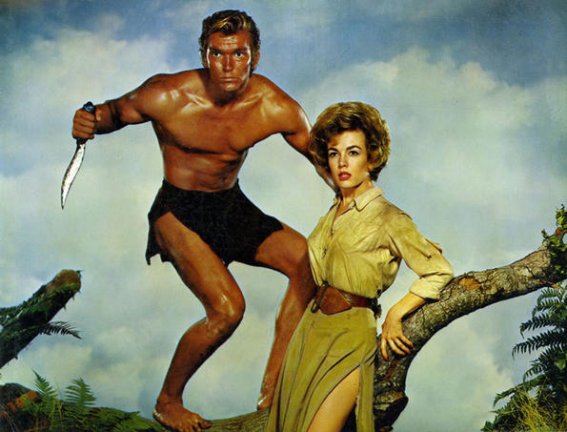 CHARLESTON, W.Va. -- Even Tarzan found it impossible to swing his way through the snow-blanketed mountains of West Virginia on Tuesday in the wake of Hurricane Sandy's stormy passage through the Appalachians. Actor Denny Miller, who played the title role in MGM's "Tarzan, the Ape Man" in 1959, was among hundreds of travelers waiting out the storm in Charleston Monday night and Tuesday, until highway conditions improved.

In addition to his role as Tarzan, Miller appeared in 110 episodes of the television western "Wagon Train," in which he portrayed scout Duke Shannon, and was a character actor in scores of other television shows, ranging from "Hawaii Five-0" to "Gilligan's Island," and 20 movies. He has also appeared in more than 200 commercials, including 14 years in a yellow slicker as the Gorton's seafood fisherman.

"I thought about getting some tire chains and putting them on, but there's just not enough room for them in the wheel wells of my Prius," said Miller, who spent Monday night and part of Tuesday in a motel off the Kanawha City exit of the West Virginia Turnpike. "We saw the signs for Bob Evans and the Cracker Barrel and all the motels and decided this was the place to stop."

Miller and his wife, Nancy, were en route to a Tarzan Centennial Conference at Bridgewater College, in Bridgewater, Va., from a similar event in Louisville, Ky., when they learned about heavy snow awaiting them in the Beckley area, and decided to let discretion be the better part of valor.

"The publication of Edgar Rice Burroughs' story 'Tarzan of the Apes' in All-Story magazine back in 1912 started it all," said Miller, who is scheduled to be a guest speaker, along with John Ralston Burroughs, the author's grandson, at the Bridgewater College event, which starts Thursday. "Over the years, 22 guys have played Tarzan in a total of 54 movies," Miller said. "I was Tarzan No. 12, and I'm now the oldest living Tarzan actor."

Miller came by his Tarzan role, and his acting career, by accident. Both he and his younger brother, Kent, played basketball at UCLA under coach John Wooden. One summer during his collegiate career, Miller and some other UCLA athletes were offered jobs as furniture movers. One day, while loading office furniture into a truck in Hollywood, "a guy yelled, 'Hey, you!' at me from a parked car," Miller said. "I walked over to him, and he asked to see my hairline. I thought he may have been looney-tunes, but I brushed the hair out of my face and said, 'How's that?' The guy handed me a card that said, 'Talent Scout,' told me to call him, and drove off."

Miller put the card in his sock drawer and forgot about the incident until his boss at the furniture company, who had been receiving repeated calls from the talent scout, ordered him to call the agent back. "He wanted me to come in for a screen test," he said. "It turned out to be one that didn't require memorizing a scene -- all I had to do was answer such stupefying questions as 'How old are you?' and 'Where do you live?' while on camera." Miller apparently answered the questions correctly. When the test was over, he was offered a seven-year deal as a studio contract actor. "I'd never even thought about acting -- I was going to be a basketball coach," he said. "It was hard to explain my change in career plans -- and my new contract with a major studio -- to the theater arts majors in my fraternity house." While Miller is sometimes credited as the first blond Tarzan, he maintains that actor Buster Crabbe, "who was kind of blond," deserves that honor.

To land his role as Lord of the Jungle, Miller had to pass a second screen test, this one involving a recitation of the 23rd Psalm. "I think I ended up saying fewer words in the movie," he said. "'Ungawa' seems to cover a lot of things in Tarzan's world. But the movie was so much fun. It was like being in a circus. I got to ride elephants and play with chimps and swing from vines." One day while shooting the jungle movie, "a set of those big studio doors swung open and a stretch limousine comes up to the set," he recalled. "It was [Jordan's] King Hussein, who loved the Tarzan films and books. We got his autograph." While Miller had the loincloth-friendly athletic looks and the vine-swinging abilities of other cinematic Tarzans, "I just couldn't do the call," he said. "I had to do it when we were filming, but someone else's voice was dubbed in. My Tarzan yell sounded like a wounded yak."

Miller said his favorite movie experience took place while filming "The Party" with Peter Sellers in 1968, under the direction of Blake Edwards. "I played the role of Wyoming Bill Kelso, the biggest jerk of a TV star in history," he said. "It was a fun role, but the best part was getting to work with a comic genius like Peter Sellers. Most of the movie was unscripted, and Blake Edwards pointed to Sellers and told the rest of us to follow that guy and see where it took us. We did just that for the 12 best weeks in my acting career." Miller's most recent movie role was as a miner in "Hell to Pay," a 2005 western featuring Lee Majors, James Drury and Stella Stevens and a host of other veterans of the oater genre.

"These days, I'm trying to use Tarzan as a platform for promoting exercise and fitness," said Miller, who can still fit into the loincloth he kept from his stint as Lord of the Jungle. "There are something like 10,000 Baby Boomers retiring each day, and more than half of them don't exercise." A physical education major whose physician father served on the President's Advisory Committee on Youth Fitness during the Eisenhower and Kennedy administrations, Miller is the author of several fitness books, including "Toxic Waist? Getting to Know Sweat," and "Me Tarzan, You Train -- Without Pain!" Miller's self-deprecating humor comes through in a memoir of his career as a character actor. It's title? "Didn't You Used to be What's His Name?"

In addition to presentations by Miller, Bridgewater College's Tarzan Centennial Conference will include a screening of the remastered 1918 film "Tarzan of the Apes," with live musical accompaniment, and a live production of Burroughs' only stage play, "You Lucky Girl."

ERBzine has created a poster mosaic for our Poster and Card Mosaic series
featuring some of the highlights from Denny's long and amazing career:

Click for larger image

Meet Denny Miller
Tarzan the Ape Man
Denny Miller 1959 Radio Promo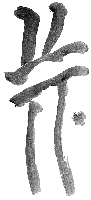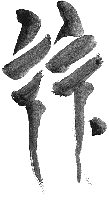 BILL HILLMAN
Visit our thousands of other sites at:
BILL and SUE-ON HILLMAN ECLECTIC STUDIO
ERB Text, ERB Images and Tarzan® are ©Edgar Rice Burroughs, Inc.- All Rights Reserved.
All Original Work ©1996-2012 by Bill Hillman and/or Contributing Authors/Owners
No part of this web site may be reproduced without permission from the respective owners.