The First and Only Weekly Online Fanzine Devoted to the Life and Works of Edgar Rice Burroughs
Since 1996 ~ Over 15,000 Webpages and Webzines in Archive
Volume 0369

ERB ECLECTICA 2000.08.11
MOTES & QUOTES No. 27
Part of the ERBzine Eclectica Series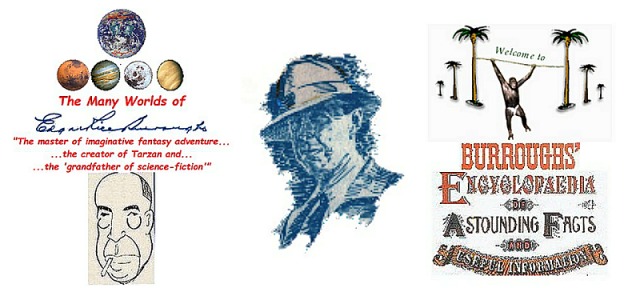 Note: The Links shared here were posted in August 2000
Some of the off-site, non-ERBzine links may be no longer active.
NOTE:
Before Social Media There Was ERBzine Eclectica that we debuted in January 2000.
Our ERB Motes & Quotes Eclectica was a weekly showcase for all.
This was one of many Webpages that were featured in each week's ERBzine Webzine
-- an online fanzine that we have published every week since 1996.
the latest ERB news, releases, readers letters, and a boundless collection of items
of interest to Burroughs and SF/Adventure Fans.
Images were smaller then as the Internet and computer systems were slower
-- also server storage was much more expensive.
Sadly, some of the off-site non-ERBzine links we've shared are no longer active
- that, we have no control over but they are left here as a curiosity or reference.

CONTENTS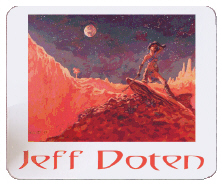 Jeff Doten's "Thuvia" painting is now available on Mugs, a Mousepad and a T-shirt.
The mugs feature new art on one side of the mug, and the original painting on the other.
You can see them at:
http://www.cafepress.com/searching/

Visit Jeff Doten's Features in ERBzine
STUDIO WORKSHOP
https://www.erbzine.com/mag2/0278.html
Jeff Doten's Mars Fashion: Dressed to Kill
https://www.erbzine.com/mag4/0438.html
---
2. CAUGHT IN OUR SITE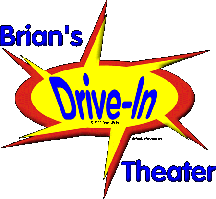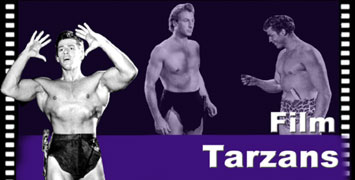 Film Tarzans, featuring pages devoted to Lex Barker, Herman Brix, Buster Crabbe, Ron Ely, Mike Henry, Jock Mahoney, Denny Miller, Glenn Morris, Gordon Scott, Johnny Sheffield, and Johnny Weissmuller.
---
3. CAUGHT ON THE WEB: ONE OF OUR COMPANION ERB SITES

www.tarzan.org
A long time coming... and worth the wait
Results of our hard work.
For August 2000 Release.
---
4. TANTOR AND FRIEND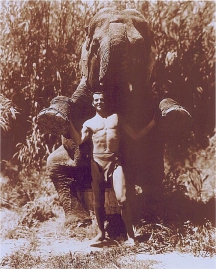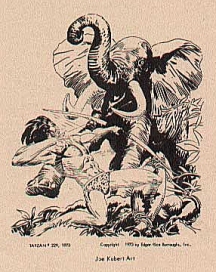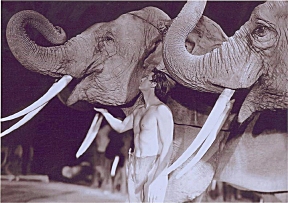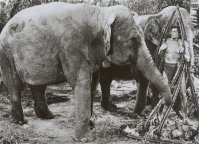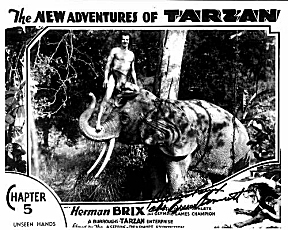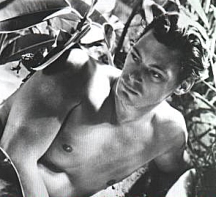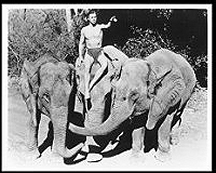 Collected from our ERBzine SILVER SCREEN SERIES
For Larger Images Visit:
https://www.erbzine.com/movies/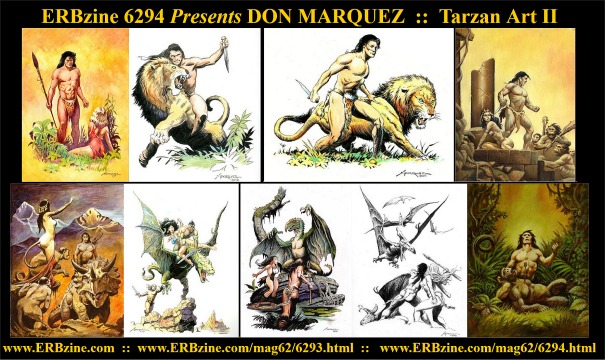 Click for full size
DON MARQUEZ GALLERIES START AT
https://www.erbzine.com/mag62/6293.html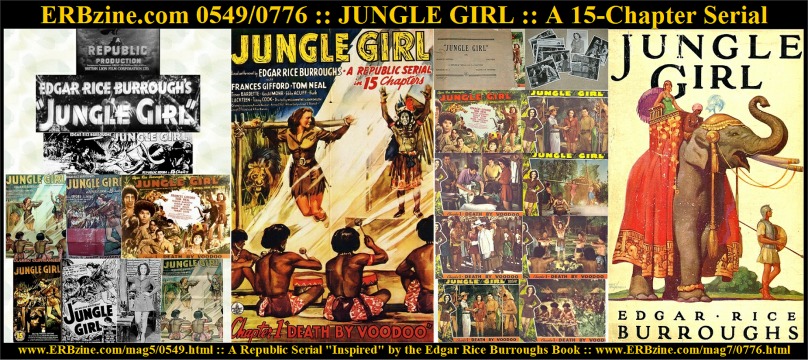 Click for full size
JUNGLE GIRL SERIAL
https://www.erbzine.com/mag5/0549.html
---
6. MONKEY SEE: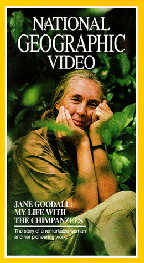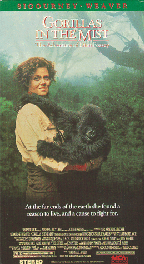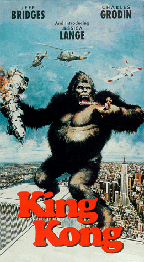 CHEETAH'S SCRAPBOOK
(Cheetah ~ Cheeta ~ Cheta ~ Nkima ~ Jiggs. . .)
Photos culled from his many appearances in our ERB sites and:
ERB SILVER SCREEN SERIES
https://www.erbzine.com/mag16/1697.html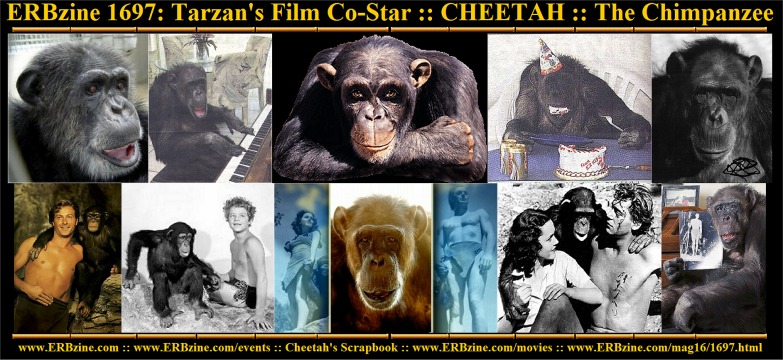 Click for full size
---
7. CARDS ANYONE?
A German free premium card issued in 1934 with Liga cigarettes (Greiling Cigarettenfabrik Co., Berlin). This is card number 90 from a set of 330 cards entitled "Rekord im Sport" (Records in Sport). The front of the card shows a b&w photo of Johnny Weismuller as Tarzan, while the back of the card has the card number, a brief description and details of the set in German. The size of this card is approx. 2.1 x 2.4 inches. This card was intended to be mounted in a special album

ERB COLLECTIBLES EMPORIUM
STARTS AT:
https://www.erbzine.com/comics/collect1.html
Two cards issued issued as free premiums in Belgium by Coop Chocolate c1940. These are card numbers 145 & 153 from a large set of cards showing scenes from the Tarzan movies starring Weismuller and O'Sullivan. The cards are 2.2 x 3.1 inches and it are printed on thin stock on one side.

TARZAN COLOUR CARDS SERIES
STARTS AT
https://www.erbzine.com/mag13/1373.html
---
Have you visited our
BIBLIOGRAPHY of ERB PULP MAGAZINES
lately?

This illustrated Biblio lists all of ERB's pulp magazine appearances from 1911 to present and features images of hundreds of rare pulp covers. We continually add items to this ongoing project...

http://www.erbzine.com/mag2/0220.html

A few of the latest additions to our ever-growing ERB pulp bib: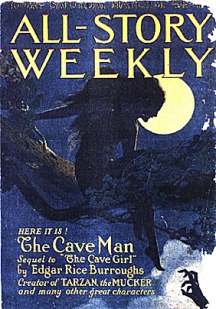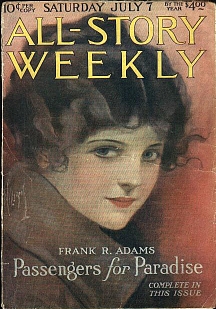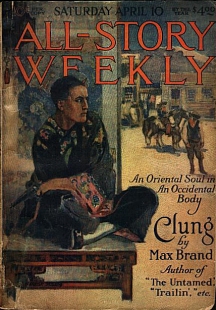 ---
...and speaking of pulps...
Our Virtual Visit to
The McWhorter Memorial
Edgar Rice Burroughs
Collection
features Tarak this week
with his ode to ERB pulps
Part 16: The Jewels of Louisville
and
Part 17: A Princess of Stories

10. OBITUARIES
Actor Edward Ashley died last May at the age of 95 (1904-2000). Ashley had the distinction of playing commissioners in two of the Tarzan films, in the Johnny Weissmuller "Tarzan and the Mermaids" (1948) and the Lex Barker "Tarzan's Peril" (1951). They were small parts but were graced by Ashley's self-effacing demeanor. During his long career he had roles in scores of movies, including: Pride and Prejudice (1940), Maisie Was a Lady (1941), Black Swan (1942), Dick Tracy Meets Gruesome (1947), Macao (1952), El Alaméin (1953), Elephant Walk (1954), Court Jester (1956), Darby's Rangers (1958) and many more.

X Brands ~ Jock Mahoney fans will recall the actor X Brands who played his Indian companion Pahoo-Ka-a-Wah on Mahoney's "Yancy Derringer" TV series. Although he often played Indians, Mr. Brands was not a Native American. He passed away at the age of 72 (1927-2000). He had roles in countless TV series: Gunsmoke, Mission Impossible, Bonanza, Rawhide, Maverick, Bat Masterson, etc. as well as many movies.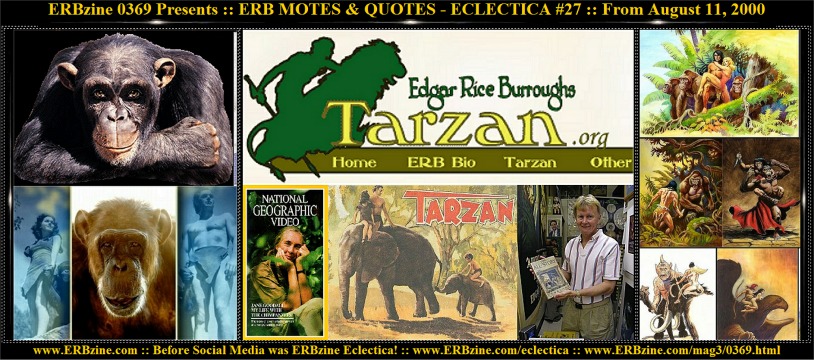 Volume 0369

BILL HILLMAN
Visit our thousands of other sites at:
BILL and SUE-ON HILLMAN ECLECTIC STUDIO
ERB Text, ERB Images and Tarzan® are ©Edgar Rice Burroughs, Inc.- All Rights Reserved.
All Original Work ©1996-2004/2020 by Bill Hillman and/or Contributing Authors/Owners
No part of this web site may be reproduced without permission from the respective owners.