Official Edgar Rice Burroughs Tribute Site
Since 1996 ~ Over 15,000 Webpages in Archive

Master of Imaginative Fantasy Adventure
Creator of Tarzan and "Grandfather of American Science Fiction"
Issue 0549
Presents
Part of the ERB of the Silver Screen Compendium

JUNGLE GIRL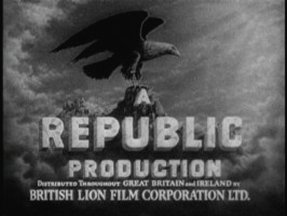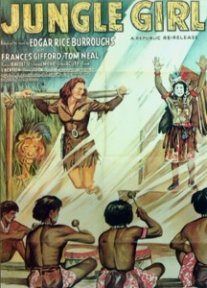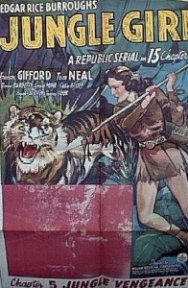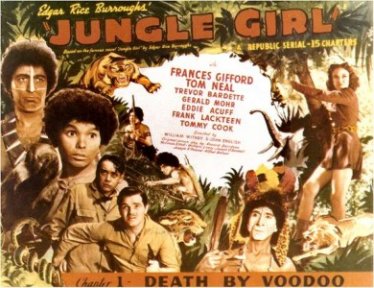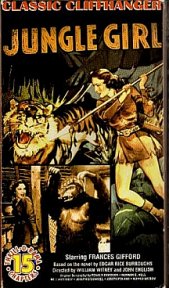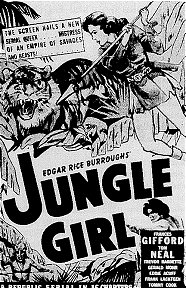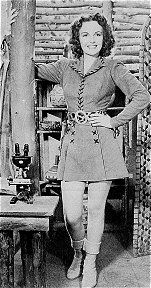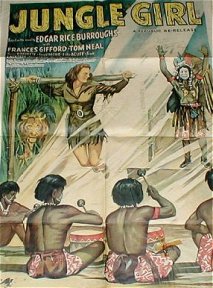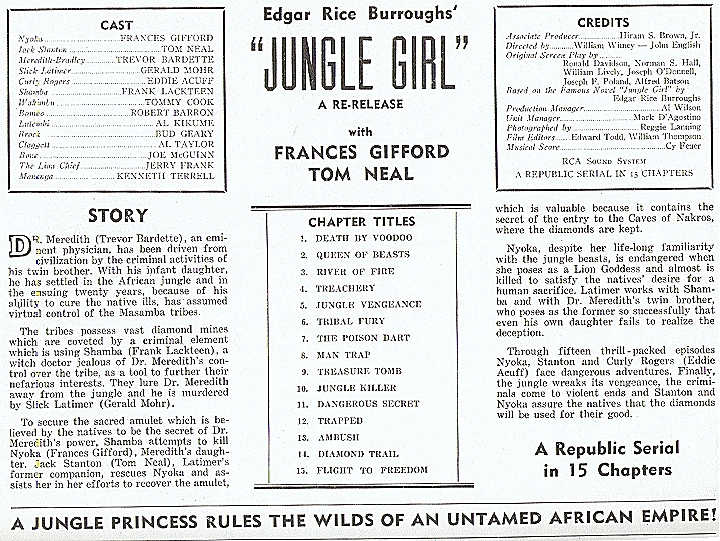 ---
CREDITS
---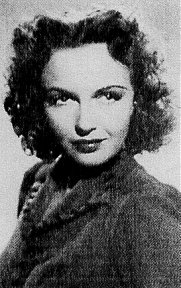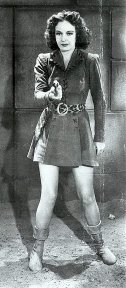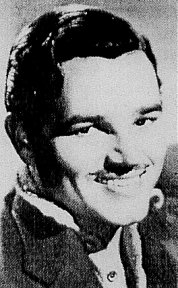 Jungle Girl (1941)
Directors: John English ~ William Witney
Producer: Hiram S. Brown Jr.
Writers: Edgar Rice Burroughs (novel title) ~
Alfred Batson ~ Ronald Davidson ~ Norman S. Hall ~ William Lively ~ Joseph O'Donnell ~ Joseph F. Poland
CAST
Frances Gifford ~ Nyoka Meredith
Tom Neal ~ Jack Stanton
Trevor Bardette ~ Bradley Meredith/Dr. John Meredith
Gerald Mohr ~ Slick Latimer
Eddie Acuff ~ Curly Rogers
Frank Lackteen ~ Shamba
Tommy Cook ~ Kimbu
Robert Barron ~ Bombo
Al Kikume ~ Chief Lutembi
Bud Geary ~ Brock
Al Taylor ~ Claggett
Joe McGuinn ~ Ted Bone
Jerry Frank ~ The Lion Chief
Ken Terrell ~ Mananga (as Kenneth Terrell)
Jay Silverheels ~ Masamba tribesman (as Harry Smith)

15 episodes ~ Black and White
Original Music by Cy Feuer, Mort Glickman and Paul Sawtell
Cinematography by Reggie Lanning
Film Editing by William P. Thompson and Edward Todd
Set Decoration by Morris Braun
Makeup Department: Bob Mark
Sound Department: Daniel J. Bloomberg
Special Effects by Howard Lydecker and Theodore Lydecker
Stunts: Yakima Canutt ~ David Sharpe ~ Tom Steele ~ Duke Taylor ~ Ken Terrell ~ Helen Thurston
---

Alternate Versions

---

The Liberty Video version is mastered from an original UK release print, which contains minor editing of shots deemed to contain excess violence (e.g. in final episode, where two villains are brought down by native spears, the portion of each shot showing each falling over with a spear protruding from his back has been excised); as well as the British Censor's certification at the beginning of each episode, and the British distributor's name superimposed under the Republic logo.
The British version cuts the last couple of seconds of Gerald Mohr's fall from the airplane in Chapter 15. In the original version
the camera followed his dummy until it actually hit the ground.

---

Filming Locations

---

Corriganville, Simi Valley, California
Iverson Ranch, Chatsworth, Los Angeles, California
Sherwood Forest/Lake Sherwood, California

---

Tagline for Jungle Girl

"Mistress of an empire of savages and beasts!"

---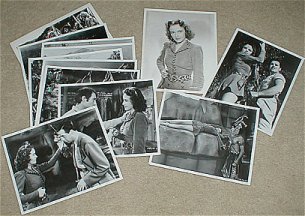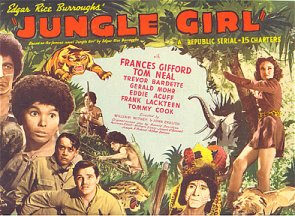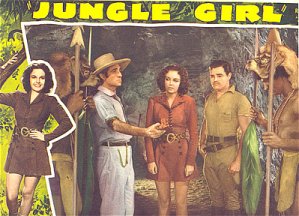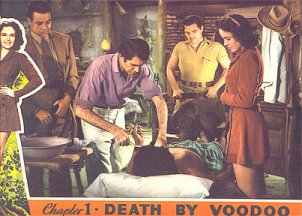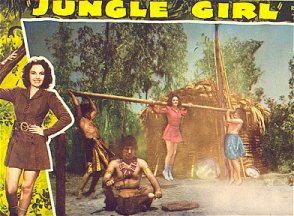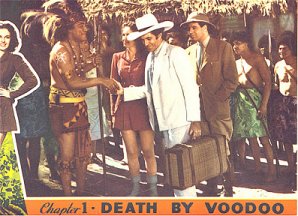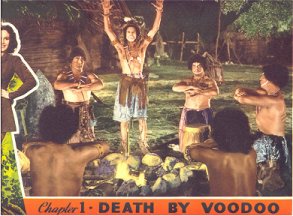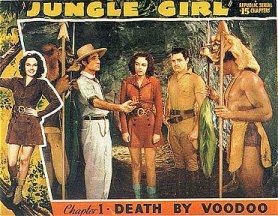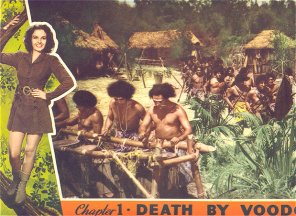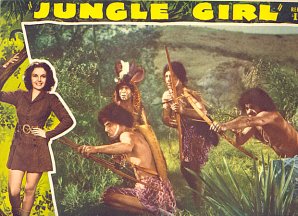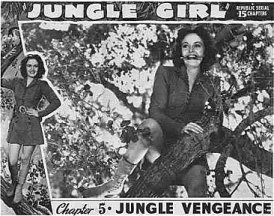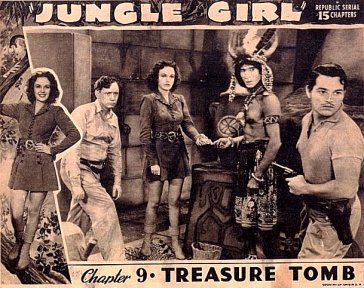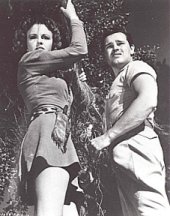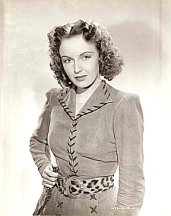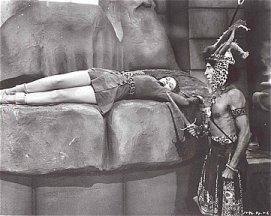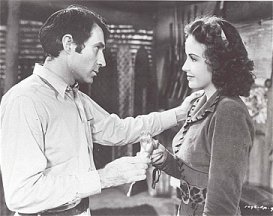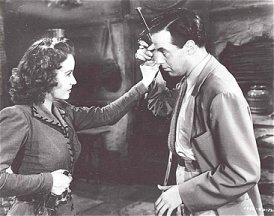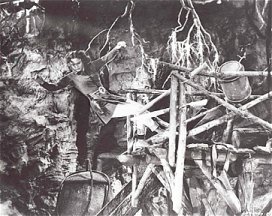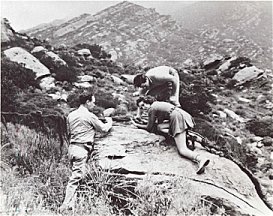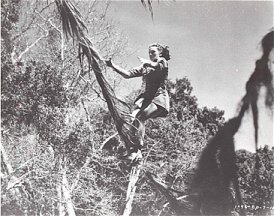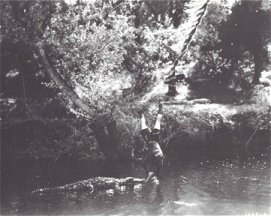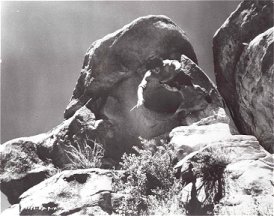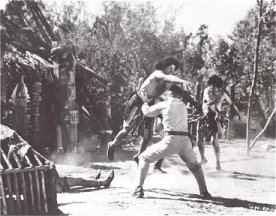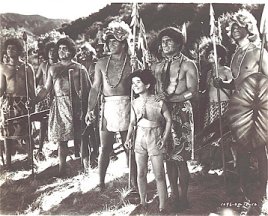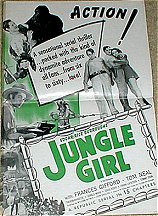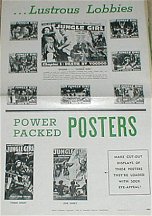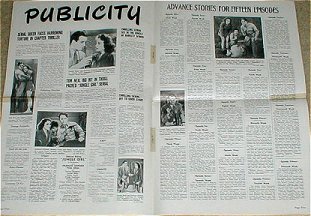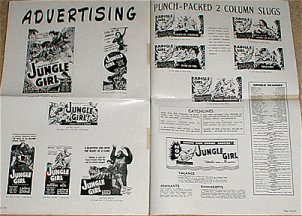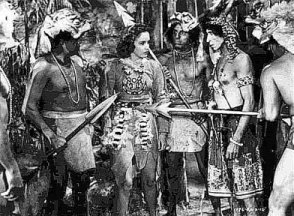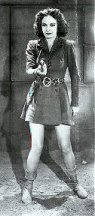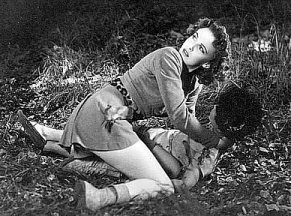 ---

ACTOR BIOS

---

Frances Gifford: (Born on December 7, 1920 in Long Beach ~ Died of emphysema on January 15, 1994 in Pasadena) She was born and raised in Long Beach, California, the statuesque brunette had no ambition to be an actress, and had applied to UCLA Law School when, at age 16, she and a friend got to visit the Samuel Goldwyn studios, where they watched a movie being shot. A studio exec saw her and asked if she would take a screen test. She did, the studio was impressed with the result and put her under contract. Nothing much came of it, however, other than bit parts, and she moved to RKO and played bits and extra roles until she married her first husband James Dunn (1938 - 1942 divorced) and decided to retire. Out of the movie business for almost two years, she returned for a part in Mr. Smith Goes to Washington (1939) following which she costarred with husband James Dunn in two PRC cheapies, Mercy Plane and Hold That Woman in 1940 and her career began to revive. She was signed by Paramount, which soon loaned her to Republic, where she made the film she is probably most remembered for: the 1941 serial Jungle Girl in which she played the fetchingly unclad, endlessly resourceful Nyoka. Following this she was extremely winning as Robert Benchley's studio tour guide in Walt Disney's The Reluctant Dragon (1941), looking especially beautiful in Technicolor. That same year she was signed by Paramount, where she had both supporting parts (1942's The Glass Key 1943's Henry Aldrich Gets Glamour) and leads (Tombstone-the Town Too Tough to Die, American Empire both 1942). After playing another jungle girl in Tarzan Triumphs (1943), Gifford moved to MGM, where she was given better roles in bigger pictures and showed real promise in Cry Havoc (1943), Marriage Is a Private Affair (1944), Our Vines Have Tender Grapes (1945), The Arnelo Affair (1947), and Luxury Liner (1948). Seriously injured in a 1948 car accident, Gifford never really regained her selfconfidence, and after making two films, Riding High (1950) and Sky Commando (1953) in a difficult state of mind, she retired from the screen. She spent several years in a mental institution but finally defeated her personal demons and, as recently as the late 1980s, was doing volunteer work for charitable organizations in Southern California, including the Pasadena city library. She died of emphysema in Pasadena in 1994.

~ IMDB

---

Tom Neal: was Hollywood's quintessential low-budget film noir hero He earned some notoriety at an early age when his banker father persuaded him to drop the idea of eloping with Inez Martin, a buxom former Follies girl and the mistress of slain mobster Arnold Rothstein. A former college athlete, the handsome, mustachioed Neal entered the theatrical profession playing summer stock at West Falmouth, MA, and went on to make his Broadway debut in the short-lived anti-war melodrama If This Be Treason (1935). He later performed opposite Maria Ouspenskaya in Daughters of Artreus, but although critically acclaimed, the play was yet another box-office failure and Neal migrated to sunny California. Contracted by MGM, who obviously saw him as another Clark Gable, Neal bided his time in secondary assignments and loan-outs to other studios for such fare as the 1941 serial Jungle Girl. In 1943, a now freelancing Tom earned some recognition for playing a U.S.-educated Japanese in the propaganda film Behind the Rising Sun, but lasting fame had to wait until Detour, Edgar G. Ulmer's cult classic. Although dismissed when the cheaply made drama was released in 1945, Neal and Ann Savage's fiery chemistry did much to earn Detour a lasting place as the quintessential low-budget film noir and remains one of the few memorable films to emerge from PRC, the now infamous Poverty Row company that otherwise more than lived up to its nickname of "Pretty Rotten Crud."

~Yahoo! Movies

---


Eddie Acuff, who plays Curly Rogers in the serial, was the brother of country/western singer Roy Acuff. He drifted to Hollywood in the early 1930s, where he almost immediately secured day-player work at Warner Bros. studios. From his 1934 debut in Here Comes the Navy onward, Acuff showed up in film after film as reporters, photographers, delivery men, sailors, shop clerks, and the occasional western comical sidekick. Acuff's most memorable acting stint occured after actor Irving Bacon left Columbia's Blondie series. From 1946 through 1949, Eddie Acuff made nine Blondie (Penny Singleton) appearances as the hapless postman who was forever being knocked down by the eternally late-for-work Dagwood Bumstead (Arthur Lake).
Hal Erickson, All Movie Guide

---

Jay Silverheels (Harold J. Smith) was born on May 26, 1919 on a reservation in Ontario to a Mohawk Chief. He was a star Lacrosse player and a boxer before he entered films as a stuntman in 1938. He worked in a number of films through the forties before he gained some notice as the Osceola Brother in Bogart's film 'Key Largo (1948)'. Most of his roles consisted of bit parts as "Indian". In 1949, Jay would work in a movie called 'The Cowboy and the Indians (1949)' with another 'B' actor named Clayton Moore. It was later that same year that Jay would he hired to play the faithful Indian companion, Tonto, in the Television Series "The Lone Ranger". This role, while still playing the "Indian", would bring Jay fame that his motion picture career never would. As Tonto, on his horse Scout, Jay could go show up where the Ranger could not and some of the time he would be shot at or beat up for his trouble. Jay would play Tonto in all the episodes except for those that he missed when he had his heart attack. In those episodes, he was replaced by the Ranger's nephew, Dan. But Clayton would miss the third season when he was replaced by Actor John Hart. Together with Clayton, Jay would reprise the role of Tonto to "The Lone Ranger" in two big screen color movies, 'The Lone Ranger (1955)' and 'The Lone Ranger and the Lost City of Gold (1958)'. After the series ended in 1957, Jay could not escape the typecasting of Tonto. He would continue to appear in an occasional film and television show, but he would become a spokesman to improve the portrayal of Indians on TV.

Tony Fontana
---

TRIVIA

---
This serial has almost nothing in common with Edgar Rice Burroughs book, The Jungle Girl, although the author's name appears above the movie title. In the novel, physician Gordon King visits Cambodia and tries to cure the king of a lost tribe of an ailment caused by his diet of mushrooms.
Republic Studios named the Jungle Girl Nyoka so that they could use the name again in a sequel -- Perils of Nyoka starring Kay Aldridge -- without having to pay royalties to ERB.
"Nyoka" in Swahili means "snake."
Francis Gifford was 19 when this serial was filmed.
The elephant Nyoka rides is Indian, not African -- look at the ears..
Frances Gifford also appeared in Disney's The Reluctant Dragon. Her career was cut short by injuries from a car accident. in 1948. She appeared in only two films afterward and spent 20 years in Camarillo State Hospital. She was released after 1978 and did charity work untilher death in 1994.
Actor Frank Lackteen also appeared in villainous roles in many silent serials
Jay Silverheels ~ Masamba tribesman (as Harry Smith) went on to become The Lone Ranger's sidekick, Tonto in many films and TV shows
Legendary Hollywood stuntman, Yakima Canutt, was in charge of the stunts for the serial
Eddie Acuff, who plays Curly Rogers in the serial, was a well-known Hollywood character actor and the brother of country/western singer Roy Acuff. Eddie is best remembered for his role as the hapless postman in eight films of the Blondie series starring Penny Singleton.
Other stunts were by Helen Thurston and David Sharpe (vine-swinging, fire pit hangs, elephant riding, diving and swimming, hanging from aircraft)
Frances Gifford went on to appear in another well-known jungle role: Tarzan Triumphs
Gifford suffered serious head injuries in an auto accident in 1948. After continued repurcussions, she was admitted to Camarillo State Hospital in 1958. She was released in 1978.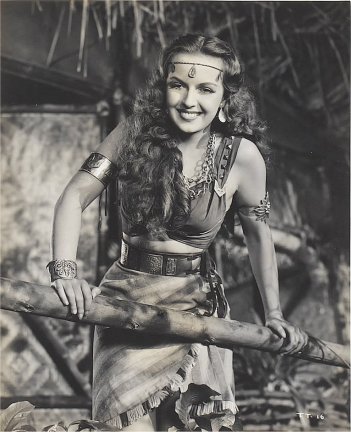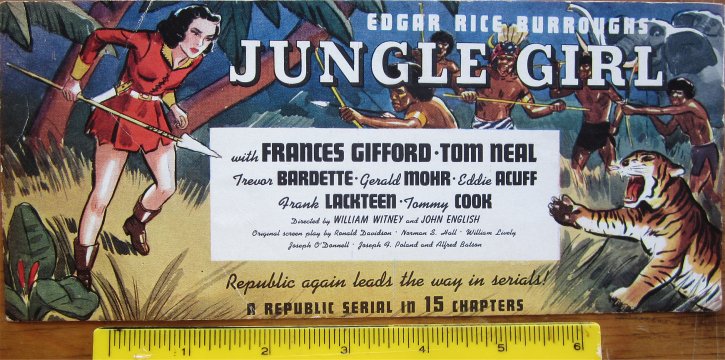 For more features on ERB-related films visit
ERBzine Silver Screen
at
ERBzine 0502: Illustrated Version
ERBzine 0502t: Faster-Loading All-Text Version






Volume 0549



BILL HILLMAN
Visit our thousands of other sites at:
BILL and SUE-ON HILLMAN ECLECTIC STUDIO
ERB Text, ERB Images and Tarzan® are ©Edgar Rice Burroughs, Inc.- All Rights Reserved.
All Original Work ©1996-2006/2018 by Bill Hillman and/or Contributing Authors/Owners
No part of this web site may be reproduced without permission from the respective owners.